We're getting spicy and smoky with our burgers today!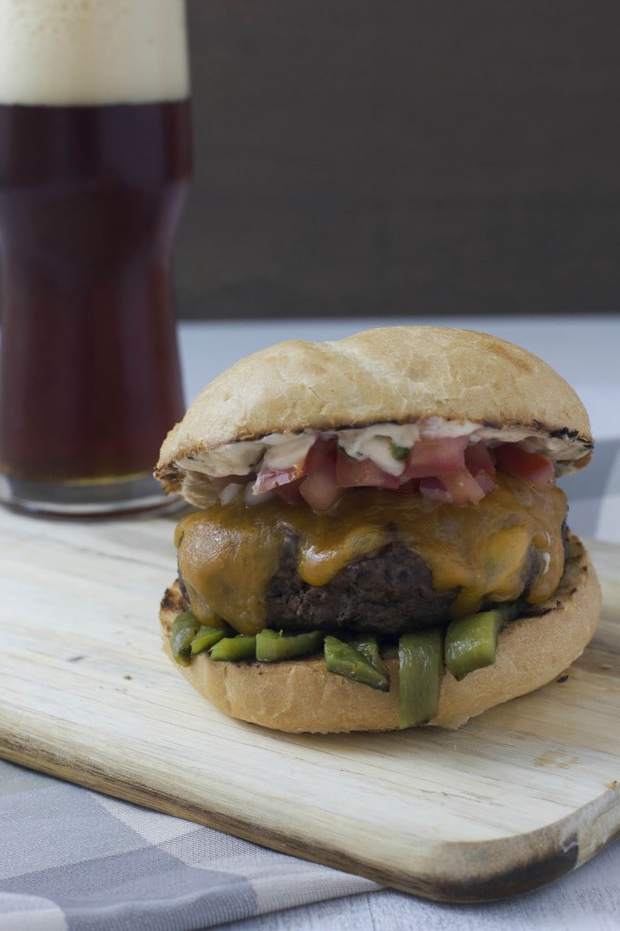 Roasted poblano peppers are something I only recently discovered this year with my adventures with Chiles en Nogada. Now I want to start shoving them in everything I make – just how crazy is the idea of making a roasted poblano risotto…?
Never mind, don't even answer. I know I'm insane.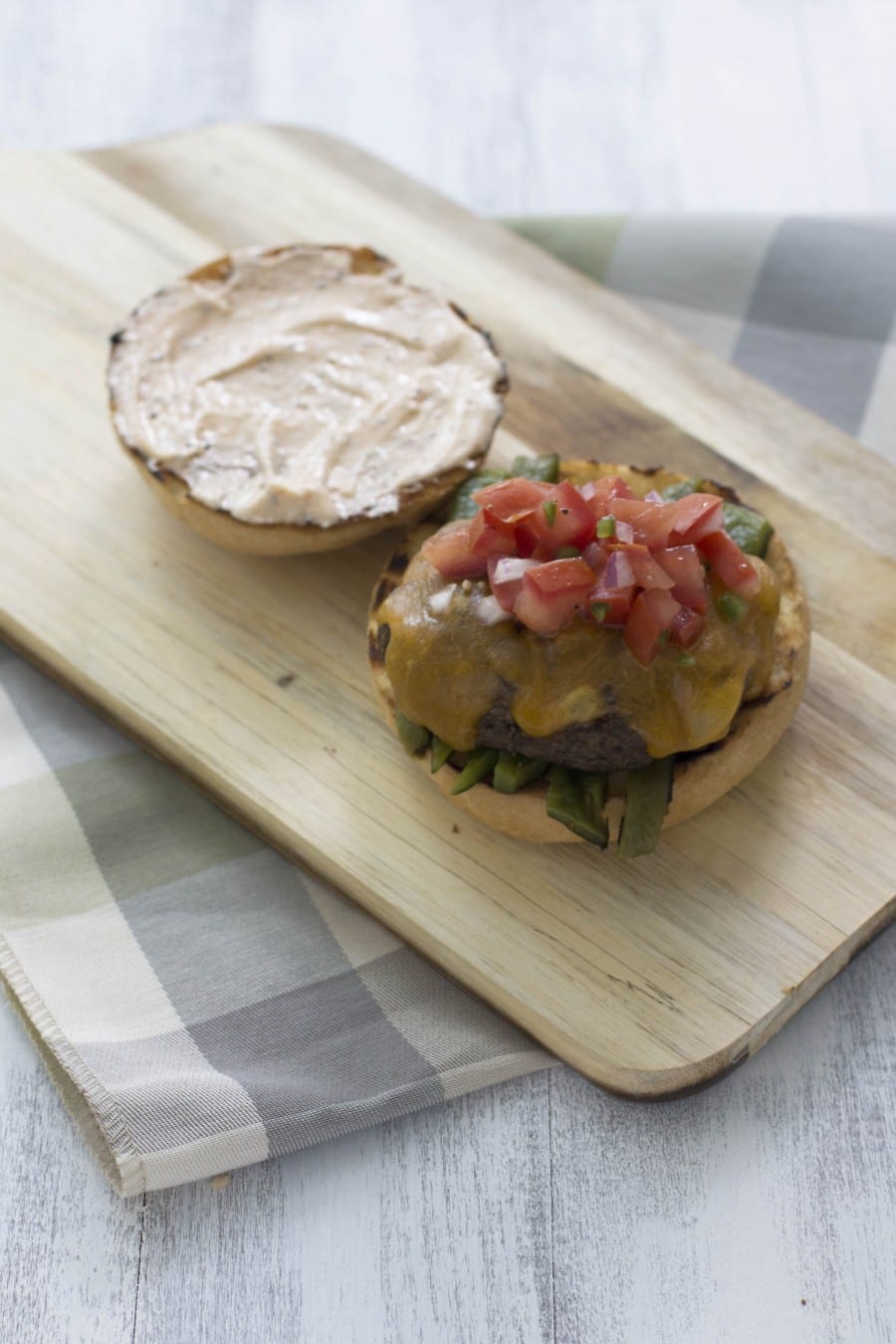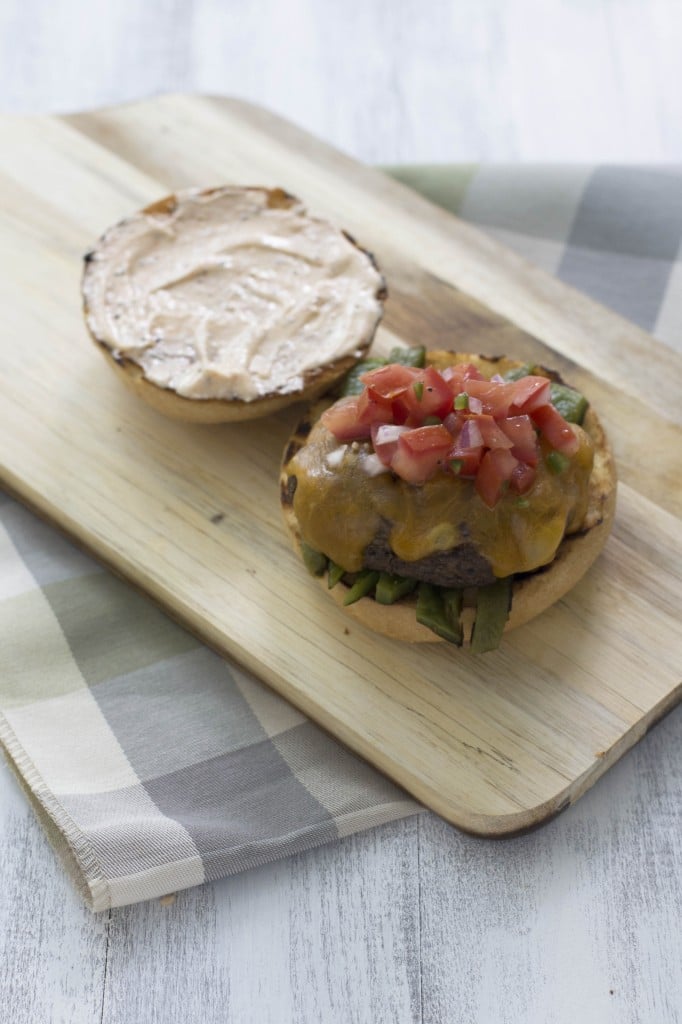 I also know that roasted poblano peppers belong on a burger. Oh yea. With pico de gallo and spicy mayo and lots of sharp cheddar cheese. Seriously, if you need a change from the plain ol' hum-drum burger with ketchup and mustard (not that hum-drum is a bad thing!), take this puppy for a spin. You will be rewarded with a kick of spice, a hint of smokiness, and the perfect balance of brightness from the fresh pico de gallo. Gah, it's just so good…
This burger might just help a certain someone forgive me for completely taking over his beer storage room… But I just discovered that there is great light in that room and I neeeeeeed it! Of course upon discovering this, I immediately called dibs on the room and we are now in the process of making it a cute little studio for all my props, lights, etc. Finally no more digging in bins for the perfect plate!! Seriously, I have no idea how people put up with me. Especially after a full-day of a food photography course with White on Rice Couple last weekend where I spent every break running around the house searching for the best light or painting new background boards for my photos… I know, such a mess…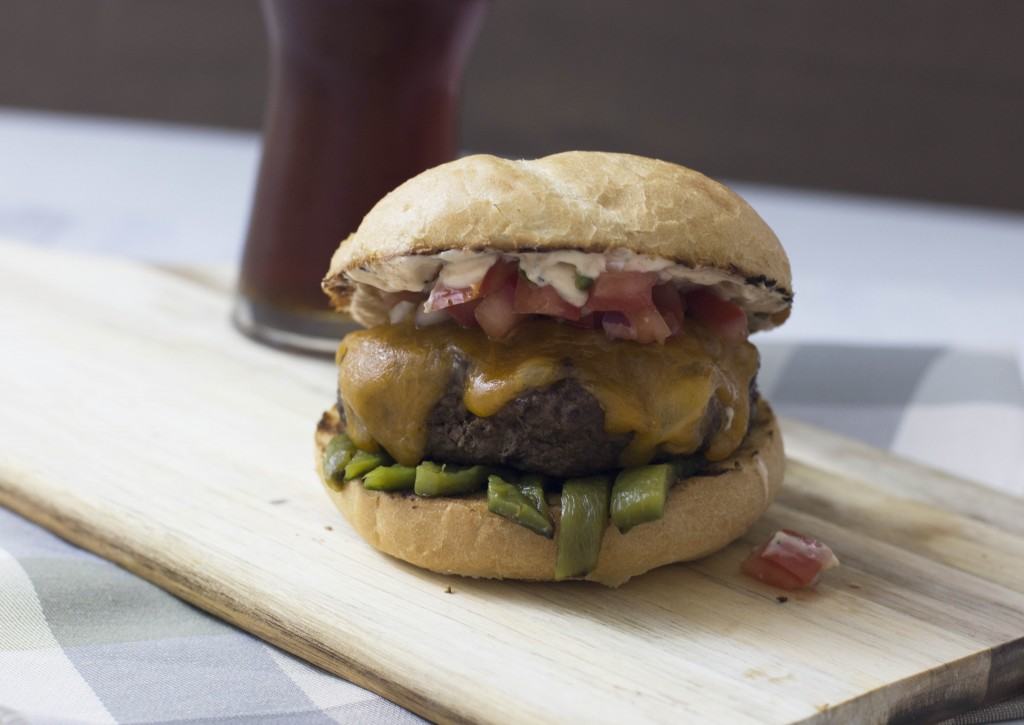 Let's just focus on the burger and proceed to stuff our faces, shall we?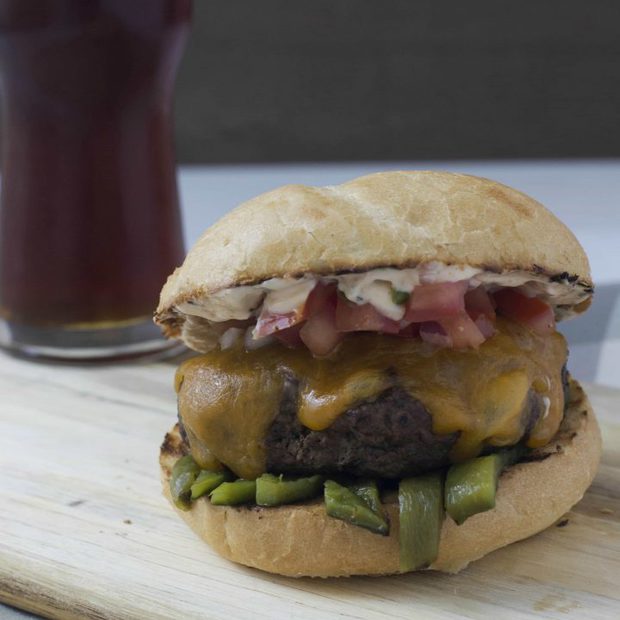 Roasted Poblano Cheeseburgers
Cheeseburgers are made spicy and smoky with the addition of roasted poblano peppers, a spicy mayo, and a fresh burst of pico de gallo. The ultimate summer burger!
Ingredients
Cheeseburger
2/3 lb ground chuck
1/2 tsp cumin
1/2 tsp chili powder
1 tsp salt
1 tsp pepper
1 tsp flour
2 large slices sharp cheddar cheese
Spicy Mayo
1/4 cup mayonnaise
1/4 tsp salt
1/4 tsp pepper
1/4 tsp cayenne pepper
1/4 tsp garlic powder
1/2 tsp lime juice
Pico de Gallo
1 tomato, seeded and chopped
1/4 of a jalapeno, diced
1/4 of a red onion, diced
1 clove garlic, minced
1/8 tsp salt
1/8 tsp pepper
Juice of 1/2 a lime
Instructions
To roast the poblano peppers, turn your broiler on high. Place the peppers on a baking sheet lined with aluminum foil. You will essentially char your peppers under the broiler for approximately 5-8 minutes per side - the skin start to turn dark and bubble. Remove the baking sheet from your oven and add the peppers to a ziploc bag. Seal and allow the peppers to rest for 20 minutes - this will make removing the skin SO much easier. Remove the peppers from the ziploc bag. Gently peel off the black, charred skin with your fingers and discard. Cut into one side of the pepper from the top to bottom and scrape out the seeds with a spoon or fork. Once all the seeds have been removed, slice the peppers into long, 1/4 inch strips. Set aside.
To make the spicy mayo, add the mayonnaise, salt pepper, cayenne, garlic powder, and lime juice to a small bowl. Whisk together to combine. Store in the refrigerator until it's time to stack your burgers.
Add the tomato, jalapeno, red onion, garlic, salt, pepper, and lime juice to a small bowl and stir to combine. Again, store the pico de gallo in the refrigerator until it is time to serve.
Start up your grill (or heat up your grill pan). In a medium bowl, use your hands to mix the ground chuck, cumin, chili powder, salt, pepper, and flour until the spices are evenly incorporated. Form two patties. Once your grill (or grill pan) is nice and hot, place your burger patties on the grill and cook for three minutes until one side is charred. Flip the burger patties and cook the other side for about 3 minutes. While your burgers are finishing, spread olive oil or butter on the cut sides of the kaiser rolls. Add the rolls to the grill and cook for 2-3 minutes until toasted. Remove from heat.
While the burgers are still on the heat, top each burger with sliced cheddar cheese and add the grill cover to seal in the heat. If you are working with a grill pan, cover the patties with a large metal bowl. Cook the burgers for an additional minute, or until the cheese has melted, and remove the burgers from the heat.
To build your burgers, start with the bottom halves of your grilled kaiser rolls. Add a cheeseburger to each bottom half. Top each cheeseburger with a hearty tablespoon (or more!) of fresh pico de gallo. Spread about half a tablespoon of the spicy mayo on the top half of each kaiser roll. Place the top halves of the kaiser rolls on the cheeseburgers. Serve and devour immediately.