Parmesan Tomato Cauliflower Arancini are a crisp balls of happiness with a savory and cheesy filling! By swapping rice for cauliflower rice, the traditional recipe gets lightened up just enough to make you feel less guilty about eating them. 😉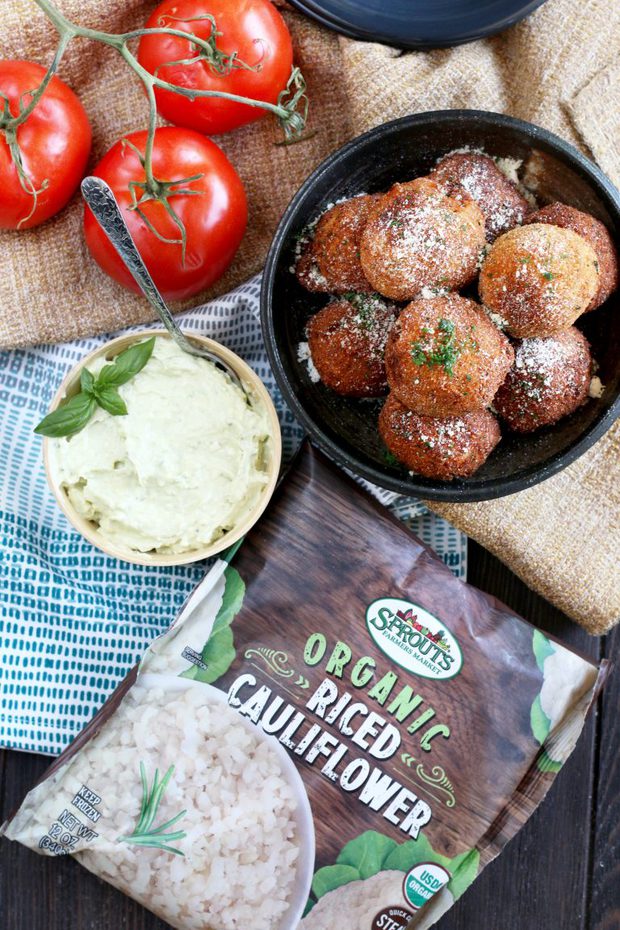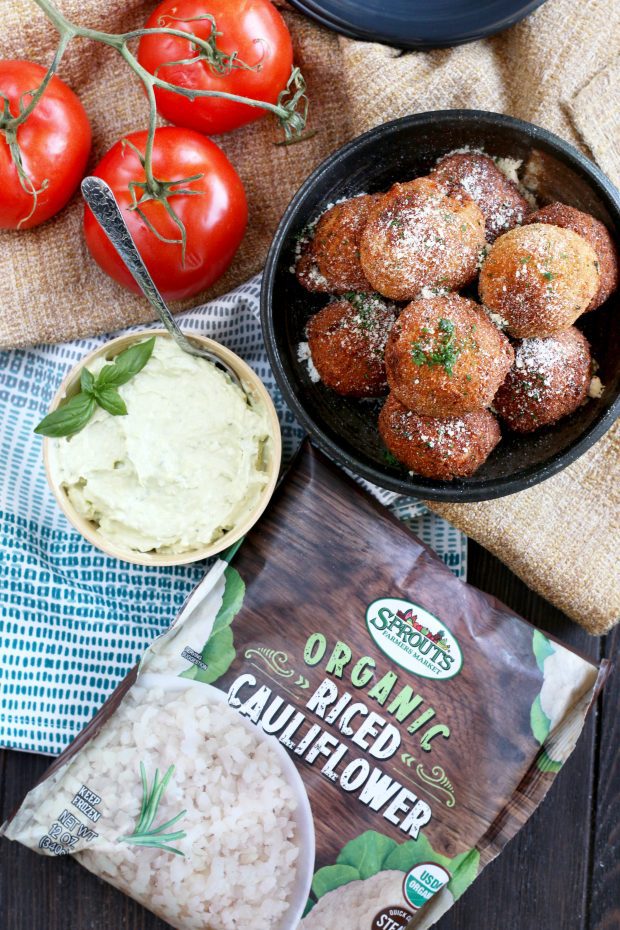 Disclosure: This post is sponsored by Sprouts! As always, all opinions and the recipe are my own. Thanks for supporting the brands that support Cake 'n Knife!
I just found a way to make traditional arancini a little bit healthier and still just as flavorful, if not even more so.
It's all about one thing though – the cauliflower rice.
Do you ever try to make cauliflower rice at home?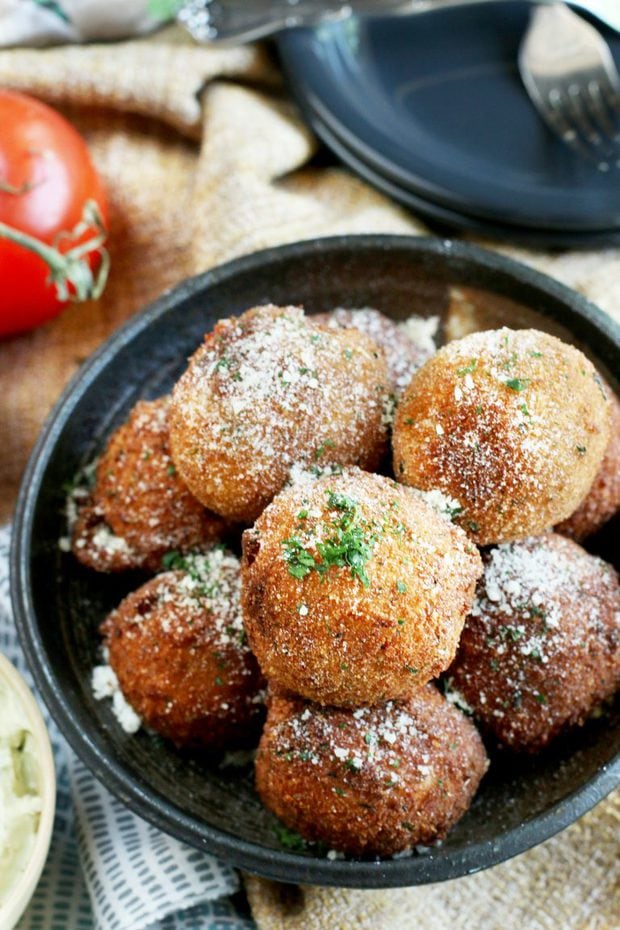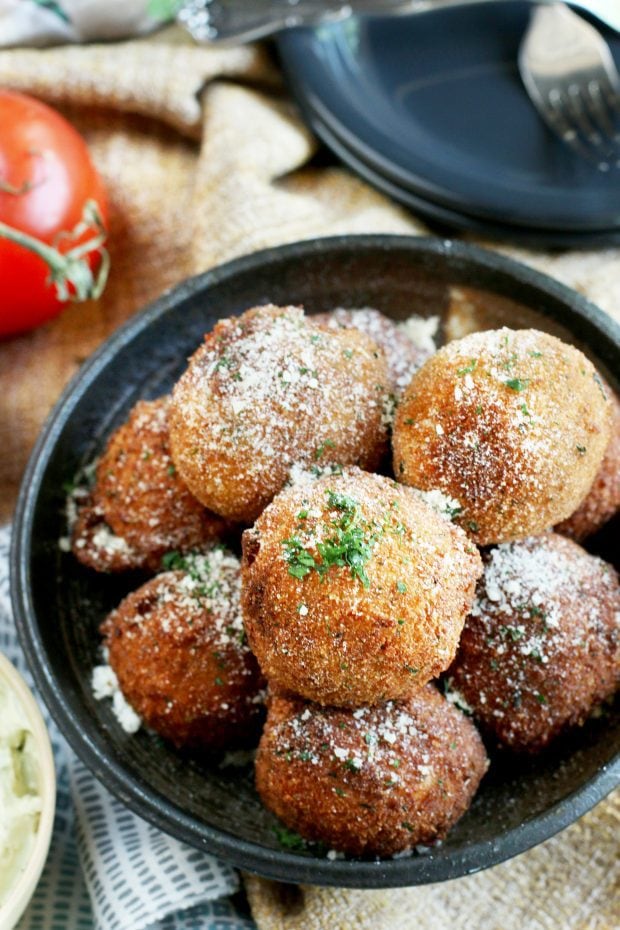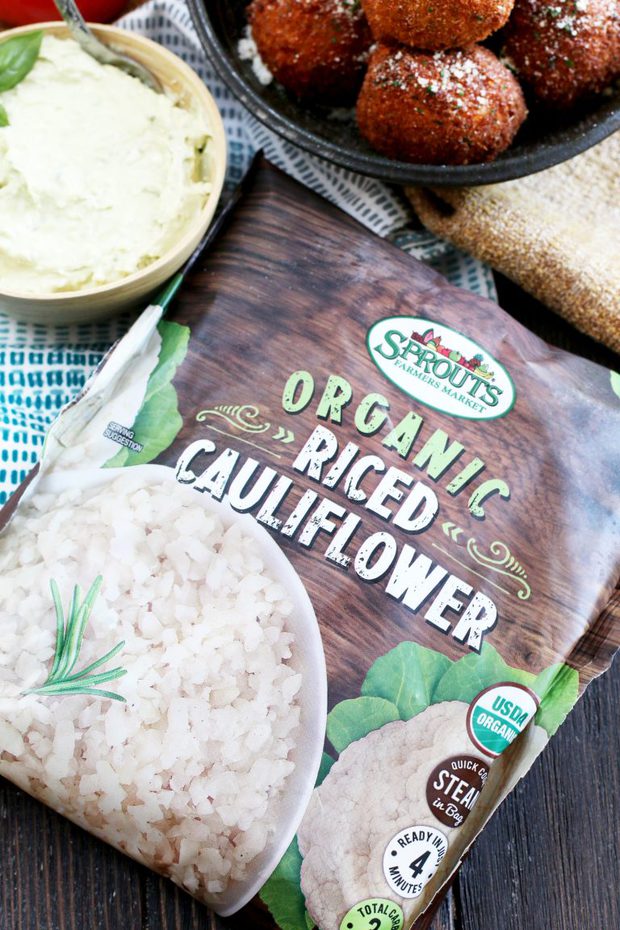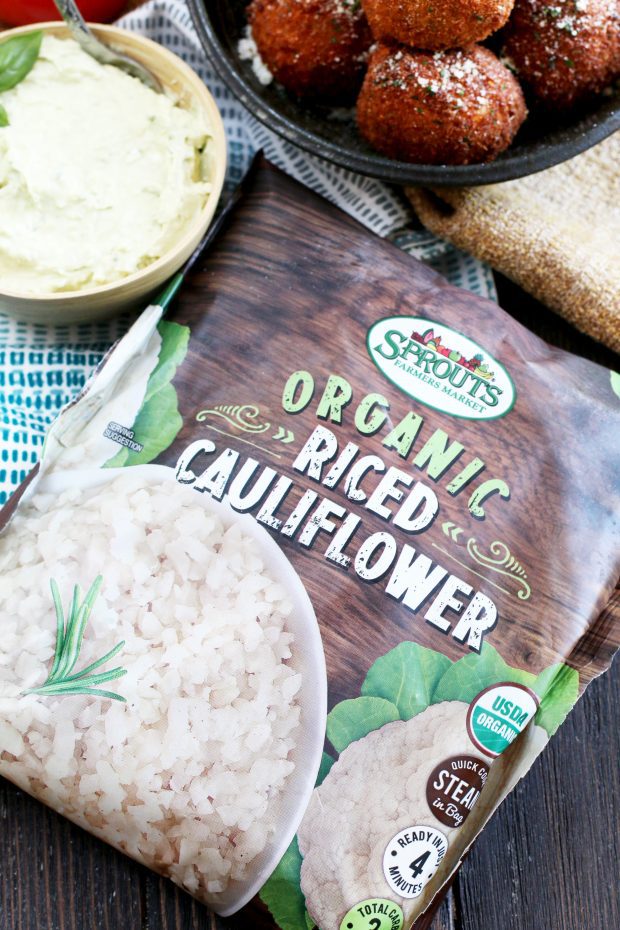 Please note that some of the links below are affiliate links. If you make a purchase through one of these links, I will receive a small commission.
I don't know about you, but making rice in my rice maker is a ton easier, so I tend to skip all that noise of making cauliflower rice from scratch.
That is, until I was introduced to Sprouts Organic Riced Cauliflower.
In just mere minutes, you can have piping hot cauliflower rice, making the stress of a healthy side dish not even a part of your weekly dinner equation.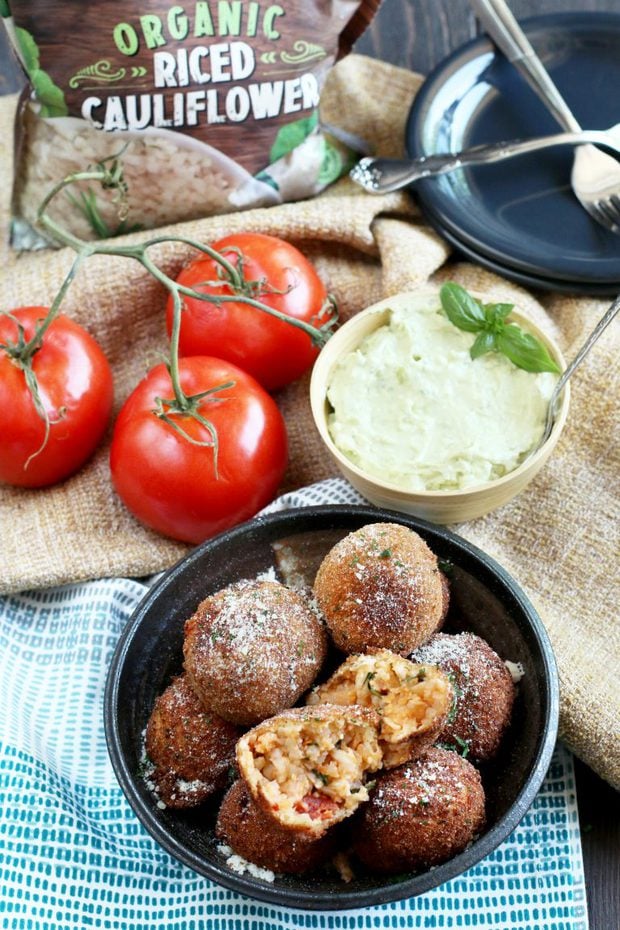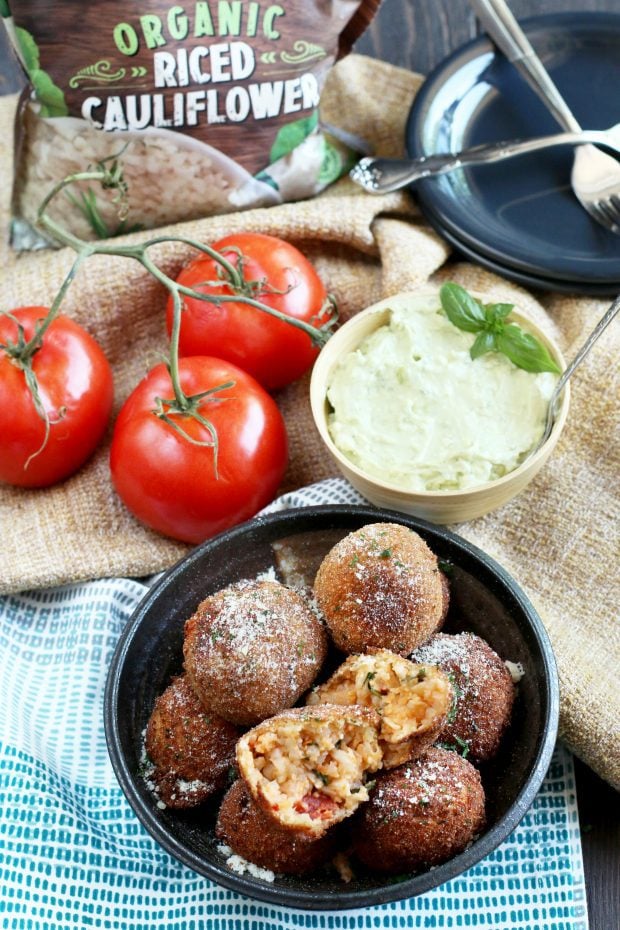 So as soon as I had my fill of cilantro lime flavored cauliflower rice, I started to think… What else can I use cauliflower rice in?
TA-DA!
Gorgeous, perfectly golden arancini. MADE HEALTHIER.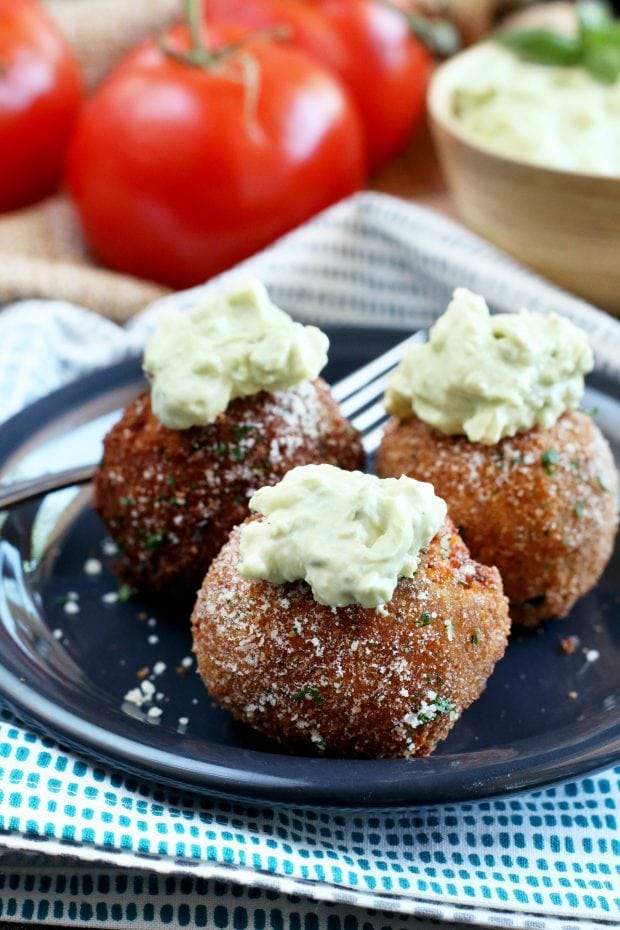 I never thought there could be a way to make arancini a little healthier, but with this riced cauliflower from Sprouts, you can. In just a few simple steps, you have balls of happiness, filled with a ton of healthy cauliflower and big, bold Italian flavors.
Tomato, basil, red pepper flakes and parmesan come together to make the inside of these golden brown treats oh-so tasty. When you add in the mozzarella, you get a little extra gooeyness that melts in your mouth.
You won't be able to stop at just one, that's for sure.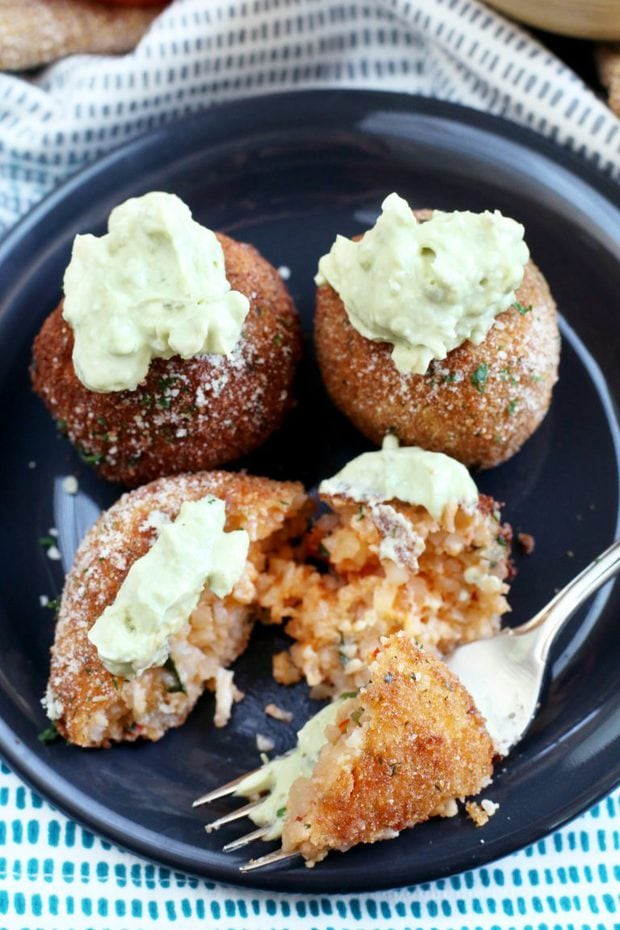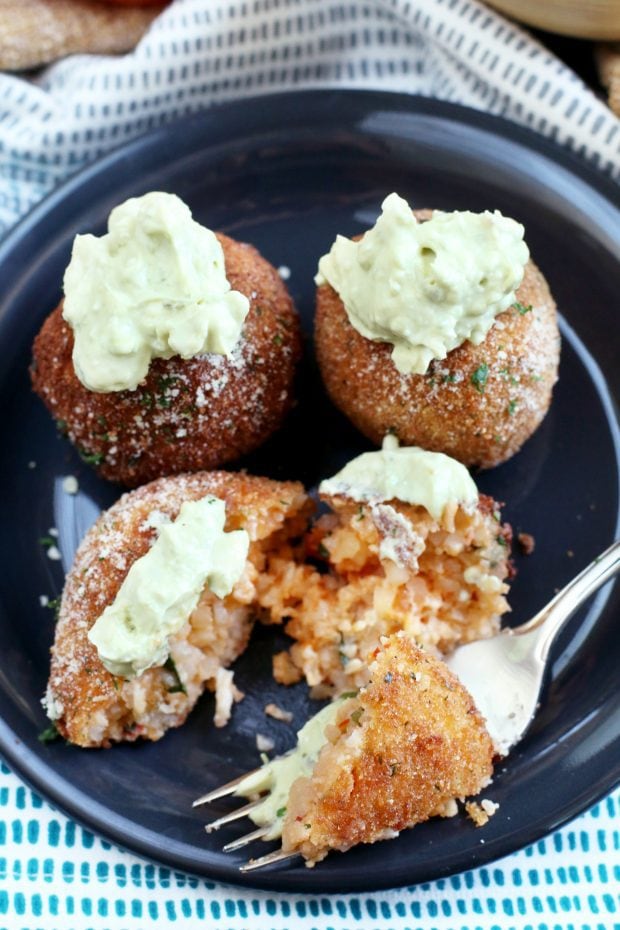 So head to your local Sprouts and pick up a pack of their riced cauliflower (you can find it in the freezer section!) so you can make these bad boys for yourself!
Want more arancini to devour? Check out the recipes below!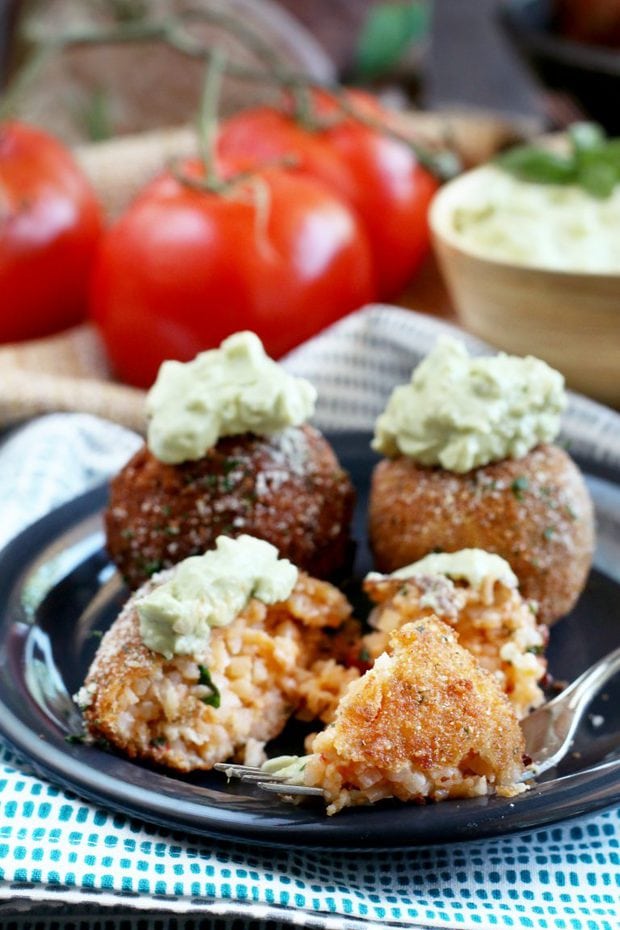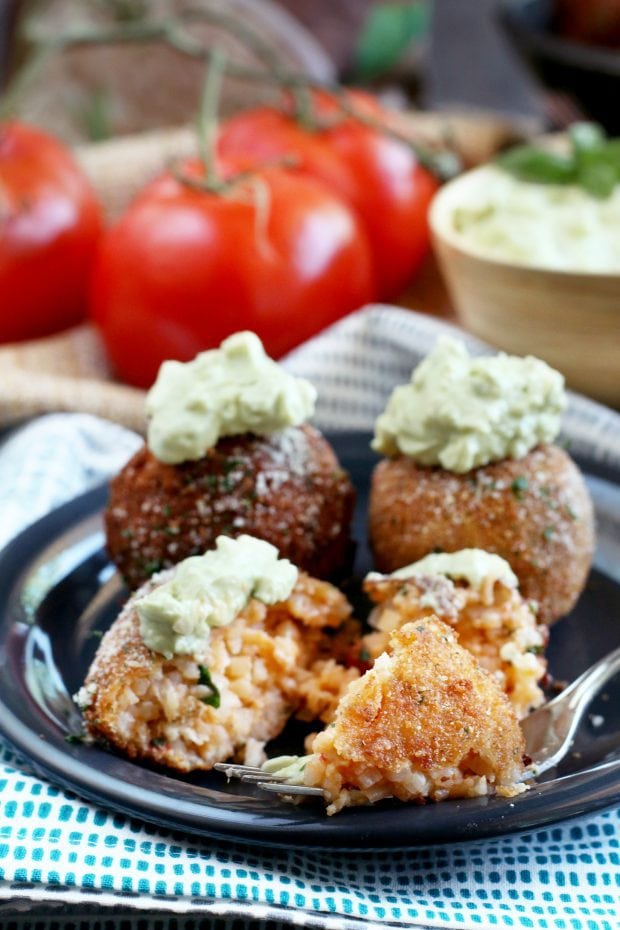 This Recipe's Must Haves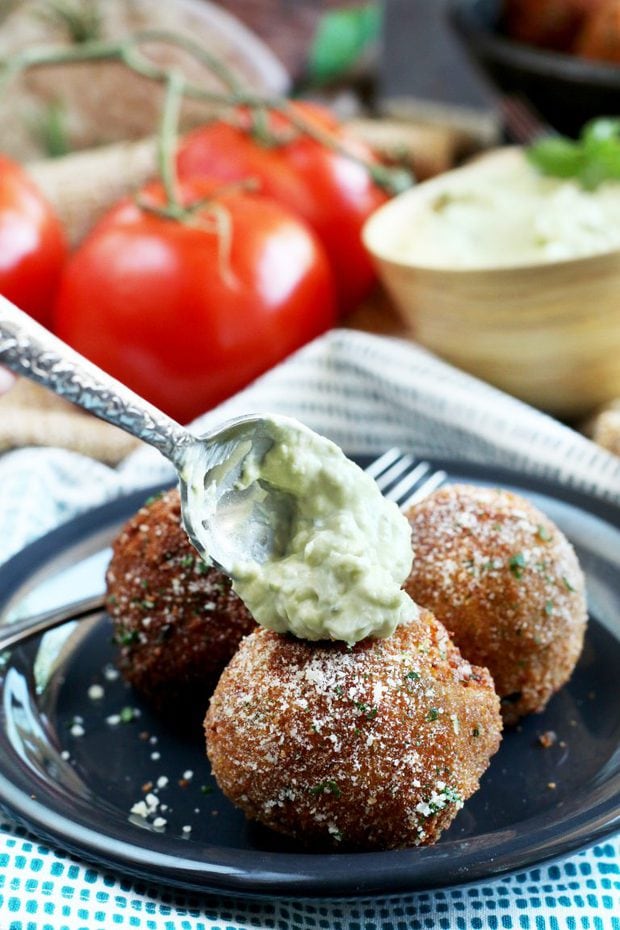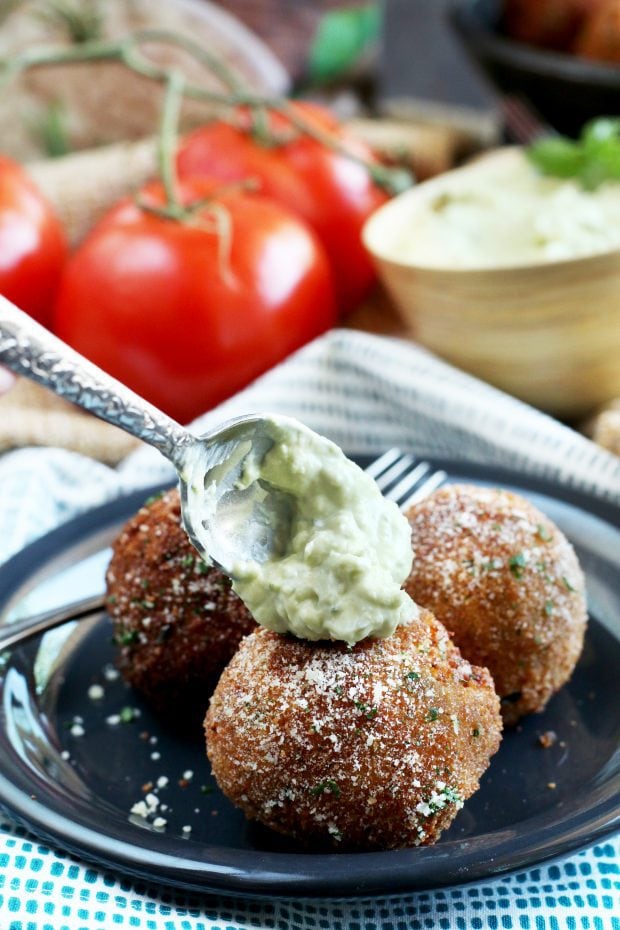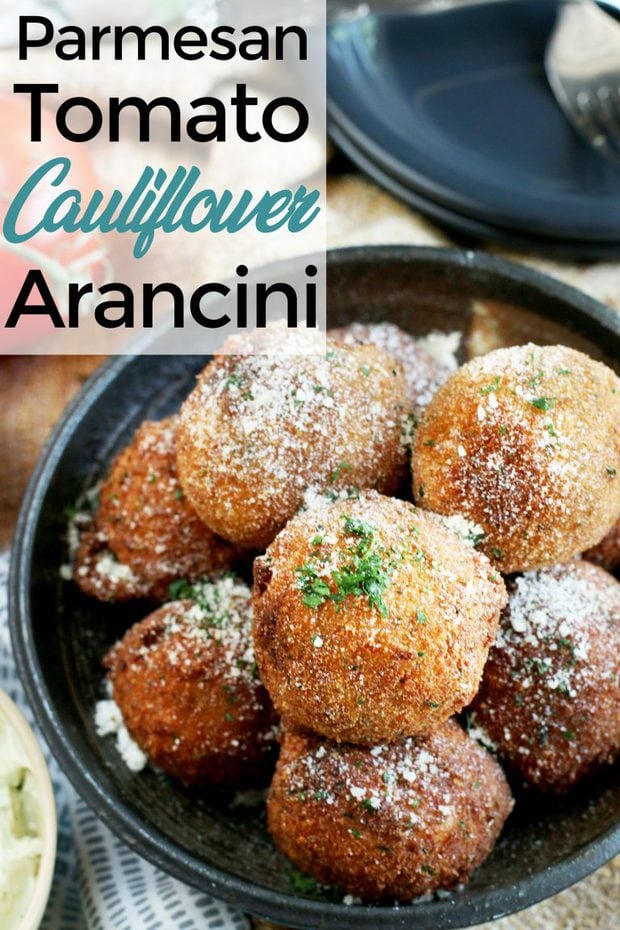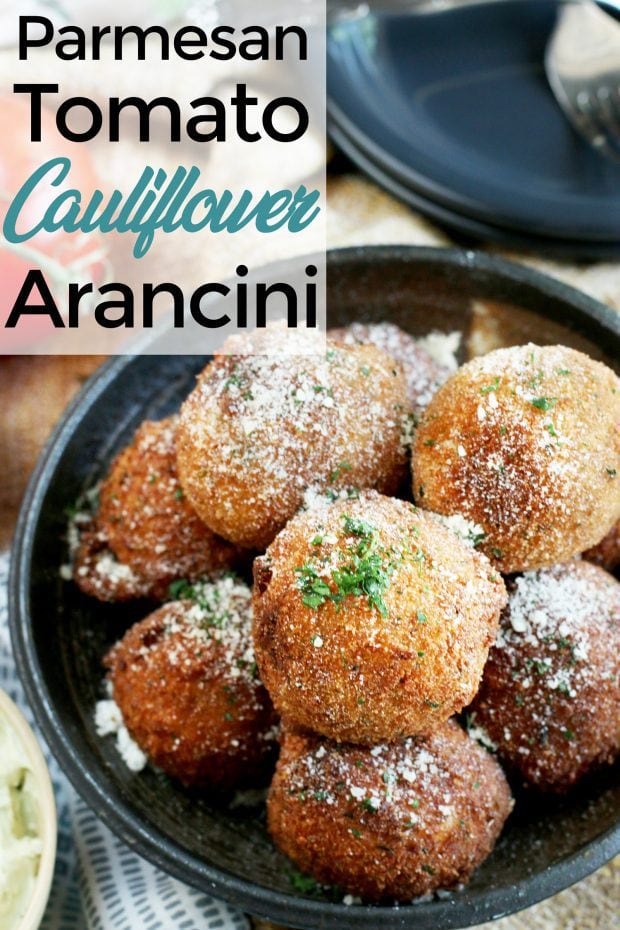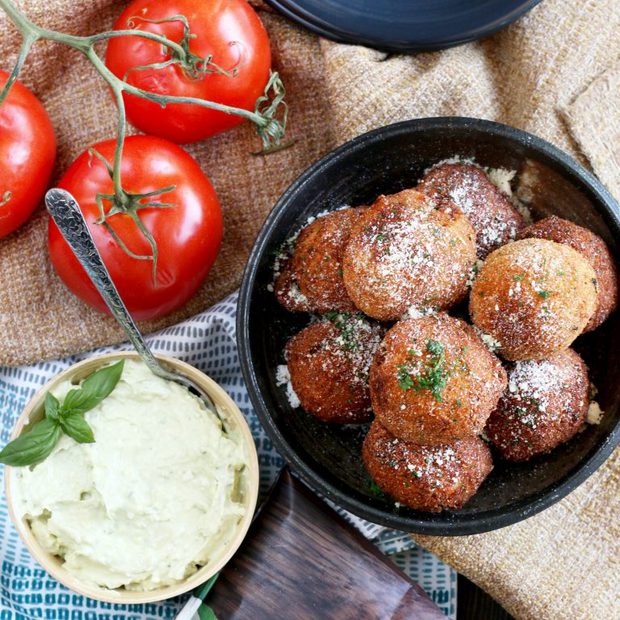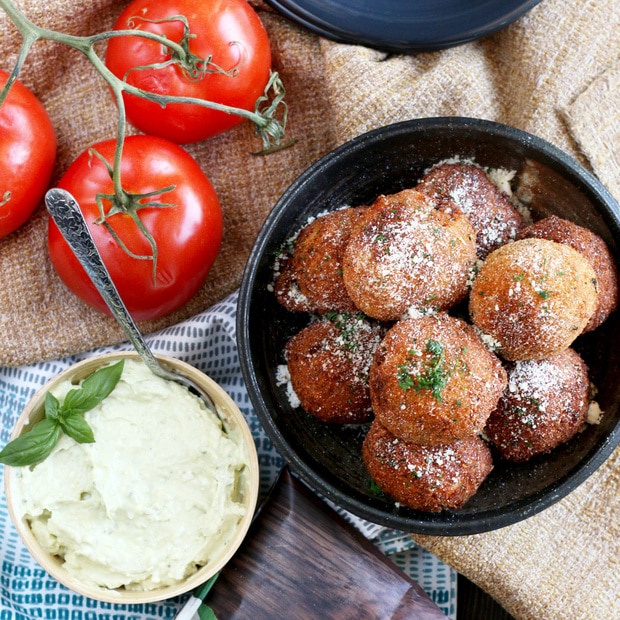 Parmesan Tomato Cauliflower Arancini
Crispy on the outside, rich and cheesy on the inside... These little fried balls of happiness are one snack that you won't be able to stop eating!
Ingredients
Arancini
1 12 oz bag Sprouts Organic Cauliflower Rice
2 Tbsp tomato puree
1/3 cup grated parmesan cheese
1/2 cup shredded mozzarella cheese
2 cloves garlic, minced
1/4 cup roughly chopped fresh basil
1/2 tsp red pepper flakes
1 1/2 cups Italian seasoned breadcrumbs
3 eggs, Lightly beaten
Vegetable oil, for frying
Creamy Basil Pesto Sauce
5 oz cream cheese, softened
1/3 cup prepared basil pesto
1 tsp lemon juice
1/2 tsp black pepper
Pinch of salt
3 Tbsp milk
Instructions
Place cauliflower rice in a microwave safe bowl. Cover with cling wrap and microwave for 2 to 3 minutes.
Remove from microwave and drain out excess water. I used a fine mesh sieve to do this. Gently press the cauliflower rice to get out additional excess liquid.
Place drained cauliflower rice in a bowl. Stir in tomato puree, parmesan, mozzarella, garlic, red pepper flakes and basil. Let chill in the refrigerator for at least 30 minutes.
While the rice is chilling, create the creamy basil pesto sauce. In medium bowl stir together cream cheese, pesto, lemon juice, pepper, salt and milk until smooth. Place in the refrigerator until ready to serve.
Prepare your dredging station by setting out 2 bowls. In one bowl, add eggs and lightly beat them. In the second bowl, add the breadcrumbs.
Heat up enough oil for frying in a heavy bottom pan (my oil was about 2" to 3" deep). Heat your oil to 375°F, or, if you don't have a thermometer, once the oil begins to shimmer, drop in a test couple grains of cooled cauliflower rice — if they start to sizzle, the oil is ready!
Remove rice mixture from refrigerator. Form balls of rice in your hands, packing them tightly. My arancini were about 1 1/2 to 2 inches thick. Dip each ball of rice into the breadcrumbs, then the egg, then the breadcrumbs again before carefully adding to the hot oil. Fry until golden brown, approximately 2 minutes, remove from oil and set on paper towels to drain. Repeat in batches of 3-4, making sure you do not overcrowd the pan.
Serve warm with creamy basil pesto dipping sauce.