Holiday Gift Guide 2021: Kitchen Favorites
For those of you who love to get just the right gift for the cook in your life (or to treat yourself), I'm sharing my kitchen favorites below! I've put together a list of my absolute must-have items. The items I can't live without, and the ones that are topping my wishlist this year. You will find just what you are looking for here!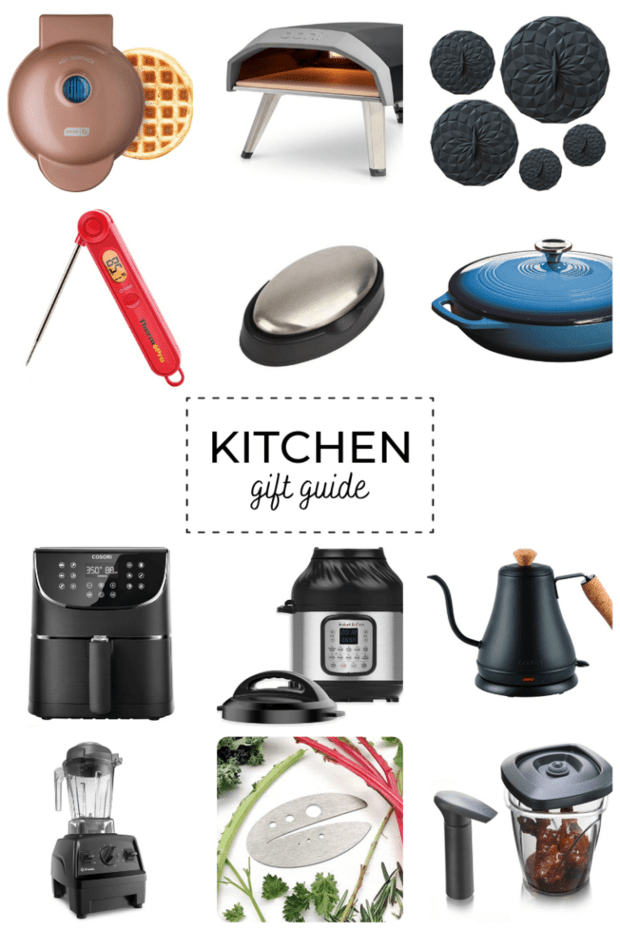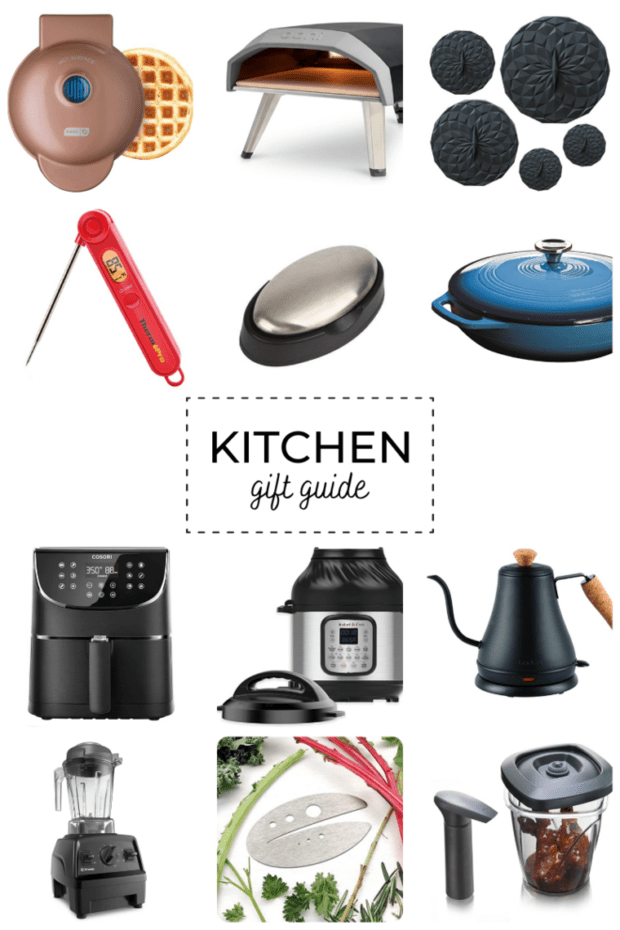 For the cooking-obsessed friends and family in your life, you might feel like you never know what to get them. Sometimes they just seem to have everything, other times you just have no idea what they would want because you aren't a big time cook yourself.
And that's ok!
Picking out the perfect gift is the hardest part of the holiday season for me, so I'm here to make life a little easier for you with a list of kitchen favorites for 2021.
As the ultimate gift guide for cooks, this kitchen favorites holiday gift guide is filled with the best gifts.
Here you'll find all my kitchen favorites that I use on a daily basis. It doesn't matter if you are gifting to a chef or a newbie in the kitchen, any of these items are just what they have been dreaming of.
Note that this post is not sponsored, but it does include affiliate links. This means that if you click through and take action, I will receive a small commission.
Holiday Gift Guide 2021: Kitchen Favorites
If you are looking for the ideal gift for the cook in your life, this is the holiday gift guide for you! I've put together a list of my kitchen favorites that I absolutely must have. From appliances to tools, you will find just what you are looking for!
Disclaimer: Some of the links below are affiliate links. If you click through and take action, I will receive a small commission.
One thing that always kills me about marinating meats? It takes SO LONG. This magic little thing does it in just 20 minutes! Pretty snazzy and not too expensive!
I love a gorgeous dish like this. Recently I've fallen in love with all of Lodge's products. It's less expensive that the big name brands but it lasts just as long!
For tea and coffee lovers, an electric water kettle is a must! It also happens to be an amazing little appliance to have in the kitchen when you need a up to three cups of boiling water QUICK. Love using this for risotto and pasta dishes!
Of all the Vitamix blenders, this is my favorite! It's the smaller of the lines, it is a workhorse, and works in place of a food processor as well.
Lids for pots and pans are heavy and awkward, so these silicone lids are serious space savers! They help prevent splatters so you don't have as big of a mess to clean up, but can also be used in regular cooking the way a lid would for covered cooking.
Air fryers are still a big deal right now, so if you know someone without one, this is the best one to grab! It does everything you need it to, plus it has a big basket.
This is the two-in-one gift to spoil someone with this year! The Instant Pot (as you all know) is my favorite appliance in the kitchen and I use it almost every day. With the air fryer attachment, it turns into an air fryer and roaster so you can get even more cooking functions out of it!
Stripping herbs and kale is one of my LEAST favorite prep chores in the kitchen, and this small tool makes it so much faster!
Hands down the best meat thermometer I've used (and I've used quite a few over the years!). Super fast reading and I love that there are buttons to flip out the thermometer pen. Makes it easy to use with just one hand!
Mini waffle makers are adorable and so fun. Perfect for cooks with families, or ones that just want a space-saving waffle maker in their home!
This is on my wishlist and it's a big gift, but if you really want to knock their socks off, this pizza oven is the way to go. It gives you woodfired pizza oven taste, without needing to build a giant pizza oven in the backyard.
I HATE how garlic and onion makes my hands smell funny forever, despite how much I wash my hands. These stainless steel bars actually get rid of the smell! A fun little stocking stuffer, I think!