Please note this post contains affiliate links.
Thai Turkey Avocado Egg Rolls will take you to Thailand with a flavorful mixture of vegetables, turkey and spices. Served with a spicy peanut dipping sauce, you'll get a mouth full of textures and exciting Asian flavors in every bite!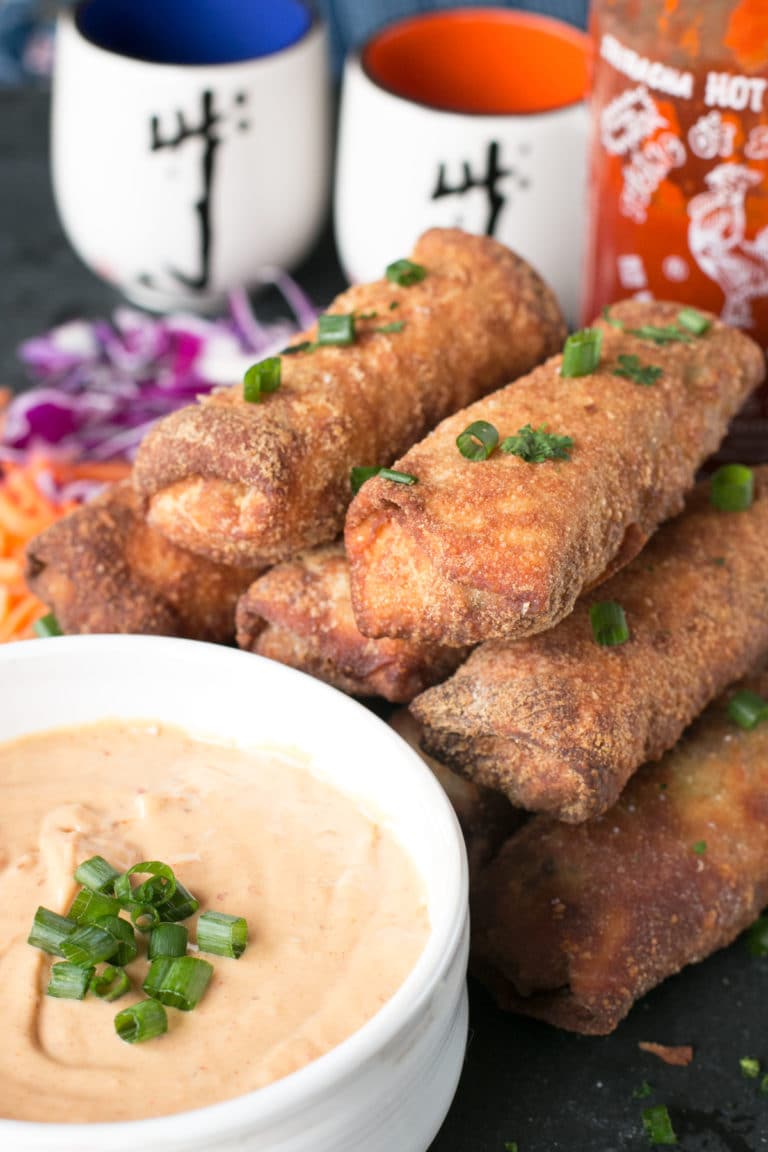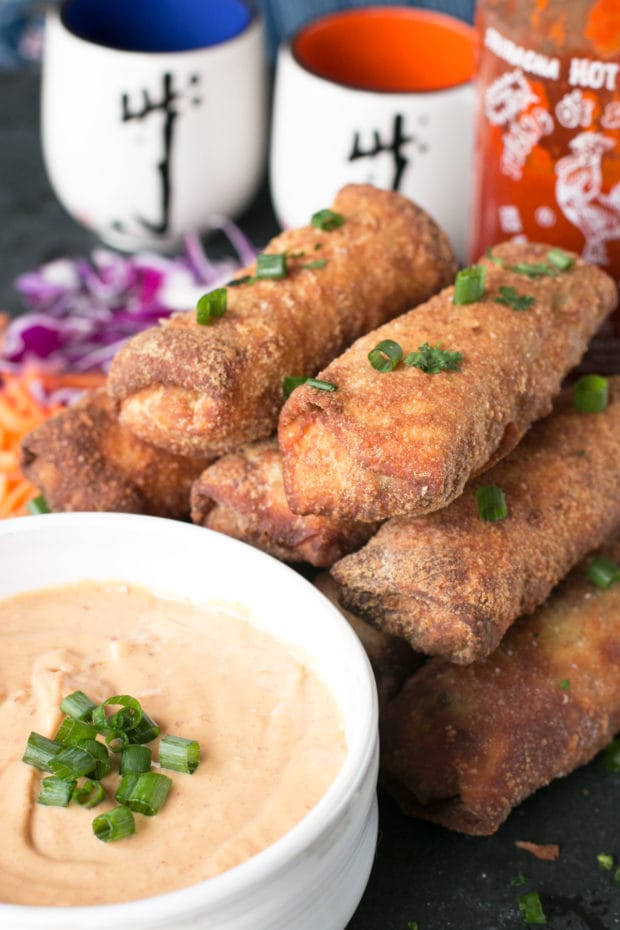 I swear I was a pro egg roll maker in another life. Despite my general struggle with all things delicate, I can somehow bust out egg rolls without having a single one burst on me.
It's like magic. Magic, I tell you.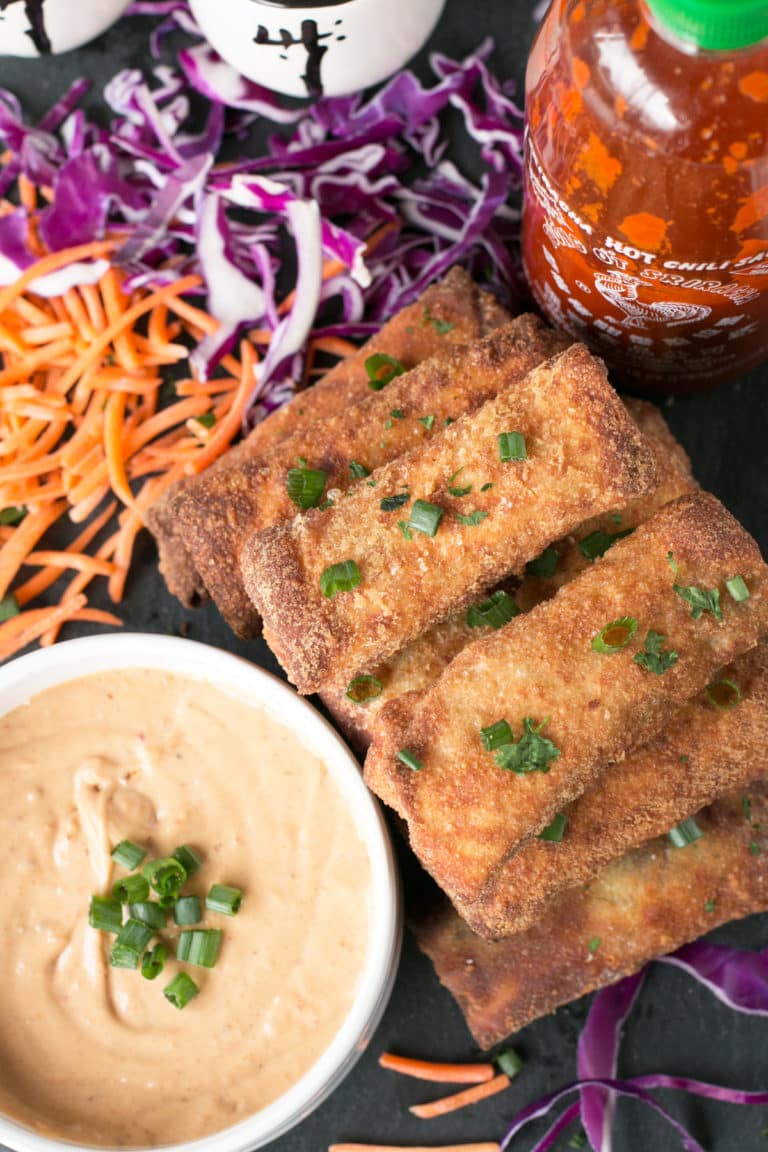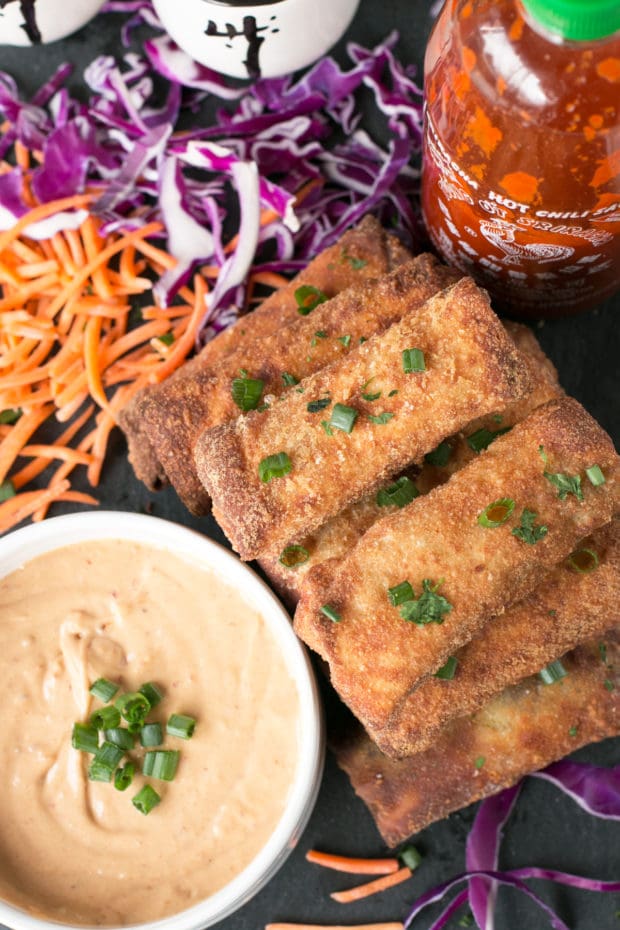 Ok, so at first perhaps I was a little unskilled in my wrapping of the rolls. There was mild cursing and some throwing of things involved…
BUT once I actually found my egg roll wrapping rhythm, it was like I had been doing it for years.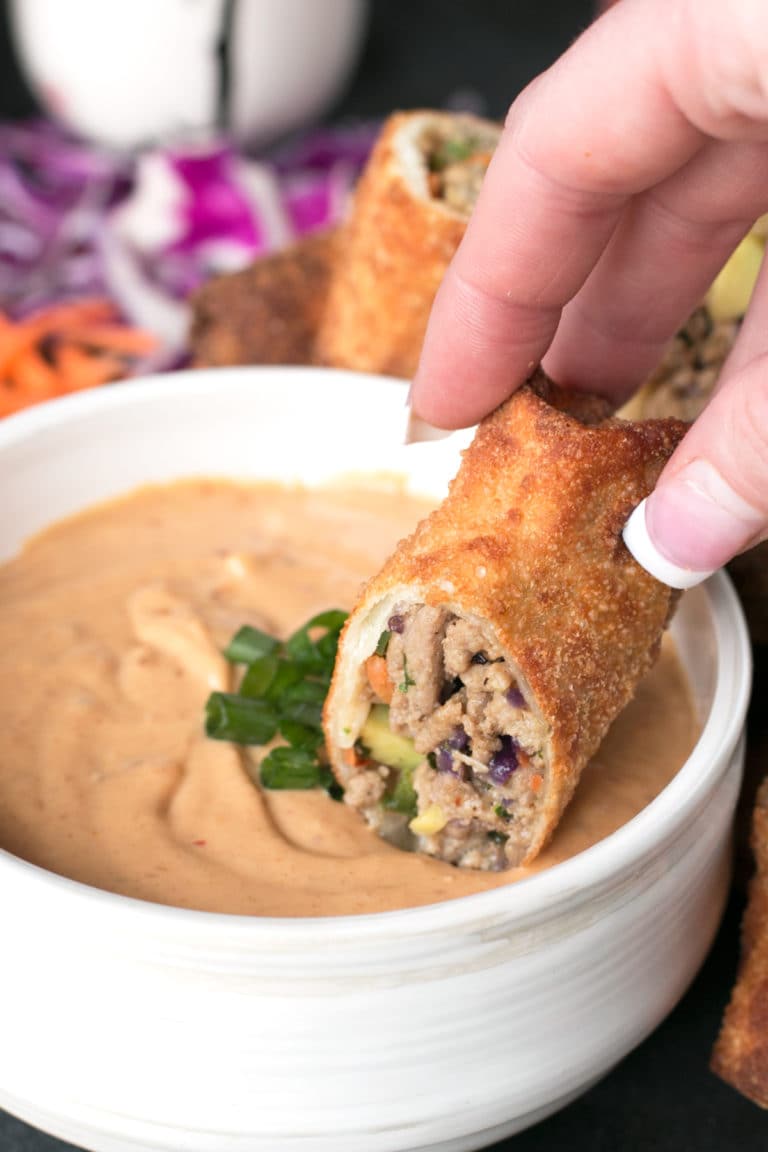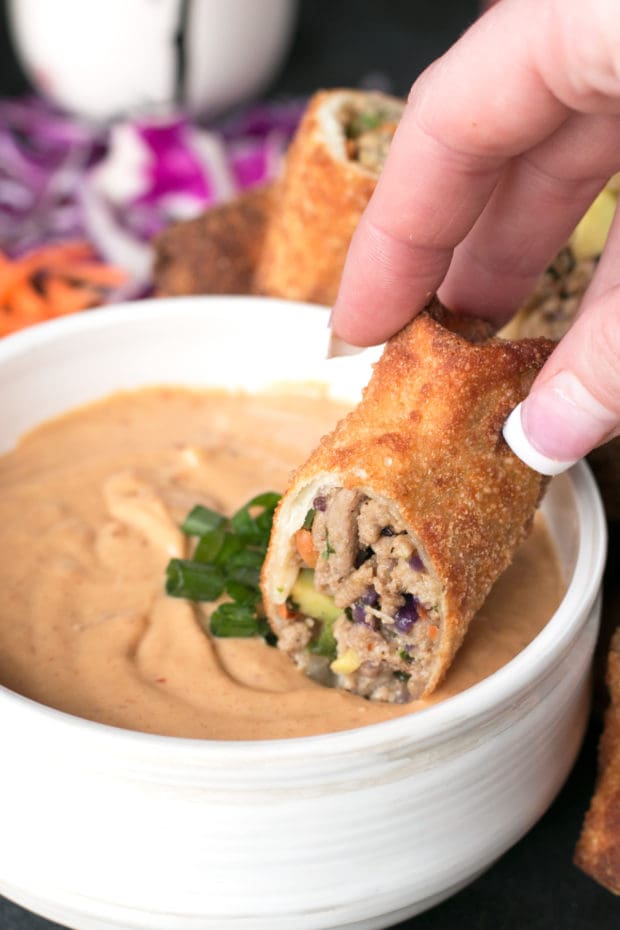 I have filled egg rolls with all sorts of things from sweet to savory, from berries to everything you'd put on top of loaded nachos. This time, I'm going to Thailand with my egg rolls.
Those Thai flavors hit a comfort zone for me.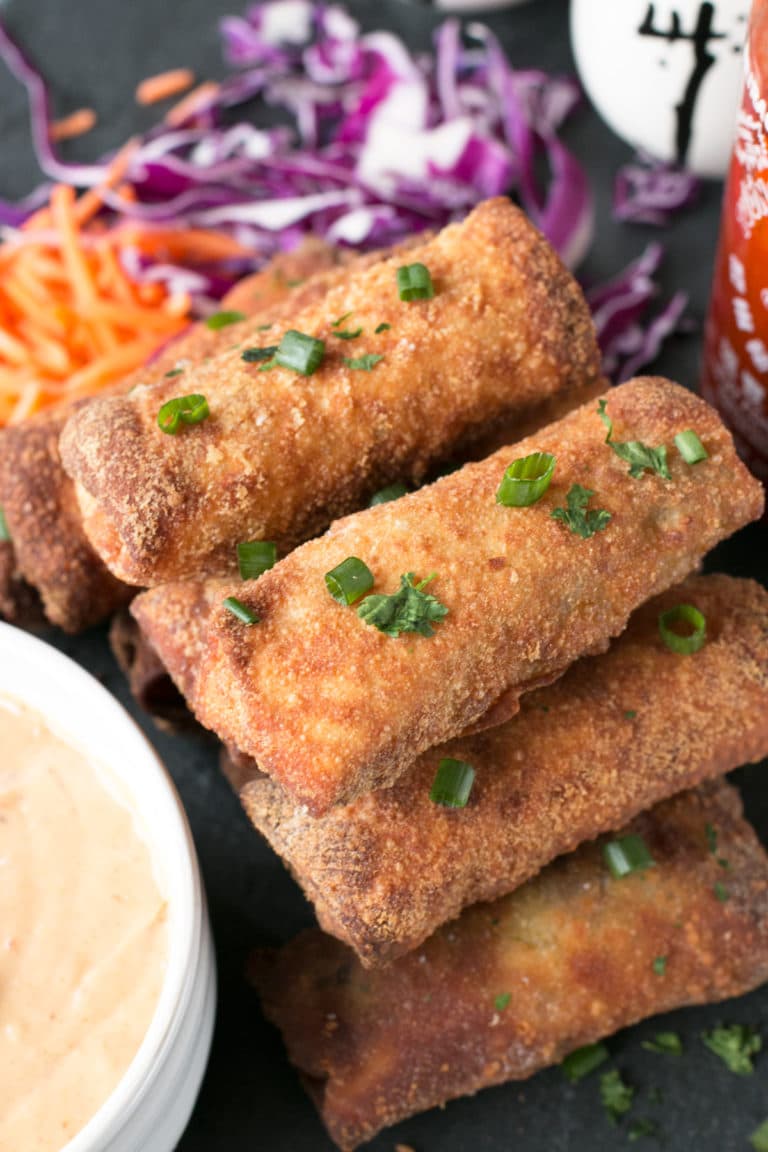 Even down to the fish sauce (which I still don't love the smell of, if I'm being completely honest), the combination of Thai ingredients comes together to form something truly unique in every dish I taste.
A whole new flavor profile that I was never raised with, as a child, and can never seem to get enough of.
Thus, Thai turkey avocado egg rolls were born.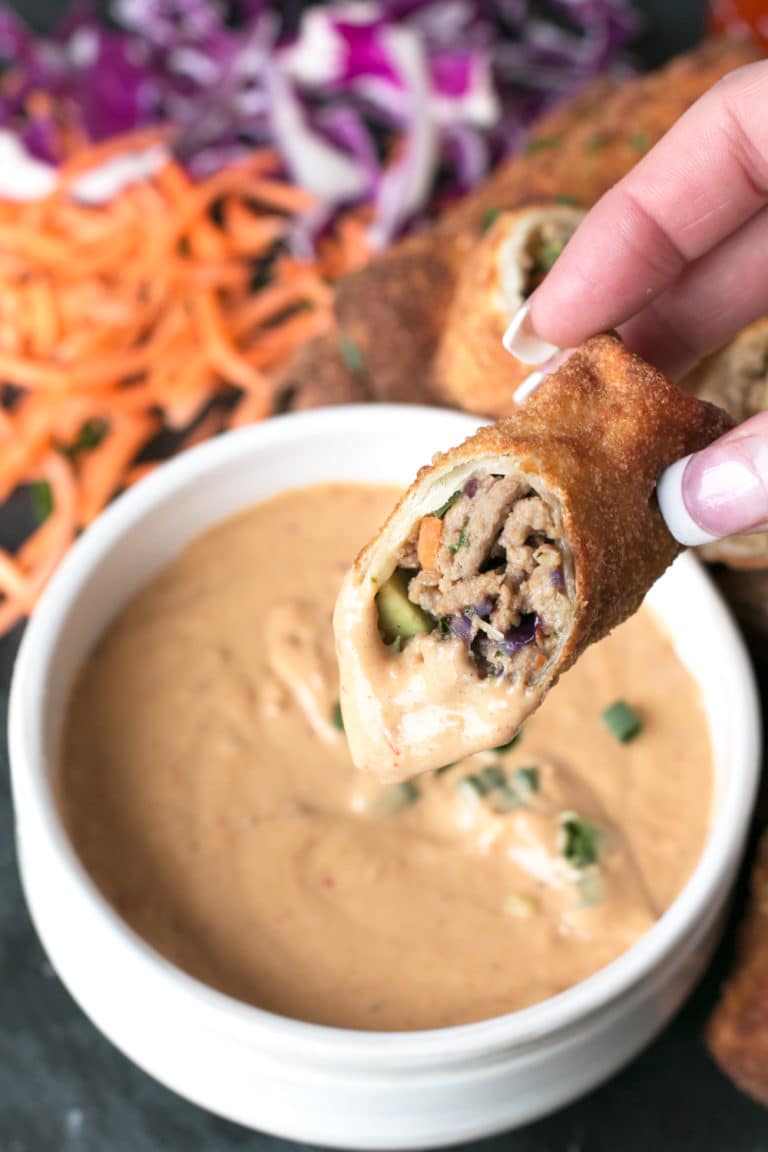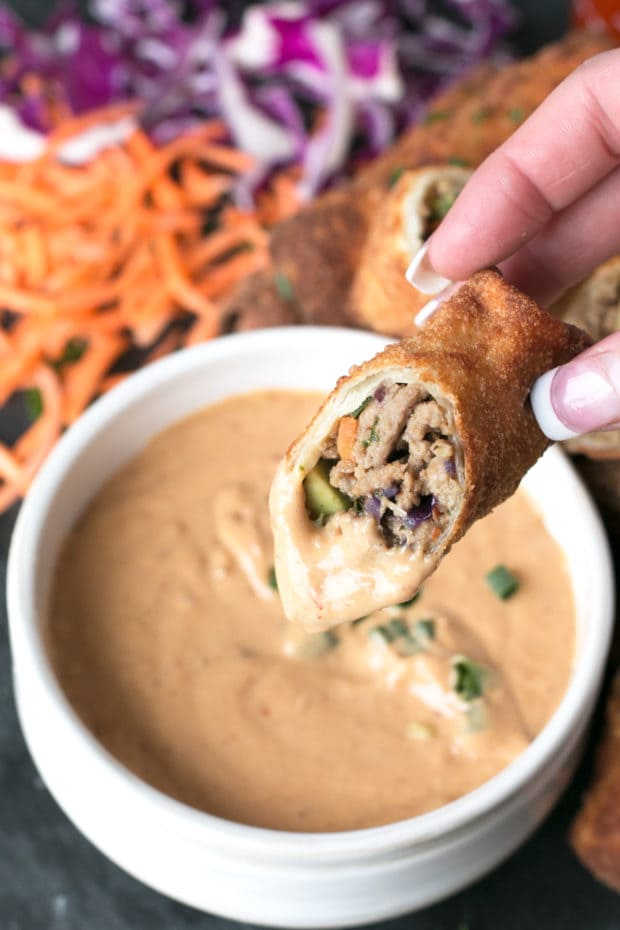 Crispy egg roll wrappers are filled with turkey, veggies, and a bunch of familiar Thai ingredients, including fish sauce and basil. The spicy peanut dipping sauce is just the icing on the cake.
I like to add a little to the filling and serve up the sauce to dip the egg rolls in so you get a little extra punch of the sauce in every bite.
You can also enjoy a little kick of peanut in every bite if you run out of the sauce (because you will, trust me).
This Recipe's Must Haves
For prepping the interior of these egg rolls, I reach for my favorite cutting board and chef's knife.
To fry them, I like to use my dutch oven! I also like to have a spider strainer to get them out of the hot oil safely.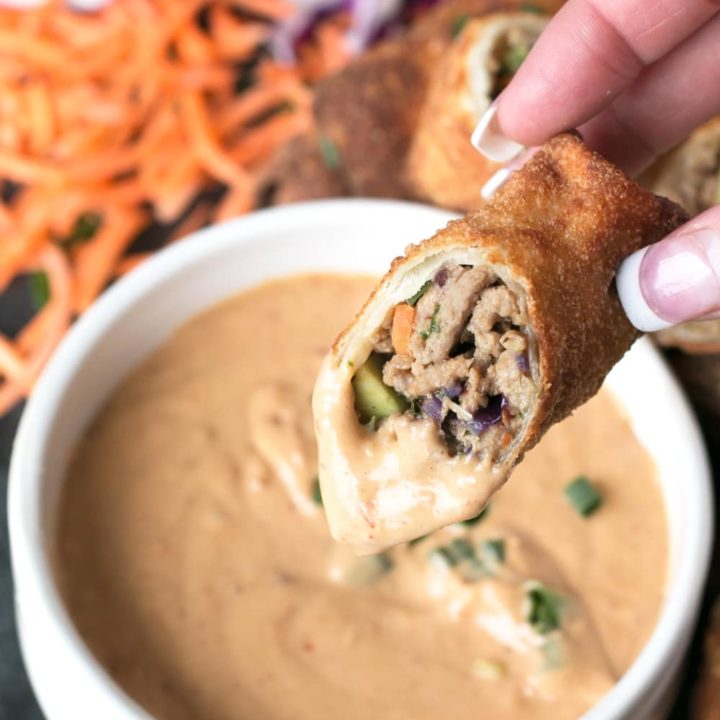 Thai Turkey Avocado Egg Rolls
Yield:
Makes 12 egg rolls
When you stuff egg rolls with your favorite Thai flavors and dunk it in a delicious peanut sauce, amazing things happen. These rolls are your next appetizer/snack OBSESSION.
Ingredients
Peanut Dipping Sauce
1 2/3 cups Coconut Milk
4 tablespoons Brown Sugar
1 1/2 teaspoons Red Curry Paste, depending on your level of spice preference, for a small kick start with 1/2 tsp
2 teaspoons Lemongrass, minced
1/2 cup Creamy Peanut Butter
1 1/2 teaspoons Fish Sauce
Chopped Cilantro, for garnish
Diced Green Onion, for garnish
Egg Rolls
12 Egg Roll Wrappers
1 teaspoon Olive Oil
1/2 cup Shredded Cabbage
1/2 cup Shredded Carrots
1/2 pound Ground Turkey, cooked
1 jalapeño, seeded and diced
2 tablespoons Finely Chopped Basil, fresh
2 teaspoons Soy Sauce
1 teaspoon Garlic Powder
1/8 teaspoon Black Pepper
1/8 teaspoon Salt
3 tablespoons Peanut Dipping Sauce
1 Avocado, pitted and chopped
Vegetable Oil
1 tablespoon Cornstarch
1/4 cup Cold Water
Instructions
In a small bowl, stir together peanut dipping sauce ingredients until smooth. Set aside.
In a medium skillet over medium-high heat, sweat the cabbage and carrots with 1 tsp olive oil for approximately 2 minutes, until softened. Add cabbage and carrot mixture to a large bowl.
Stir in cooked ground turkey, jalapeno, basil, soy sauce, garlic power, black pepper, salt, and peanut dipping sauce. Gently fold in chopped avocado.
In a small bowl, whisk together cornstarch and cool water.
To wrap your egg rolls, start with a clean, flat surface. Lay one wrapper so one of the corners is facing you (like a diamond).
Dip your fingers in the cornstarch water and spread on each edge of the egg roll wrapper. In the corner closest to you, spoon 1 to 1 1/2 tablespoon of the filling into the center. Lift the bottom corner up and begin to roll away from you, making sure you tuck the corner under as you roll. Once you are halfway up the wrapper, fold in the left side and then the right side towards the center. Continue rolling away from you until only the final corner is ready to roll.
Dip your fingers in the cornstarch and water mixture you made earlier and brush it over the final corner. Finish the roll, brush a little more of the cornstarch mixture along the seam, and place seam-side down. Make sure you roll the egg rolls tightly. If they are too loose, they will fall apart when you fry them.
Fill a pot with 4-5 inches of cooking oil. Heat the oil to 350°F.
Gently add the egg rolls to the hot oil, frying no more than 3 or 4 at a time, turning occasionally. Fry until the egg rolls are golden brown on all sides, approximately 2 to 3 minutes. Place on paper towels to drain and cool.
Serve immediately with peanut dipping sauce.
Recommended Products
As an Amazon Associate and member of other affiliate programs, I earn from qualifying purchases.