Peanut Butter Cup Overload Cake is the cake to rule all cakes. The moist, rich chocolate cake is the ideal match for a creamy, fluffy peanut butter frosting. It's just like eating a peanut butter cup!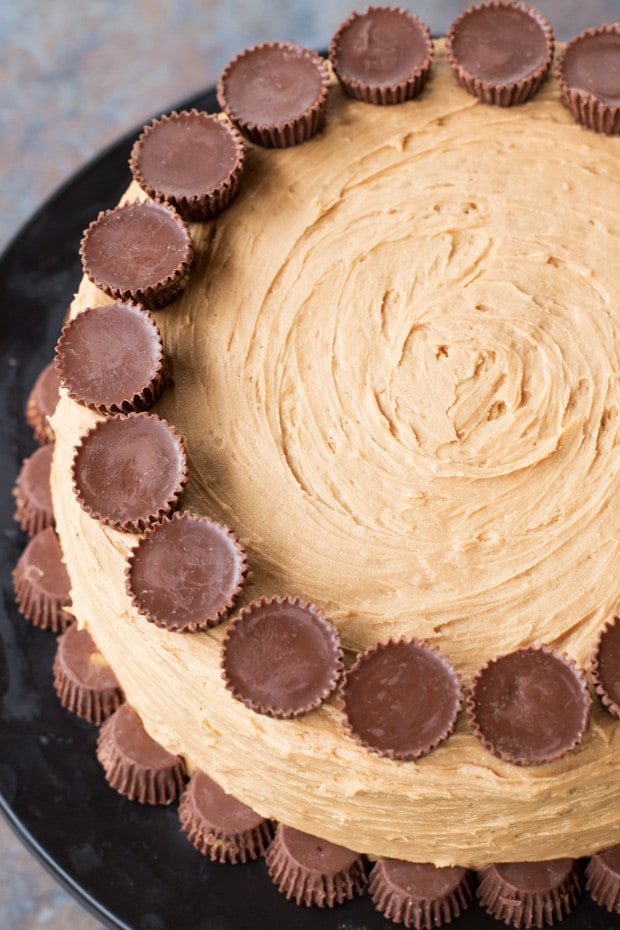 You would think the week after Halloween I would be completely burnt out on candy, wouldn't you?
Hahaha think again… The only candy I actually got burnt out on Saturday night was candy corn. Apparently there's a vicious cycle where you eat the candy corn, even though you sorta love-hate the darn stuff, then regret eating it but can't physically stop yourself from eating just one more. Though, candy corn and popcorn? Holy crap that stuff is GOOD.
If you ever want to be able to eat popcorn by itself again, never ever try this combination. It's ruined me forever.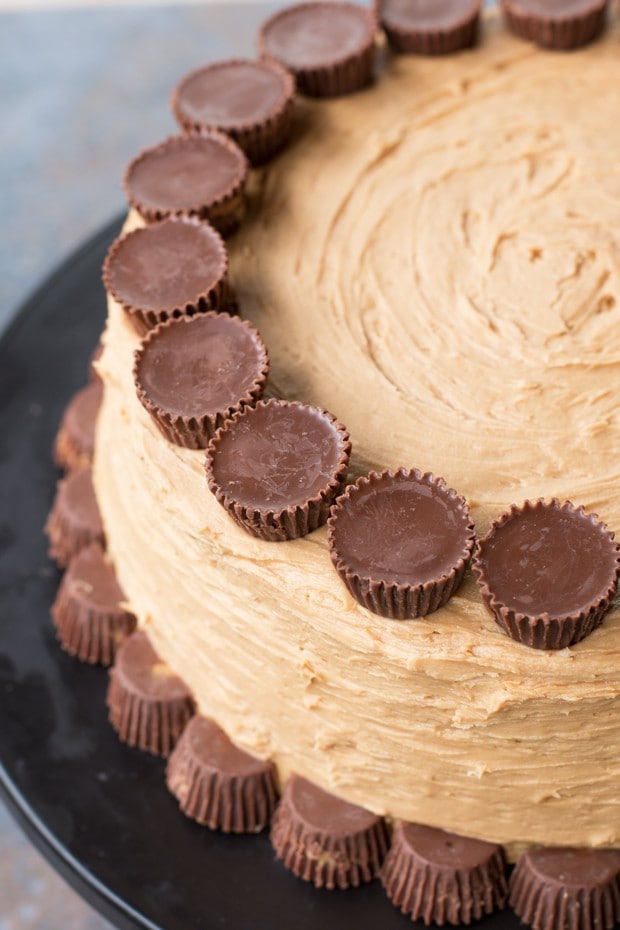 Chocolate and peanut butter is my JAM though. There's no suppressing the craving for it because it's become a part of my soul. And this cake, well, it's my soulmate.
There's little I won't do to get my hands on chocolate and peanut butter when the mood strikes me.
Once I get the idea in my head, oh it's happening. Which is why eating this cake is like biting into a soft, dense peanut butter cup.
The standard peanut butter cups just weren't cutting it for me this time, so I had to go and turn it into a gigantic cake of chocolate peanut butter happiness.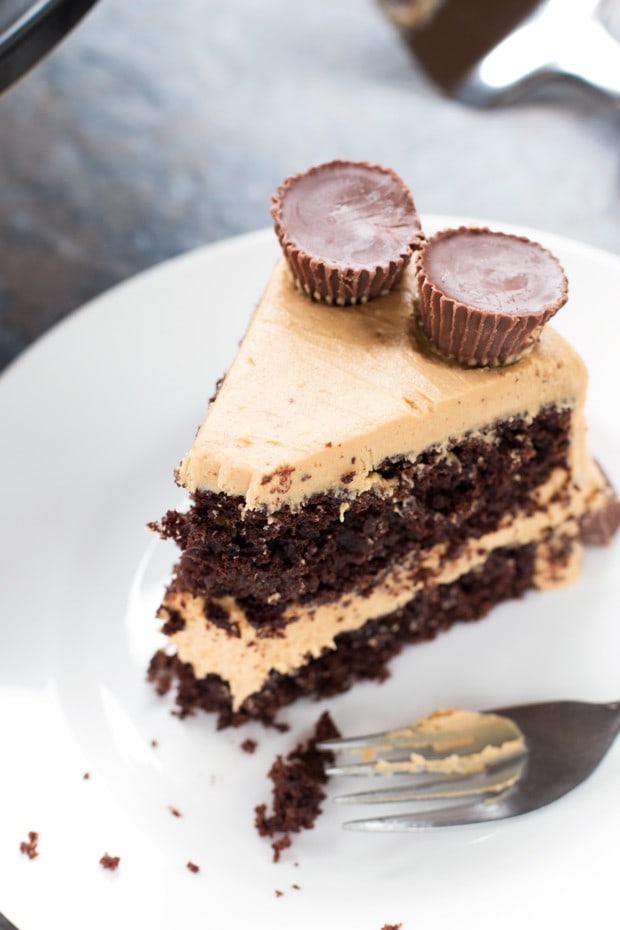 I could float away in a sea of this fluffy peanut butter frosting. It's so creamy and rich, but the texture is so light, just like eating a cloud.
A peanut cloud wrapped in chocolate cake.
GAH I'm already starting to drool again…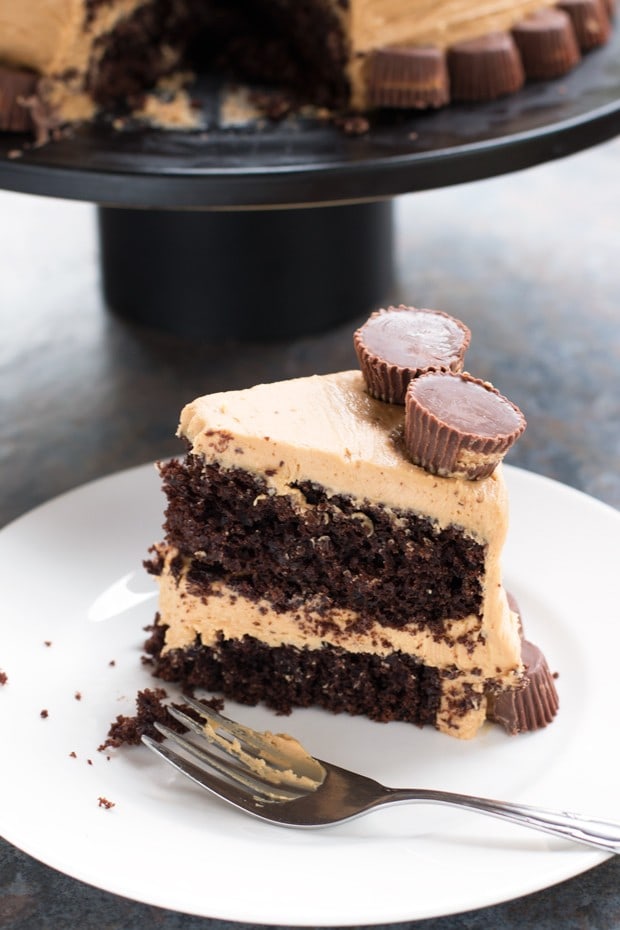 Just give into the craving and savor every bite of this peanut butter chocolate crack cake.
It's November (*silent scream*), which means the diet can't start again until January 1st, right? RIGHT.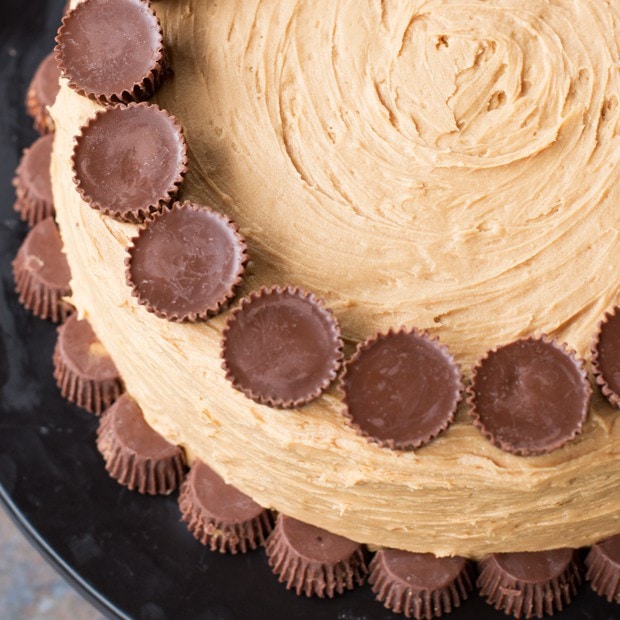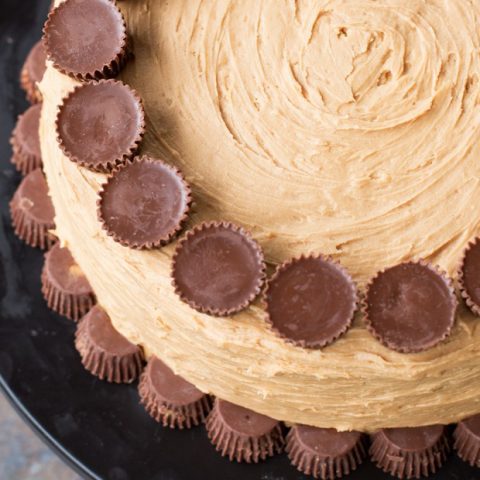 Peanut Butter Cup Overload Cake
Additional Time:
10 minutes
The cake that tastes just like a peanut butter cup, but better.
Ingredients
Cake
1 ½ cups all-purpose flour, plus more for pans
1 ½ cups granulated sugar
¾ cup cocoa powder
½ Tbsp baking soda
¾ tsp baking powder
3/4 tsp salt
2 large eggs
¾ cup buttermilk
¼ cup + 1 Tbsp canola oil
1 1/2 tsp vanilla extract
2/3 cup boiling water
Frosting
2 cups peanut butter
2 cups confectioners' sugar
8 Tbsp unsalted butter, room temp
1 tsp vanilla extract
1/4 tsp salt
Miniature peanut butter cups for decorating (optional)
Instructions
Preheat oven to 350 degrees.
Butter two 9" round cake pans, and dust with extra flour, tapping out excess.
Sift flour, sugar, cocoa, baking soda, baking powder, and salt into the bowl of a mixer. Beat on low-speed until just combined. Increase speed to medium, and add eggs, buttermilk, oil, and vanilla. Beat until smooth, approximately 3 minutes. Turn mixer off and carefully add boiling water. Beat on high for approximately 1 minute until well-combined.
Divide batter evenly between the two pans. Bake for 35 minutes, or until a toothpick inserted in the center of each pan comes out clean. Cool for 15 minutes of a cooling rack, turn cakes out onto the rack and allow to cool completely before frosting and assembling.
To make the frosting, combine peanut butter, sugar, butter, vanilla, and salt in the bowl of a stand mixer fitted with the paddle attachment. Beat until the frosting is light and fluffy, approximately 2 to 3 minutes.
Frost the top of one cake and stack the other cake on top to form two layers. Add a final layer of frosting to the outside and decorate with miniature peanut butter cups if desired.
Pin this
Peanut Butter Cup Overload Cake recipe
for later!