Plum Ginger Tart Tatin is sweet with a slight hint of spice, perfect for the upcoming cooler months. This version of a tart satin includes a puff pastry bottom, making it a super simple dessert to have on the table throughout the holidays.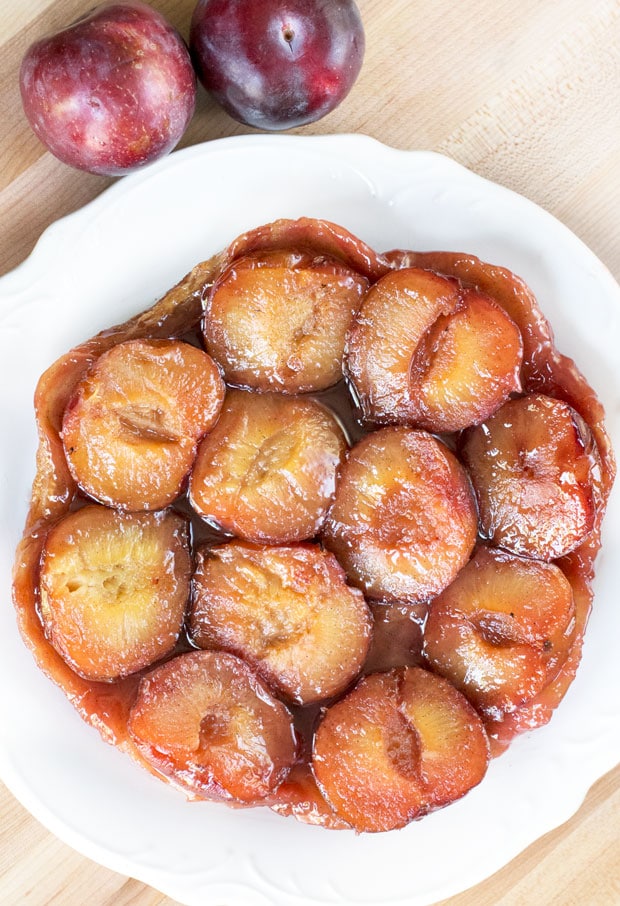 The last couple of weeks in the kitchen have been a wee bit rough. I took on one too many projects, not to mention trying to organize before moving (I swear I'll stop complaining soon… ish), and that led to some rough days cooking. They were all tiny tedious mistakes (no burning down the house or chopping off any of my fingers), but they were enough to put me in a funk for a bit.
Then I took my time and made this… This glorious, fruity, not-too-sweet, indulgent, caramelized mess of goodness.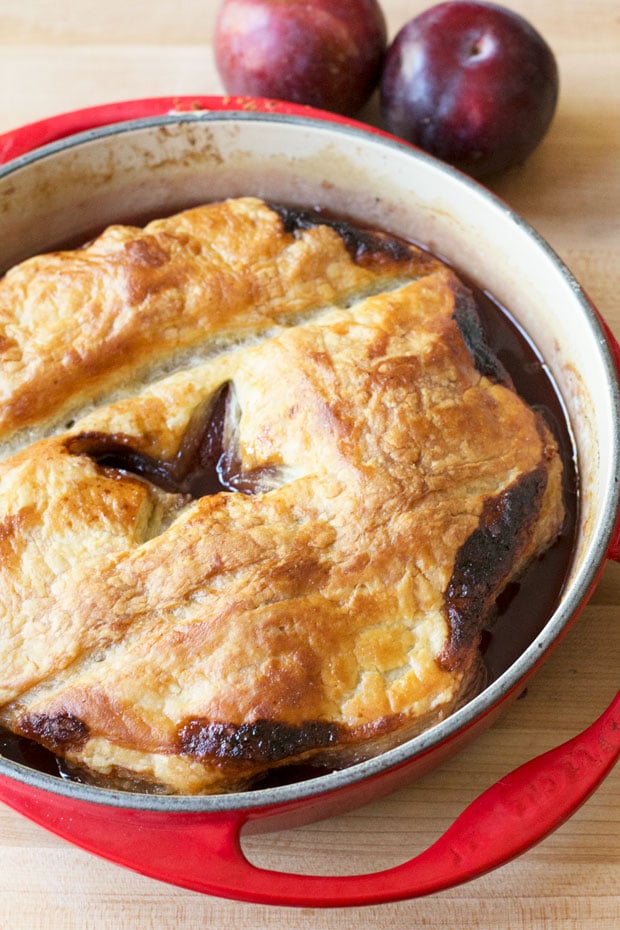 Whenever I am in a funk, there's always one recipe that'll pull me out of it, and it generally involved baking of some sort. I've been planning on making this tart tatin for a while now, waiting until the plums were ripe and the holidays were just around the corner.
Little did I now this would be the recipe to turn that failure frown upside down, so to speak.
I'll be honest, tart tatin makes me a little nervous. Everything is grand until you get to that whole flipping thing. I used to make mine in a cast iron and it was always a crossing my fingers, praying to the kitchen gods moment when I flipped it over. Occasionally the panic would be for nothing. Occasionally the tart would end up on the floor, along with me in exhausted sobs, mourning the loss of something delicious.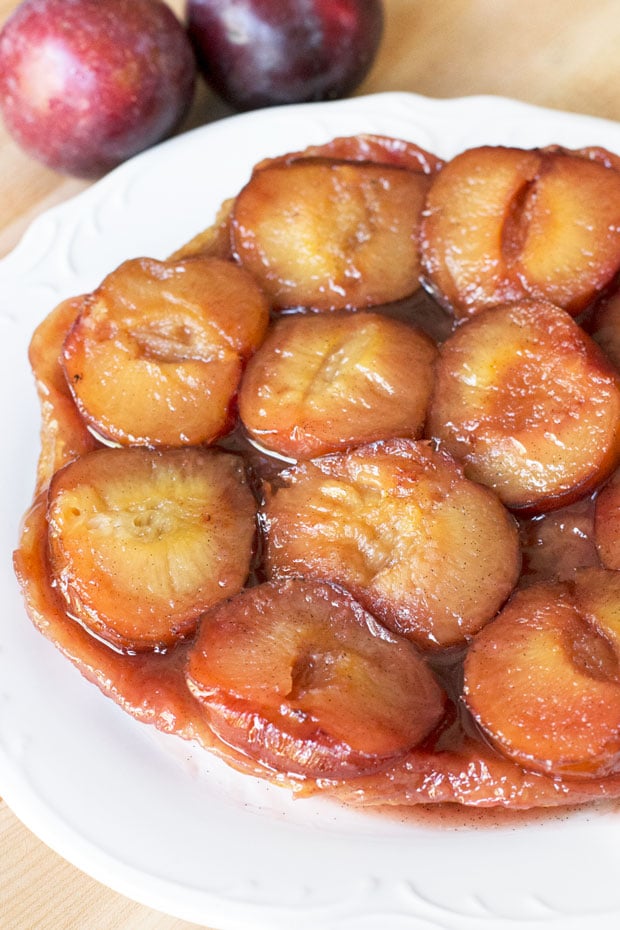 Then I tried this Le Creuset Heritage Tart Tatin Dish. Ummm you guys… my life has been changed. This pan has literally changed how I look at tart tatin. It isn't the tricky little dessert than might go crashing on the floor. Now it's a gooey caramelized tart that will always flip right out with minimal effort.
No seriously, I even flipped it all by myself (ok I had a spotter, but she didn't have to help at all!).
The result is the most perfect looking tart tatin I've every made.
Just look at that caramelization…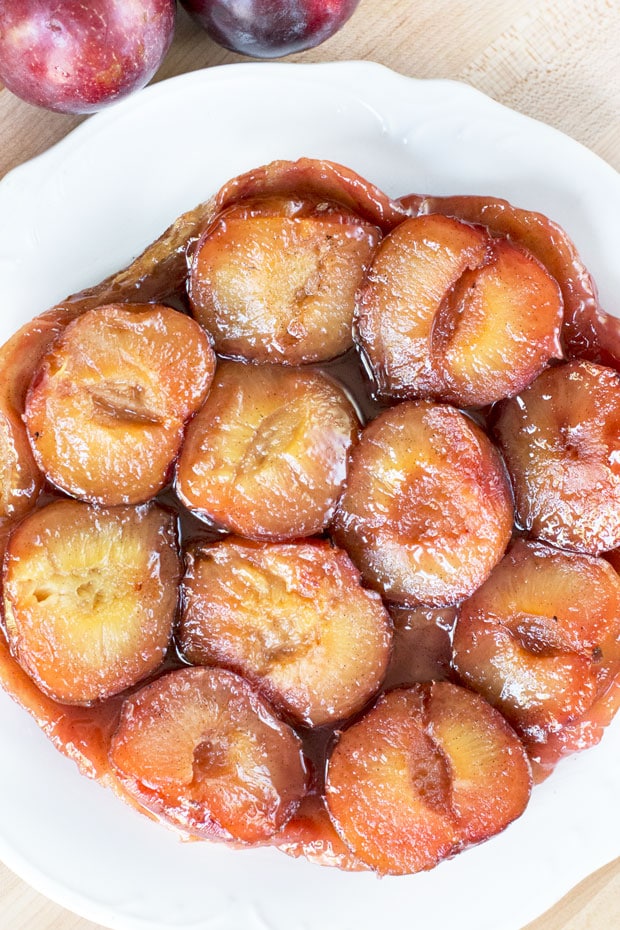 The flavors in this dessert are out of this world. Vanilla bean, ginger and plum all marry together in every bite, making it the ideal way to end a dinner this fall. Heck, I'll even be busting this bad boy out all winter long for the holidays! It's so dang easy to make and it will totally wow everyone at the table.
PLUS, Le Creuset is the bomb dot com and is giving one away to you lovely readers! You have no excuse not to make tart tatin once this dish is in your hands…
Be sure to enter the giveaway below the recipe so you're ready for the holidays too!
Disclosure: I received free product from Le Creuset as part of this giveaway and post. As always, all opinions and recipe are my own. Thanks for supporting the brands that support Cake 'n Knife!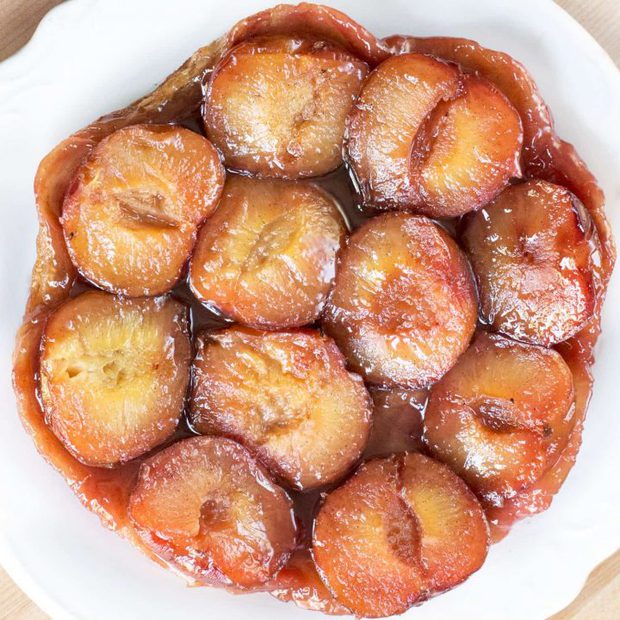 Plum Ginger Tart Tatin
Plum and ginger is an amazing combination, ideal for welcoming in the cooler months!
Ingredients
1 sheet frozen puff pastry, thawed
7 Tbsp unsalted butter
Two inch ginger, peeled and diced
1 vanilla bean split lengthwise
1 Tbsp lemon juice
1/2 cup brown sugar
1/4 tsp salt
2 lbs ripe black plums, pitted and halved
Instructions
Preheat oven to 400 degrees.
On a flat, floured work surface, roll out puff pastry to an 18-inch square. Trim the puff pastry to a XX-inch circle and cut a small X in the center. Add the puff pastry to a flat baking sheet or large enough plate to freeze for 20 minutes.
In the Le Creuset Tart Tatin dish, melt butter over medium-high heat with ginger, vanilla bean, and lemon juice. Once melted, remove the pan from heat and remove the vanilla bean. Sprinkle with sugar and salt. Add plums, cut side down, forming concentric circles (as best you can) in a single layer.
Return dish to heat and bring to a simmer. Cook for 7 minutes without stirring or moving any of the plums. Remove from heat and top with the puff pastry circle.
Bake for 30 to 35 minutes, until the crust is deep golden brown and the juices have thickened. Let cool on wire rack for 10 minutes.
Invest onto a platter. Serve warm.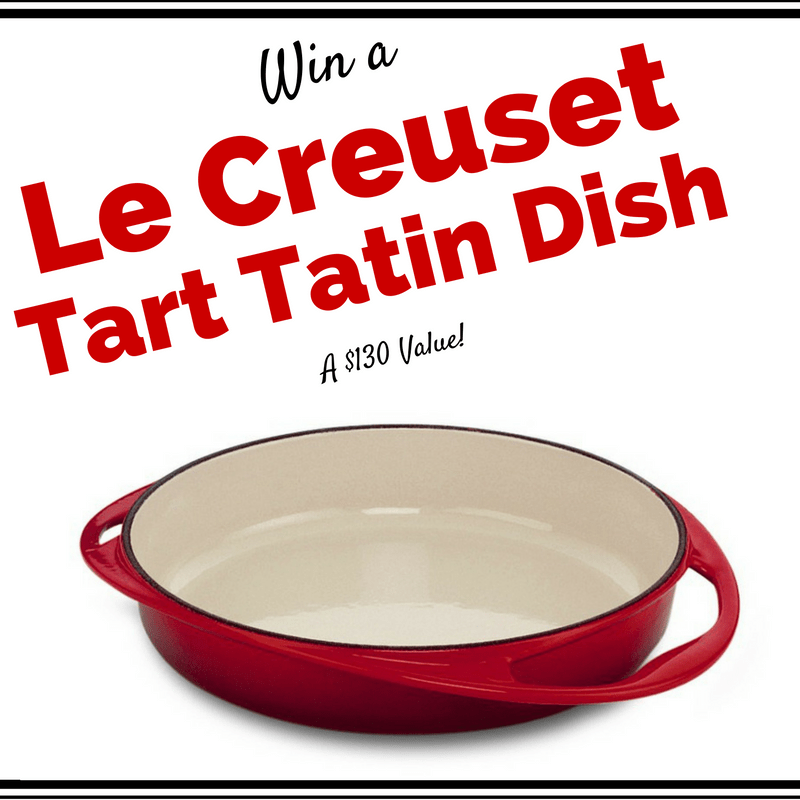 Giveaway rules:
Enter the giveaway through the Rafflecopter widget below. Everyone gets a free entry! You can enter multiple times, up to 25 total entries by following on social media. (If you've followed in the past, that counts! Just enter the information as prompted.) All entries will be verified. No purchase is necessary to win.
The giveaway is open until Monday, October 3rd at 11:59 p.m. CST. One winner will be chosen at random and e-mailed within 48 hours. Winners must claim prize within 48 hours of initial contact. The retail value of the prize is $130. Prizes listed above are the only ones available.
Open to U.S. residents with a valid shipping address only.
Pin this Plum Ginger Tart Tatin for later!