Cilantro Chili Lime Pulled Pork Sliders are the culmination of all my favorite flavors in a mini sandwich. The pulled pork is make with cilantro, chili powder, lime and BEER in the crockpot, making it a super easy recipe for any party you have planned this weekend!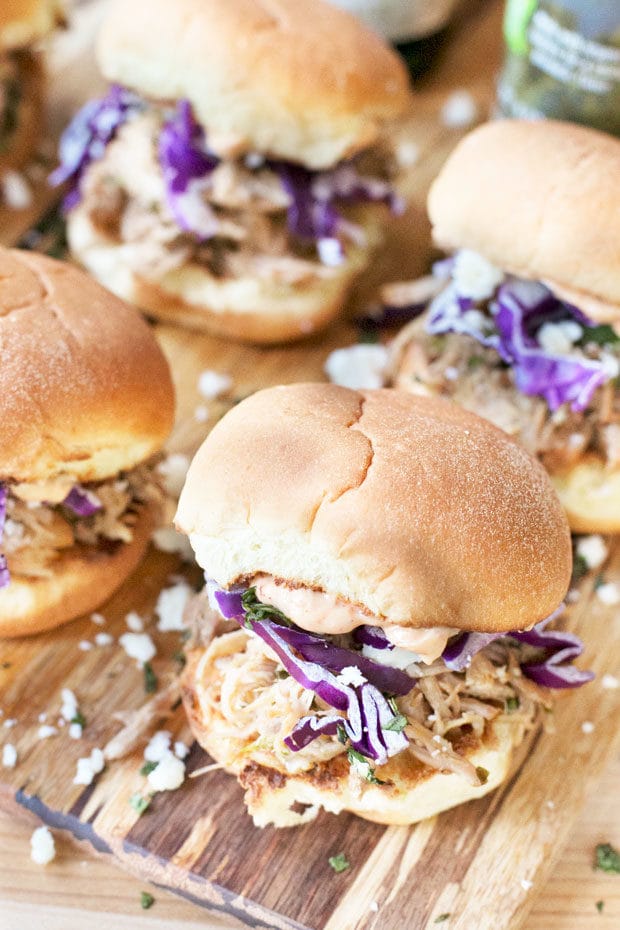 Who's ready for the last long weekend for wayyyyyy too long?!?! THIS GIRL.
Labor Day weekend is just hours away and I am literally squirming in my chair with excitement. I have only TWO – yes, count them TWO – plans this weekend. This hasn't happened for a weekend for…. well it's been a long time. Normally I would be booking up this weekend with all sorts of activities and parties, but nope. Not this time.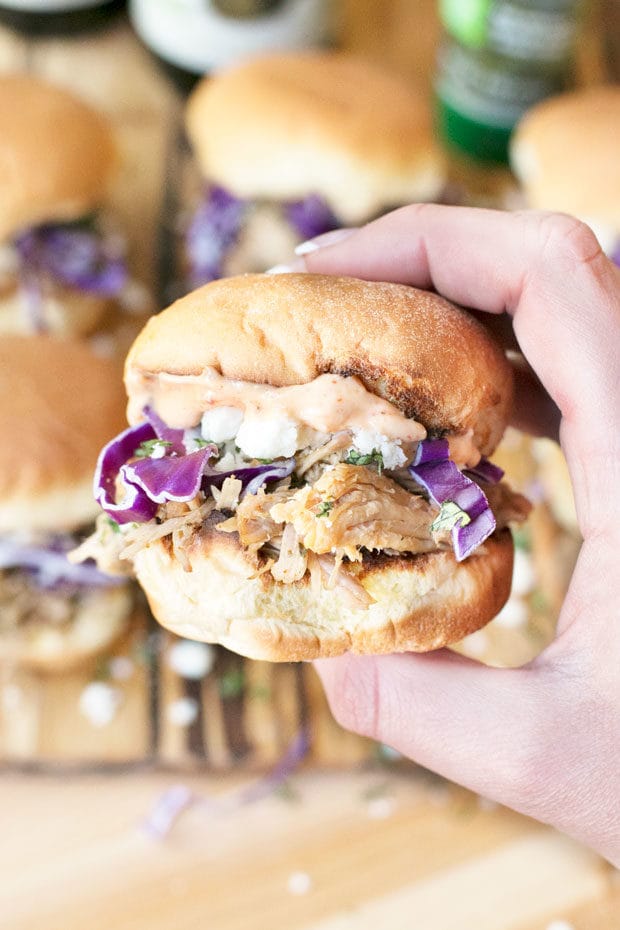 This weekend I am going to relax. I am going to sleep. I am going to be able to be spontaneous and do whatever the hell I feel like. I will be lazy and do all those lazy things that you dream about doing as someone with an insanely packed schedule does. Like randomly going to check out a brewery or getting ice cream in the middle of the day or walking around the park just because you want to be outside. Of course, there will also be a lot of food and eating and boozing this weekend too. I'm starting the long weekend off with this magic right HERE.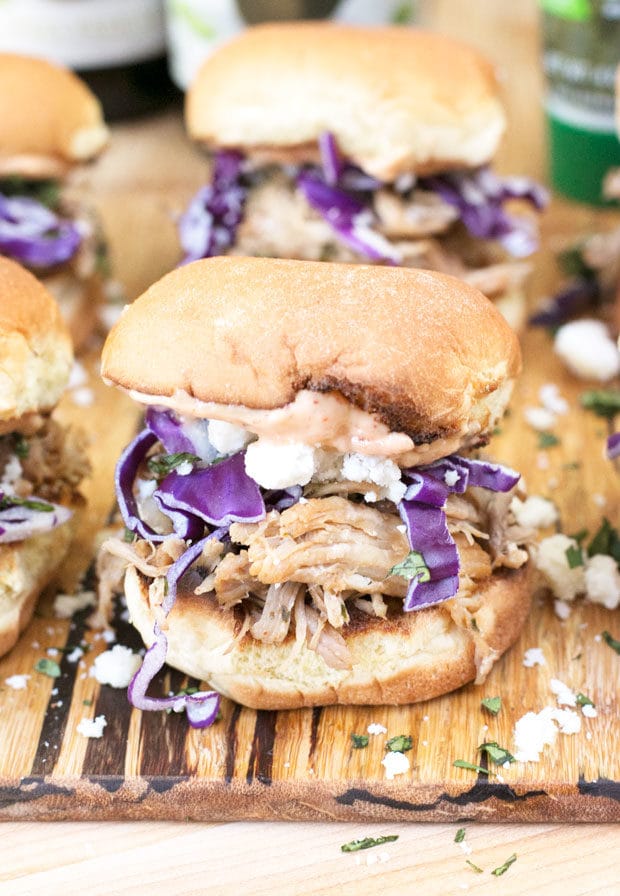 Honestly, this is some of the best pulled pork I've ever made in my life. It has this smoky, savory taste with just a hint of acidity and a burst of fresh cilantro. Top that with some shredded purple cabbage, queso fresco and a chili mayonnaise and BOOM. You've got the best freaking sliders you'll ever experience.
The secret to this pulled pork? The Gourmet Garden Cilantro Paste. I love using this cilantro paste in everything because the flavor is so fresh and you get a giant amount of flavor into your dishes with it. I realllllly love it when I'm busting out the crockpot or pressure cooker. Some fresh herbs don't work as well in these kinds of recipes and honestly, I think cilantro is one of them.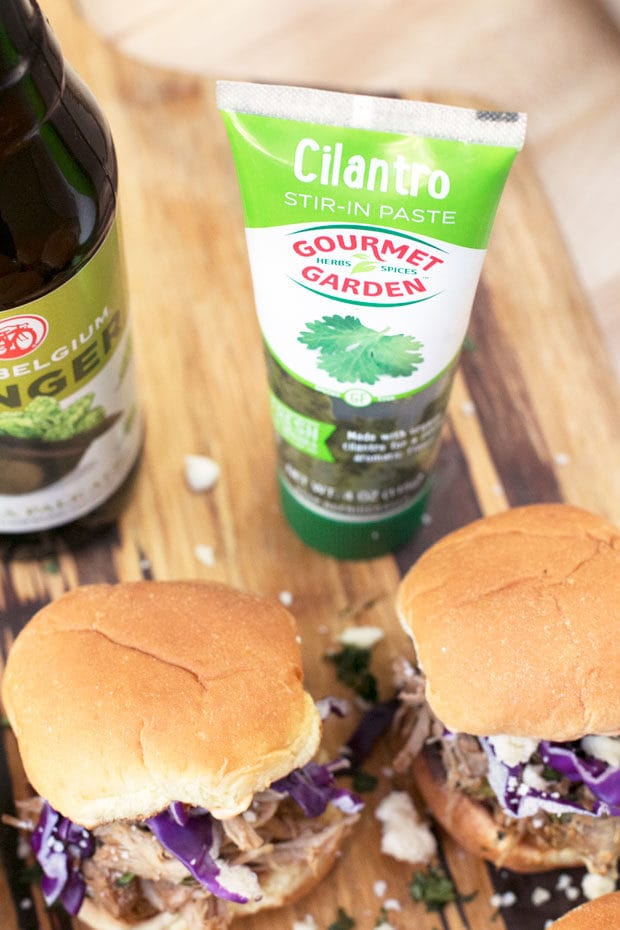 The cilantro paste from Gourmet Garden solves this problem because it is already in a wet form so it doesn't brown and discolor. It gives you just the right amount of fresh flavor in the dish and it's so easy to use because it's a one to one ratio when you use it. 1 Tbsp of paste equals 1 Tbsp of fresh chopped cilantro. No need to make any conversions in your head when using it – you just get to avoid all that chopping hassle.
As if this dish wasn't easy enough already, am I right?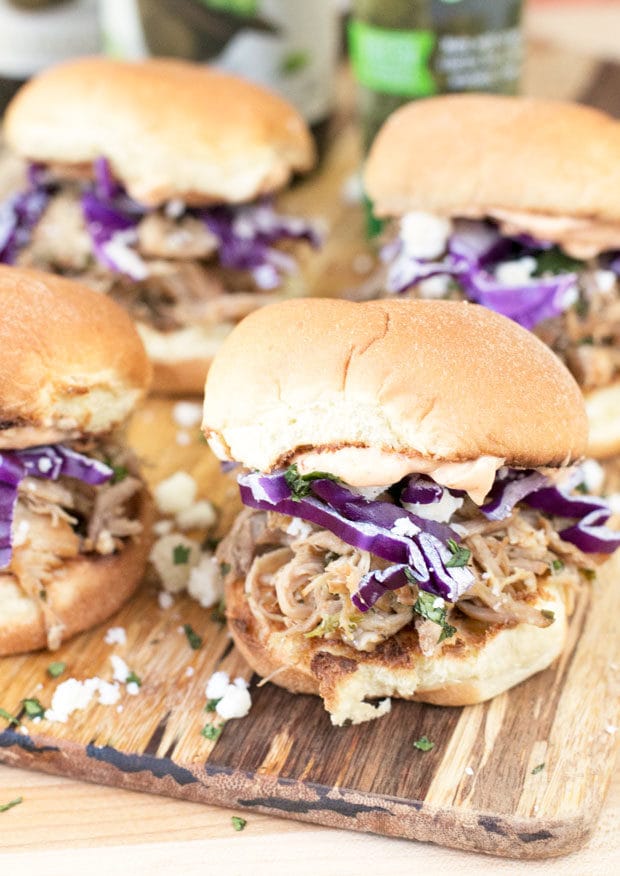 So whip these little guys up and have them ready for a weekend of festivities! They make the perfect Labor Day appetizer, or mid-day snack to balance out all the day drinking you have lined up for the next three days.
Disclosure: I received free product from Gourmet Garden and was compensated for my time as part of this post. As always, all opinions and recipe are my own. Thanks for supporting the brands that support Cake 'n Knife!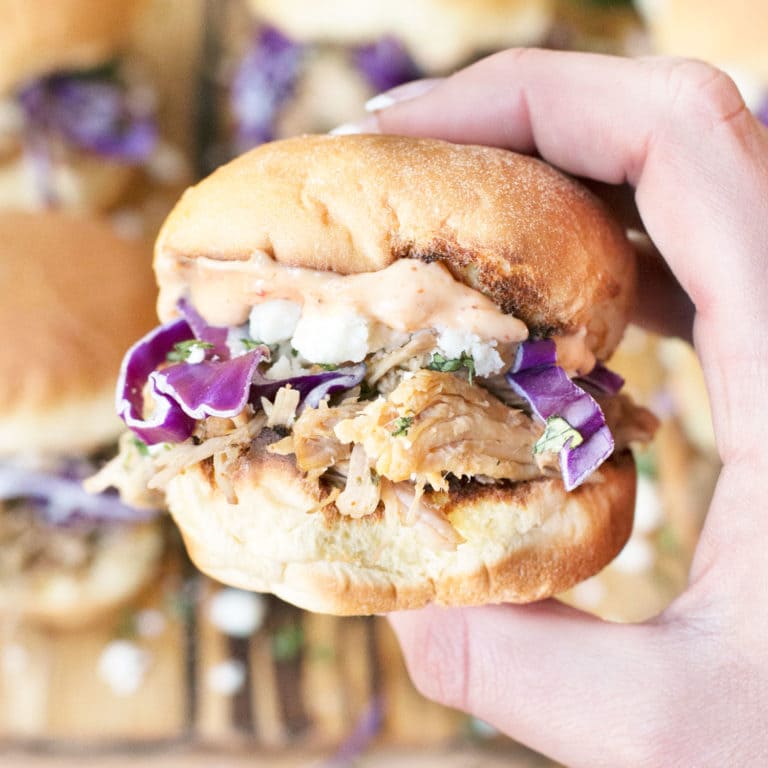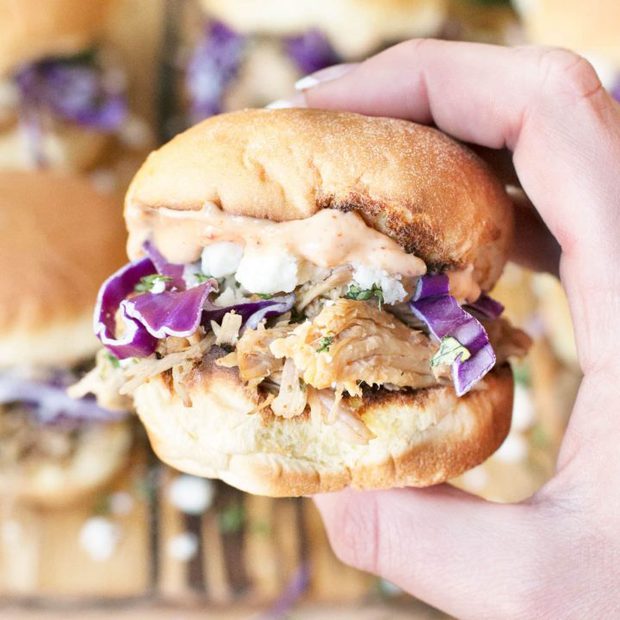 Cilantro Chili Lime Pulled Pork Sliders
Additional Time:
1 hour
55 minutes
Pulled pork is cooked tender with beer, cilantro, chili powder and lime to make the best sliders EVER.
Ingredients
2 1/2 lbs pork shoulder, fat cap removed and cubed into 2 to 3-inch chunks
10oz beer (I used an IPA, Fat Tire's Ranger to be exact)
1 tsp garlic powder
1/2 tsp cayenne pepper
1 1/2 chili powder
1/2 tsp pepper
1/2 tsp salt
1 Tbsp Gourmet Garden Cilantro Paste
3 Tbsp lime juice
16 slider buns, halved and toasted
CHILI MAYO
1/2 cup mayonnaise
1 tsp chili powder
1 Tbsp lemon juice
1/2 tsp tsp garlic powder
1/4 tsp salt
Garnish: shredded purple cabbage, crumbled queso fresco, pickled jalapeño, Gourmet Garden lightly dried chopped cilantro
Instructions
In the insert of a slow cooker or in a pressure cooker, add pork shoulder, beer, garlic powder, cayenne pepper, chili powder, pepper, salt, cilantro paste and lime juice. Stir to combine. Set slow cooker to low and cook for 8 to 10 hours, or 80 to 90 minutes in the pressure cooker. Remove pork with slotted spoon to a separate serving dish. Using two forks, pull apart the pork shoulder until all of it has been shredded. Set aside and keep warm.
In a small bowl, stir together the ingredients for the chili mayonnaise.
To assemble the sliders, add 2 to 3 Tbsp of pulled pork to the bottom halves of the slider buns. Top with purple cabbage, pickled jalapeño, queso fresco and Gourmet Garden lightly dried cilantro. Slather the top halves of the slider buns with 1 to 2 tsp of the chili mayonnaise. Top the sliders with the other halves of the buns and serve.