Black Porter Chili Poutine is a round two recipe for my black porter chili that blows all other poutine recipes out of the water. Whip up a big batch and listen as the room falls silent… The only sound you'll hear is people chewing and groaning with happiness.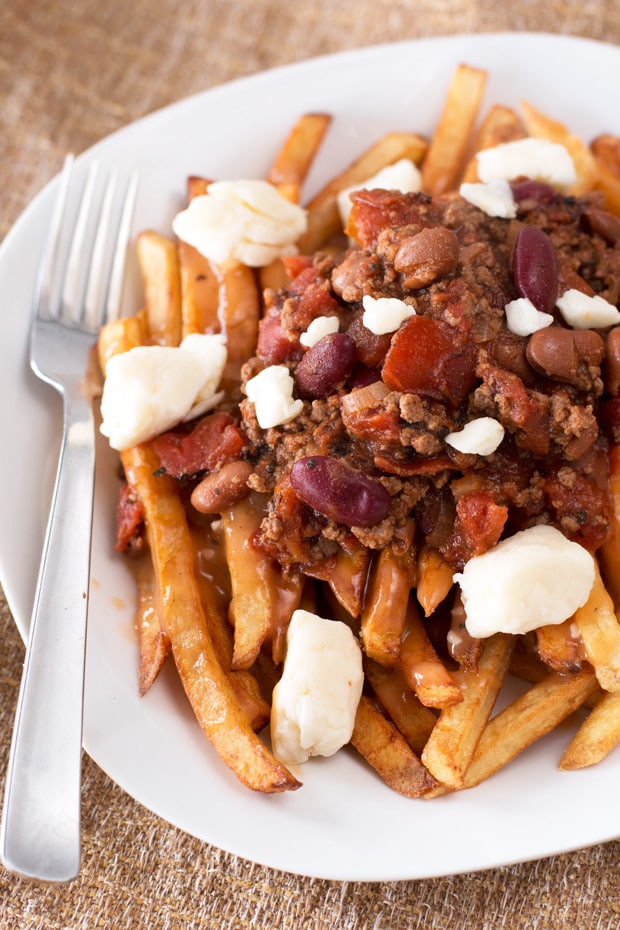 It was only a matter of time before I came back to poutine… This time I'm getting a little ridiculous with it (and completely blowing my diet, yet again…). I mean, poutine is insane enough as it is with gravy-smothered fries loaded up with cheese curds. Add a giant heaping of my black porter chili and holy WOW.
I think my mom's head exploded when I served her some of this, not even joking.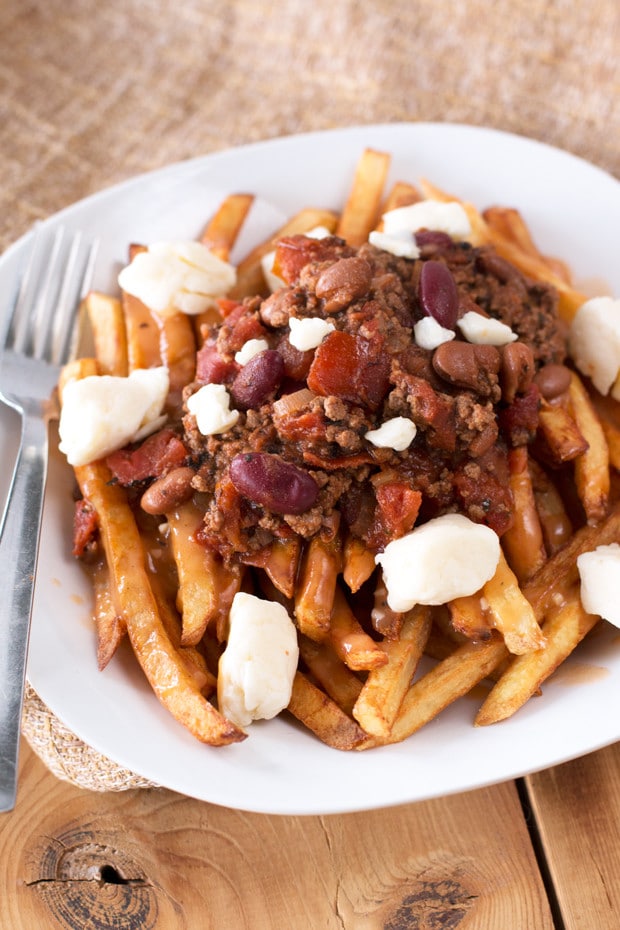 You know those weeks when you wake up on Monday and you literally have no idea where the weekend went? But then you think about something that happened over the weekend and it feels like it happened ten years ago? It could also be called sleep deprivation, but whatever it is, that's how I woke up yesterday. I felt like the weekend was only a blink of an eye. Then I'd think about spending time with my oh-so awesome family on Saturday and it feels like that happened a month ago.
More sleep would be good. Probably the root of the problem here.
Anyways, I'll be falling asleep shortly after I inhale this mess of a meal (aka gravy-smothered crack). Talk about a food coma of epic proportions.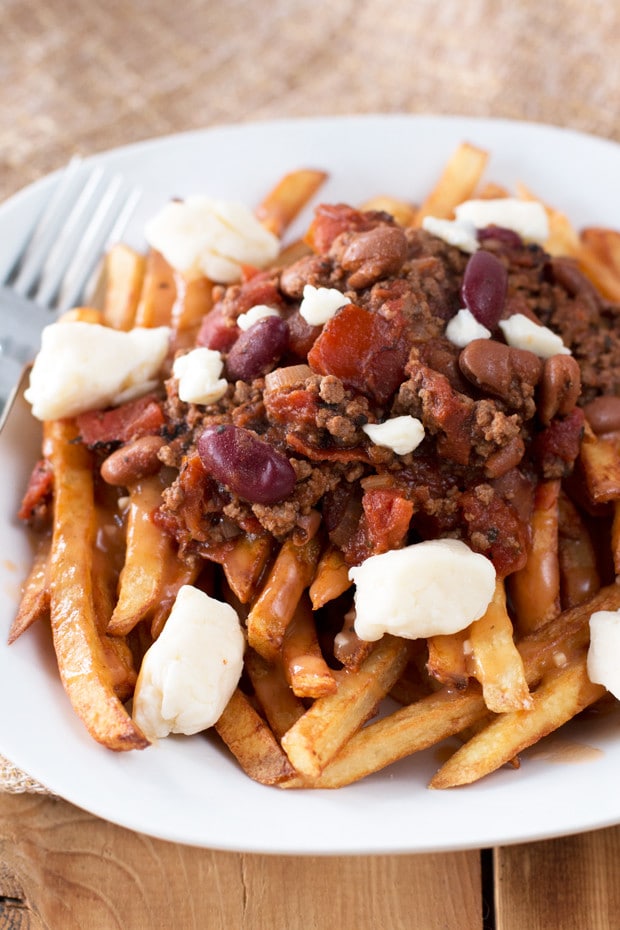 Poutine is the perfect vehicle to get rid of the last of the black porter chili you have lying around in your fridge. Actually, it almost rivals a fresh bowl of that chili covered in cheese and Fritos. The fries smothered in gravy and cheese curds is an ideal base to sop up all that porter goodness…
Yep, mouth watering, yet again.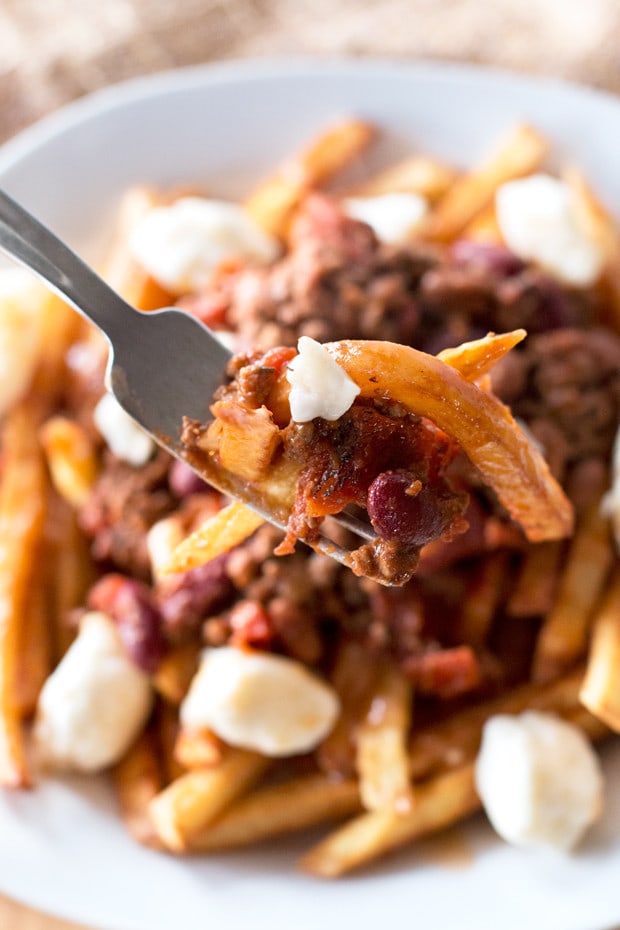 Just, please. Get in my belly. Now. *runs to the kitchen to start peeling potatoes*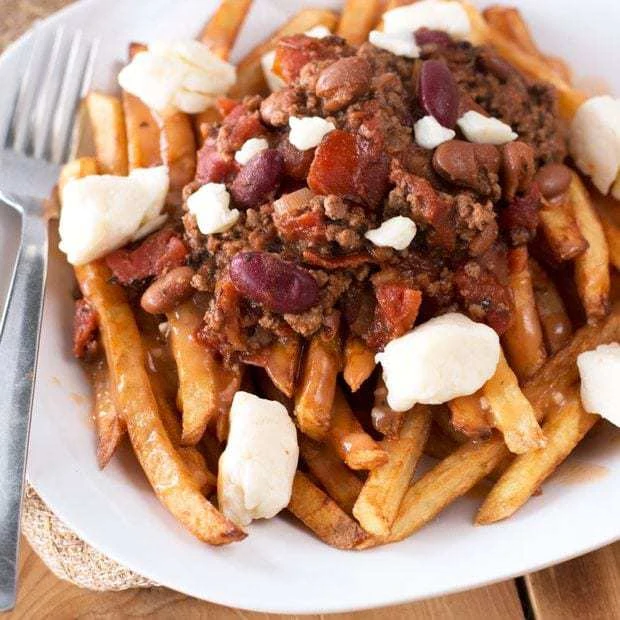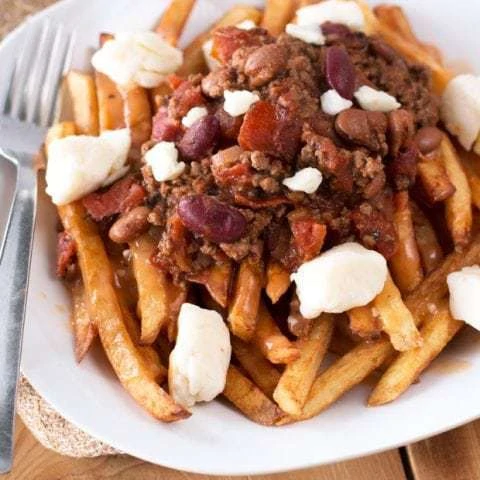 Black Porter Chili Poutine
Additional Time:
1 hour
25 minutes
Total Time:
2 hours
20 minutes
A round two recipe to make use of the last of that Black Porter Chili you have lying around (or to give you an excuse to make it!).
Ingredients
4 lbs russet potatoes, peeled and cut into french fry lengths
Oil for frying
2 Tbsp unsalted butter
2 Tbsp flour
2 cloves garlic, minced
2 cups beef stock
1/2 tsp Worcestershire sauce
1 Tbsp ketchup
Salt & pepper
1 cup cheese curds
Instructions
Place the cut potatoes in a large bowl and cover with cold water. Refrigerate for about 1 hour.
While the potatoes are chilling, melt butter in a medium saucepan over medium-high heat. Stir in flour until the mixture is smooth. Stir in garlic and cook until fragrant, approximately 1 minute. Add beef stock, ketchup, and Worcestershire. Bring the mixture to a boil, stirring occasionally, until thickened, approximately 6 minutes. Season with salt and pepper to taste. Cover and keep warm on low heat until ready to serve.
In a separate pot, heat the black porter chili over medium-low heat. Once warm, cover and keep on low heat until ready to serve.
Pour enough oil into a dutch oven to be 3" deep. Heat over medium heat until the temperature reaches 325 degrees. Drain potatoes and dry completely with paper towels. Fry the potatoes, working in small batches, until tender and just crisp. Remove to a paper towel lined plate to drain. Cool for 20 minutes.
Increase heat to medium-high and allow oil to heat to reach 375 degrees. Fry potatoes in the same small batches, until golden brown, approximately 2 minutes. Remove to fresh paper towel lined plate and sprinkle with salt.
Divide the fries among 4 bowls and pour a good helping of chili over each. Top with gravy and cheese curds. Serve immediately.