Tikka Masala Chicken Chili is a wonderful mash up of one of my favorite Indian dishes and my favorite soups – chili. Served up with warm naan, the deep and rich flavors in this chili are a comfort on those few chilly nights we still have left this winter. You won't believe what a little dollop of plain yogurt and squeeze of fresh lime juice will to do complete the dish!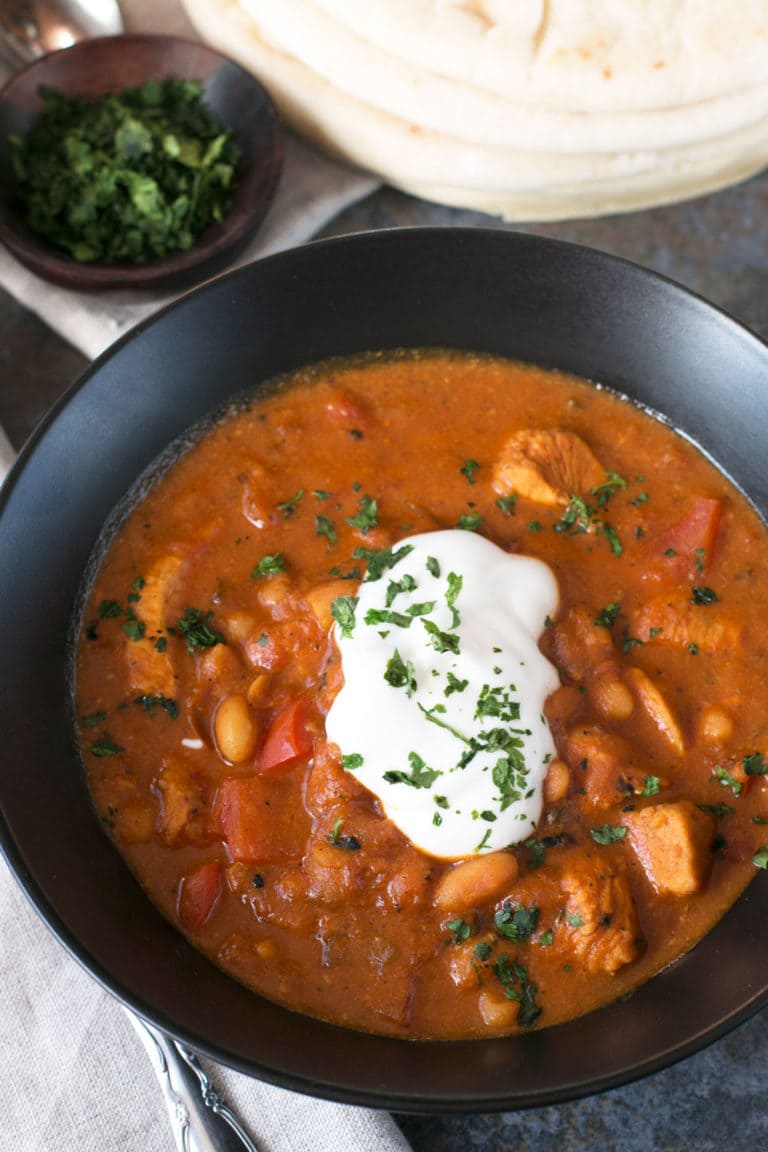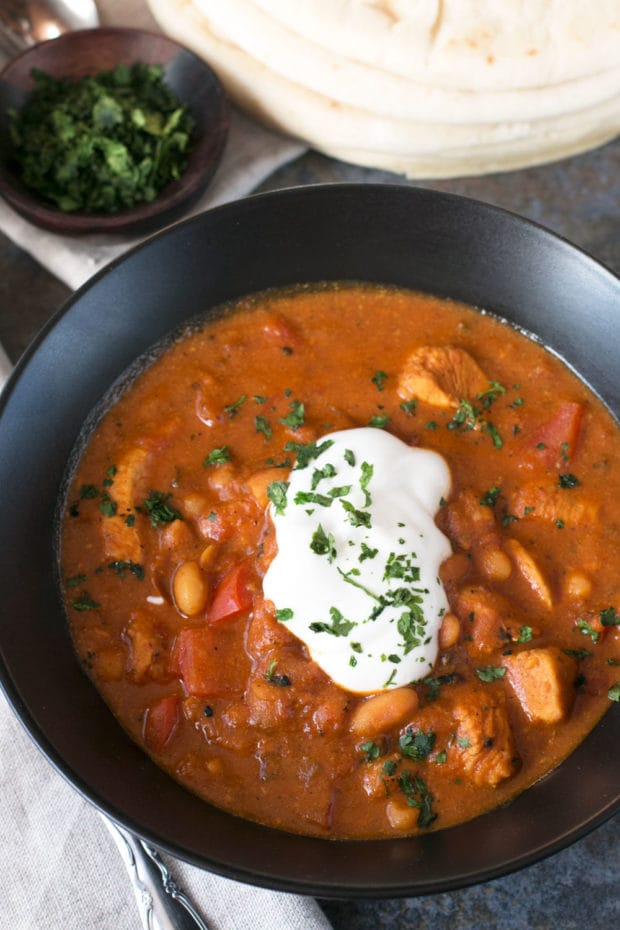 I don't know where you are at, but here in Denver there's still a chill in the air. Well, sometimes at least. Then other times it's 70 degrees and sunny and you're wondering if spring is coming in early.
Then the bitter cold drops in, the snow starts to fall and the roads get slick with black ice, reminding you yet again that "oh hey, this is Colorado and you'll NEVER know how to dress appropriately. Ever."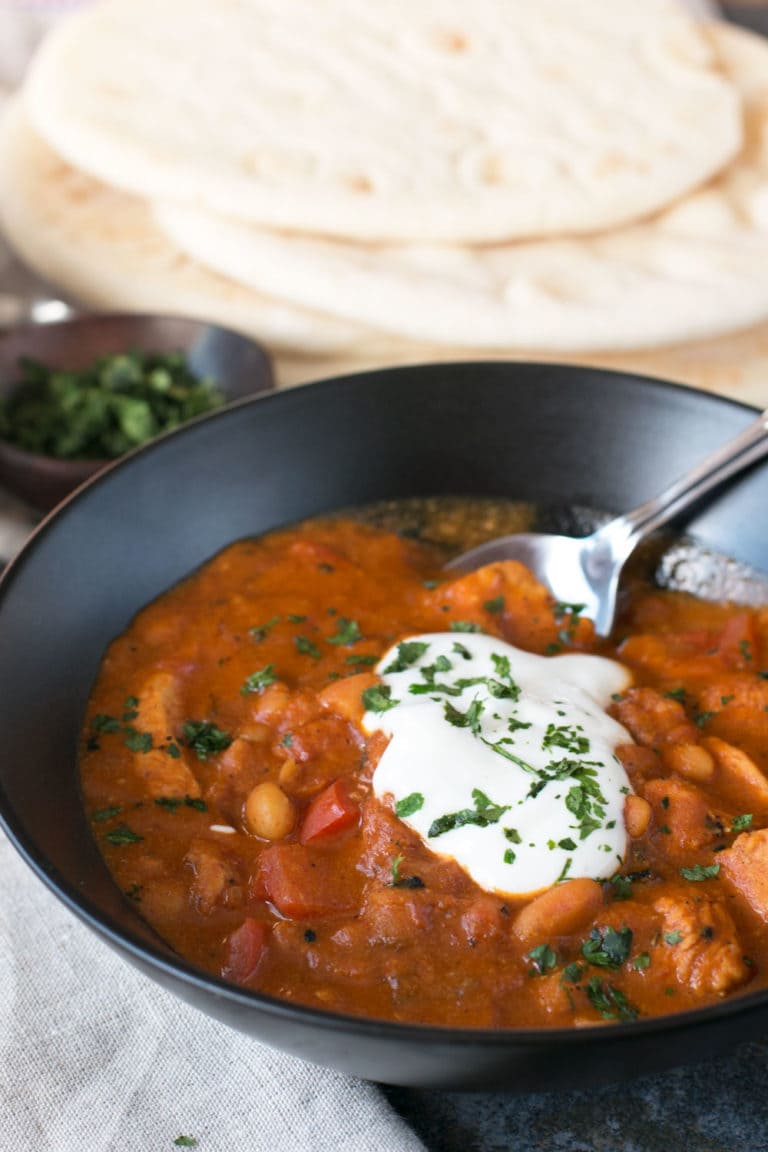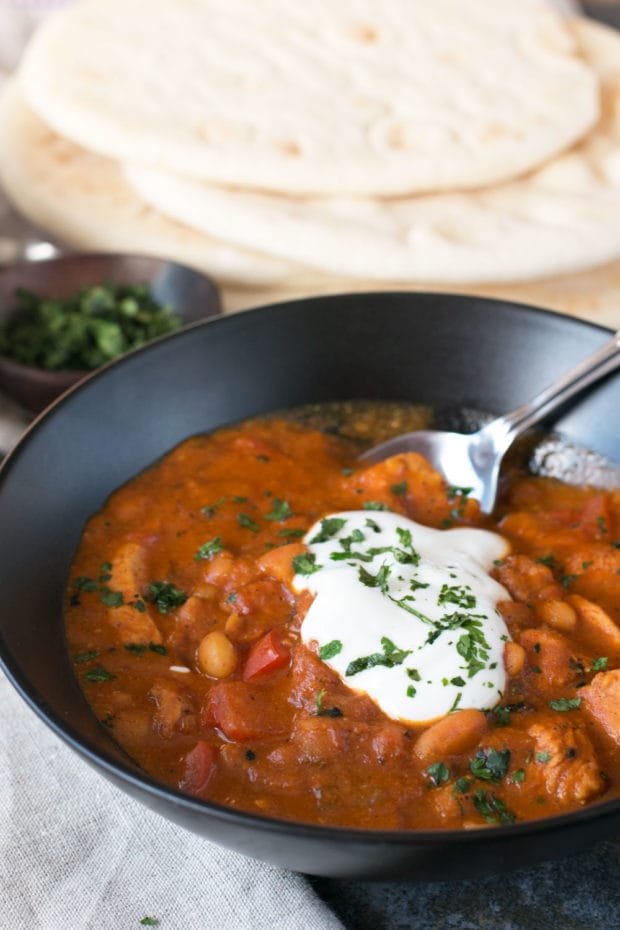 So some serious warming up was needed this past week. I love my favorite chili recipe to death and I've made it this season a few times already. This year however, I started to get a little sick of it.
Shocking, right? I NEVER thought that would happen, especially given my affinity for the cheddar cheese and Fritos I load up every bowl with.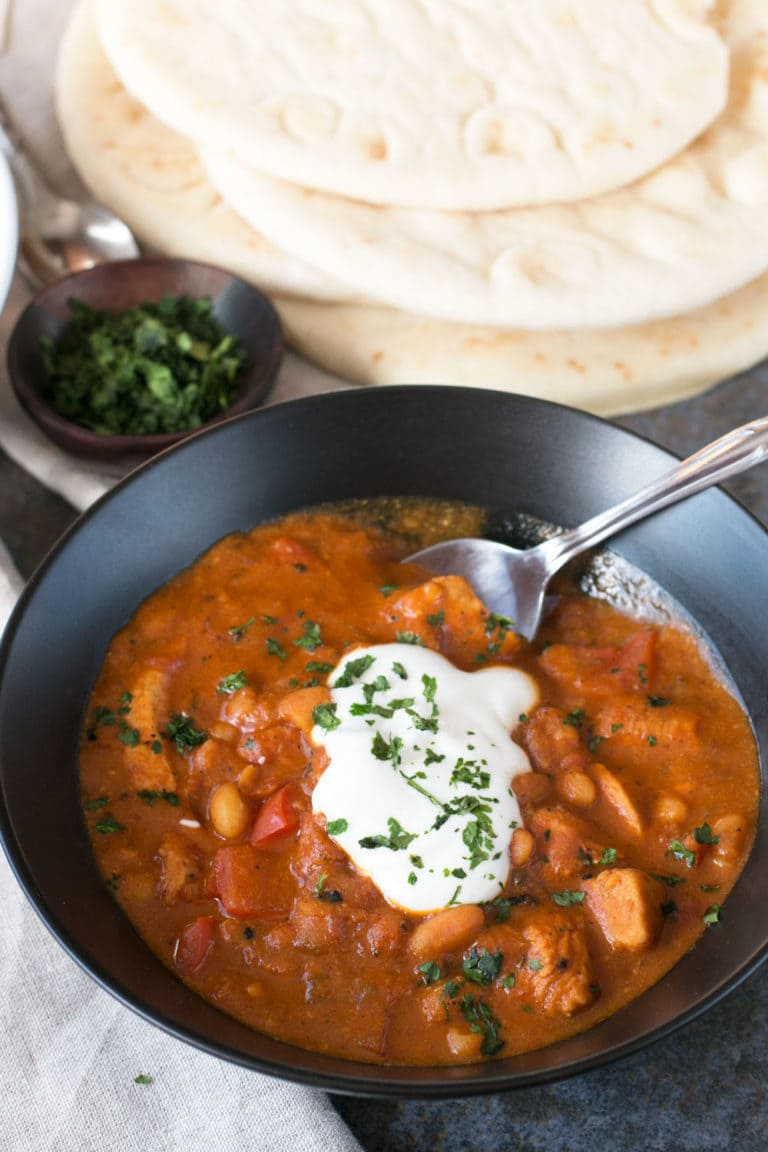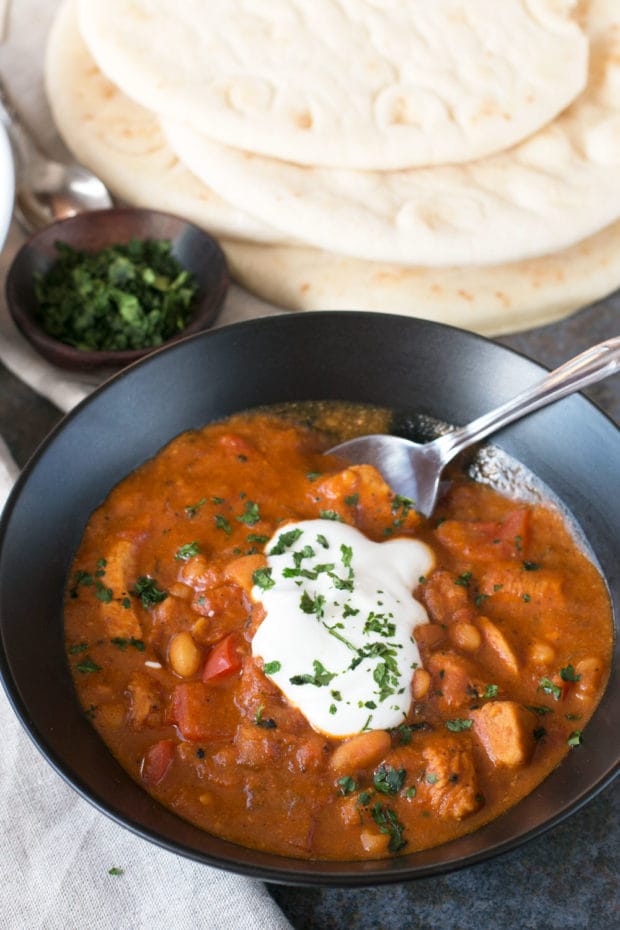 I've found myself craving the rich flavors of Indian food from curries to masalas to the plain ol' comfort of a warm piece of naan. While the weather is still insanely unpredictable and the stress level of a new year lingers at high levels, it's time to double up on the comfort food.
Mashing tikka masala and chili together was one of the best ideas EVER, people.
Seriously, EVER.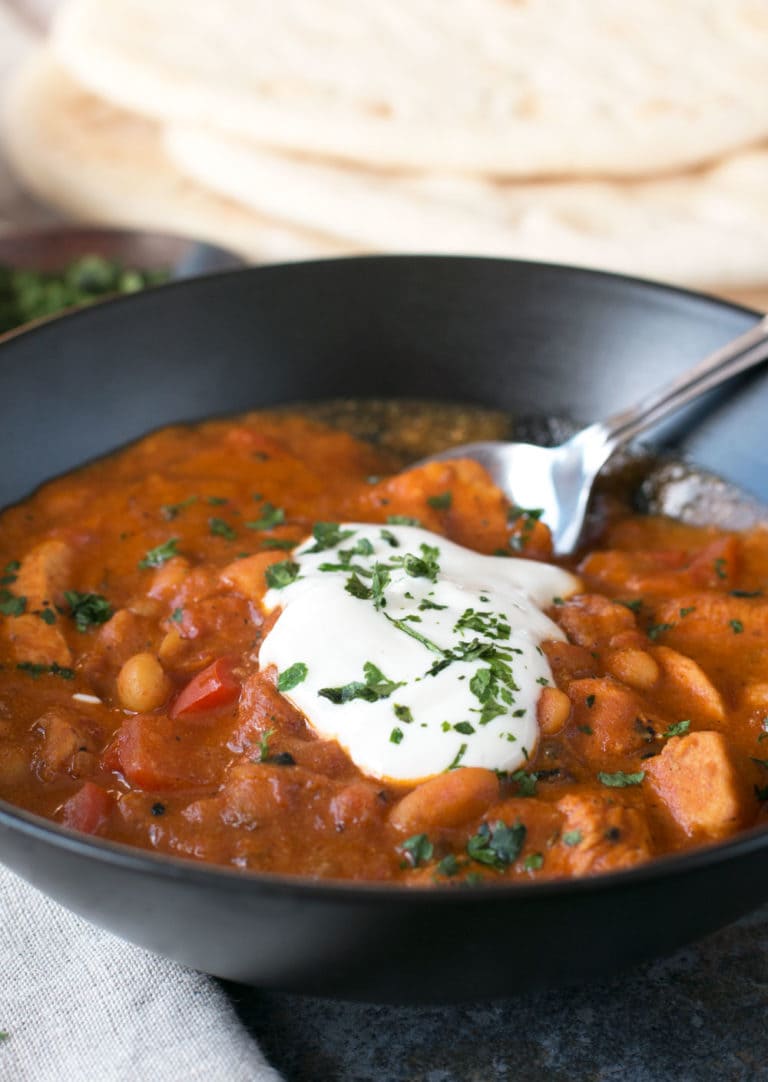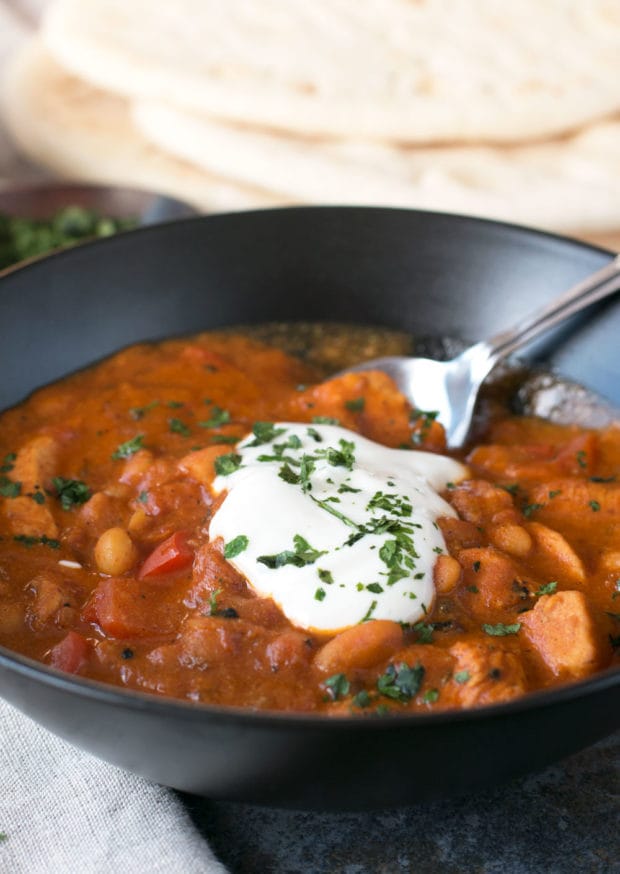 The deep and complex flavors that go into chicken tikka masala pair indescribably well with a white bean chili base. You will find yourself being drawn back to the kitchen with each sniff of cumin, tomato, coriander, turmeric, cloves and chiles. It's intoxicating…
When you serve it up with a dollop of plain yogurt, an extra squeeze of lime juice and cilantro, the flavors sing even louder than they do after the first plain bite you take. Warm up a couple of slices of naan and cuddle up with a bowl tonight. All I can say is everything you knew about tikka masala and chili is about to fly out the window.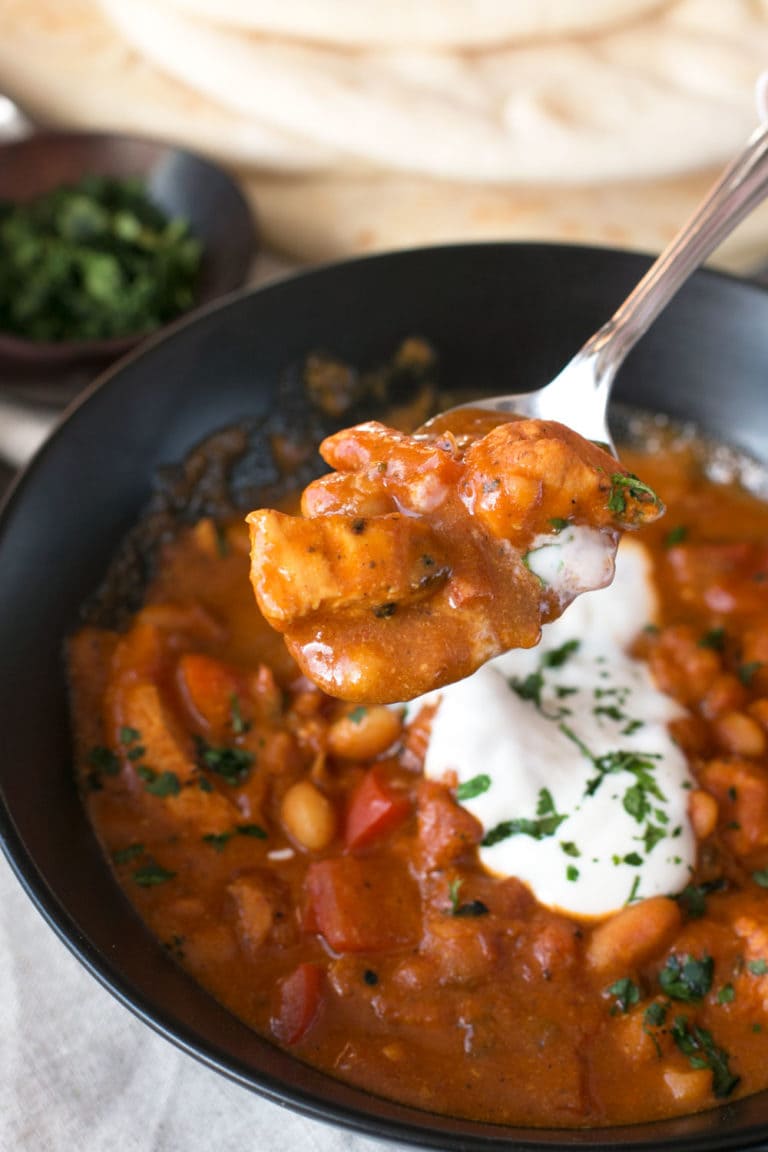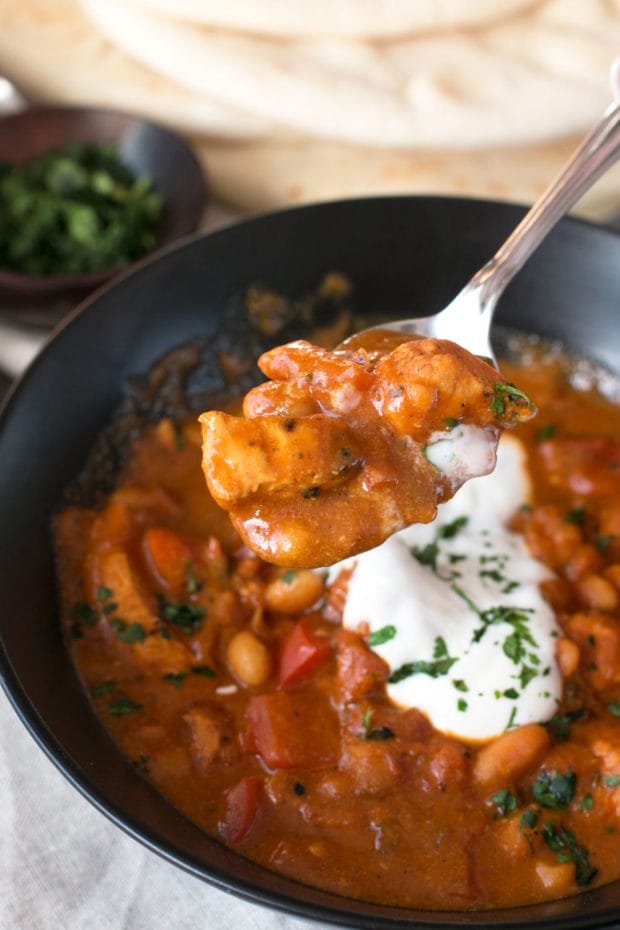 Prepare to have your mind blown, and your belly stuffed!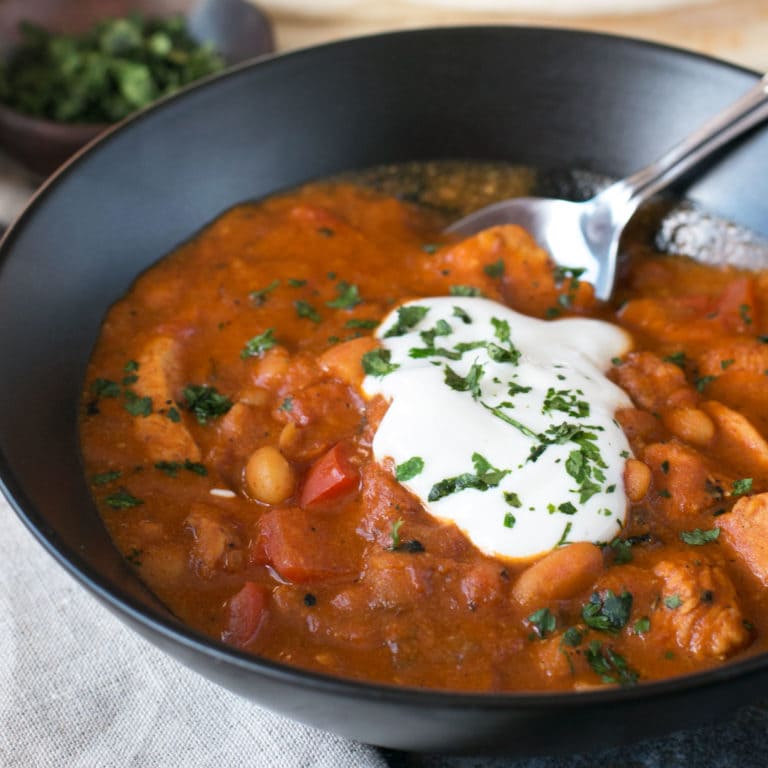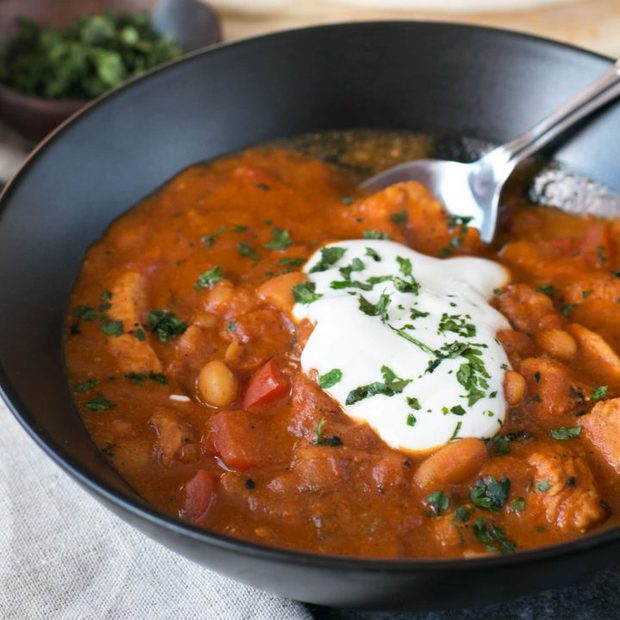 Tikka Masala Chicken Chili
Deep rich tikka masala ingredients are combined with a traditional white bean chili, making it a comforting soup that's layered with intense amounts of flavor.
Ingredients
1 tsp olive oil
1/2 white onion, diced
2 cloves garlic, minced
1 jalapeno, seeded and minced
1 lb skinless, boneless chicken breast, cut into 1/2-inch cubes
1 16oz can white beans
1 16oz can fire roasted diced tomatoes
1 red bell pepper, seeded and chopped
7 oz coconut milk
1/2 tsp salt
1 tsp pepper
1 1/2 tsp ground cumin
1/2 tsp coriander
1/2 tsp ground turmeric
1/4 tsp ground cloves
1 1/2 tsp crushed dried chiles
1/2 tsp brown sugar
1 tsp lime juice
Garnish: chopped cilantro, plain yogurt
Instructions
In a large Dutch oven, or heavy-bottomed pot, over medium-high heat, heat olive oil.
Once hot, add the diced onion, garlic, and jalapeño. Cook until soft, approximately 3 minutes.
Add the cubed chicken and cook until browned, approximately 4 minutes.
Stir in white beans, diced tomatoes, coconut milk, salt, spices, brown sugar and lime juice.
Simmer over medium heat for approximately 25 to 30 minutes, until thickened.
Serve bowls of the chili with freshly chopped cilantro, a dollop of plain yogurt, and naan.
Pin this Tikka Masala Chicken Chili recipe for later!