Please note this post contains affiliate links.
Rotisserie Chicken Ramen from "Lucky Peach: 101 Easy Asian Recipes" cookbook is my new go-to weeknight comfort meal. You may have to cook the broth for a couple hours, but the minimal effort and waiting time is well worth the flavor packed bowl of goodness you end up with.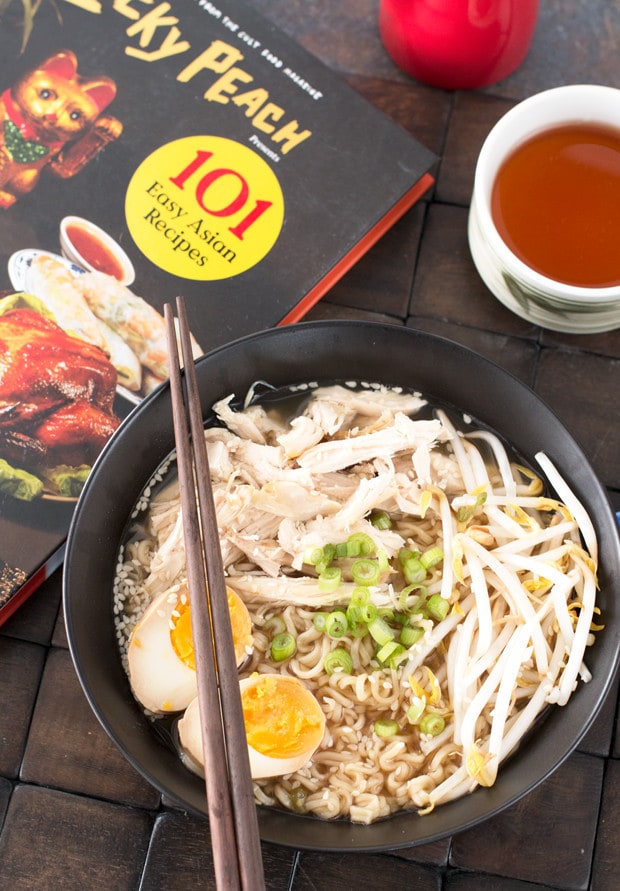 I think I may have mentioned it once or twice before, but this year I really want to get into more Asian recipes. I am completely naive when it comes to these recipes so getting Lucky Peach in the mail was like the gift that keeps on giving for this cookbook-obsessed gal over here. Ever since I went to lunch with one of my friends who couldn't stop talking about this mouth-watering ramen she and her partner make, I have been craving homemade chicken ramen. As I skimmed the pages, trying to decide what to make first, there it was. Rotisserie Chicken Ramen, the recipe that seemed like it was made just for me.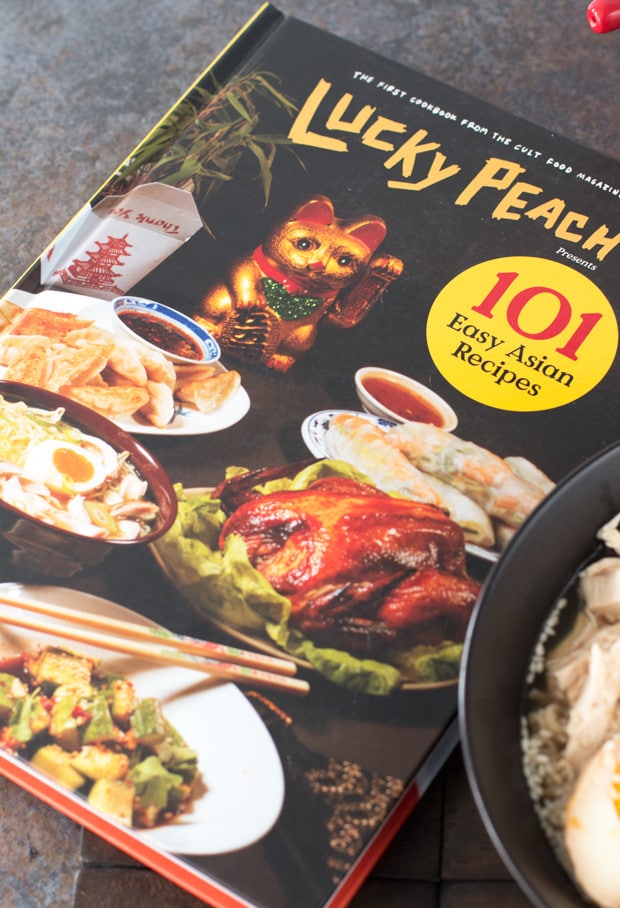 The broth takes a little bit of time but really all it's doing it simmering on the stove while you run around doing other things. The flavor that you get from this broth is seriously unreal. I shared it with my mom on a snowy day here in Denver and it was absolutely divine. We both slurped in happy silence until both our bowls were empty – if that doesn't say something about how good this recipe is, I don't know what else will do it justice.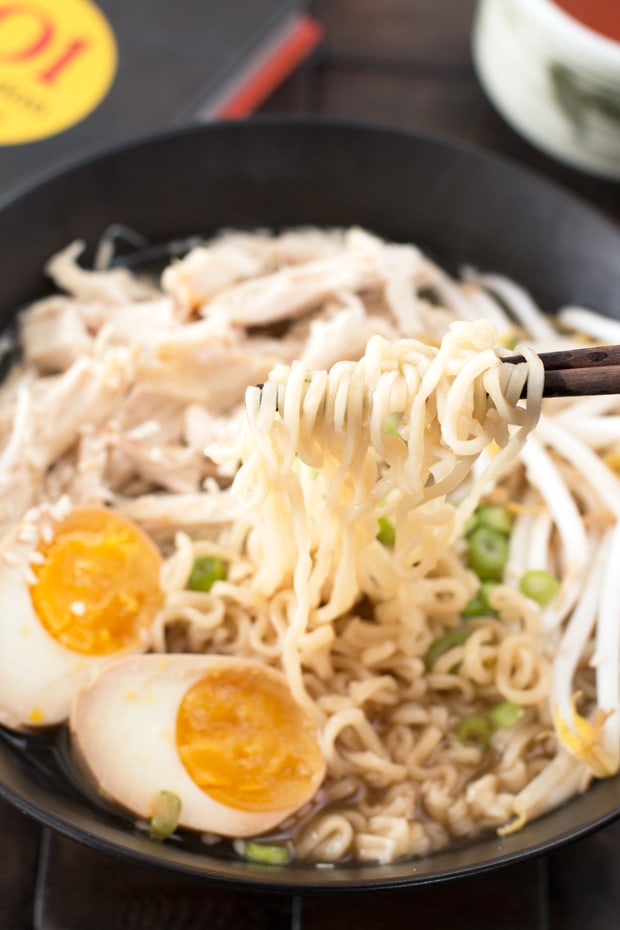 Oh and if you get the book, make the soy sauce eggs. AH, such good. Very wow.
The rest of the book is a sassy, somewhat snarky ode to Asian cooking and is really geared towards someone who doesn't 100% know what they are doing when it comes to Asian recipes (in other words, ME). It's straightforward, fun to read and the photos don't make the recipes seem unapproachable like other cookbooks I have gracing my shelves. You know, the ones that look gorgeous but you know deep down you'll never be able to get it to look that gorgeous because you aren't a superhuman chef (or you're clumsy, like me). You can actually cook these recipes and they'll turn out just like the photos! There's a bit of genius in that, in my opinion at least.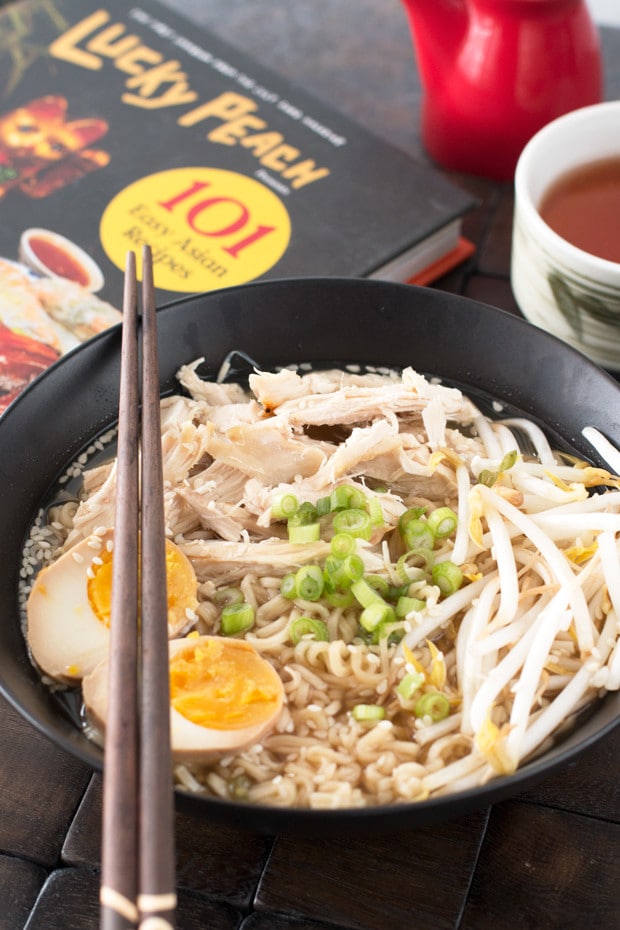 For all my fellow cooks out there who are tentative about diving into Asian cuisine, pick up this book and it'll serve as your lifeline. The slow cooker pho is next on my list… I'll report back soon.
Disclosure: I received this book from the Blogging for Books program in exchange for this review. As always, all opinions are my own.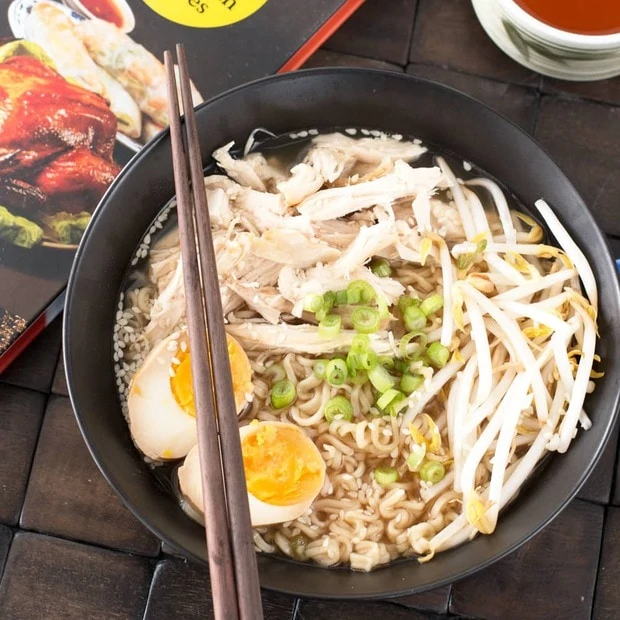 Rotisserie Chicken Ramen
Cook Time:
2 hours
15 minutes
Total Time:
2 hours
30 minutes
A seriously amazing recipe from Lucky Peach: 101 Easy Asian Recipes that'll become your new go-to ramen quick fix.
Ingredients
1 rotisserie chicken, whole or leftover
4 scallions
1 piece (1") fresh ginger, thinly sliced
1 small carrot (optional)
1 dried shiitake mushroom
3 slices bacon (about 2 oz)
12 C water
4 portions ramen noodles (preferably fresh)
8 t soy sauce
2 cooked eggs (optional but very nice; see Soy Sauce Eggs, page 50 - get the book and make these!), halved
Instructions
If you're starting with a leftover rotisserie chicken carcass, scavenge it for good meaty bits, and set them aside. If you have purchased a cooked chicken expressly for this recipe, then carefully cut away the breast meat, reserve the drumsticks, and use your fingers to shred off the leg meat—but just the big, fit-for-a-king pieces that come away easily. You can leave plenty of chicken on the carcass; that clingy meat will make for a flavorful soup. Pull or slice the meat into bite-size pieces and reserve in the fridge while you make the broth
Break the chicken carcass into a few pieces and put them in a stockpot. Trim the roots and dark green parts of the scallions and add them to the pot; thinly slice the white and tender green parts and reserve them to garnish the soup. Add the ginger, carrot (if using), shiitake, and bacon. Add the water and bring to a boil. Reduce the heat from a rolling boil to a rollicking simmer, and skim any froth that collects on the surface during the first 10 minutes of simmering.
Cook until the liquid is reduced by one-third (to 8 cups), about 2 hours. Strain the broth. (That shiitake is probably pretty delicious and tender at this point so you can save and slice it and use it as a garnish on the finished dish, but scrap the rest.) The broth can be used immediately or refrigerated for up to 2 days.
To serve: Bring the broth to a strong simmer and cook the ramen noodles according to package directions. Drain the noodles very well, and portion them out among 4 deep soup bowls. Top with broth. Season each bowl with 2 teaspoons soy sauce, a portion of the reserved chicken meat, scallions, half an egg, and whatever else you've got. (See ideas on the following pages!) Eat immediately.
Notes
Do I really have to cook this for TWO HOURS?? We don't want to make you do anything you're not comfortable with. But we found that 2 hours is the sweet spot for flavor extraction and reduction. Also, you don't really do anything during that time except for maybe cook an egg or two—plenty of time to watch an old Eddie Murphy movie or stare endlessly into the antisocial abyss that is your smartphone! BUT BUT BUT Why do I have to skim it? Skimming the broth during the first 10 minutes will force you to pay attention to the hardness of the simmer, observe the water level in the pot, and get to know the broth. Also, we found that with rotisserie chicken (unlike plain old raw chicken), there is some rendered grease that can emulsify in a muddy way. Our early stabs at this broth went unskimmed; they came out murky and tasted sort of flat. This approach yields a cleaner-tasting and clearer soup—and a better bowl of ramen.
Pin this Rotisserie Chicken Ramen recipe for later!