Please note this post contains affiliate links.
Curry Chicken Enchiladas are a new, spicy take on your favorite Mexican meal! The creamy curry enchilada sauce that smothers the chicken and cheese stuffed tortillas is packed with strong flavors and just the right level of heat. Once you try a bite, you'll never want to make enchiladas any other way.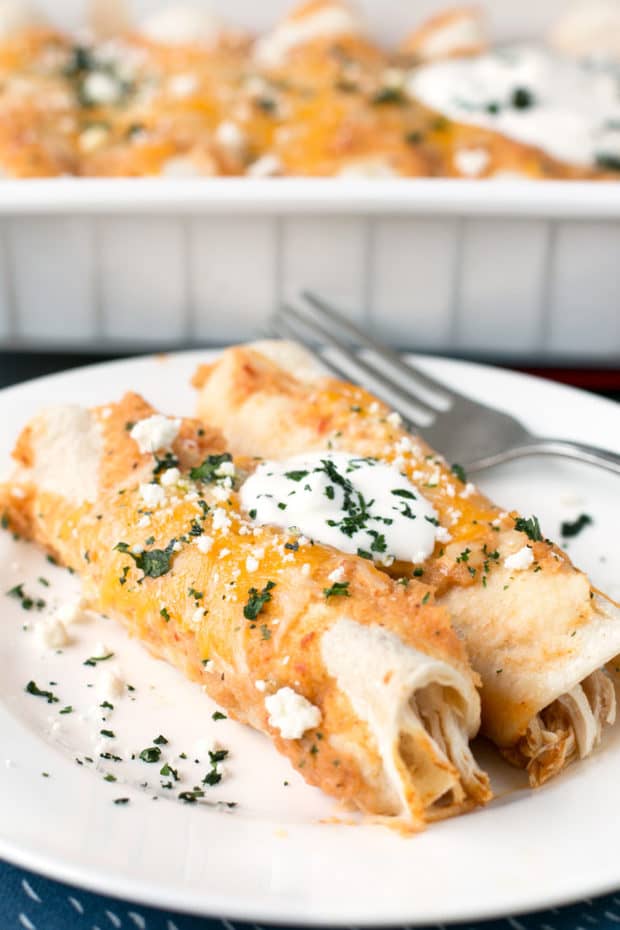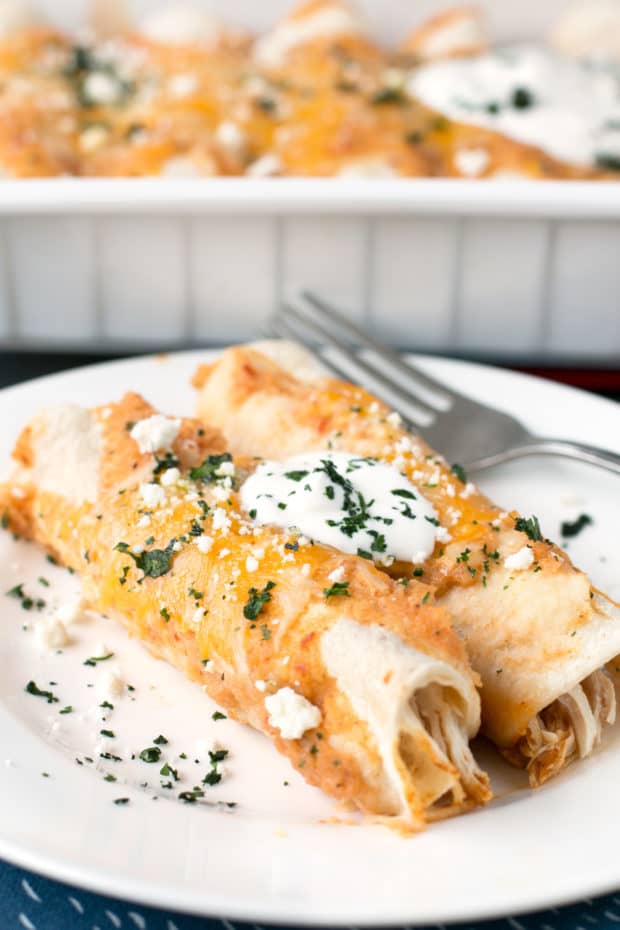 Please note that some of the links below are affiliate links. If you make a purchase through one of these links, I will receive a small commission. Thank you for supporting Cake 'n Knife!
This is going to become your new fav way to make enchiladas, my friends. As much as you'll love the original model, the upgraded curry model is going to blow your freaking socks off so much, you are going to start wondering why you didn't think to try this delightful combination sooner.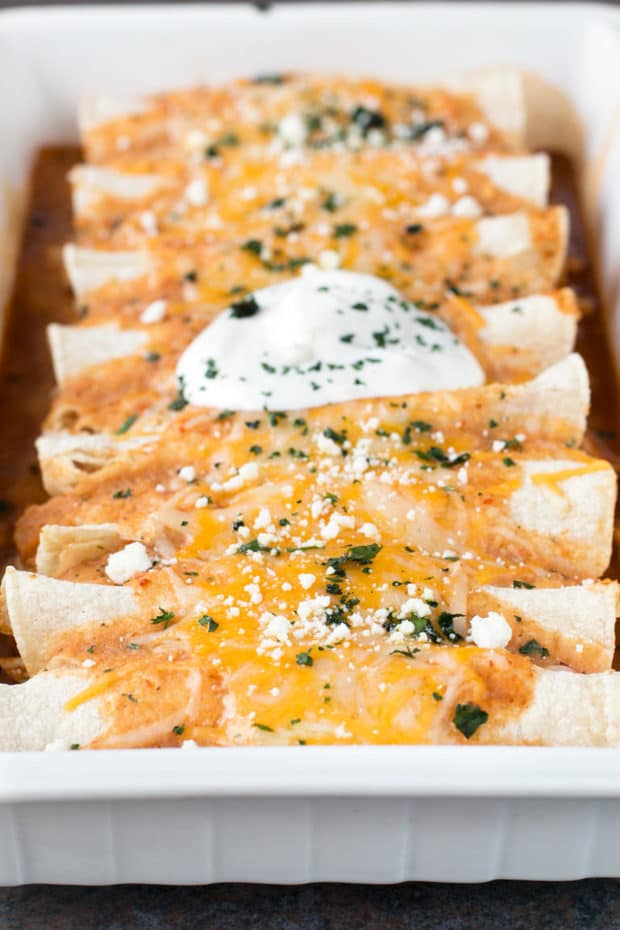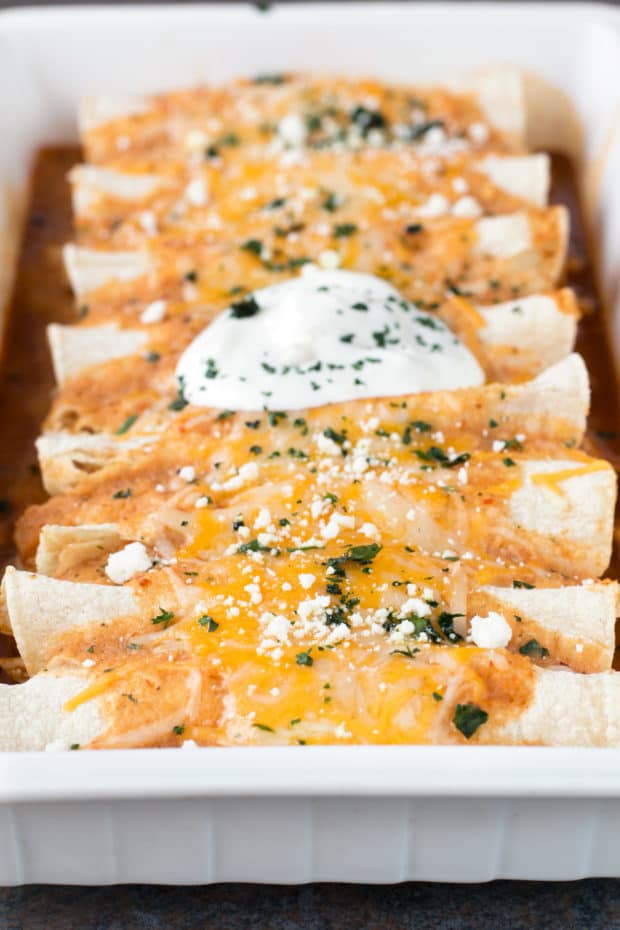 Now I love classic enchiladas, don't get me wrong. They are flavorful and comforting, making them a go-to meal anytime I don't feel like putting tooooo much effort into dinner.
BUT, when I'm serving up enchiladas for friends and family? Well, I want to up the ante a bit.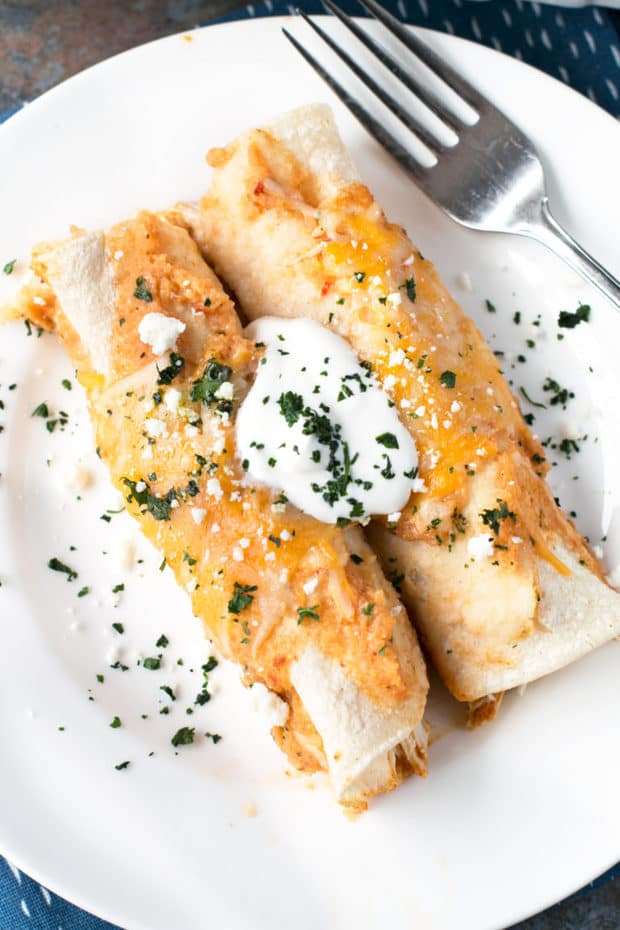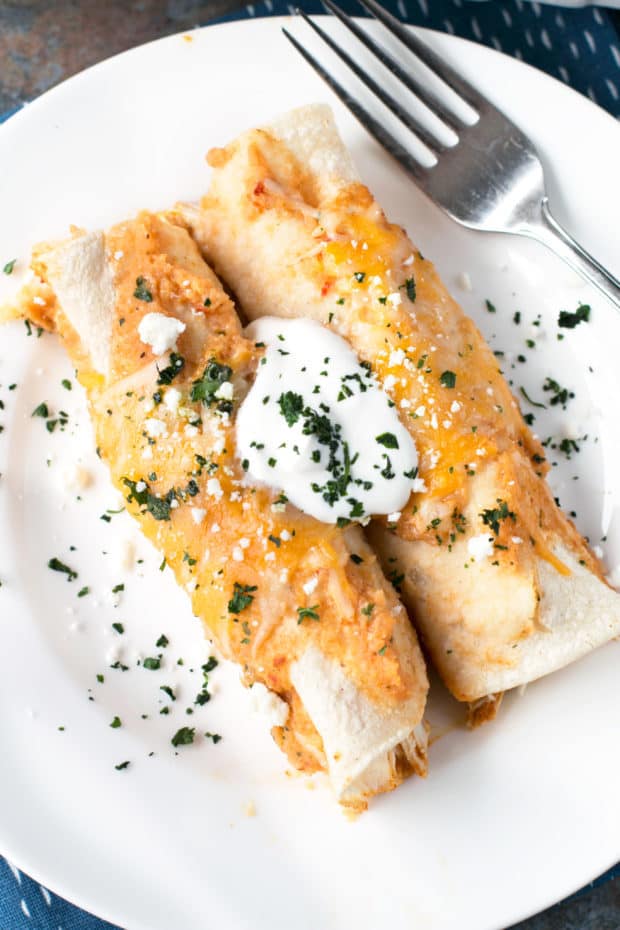 Curry is just the thing to take enchiladas up about 10 notches! The curry flavor is bold in this dish, but it isn't so overwhelming that your house will be smelling like curry for the next week (don't worry Lorelai, I gotcha covered!).
Instead of taking over the entire dish, it brings a whole new level of flavor to the party, and when you pair it with chicken, cheese, sour cream and cilantro – something magical happens. It's this insane blend of cuisines colliding together in a baking dish full of happiness.
Too much?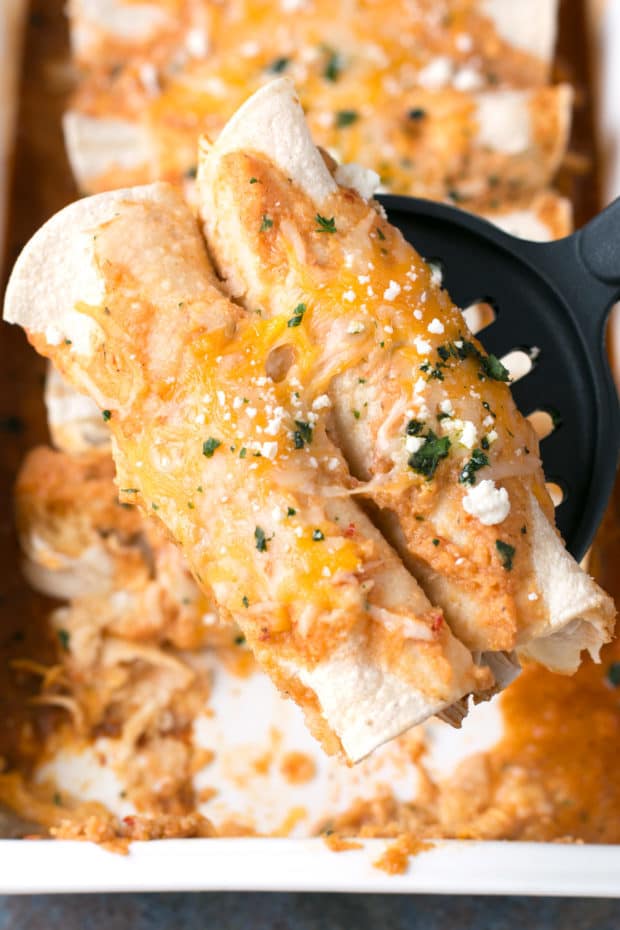 Seriously, though. The creamy curry sauce that these enchiladas are smothered in is INSANE.
I actually got the idea for this dish when I was tasting a curry marinade in Vegas with the Man.
Don't you just love it when your travels inspire your meals?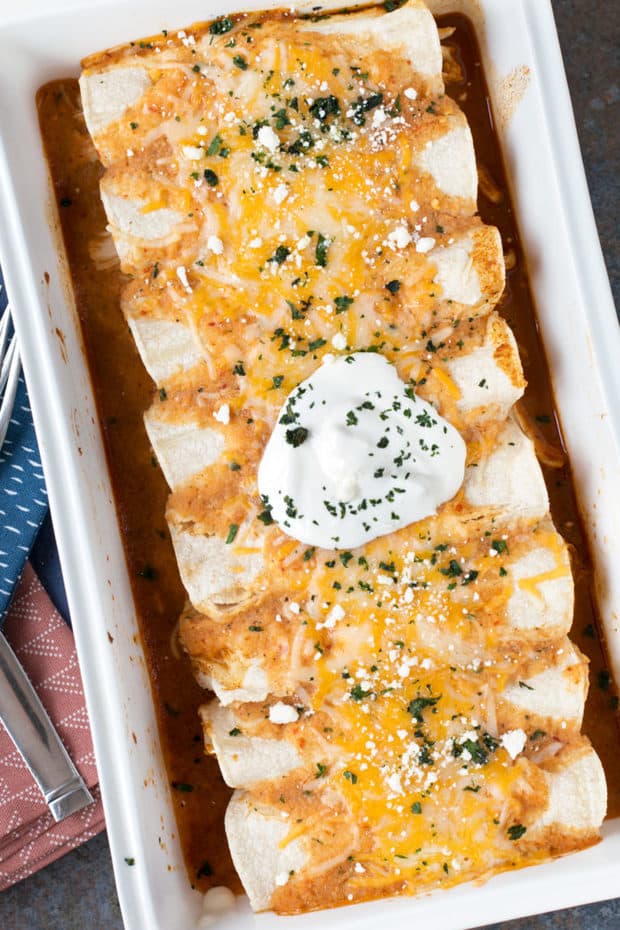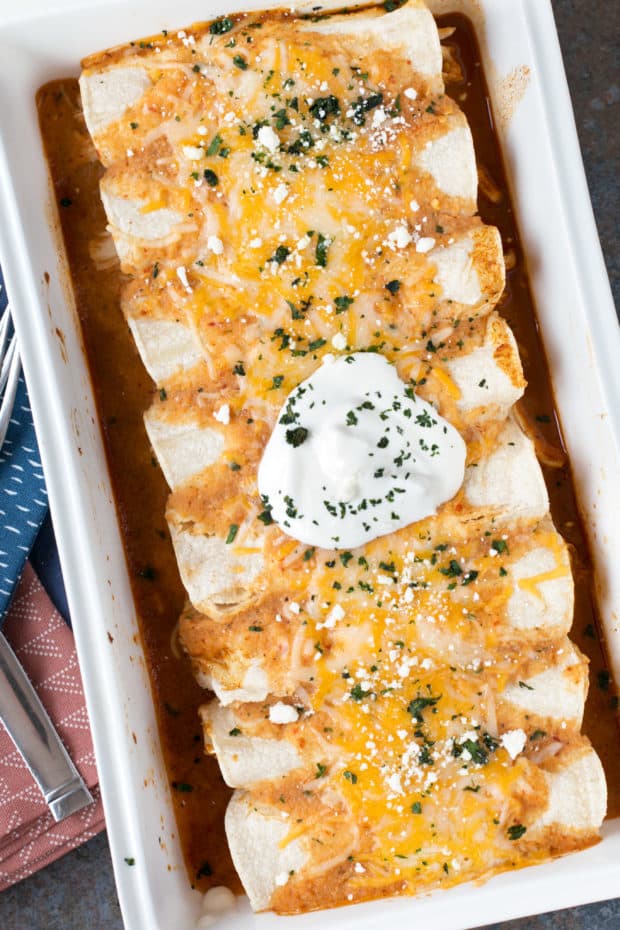 We stopped by Jojo's Jerky in the Container Park (read more about that killer place in my 48 Hour Foodie Guide to Fremont Street) and started trying their hot sauces. Which led to trying their jerky. Which then let to trying Jojo's Jerky Curry Marinade… Let me tell you, that marinade is out of this world. It's rich and spice, creamy and flavorful, and it goes with anything. We were chatting with one of their staff and she was rambling off a list of what to use it in when she mentioned "marinading chicken for enchiladas"…
All I could think was "CURRY CHICKEN ENCHILADAS?! Ummmmm YES. Yes to all of that!"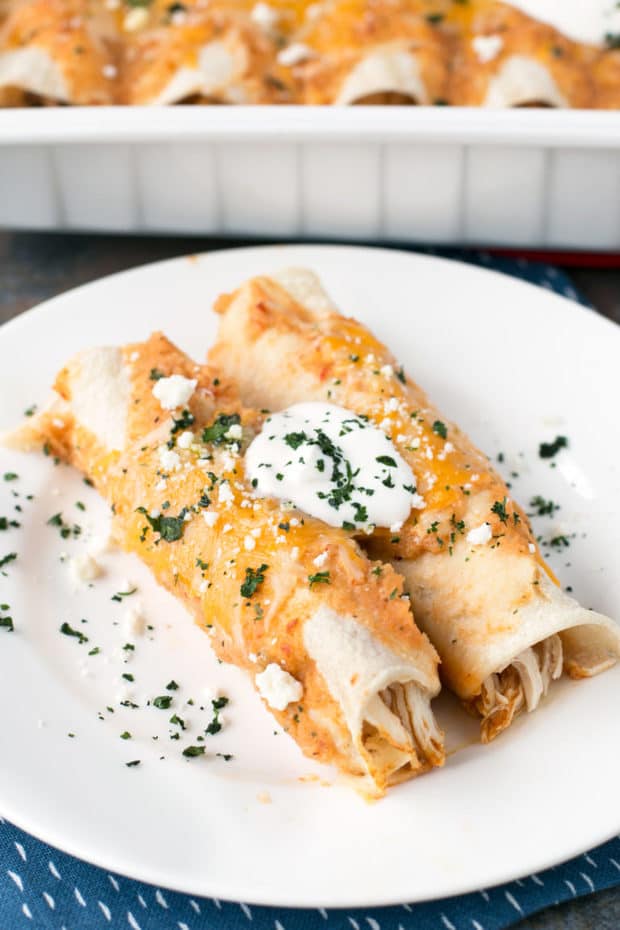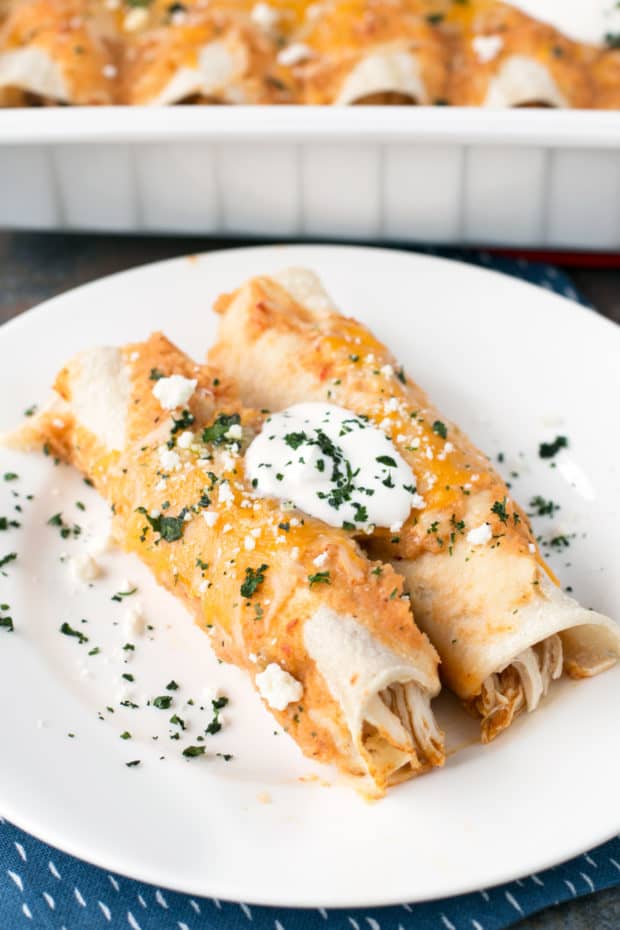 Now that the weather is cooling off a bit, it's time for me to start whipping out the comforting meals, of which enchiladas is one of on my list. This dish is perfect for a dinner party (it won't have you pulling out your hair or slaving in the kitchen for hours!) and it also works for serving up at a homegating party!
Ready to dig in?
This Recipe's Must Haves
Pin this Curry Chicken Enchiladas recipe for later!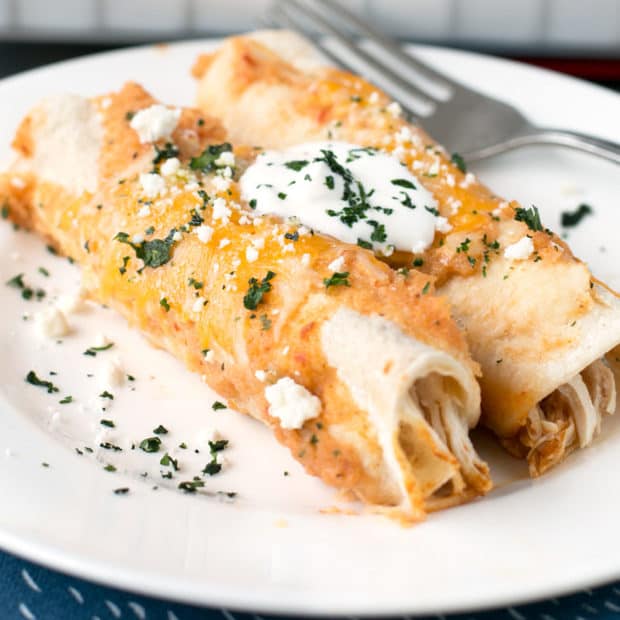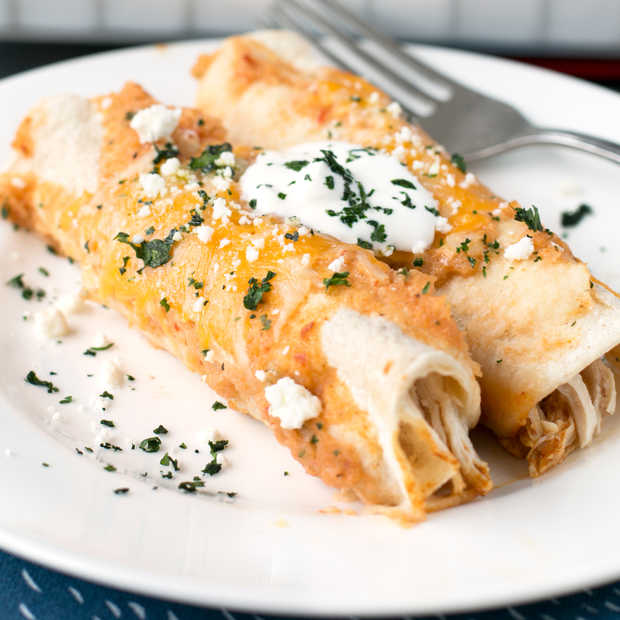 Curry Chicken Enchiladas
Savory, creamy and rich, these enchiladas are a whole new take on the classic recipe that everyone will love!
Ingredients
Enchiladas
8-10 small corn tortillas
2 boneless, skinless chicken breasts, boiled and shredded
2 1/2 cups colby jack cheese, shredded
Curry Enchilada Sauce
1 tsp olive oil
1 cup diced yellow onion
4 cloves garlic, minced
1 1 1/2-inch piece ginger, grated
3-4 tsp sambal olek (depending on your heat tolerance! Start with 3 tsp and add more once cooked if you need more heat)
4 tsp green curry paste
1 tsp ground cumin
1/2 tsp brown sugar
3 Tbsp lime juice
1 13.5 oz can coconut milk
Instructions
Preheat oven to 350 degrees. Lightly grease a shallow long baking dish.
In a medium skillet, add olive oil for the curry enchilada sauce. Heat over medium-heat and once hot, add onion. Cook down until soft and translucent, approximately 5 minutes.
Add cooked onions, garlic, ginger, sambal olek, green curry paste, ground cumin, brown sugar, lime juice and coconut milk to the bowl of a food processor or blender. Puree until smooth.
Add enchilada sauce to a medium saucepan. Bring to boil over medium-high heat. Reduce to a simmer and cook for 5 minutes until thickened.
To assemble the enchiladas, warm tortillas in the microwave for approximately 30 seconds. Place one small corn tortilla on a clean work surface. Add 1 Tbsp of shredded chicken to the center, top with 1 tsp of curry enchilada sauce, and 1-2 tsp of cheese. Roll up the tortilla and place seam side down in the greased baking dish.
Repeat with remaining chicken, sauce and cheese (note: you will have some cheese and sauce leftover).
Top the enchiladas with the remaining sauce and then top with remaining cheese.
Bake for 15 minutes, until bubbling.
Serve immediately.