Black Porter Chili is chili taken up a notch with the addition of smooth, luxurious black porter. This is how I will forever warm up on a cold winter night!
Yep, I'm getting fancy up in here with my chili and I don't care who knows it. I love a heaping bowl of chili piled with cheese in the winter. Nothing beats it and it's so simple to make, but the traditional plain chili recipes have been getting a little old for me. So I thought I'd kick things up a notch and add some smooth black porter to the mix to make what I call 'fancy-ass chili'.
Why fancy-ass? Because craft beer is fancy over here in my neck of the woods (and should be everywhere). For example, the specific beer I chose to make this chili with was a black vanilla porter and those subtle hints of vanilla actually came through in the chili. After the first bite I was swooning, and a couple days later I'm still swooning. The flavors only get more intense with time!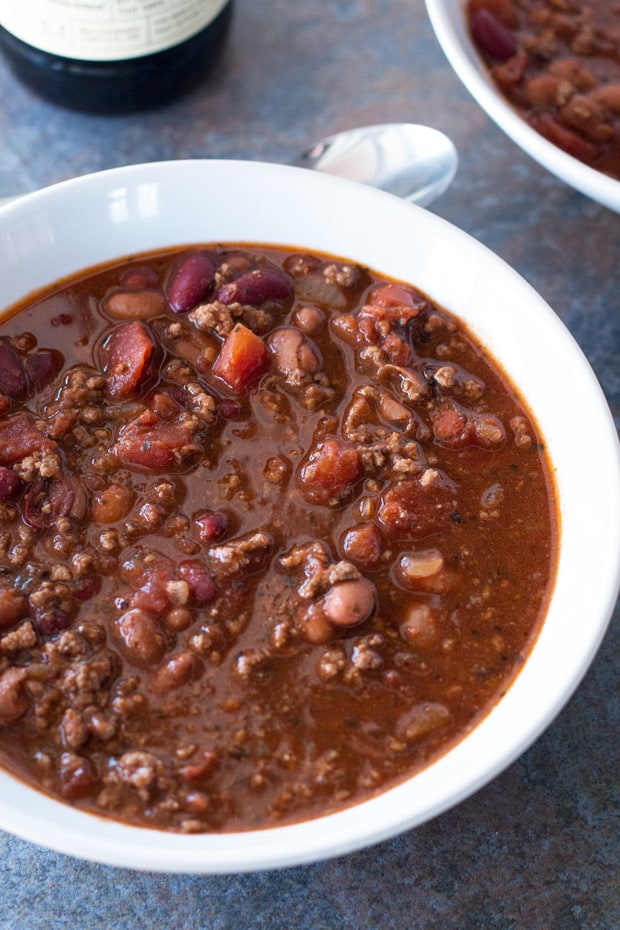 It's the perfect time for chili in my world, not only because it's still pretty chilly here in Denver, but also because I've been back on the workout wagon again and I AM STARVING.
All. The. Time.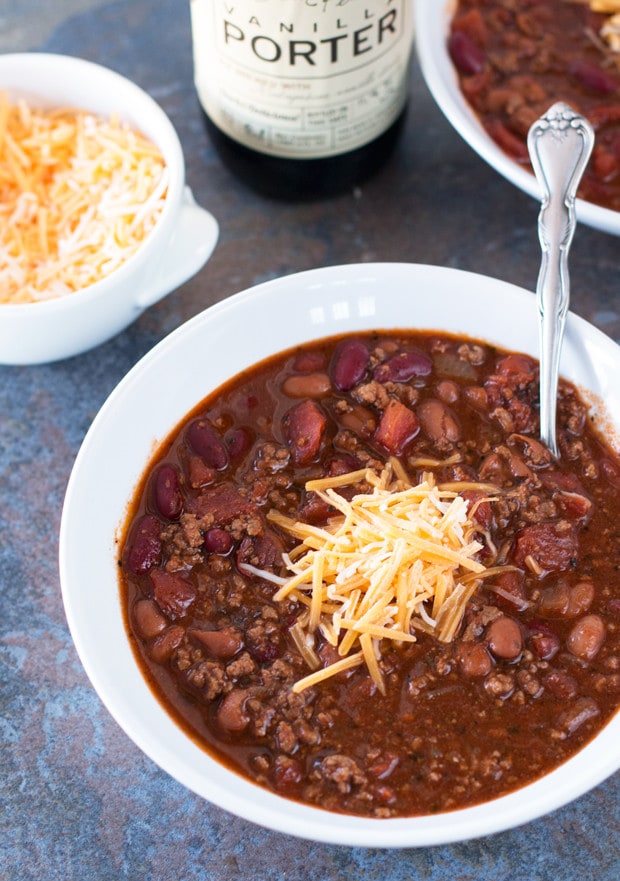 Running apparently makes me a voracious animal who can't stop stuffing its face. Thank God this chili fills me up, or I might eat myself out of house and home over here. I do have to say though, I am finally getting strong. Totally working with that whole "strength" for 2016 I was planning on at the end of 2015. I have already doubled the amount I can lift (lower half of my body only, still working on my oh-so weak arms… argh). Like, whaaaaaa?
Even if you aren't kicking yourself into high gear on the workouts, cuddle up with a big bowl of this chili this weekend. That's where I'll be… with extra cheese and Fritos.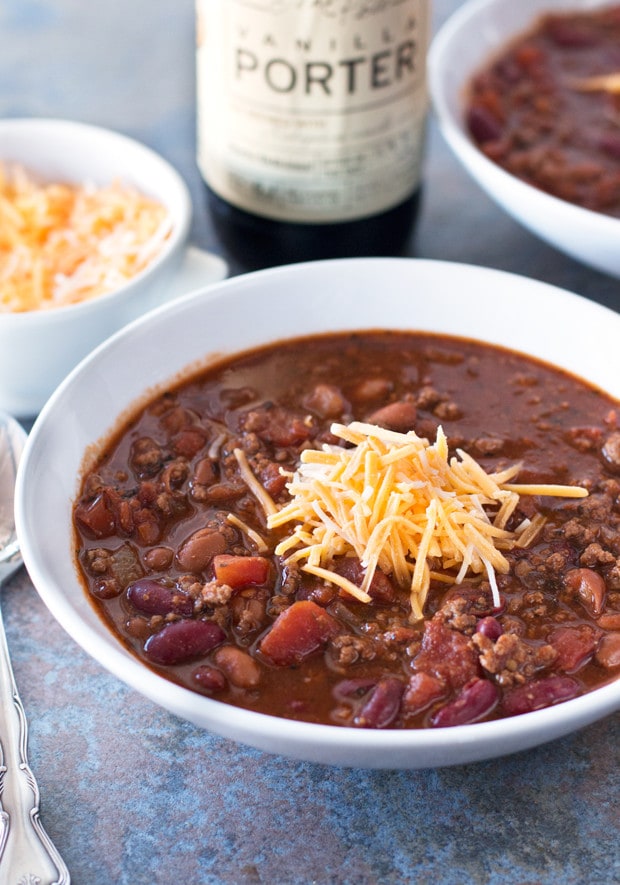 P.S. Get excited because I have a leftover recipe for this black porter chili that's gonna blow minds on Monday… Happy Weekend!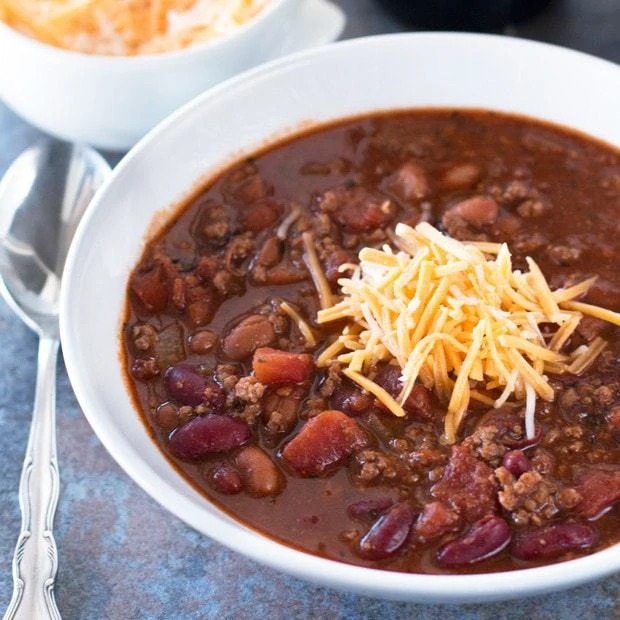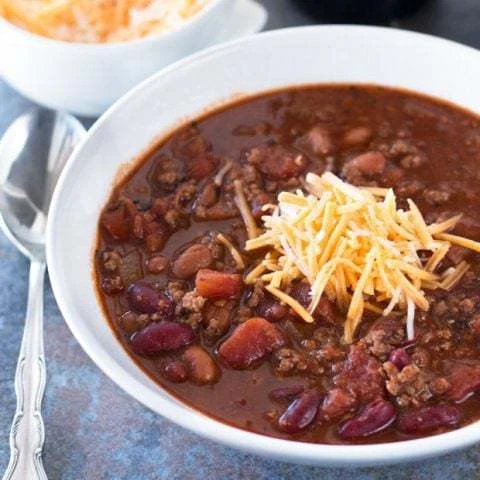 Black Porter Chili
Super easy to make and packed with flavor, this is chili taken up a notch.
Ingredients
1 tsp olive oil
1/2 white onion, diced
1lb ground beef
1 16oz can hot chili beans, drained
1 16oz can kidney beans, drained
1 16oz can Hunt's Fire Roasted Diced Tomatoes, drained
1/2 can Italian seasoned tomato paste
16 oz dark beer (I used a Vanilla Porter)
1 tsp salt
1 tsp pepper
1/2 Tbsp cocoa powder
1 tsp granulated sugar
1 tsp dried oregano
1 tsp dried basil
1 tsp chili powder
1/2 tsp paprika
1/2 tsp garlic powder
1/4 tsp cayenne
Instructions
In a large Dutch oven, or heavy-bottomed pot, over medium-high heat, heat olive oil. Once hot, add the diced onion and cook until soft, approximately 3 minutes. Add the ground beef and cook until browned, approximately 4 minutes. Make sure you break up the beef as it cooks so it doesn't form large chunks.
Add the beans, tomatoes, tomato paste, porter and spices. Simmer over medium heat for approximately 25 to 30 minutes, until thickened. Serve with any desired toppings such as shredded cheese or sour cream.