September Daring Cook's Challenge – Paella
When I saw this month's Daring Cook's challenge, I was so excited! Paella is one of those favorite dishes that I never get to eat (oh yes, that sentence made sense). I can only find it at a few restaurants in Denver and since I have been a major homebody lately – primarily due to overwhelming exhaustion and struggling to adjust to a new work schedule – I don't get to those restaurants and live devoid of a paella fix.
I have never made paella before, but I have always been curious to try it. It seems simple enough, a one pot dish of delicious seafood and meat. Though I had a bit of a struggle at one point (the initial dish I started with wasn't big enough – the downside to not owning a paelleria), the dish overall is fairly simple.
That the whole "mise en place" concept really comes in handy here. I literally heard Anne Burrell screaming through the television at me to remember my mise en place rules as I chopped raw meat and cleaned shellfish… You see? Watching all those Food Network shows actually does pay off in real life.
I know, shocking.
Once you start cook the dish, it actually isn't a nightmare to complete.
This is of course assuming your cooking vessel is big enough. If not you will experience the "oh shit" moment I did and will end up scrambling to put the overflow into a new dish so it can cook evenly without losing all the yummy paella in the transfer process. There might have been some panicked cursing…
And a few minutes of running around like a chicken with its head cut off…
This doesn't happen to you on a normal basis?
If you have the right cooking tools (or at least plan ahead to use the correct tools – ah foresight… if only you and I could be friends…), you won't have any problems. The only problem you might have is an inordinate amount of food that seems near impossible to finish eating.; which, in my opinion, isn't really a problem…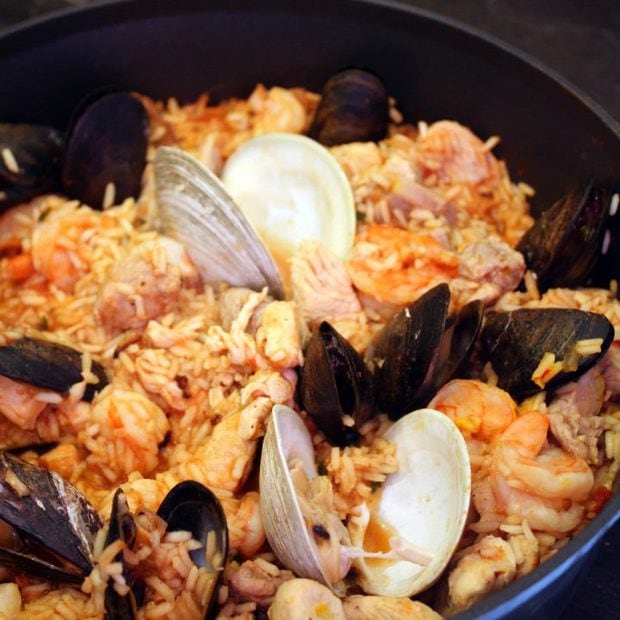 Paella
slightly adapted from Inma of la Galletika
Ingredients
2 lbs shrimp, cleaned & deveined
1 lb fresh clams
1 lb fresh mussels
1 lb pork loin, diced
2 1/4 lbs chicken breast, diced
2 1/4 lbs long grain rice
5-6 Saffron threads
4 garlic cloves
16 oz crushed tomatoes
6 cups chicken broth
Bunch flat-leaf parsley leaves, chopped
Instructions
In a paellera, heat olive oil and fry chicken and pork. Remove from pan and reserve.
In the same pan, make a sofrito by sauteing the onions, garlic, and parsley. Cook for 2 or 3 minutes on medium heat. Then, add tomatoes and cook until the mixture caramelizes a bit. Fold in the rice and stir-fry to coat the grains. Pour in the water and simmer for 10 minutes, gently moving the pan around so the rice cooks evenly and absorbs the liquid.
Add chicken, pork, and saffron. Add the clams, mussels, and shrimp, tucking them into the rice. Cook until the clams and mussels open and the shrimp turns pink. Give the paella a good shake and let it simmer, without stirring until the rice is al dente, about 15 minutes.
When the paella is cooked and the rice looks fluffy and moist, turn the heat up for 40 seconds until you can smell the rice toast at the bottom.
Remove from heat and rest for 5 minutes before serving.