Salmon Cake Sliders with Spicy Mayo are a crispy, spicy and flavorful appetizer that's easy to make and will really wow a crowd. Or you can be completely selfish and just make them for lunch for yourself. It's up to you!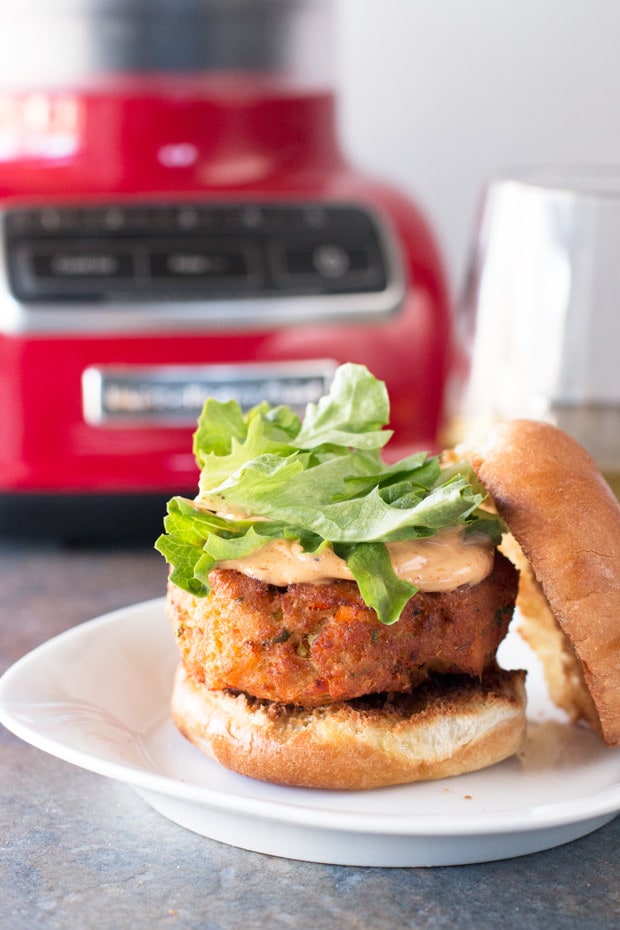 Boy oh boy do I have loads of treats for you today. First let's start with this beautiful little salmon cake slider, shall we? These perfectly fried beauties are my new obsession and I'm sure you can see why. They have a ridiculous amount of flavor in those little cakes and the spicy mayo just amplifies the taste that much more. I was lucky enough to whip these up with my oh-so awesome cousin last weekend on a leisurely Saturday. I'm pretty sure she's about 50% responsible for the awesomeness that you see here (ok maybe more like 65%, but don't tell her that ok? Wouldn't want her getting a big head or anything… 😉
And what do I spy in the back there? Why I think that might just be a shiny new KitchenAid 5-Speed Diamond Blender… Did I mention I'm giving away one of them today? More on that in a second though.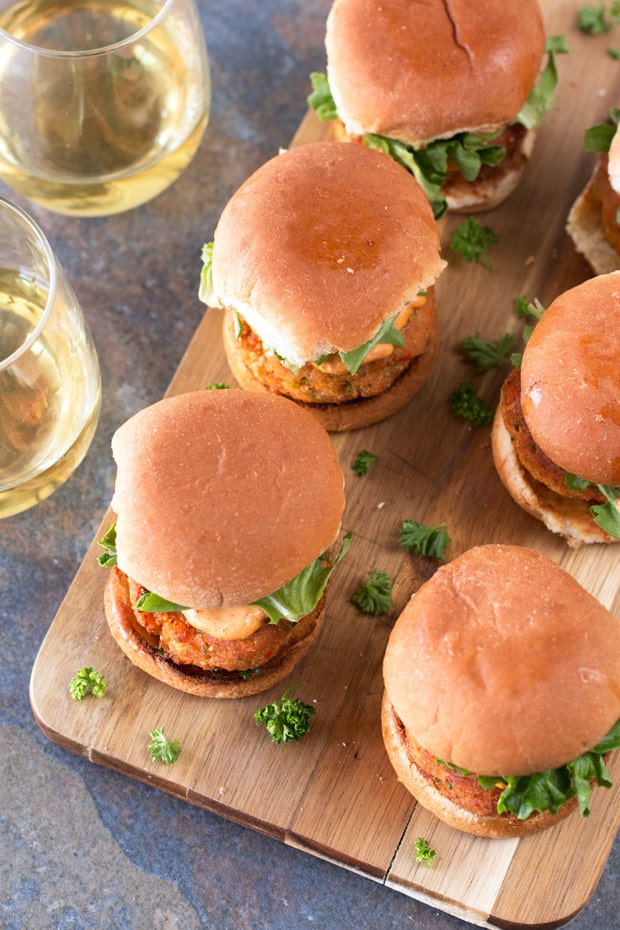 A platter of these is absolutely irresistible….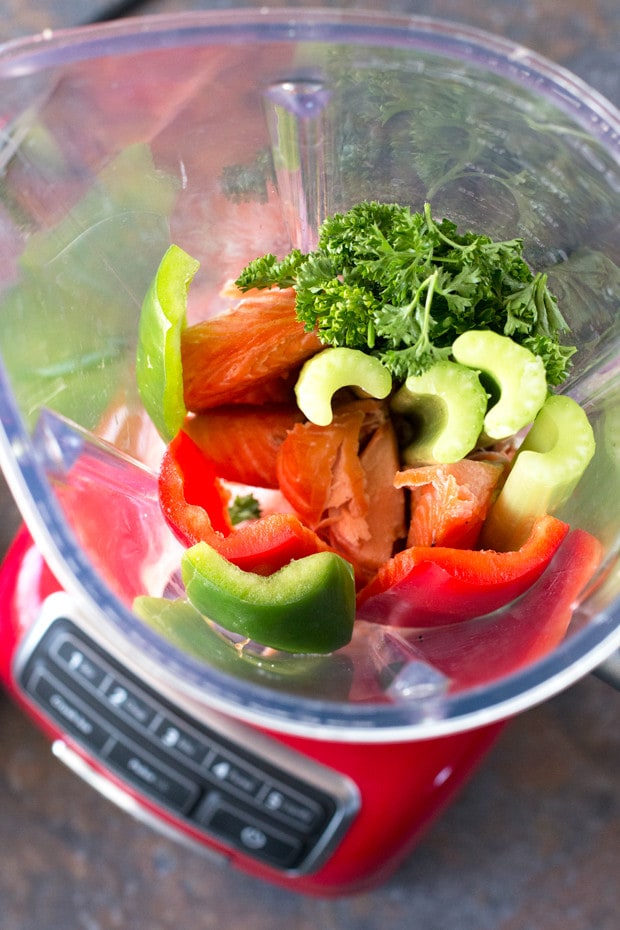 I don't think I've told you all this before, because I'm a cook and I'm supposed to love allll aspects of cooking, but sometimes I really hate prep. All that chopping and dicing and mincing can get kind of exhausting, especially when your dealing with peppers and celery and salmon. That's exactly which this blender has become my new best friend. Not only does this blender make a killer smoothie, it actually chops things for you. For real, it chops all your veggies up into perfect little pieces, better than anything I could ever do by hand. Making these salmon cake sliders was so easy, I can't even describe to you the ease.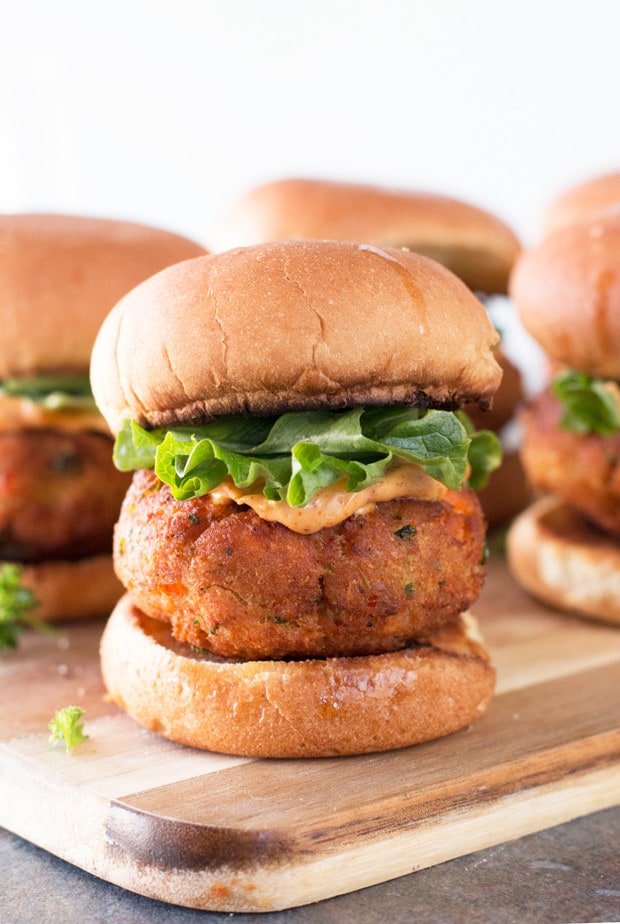 Talk about a smart appliance, am I right?
You absolutely have to make these sliders for the Super Bowl this Sunday, whether you're hosting a party or not even watching the game. They are SO flavorful and hands-down the perfect tailgating food. Enough with the chips and dip (at least until I share my favorite one later this week)!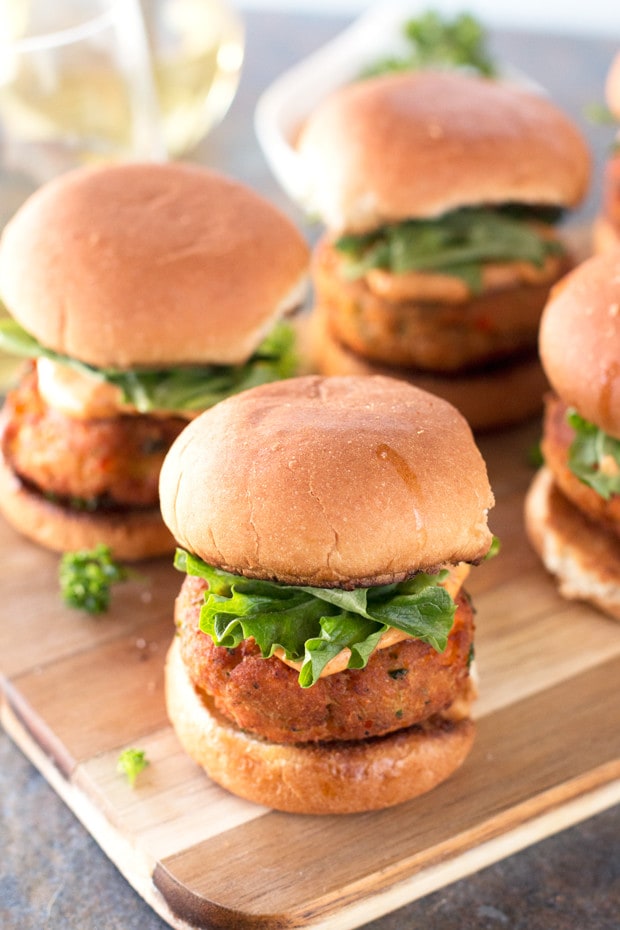 I'm lucky enough to be able to offer you a chance to win your very own KitchenAid® 5-Speed Diamond Blender today! Seriously, you want to get your hands on one of these. I use mine at least once a day, for REAL. Check out the giveaway below the recipe!
Disclosure: I received free product from KitchenAid® as part of this giveaway and post. As always, all opinions and recipe are my own. Thanks for supporting the brands that support Cake 'n Knife!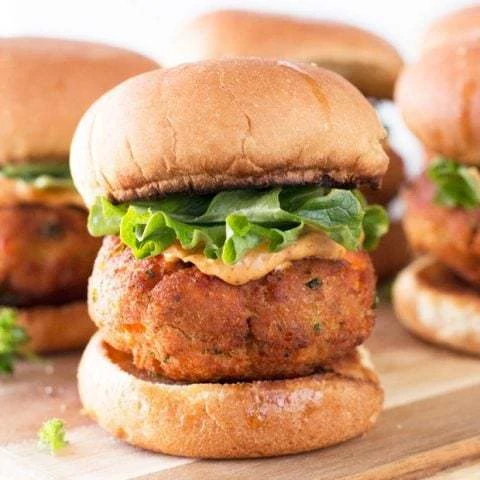 Salmon Cake Sliders with Spicy Mayo
Additional Time:
30 minutes
Crispy, flavorful salmon cakes make the perfect two to three-bite sliders for any party.
Ingredients
Salmon Cakes
18 oz salmon, cooked and cooled
1/4 green bell pepper, seeded and cut into large chunks
1/3 red bell pepper, seeded and cut into large chunks
2 stalks celery and cut into large chunks
1/3 cup parsley
1 1/4 cups breadcrumbs
2 tsp crab boil seasoning
2 eggs, beaten
2 tsp lemon juice
1/4 tsp hot sauce (I used Frank's Red Hot)
1 tsp garlic powder
1/2 tsp salt
1/4 tsp black pepper
1 Tbsp capers, drained
Frying oil
Salad greens
8 slider buns, cut in half and toasted
Spicy Mayo
3/4 tsp chili powder
1/3 tsp cayenne pepper
1 tsp lemon juice
1/2 cup mayonnaise
1/2 tsp dijon mustard
Salt & pepper
Instructions
In a small bowl, whisk together all the ingredients for the spicy mayo. Season with salt and pepper to taste. Set aside in the refrigerator until ready to serve.
Add peppers, celery and parsley to a KitchenAid Diamond Blender and pulse on the chop setting until the ingredients come together and the veggies are minced. Add the salmon and pulse a couple more times until the salmon is broken down but not mushy.
Pour the contents of the blender into a large bowl. Stir in the breadcrumbs, eggs, seasoning, lemon juice, hot sauce, garlic powder, salt, pepper and capers. Cover the mixture with plastic wrap and refrigerate for 30 minutes.
Remove the chilled salmon mixture from the refrigerator and form thick 2 to 3-inch cakes (depending on the size of your slider buns).
Heat 1-inch of oil in heavy skillet over medium-high heat. Working in small batches, fry the salmon cakes for approximately 3 to 4 minutes per side, or until golden brown and cooked through. Remove the cakes to a paper towel-lined plate to drain.
To assemble the sliders, add the salmon cakes to the bottom halves of the slider buns. Spoon a generous Tbsp of the sauce on top of each cake and finish with some salad greens. Top with the other halves of the slider buns and serve immediately.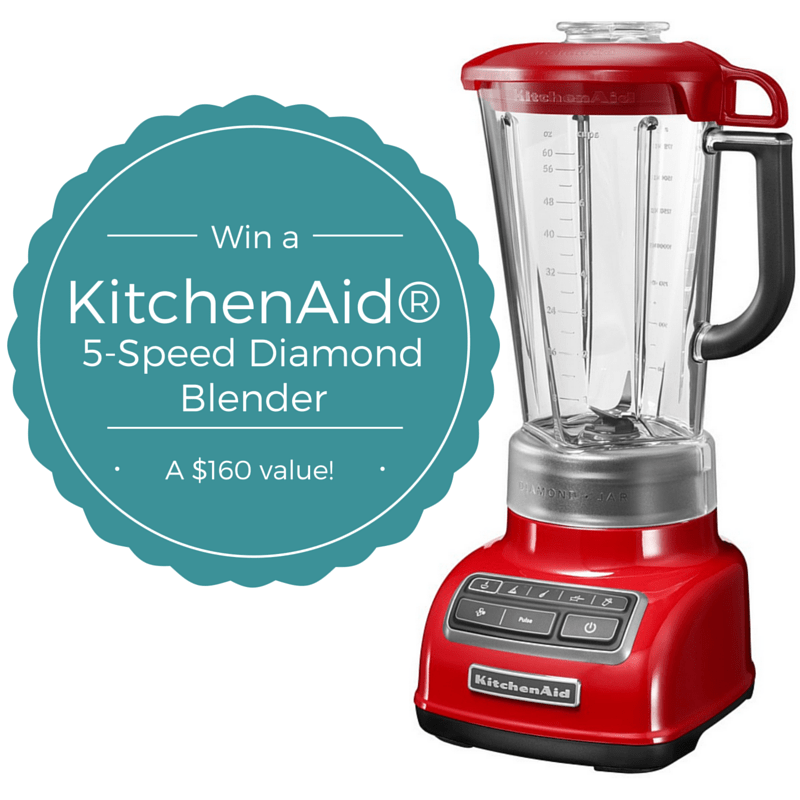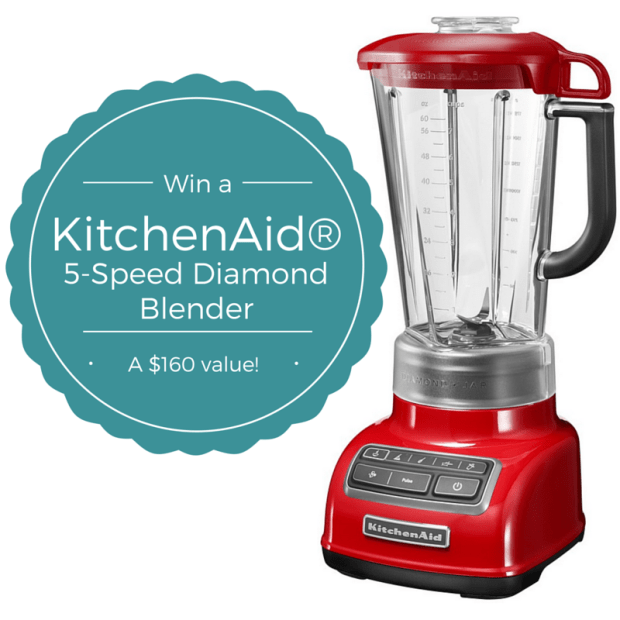 Ready to win one of these bad boys for yourself?? See the Rafflecopter below to enter to win this amazing blender!
Giveaway rules:
1. Enter the giveaway through the Rafflecopter widget below. Everyone gets a free entry! You can enter multiple times, up to 15 total entries by following the giveaway sponsors on social media. (If you've followed in the past, that counts! Just enter the information as prompted.) All entries will be verified. No purchase is necessary to win.
2. The giveaway is open until Tuesday, February 9, 2016 at 11:59 p.m. CST. One winner will be chosen at random and e-mailed within 48 hours. Winners must claim prize within 48 hours of initial contact. The retail value of the prize is $159.99. Prize listed above is the only one available.
3. Open to U.S. residents with a valid shipping address only. Must be 18 years of age as of February 1, 2016.