This list of Hospital Bag Essentials for both mama and partner is about as complete as I could get it! Below you'll find a list of everything I plan to bring for myself and dad.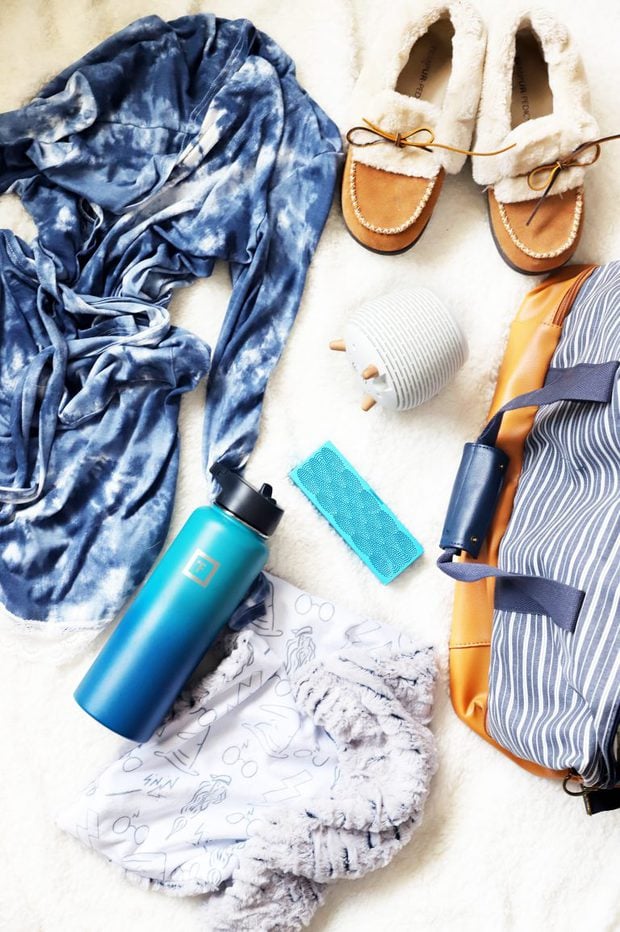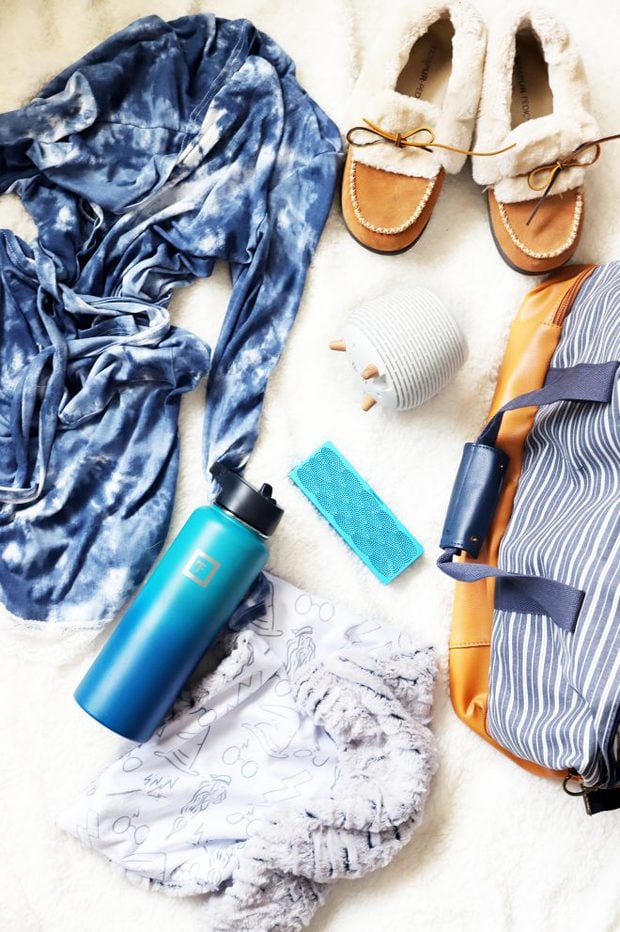 Hospital bag essentials are packed and ready to go, my friends! Who knows when this little guy is going to show up, but I can confidently say that we are ready to jet to the hospital whenever the time comes.
I spent many, many weeks researching, reading articles, and asking friends for their recommendations on what to pack in our hospital bags. These are the things that go along with my birth plan, as well as little tips and tricks that I learned from our doula.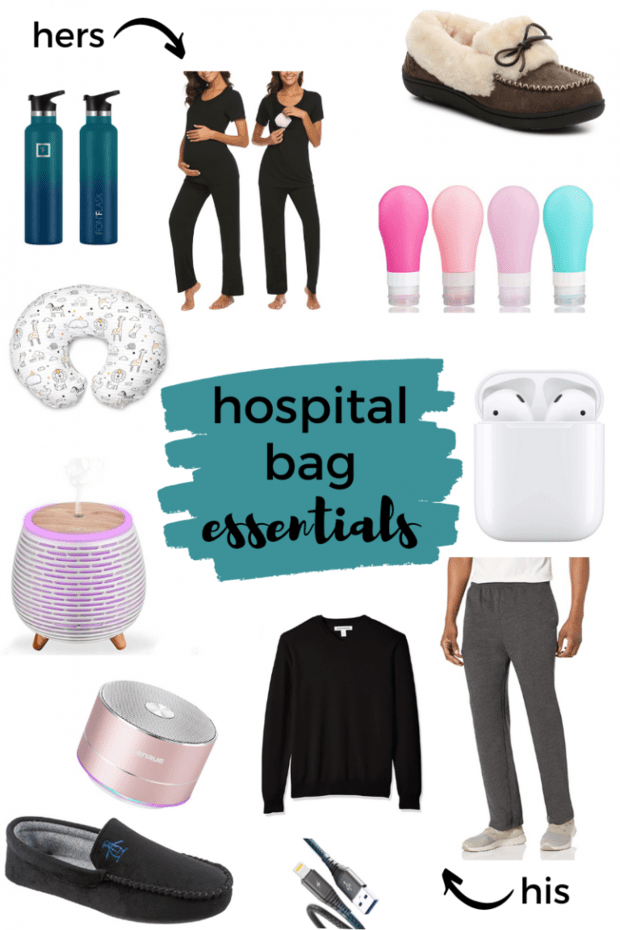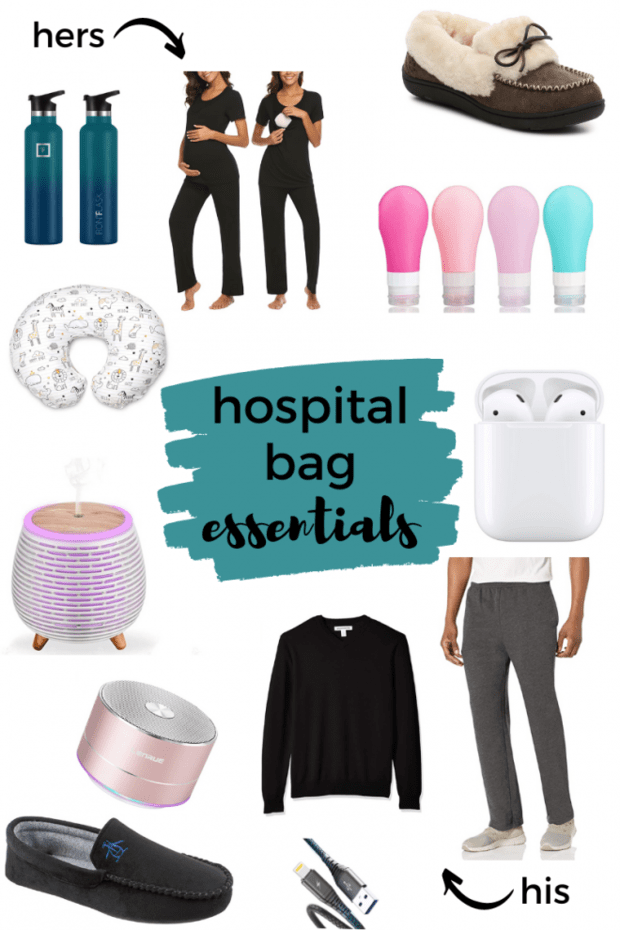 hers
I love the cocoa butter chapstick from Vaseline. One is going in my labor bag and one in my clothes bag.
Nursing PJ Set – This super soft set is great for labor and delivery, plus it can be adjusted easily for post part wear. It's also thinner than others so when you get hot (which I hear from every mother!), it'll be nice and breezy.
Portable oil diffuser – this cute little diffuser has pretty lights, a simple design, and works wonderfully. I am bringing my favorite essential oils – lavender, peppermint, and cedarwood.
Iron Flask sports water bottle – while many have recommended the Hydro Flask for a water bottle, I found the price tag a bit too high! I opted for this one and it's fantastic – 40oz, drinks stay cool, and I'm planning on loading it into my hospital bag when it's go time!
Sugar-free hard candy – since you can't eat too much, sugar-free candy was recommended to us by our doula to bring along. I'm a sucker for Werther's Original!
Portable travel bottles – these are nice for shampoo and such, but also for bringing a bit of olive oil along. Another recommendation from our doula for that first day of tar poop. Rub a little on baby's bum and the tar won't stick to them! GENIUS.
Boppy – I'm bringing this on recommendation from a blog post I read. Smart so you can get used to it and work with it alongside the lactation consultant they provide.
Granny panties – I've heard these are a must postpartum and these got rave reviews, especially from moms who had C-sections. I figure I might as well cover all my bases, you know? Plus these are comfy enough to wear now.
Slippers – I opted for an extra cozy pair at the beginning of my third trimester because my feet were cold and killing me while I cooked. These are a little more pricey but SO WORTH IT. I'm also packing a pair of non-slip fuzzy socks because I've heard the hospital floors are cold.
Flameless candles – packing a couple of these to set the mood in the hospital room. Candlelight always makes me calm down instantly!
his
Extra long charging cords – the hospital coordinator told us to bring these since the outlets can be far from the hospital bed and couch.
Comfy clothes – think cozy sweatpants and sweaters! You might be freezing during labor because mama is going to be H-O-T. Nothing fancy, just whatever makes you the most comfy as you wait for baby and after in the recovery room.
Snacks – this is what the Man is in charge of, aside from the hard candy I already stashed away in my bag! You want snacks for both of you, but especially for him so that he can keep his energy up to be the best support possible.
iPad/laptop/headphones – there will be some waiting and having entertainment is a must for partners. Grab whatever you like whether it's an iPad/laptop with headphones or books or magazines, etc.
Carseat – we installed the carseat (the link is the one we have and are excited to use!), but didn't want to leave the carrier in the car so it's inside. Kind of important to remember, right? The Man's solution is placing his packed bag under the carseat so there's no way we forget it!
Warm socks or slippers – during labor, the partner is the one tasked with running around whether it's getting ice chips, running a bath, grabbing a nurse, and more. I've heard from EVERYONE that hospital floors are freezing cold, so bring warm socks or slippers!
Massage oil or massage bar – massage is a must during pregnancy and labor is no different! However, at least here in Colorado, my skin is bone dry. Without oil or a massage bar (my favorite from Lush!), it can hurt. Plus the soothing scent will help a bunch if you don't have essential oils you are bringing along.
Speaker – make sure you bring a small portable bluetooth speaker! It helps to set the mood, plus you can put together a playlist together that you both can enjoy. A nice activity for those last weeks when us ladies can't move around so easily LOL.
Push present – I already know what my push present is and I have to say, it's fantastic motivation! It's also so nice to get a little extra appreciation for everything my body is about to go through.
Loose change – for vending machines! You never know when you will need access to coffee in the middle of the night. Or a candy bar you are craving.
Nurture and/or any tips for labor – I have mentioned this book before, but here I mention it again because it's a great resource for your partner. There's techniques to get through labor and lots of information to refer to. Bring along this book and any other tips you have for labor to be the best coach you can be!
Are there any hospital bag essentials missing from this list?
Tell me in the comments below!
I share my birth story as well, if you are interested in how everything went!