It's all about cheesy comforting goodness today!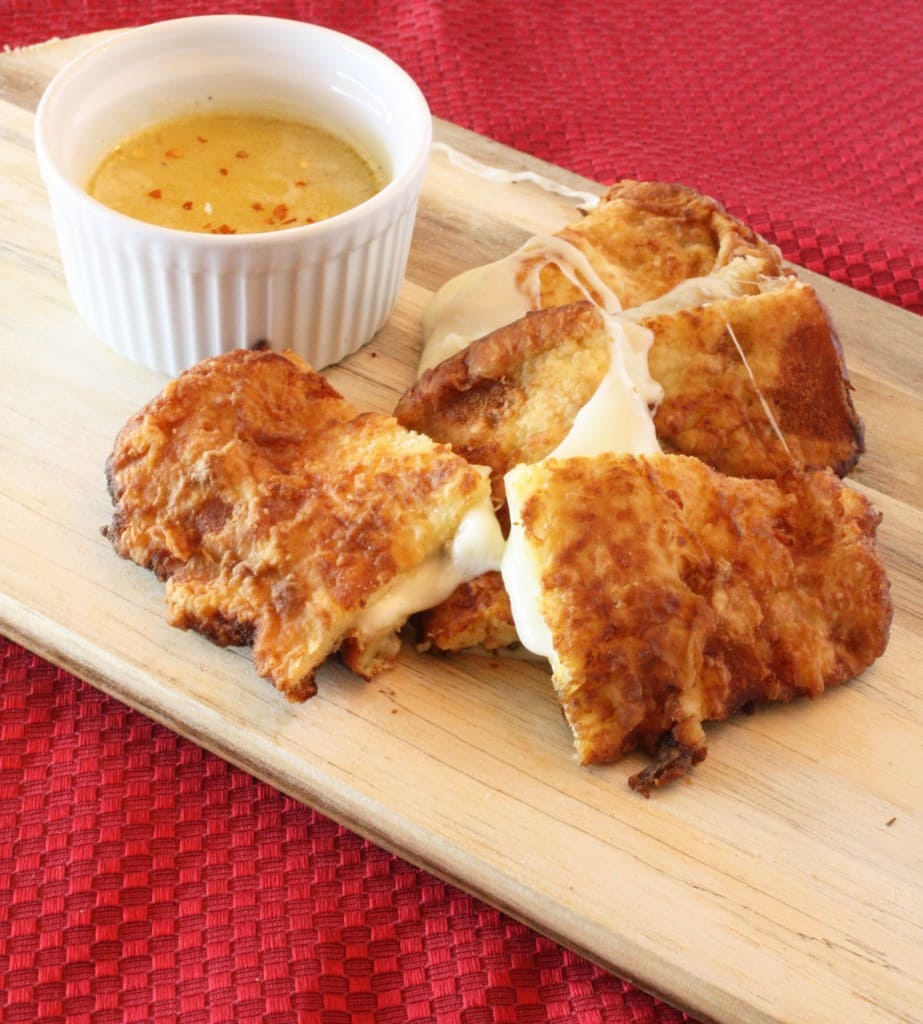 I have been sick this past week and all I have been able to eat is what my mom used to make me whenever I was sick. Grilled cheese was a big one for me growing up, particularly because it was the easiest thing for me to learn to make when I was young.
However when I realized the only cheese I had in my fridge was mozzarella, I decided to go a little outside the box and spice things up with some frying! Because really, who doesn't love fried cheesy goodness?
Just so you know, this is like grilled cheese on steroids. The gooey cheese is hidden inside a perfectly fried bread pocket. Then you go in for the sauce and at first you are like "whoa check out that acidic savory masterpiece I just bit into" and then you start getting that savory mouthful of cheese and fried bread and you can't stop yourself from going back for more of that lemony, buttery goodness.
It only took me a few moments to shove this sandwich, buttery sauce and all, directly in my face. I can't even handle how good this grilled cheese is….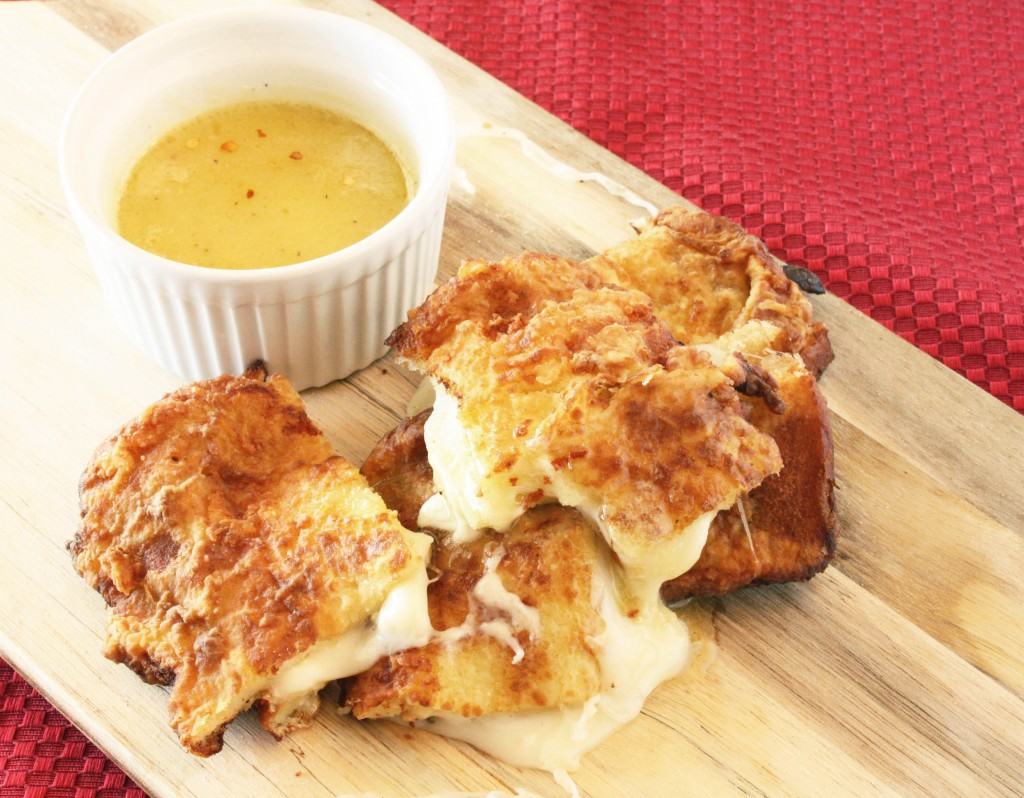 Gah, please just excuse me while I fry up another sandwich and continue this downward spiral that is completely destroying my attempt to eat healthy….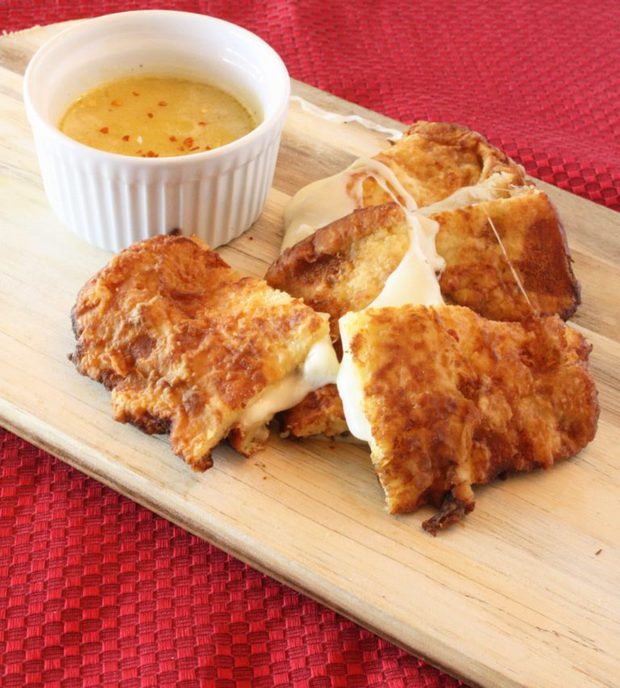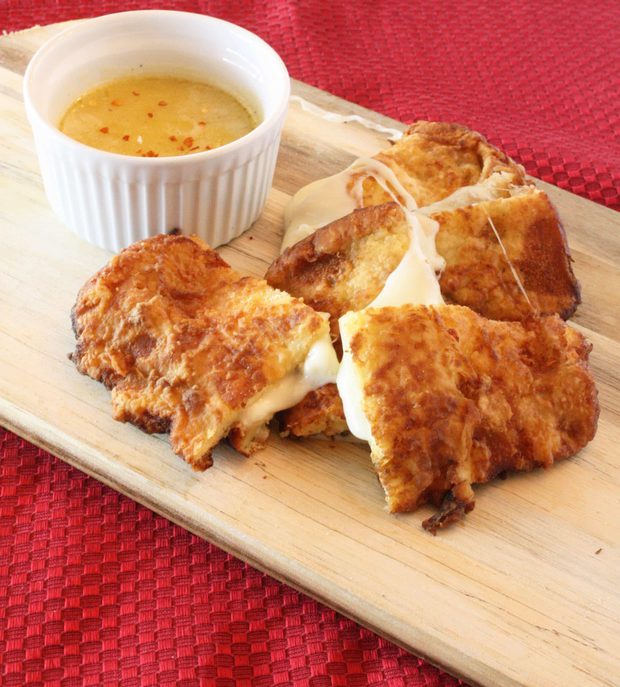 Fried Grilled Cheese with Tangy Lemon Dipping Sauce
Yield:
2 sandwiches + dipping sauce
A fried twist on a classic grilled cheese with a dipping sauce that'll make you go bananas!
Ingredients
2 large eggs
1/3 cup milk
1/4 cup grated Parmigian-Reggiano
1 ball fresh mozzarella, thinly sliced
4 slices white bread
Canola oil, for frying
1/2 cup all-purpose flour
Dipping Sauce
2 tablespoons olive oil
3 cloves garlic, minced
A couple pinches of crushed red pepper flakes
1 lemon, juiced
1/2 stick butter
Salt & pepper
Instructions
Beat together the eggs, milk and Parmigiano-Reggiano in a medium bowl until combined. Set aside.
Divide the mozzarella evenly between 2 slices of the white bread. Put the remaining slices of bread on top of the mozzarella.
In a large skilet, add enough canola oil to be 1/2" deep. Heat over medium-high heat until the oil shimmers. A good way to test this if you can't tell by sight is by dropping a bit of the egg, milk, and cheese mixture into the oil. If it starts bubbling and frying up, you are ready!
Dredge each sandwich in flour and shake off the excess. Then dip each sandwich in the egg and cheese mixture. Work in batches, frying each sandwich individually. Secure each sandwich with toothpicks before adding to the pan. Once golden brown, remove the toothpicks, flip and insert the toothpicks in the other side. When the both sides of the sandwich are golden brown, remove from oil to paper towel lined plate to drain. Repeat this process with the other sandwich. Cut the sandwiches into quarters, arrange on a serving platter and serve with the sauce.
To prepare the sauce, combine the olive oil, garlic, and crushed red pepper in a small saucepan over medium heat until the garlic is golden brown. Add the lemon juice and stir to combine. Stir in the butter and season with salt, to taste. Once the butter is melted, remove from heat and serve immediately.