Please note this post contains affiliate links.
Roasted Garlic Hummus Pumpkin Pasta is a flavorful twist on fall pasta, perfect for your Friendsgiving celebration! The bold flavor of Sabra's Roasted Garlic Hummus balances out the creamy pumpkin and tart, tangy sun-dried tomatoes. It's an easy side dish that everyone will want to spoon on their plate!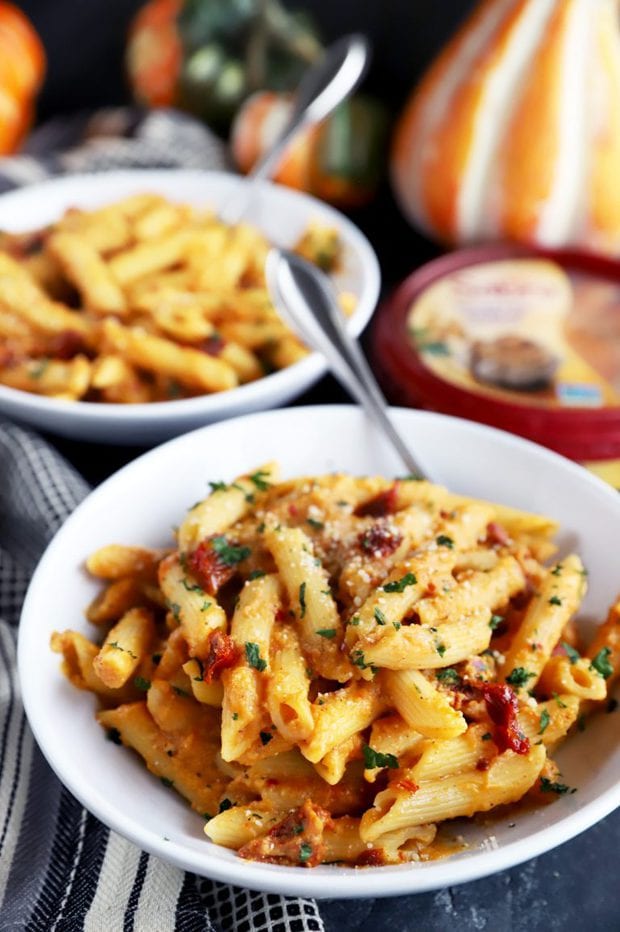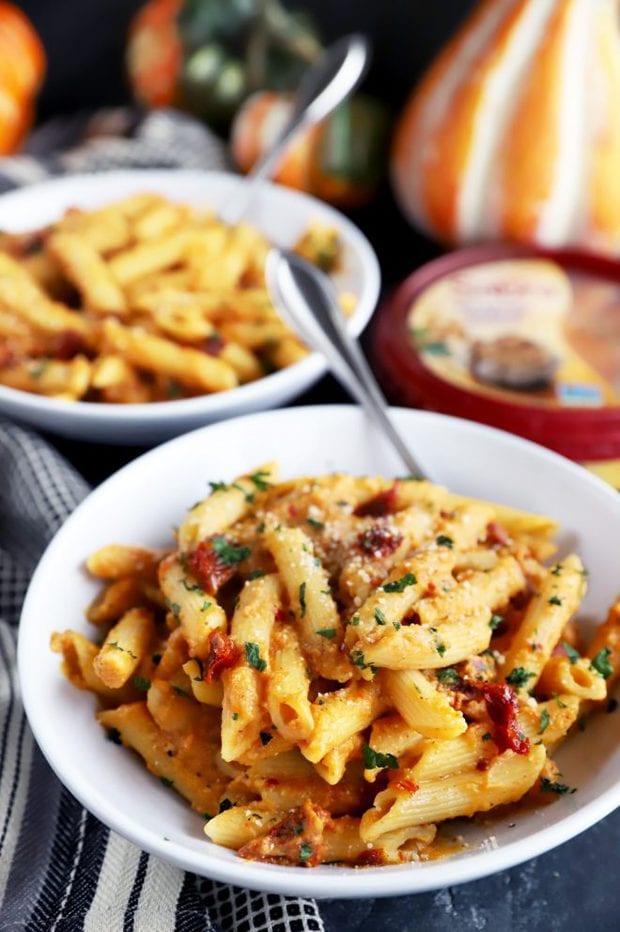 Disclosure: This post is sponsored by Sabra. As always, all opinions are my own. Thank you for supporting the brands that support Cake 'n Knife!
Gobble, gobble people! It's almost turkey day!
I don't know about you, but I've been seeing Friendsgiving celebrations EVERYWHERE this year. I feel like now that I have entered my 30s, more and more of my friends and family are hosting these gatherings and basically having a second Thanksgiving.
Nothing wrong with that, am I right??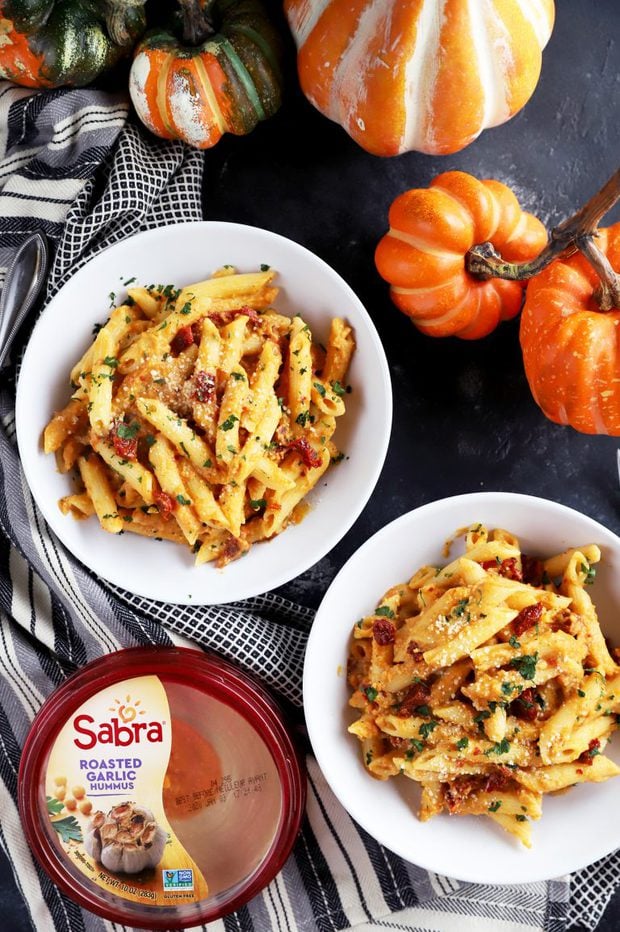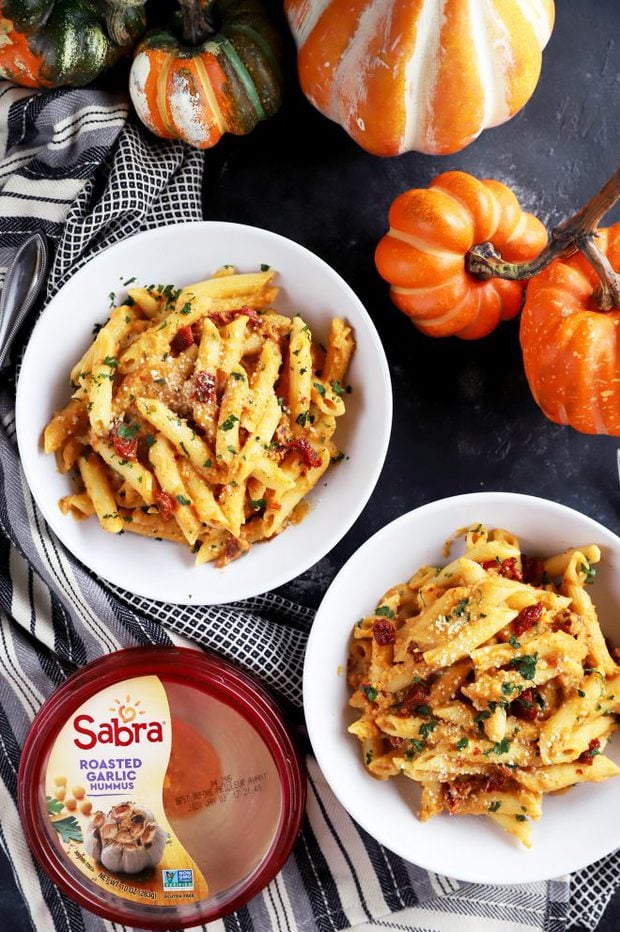 The best part about bringing people together is celebrating with great food. For me, there's nothing else I would rather be doing with friends! Of course, the challenge is, what to bring to Friendsgiving??
This pasta dish is the answer. It's creamy, savory, and full of bold flavors, plus it is vegetarian so you can make lots of people happy at the same time.
There's a secret to this dish though… HUMMUS.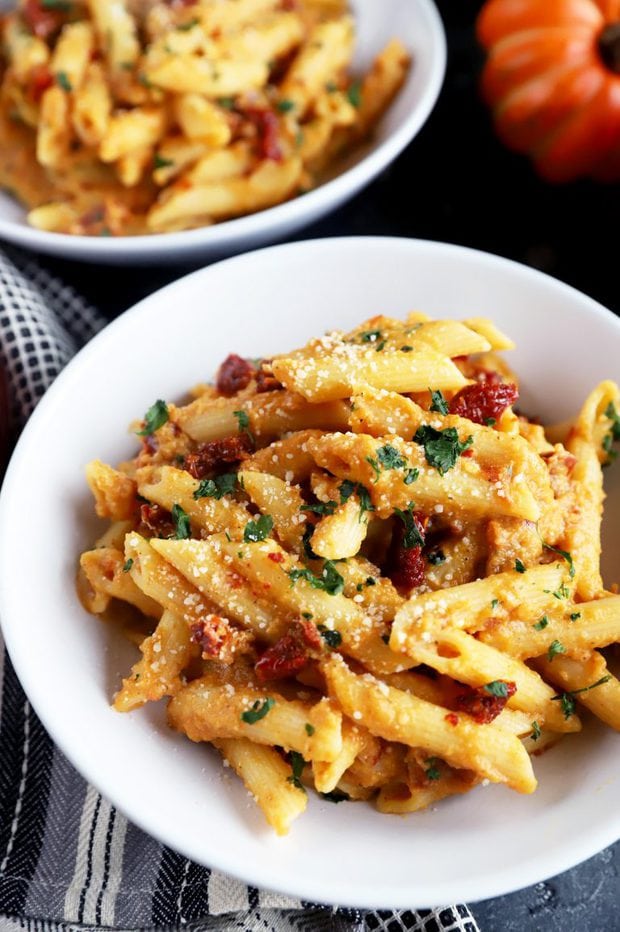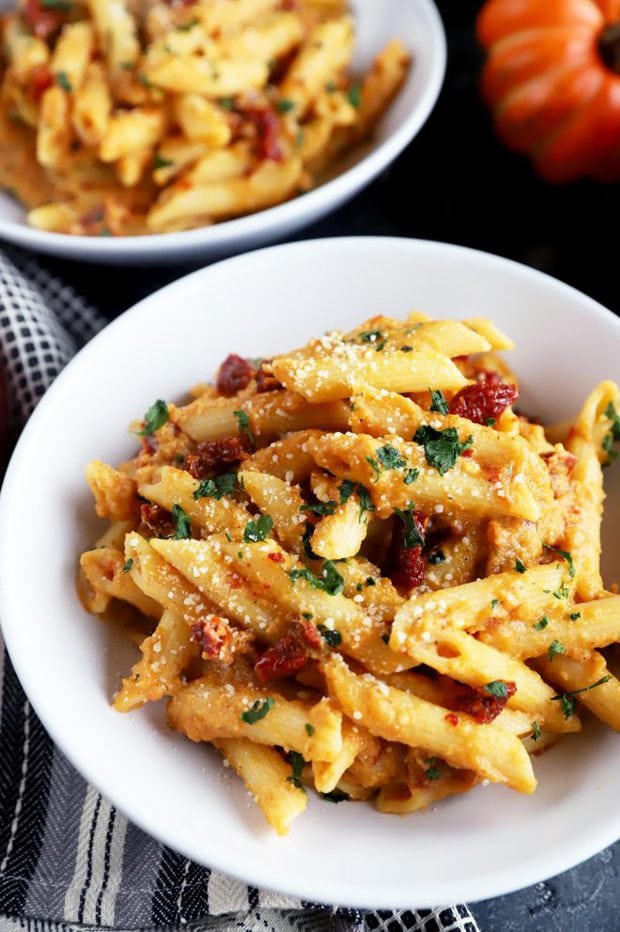 Hummus in pasta? What's that about?
It's actually a magical ingredient! Hummus already fits great on every Friendsgiving menu, but when you put it in this pumpkin pasta made with pumpkin puree, it brings a whole new level of flavor to the table.
And if you are going to have hummus, in my book, it better be Sabra. This pumpkin pasta includes roasted garlic hummus, which brings a ton of flavor and helps make the recipe easier because you don't have the roasted any garlic yourself!
The result is creamy, dotted with sun-dried tomatoes, and sprinkled with cheese. It makes for a killer side dish to gather friend around, but it also makes a great main dish throughout the winter.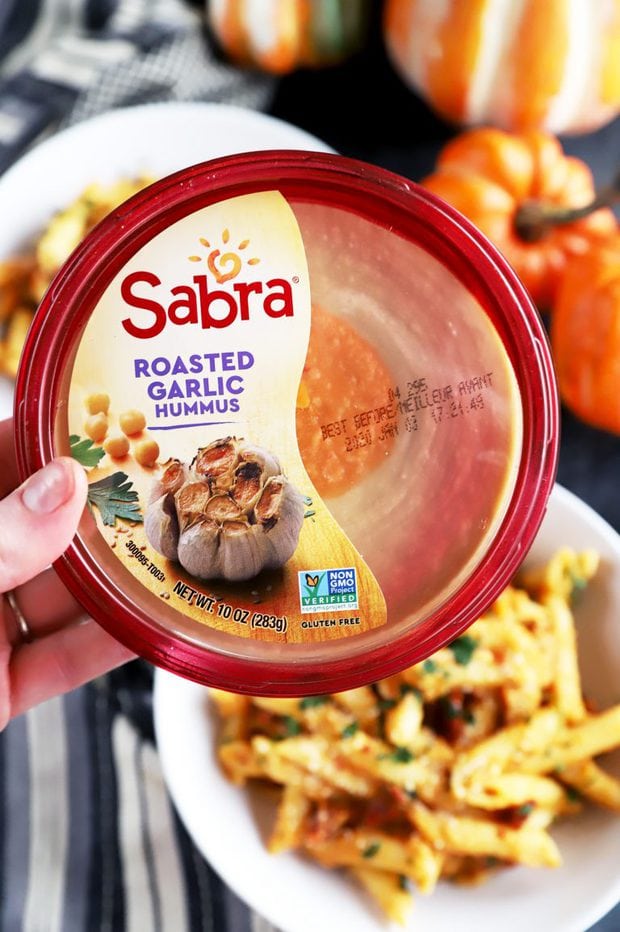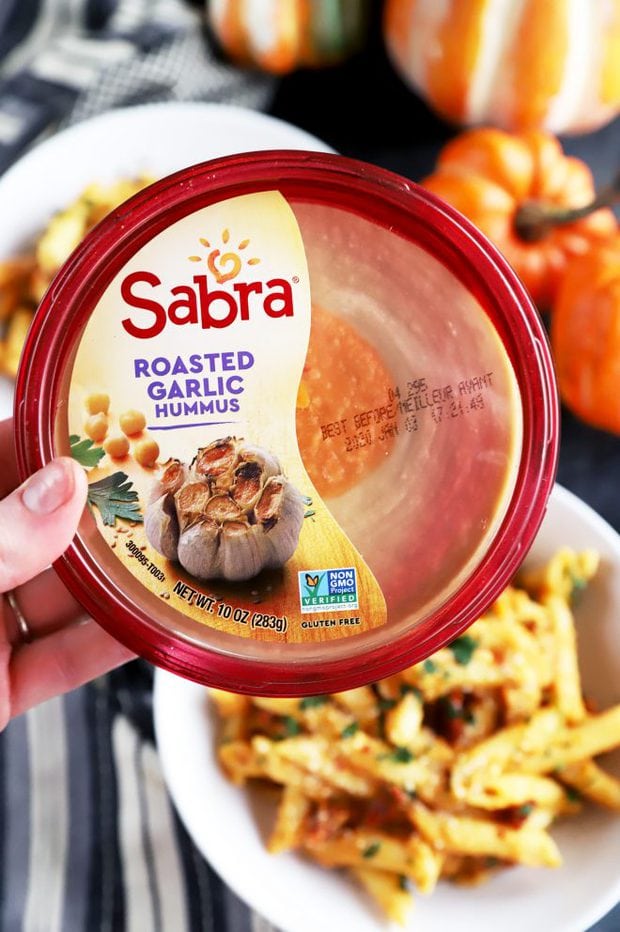 Sabra wants to help you bring your friends together for an unforgettable Friendsgiving. Visit their Pinterest board for recipes, décor, ideas and more inspiration here: https://www.pinterest.com/sabradips/friendsgiving/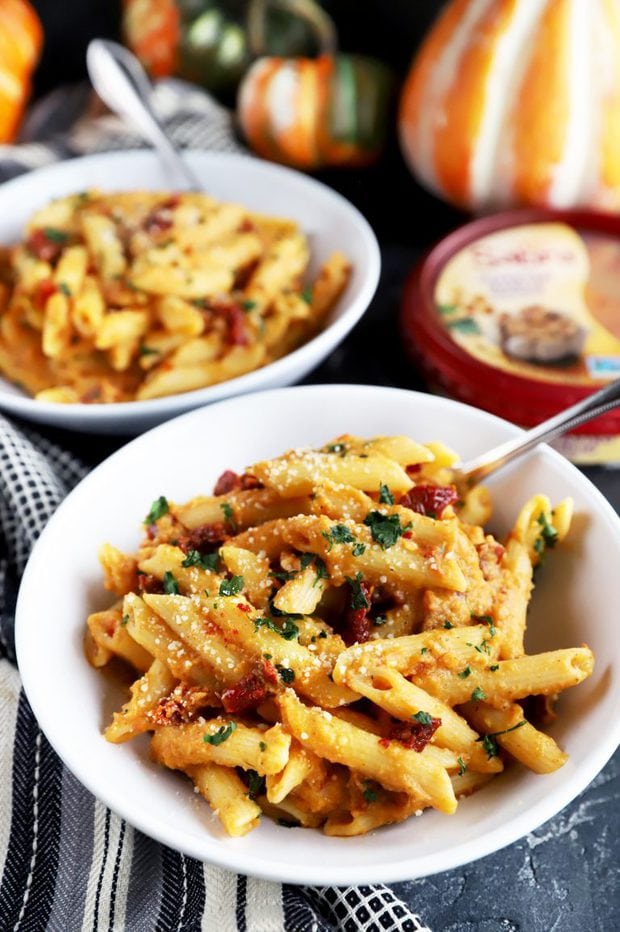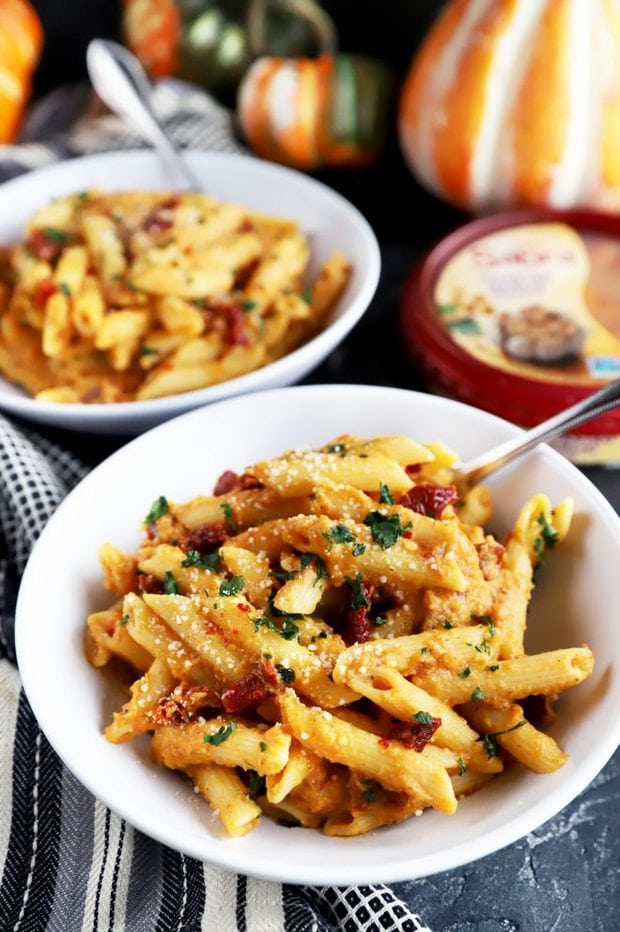 This Recipe's Must-Haves
Obviously, to get the burst of flavor you want in the dish, be sure to pick up some Sabra Roasted Garlic Hummus!
This recipe only requires a couple of pans! First you'll need a saucepan or your Dutch oven to cook the pasta in.
Then you need a large nonstick skillet and a wooden spoon to make the sauce. Makes for easy cleanup at the end of the meal!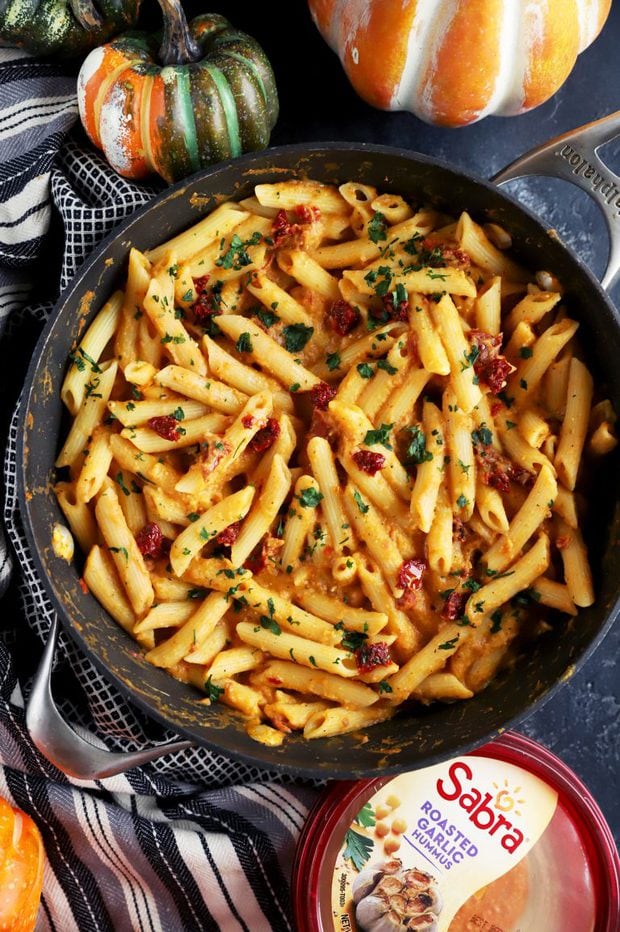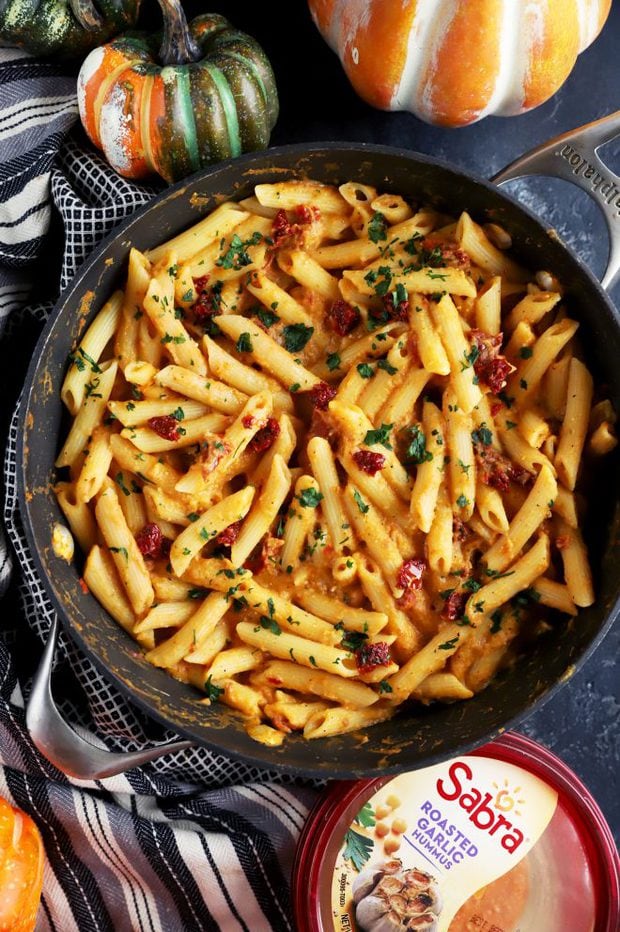 How To Make Pumpkin Pasta
Cook Pasta
Start this recipe by cooking the pasta to al dente in salted boiling water. You want to make sure not to overcook the pasta because then it will become too mushy and won't hold the sauce well enough.
Make Sauce
The sauce all comes together in one skillet! All you have to do is cook down the mixture slightly, until it's thickened. Then stir in the yogurt for a touch of creaminess, cheese, and sun-dried tomatoes. It all comes together while the pasta is cooking!
Combine
Finally, drain that pasta and toss it in the creamy pumpkin sauce! Garnish with some green freshly chopped parsley and serve warm.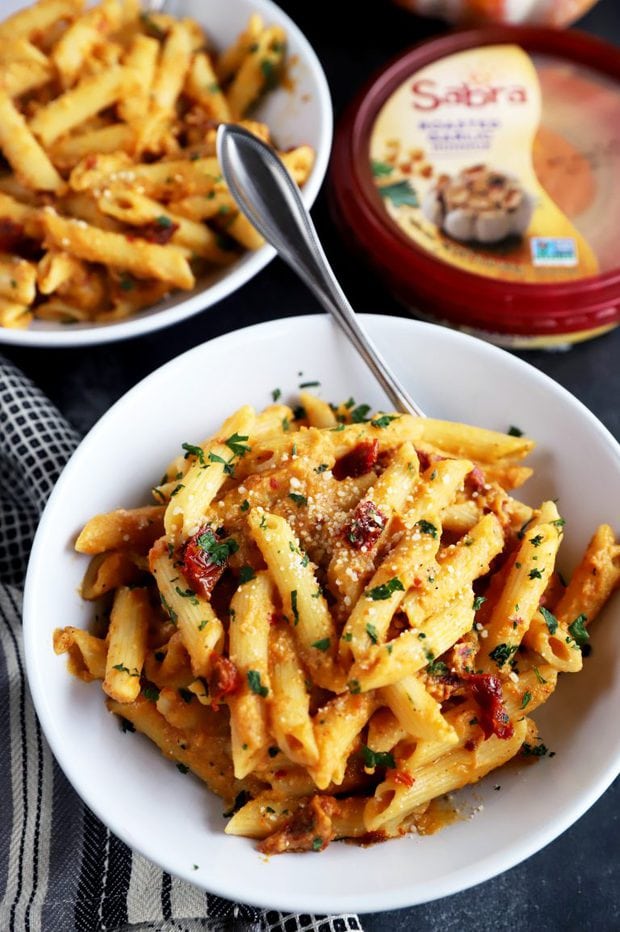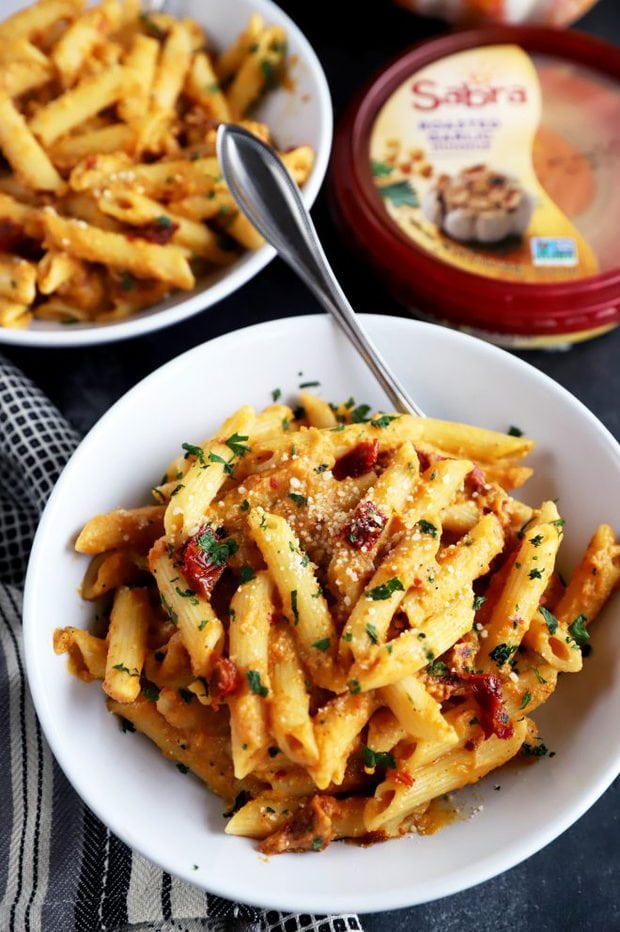 Can I use fresh or canned pumpkin puree?
You can use either for this recipe! If you want to make it yourself, check out my how to make pumpkin puree guide. Otherwise, just grab a can! Just make sure it's 100% pumpkin puree and not the pumpkin pie filling in a can.
What if I don't like sun-dried tomatoes?
Skip 'em! If you aren't a fan, you can totally leave them out and the recipe will still be just as tasty.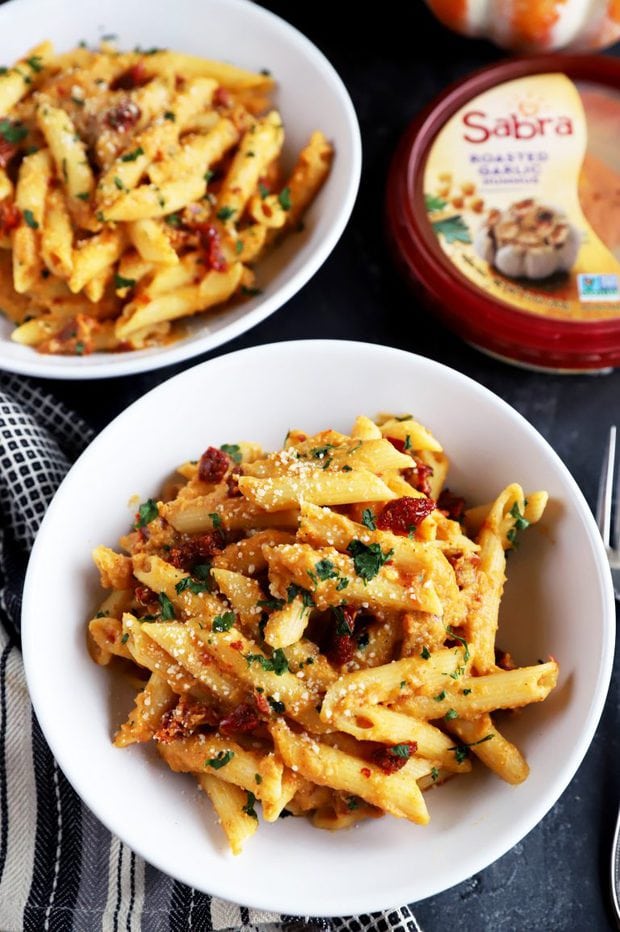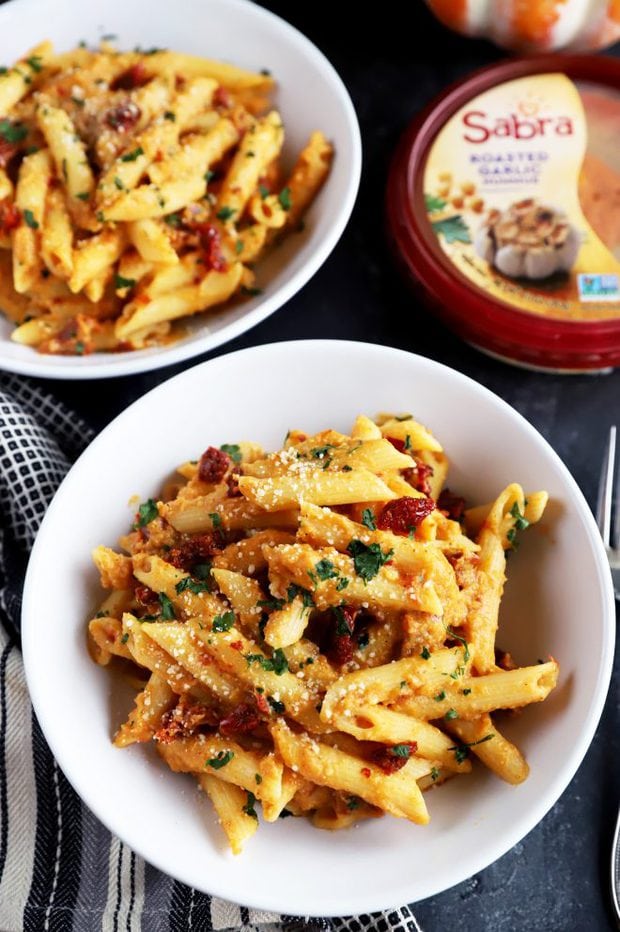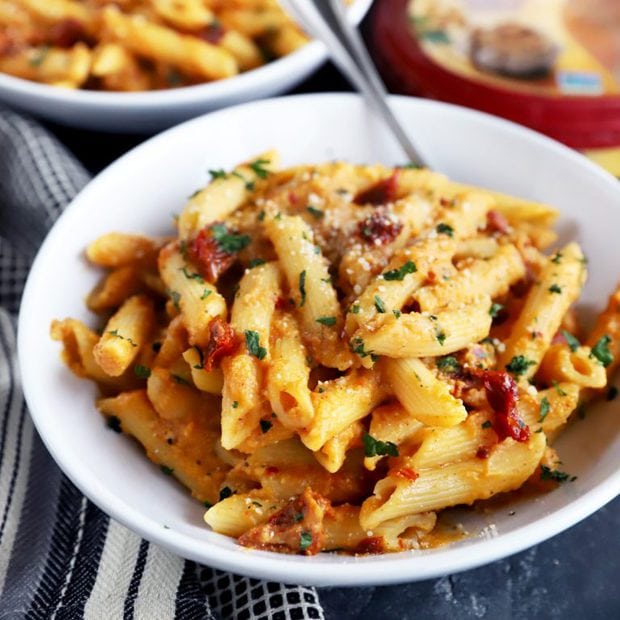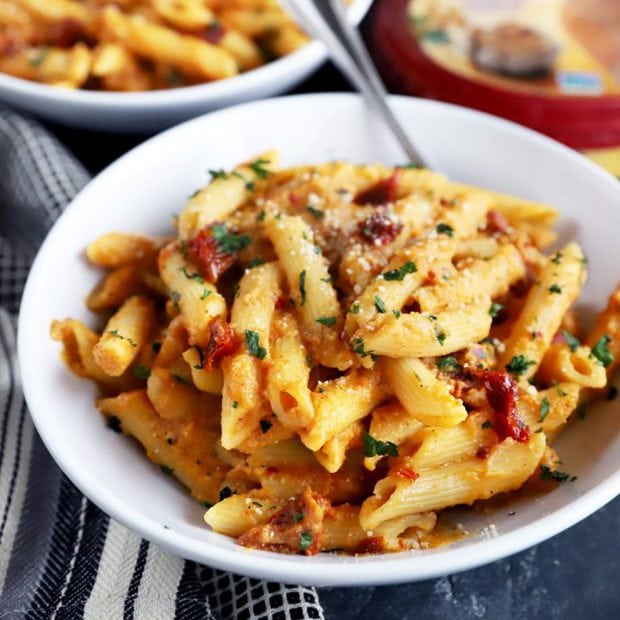 Roasted Garlic Hummus Pumpkin Pasta
Yield:
Serves 4 (or 8 as a side dish)
Creamy, savory, and full of flavor, this simple pasta makes for a great main dish or a side for Friendsgiving.
Ingredients
1 pound penne pasta
2 Tbsp olive oil
1 15-ounce can pumpkin purée [(or 15 ounces homemade pumpkin puree)[(https://www.cakenknife.com/how-to-make-pumpkin-puree/)
1 1/2 cups vegetable broth
1/2 tsp chili powder
1/4 tsp smoked paprika
1/4 tsp red pepper flakes
3/4 tsp kosher salt
1/2 tsp black pepper
2 Tbsp Greek yogurt
1/2 cup roughly chopped sun-dried tomatoes
1/2 cup shredded Parmesan cheese, plus more to garnish
1 tsp chopped fresh parsley
Instructions
Bring a large pot of salted water to a boil over high heat. Boil until pasta is cooked al dente. When done, drain pasta and set aside.
While the pasta is cooking, add pumpkin puree, hummus, and broth to a large skillet. Stir well to combine. Stir in chili powder, paprika, red pepper flakes, salt, and pepper. Bring to a simmer over medium heat, allowing it to thicken, cooking for about 10 minutes, stirring occasionally.
Stir in Greek yogurt, sun-dried tomatoes, and cheese until combined and cheese is mostly melted. Taste and season with additional salt and pepper to taste.
Add drained pasta to the sauce, tossing to coat.
Serve with a garnish of freshly chopped parsley.
Recommended Products
As an Amazon Associate and member of other affiliate programs, I earn from qualifying purchases.