Mexican Arancini with Avocado Cilantro Dipping Sauce are my fiesta take on one of my favorite snacks of all time. The cheesy, spicy fried balls of rice get just the right amount of cooling from the bright avocado cilantro dipping sauce they're served with.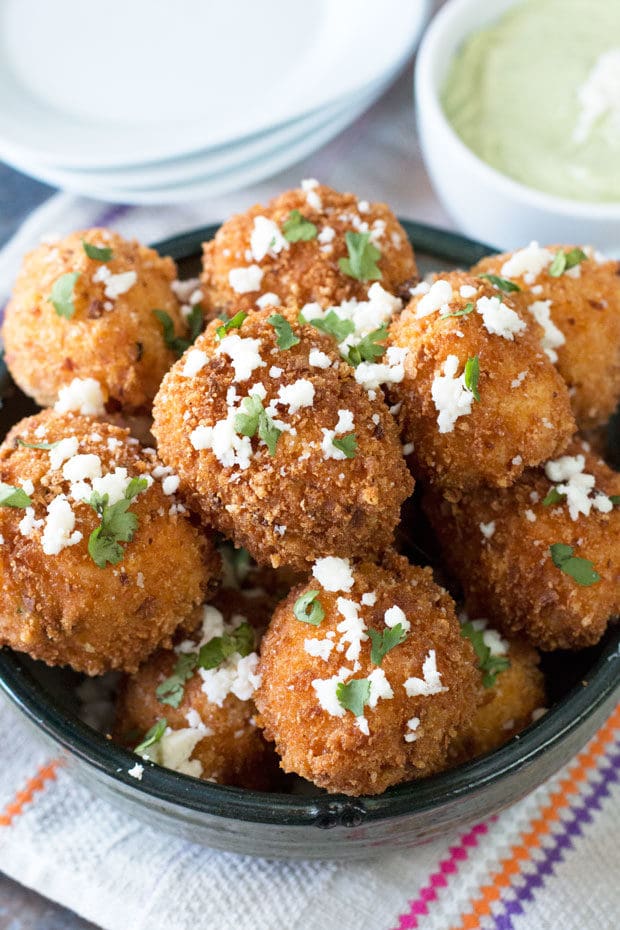 When I lived in Rome while I was studying abroad, arancini and I had a grand love affair. We would take long romantic walks through the city and, even if it was rainy and cold outside, arancini would always keep me warm.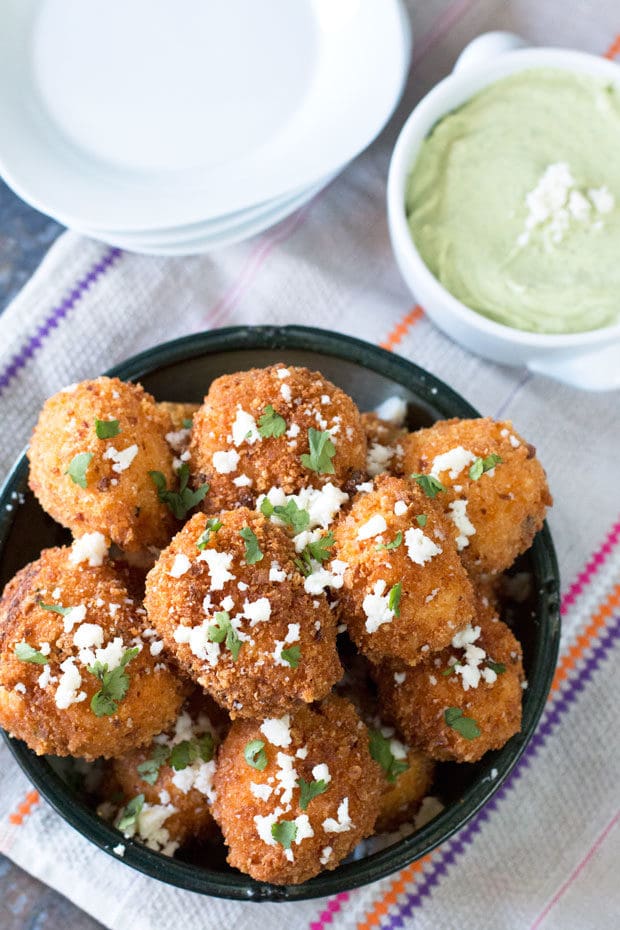 Ok so I might have had a fling with gelato on the side during all this, but arancini was my savory flavor for most of my time over there.
The main reason was… I was broke. I only had so much money while I was there and I was hell bent on spending most of it on traveling around Europe. That meant my normal meals while I was going to school were pretty cheap. There was this little pizza shop around the corner by the Vatican that served up pretty inexpensive slices and 1 Euro giant arancini.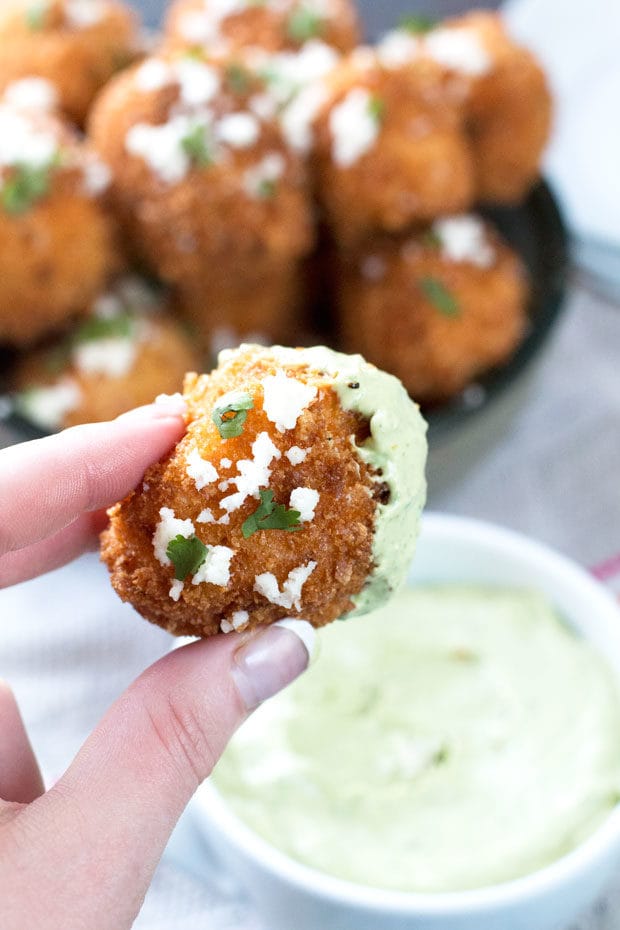 Those arancini are still some of the best I've ever tasted, but I do have to pat myself a little bit on the back here because I've finally started to perfect them at home.
These Mexican arancini are essentially me on a plate. Crisp and sassy on the outside, a cheesy spicy mess on the inside, served up with a hefty helping of avocado.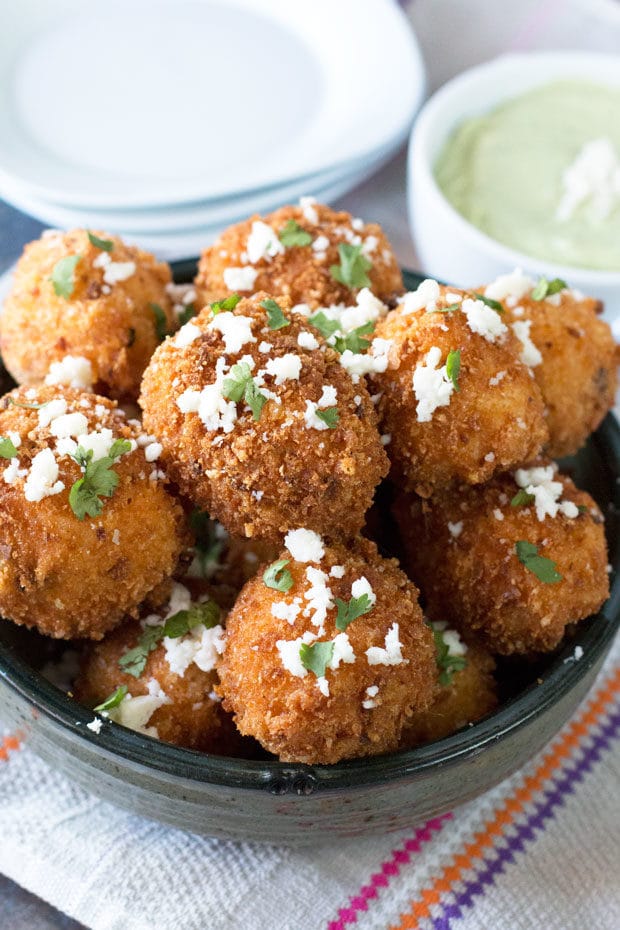 Yep, that pretty much sums me up.
Mexican arancini make a great snack or even a quick lunch in a pinch. The spiciness of the fried balls of cheesy rice are cooled off with the creamy avocado cilantro dipping sauce it's served with. Top it all off with some crumbled queso fresco and fresh cilantro, you're in carb-loaded heaven.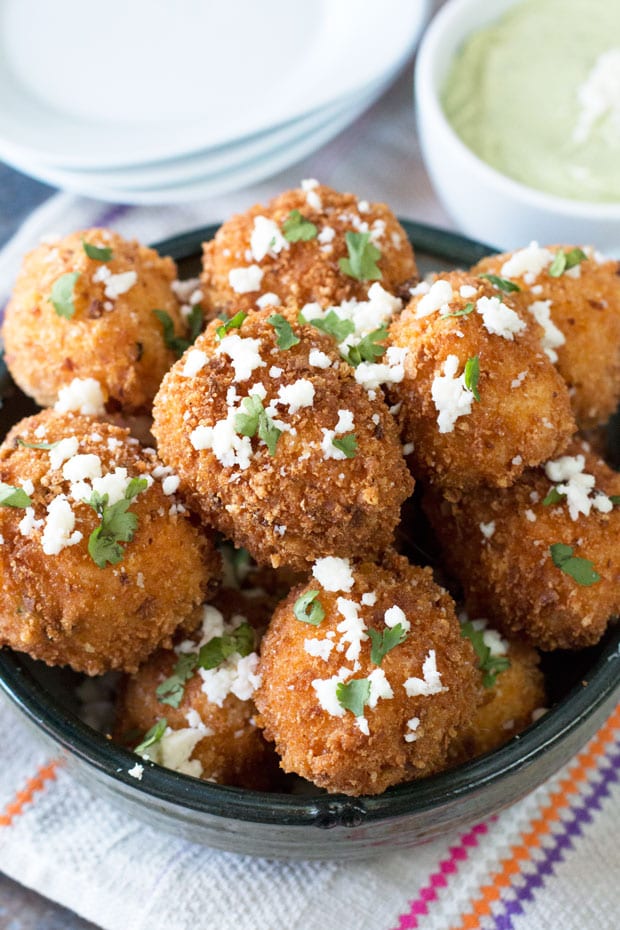 Mexican Arancini with Avocado Cilantro Dipping Sauce
Additional Time:
30 minutes
The cheesy, spicy fried balls of rice get just the right amount of cooling from the bright avocado cilantro dipping sauce they're served with.
Ingredients
Arancini
2 cups Cooked Rice
2 teaspoons Hot Sauce
2 teaspoons Garlic Powder
1 teaspoon Red Chile Powder
8 ounces Shredded Mexican Cheese
1 jalapeño, Seeded and diced
1 1/2 cups Breadcrumbs
3 Eggs, Lightly beaten
Avocado Cilantro Sauce:
2 Avocados
1/2 cup Fresh Cilantro Leaves
3/4 cup Sour Cream
1/2 teaspoon Salt
1/4 teaspoon Black Pepper
1/2 teaspoon Garlic Powder
1 tablespoon Lime Juice
pinch of Ground Cayenne Pepper
Garnish
Chopped Cilantro
Queso Fresco, Crumbled
Instructions
In a large bowl, stir together rice, hot sauce, garlic powder, chile powder, cheese, and jalapeño. Place in refrigerator for 30 min to chill.
While the rice is chilling, create the avocado cilantro sauce. Add avocados, cilantro, sour cream, salt, pepper, garlic powder, lime juice, and cayenne to a food processor or blender and puree until smooth. Refrigerate until ready to serve.
Prepare your dredging stations by setting out 2 bowls. In one bowl, add eggs and lightly beat them. In the second bowl, add the breadcrumbs.
Heat up enough oil for frying in a heavy bottom pan (my oil was about 2" to 3" deep). Heat your oil to 375°F, or, if you don't have a thermometer, once the oil begins to shimmer, drop in a test couple grains of cooled rice — if they start to sizzle, the oil is ready!
Remove rice mixture from refrigerator. Form balls of rice in your hands, packing them tightly. My arancini were about 1 1/2 to 2 inches thick. Dip each ball of rice into the breadcrumbs, then the egg, then the breadcrumbs again before carefully adding to the hot oil. Fry until golden brown, approximately 2 minutes, remove from oil and set on paper towels to drain. Repeat in batches of 3-4, making sure you do not overcrowd the pan.
Serve warm with avocado cilantro dipping sauce.