If you couldn't tell already, this is a made-for-hubby recipe.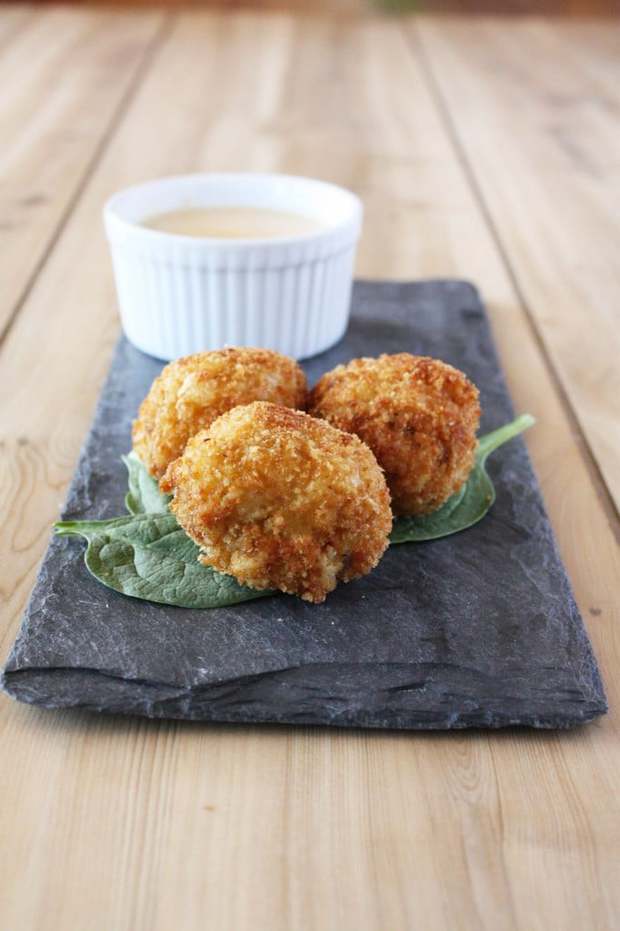 Made for anyone really – anyone who loves beer, bacon, and cheese. Which is probably everyone now that I think about it.
The real source of this tailor-made recipe is the fact that I have fully monopolized the TV watching in our home for many months and now that MasterChef and True Blood are in the mix, me controlling the remote won't end anytime soon…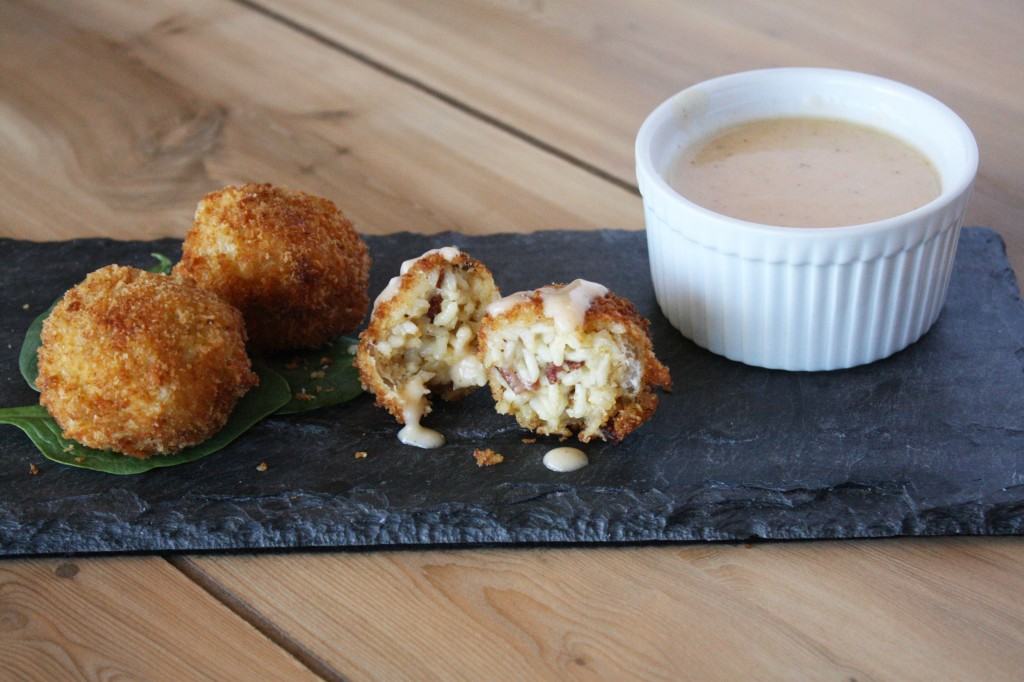 I figure if I distract my hubby enough with food, he will go into a satisfied-belly coma (yes it's a real thing), where he will be happy to watch anything I want as long as the beer and bacon and cheese hold out.
Perfect plan right?
I may not be a big beer drinker but I am all about anything fried with bacon. These arancini (fried rice balls) are gooey and crunchy and once you smother them in cheese sauce….. Ugh…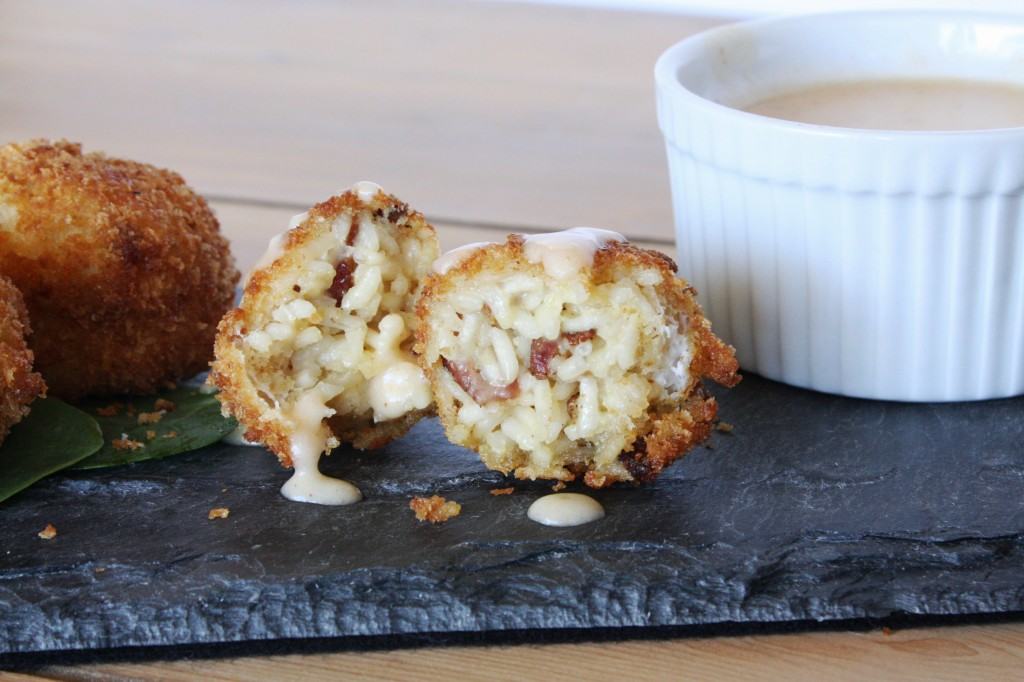 Best. Bribe. Ever.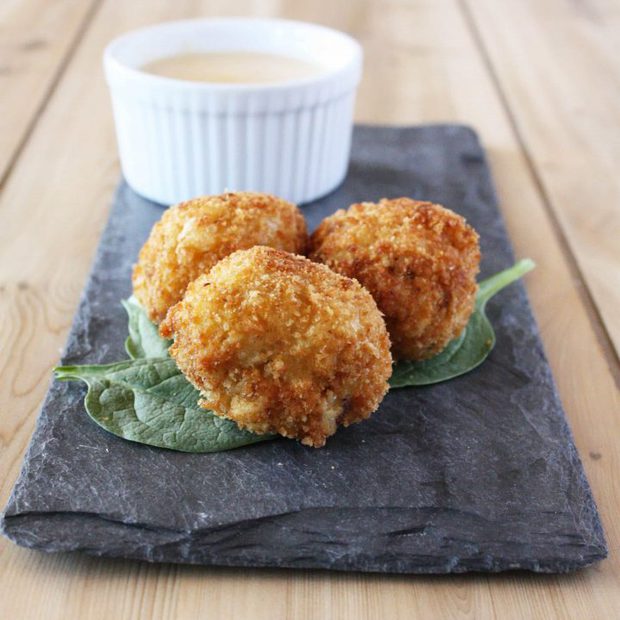 Beer & Bacon Arancini (Fried Rice Balls)
Total Time:
2 hours
50 minutes
Fried rice balls packed with beer, bacon and cheese served with a creamy cheese dipping sauce.
Ingredients
5 strips thick cut bacon
1 cup beer (I used Fat Tire)
1 cup water
1 cup white long-grain rice
1 cup panko breadcrumbs
1/2 cup plain breadcrumbs
3 eggs
8 oz sharp white cheddar cheese, grated
3 Tbsp butter
3 Tbsp flour
1 tsp salt
1/4 tsp pepper
2 tsp smoked paprika
1 1/2 cups milk
Instructions
Use at least a 2-quart saucepan to cook your rice. Bring water and beer to a boil. When the water and beer begins to boil, stir in rice and 1/2 tsp salt. Bring to a gentle simmer over low heat, cover, and cook for approximately 18 to 25 minutes. Once rice is cooked and no longer crunchy, remove rice from pan to a bowl. Set bowl of rice in the refrigerator for at least 2 hours to allow the rice to cool.
Cook bacon in a hot pan over medium-high heat until very crispy. Remove the bacon from the pan and drain on paper towels. Once cooled, chop bacon slices (I made them about the size of bacon bits) and set aside.
Once the rice has been cooled, add chopped bacon and 1/2 cup of the grated cheese. Mix gently until everything is incorporated.
Prepare your dredging stations by setting out 2 bowls. In one bowl, add eggs and lightly beat them. In the second bowl, add the panko and plain breadcrumbs and stir to combine.
Heat up enough oil for frying in a heavy bottom pan (my oil was about 2" deep). Heat your oil to 375 degrees or, if you don't have a thermometer, once the oil begins to shimmer, drop in a test couple grains of cooled rice - if they start to sizzle, the oil is ready!
Remove rice mixture from refrigerator. Form balls of rice in your hands, packing them tightly. My arancini were about 1 inch thick. Dip each ball of rice into the breadcrumbs, then the egg, then the breadcrumbs again and add to the oil. Fry until golden brown, remove from oil and set on paper towels to drain. Repeat in batches of 3-4, making sure you do not overcrowd the pan. Serve warm with cheese dipping sauce.
To make the sauce, melt butter; remove from heat. Stir in flour, 1/2 tsp salt, pepper, and smoked paprika. Gradually add milk, stirring until well mixed. Cook over low heat, stirring constantly, until thickened and smooth. Cook for 5 minutes longer; add the remaining cheddar cheese. Stir until smooth and well blended.
Serve warm and dunk those arancini right in!
Notes
Note: Make sure you carve out some time to make the rice ahead of time. You will want to chill the rice for at 2 hours before you start frying the arancini.