Today is my hubby's birthday and since he is such a breakfast person, I had to come up with something special for him.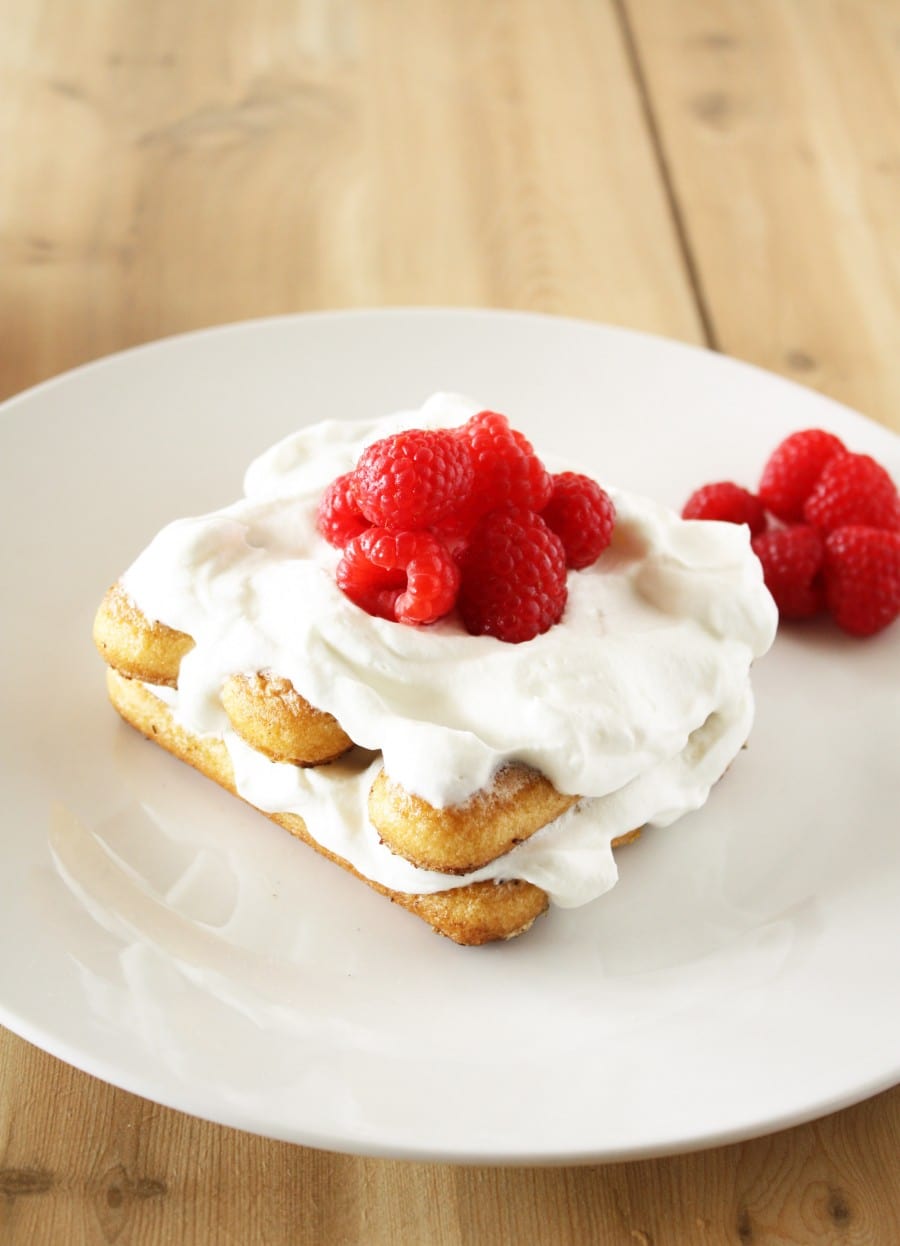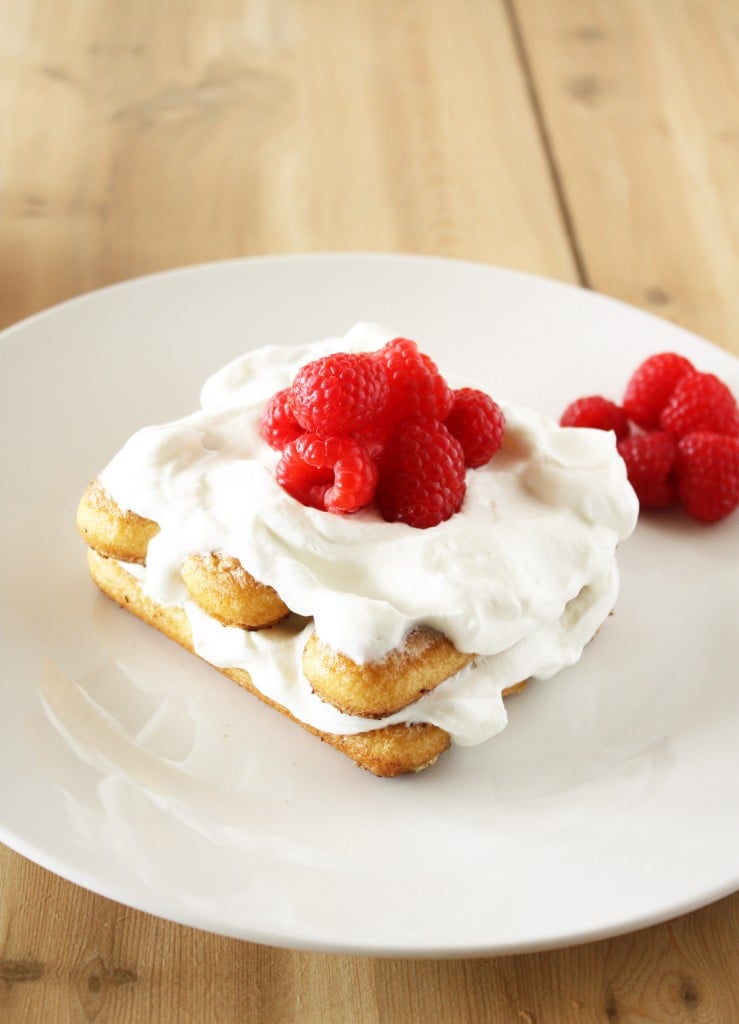 We were watching Chopped a couple of weeks ago and in the dessert round there were ladyfingers. Now inevitably the dessert round brings bread pudding, ice cream, or some form of french toast. This round was no different as one contestant starting making french toast with the ladyfingers. Something clicked and my hubby and I just looked at each other and were like, "Hey! That's how we should use up those ladyfingers in our pantry!!"
Fortunately I didn't have a 20 minute limit to figure out how to make this happen and after a few failed attempts (primarily due to burning…), I made it happen! It was a proud moment, especially because I am NOT a big breakfast person and cooking breakfast (other than bacon) can prove to be somewhat disastrous for me.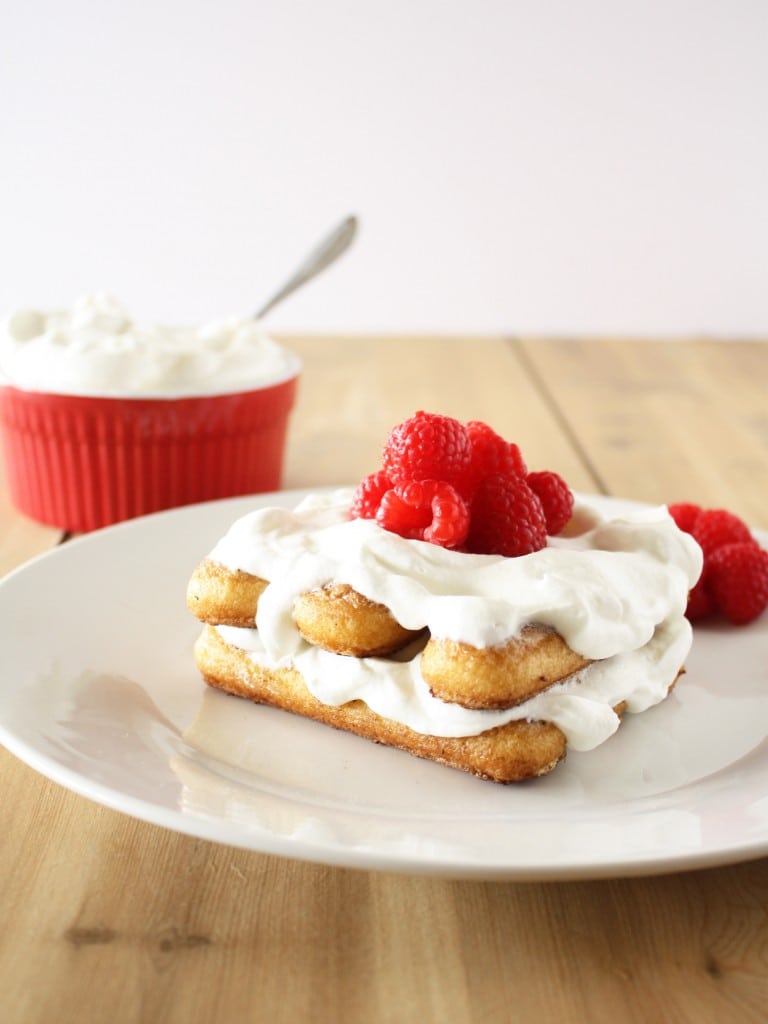 I decided to pile the ladyfingers with fresh whipped cream and raspberries, just like I usually do with tiramisu. The result is absolutely divine. It's light and fresh and pillowy soft with that little crunch from the slight crust that forms on the ladyfingers after they've been cooked.
With that, I leave you to start drooling…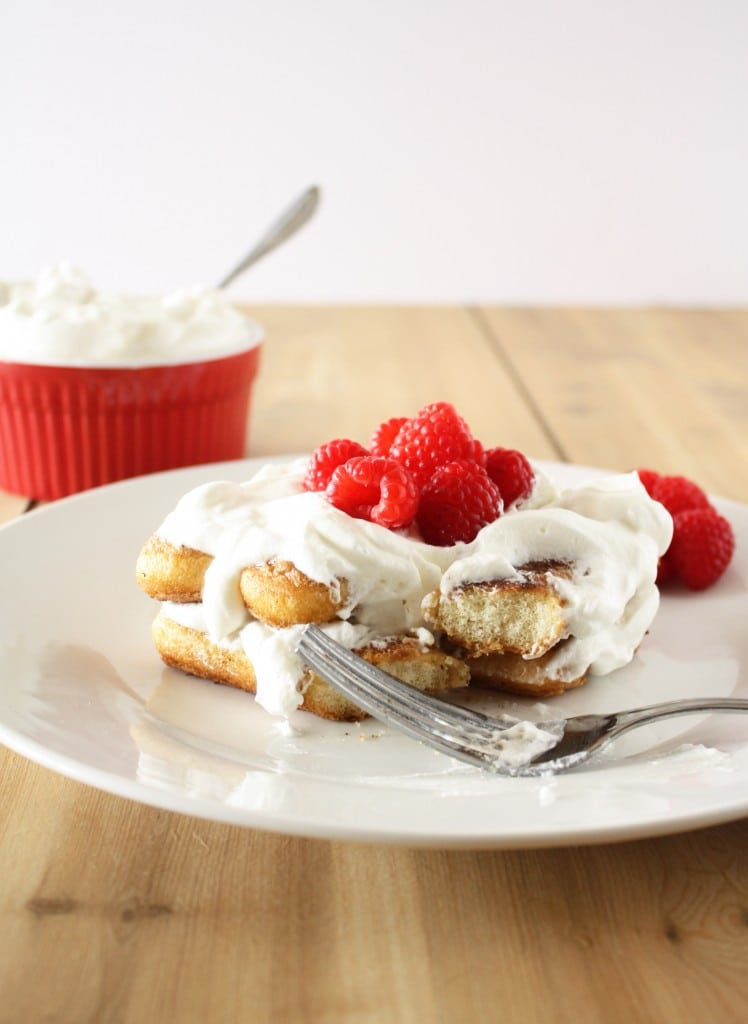 Happy Birthday Hubby! I love you more and more with each passing year.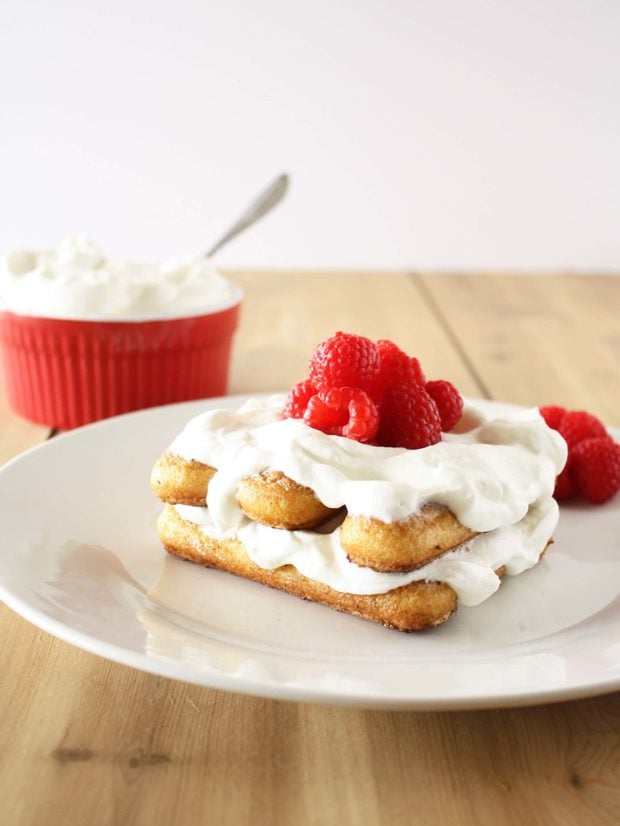 Ladyfinger French Toast
My version of a breakfast tiramisu!
Ingredients
16 ladyfinger cookies (I used Savoiardi)
3 eggs
1 cup half and half
2 tbsp butter
1/4 tsp salt
1 cup whipping cream
1 tbsp sugar
6 oz raspberries
Instructions
In a bowl with an electric hand mixer (or use a stand mixer), beat whipping cream and sugar until soft peaks form. Set aside in the refrigerator until ready to serve.
In medium size bowl (make sure it's wide enough to fit a ladyfinger cookie easily), whisk together the half-and-half, eggs, and salt. Set aside.
Over medium-low heat, melt 1/2 tablespoon of butter in a medium nonstick saute pan. Dip ladyfingers into the custard mixture, fully submerging them for about 10 second and then remove and add immediately to the saute pan (I worked in batches of 4-5 cookies at a time). Cook until golden brown, approximately 2 to 3 minutes per side. Remove from pan and set aside and keep warm. Repeat with all remaining ladyfingers.
Arrange 4 ladyfingers lined up together on each plate. Top with a layer of whipped cream. Then top with another set of 4 ladyfingers lined up together in the opposite direction. Top with whipped cream and then raspberries. Serve immediately.