Spicy Double Decker Grilled Cheese with Roasted Tomatoes
Grilled cheese and tomato soup are one of my ultimate comfort foods. It reminds me of cold days spent snuggled up in a blanket, watching movies, and completely forgetting about all responsibilities.
Remember those days?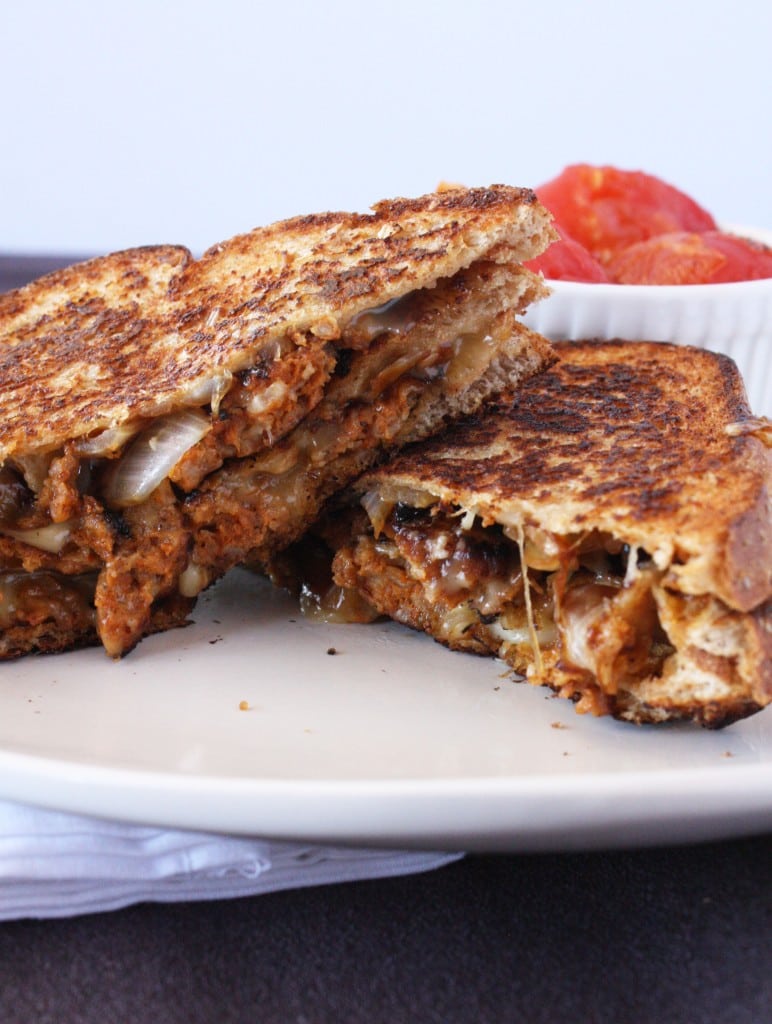 This week I was lucky enough to have one of those days. I literally did nothing except bundle up, watch movies, cuddle with our adorable puppy, and watch the snow fall.
All I could think about was grilled cheese and how I wished I had some Campbell's tomato soup to go with a grilled cheese made with some American cheese. Yet something about the old classic just wasn't hitting that ultimate comfort spot like it used to when I was young.
So I decided to kick it up a notch.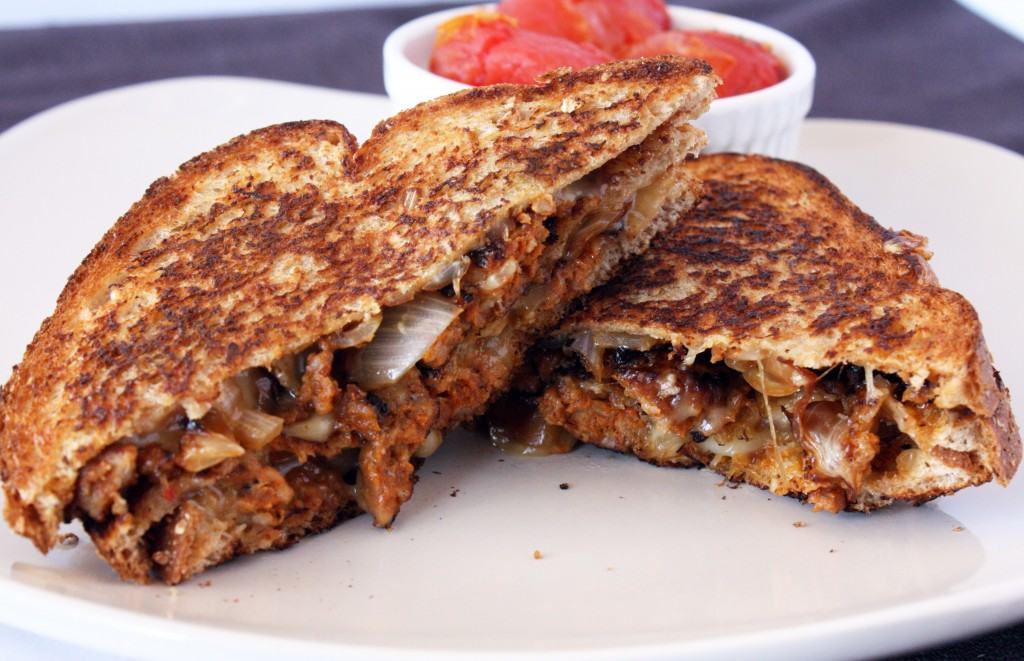 Now that I am an "adult" (I still don't see how this is possible considering my lingering obsession with *NSYNC and anything glittery), I feel like I should be asking more from my grilled cheese and tomato soup combination.
I went a little bit off the beaten path with this one, but you need to have faith when I tell you I literally couldn't hold in the yummy-food groans while I ate this.
Please please puh-leeeeeease try this sandwich. You just have to. There's no way for me to adequately describe how amazing this sandwich is. Especially with these gorgeous roasted tomatoes. You just have to accept the fact that you will probably end up with a mess by the time you finish eating and dive in.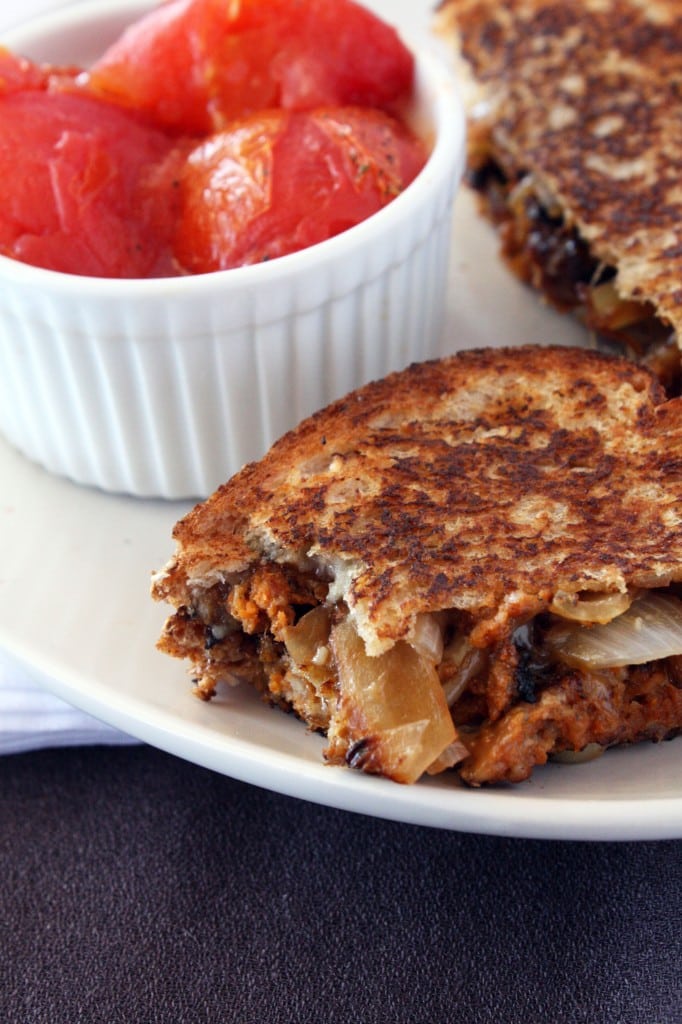 It's WORTH IT.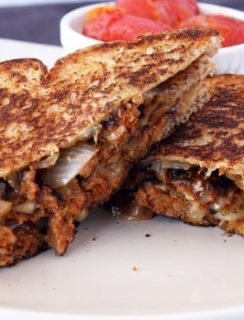 Spicy Double Decker Grilled Cheese with Roasted Tomatoes
Yield: 2 sandwiches
Prep Time: 10 minutes
Cook Time: 20 minutes
Total Time: 30 minutes
Grilled cheese gets a makeover, adding an extra layer of cheesy goodness, caramelized onions and a kick of spice.
Ingredients:
Grilled Cheese Sandwiches
6 slices of whole wheat bread
4 Tbsp butter, room temp
1 onion, thinly sliced
1 Tbsp olive oil
4 oz Habanero Pepperjack cheese (or any other spicy cheese, such as Jalapeno Cheddar), sliced
4 oz chorizo
Roasted Tomatoes
2 large ripe tomatoes
2 Tbsp olive oil
1 clove garlic, thinly sliced
Salt and pepper
Directions:
Preheat over to 425 degrees.
Cut the tomatoes in half. Add 2 Tbsp olive oil and garlic to a shallow baking dish. Toss the tomatoes with the oil and garlic and season with salt and pepper. Put the tomatoes cut side down on the pan and roast for 20 minutes. Remove from the oven and roughly chop. Keep warm until ready to serve.
Coat a medium saute pan with about 1 Tbsp of olive oil. Heat over medium-high heat until the oil begins to shimmer. Add the onion and stir occasionally. After 10 minutes, add a 1/4 tsp of salt and cook for 20 minutes over medium heat until brown and caramelized. The key is to stir every few minutes - as soon as the onion starts to brown on the bottom, stir. If the onion begins to burn, reduce the heat. Also, if the pan seems to be drying out, you can add a little water to help moisten the onion.
While the onion is caramelizing, cook chorizo in a small sauté pan over medium heat. Set both the onions and chorizo aside and keep warm.
Heat a medium sauté pan over medium heat. Each grilled cheese needs three slices of bread so I start by buttering one side of each slice. Flip one slice so the buttered side is down in the hot pan and top with slices of cheese, chorizo, and onions. Add a second slice of bread on top with the buttered side facing up. Cook until the bottom slice of bread is golden brown and flip. While the bottom piece of bread is toasting in the pan, take your third slice of bread and flip it so the buttered side is facing down. Top the toasted top slice of bread with slices of cheese, chorizo, and onions. Carefully flip the whole sandwich over and cook until the final bottom slice of bread is toasted. Remove from pan and repeat the sandwich building steps for your second sandwich.
Cut each sandwich in half and serve with a side of roasted tomatoes.