I haven't had a s'more yet this summer. So this had to happen.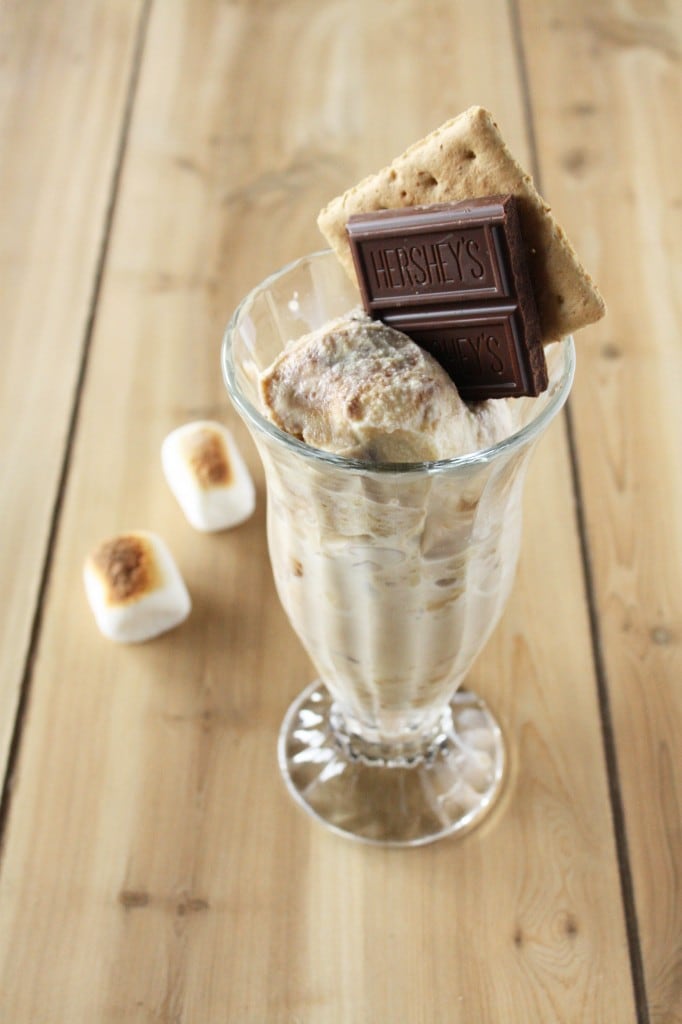 This gelato is SO smooth. It just melts in your mouth with toasty marshmallow, graham cracker, fudgey goodness.
A major bonus is simply having s'mores ingredients in the house. This fact alone inevitably ends up with my hubby patiently turning a marshmallow over a stove burner to get it perfectly toasted for indoor s'mores. Because of course I just HAD to have s'mores when it is raining outside…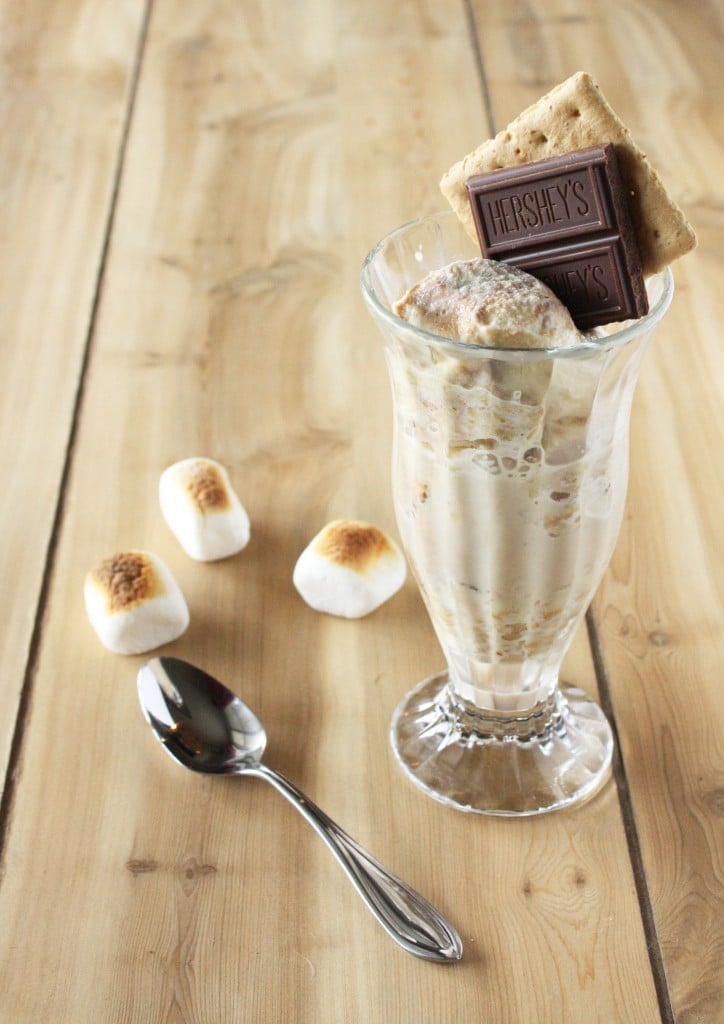 Completely reasonable, right?
Oh and did I mention that we don't have a gas stove, which would make the marshmallow toasting process so much easier? My hubby is my hero. 🙂
This is why I had to make the gelato, it's just so much easier than toasting a single marshmallow for one tiny s'more.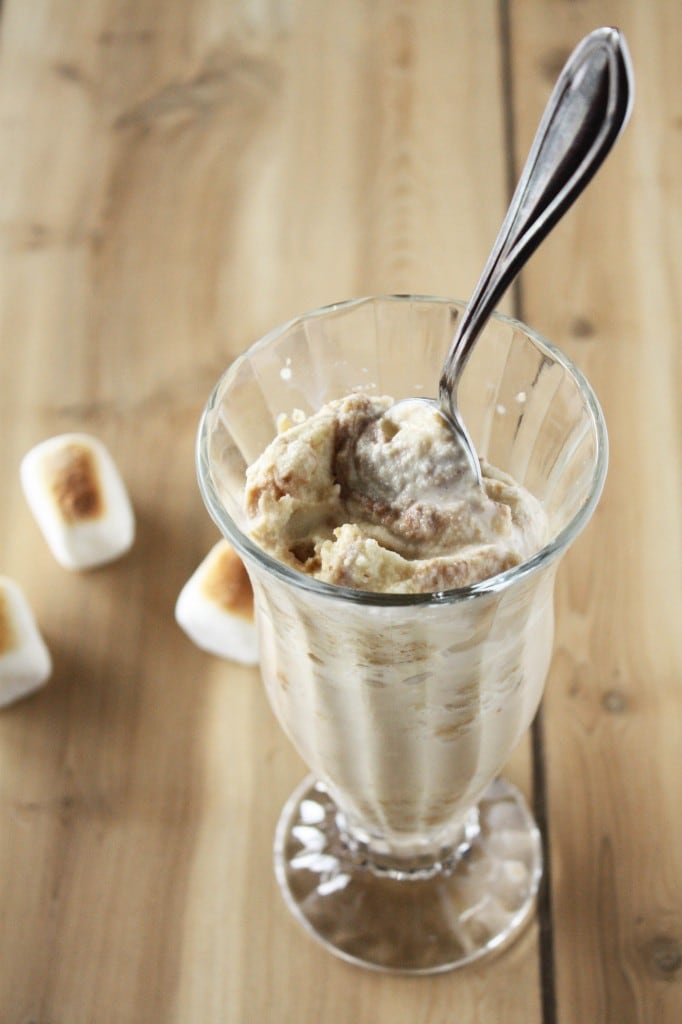 And when it's almost 100 degrees outside, you'll be grateful you went for the cold, sweet, rich gelato instead of lighting a fire to toast marshmallows.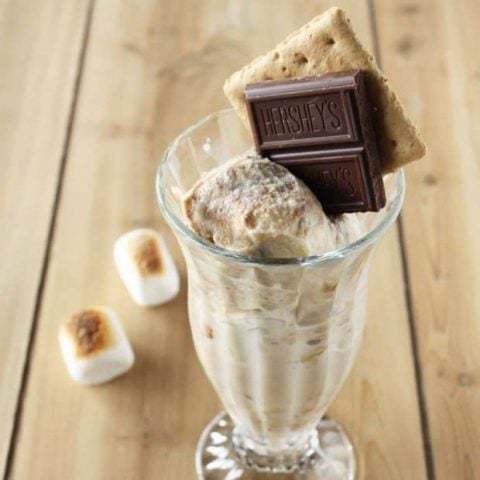 S'mores Gelato
Total Time:
1 hour
35 minutes
Everything you love about s'mores smashed into a creamy gelato.
Ingredients
Gelato
2 cups whole milk
1 cup heavy cream
1/2 cup sugar, plus 1/4 cup
4 egg yolks
1/2 tsp vanilla extract
12 regular sized marshmallows
1/2 cup graham crackers, chopped
Fudge Sauce
1/2 cup water
1/4 cup light corn syrup
1/4 cocoa powder
1 oz dark chocolate, chopped
Instructions
Toast the marshmallows under a broiler or with a chef torch.
In a saucepan combine the milk, cream, and 1/2 cup sugar over medium heat. Cook until the sugar dissolves, about 5 minutes.
Meanwhile, in a medium bowl whip the egg yolks with the remaining sugar using an electric mixer until the eggs have become thick and pale yellow, about 4 minutes. Pour 1/2 cup of the warm milk and cream mixture into the egg mixture and stir. Add this mixture back into the saucepan. Cook over very low heat, stirring constantly, until the mixture becomes thick enough to coat the back of a wooden spoon, about 7 to 10 minutes.
Place a strainer over a medium bowl and pour the warm custard mixture through the strainer. Stir in the marshmallows until they dissolve. Chill mixture completely before pouring into an ice cream maker and follow manufacturer's instructions to freeze.
In a medium saucepan, bring the water, cocoa powder, and corn syrup to a boil. Reduce the heat then simmer for 3 minutes, stirring frequently. Remove from the heat and add the chopped chocolate. Stir until completely melted. Cool to room temperature then store in the fridge until ready to assemble the ice cream.
To assemble, place half of the ice cream into the bottom of a container. Pour the fudge sauce on top then add the remaining ice cream. Freeze at least 1 hour before serving.