With a couple seasonal ingredients, this one skillet lemon goat cheese stuffed chicken and spring orzo is a fantastic combination of fresh and pantry ingredients! The flavorful and juicy poultry comes together in just over 30 minutes, all in one pan. After all, less cleanup is always the goal, right? Serves 4.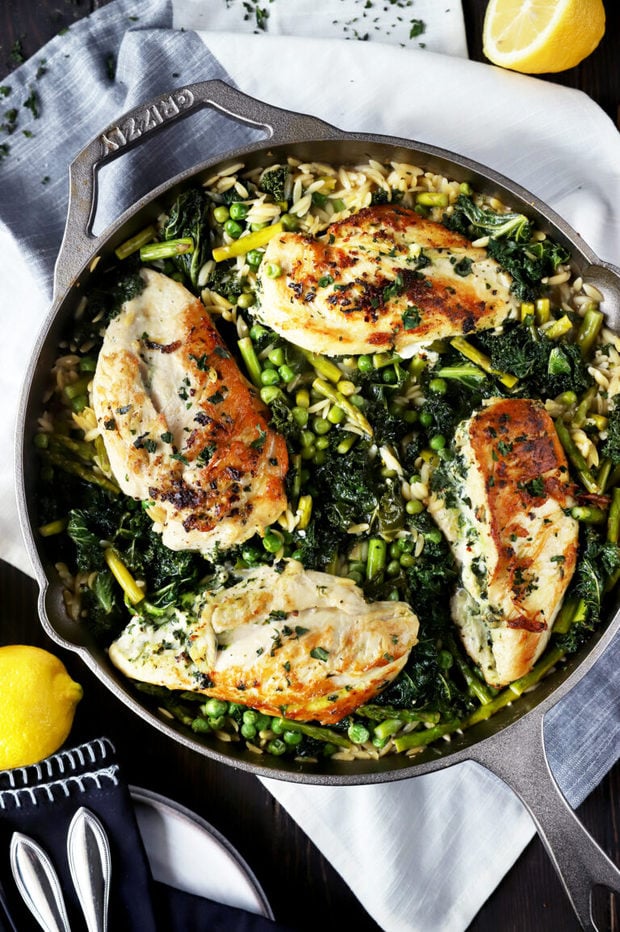 Disclosure: This post has been sponsored by GRIZZLY Cookware. As always, all opinions are my own.
This is the ultimate one skillet spring meal right now. It is packed with my favorite spring veggies including asparagus, kale, and peas. There's a yummy, fresh, and bright goat cheese filling inside each chicken breast. Honestly, I just can't get enough of it right now.
I think I am on the spring flavor train in earnest right now because I can't actually experience the season the way I want to. There are no picnics in the park with friends. No patio spring meals amongst the hustle and bustle of the real world.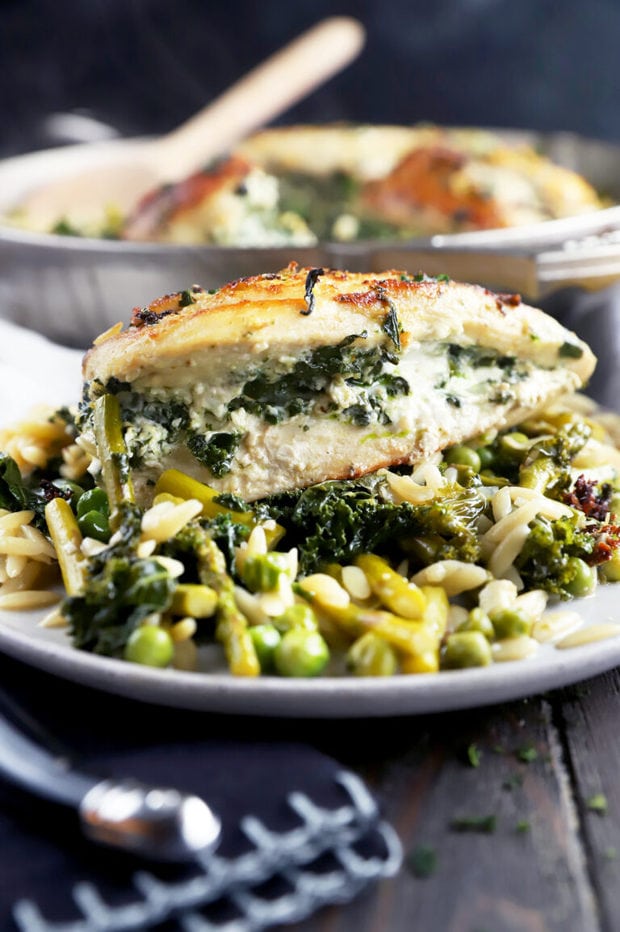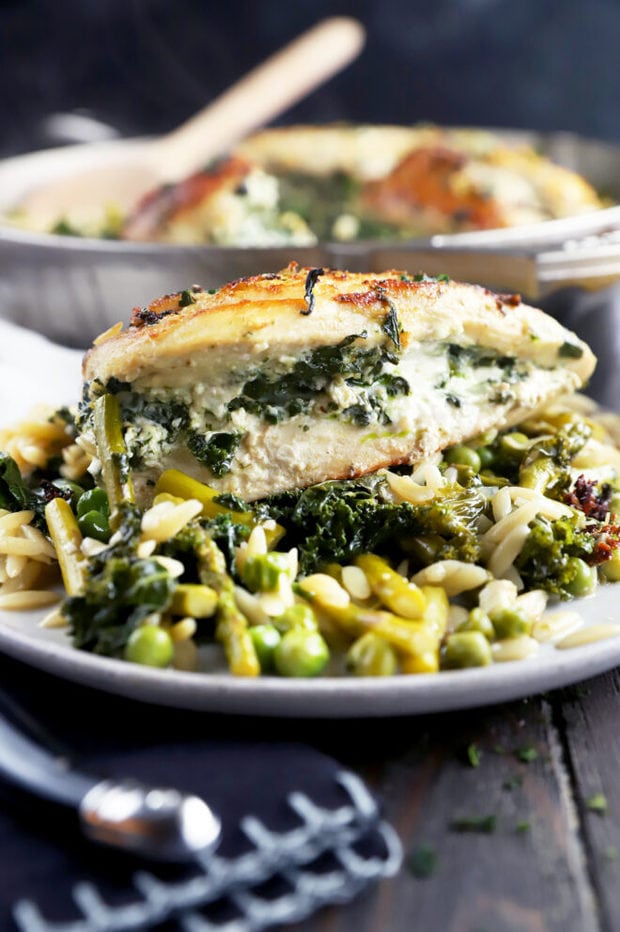 Instead, everything is very quiet.
So, if I can't go out in the world, I will bring the flavors of spring inside as we stay home and stay safe.
Even more than usual, cooking is the one thing that I feel is truly connecting us all right now. It's actually one of the things that is bringing me even more joy. When I hear about you all cooking my recipes or trying new things, it's such an inspiration!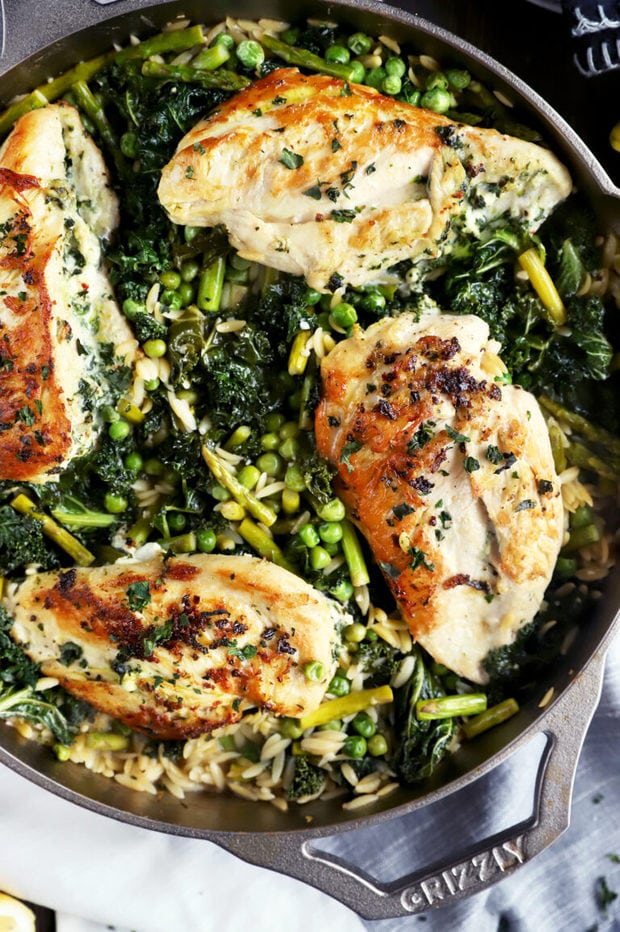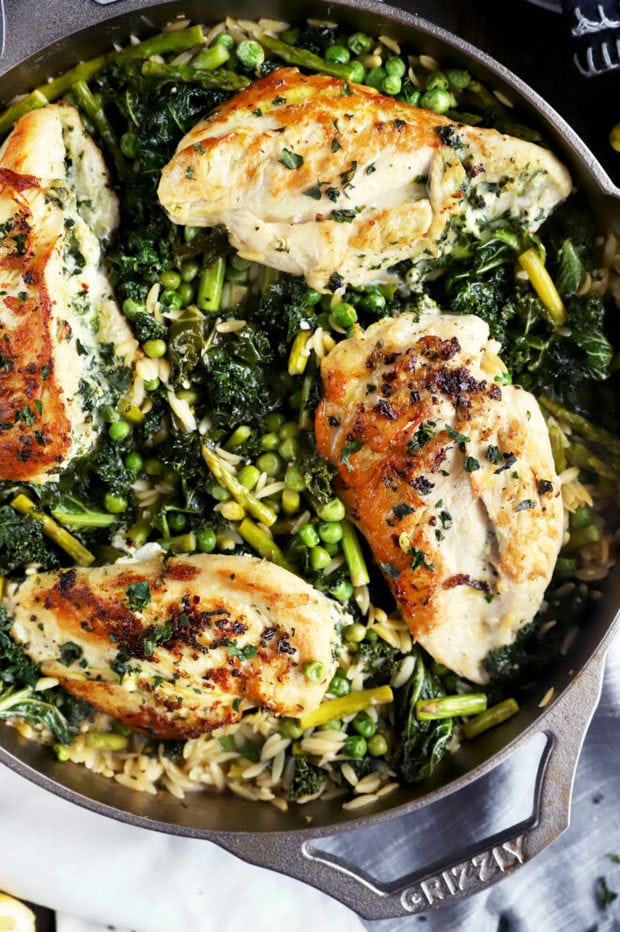 Therefore, I am trying to provide you with the tools and the advice for making the most of your cooking at home. If you follow me on Instagram, you saw this week that I have been sharing tidbits about freezing veggies and such (more of that to come, btw!).
Here on the blog today, I want to chat with you about cast iron cookware.
One of the things I was always taught in my grandma's kitchen was to use cast iron. It was one of the things she SWORE by, no matter what she was cooking. Cast iron has the best heat retention, durability, and versatility of all the cookware out there.
Of course, way back in the day, cast iron used to mean extra work because of the seasoning and upkeep.
However, nowadays, there are ways around those steps.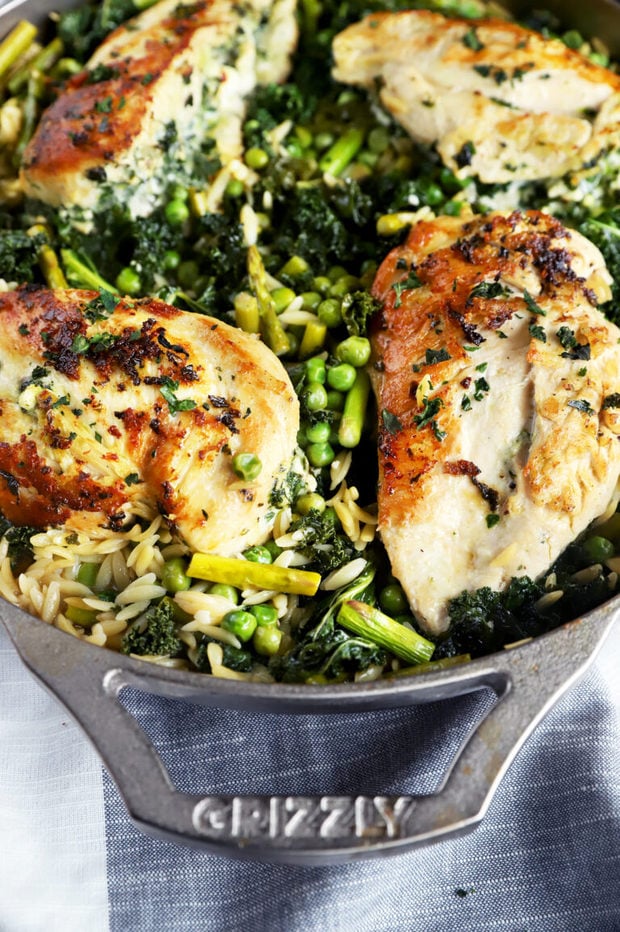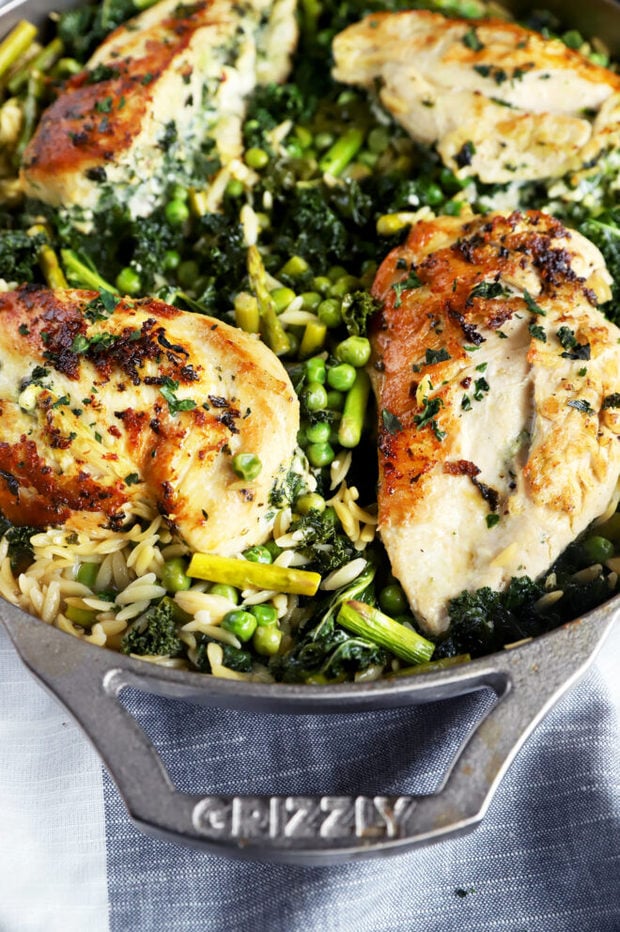 I am SO thrilled to announce that I am partnering with GRIZZLY to bring you this gorgeous one skillet lemon goat cheese stuffed chicken and spring orzo.
I used the GRIZZLY 12" Cast Iron Skillet to make this recipe, and it couldn't have been easier to work with. GRIZZLY Cookware is coated so that the cast iron is sealed and resistant to rust.
You never have to season the pan yourself! Instead of the enamel coating, GRIZZLY actually uses nickel which will not chip and is 100% safe for cooking (approved by the FDA even). All you have to do is hand wash the skillet when you are done.
I really can't rave enough about this pan, friends. Cast iron is something that I have always worked with, but only recently has it become the main cookware that I work with. You get the perfect golden brown exterior on the chicken, as well as perfectly cooked orzo and vegetables all in the same pan.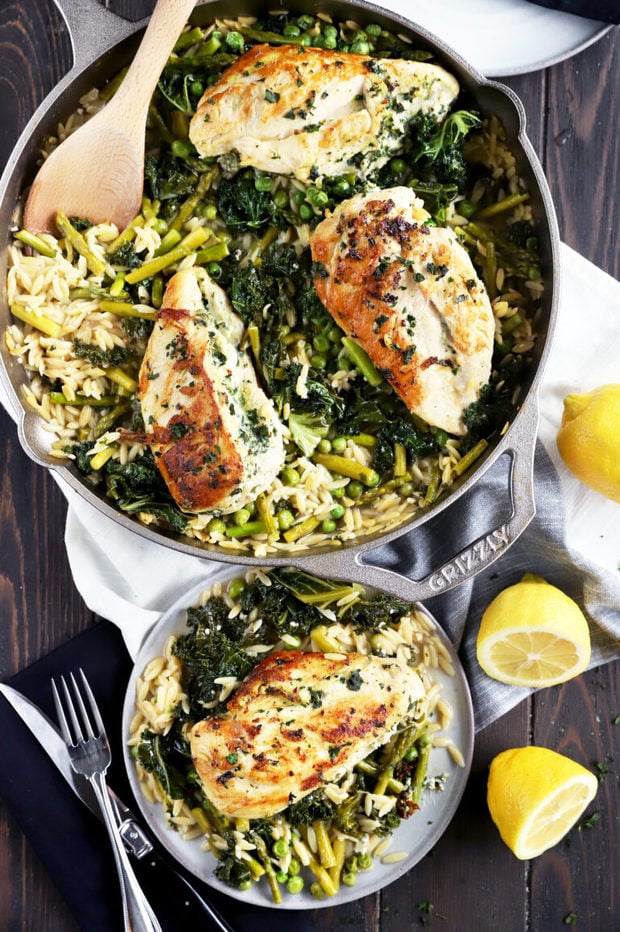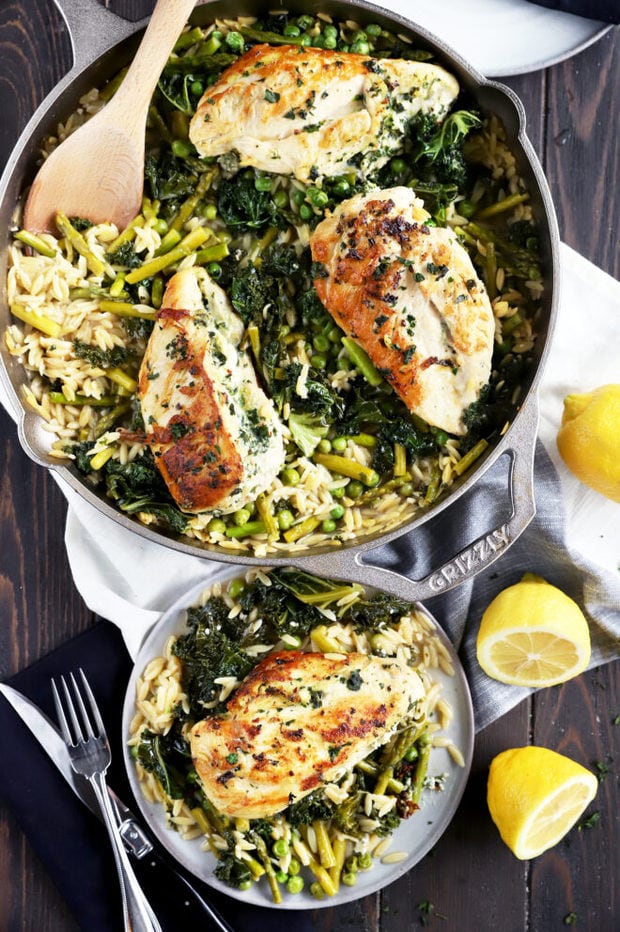 This Recipe's Must-Haves
Obviously, you need to get your hands on the GRIZZLY 12" Cast Iron Skillet you see featured here today. It's so worth the investment, because you will be using this skillet for YEARS.
Other tools you will need include:
A chef's knife and two cutting boards to prepare the chicken, herbs, and vegetables.
The smallest of your mixing bowls to stir together the filling for the chicken.
I like to use these clongs (aka tongs) for turning the chicken. You may also need a spatula to carefully turn the breasts.
A wooden spoon to bring together the spring orzo in the skillet.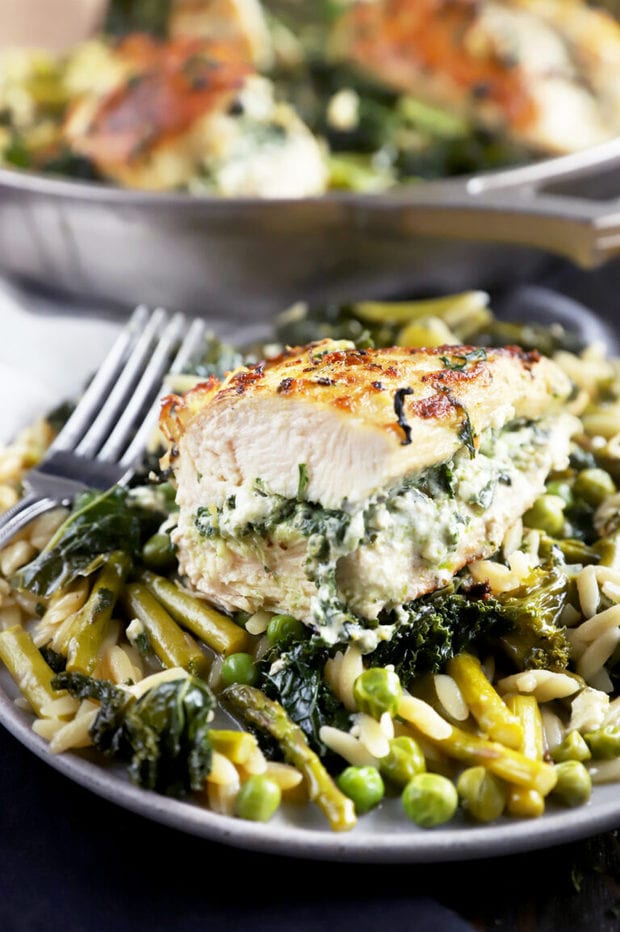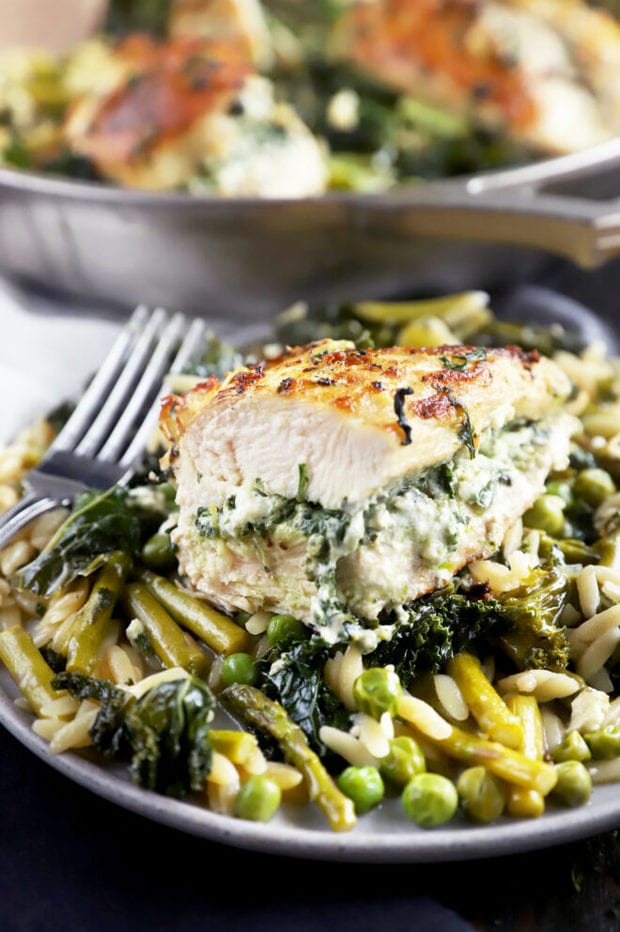 Let's make yummy one skillet goat cheese stuffed chicken!
Fill Chicken Breasts
Start by making the goat cheese filling for the chicken.
Next, prepare the chicken by cutting each breast horizontally. You won't cut all the way through, just 3/4 of the way to open up the breast like a book. Add the filling to one side and fold the other side up and over the filling.
Brown Chicken
In the skillet, you will sear the chicken breast until it is golden brown on both sides. Be sure not to fiddle with it too much! Let it cook and brown without disturbing it.
Once both sides are browned, you can remove from the pan and start the spring orzo.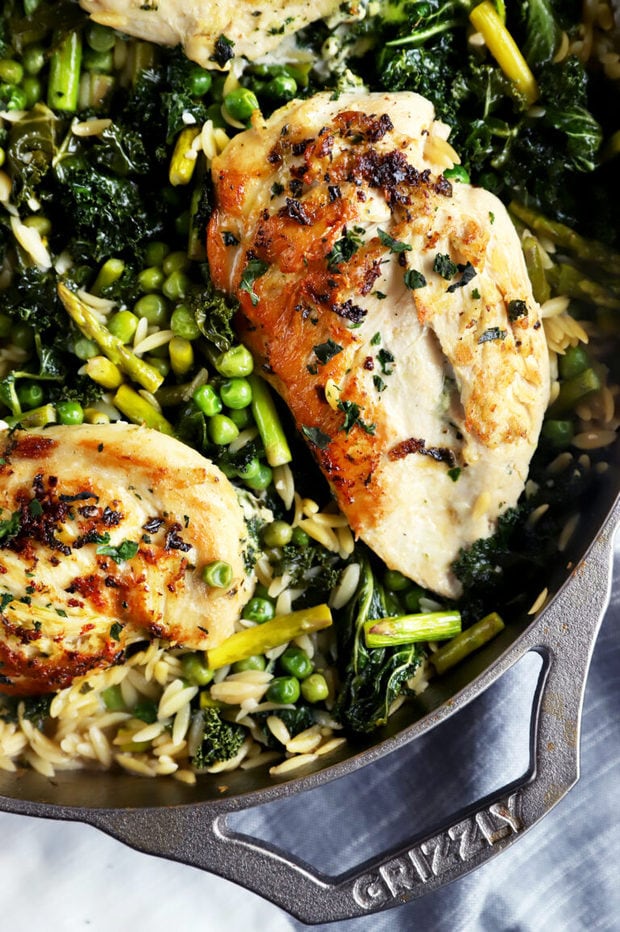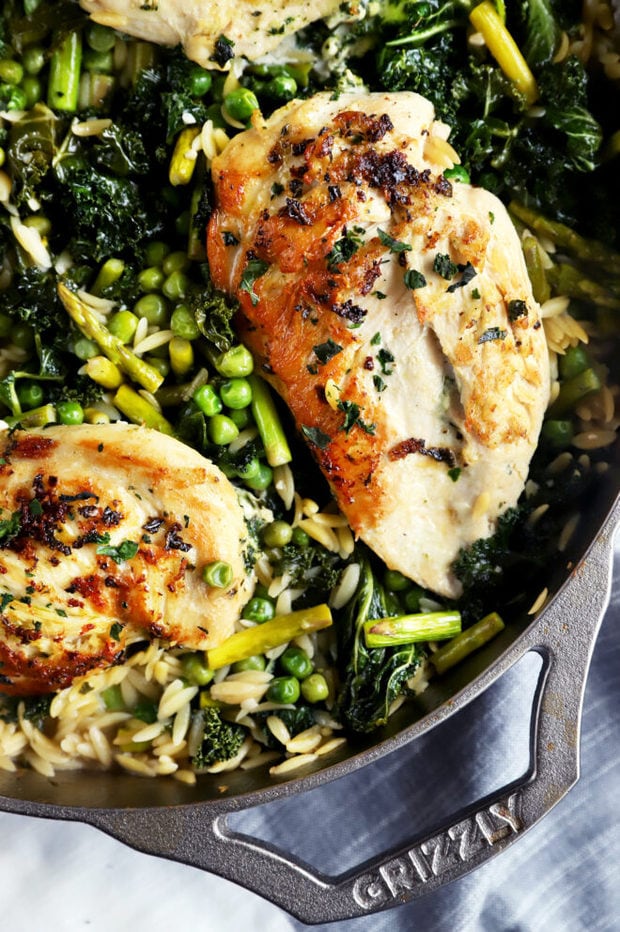 Start Cooking Orzo
The orzo gets toasted in butter with garlic before you mix in the liquid and spring vegetables. Bring everything to a boil and then add those peas.
Bake
GRIZZLY cast iron cookware is fantastic because it can go straight from the stove to the oven! Add the chicken back to the skillet and then bake it until the chicken is cooked through and the orzo is done. NOW EAT.
Need inspiration for cooking chicken? Check out my poultry recipes page for some tasty ideas.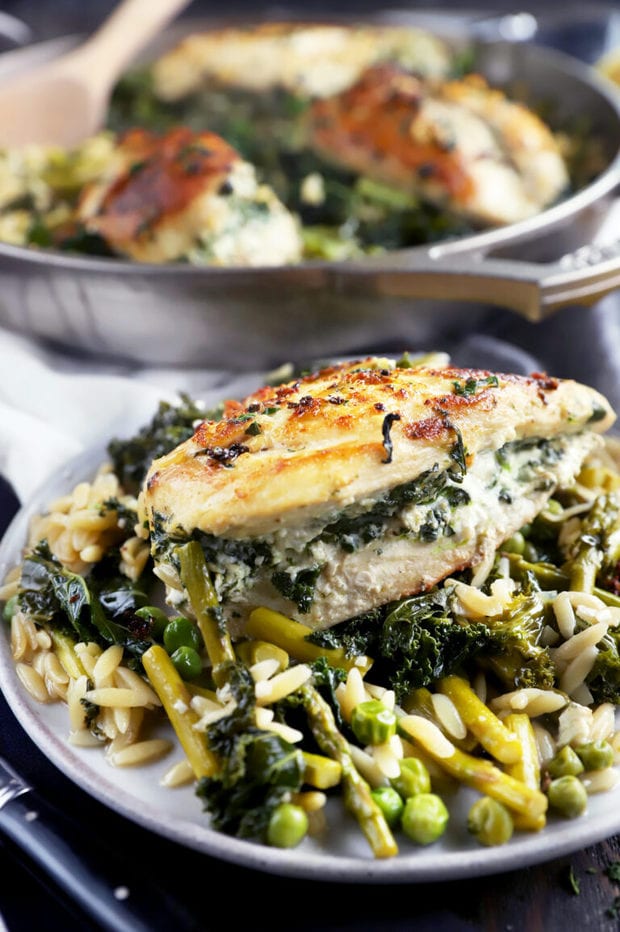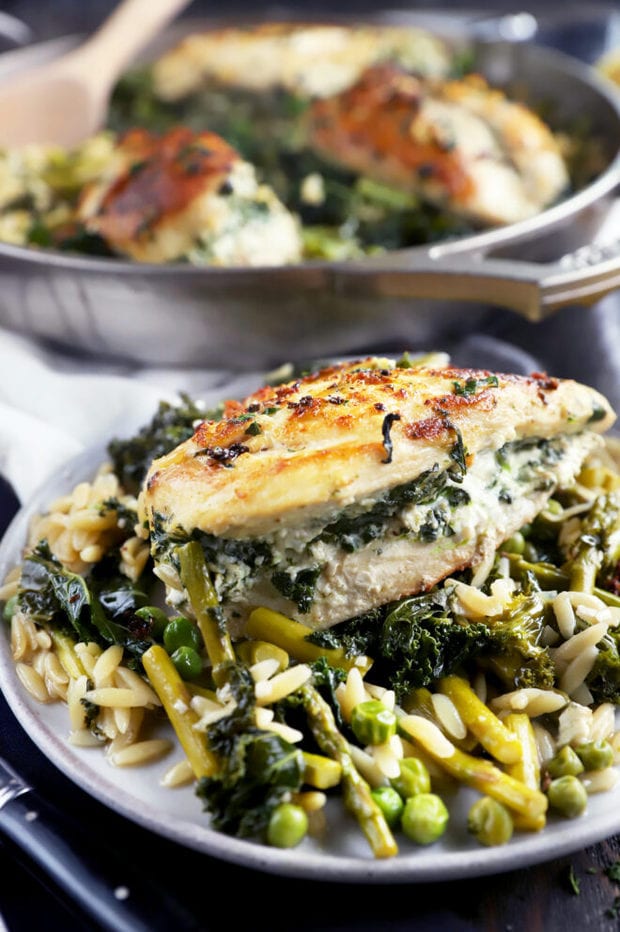 Make It Your Own!
I know that times are a little tough to get your hands on ingredients! Here are some modifications that you can make for this recipe:
Can't get your hands on orzo? Try arborio rice instead!
You can totally use frozen kale and asparagus for the recipe. Simply thaw and drain before using.
Don't like goat cheese? Try using feta cheese instead.
Pin this One Skillet Lemon Goat Cheese Stuffed Chicken and Spring Orzo recipe for later!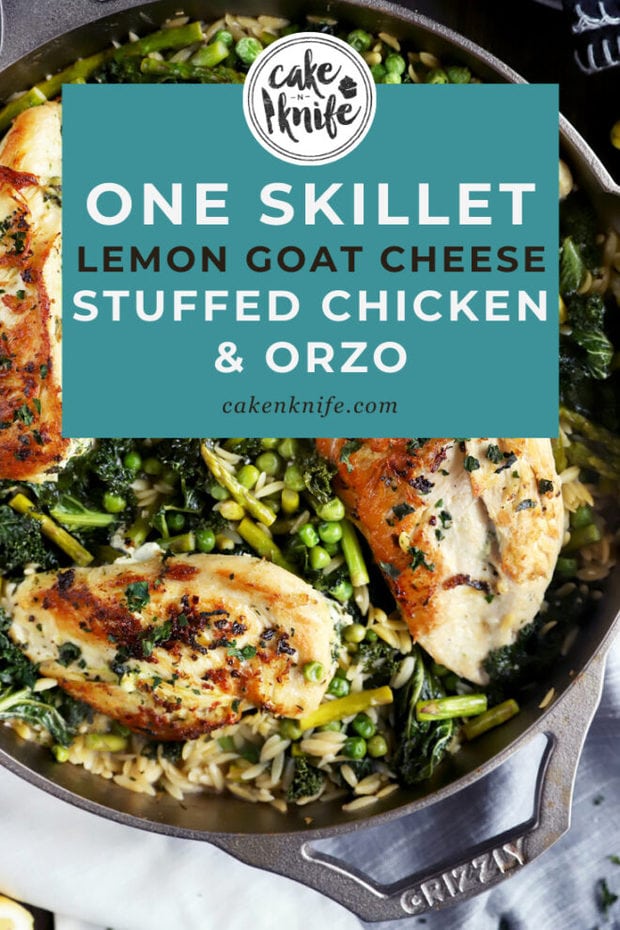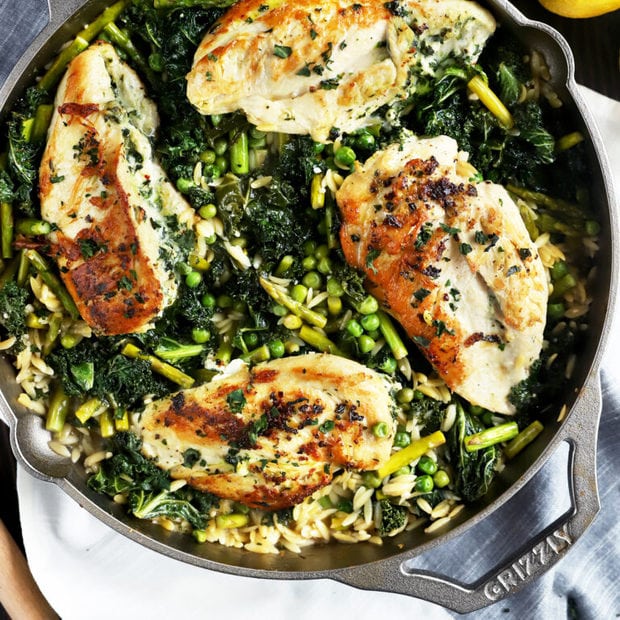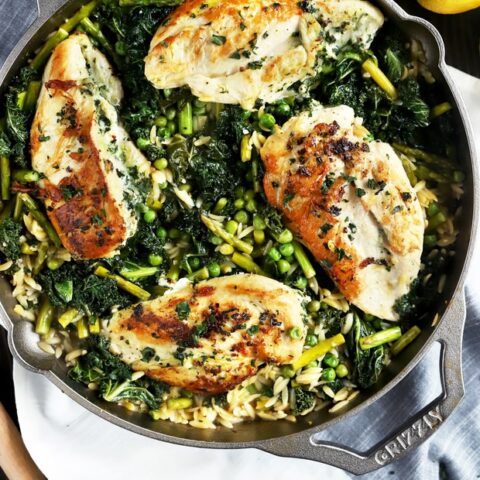 One Skillet Lemon Goat Cheese Stuffed Chicken and Spring Orzo
Bright and tangy chicken with orzo loaded with spring vegetables is the ideal one skillet meal!
Ingredients
4 oz goat cheese crumbles
1/2 cup chopped fresh basil
1 Tbsp fresh thyme leaves
1/4 tsp salt, plus more for seasoning
1/4 tsp black pepper, plus more for seasoning
1/4 tsp red pepper flakes
1 tsp lemon zest
1 tsp fresh lemon juice
4 boneless, skinless chicken breasts
2 Tbsp extra virgin olive oil
1 Tbsp unsalted butter
3 cloves garlic, minced or grated
1 cup dry orzo pasta
3 cups chicken broth
1/2 bunch kale, stalks removed and roughly chopped
2 cup chopped asparagus, cut into 1 1/2-inch pieces
2 1/2 Tbsp balsamic vinegar
1 cup frozen peas, thawed and drained
Lemon wedges, for serving
Instructions
Preheat oven to 425˚F.
In a small bowl, stir together goat cheese, basil, thyme, salt, pepper, red pepper flakes, lemon zest, and lemon juice. Set aside.
Slice the chicken through the middle horizontally, leaving about 1/2-inch on the other side. Open the two sides like a book. Spread goat cheese mixture evenly on one side of each breast, dividing evenly between the four. Close the empty side over the filling. Season the chicken with salt and pepper.
In a large skillet over medium-high heat, heat the oil. Once hot, adding chicken and sear on both sides until browned, about 4 to 5 minutes per side. Be careful when you flip the breasts over, making sure they stay together as you turn them. Remove chicken to a plate and set aside.
Add butter to the skillet with garlic and orzo. Cook for 2 to 3 minutes, stirring occasionally, until orzo is toasted. Stir in chicken broth, kale, asparagus, and balsamic vinegar. Increase heat to high and bring to a boil. Stir in peas. Add chicken back to the skillet, nestling each breast into the mixture.
Place in the oven on the middle rack. Bake for 10 to 15 minutes, until chicken is cooked through and registers 165˚F on a thermometer inserted into the meat.
Serve chicken with lemon wedges.

Recommended Products
As an Amazon Associate and member of other affiliate programs, I earn from qualifying purchases.