Mastering Global Cooking – Mexican: Chiles en Nogada
I have a secret to tell you.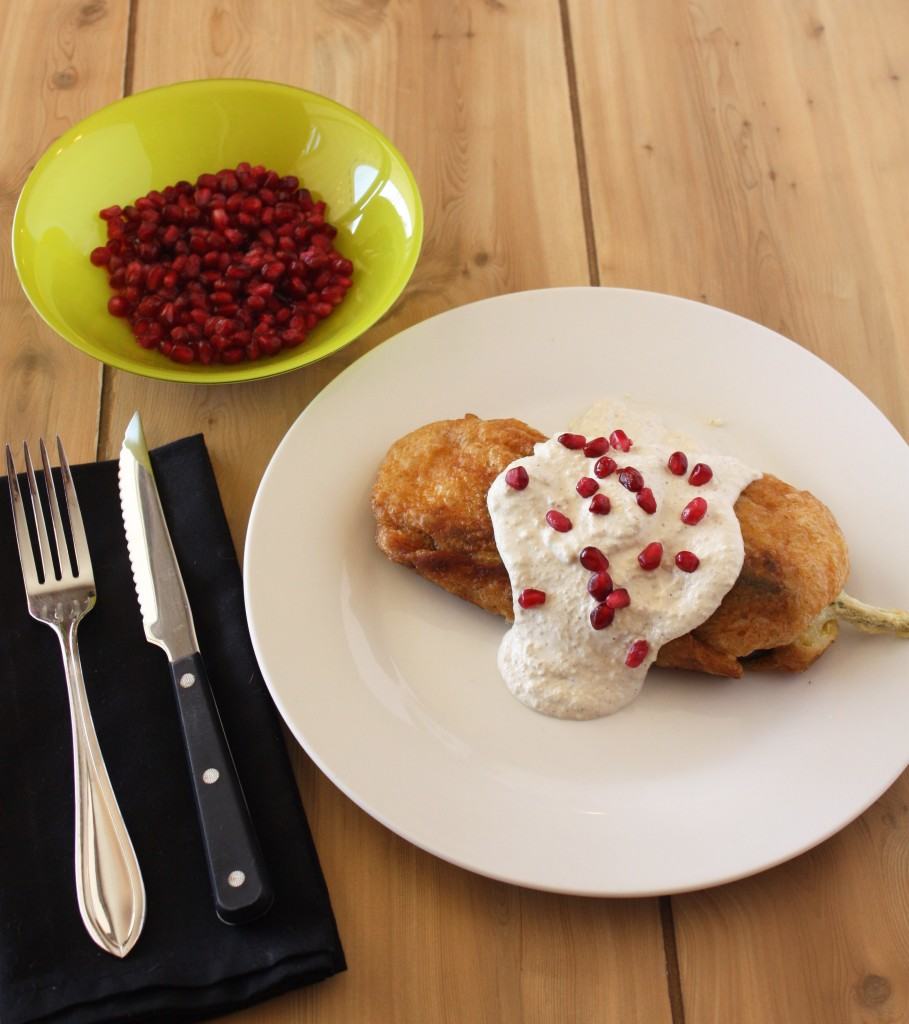 This is one of the most surprising dishes I have had in a realllllllly long time. Usually you kind of know what a dish is going to taste like. You read the  ingredients and think to yourself "ok yea I can envision those flavors together, this is going to be great!" However when it came to this dish, I was stumped. I read and reread the list of ingredients, wondering how it would all come together in the end. 
It was O.M.G. SO GOOD.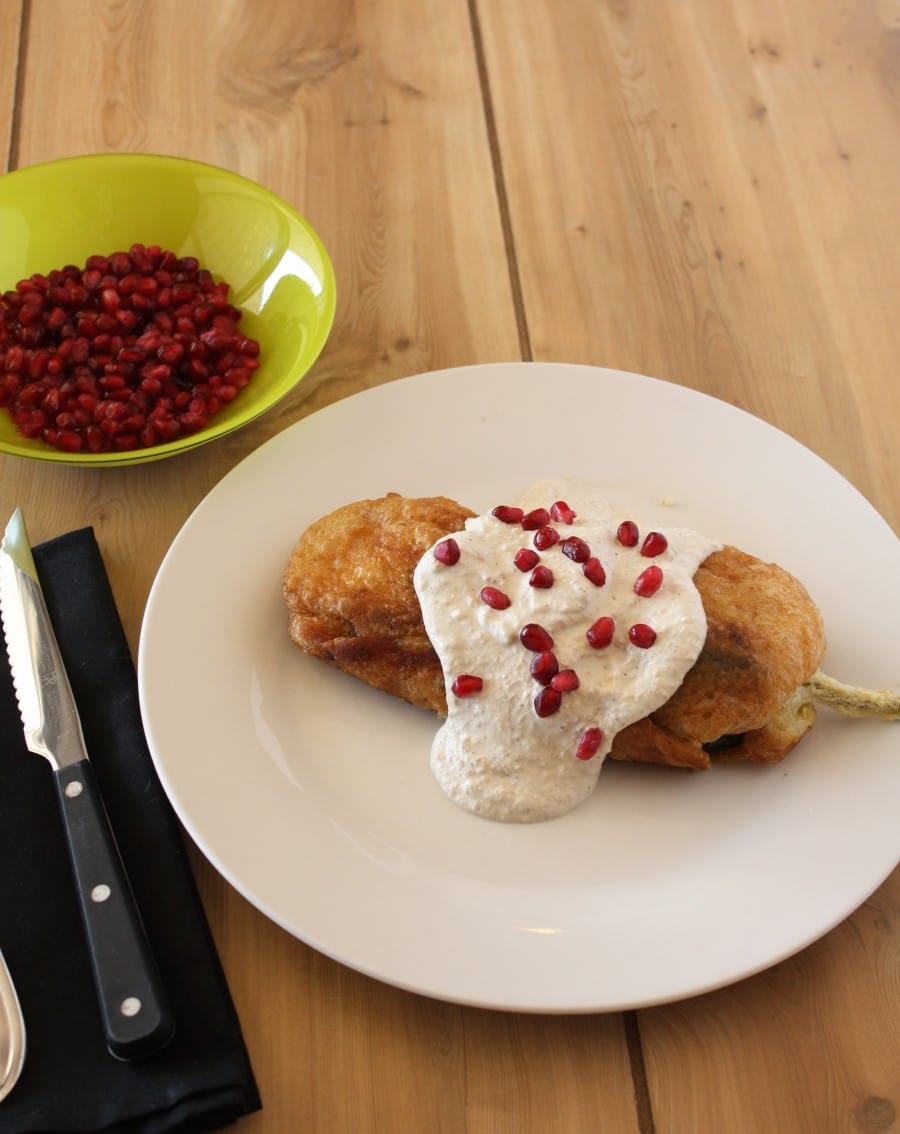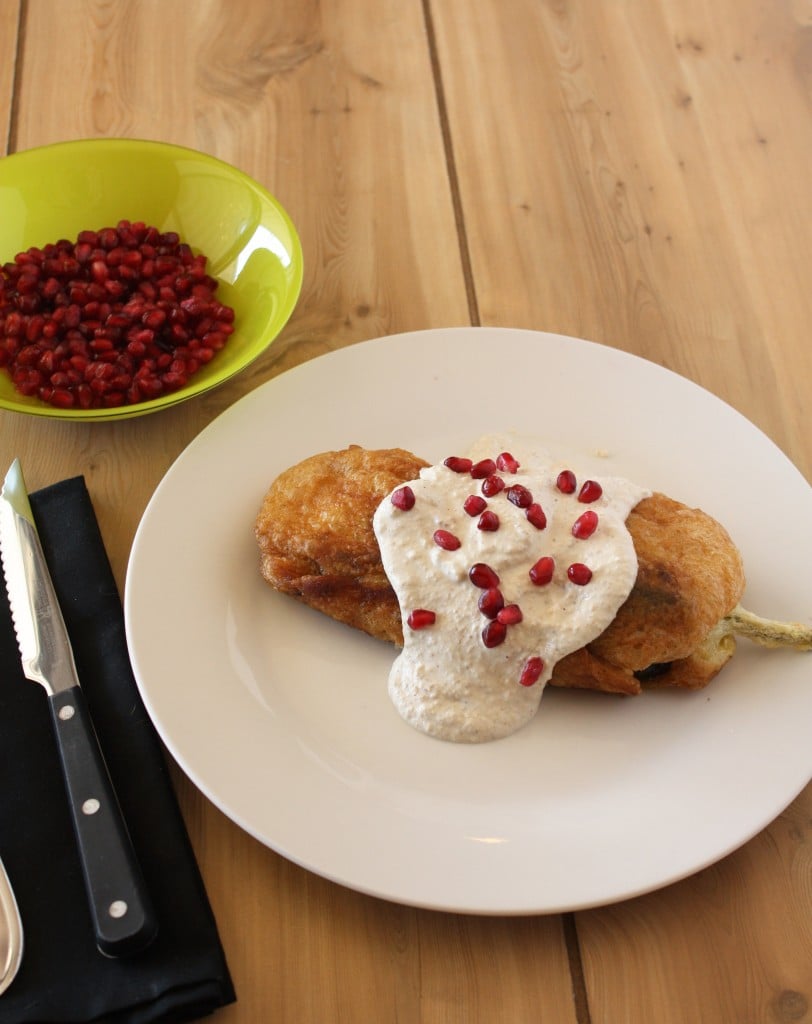 Like, so so sooooooo good.
Chiles en Nogada is actually quite a treasured dish in Mexican cuisine, primarily because it incorporates all three colors of the Mexican flag – green from the pepper, red from the pomegranate, and white from the sauce. The best part is this dish is still prepared the same way as it was 200 years ago (excluding the help of modern appliances of course). Fun, huh??
Though you are stepping a bit outside the box with this dish, and it takes a minute to get a hang of frying those peppers perfectly, it comes together so beautifully once each element is on the plate. It's not an easy dish, but it's not so technically advanced that an amateur couldn't master it. The key is patience and preparing all your ingredients ahead of time. If everything is chopped, peeled, and prepped before you start cooking, it's not too challenging.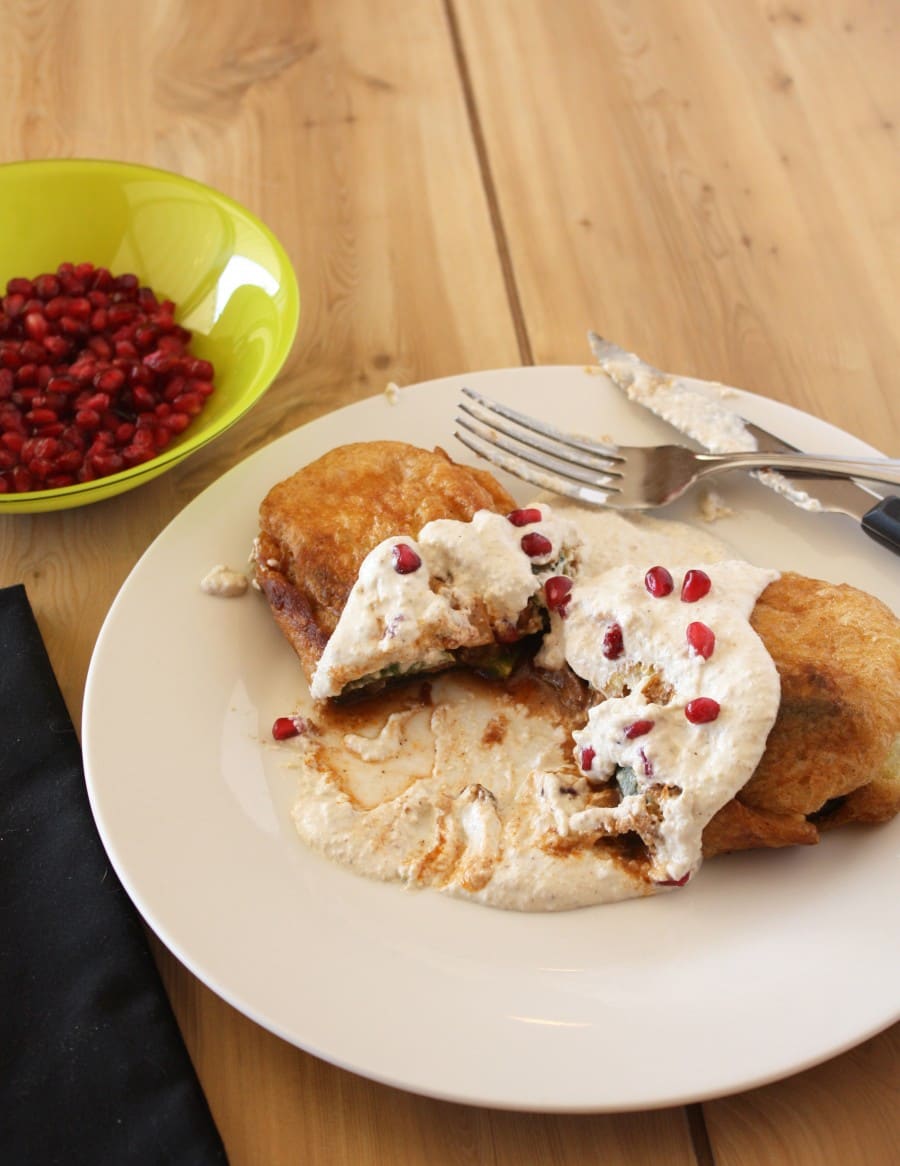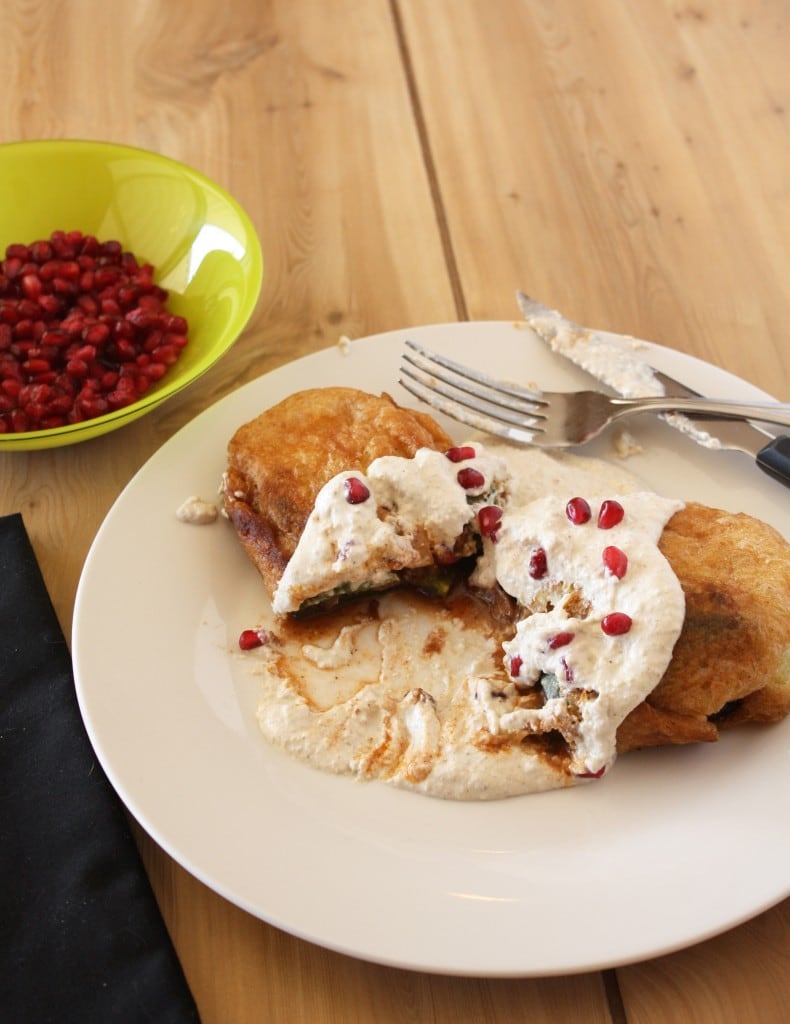 For a food nerd like me, this recipe is so wonderful – it incorporates the history of Mexico and a set of ingredients that I would never put together on my own.
Trust me and just go for it!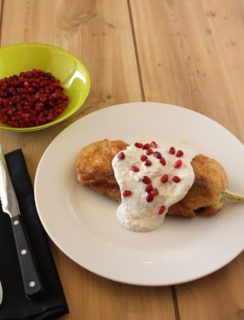 Chiles en Nogada
Yield: Serves 12
Prep Time: 30 minutes
Cook Time: 50 minutes
Total Time: 1 hour 20 minutes
One of the harder recipes to master, this one is worth the time and effort to taste those bright and rich flavors!
Ingredients:
Filling
1 to 2 tablespoons olive oil
1 medium onion, chopped
2 garlic cloves, minced
12 oz pork loin, chopped
12 oz beef rump roast, chopped
1 lb. charred tomatoes (feel free to use the fire-roasted canned tomatoes if you don't want to char your own tomatoes)
1/2 cup raisins
8 oz peaches (approximately 2 large peaches), peeled, cored and chopped
9 oz apples (approximately 4 small, I used Gala apples), peeled, cored and chopped
8 oz pears (you can use Mexican pears if you can find them, however I used Bosc pear and it tasted great)
1/2 cup sliced almonds
1/2 cup pine nuts
3/4 cup candied pineapple, chopped
1/4 teaspoon dried thyme
1/2 teaspoon oregano
3/4 teaspoon ground cinnamon
1/2 teaspoon ground clove
12 poblano peppers
3/4 to 1 cup flour
Egg Batter
8 eggs, separated
Salt
1 bottle vegetable oil
Walnut Sauce
4 cups whole peeled walnuts
3.5oz goat cheese
1/2 cup plus 2 tablespoons milk
2 tablespoon sherry
2 tablespoons sugar
1/2 cup whole or chopped parsley leaves
1 cup pomegranate seeds
Directions:
Start by making the filling. Heat the olive oil in a medium saucepan over medium heat. Add the chopped onion to the pan and cook until softened, approximately 3 to 4 minutes. Stir in the pork and beef and continue to cook until the meat is browned and almost cooked through. Add the tomato sauce and bring the mixture to a boil. Once it is boiling, stir in the raisins, fruit, nuts, dried pineapple, and spices. Make sure you taste the mixture at this point and add salt if needed. Bring everything back to a boil, then reduce the heat to low, cover the pot, and simmer for approximately 30 minutes. I took the advice of the original recipe and made this filling the day before and stored it in the refrigerator until I was ready to make the rest of the dish. If you do this, make sure you warm up the filling before you start assembling the rest of the recipe.
To char the poblano peppers, turn your broiler on high. Line a baking sheet with aluminum foil and place the peppers on the sheet. Char under the broiler for about 5 minutes per side - you will see the skin start to turn dark and bubble. Remove from your oven and let the peppers rest until they are no longer too hot to touch. To remove the skin, gently (I stress gently) rub the skin off with your thumbs or using a paper towel. Try to be as delicate as you can in this process so you don't rip them apart. Don't worry if you have a few pieces of skin still lingering on the peppers (it's difficult to get it all off, I certainly haven't mastered that art yet!).
Cut into one side of the pepper from the top to bottom, making sure that you leave a little space on either side so the pepper doesn't split open while frying. Using a spoon or your fingers, remove the seeds gently (no scraping!).
Grab your filling and stuff each pepper with the filling until they are full but you can still close the opening. Then cover them all in a light coating of flour. Set those aside for a minute while you prepare the egg batter.
A key part of this recipe is timing. If you let the egg batter rest for too long, the texture will be off and you won't get the right result. It's a good idea to have everything in place, ready to fry, before you make the egg batter. While you are making the batter, go ahead and start heating up your oil in a medium skillet over medium-high heat. To make sure you are using enough oil (and not too much), pour in enough oil to cover the base of your skillet and be about 1/2 inch deep.
To make the egg batter, beat the egg whites with an electric mixer until they form firm peaks. Stir in the egg yolks one at a time just until they are incorporated into the egg whites.
Line a baking sheet with paper towels for the peppers to rest on once they have been removed from the oil. Now comes the trickier part of the recipe. Take one pepper and hold it on either end. Dip the pepper into the batter until it is covered in the batter. Carefully place the chile in the hot oil. If some of the pepper is still showing on the top, spoon some extra batter on top so it is completely covered.
Fry the pepper until it is golden brown, which happens fast, approximately 10-15 seconds. Using two spatulas or large spoons (whatever tool you have to do the job), roll the pepper over to cook on the other side. I ended up also enlisting the side of the skillet to push the pepper up against - it helped a lot! Fry for an additional 10-15 seconds and remove from heat to the lined baking sheet to drain. Repeat with the remaining peppers, you may need to add more oil to keep the same level in the skillet.
Last step! Prepare the sauce. Add walnuts, goat cheese, milk, and sugar to a food processor or blender. Note: if your blender or food processor is on the smaller side, you may need to split the ingredients and make the sauce in two batches. Puree/blend until the mixture is smooth. If the sauce is too thick, add one tablespoon of milk at a time until you reach a more sauce-like consistency. Add the sherry and puree/blend until combined.
Serve each pepper immediately with a good helping of the nogada sauce and top with pomegranate seeds and parsley.