Bacon Chocolate Caramel Corn
I'm a little obsessed with bacon right now.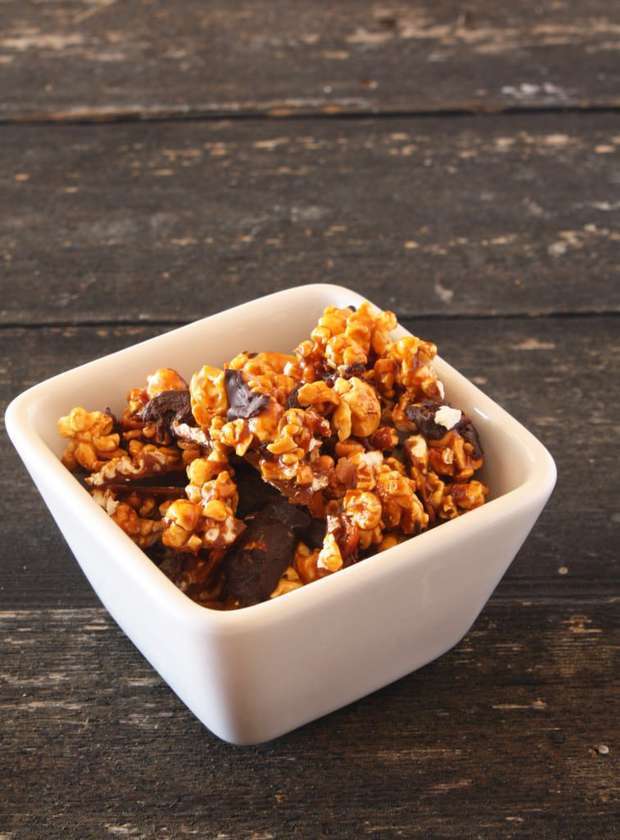 I blame the illness I was suffering from a week or so ago. I literally had no desire to eat real food while I was sick, which for me is a horrible horrible thing. Now that I am back in the land of the living and eating normally again, all I can think about is bacon. 
Of course my tummy isn't stopping at just craving bacon. It wants bacon and caramel. Which sounds like one of the most amazing combinations ever, right?? I mean aside from bacon and chocolate…
Since I didn't think dipping bacon in caramel would be the best answer, I thought I would throw it all on some popcorn and call it a day. And voila, perfect timing for the Super Bowl! If you need a great game day snack, here it is!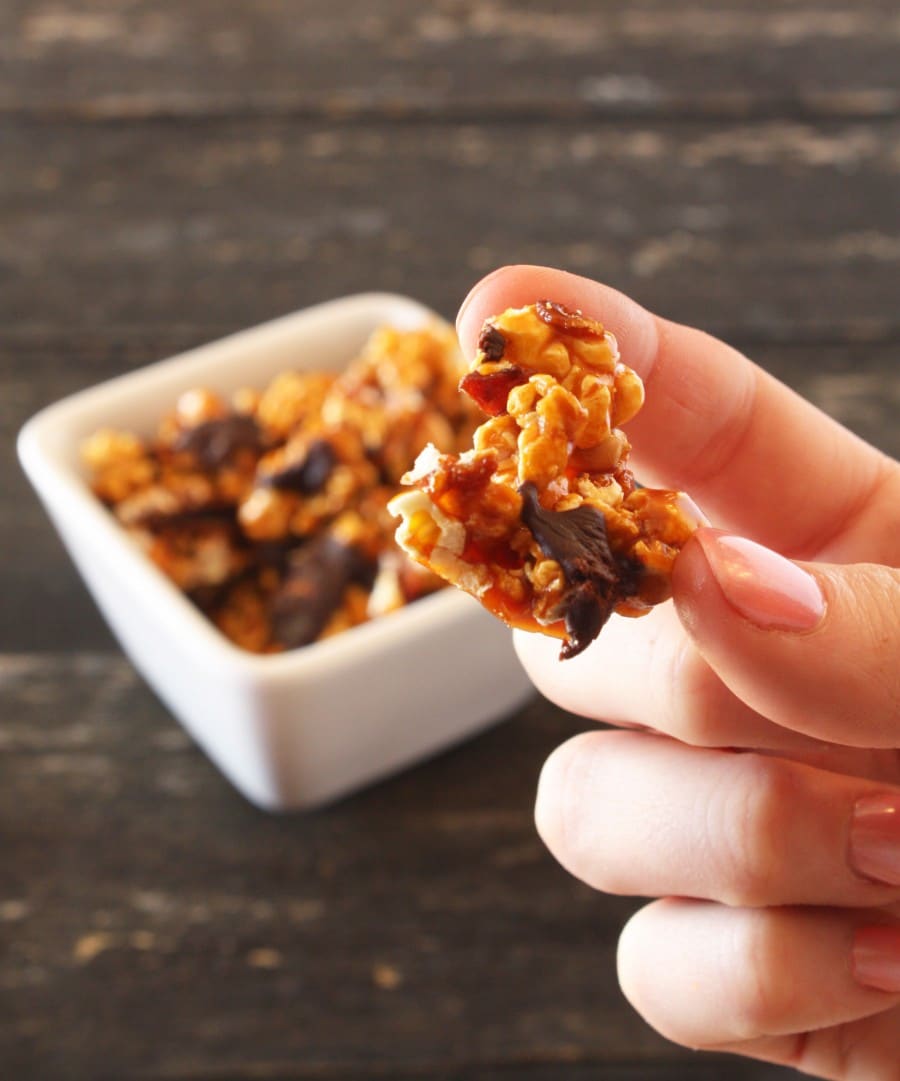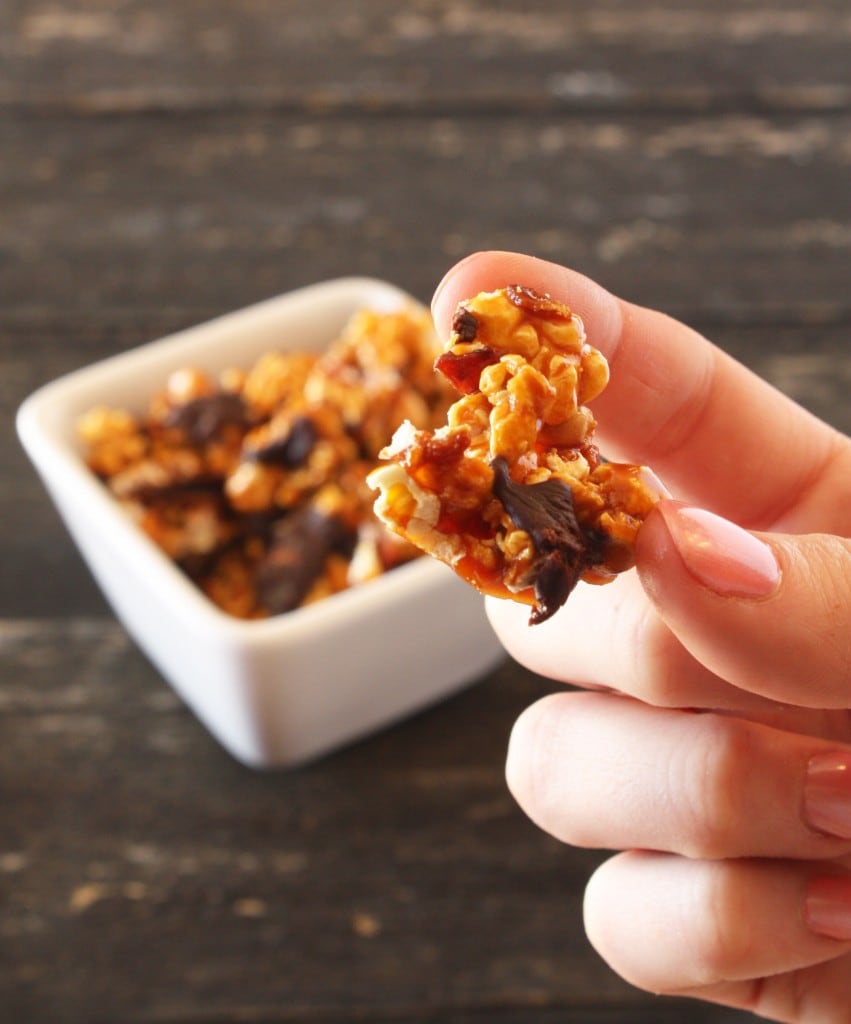 You know you gotta have bacon around for the big game. What else goes better with beer and mindless snacking (i.e. my typical weekend)?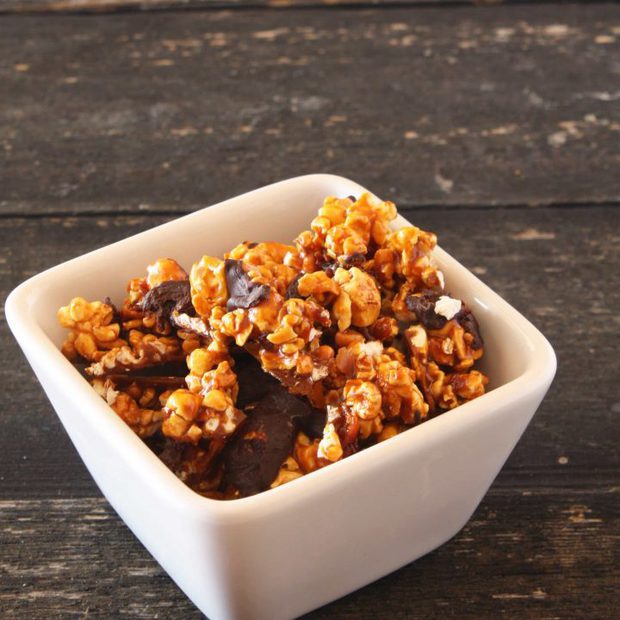 Bacon Chocolate Caramel Corn
Yield: Serves 4
Prep Time: 5 minutes
Cook Time: 45 minutes
Additional Time: 25 minutes
Total Time: 1 hour 15 minutes
One of my favorite snacks of all time with some bacon and chocolate thrown in!
Ingredients
3 oz plain natural popcorn, unpopped (i.e. no butter added)
6 oz bacon
1/4 cup whipping cream
1 1/2 cups sugar
1/4 cup water
2 Tbsp light corn syrup
4 oz dark chocolate
Instructions
Prepare the popcorn according to the instructions on the bag. Pour popcorn into a large bowl, making sure to pick out any kernels that didn't pop (biting down into a hard kernel when you don't mean to is NO fun).
Cook the bacon in a large skill over medium-high heat until crispy. Remove bacon with tongs or a slotted spoon to a plate lined with paper towels to drain. When cool, chop bacon into small pieces and add to the bowl of popcorn.
Add sugar, water and corn syrup to a large saucepan and heat over medium-low until the sugar dissolves, stirring occasionally. Increase heat to high and boil without stirring until the mixture becomes a deep amber color, approximately 10-13 minutes. Remove from heat immediately and add cream (note the mixture will bubble up on you so be careful!). Stir until blended. Drizzle the caramel right away over the popcorn mixture and toss with spoons or spatulas until everything is evenly coated.
Line a rimmed baking sheet with foil and coat with nonstick cooking spray (or use a Silpat!).
Carefully transfer the caramel corn to the sheet and spread out in an even layer. Avoid touching the caramel at all costs if you can - getting burned by caramel is my least favorite kitchen injury and tend to happen to me all the time...
Place caramel corn in oven and bake until caramel is shiny and coats popcorn, tossing mixture occasionally, approximately 20 minutes. Cool completely, tossing every so often to break up large clumps. While the caramel corn is cooling, heat the chocolate in a microwave-safe bowl in the microwave for 30 second increments, stirring in between, until it is all melted. Drizzle over the caramel corn and let the chocolate set, approximately 20 minutes.