Loaded Baked Potato Fries
Loaded Baked Potato Fries are the one tailgating snack that your friends and family won't be able to get enough of. All the loaded baked potato flavors you love, piled high on crispy fries – with delicious, gooey cheese sauce. YUM!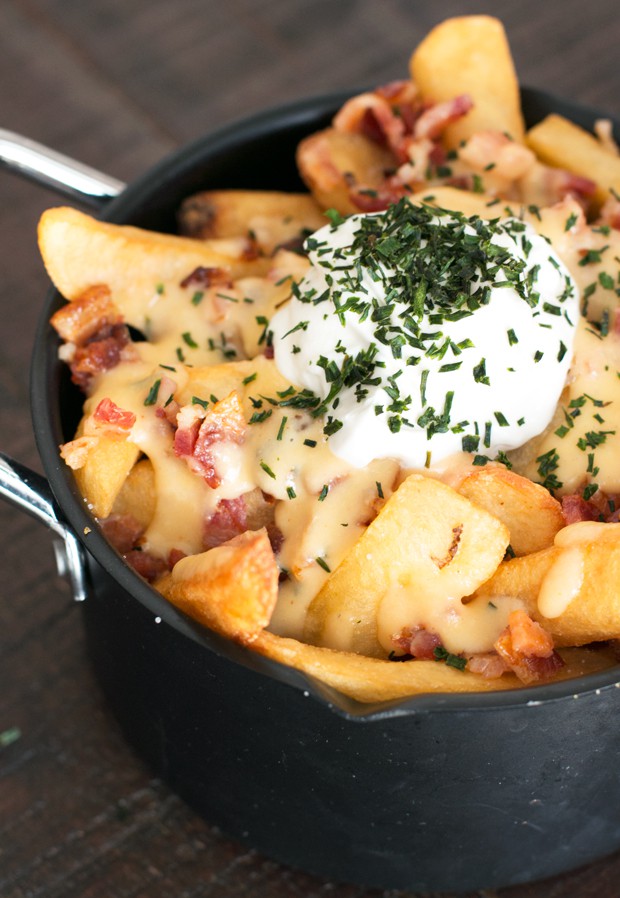 It's official, people. Football season is BACK. Yes, I know the "official" season hasn't kicked off just yet, but I am prepping for all the tailgating and game-watching already.
I can't even begin to tell you about the excitement I felt watching the first Broncos preseason game. It's like that old familiar feeling you get when you go home for the holidays. You forget just how much  you missed being with your friends and family, all laughing and drinking and eating massive amounts. Of course, instead of shoving a dozen Christmas cookies down my throat in one sitting, I'm shoveling a vat of queso into my belly along with a healthy dose of guacamole.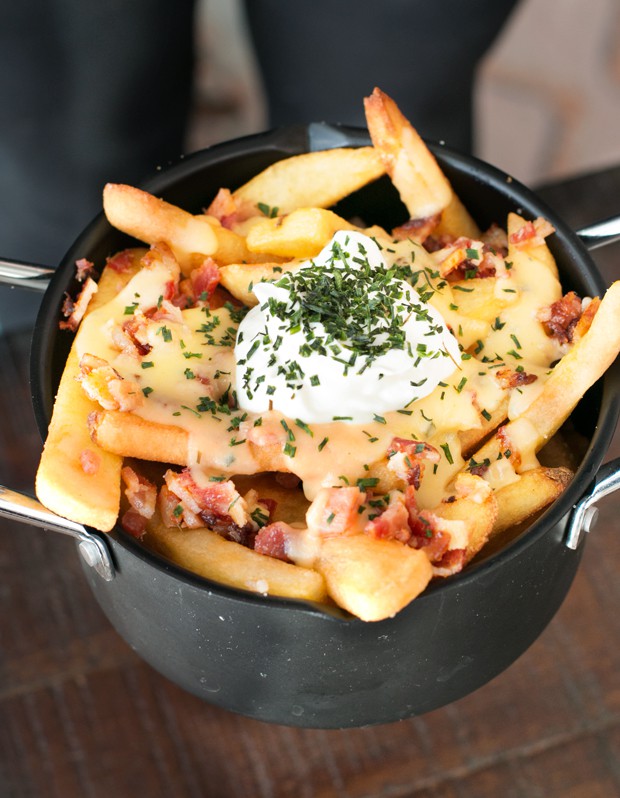 Say goodbye to that "summer bod" I was "working" on this summer. It's time to get ready for colder weather and snow.
I have no problem getting my winter figure started early.
Shocker, right?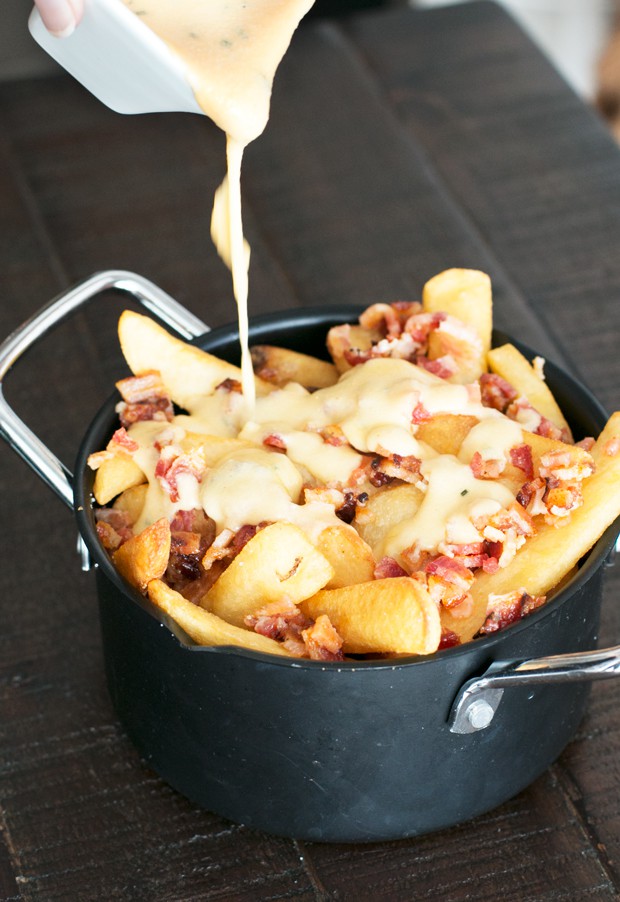 These loaded baked potato fries are the first of a few killer tailgating recipes I have in store for you this season. I don't know about you, but I love a really good baked potato. The ones where the skin is a little crispy and salty, and the inside is loaded up with all that cheese, chives, and sour cream. GAH, yum.
The crispy skin happens to be my favorite part so I thought, how can I get MORE crispiness in there?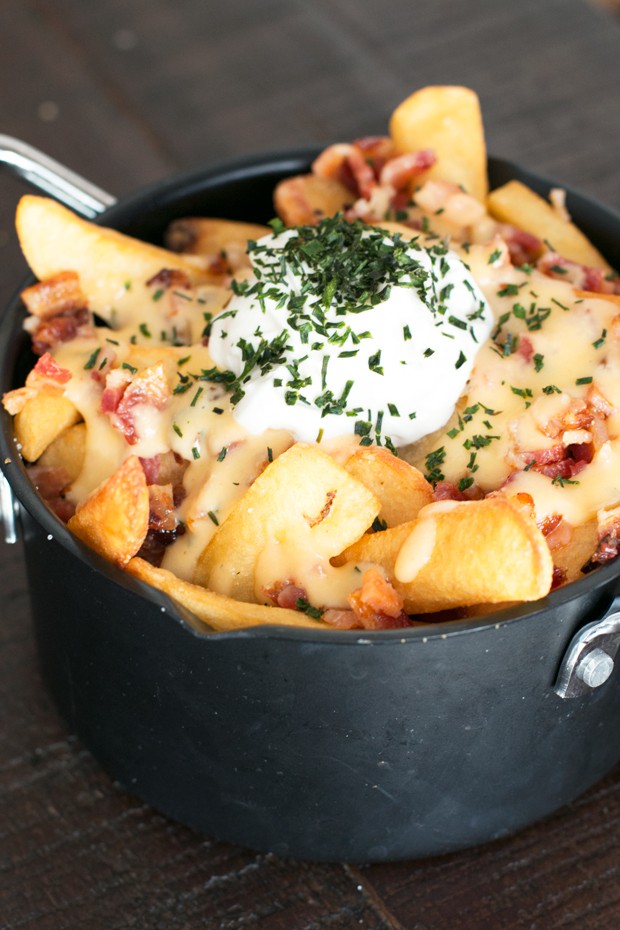 French fries.
You still get that potato goodness, but there's even extra crunch in every bite. It's like a version of poutine, but with cheese sauce instead of gravy. In other words, these fries are exactly what you want to dig into while you're sipping that cold brew and watching your team take home another win.
Or if they lose, it's the best damn consolation prize ever.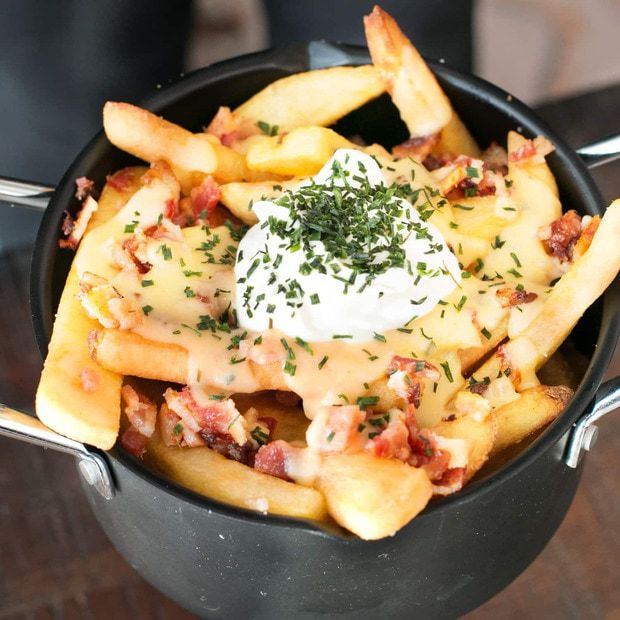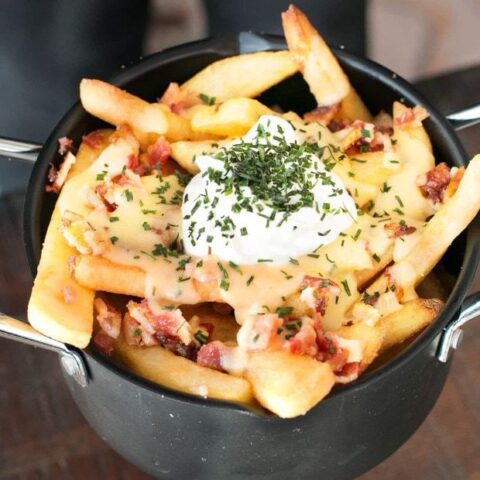 Loaded Baked Potato Fries
Yield: Serves 4
Prep Time: 10 minutes
Cook Time: 10 minutes
Total Time: 20 minutes
Everything you love about a loaded baked potato, piled on top of crispy fries!
Ingredients
Cheese Sauce
1 1/2 Tbsp butter
1/2 tsp paprika
1/4 tsp cayenne pepper
1/8 cup flour
1 1/2 cups milk
7 oz grated sharp cheddar cheese + more for topping
4 oz grated Monterray Jack cheese
Garnish: Sour cream, chopped chives
Instructions
In a medium sauce pan over medium-high heat, melt the butter with paprika and cayenne powder. When melted and just starting to bubble, stir in 1/8 cup flour. Let brown, approximately 30 seconds to 1 minute, and whisk in 1 1/2 cups milk.
Continue to stir the milk mixture until it thickens, approximately 1 to 2 minutes. Remove from heat and stir in cheddar cheese and blue cheese until melted.
To assemble, add fries to a large serving dish. Sprinkle bacon over the fries, then pour over the cheese sauce. Garnish with a dollop of sour cream and a generous sprinkle of chopped chives.
Notes
Note: If you buy frozen French fries, trying cooking the in the oven, and then fry them up in some hot oil so they get extra crunchy/crispy on the outside. An easy hack if you don't want to make the fries ENTIRELY from scratch.