Please note this post contains affiliate links.
Pear Ginger White Sangria is refreshing and easy, full of fresh fruit and ginger. It's a great summer recipe for a crowd and with just a touch of brandy, it's a refreshing summer drink. Who's thirsty?!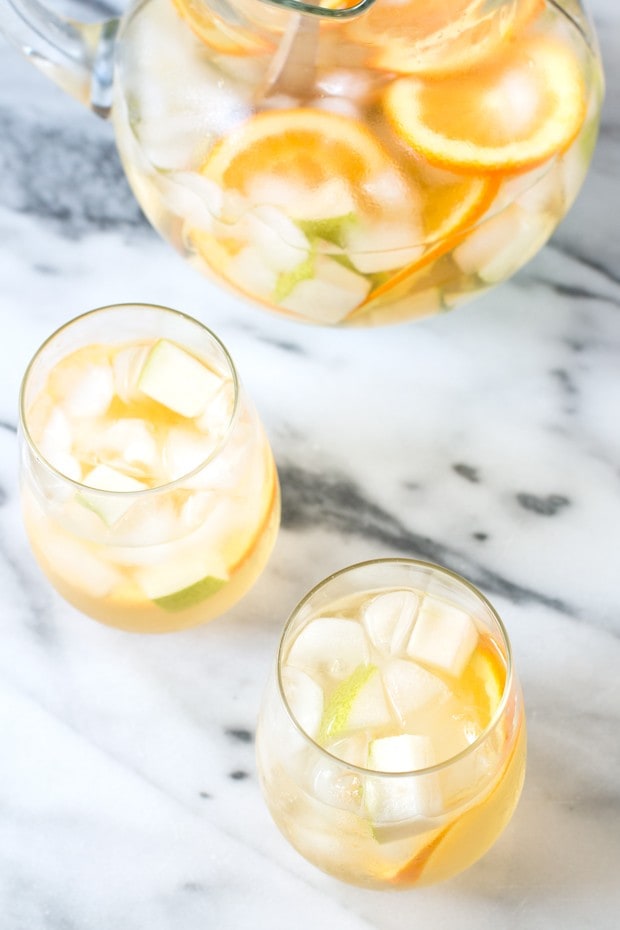 There aren't many days left for drinking light, chilled sangria like this pear ginger white sangria.
The weather hasn't changed completely here in Denver, but as always, I know it's coming.
It always sneaks up on me before I think I'm ready. Le sigh…
So I've been soaking up the sun as much as I can before I have to start dressing in layers and boots (not that I'm complaining…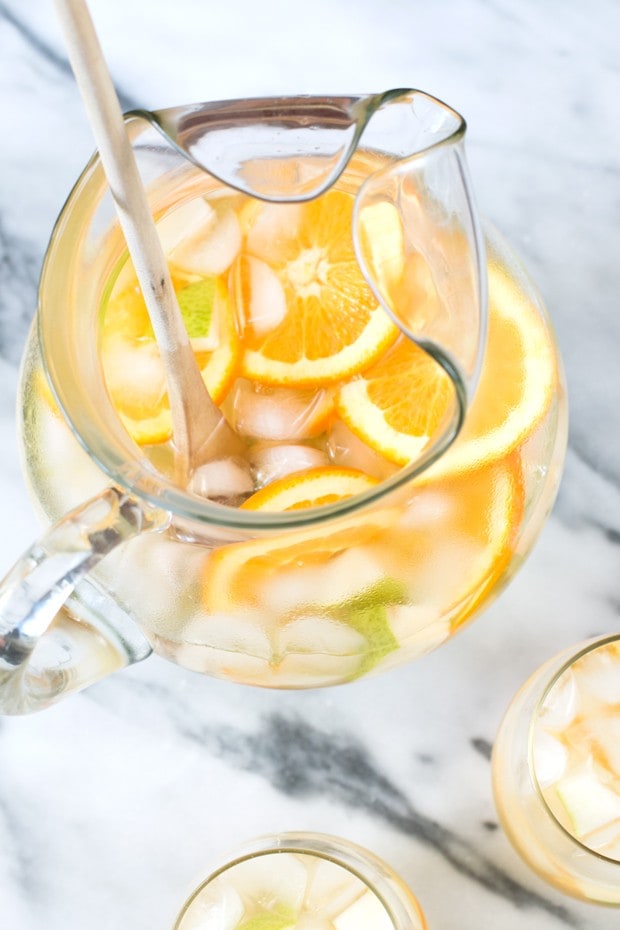 I bought these boots on sale this summer and am dying to bust them out!). I went boating on Monday for the afternoon and for some reason all I was craving was sangria. I just wanted to be sipping something light and slightly fruity while I attempted to sunbath (i.e. don't burn and somehow get some color, it never happens for a pale girl like me).
Though I'll be entering fall without a tan, I can at the very least fulfill my sangria-dreams.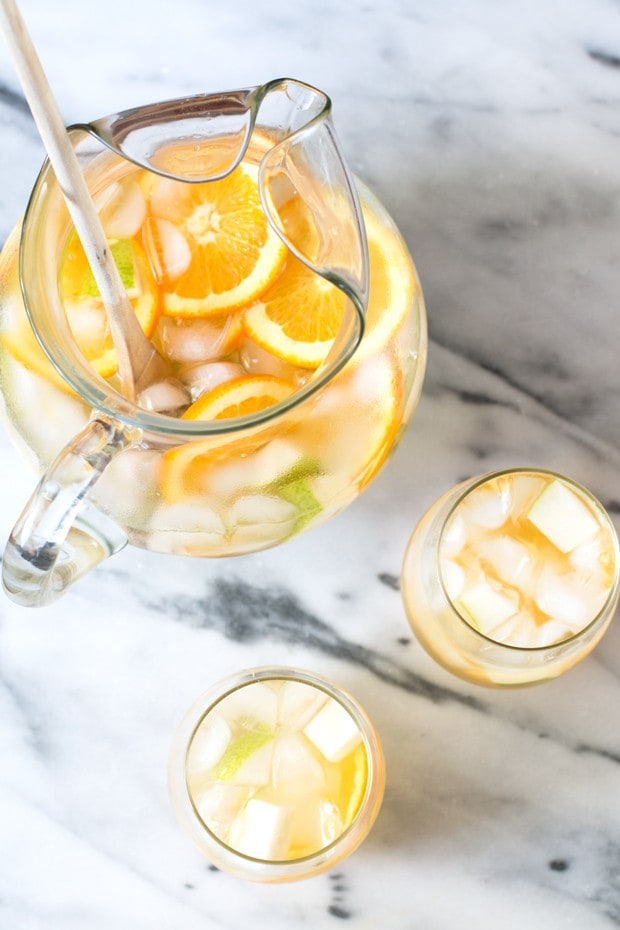 This pear ginger white sangria is just the right sangria to close out summer with. It's not a sweet sangria that'll make you feel like you're drinking syrup.
Instead it's bright and fruity, with just a little hint of ginger to tickle your taste buds. It's insanely drinkable, which is both a very good and very bad thing. Making a double-batch of this could get you into trouble if you aren't careful… 😉
This Recipe's Must-Haves
To prep the fruit and ginger for this recipe, you'll need your favorite chef's knife and cutting board. Don't forget to peel the ginger before you slice it!
I LOVE LOVE LOVE this Mikasa pitcher. It's the one you see pictured here and it's so festive. I get so many compliments on it all the time.
Finally, be sure to have some cocktail stirring spoons to combine all the ingredients for this white sangria recipe.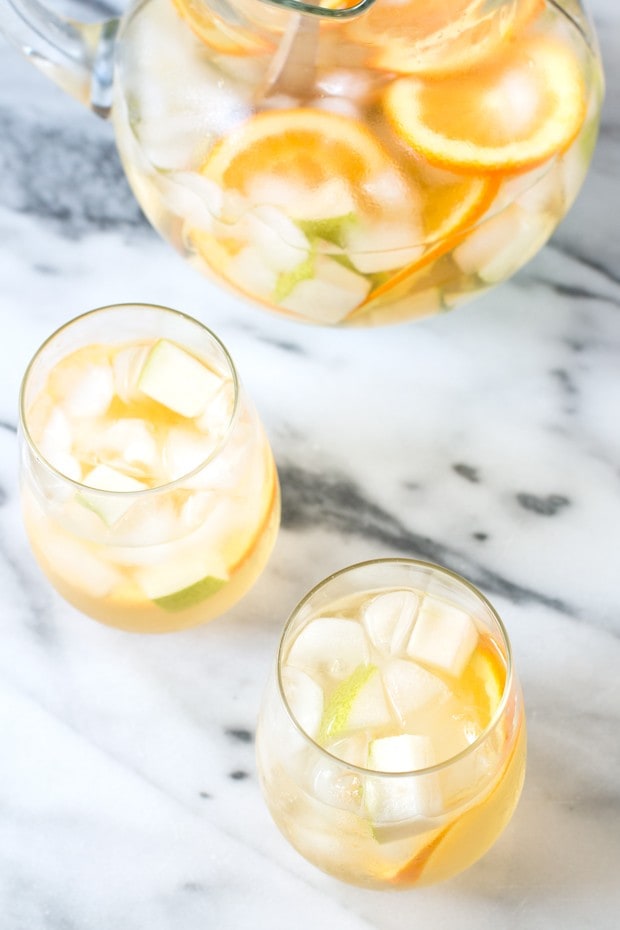 Is this sangria really sweet?
I get this question all the time and the short answer is NOPE. While there is a touch of sweetness to the sangria, it all comes from the Riesling and the fresh fruit that you use. If you like a drier sangria, be sure to select a crisper Riesling that isn't as sweet.
If you like something sweeter, just go for a sweeter wine!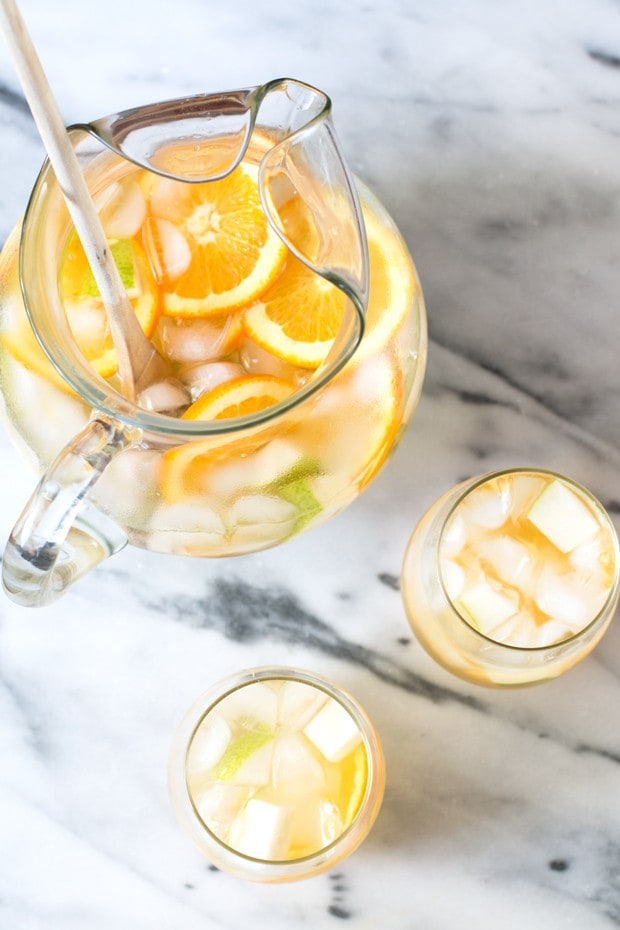 Can I eat the fruit and ginger?
You can totally eat the fruit in the sangria! The longer the pears and oranges soak, the better the fruit will taste (and the more kick it will have).
I am personally not a fan of chomping on raw ginger, so I would skip eating that straight. You can reserve it for other recipes that you use fresh ginger in though!
Cheers to the last few summer Thirsty Thursday drinks!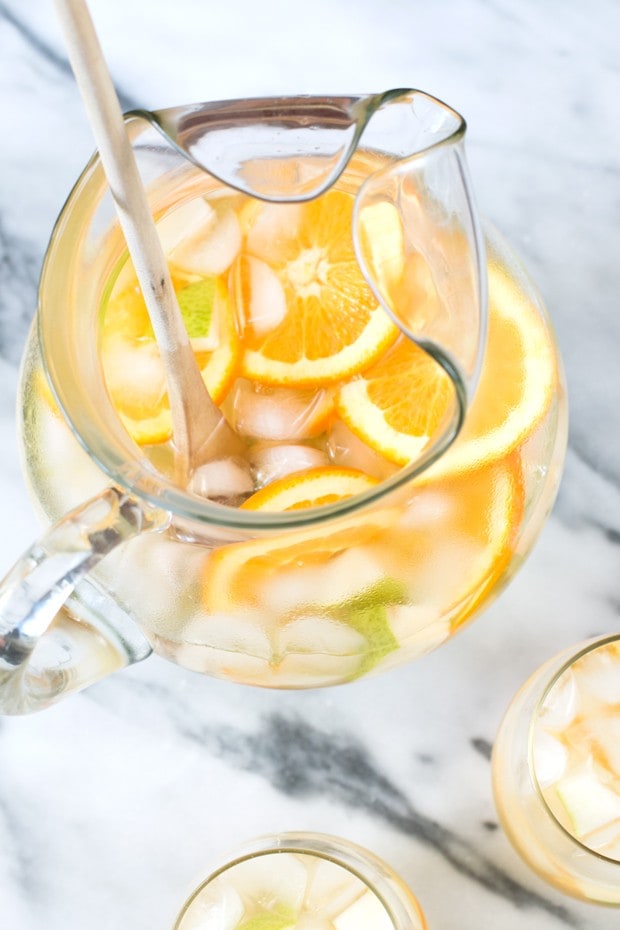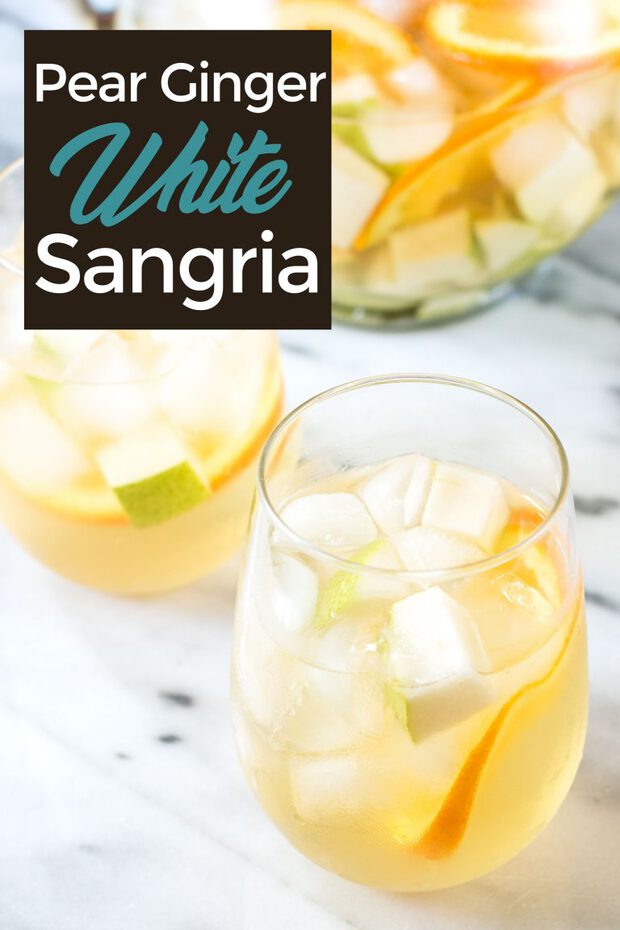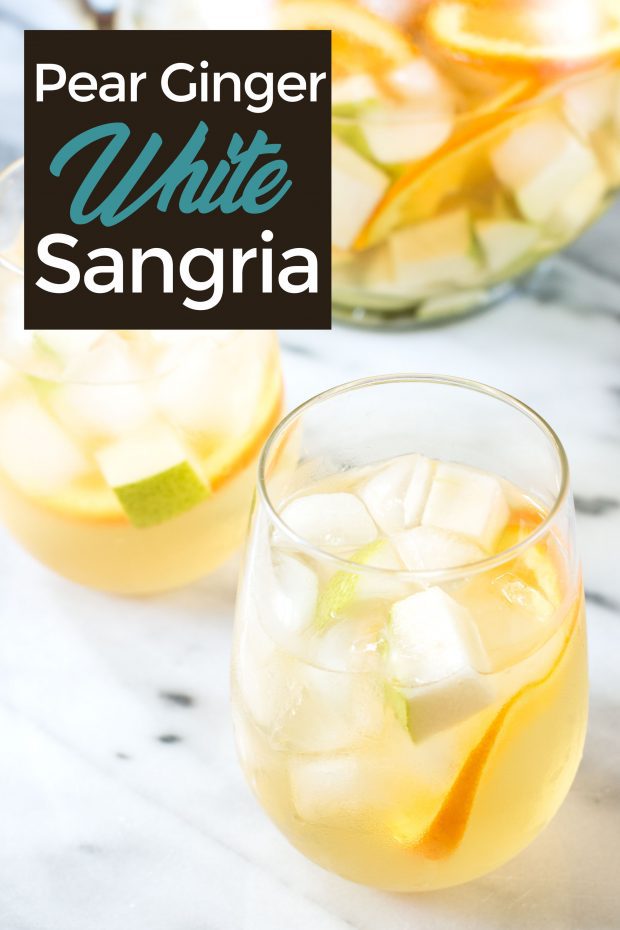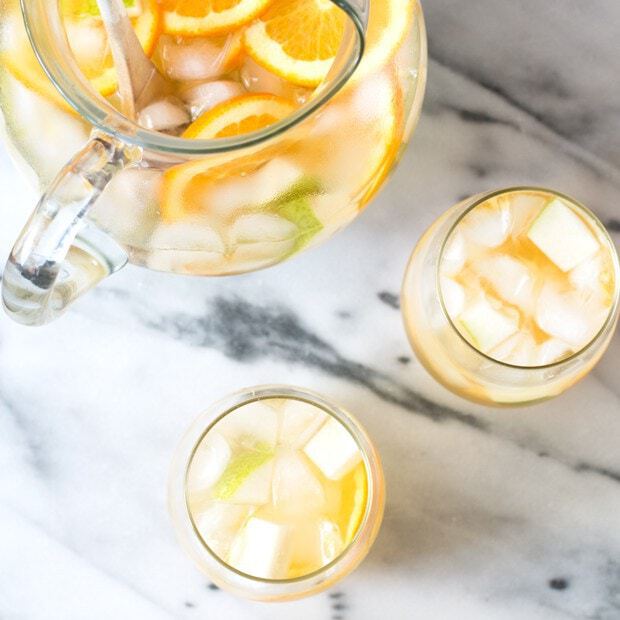 Pear Ginger White Sangria
Total Time:
2 hours
5 minutes
Pears, ginger and oranges make this white sangria bright and fruity, without being too sweet.
Ingredients
1 (750ml) bottle of your favorite Riesling
3 pears, cut into 1-inch cubes
1 orange, cut into rounds
1 2-inch long piece of ginger, peeled and thinly sliced
1/2 cup ginger brandy
Instructions
Combine ingredients in a large pitcher and stir.
Refrigerate until ready to serve, at least 2 hours (remember the longer it sits, the better it tastes).
Fill the pitcher the rest of the way with ice when ready to serve.
Recommended Products
As an Amazon Associate and member of other affiliate programs, I earn from qualifying purchases.