July Daring Baker's Challenge – Cheddar, Rosemary, and Walnut Icebox Crackers
This month's Daring Baker's challenge was a revelation for me. I mean, really, who thinks about making your own crackers? Buying them is a hell of a lot easier isn't it?
You would think it would take time to make these crackers, and to be honest, it does. The thing it doesn't require is effort. (Wonder of wonders, miracle of miracles!) Literally all you have to do is stick all the ingredients in a mixer. Then you mix them together. Then you freeze the dough for a bit. Then you cut the dough and bake the crackers.
THAT'S IT.
Wtf, right?!
After this experience I am never buying crackers again.
Why would you when you can make your own cheesy herb crackers for half the price of those expensive fancy crackers?
By the way, I have discovered the BEST way to eat these crackers. With a huge slice of mozzarella (yes, you do need more cheese on these already cheesy crackers) and grilled tomatoes soaked in olive oil (these are even better than sun-dried tomatoes if you can believe it). Foodgasm, anyone?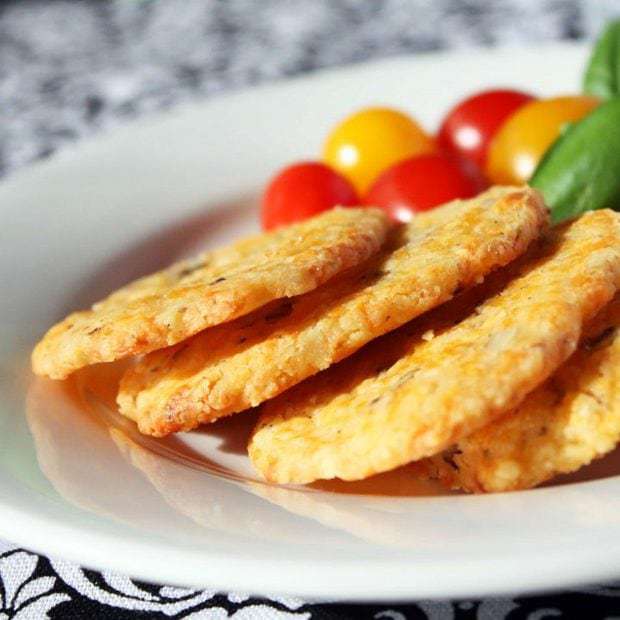 Cheddar, Rosemary, and Walnut Icebox Crackers
Yield: 1 dozen crackers
Prep Time: 10 minutes
Cook Time: 10 minutes
Additional Time: 1 hour
Total Time: 1 hour 20 minutes
Ingredients
1/2 cup butter, well softened
2 1/4 cups grated cheddar cheese
1 cup plus 3 Tbsp all-purpose flour
1 tsp salt
1/2 cup finely chopped walnuts
1 Tbsp finely chopped rosemary
Instructions
Combine butter, rosemary, and cheese in a stand mixer and beat well (can also be done by hand). Add the flour, salt, and nuts and stir to combine.
Form the dough into two tight logs and wrap with cling film. Chill for at least an hour and up to several days. The log can be frozen at this point for several months.
Heat the oven to 325 degrees. Slice a log into 5mm (1/5 inch) coins and place on a parchment lined baking sheet. Bake about 10 minutes until golden brown.
Store in an airtight container and eat within three days (if you can make them last that long).