Loaded Mashed Potato Egg Rolls are the best way to get your baked potato fix, but in a totally delicious new way! All your favorite loaded baked potato flavors are wrapped up inside an egg roll, fried golden brown and served up with an epic beer cheddar cheese sauce. All I can say is, you're welcome. 😉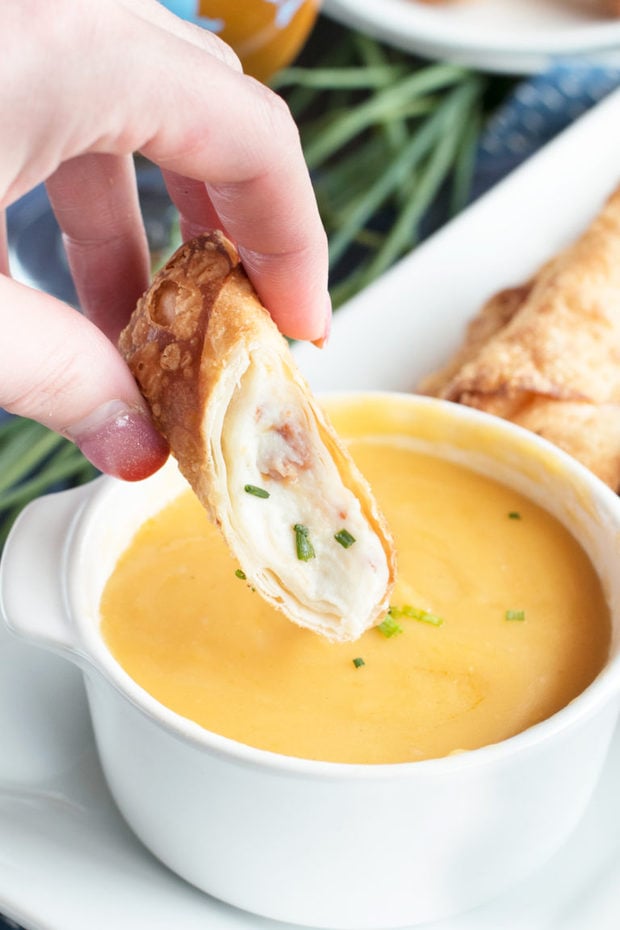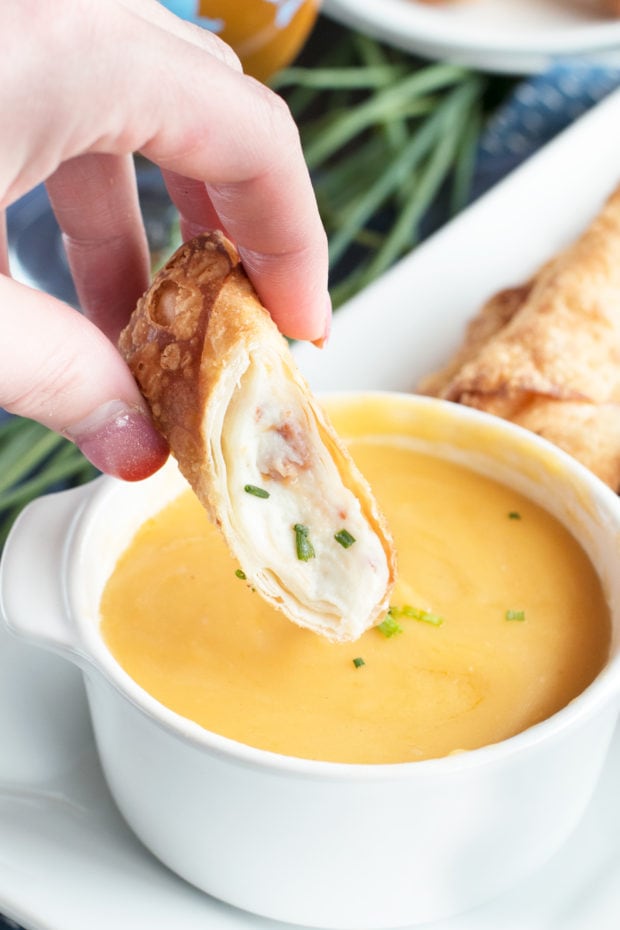 Please note that some of the links below are affiliate links. If you make a purchase through one of these links, I will receive a small commission.
Things I don't have patience for usually include waiting for a baked potato to finish baking in the oven.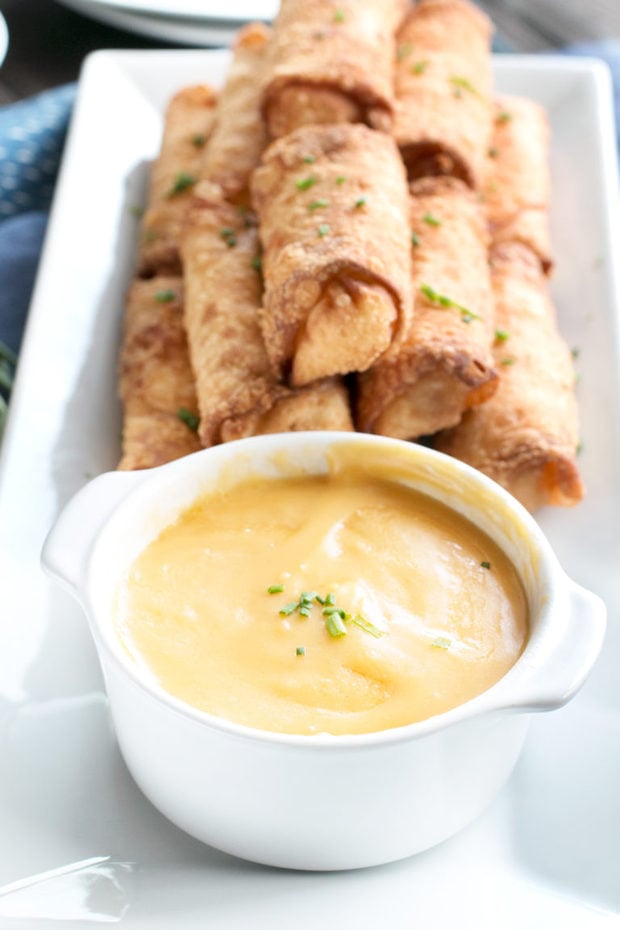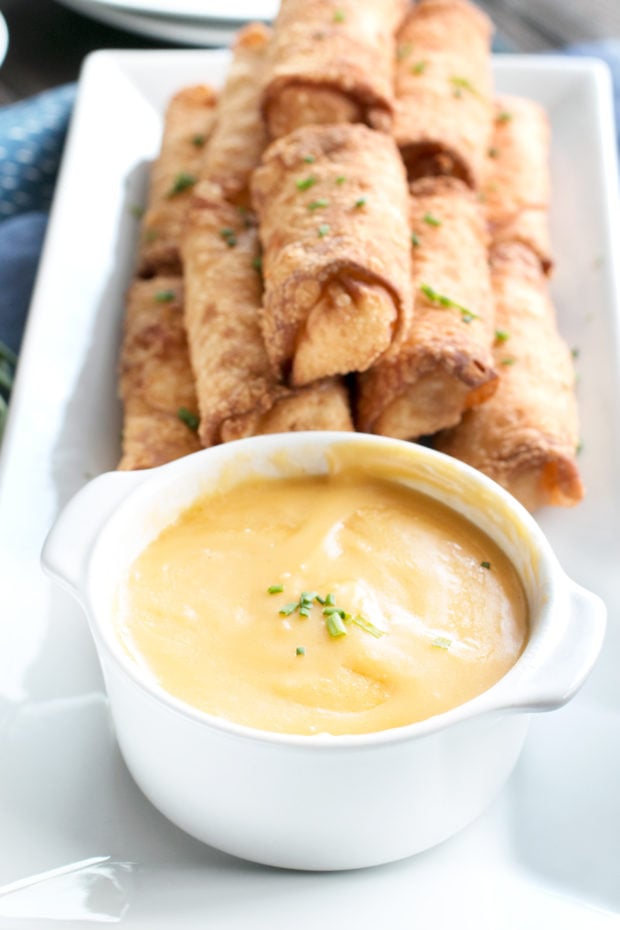 Why on earth do those things take so long?? I mean, it's a potato, not a pot roast…
ANYWAY, my patience issues aside, who else out there loves a delicious loaded baked potato?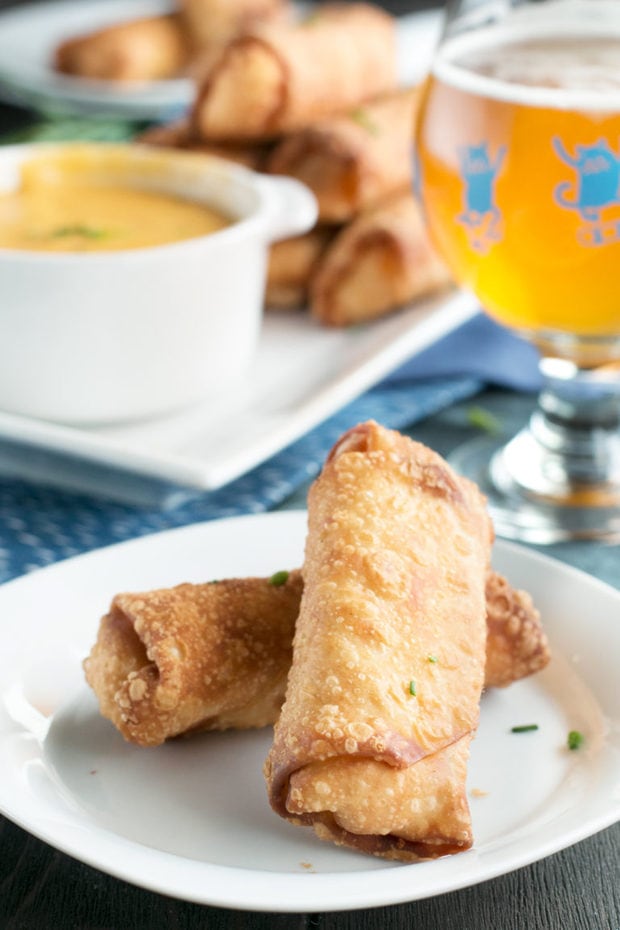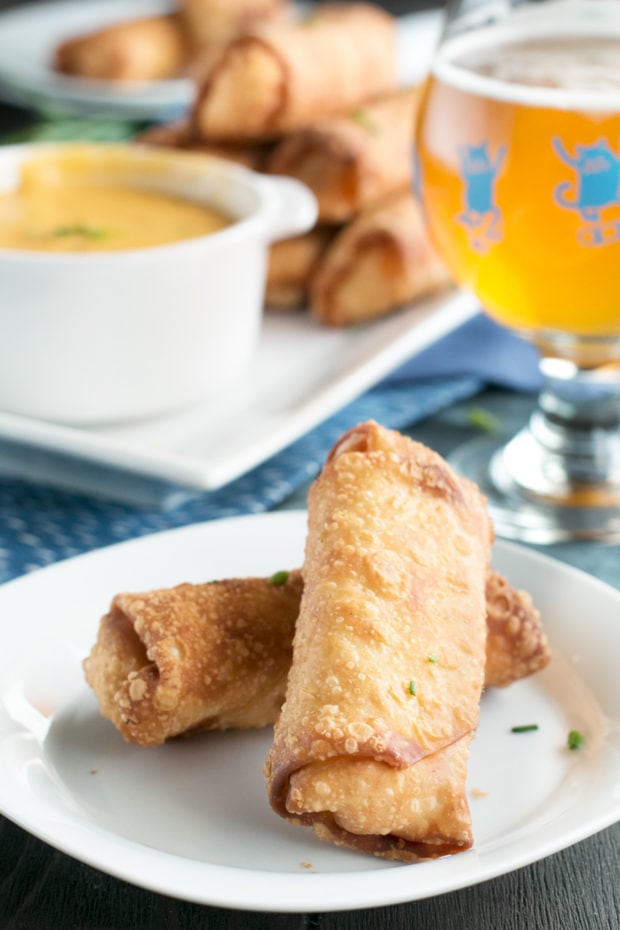 You know, the ones topped with ample amounts of cheddar cheese, chives, bacon and sour cream…
Obviously you love them, I mean you'd be insane if you didn't.
The only thing that I wish I had more of when it comes to the traditional loaded baked potato is more of the salty crispy skin.
Texture is a major part of any recipe, and once you get through the skin of the baked potato, you are kind of left with a lot of mush.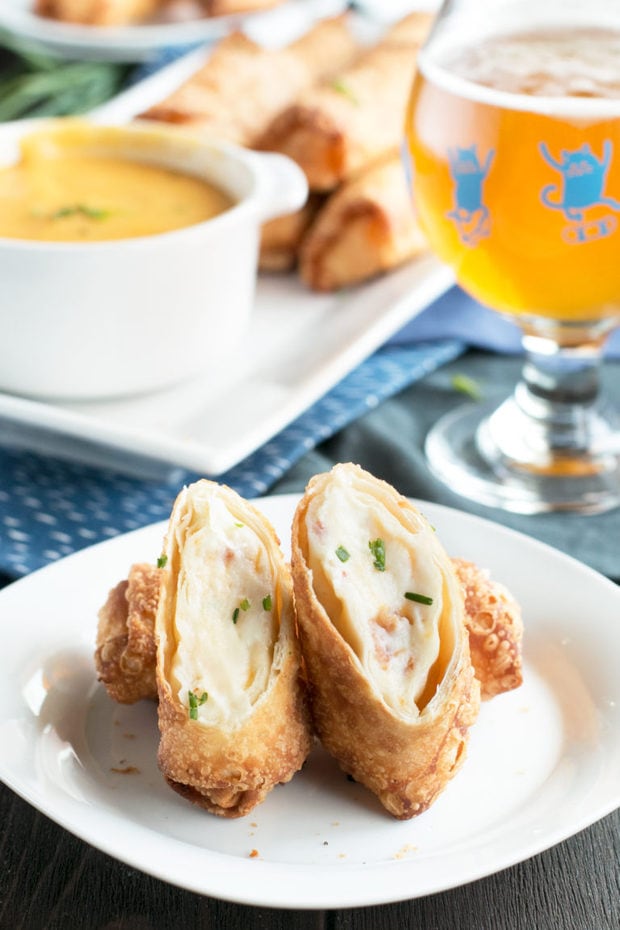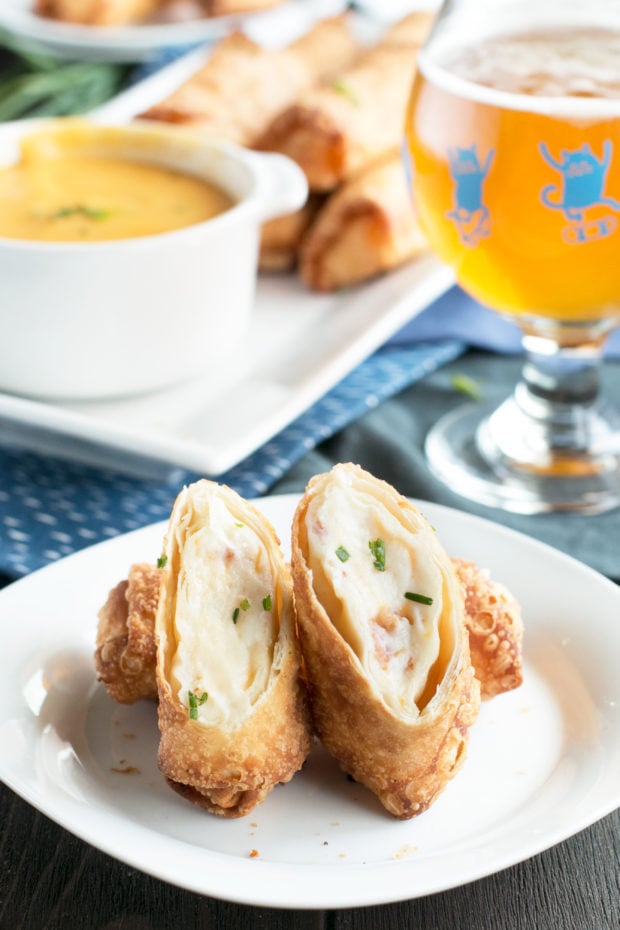 Yes, it's delicious mushy goodness, but nonetheless, I want more crispiness in there.
SO let's go ahead and roll up all those flavors inside a golden fried egg roll wrapper, shall we?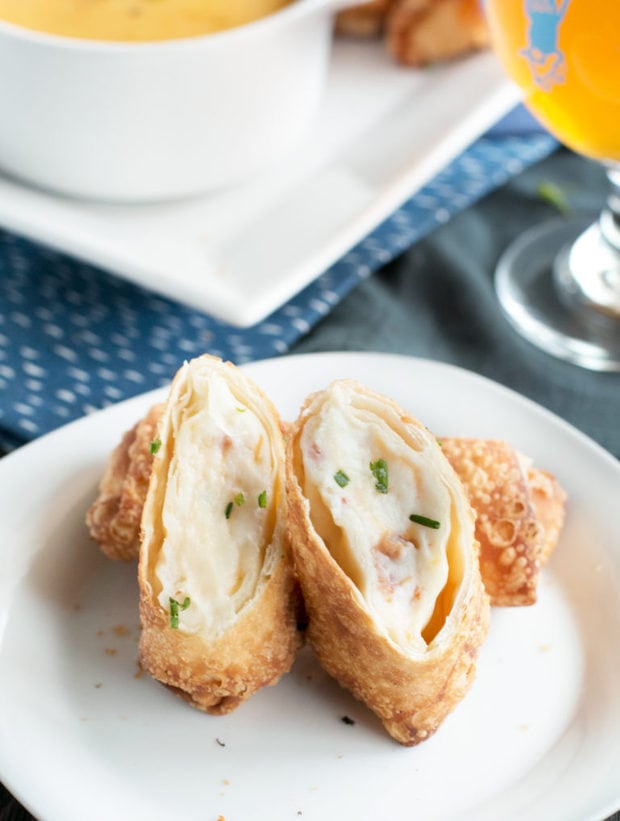 YES. WE. SHALL.
These loaded mashed potato egg rolls are the bomb diggity dot COM. With loads of mashed potatoes, cheese, sour cream, bacon and chives, you will never be able to enjoy a plain ol' baked potato the same way again. Especially when you gobble these up with beer cheddar cheese sauce…
I mean, COME ON.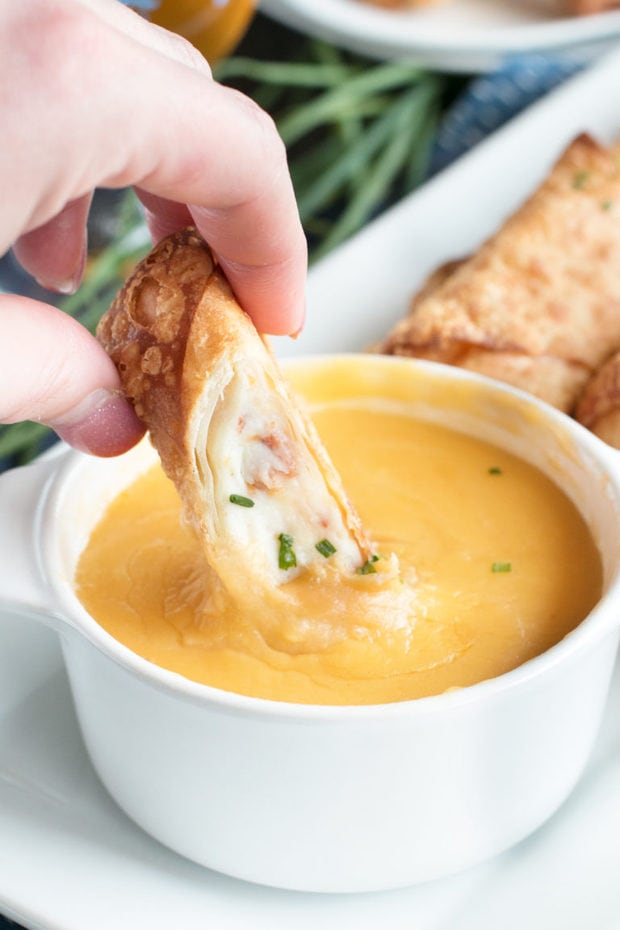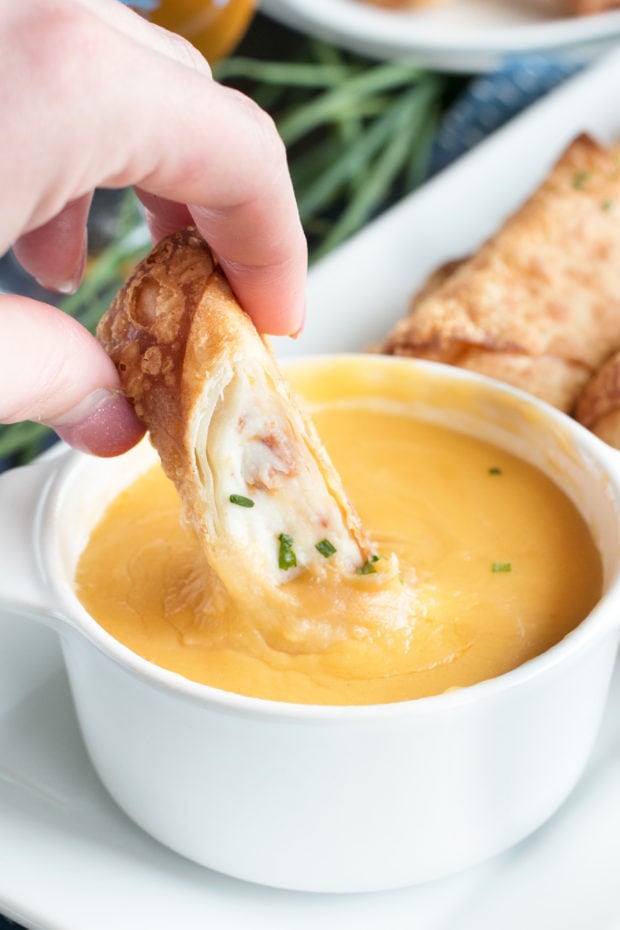 I love serving these up for game day (ahem, we all know what big game is coming up just around the corner, don't we?), but also for party appetizers or even as a fun side dish for some grilled chicken or steak.
You only live once, so you might as well have a little bit of fun with your food!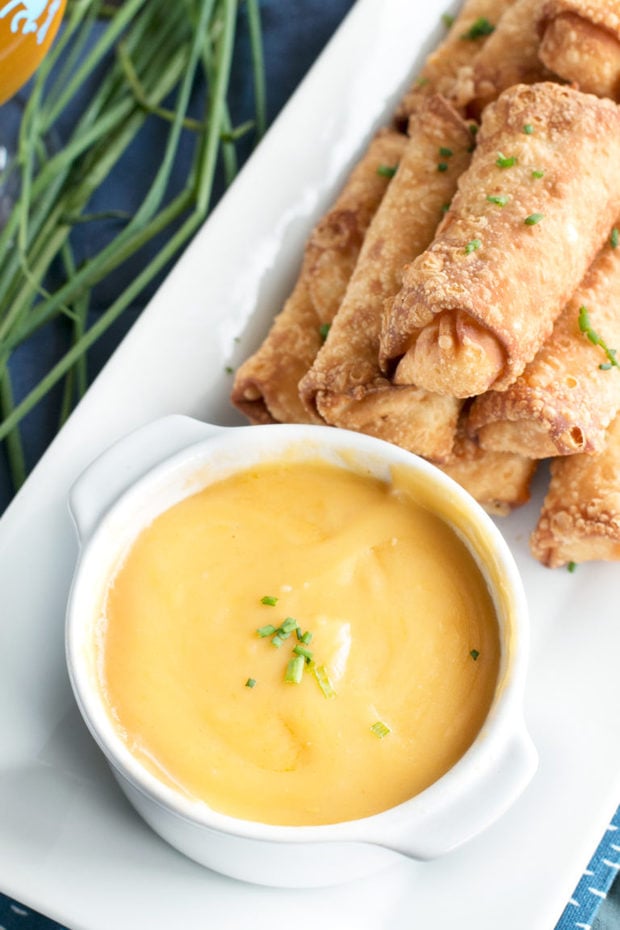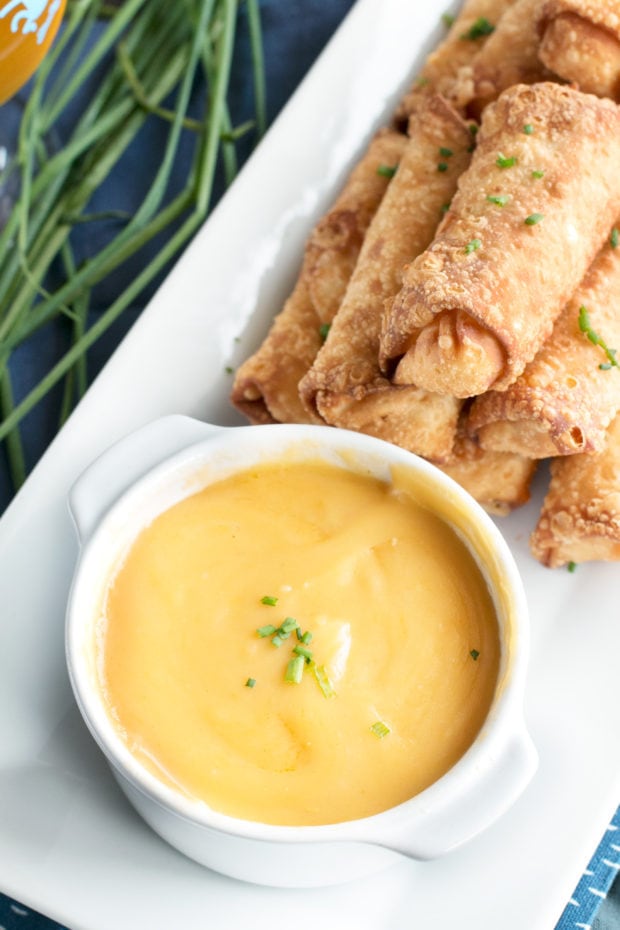 All that's left to do is *nom nom nom*!
This Recipe's Must Haves
Pin this Loaded Mashed Potato Egg Rolls recipe for later!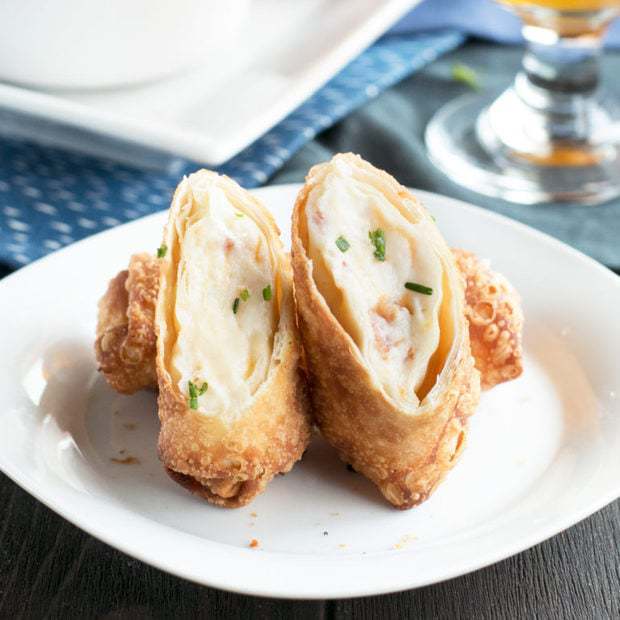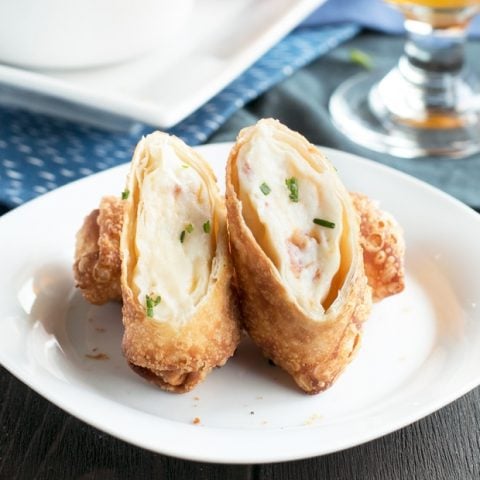 Loaded Mashed Potato Egg Rolls
Forget waiting for a baked potato! All the loaded baked potato goodness you love is rolled up and fried in these deliciously warm egg rolls!
Ingredients
Egg Rolls
3 cups mashed potatoes
1/3 cup sour cream
2/3 cup shredded cheddar cheese
1/2 tsp garlic powder
1 tsp freshly chopped chives
4 slices bacon, cooked crispy and chopped
Salt & pepper
1/4 cup cold water
1 Tbsp cornstarch
14 egg roll wrappers
Canola oil, for frying
Beer Cheddar Sauce
2 Tbsp flour
2 Tbsp butter
2 garlic cloves, minced
1/2 cup milk
3/4 cup pale ale
12 oz sharp cheddar, freshly grated
1/3 cup sour cream
Salt & pepper
Instructions
To make the sauce, start by making a roux. Melt the butter over medium heat. Add the flour and cook for 1 minute, stirring constantly. Add garlic and cook approximately 30 seconds. Whisk in the milk and beer. Cook until thickened slightly, approximately 3-5 minutes.
Remove from heat and stir in the freshly grated cheese and sour cream for the sauce. Season with salt and pepper to taste.
To make the filling for the egg rolls, in a large bowl, stir together mashed potatoes, sour cream, shredded cheddar cheese, garlic powder, chives, and bacon until well combined. Season with salt and pepper to taste.
In a small bowl, whisk together water and cornstarch for the egg rolls. Set aside.
To wrap your egg rolls, start with a clean, flat surface. Lay one wrapper so one of the corners is facing you (like a diamond). Dip your fingers in the cornstarch water and spread on each edge of the egg roll wrapper.
In the corner closest to you, spoon 1 1/2 to 2 tablespoons of the mashed potato filling into the center. Lift the bottom corner up and begin to roll away from you, making sure you tuck the corner under as you roll. Once you are halfway up the wrapper, fold in the left side and then the right side towards the center.
Continue rolling away from you until only the final corner is ready to roll. Dip your fingers in the cornstarch and water mixture you made earlier and brush it over the final corner. Finish the roll, brush a little more of the cornstarch mixture along the seam, and place seam-side down. Make sure you roll the egg rolls tightly. If they are too loose, they will fall apart when you fry them. To fry the egg rolls, fill a pot with 4-5 inches of cooking oil. Heat the oil to 350 degrees. Gently add the egg rolls to the hot oil, frying no more than 3 or 4 at a time, turning occasionally. Fry until the egg rolls are golden brown on all sides, approximately 2 minutes. Place on paper towels to drain and cool.
Serve immediately with beer cheddar dipping sauce.