Having a party has never been easier! Summer Crostini 3 Ways is the ultimate appetizer to bring to the get together. From fruity to savory, you get all the summery flavors in every bite of these three different crostini.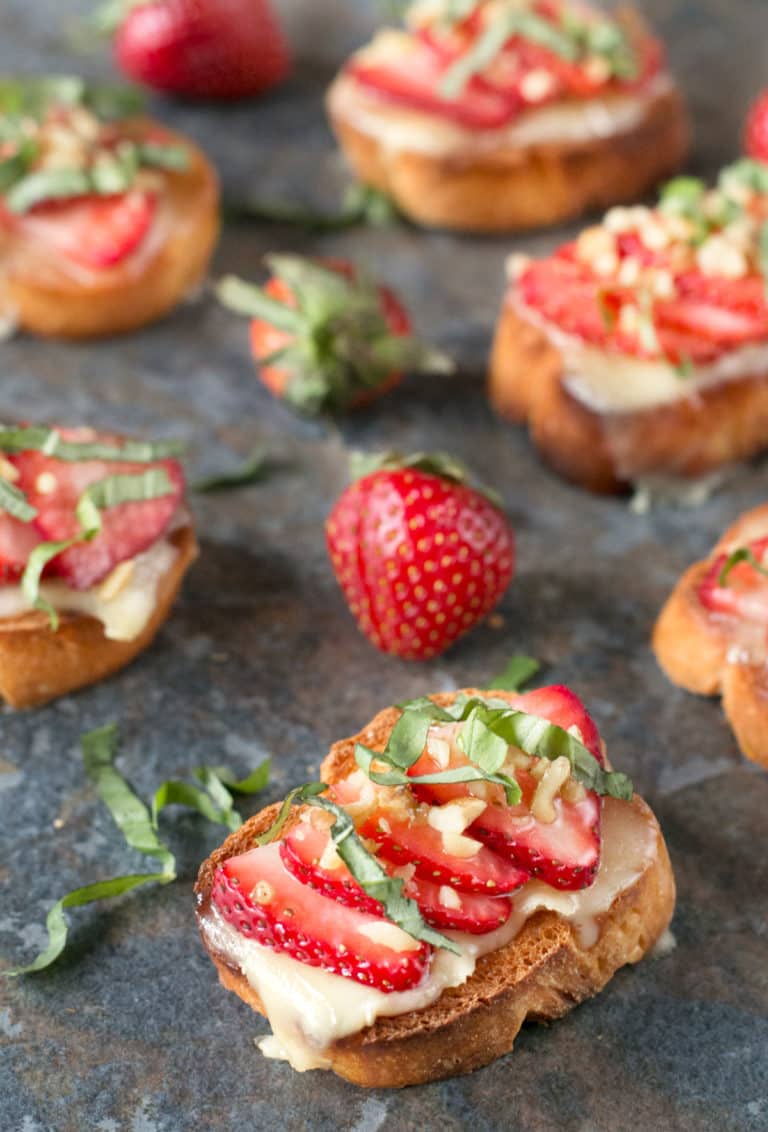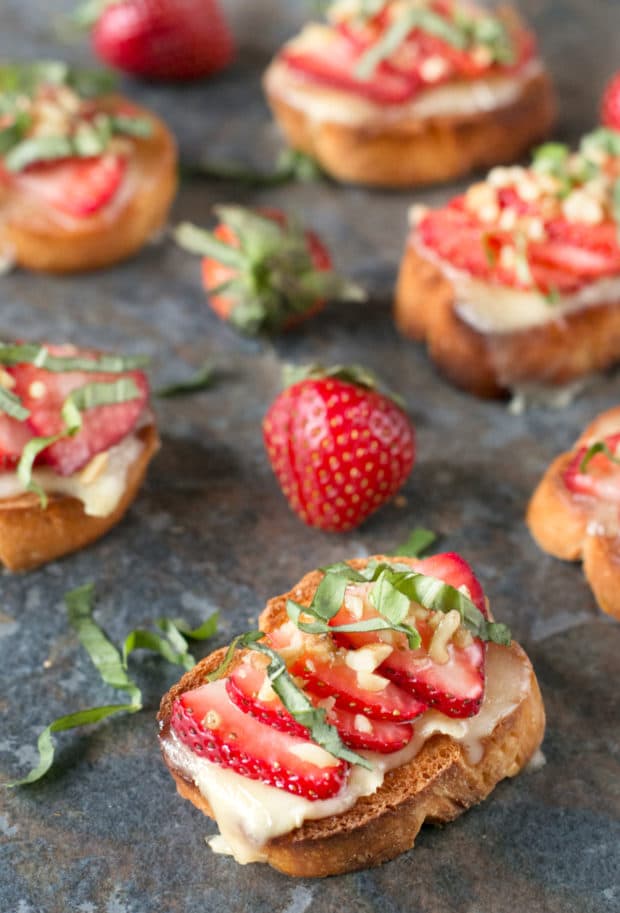 Disclosure: This post is sponsored by KitchenAid®. As always, all opinions and the recipe are my own. Thanks for supporting the brands that support Cake 'n Knife!
So I know I talked a LOT about how excited I am that summer is here but….. I am dying in my office. Being upstairs, in a home where apparently the A/C doesn't actually circulate to the top level, it's been a rough start to the summer. I love to sit out in the heat, soak up some sun (read: hide in the shade watching others tan on my behalf), but when I am trying to focus on work, being this hot is tough.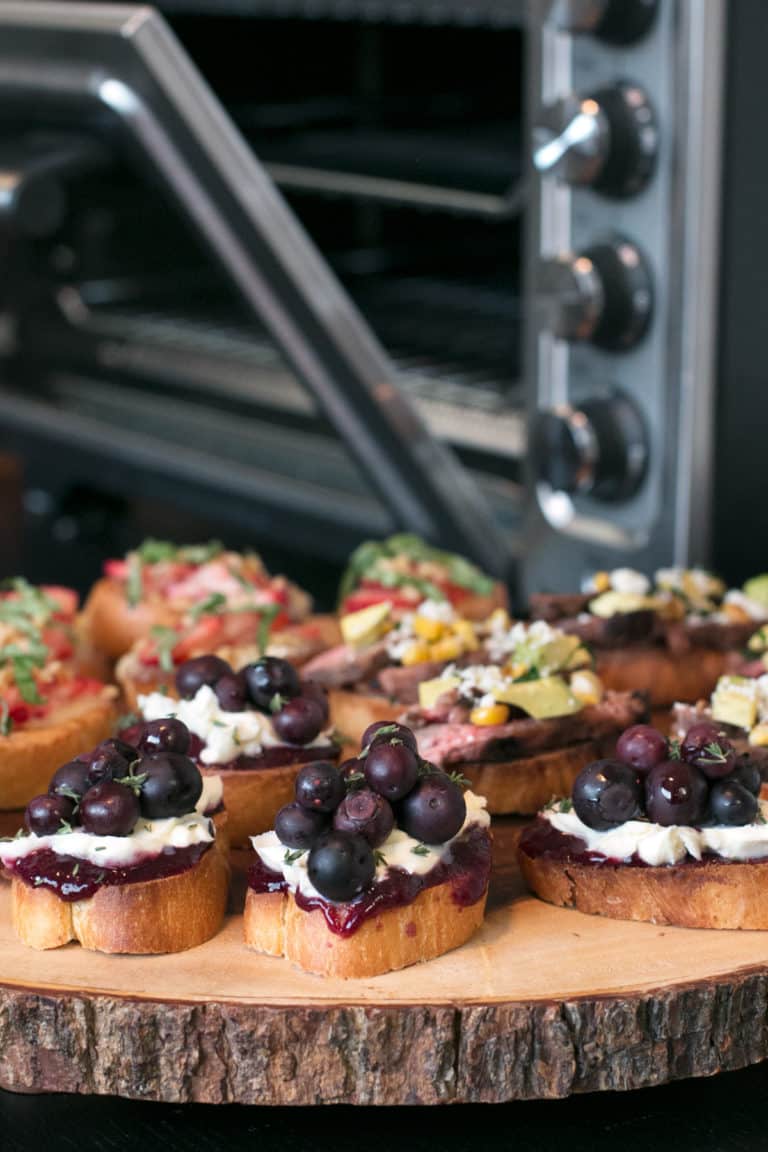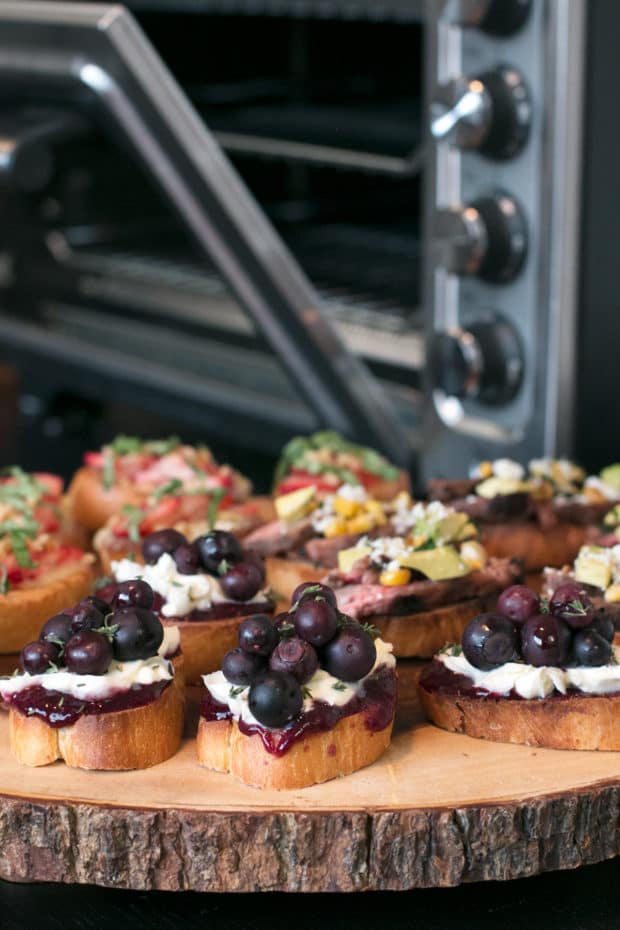 The only way I know how to cope with this kind of heat is to create all the summery snacks I can, without turning on the oven.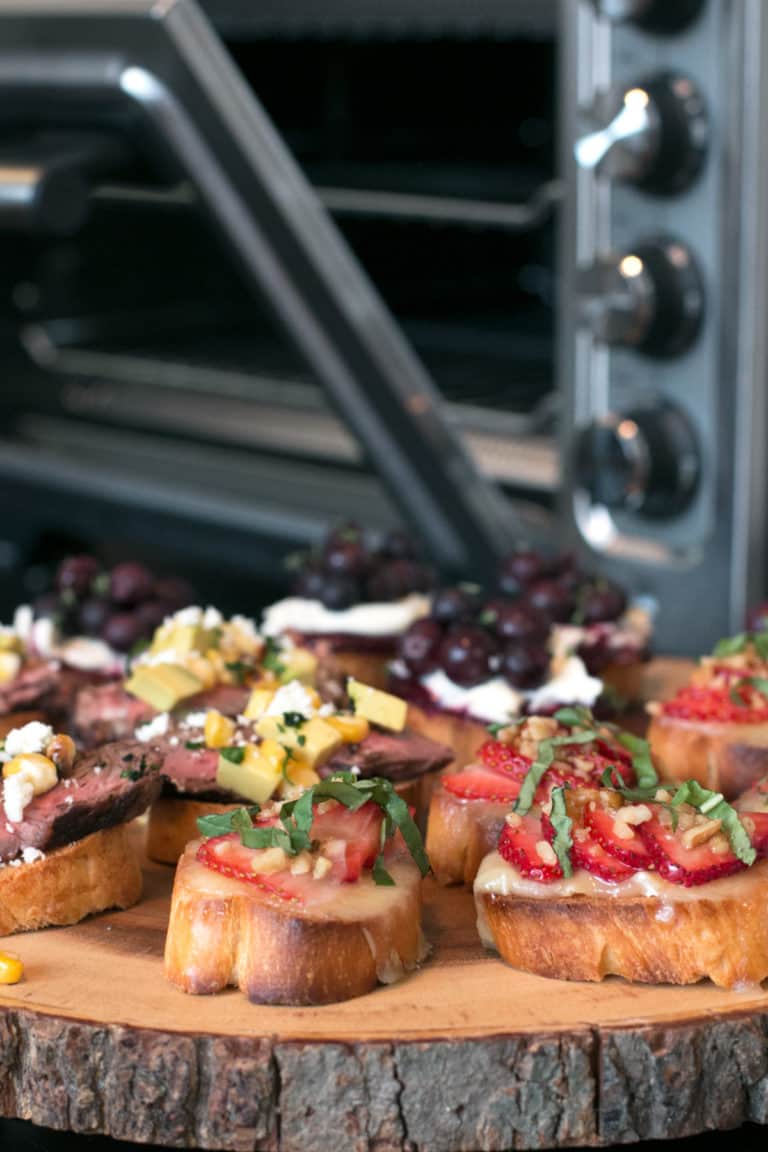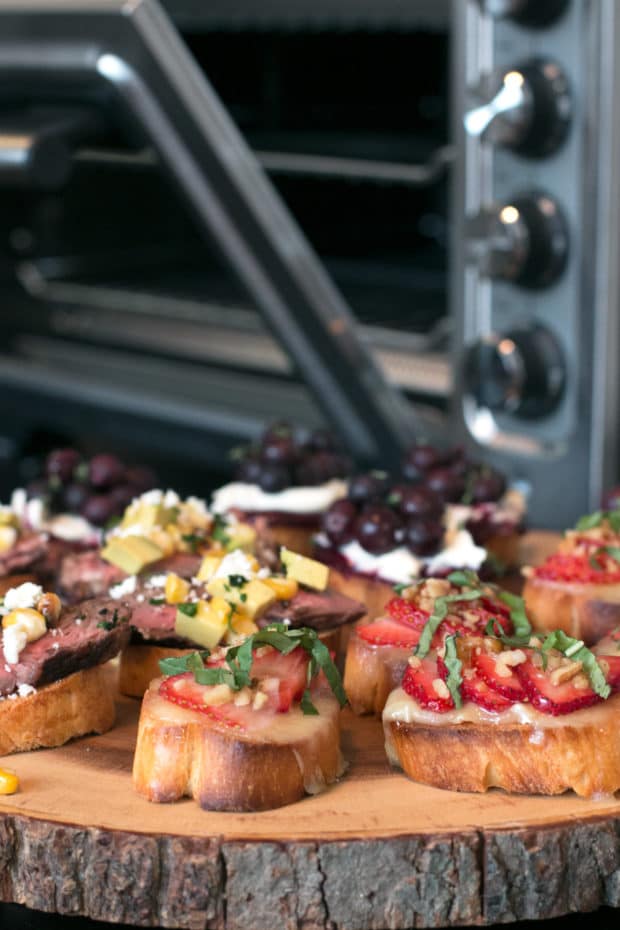 Please note that some of the links below are affiliate links. If you make a purchase through one of these links, I will receive a small commission. Thank you for supporting Cake 'n Knife!
Say helllooooooo to my little friend! The KitchenAid® Compact Oven has become my new best friend already this month. Instead of turning on my oven and adding extra heat to the house, I am churning out appetizer after meal after appetizer in this little oven.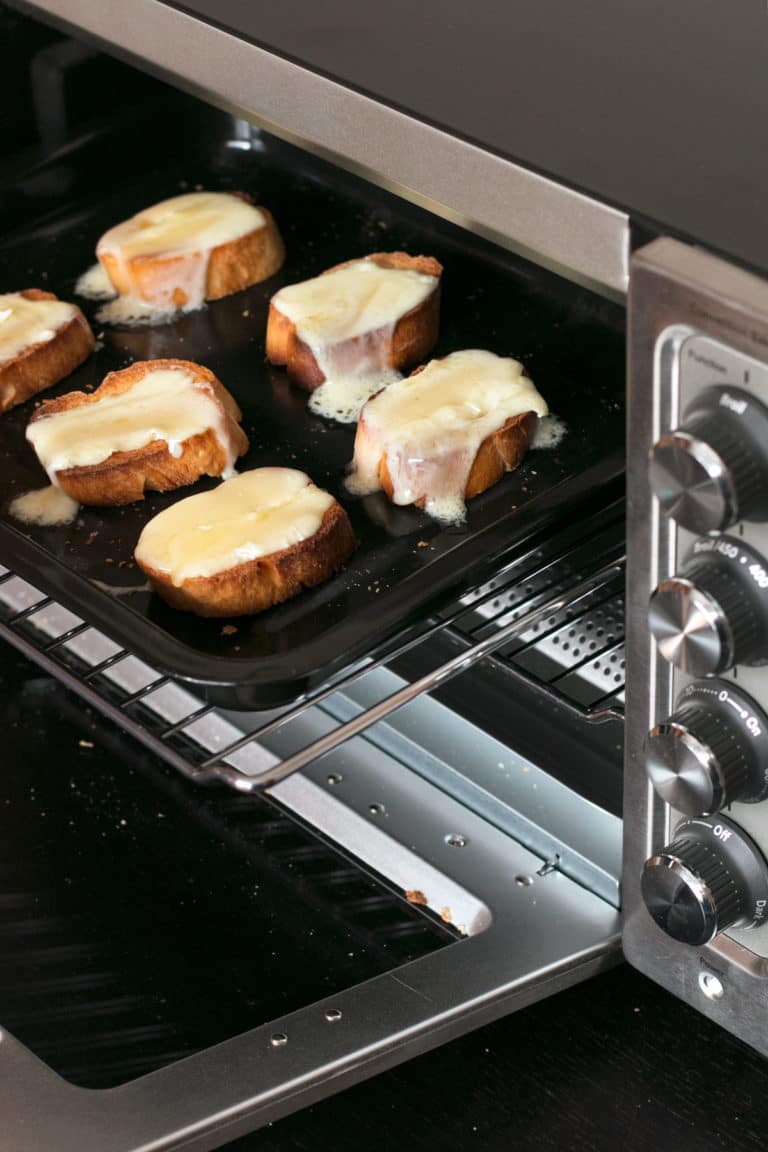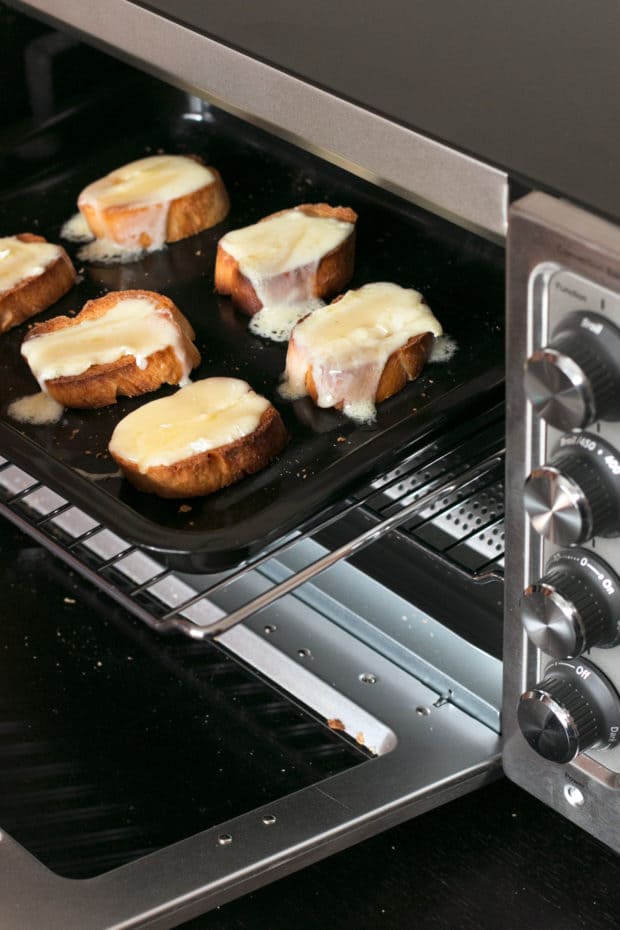 First off, it's the perfect size to sneak right under my cupboards on the countertop. Second, it heats up SO quick and doesn't emanate heat like my big oven always does. Third, I can rely on it making the most perfect toasted bread slices EVER. Seriously, if you've ever had a small oven like this, you know that you have to toast the bread on one side and flip it to get the other side brown. Not so in this oven! There are heating elements on the top AND bottom, so you get the golden crispiness on both sides when the bread hits the cute little oven racks.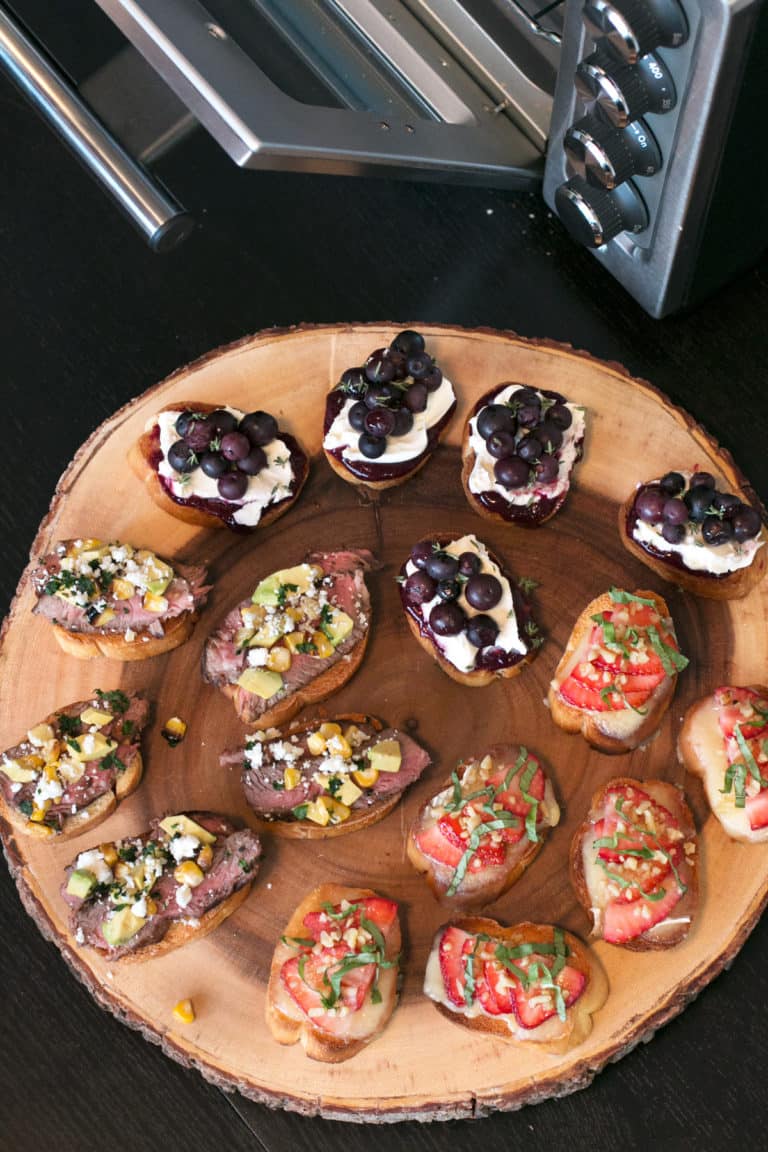 With all the features this KitchenAid® oven boasts, it's hard to only make one type of crostini. So I made three! I mean, with all the amazing ingredients the summer gives us, I had to maximize the deliciousness. First up is the Strawberry Brie Basil Crostini with a drizzle of honey and sprinkle of chopped walnuts. It's fruity and savory, with a fresh hit of herbs!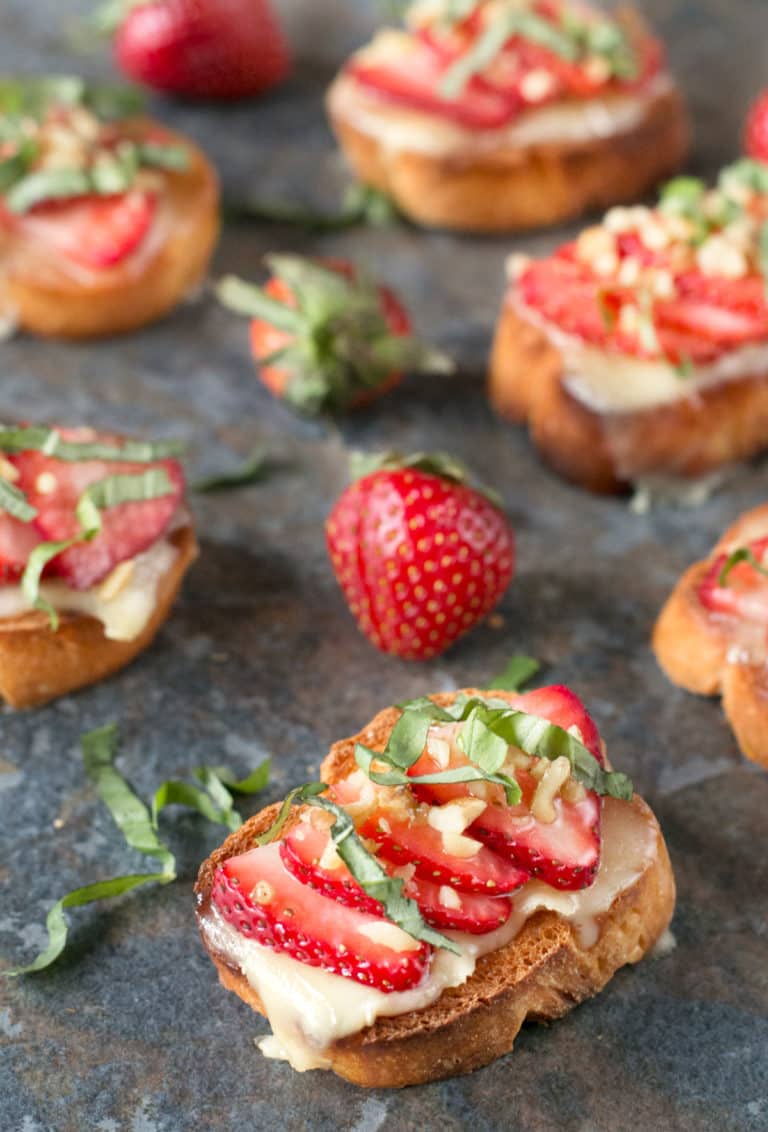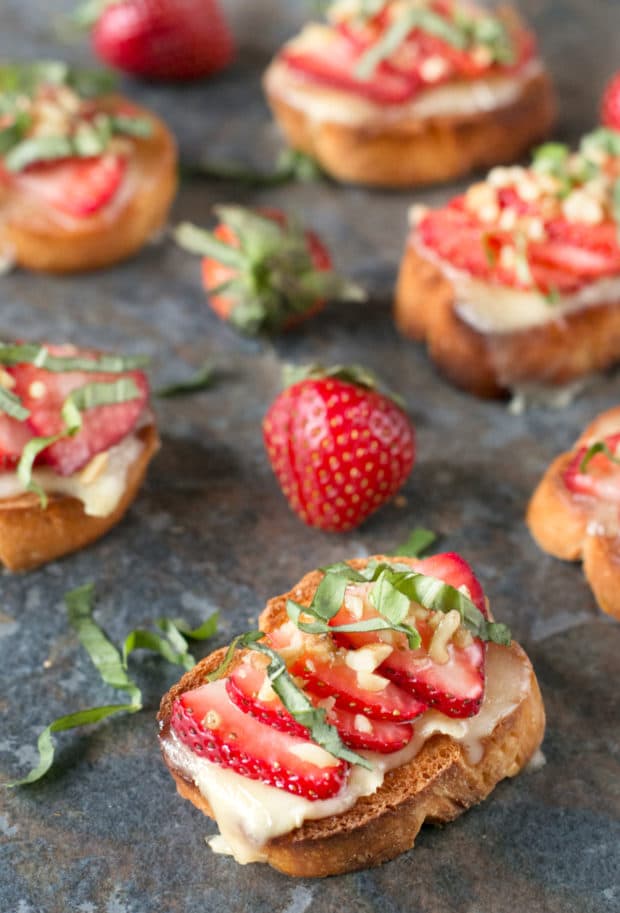 Second up is the Grilled Steak & Corn Crostini with cojita cheese, cilantro and chopped avocado. What's summer without grilling, am I right?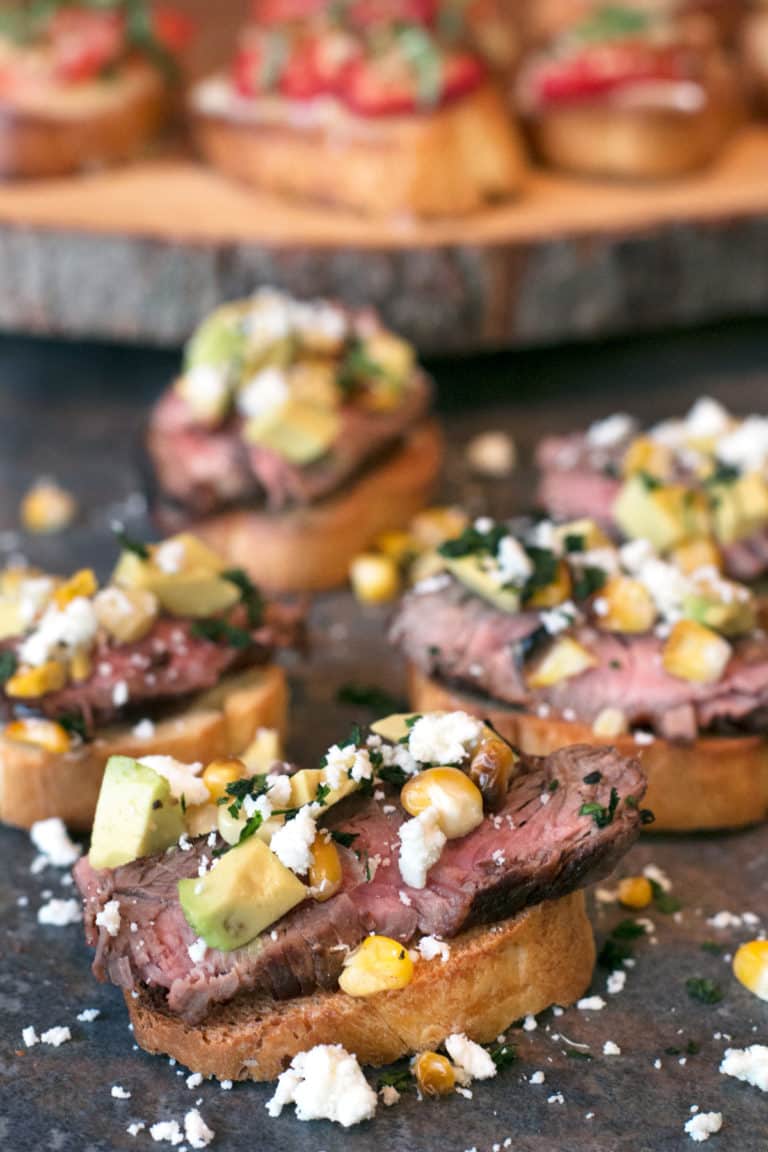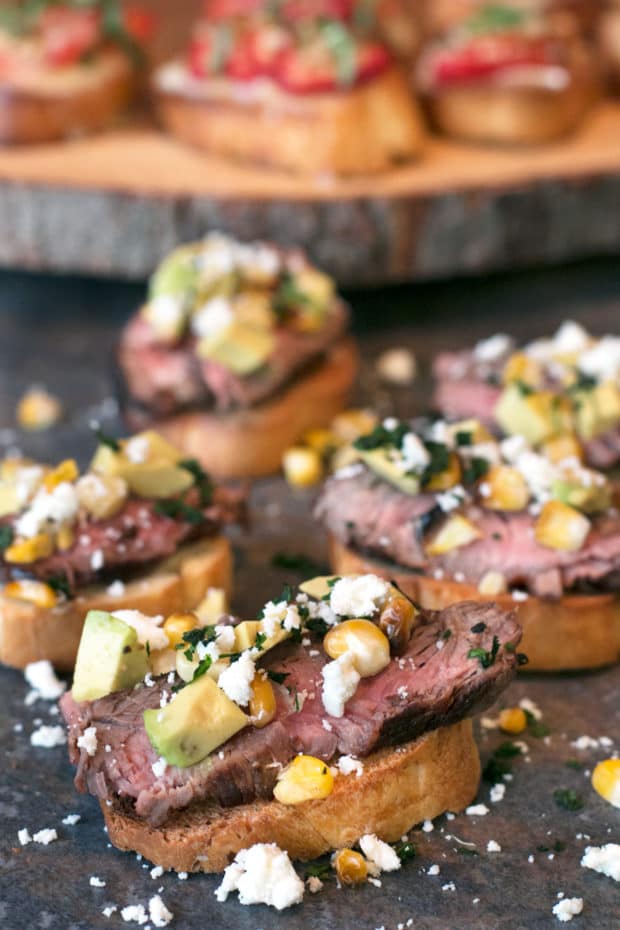 Finally we've got the Roasted Blueberry Thyme Crostini with a homemade roasted blueberry thyme jam, mascarpone, and even more roasted berries on top.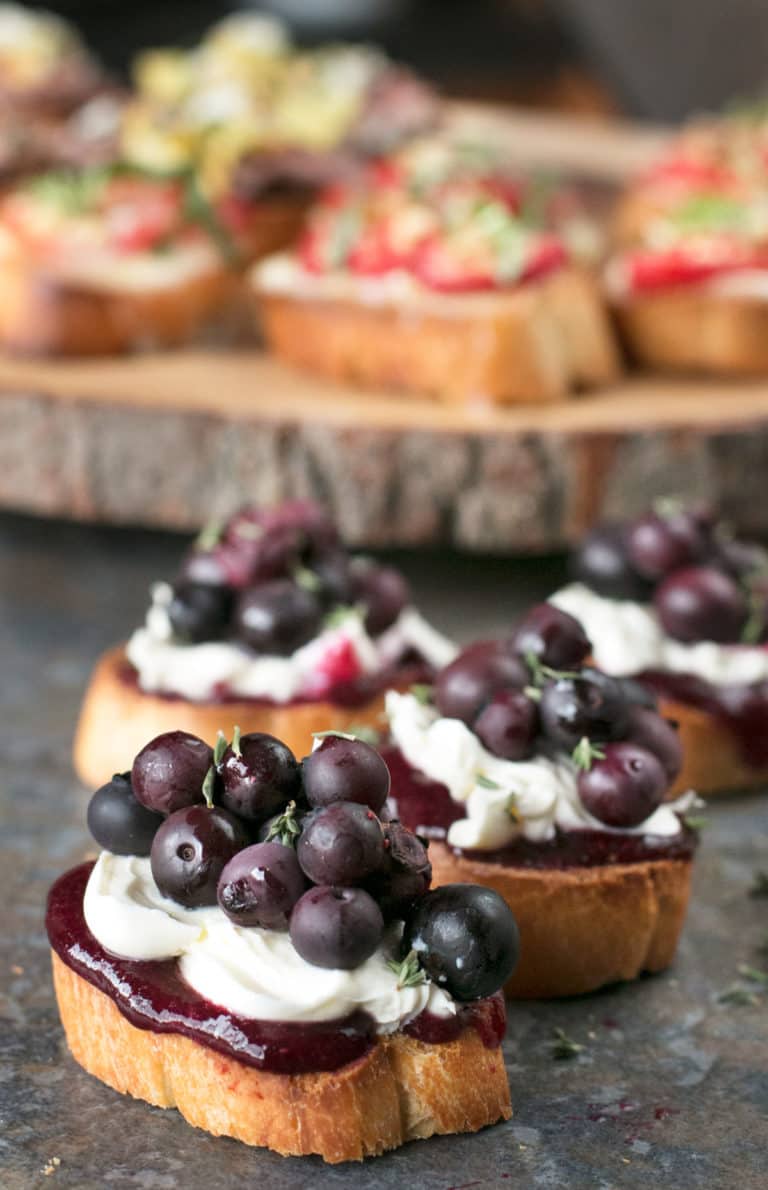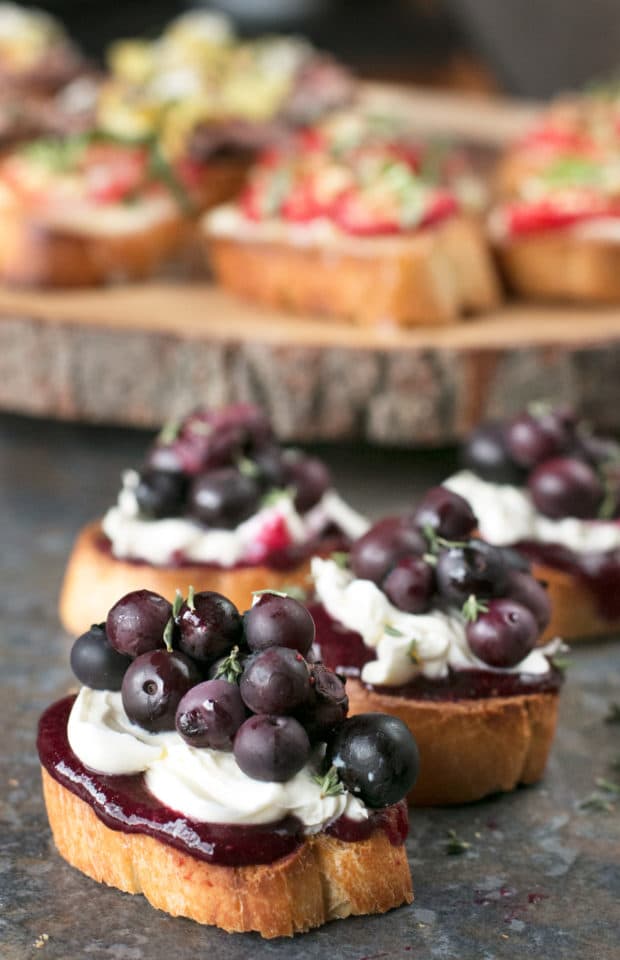 Are you drooling yet?
This Recipes Must-Haves
Pin these Summer Crostini 3 Ways recipes for later!

Summer Crostini 3 Ways
Capture all the best flavors of summer in these three simple crostini! From fruit to tart, savory to sweet, these three crostini ideas will make your next party a W-I-N.
Ingredients
Strawberry Brie Basil Crostini
6 oz brie, sliced
1 cup sliced strawberries
1/3 cup chopped walnuts
2 Tbsp chopped basil
Honey
Blueberry Thyme Mascarpone Crostini
2 cups blueberries
1/2 tsp fresh thyme leaves, chopped + more for garnish
5 oz mascarpone
Grilled Steak, Corn & Avocado Crostini
8 oz sirloin steak, cooked and thinly sliced
1 corn on the cob, husked, cleaned and grilled
1/3 cup cojita cheese, crumbled
1 avocado, peeled and pitted
Freshly chopped cilantro
Instructions
Toast bread slices in the KitchenAid Countertop Oven, setting the toast settings to Medium.
For Strawberry Brie Basil Crostini
Top one-third of the toasted bread slices with sliced brie, dividing it evenly between the bread slices. Place on roasting pan and melt cheese under the broil setting for 3 to 4 minutes, or until the brie is melted.
Remove from countertop oven. Top slices with sliced strawberries, sprinkle with chopped walnuts and basil, and drizzle with honey.
Serve.
For Blueberry Thyme Mascarpone Crostini
Add blueberries to a clean roasting pan and broil for 7 to 9 minutes. Remove from countertop oven.
Smash up one cup of roasted blueberry with a fork. Stir in 1/2 tsp fresh thyme leaves.
Top one-third of the toasted bread slices with a thin layer of the blueberry thyme mixture.
Spread each slice with mascarpone and then roasted blueberries. Sprinkle with fresh thyme.
Serve.
For Grilled Steak, Corn & Avocado Crostini
Remove grilled corn from the corn cob.
Top final third of the toasted bread slices with steak.
Sprinkle with corn kernels, chopped avocado, and crumbled cojita cheese. Finish with a sprinkle of fresh cilantro.
Serve.