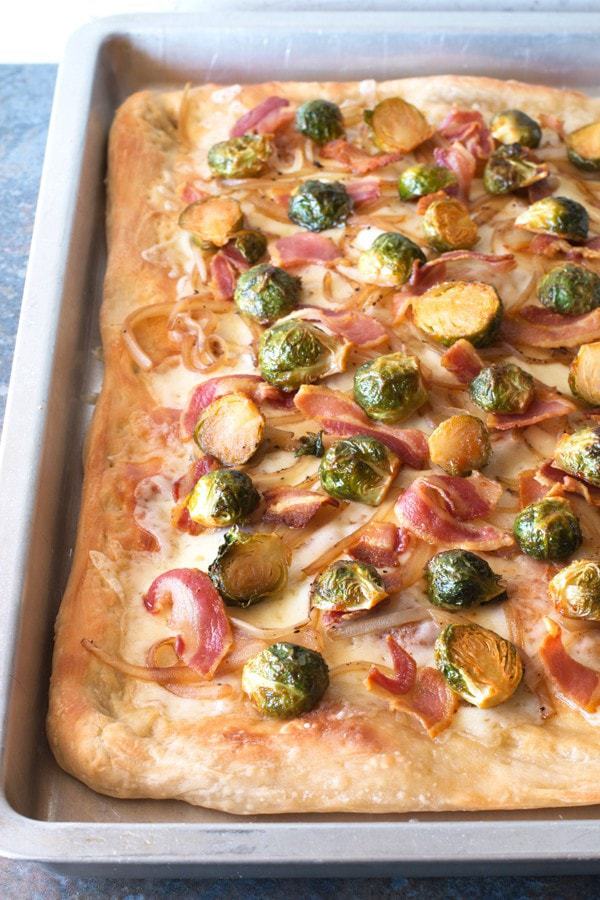 Ok everyone, this is now officially the best way to eat Brussels sprouts. Ever.
A couple of weeks ago I went to a preview of the brand new D Bar restaurant here in Denver. All of the food was incredible, but there were these crispy Brussels sprouts with bacon that completely blew all the other bites out of the water that night. The one thing I kept thinking was, the only way these could be any better is if they were all over a crispy flatbread.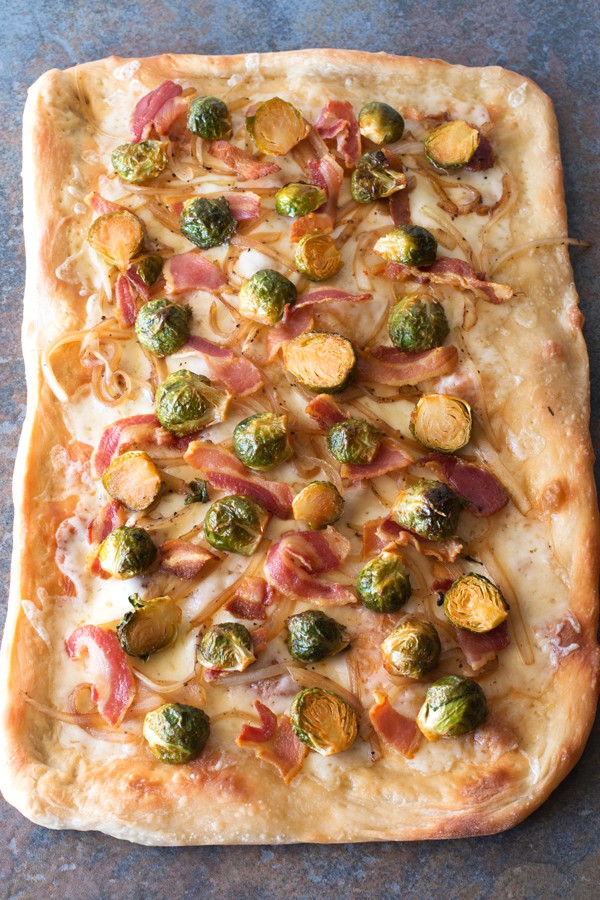 I seriously have not stopped thinking about those Brussels sprouts ever since, so I had to figure out my own version to get my D Bar fix at home.
This flatbread is everything I dreamed it could be. Not only are you getting those crispy Brussels sprouts I fell in love with, you get them on a crispy flatbread with gooey fontina cheese, caramelized onions, and the best sauce I've ever made in my life.
The honey Sriracha sauce is what kicks this entire meal up a notch. The sweet, spicy, and tangy flavors dance on your tongue, making your mouth water for the next bite before you've even finished the first.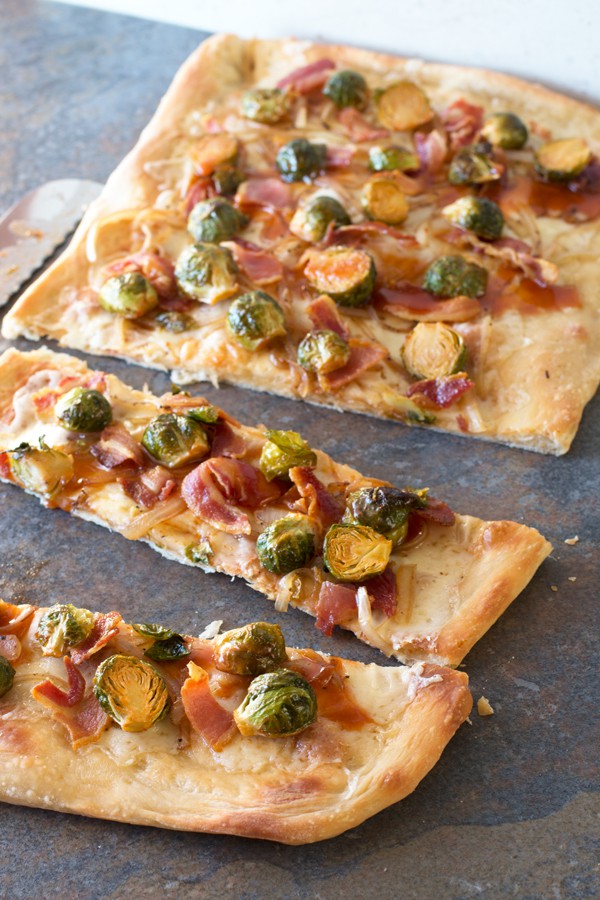 Hungry yet? 😉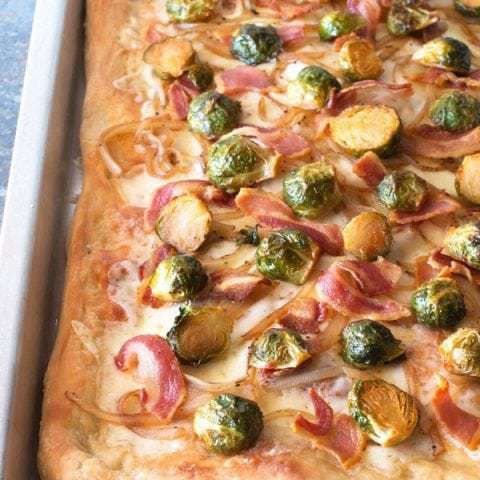 Crispy Brussel Sprout & Pancetta Flatbread
Total Time:
1 hour
10 minutes
Crispy Brussels sprouts, pancetta, caramelized onions, and fontina cheese top this flatbread that is sure to become a weekly favorite!
Ingredients
1 lb pizza dough (homemade or store-bought)
1 lb small Brussels sprouts, washed, trimmed and halved
6 thick-cut slices pancetta, cut into long strips and cooked until crisp
1 onion, cut into thin strips
7 oz fontina cheese, freshly grated
Salt & pepper
Honey Sriracha Sauce
1/4 cup Sriracha hot sauce
1/3 cup honey
1 Tbsp soy sauce
1 tsp lime juice
3 Tbsp butter, melted
1/4 tsp salt
Instructions
Preheat oven to 400 degrees.
In a small bowl, whisk together Sriracha, honey, soy sauce, lime juice, melted butter, and salt until combined. Set aside.
Line a rimmed baking sheet with aluminum foil. Add the halved Brussels sprouts and drizzle 1/4 cup of the honey Sriracha sauce. Use your hands to make sure all the Brussels sprouts are coated with the sauce. Roast in the oven for 20 minutes. Remove from oven and set aside.
While the Brussels sprouts are roasting, heat the sliced onion in a dry small skillet over medium-high heat. Once browned, add approximately 2 to 3 Tbsp of water to the pan and continue to cook until caramelized. Remove from heat and sprinkle with a pinch of salt and pepper.
Roll out the pizza dough to a 18x13 inch rectangle. Add it to a baking sheet or pizza stone and prick all over with a fork. Place in the oven and bake for approximately 15 minutes, until golden brown and cooked through.
Sprinkle the dough with grated fontina and return to the oven for approximately 5 minutes, until the cheese is melted and bubbly. Top with Brussels sprouts, crisp pancetta, and caramelized onions. Drizzle with additional sauce. Serve immediately.