Cheesy Stuffed Buns
Please note this post contains affiliate links.
If you know me at all you know that I have a severe addiction to bread in all forms.
It's to the point where the people I go to dinner with simply leave the bread basket in front of me at restaurants and order another basket so they can make sure they get at least get one slice with their meal.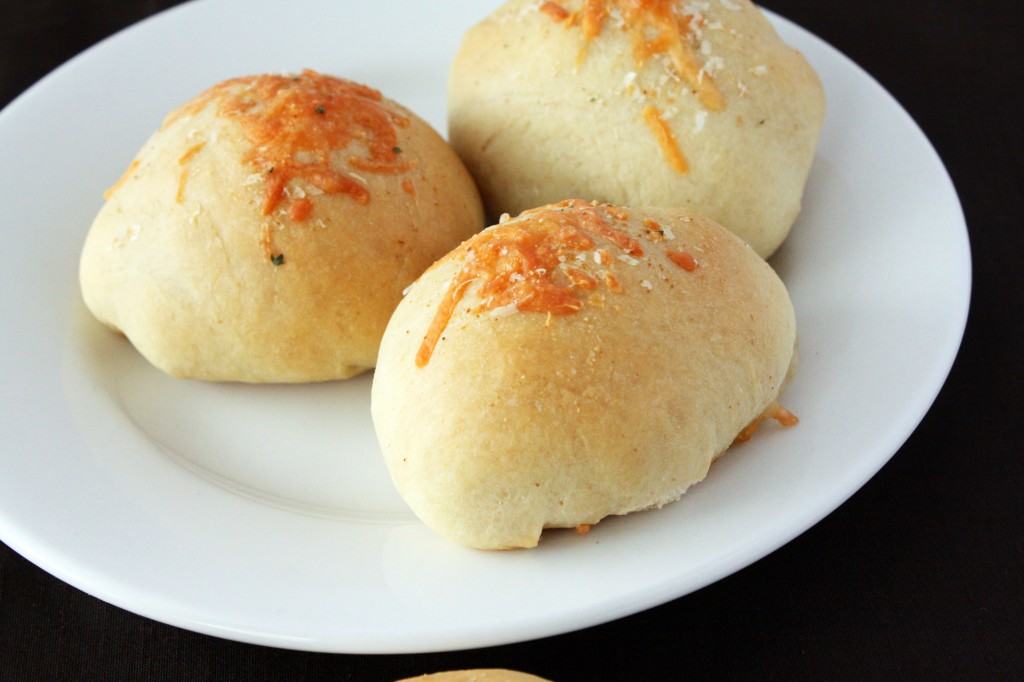 I have tried to wean myself away from bread, but it always fails. I will never be able to do one of those no-carb diets. I am pretty sure I would be huddled in a corner muttering about pasta or bread within the first 8 hours. Or you would simply find me with fistfuls of something loaded with carbs and sugar. Like doughnuts. Either way, it wouldn't be a pretty picture.
Fresh bread right out of the oven is something I can never resist. It makes me think of all those books I read about farms when I was growing up. You know, the ones where they use freshly churned butter and such? It might not have been something I ever experienced in reality, but my vivid child imagination certainly made it feel real.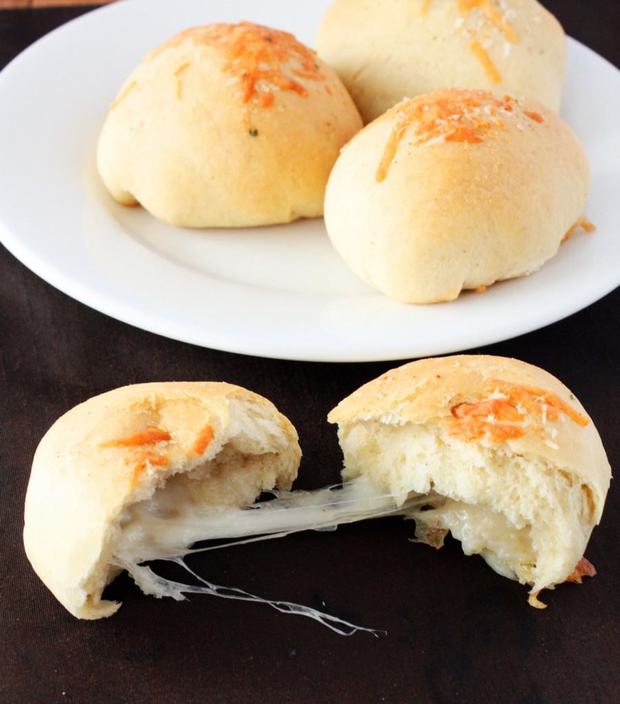 These buns are just like that bread in all those books. Except it's stuffed with cheese. And there's some cheese on top too. Also a bit of a kick from the cayenne. With some extra melted butter on top. Just for good measure.
I give you full permission to stuff your face with these gorgeous lil' things.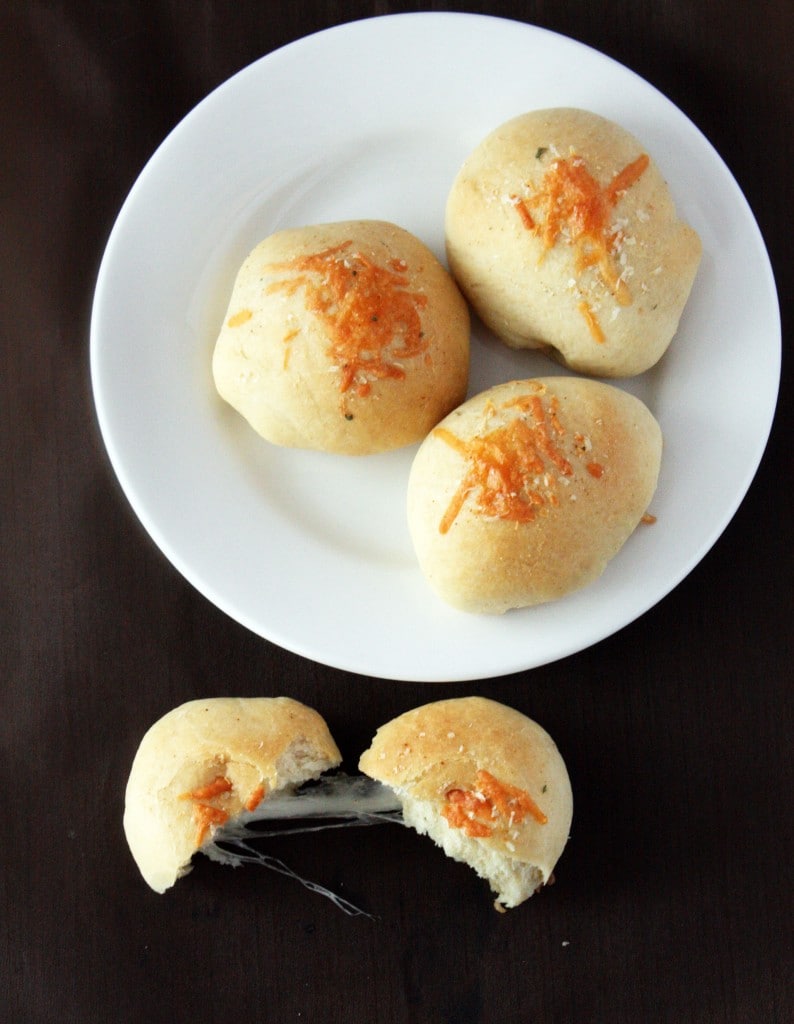 Trust me, it's worth it.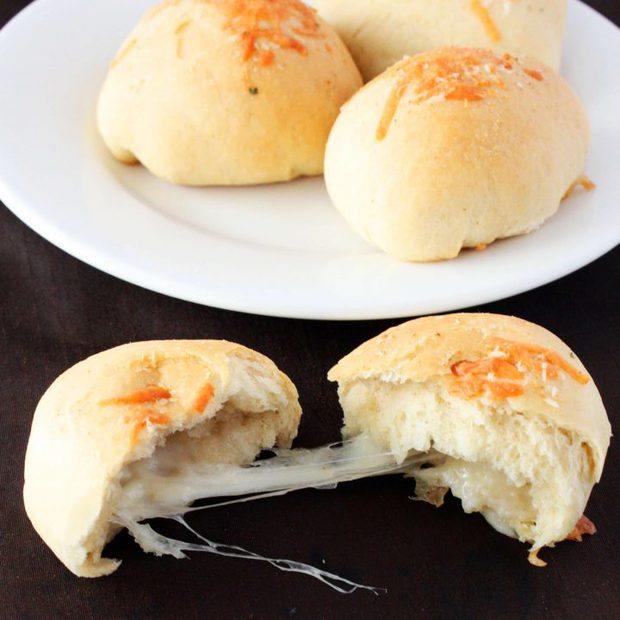 Cheesy Stuffed Buns
Yield: 20 rolls
Prep Time: 25 minutes
Cook Time: 15 minutes
Additional Time: 30 minutes
Total Time: 1 hour 10 minutes
Warm buns stuffed with tons of cheese!
Ingredients
1 cup warm water
2 tbsp yeast
2 tbsp sugar
2 tsp garlic powder
1 tsp cayenne
1/4 cup melted butter + 2 Tbsp for brushing the tops
1/4 cup olive oil
3 cups all-purpose flour
2 tsp salt
10 oz mozzarella, cut into small cubes
4 oz shredded cheddar cheese
Parmesan cheese
Instructions
In the bowl of a stand mixer fitted with a dough hook, stir together yeast and water. Let rest for approximately 3 to 5 minutes.
Stir in sugar, garlic powder, cayenne, 1/4 cup melted butter and olive oil until combined. Gradually add in flour and salt, until combined. Allow the stand mixer to knead the dough for 10 minutes or you can knead by hand. Add dough to a greased bowl and cover. Allow to rise for 30 minutes.
Preheat oven to 375 degrees. Grease a large baking sheet.
Divide dough into approximately 20 pieces. Pat each piece into a disk, place a chunk of mozzarella in the center and pinch the edges over the cheese tightly. Place seam side down on the baking sheet. Repeat with the rest of the dough.
Sprinkle rolls with shredded cheddar and Parmesan. Bake for 11 to 15 minutes, until golden brown and the cheese is bubbling. Brush with additional melted butter and serve.