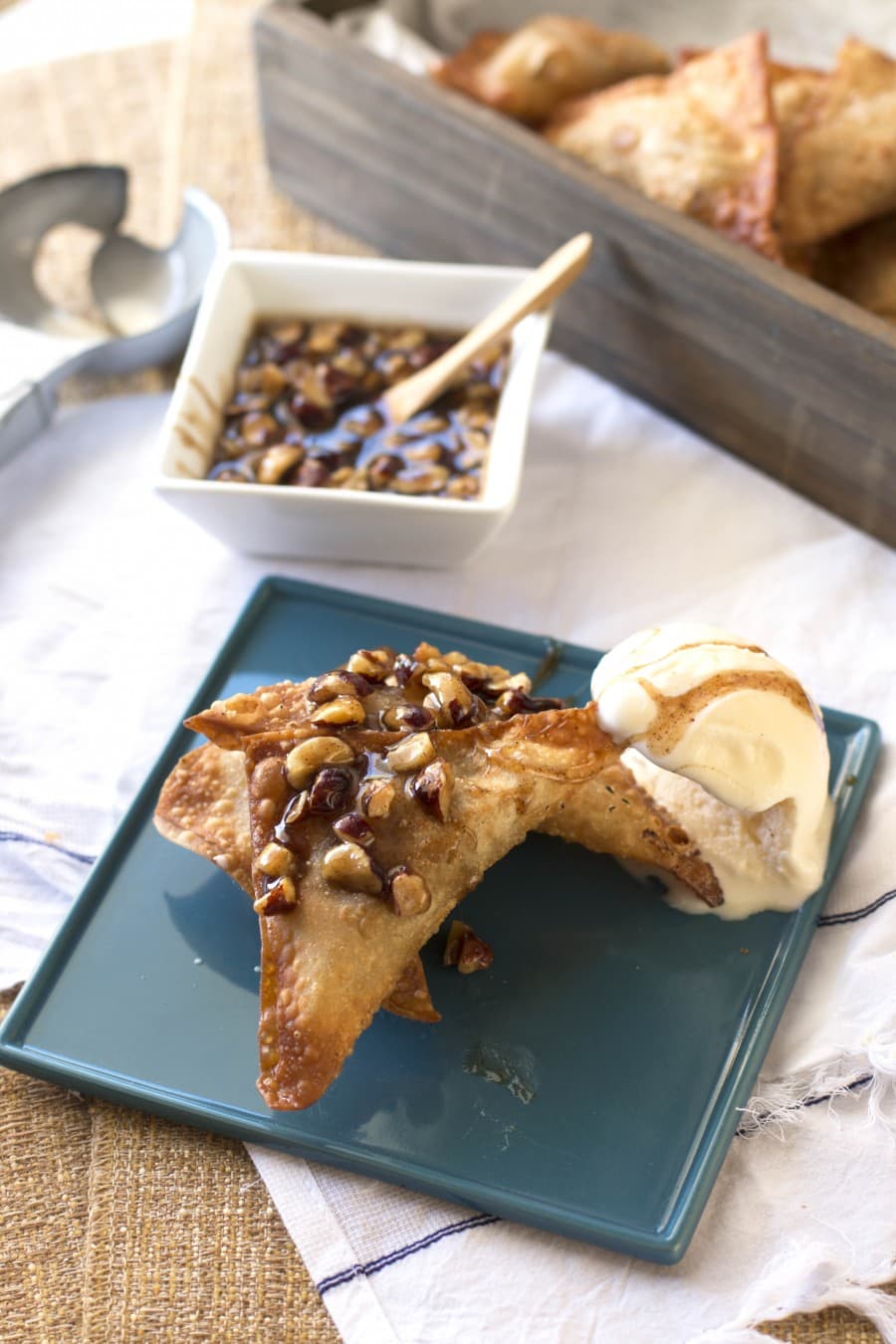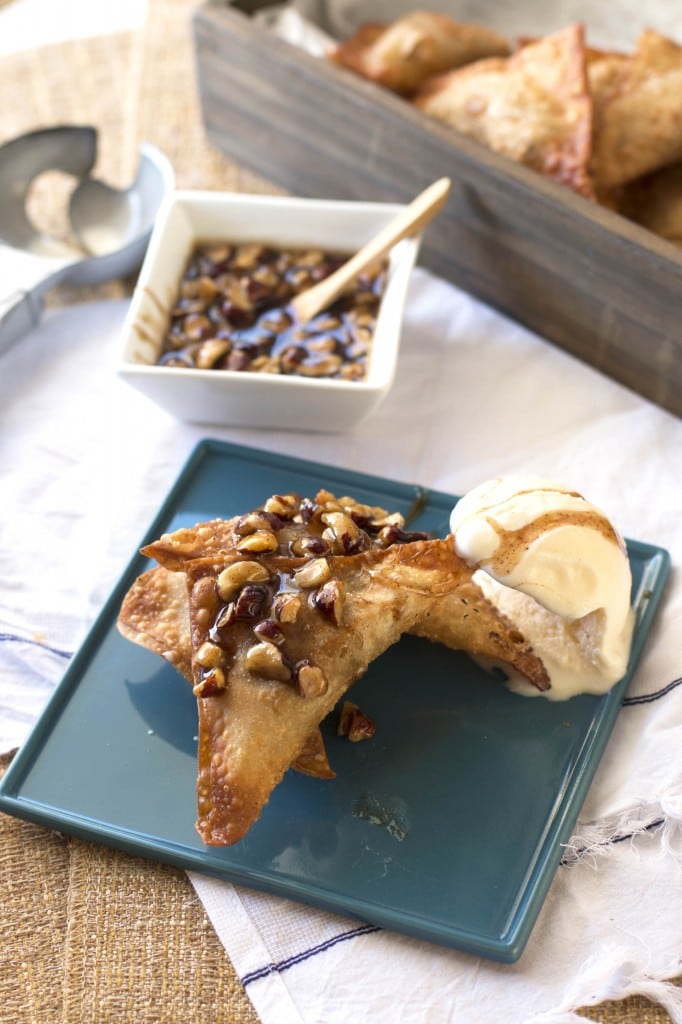 Sometimes you need a quick apple pie fix in life. I find these moments often arise when it's fall, the weather is changing, and you start to feel that familiar nostalgic tug which rolls around every year.
Or sometimes you just need to stuff your face with pie because it's sweet and warm and you've had a horribly bad day.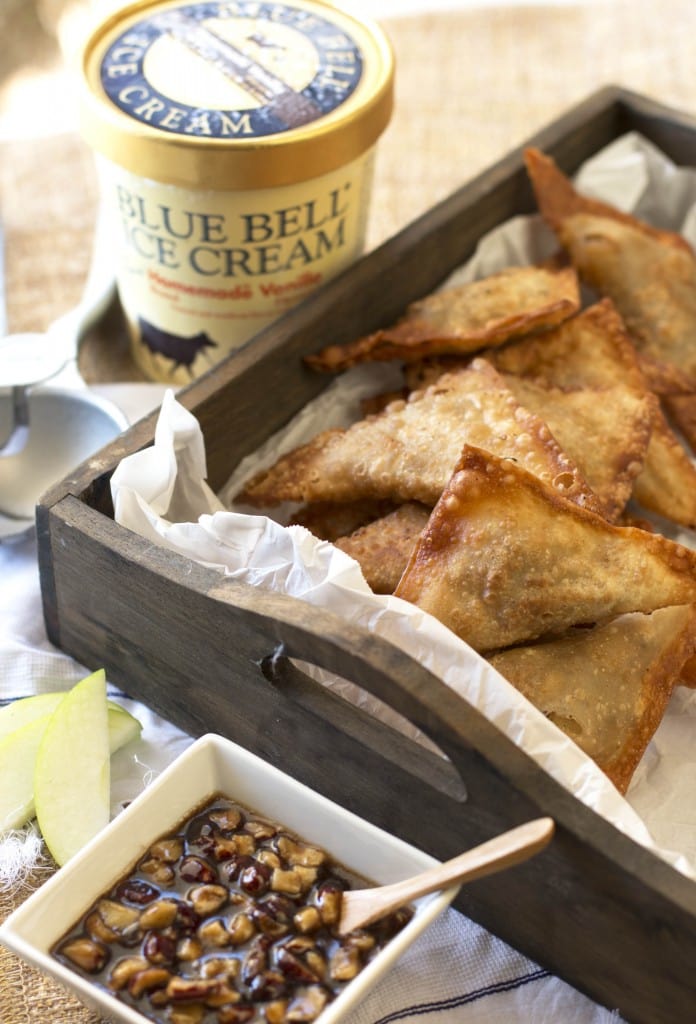 Either way, with a side of ice cream, apple pie cures everything. Of course, having the time to bust out an apple pie made from scratch is not easy to carve out of my daily schedule. If only all I had to do in a day was bake an apple pie.. However this is not my reality – likely not yours either – so I had to create a way to get my apple pie fix as soon as humanly possible (patience is not one of my virtues, remember?). These little fried apple pie wontons are the easiest version of apple pie you can make and are ready SO much faster!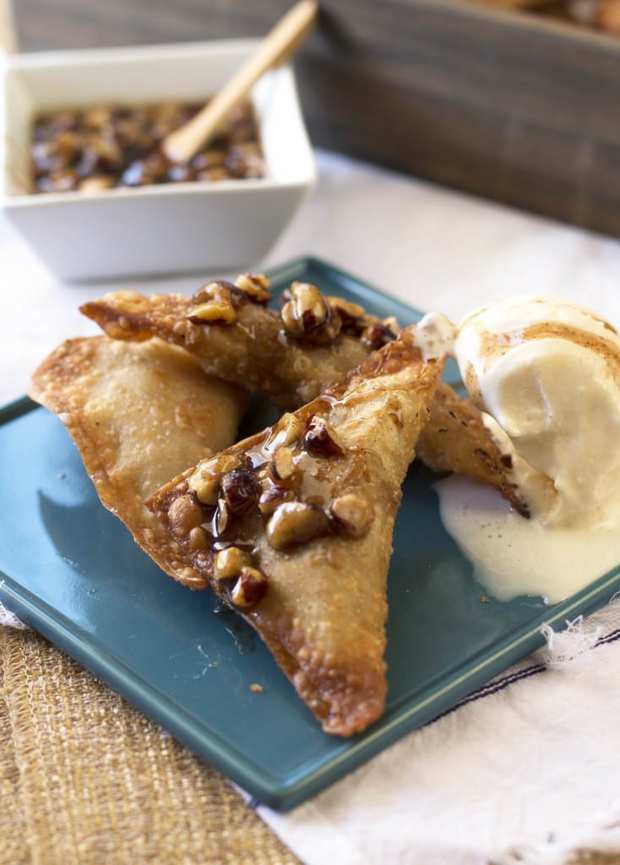 That crisp golden brown shell holds a bounty of warm apple, sugar, and spices which burst onto your tongue, just like a bite of the perfect apple pie would. The apple filling comes together in minutes and the leftover juices and sugar in the pan quickly become your caramel sauce – how great is that?!
Comfort food only minutes away, that's my life motto 🙂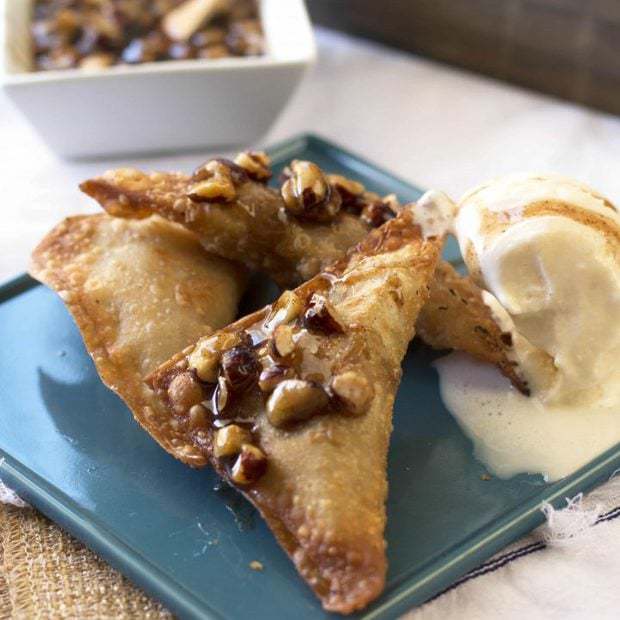 Fried Apple Pie Wontons
If you are craving apple pie, this is your easy quick fix! Crispy on the outside, warm and gooey on the inside, with a delicious walnut caramel sauce drizzled on top.
Ingredients
4 Granny Smith apples, peeled and cut into 1/2" pieces
2 Tbsp butter
3/4 cup brown sugar
1/2 tsp ground cinnamon
1/4 tsp ground allspice
1/4 tsp ground nutmeg
1/4 cup chopped walnuts
20 wonton wrappers
Water to seal wontons
Canola oil for frying
Instructions
In a medium skillet, melt the butter over medium heat. Add the apples, brown sugar, and spices and cook down until the apples are soft, approximately 10-13 minutes minutes. Remove the apples from the skillet into a bowl, leaving the sauce behind in the pan.
Continue to reduce the sauce over low-medium heat, until it thickens into a caramel sauce. Stir in the chopped walnuts, remove from heat, and set aside.
On a clean work surface or cutting board, place one wonton wrapper so that a corner is facing you (it should look like a diamond). Add a large teaspoon of the apple mixture to the center of the wonton wrapper. Using your finger, rub the edges of the wrapper with water. Fold the wrapper in half, away from you, to create a triangle, pressing on the edges firmly to seal. Continue this process with the remaining wrappers.
Add canola oil to a large heavy-bottomed skillet, approximately 3/4" high. Heat the canola oil in a over medium-high heat. Working in small batches of 4, fry the wontons until golden brown and crispy, about 2 minutes. Remove to a paper-lined plate to drain.
Serve immediately with walnut caramel sauce and vanilla ice cream.