Bailey's Chocolate Mousse Brownie Parfaits are just the decadent dessert you need to cap off a night of Irish indulgence. The three-ingredient Bailey's chocolate mousse is layered with brownies, stout whipped cream AND whiskey caramel… Seriously. Get ready to swoon, people.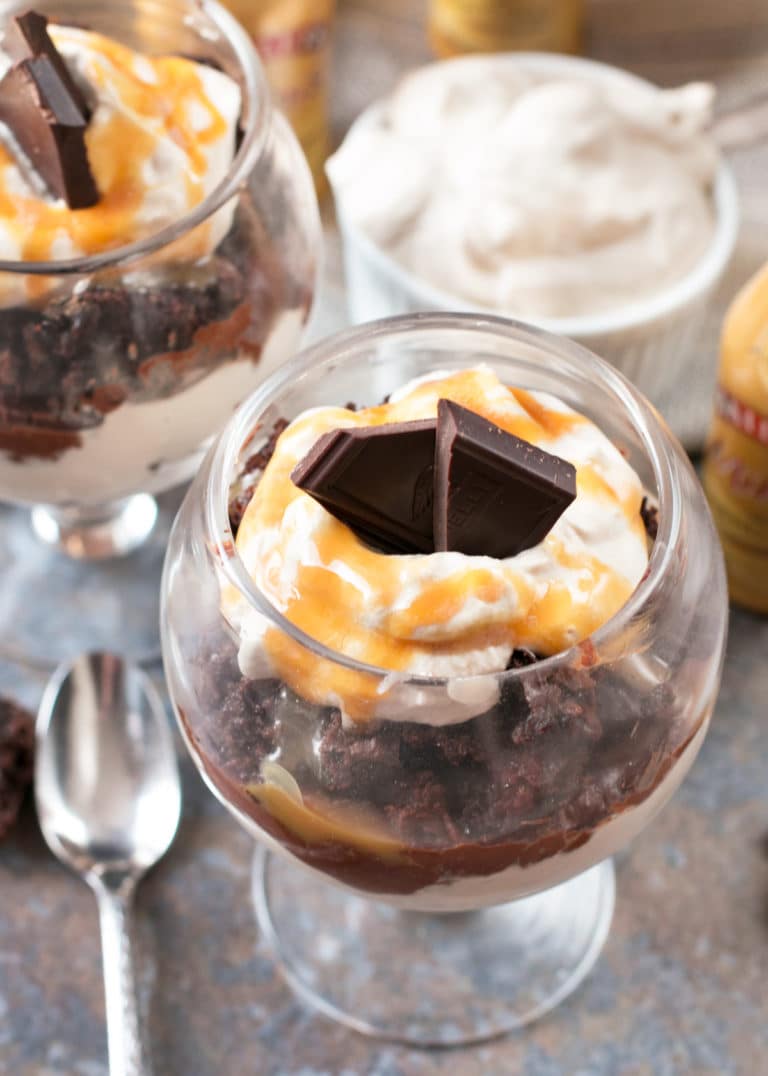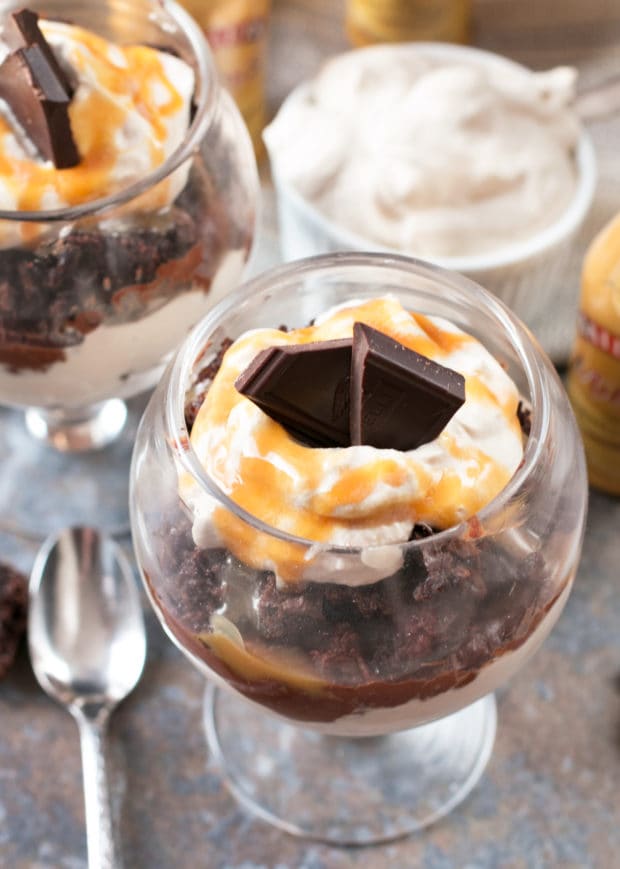 This is the guilty pleasure dessert you've been waiting to indulge in all year long.
You know, that one dessert you've been dreaming of ever since you started that whole diet thing at the beginning of the year. Remember?
Well, this is it.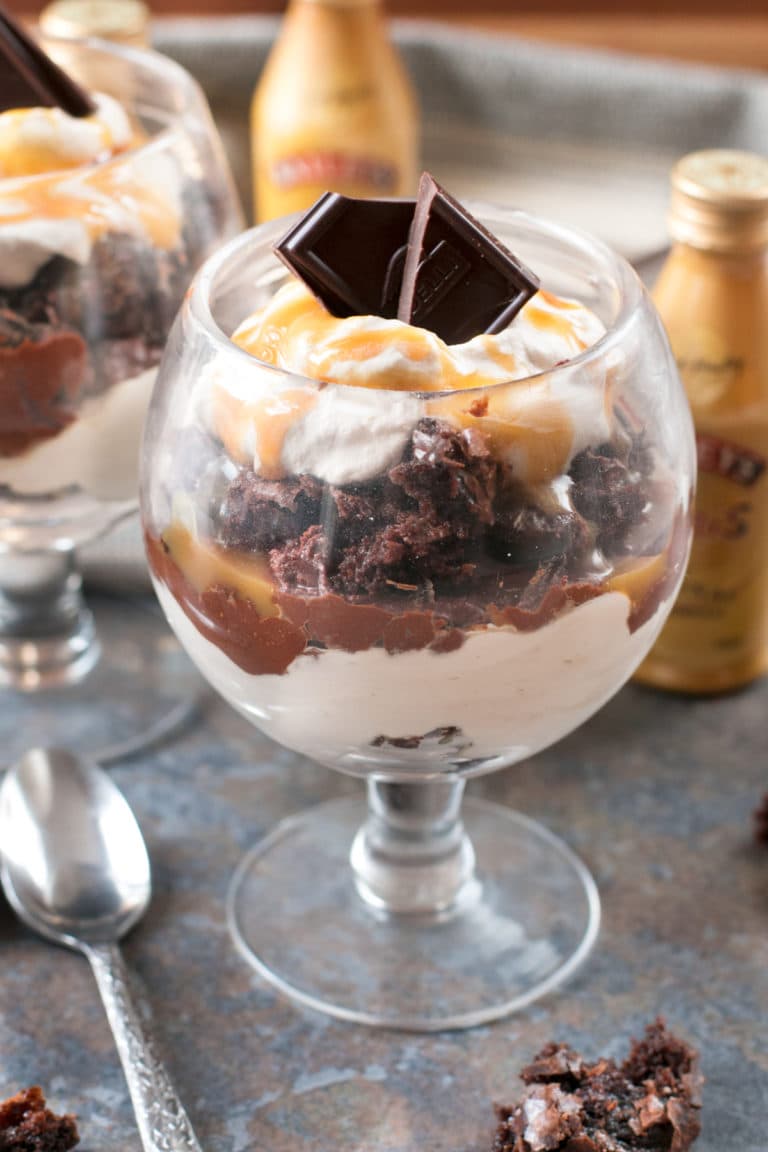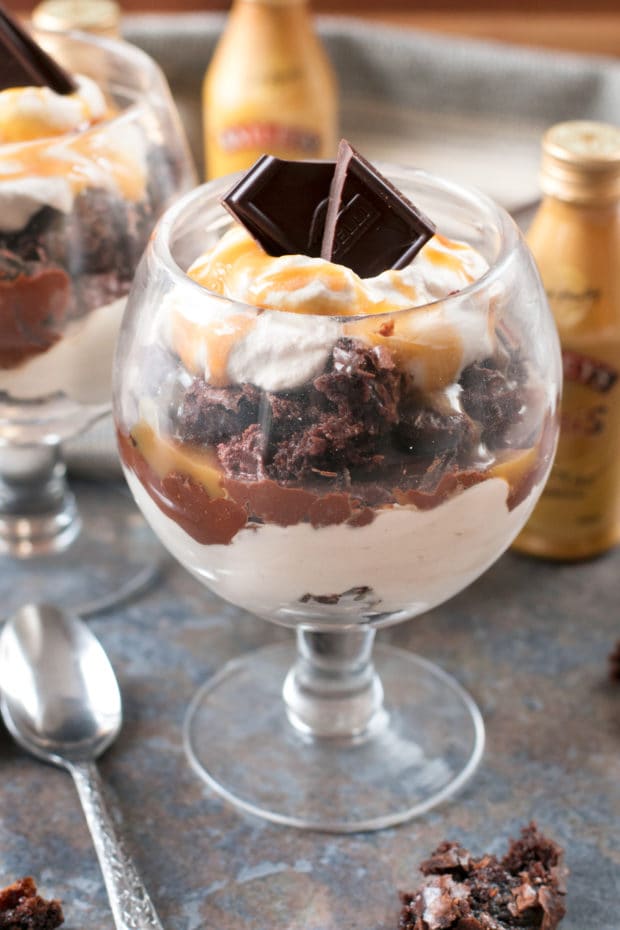 Say goodbye to dreams of only eating healthy and start embracing those indulgences once again.
St. Patrick's Day is one of the best times of year to do it after all! It's basically the first holiday that encourages over-indulgence (without centering it all around romance and couples like Valentine's Day does).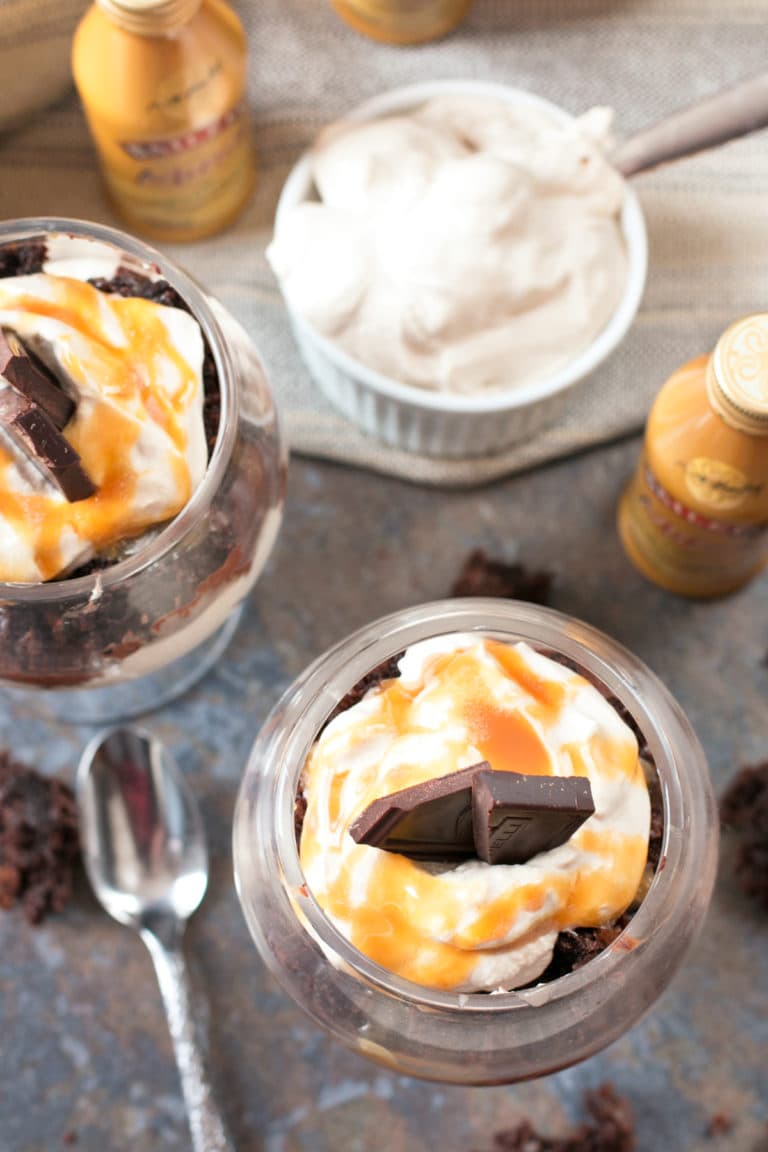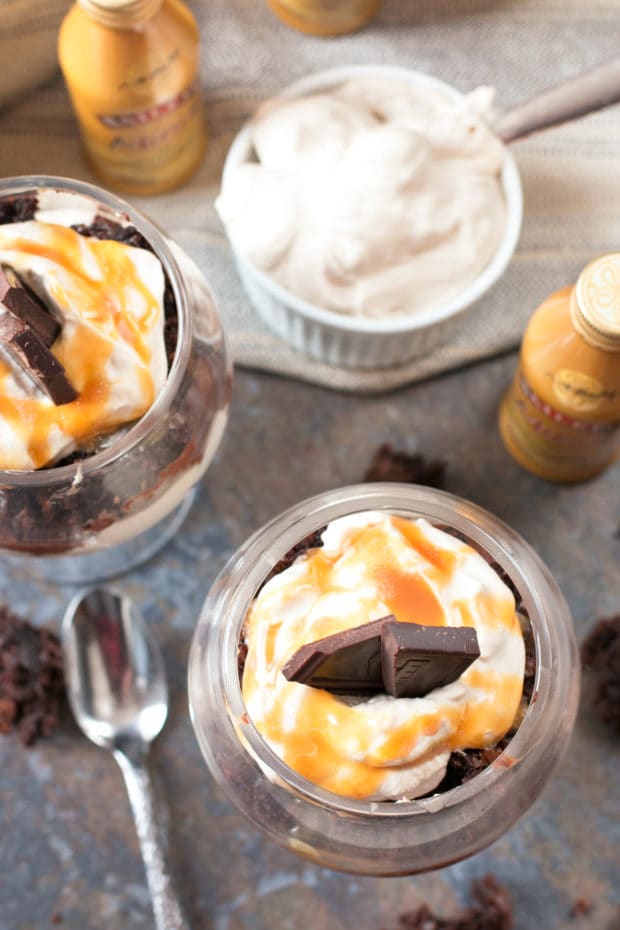 I have to admit, I totally made this dessert for myself.
100% just for me.
It's the dessert I want to grab when I'm curled up on the couch with my pups and a blanket, watching Sex & the City (for the 500th time) in the basement while sipping a glass of wine. Each layer of the parfait takes you deeper and deeper into a sugar/chocolate coma…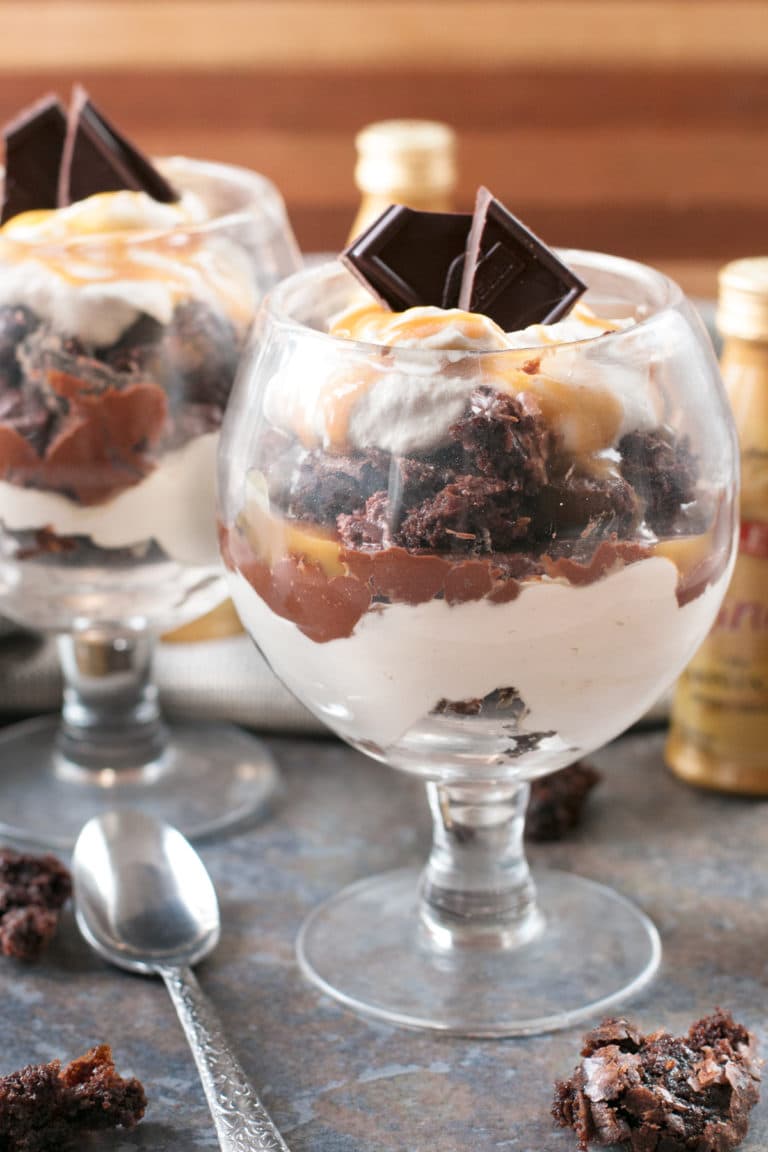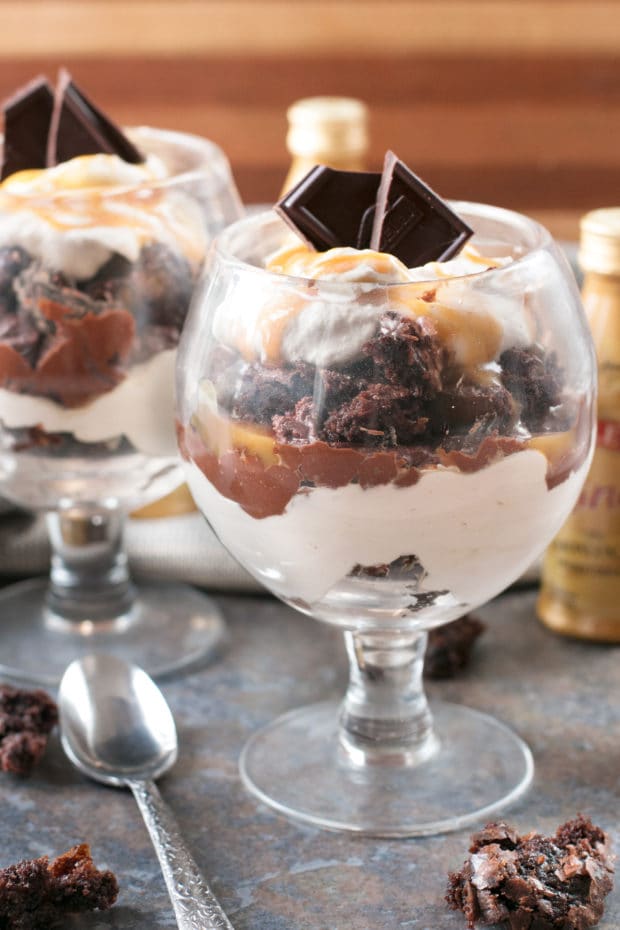 You start with an oh-so, way-too-simple three-ingredient Bailey's chocolate mousse. It's rich, it's full of Irish cream and it takes moments to make. Then you layer in fudgy brownies (honestly, you can even make brownies from the box for this recipe and I will have ZERO judgment…), a boozy stout whipped cream, and top it all off with whiskey caramel. Each layer is it's own kind of deliciousness and could stand on its own individually if you wanted to go layer by layer through the parfait.
But really, make sure you get some scoops with each layer on there, ok? It's kiiiiiiiinda the whole point and kiiiiiiiinda why this parfait is so EPIC.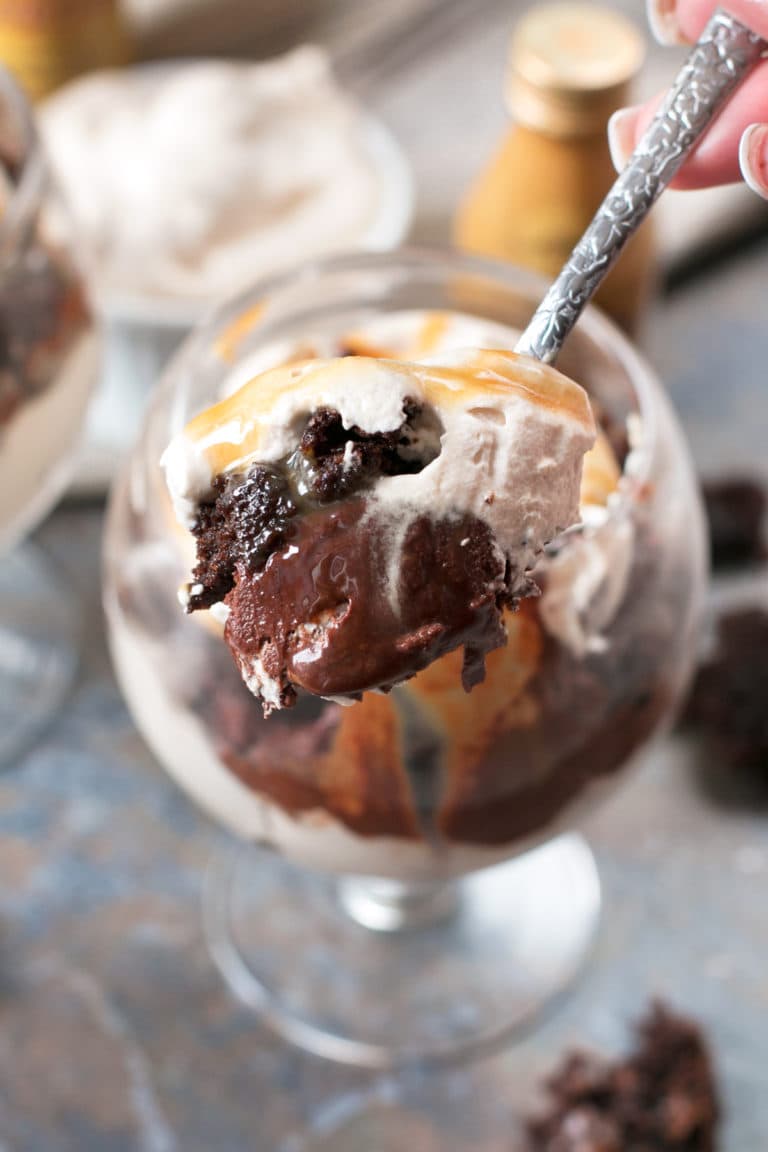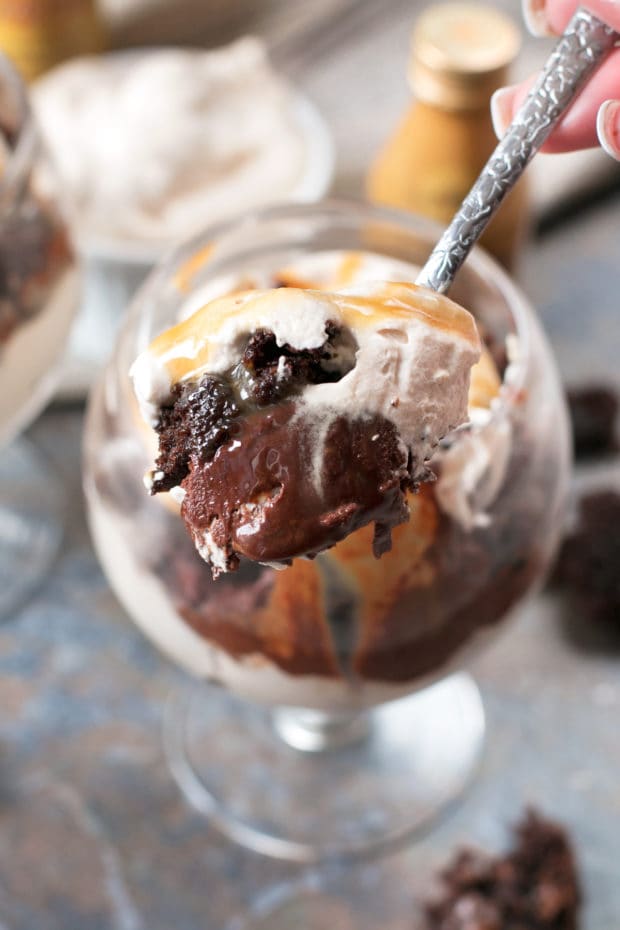 It's a cocktail and a dessert, all in one heaping glass.
Trust me when I say, every spoonful will transport you to your happy place.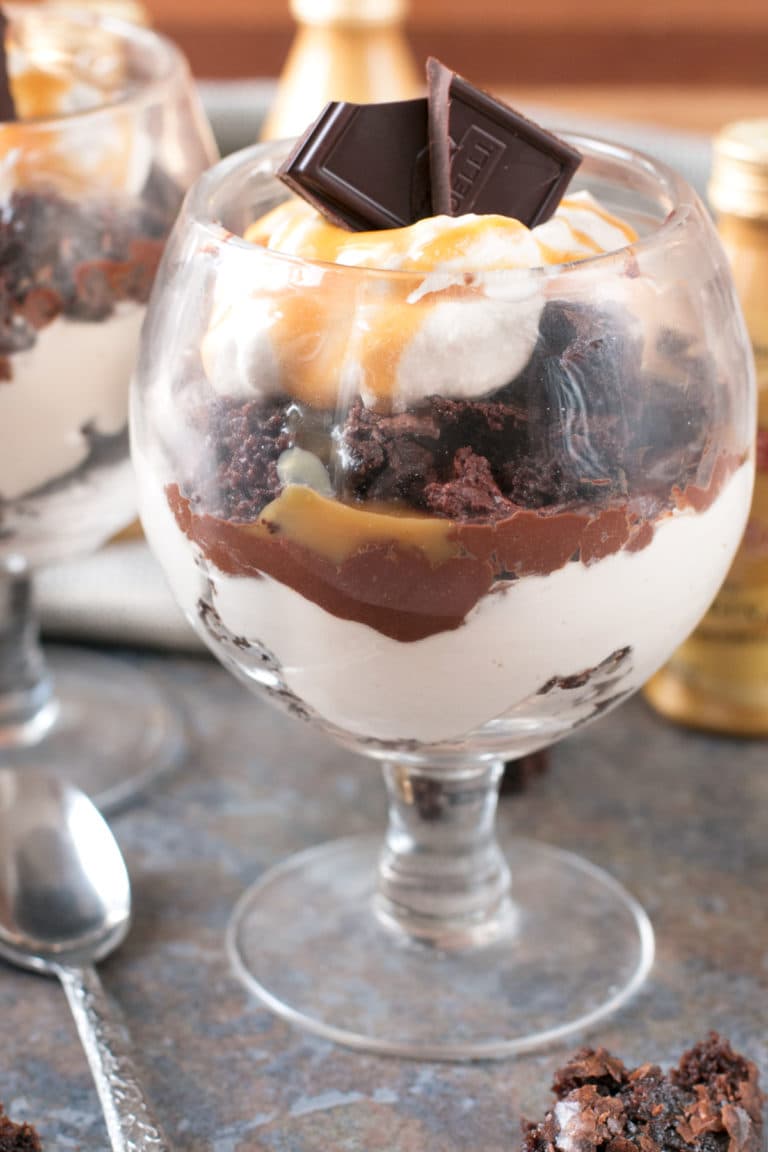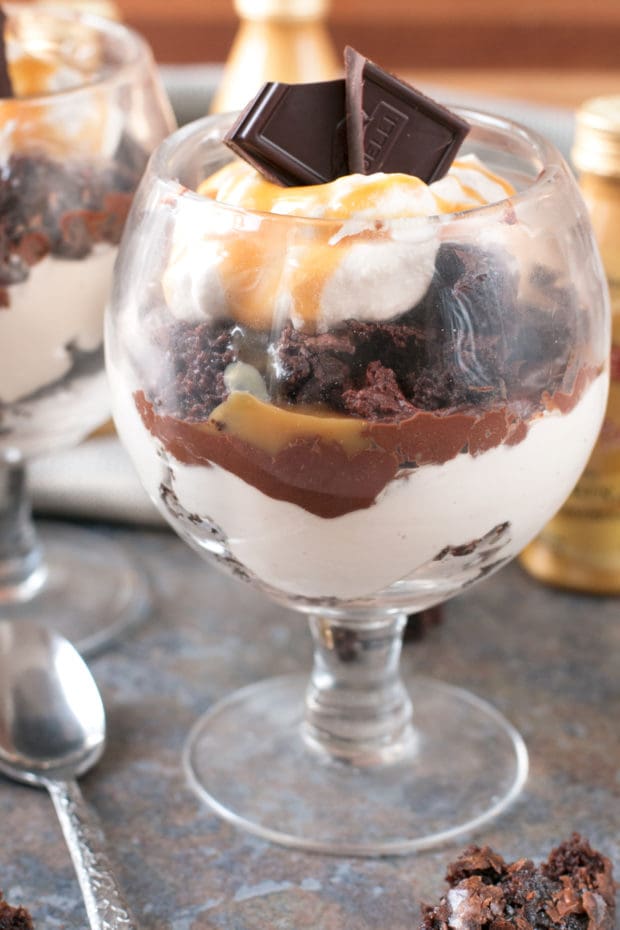 You just don't beat that kind of dessert bliss, people!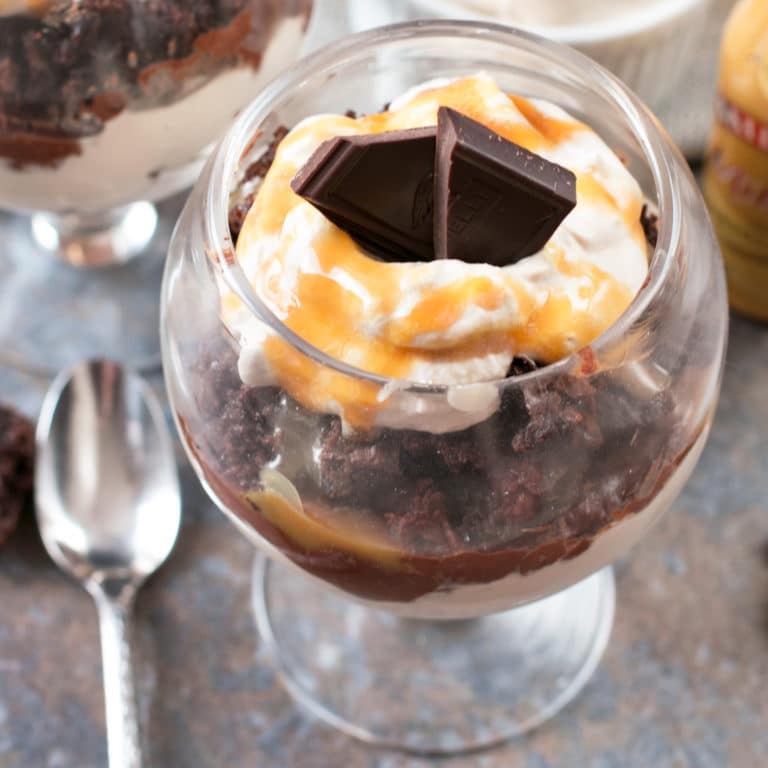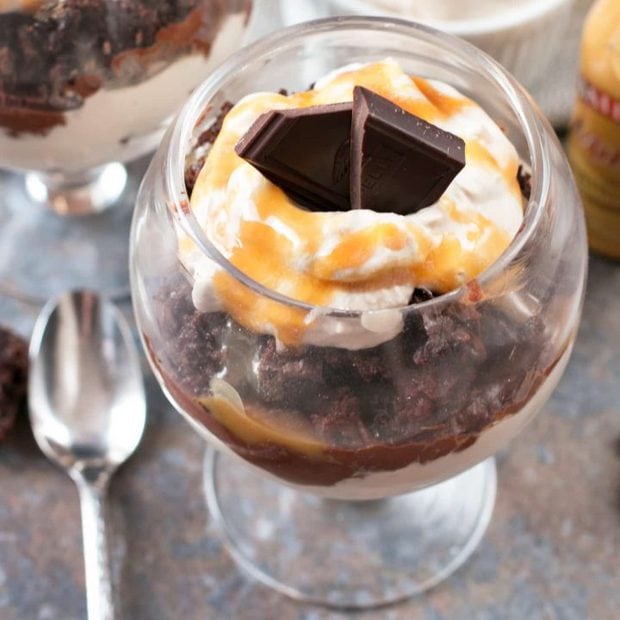 Bailey's Chocolate Mousse Brownie Parfaits
Layers of Bailey's chocolate mousse, stout whipped cream and brownies are topped with a whiskey caramel that'll blow. your. mind.
Ingredients
Bailey's Chocolate Mousse
1/4 cup water
11 oz high quality dark chocolate, chopped
1/2 cup Bailey's Irish Cream
Whiskey Caramel
1 1/2 cups sugar
2 Tbsp light corn syrup
1/4 tsp kosher salt
6 Tbsp water
6 Tbsp unsalted butter
6 Tbsp heavy cream
2 Tbsp whiskey
1 Tbsp creme fraiche
Stout Whipped Cream
1 cup heavy cream
1/3 cup stout
1/4 cup sugar
1 cup chopped brownies
Instructions
Fill a large bowl with ice water. Place a medium bowl that fits just into the large bowl into the ice water bath. Set aside.
In a medium saucepan over medium heat, melt the dark chocolate, Bailey's and water, stirring occasionally until melted completely.
Pour the melted chocolate mixture into the medium bowl resting in the ice bath. Whisk the chocolate mixture until it becomes thick, taking care not to over mix as it'll become too stiff and grainy. You'll feel the resistance as soon as it becomes thick; stop there.
Cover bowl with plastic wrap and refrigerator until ready to serve.
In a large saucepan, whisk together sugar, corn syrup salt and water, bring to a boil. Cook without stirring until a candy thermometer reads 340 degrees, then remove from heat. Whisk in butter, cream, whiskey and creme fraiche for the caramel (being careful not to get burned as it bubbles up!), stirring until smooth and creamy.
In the bowl of a stand mixer, whip together heavy cream, stout and sugar until it reaches stiff peaks.
To assemble the parfaits, start with a layer of chopped brownies. Top with Bailey's mousse, and then stout whipped cream. Repeat these layers once more, then drizzle with whiskey caramel sauce. Garnish with chopped chocolate as desired. Serve immediately.
Pin this Bailey's Chocolate Mousse Brownie Parfaits recipe for later!