Chicken Parmesan Pasta Skillet is an easy take on a classic dish that's extra cheesy and full of bold, fresh flavors. The crispy, breaded chicken makes the perfect addition for this Italian pasta skillet.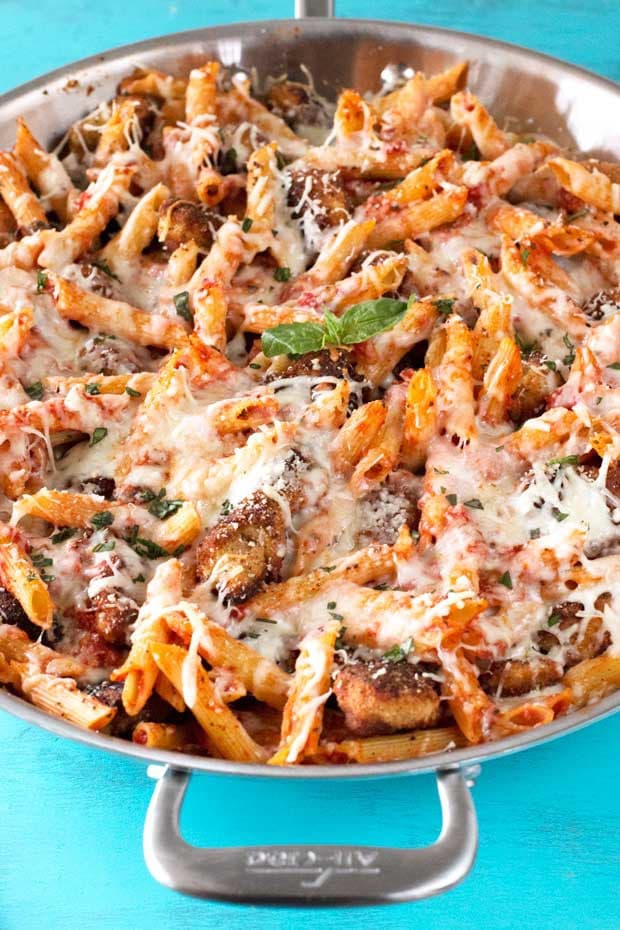 I think I may have finally reached my limit on the amount of days and nights I can spend working… I had a few big projects come in over the past couple of weeks and, because I love to stay busy, I said yes to them all. I rarely find myself in a place where I'm terrified that I won't get all my work done because there aren't enough hours in the day, but that happened last week. I almost launched myself into a full on mental breakdown that only a large bottle of Chardonnay and a loaf of French bread could dig me out of.
It got real for a second there, I'm not gonna lie.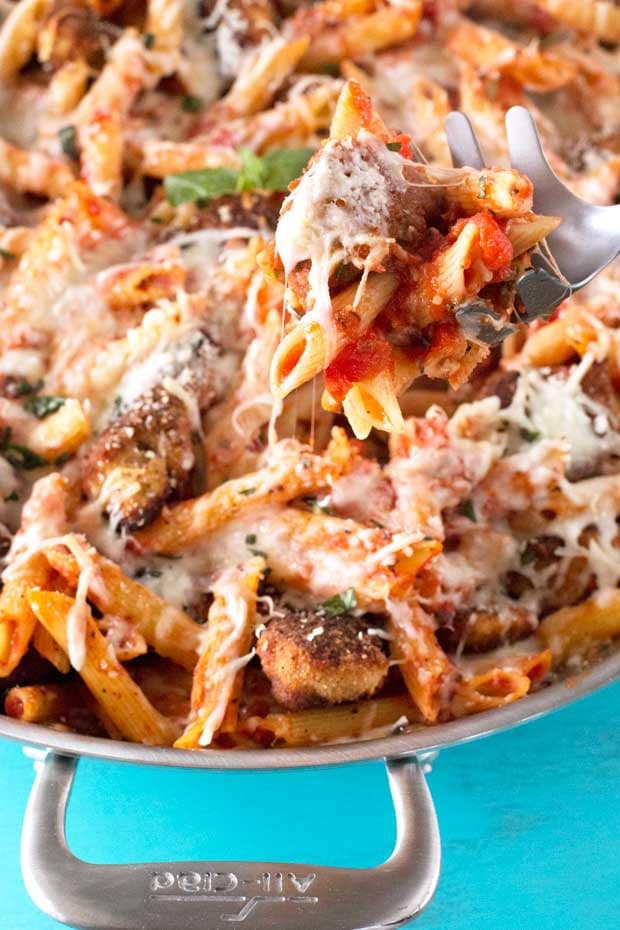 Then I made this cheesy skillet filled with crispy pieces of breaded chicken and a homemade tomato sauce. The world slowed down just a tick and while I inhaled bite after bite of this delicious pasta, I powered through the last of the work just in time. I'm pretty sure Italian food is the only thing that centers me. Maybe it was because I lived in Rome for a short stint, or maybe it's because carbs and cheese soothe my soul. Regardless, I don't know how there isn't a little Italian in my lineage somewhere…
Skillet dinners have become a new favorite of mine recently. If I can finish dinner up in the oven in one pan, then I'm sold. Especially when that skillet is the All-Clad skillet I used here. Oh boy, talk about falling in love with a pan…
There's something about a really good kitchen tool that makes all the difference when you're cooking. Considering I spend about two-thirds of my life in the kitchen now, I've noticed how much of a difference it makes. That's why this skillet has become my new bestie. Not only did I pan fry the chicken in this bad boy for this recipe, I gave it a quick wipe down and in the whole mixture of chicken, pasta and cheese went before I stuck it in the oven. Boom. Done.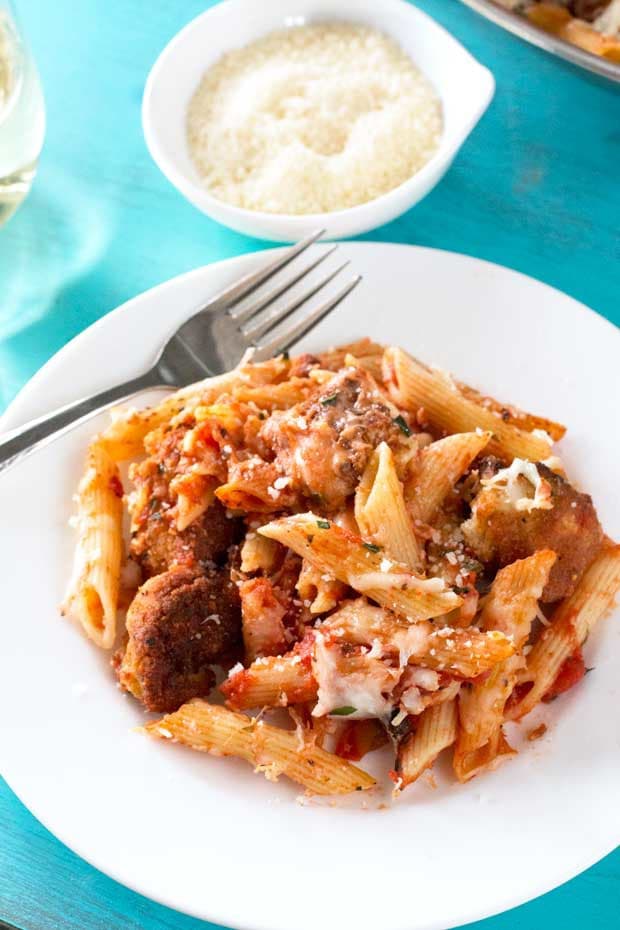 Honestly, one of the best things about this pan is that it's light. I didn't struggle to pull it in and out of the oven; I didn't even feel a strain in my back getting it out of my lower cabinets. I know it's some sort of aluminum magic that All-Clad has going on, but it's a lifesaver.
And when you have skillet recipes like this at your fingertips, you can't be messing around with an insanely heavy pan that doesn't do the job right. The ridiculous amount of loaded pasta is heavy enough, am I right?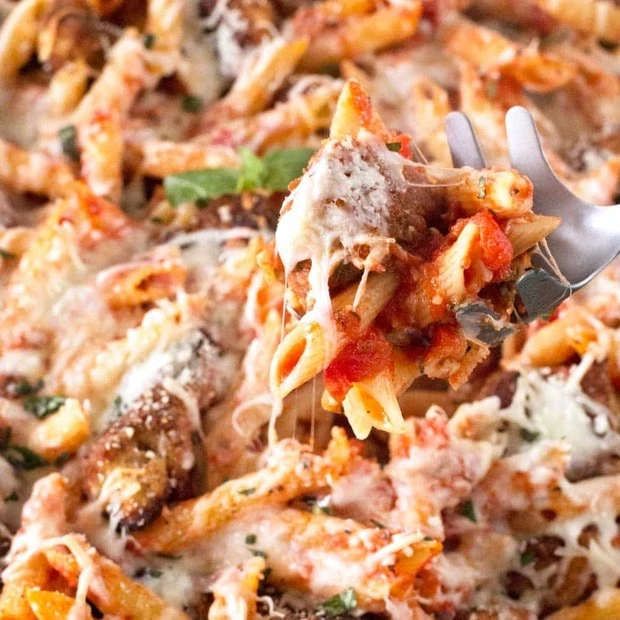 Chicken Parmesan Pasta Skillet
All the flavors of the classic dish, in an extra cheesy pasta skillet with homemade tomato sauce.
Ingredients
2 skinless, boneless chicken breasts, cut into 1 to 2-inch chunks
3 eggs, lightly beaten
1/2 cup all-purpose flour
1/2 cup breadcrumbs
1/4 cup + 1 Tbsp olive oil
16 oz penne pasta, cooked
2 garlic cloves, minced
1 14.5oz can diced tomatoes
3 cups (24oz) tomato puree
1 Tbsp fresh thyme, chopped
1 Tbsp fresh oregano, chopped
2 Tbsp fresh basil, chopped + more for garnish
2 cups mozzarella cheese
1/2 cup grated parmesan cheese
Instructions
In a medium saucepan over medium-high heat, heat 1 Tbsp olive oil. Add the garlic and brown, approximately 30 seconds. Add tomato puree, diced tomatoes, chopped thyme, chopped oregano and 2 Tbsp chopped basil. Stir to combine and reduce heat to a simmer. Keep warm.
Preheat oven to 375 degrees.
Add 1/4 cup olive oil to a medium skillet over medium-high heat and heat until shimmering.
While the oil is heating, prep your dredging stations. Add the flour to the first bowl, beaten eggs to a second bowl, and breadcrumbs to a third bowl. Dredge the pieces of chicken in flour, then egg, then breadcrumbs, shaking off the excess before adding them to the hot oil.
Working in batches of 6 to 7 pieces, fry the breaded chicken pieces until cooked through and golden brown, approximately 1 minute per side. Remove to a plate lined with paper towel to drain.
In a large bowl, combine the pasta and sauce. Gently fold in the chicken bites. Pour 1/2 of the pasta and chicken mixture into a large skillet, like the All-Clad skillet I used here. Sprinkle on top half of the mozzarella and parmesan cheese. Add the rest of the pasta and chicken mixture, then top with the remaining cheese.
Bake for 20 to 25 minutes, until the cheese is melted. Garnish with chopped basil and more parmesan cheese, if desired.