Christmas Ale Sugar Cookies with Spiced Buttercream Frosting
Christmas Ale Sugar Cookies with Spiced Buttercream Frosting are the one holiday cookie every beer lover should bake! They are chewy and soft with a luscious buttercream frosting so Santa will definitely approve.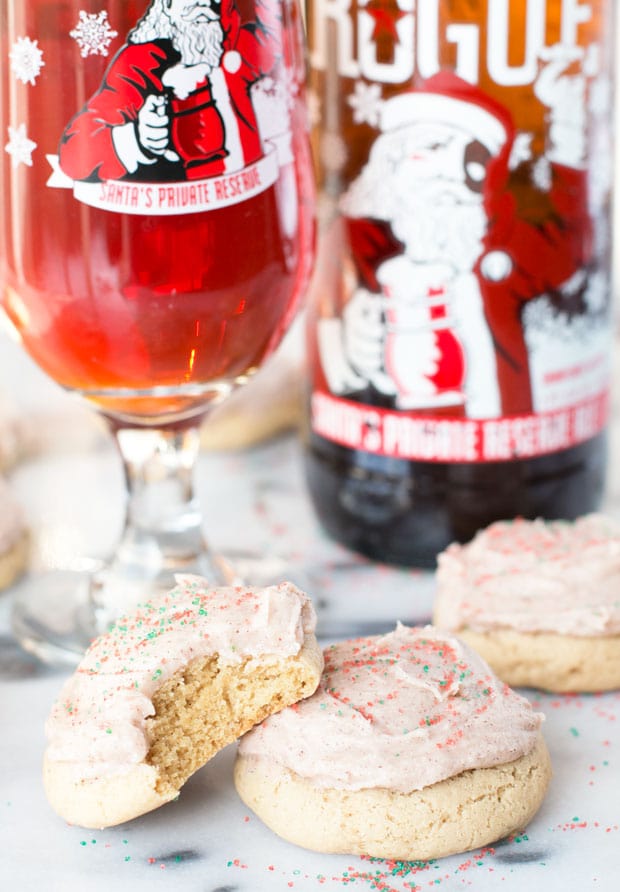 I literally can't stop, won't stop with the sweets this week. It all started kicking into high gear on Sunday when I had my first official taste of Christmas cookies.
It's only official when someone else bakes them, because lord knows it doesn't count when I start testing recipes back in November.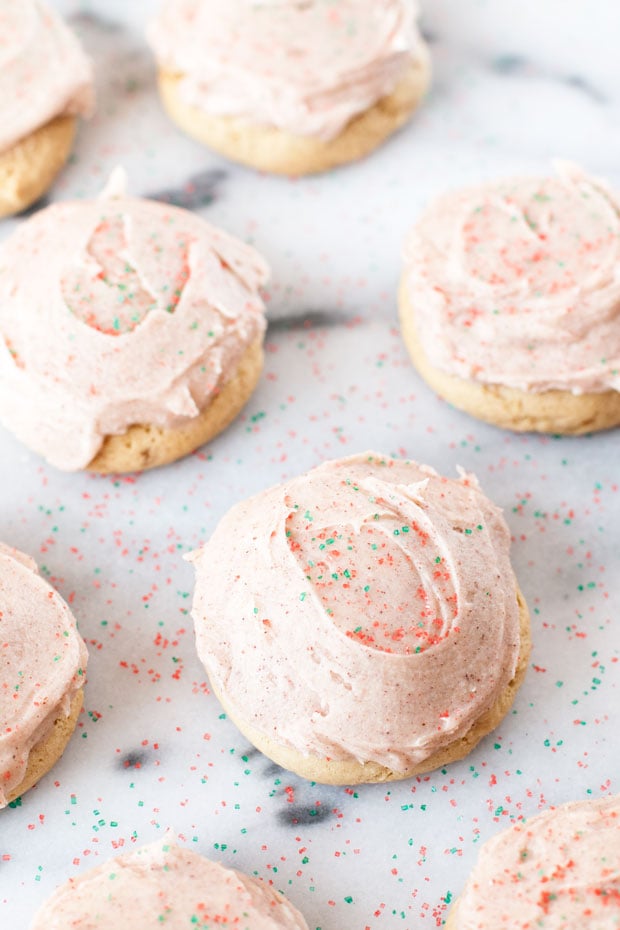 And I wonder why I feel like I'm getting a little puffy around the edges…
Meh, the diet will start after the New Year, right? 
Well, it'll definitely start after I devour all of these Christmas ale cookies because holy CRAP are they good. I'm serious, these are probably the best sugar cookies I've ever made.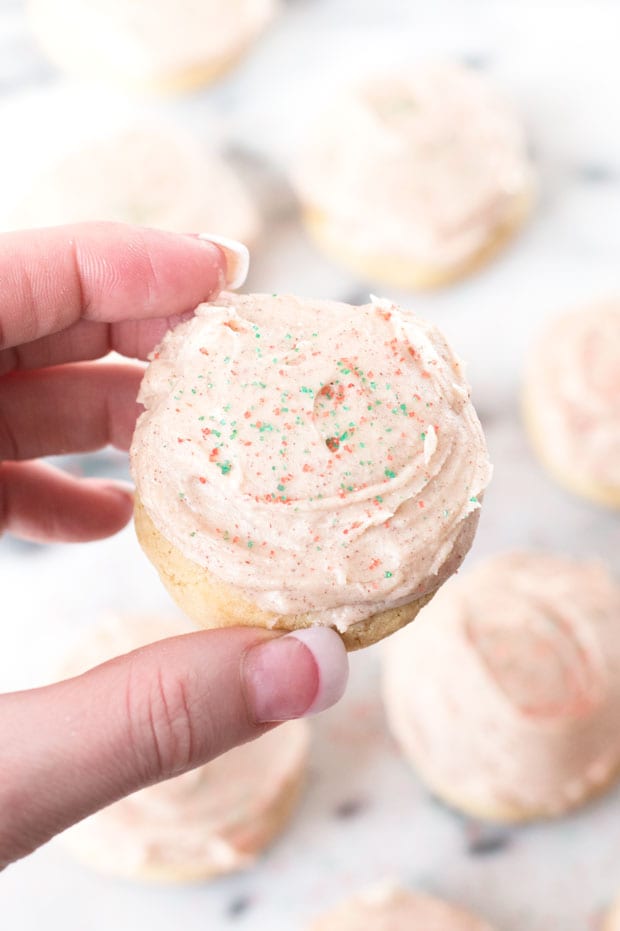 Seriously. EVER.
They are the big puffy kind that are soft and chewy, with this amazing sugar cookie flavor that is enhanced by a subtle addition of a Christmas ale (Rogue Ales' Santa's Private Reserve to be exact). The spiced buttercream frosting on top brings out the beer flavor even MORE, making it the perfect cookie for any beer lover in your life (hey, that beer lover might just be you and that means it's 100% ok to bake them and share them with no one).
Gee, can you tell I'm an only child….?
ANYWHO, the beer in the cookie really comes out in the most beautiful way in this cookie. When you pair it with a glass of Santa's Private Reserve, I swear you'll find yourself moaning and groaning with total beer bliss. It's such a simple cookie you have plenty of time to grab the ingredients you need and make them in time for Christmas.
Just don't leave any out on Christmas Eve, because Santa will DEFINITELY eat these bad boys right up.
Disclosure: I received free product from Rogue Ales as part of this post. As always, all opinions and recipe are my own. Thanks for supporting the brands that support Cake 'n Knife!
This Recipe's Must Haves
Pin this Christmas Ale Sugar Cookies with Spiced Buttercream Frosting recipe for later!

Christmas Ale Sugar Cookies with Spiced Buttercream Frosting
Yield: Makes approx. 2 dozen
Prep Time: 10 minutes
Cook Time: 10 minutes
Total Time: 40 minutes
Chewy ale sugar cookies with a cinnamon buttercream to take the indulgence to the next level!
Ingredients:
8 Tbsp unsalted butter, softened
1 cup brown sugar
1 egg
1/2 tsp vanilla
2 cups all-purpose flour
1 tsp baking soda
3/4 tsp baking powder
3/4 tsp cornstarch
Spiced Buttercream Frosting
2 cups confectioners' sugar
1/4 cup unsalted butter, softened
1/2 tsp vanilla
1/2 tsp ground cinnamon
1 Tbsp milk
Optional: sprinkles
Directions:
In the bowl of a stand mixer, beat together butter and sugar until creamy. Beat in egg and vanilla until combined. Add beer and beat until well-combined.
Add flour, baking soda, baking powder and cornstarch to the stand mixer. Beat until combined.
Scoop out 1-inch balls of dough onto a silicone mat or parchment paper lined baking sheets. Chill for 20 minutes in the refrigerator.
When ready to bake, preheat oven to 350 degrees. Bake for 8 to 10 minutes. Cool cookies on wire racks.
In a large bowl, beat together frosting ingredients until creamy and smooth. Frost cooled cookies and top with sprinkles as desired.