Fresh figs, all plump and juicy, are one of my secret salad treats. I love the burst of sweetness that floods my taste buds when I bite into them. It's that fresh sweetness that I have been desperate for in my salads.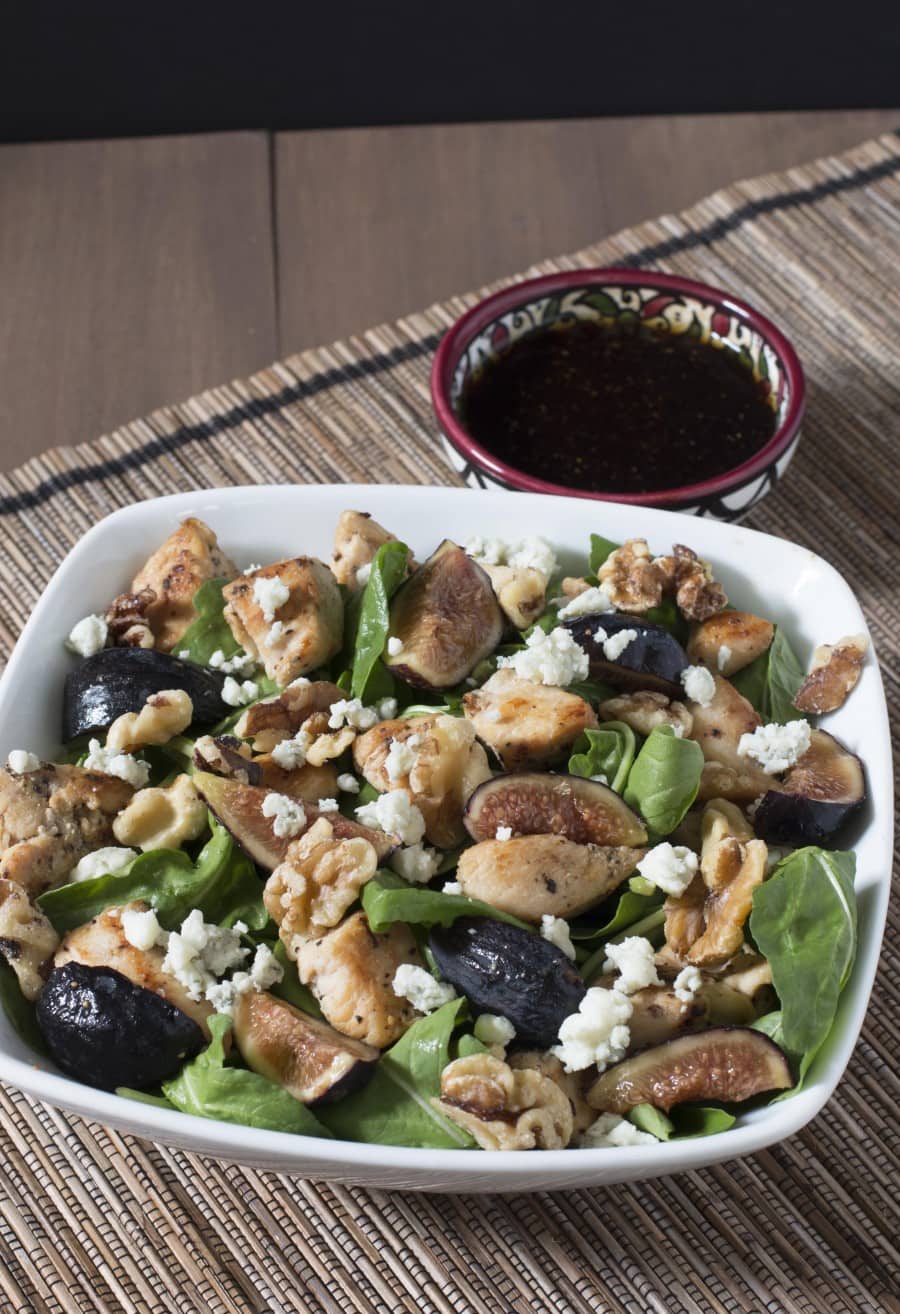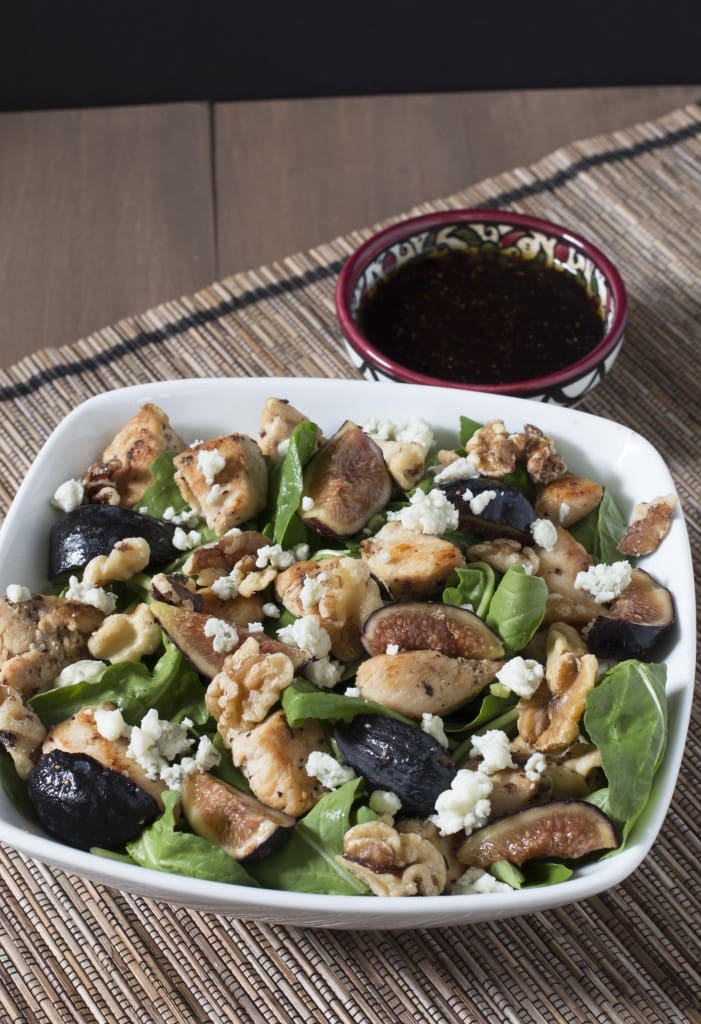 I'm not gonna lie, dieting and I are not getting along very well right now. I don't know if it's because I am insanely busy and stressed, or if I have no will power (probably the latter), but this time my efforts to get healthy seem to be much more difficult than past attempts. Perhaps it gets harder as you get older? Though working out is feeling amazing and I finally am feeling toned again, avoiding desserts and fried foods is nearly impossible.
Don't even get me started on my internal battle with Chipotle chips and guacamole…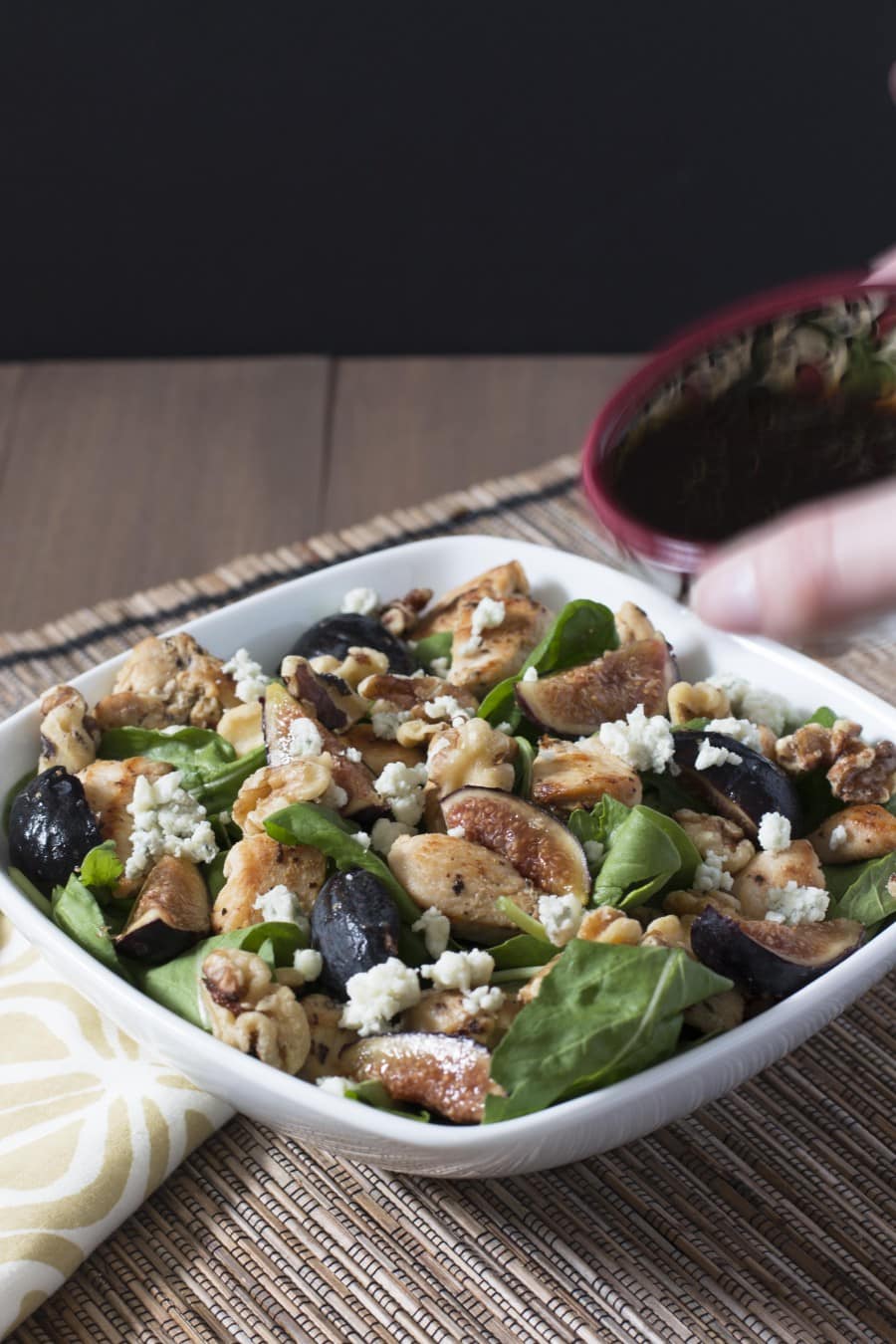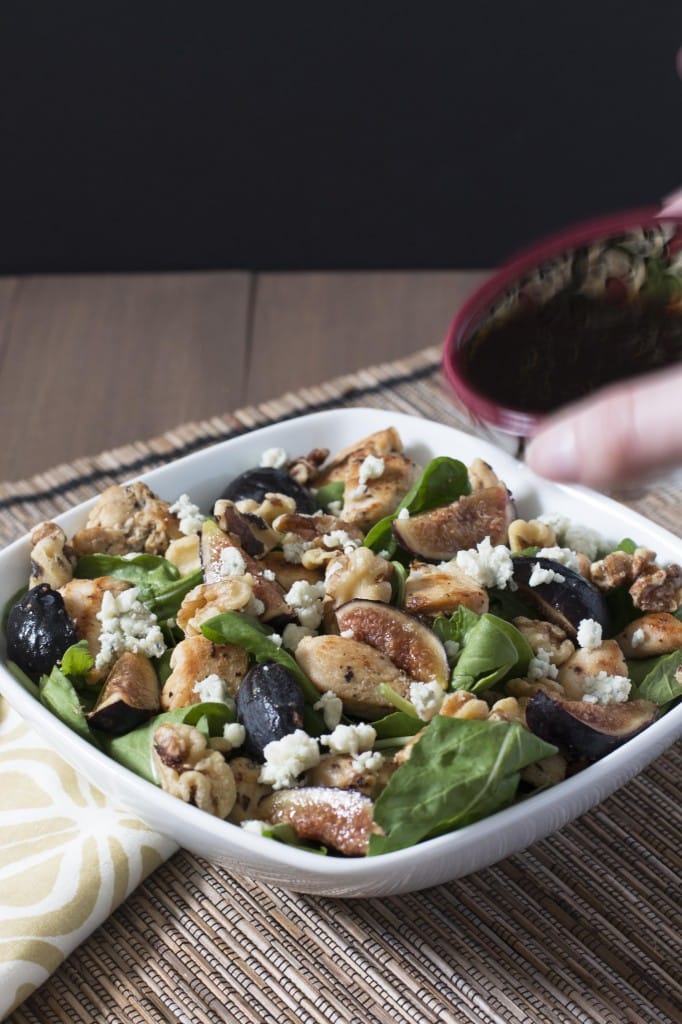 I've found that the more flavor I pack into my healthier meals, the more satisfied I am. I might not be chowing down on a burger and fries (oh fries, how I miss you…), but this salad is satisfying both my sweet and salty cravings in one big bowl!
I love the combination of chicken, fig, and blue cheese… OMG is it incredible. My tummy does a little happy dance with each bite.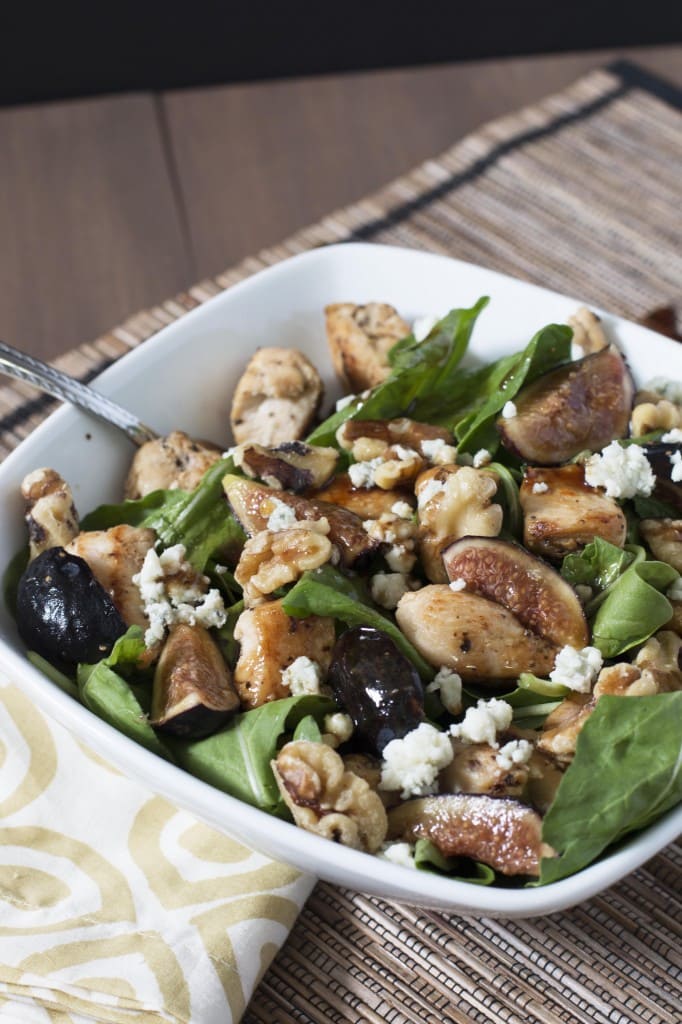 If I can continue to come up with salads like this one, I might be able to finally climb back onto that diet bandwagon! *fingers crossed*
Now, share your amazing healthy recipes ideas below! Or just tell me your best will power moment so I can draw strength from you all. 🙂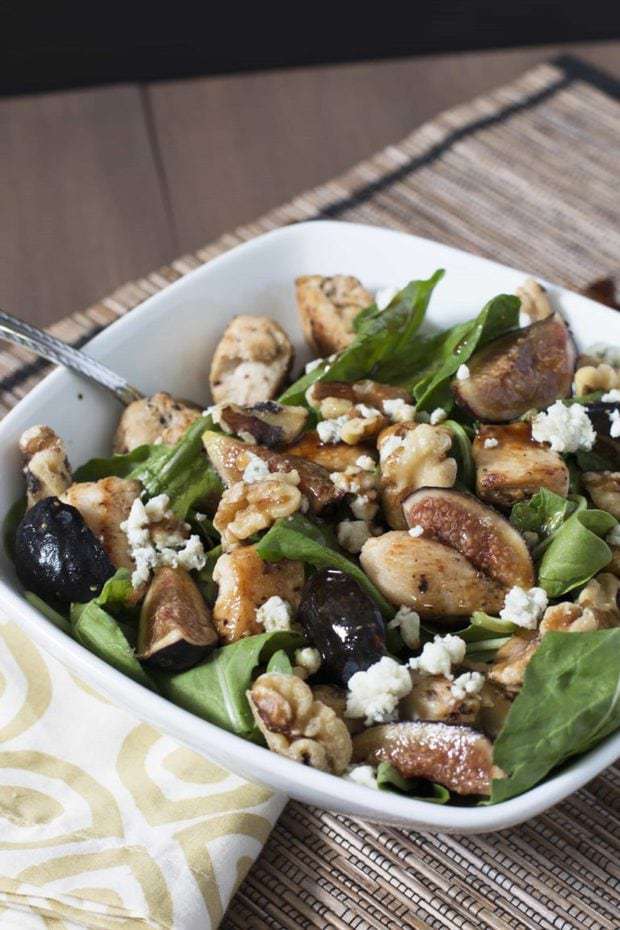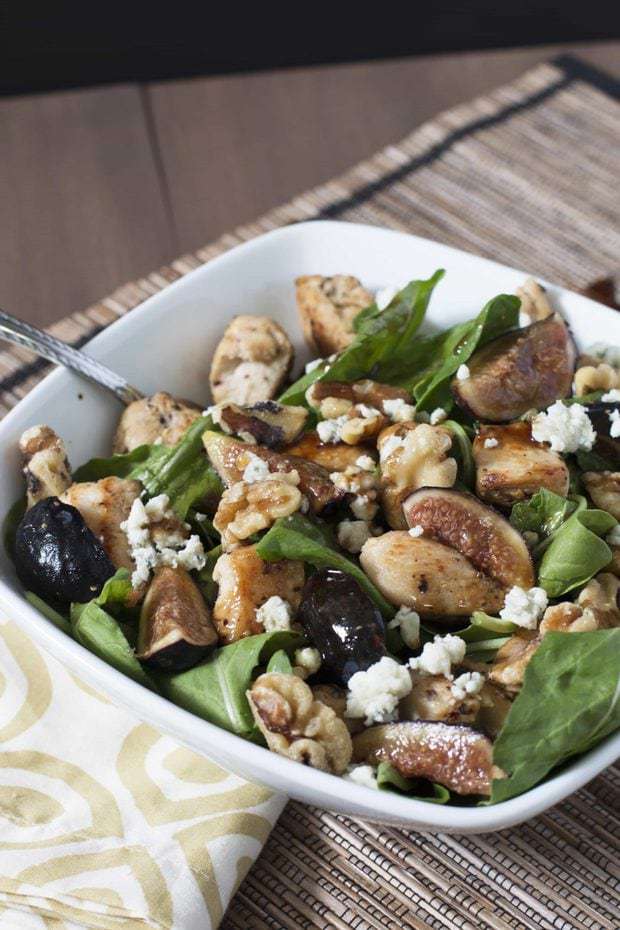 Chicken and Fig Summer Salad
My favorite salad dedicated to the last days of summer. The chicken, fig, and blue cheese really make this salad sing.
Ingredients
1 chicken breast, cut into 1" pieces
1/4 tsp salt
1/4 tsp pepper
1/4 tsp garlic powder
1 Tbsp olive oil
8 oz baby spinach
3 figs, quartered
Walnuts
Blue cheese crumbles
Honey Balsamic Dressing
3 Tbsp honey
3 Tbsp balsamic vinegar
1/4 cup olive oil
1/4 tsp salt
1/4 tsp pepper
Instructions
Combine 1/4 tsp salt, 1/4 tsp pepper, and 1/4 garlic powder in a small bowl. Season the cut chicken breast with the spice mixture. Heat a small sauté pan over medium heat with 1 Tbsp olive oil. When the pan is hot, add the seasoned chicken breast pieces. Cook until browned and cooked through, approximately 5-7 minutes. Remove from heat and set aside.
In a small bowl, whisk together the honey, balsamic vinegar, olive oil, salt and pepper for the dressing. Set aside.
In a large salad bowl, add the baby spinach. Top with chicken, quartered figs, walnuts and blue cheese crumbles. Drizzle desired amount of dressing over the top. Eat immediately and enjoy the flavors of summer!