Creamy Salsa Verde Chicken Baked Taquitos are the ultimate way to celebrate National Salsa Month! Tender chicken is cooked in roasted salsa verde, then combined with black beans, avocado, and cheese to fill crispy baked tortillas. The handheld recipe can be served as an appetizer, snack, or even a main course.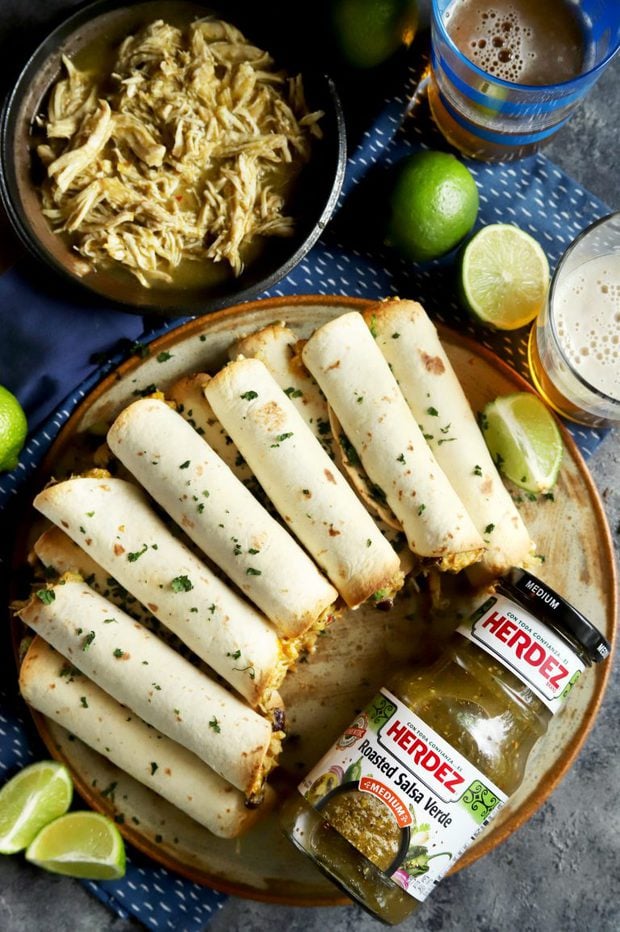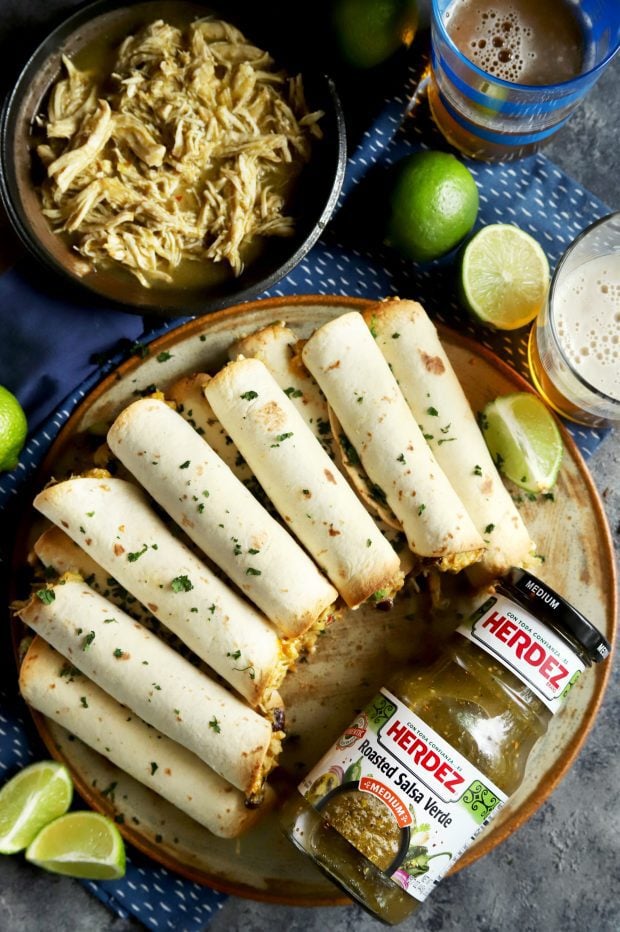 Disclosure: This post has been sponsored by HERDEZ®. As always, all opinions are my own. Thank you for supporting the brands that support Cake 'n Knife!
Did you all know that it's National Salsa Month?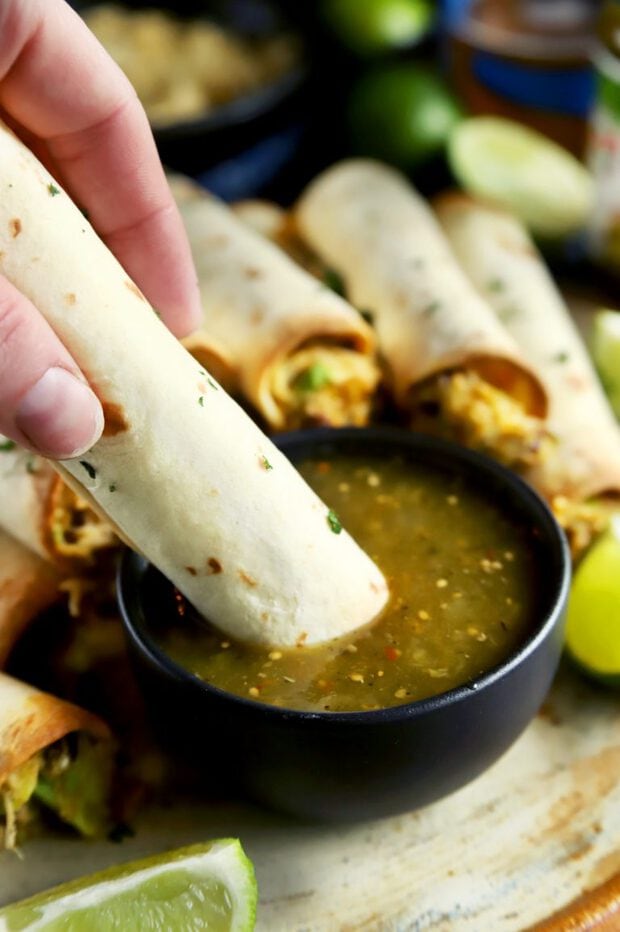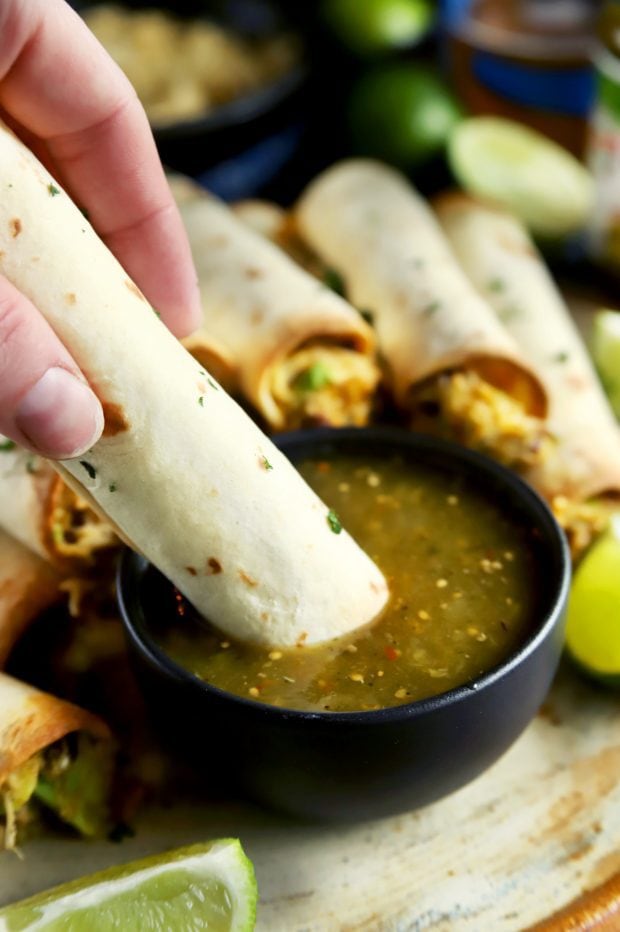 Oh boy, if there ever was a month that could fit me better, I dare you to find it.
I literally eat salsa every. single. day. No I swear that I am not exaggerating when I say that. Salsa is just something that is in my BONES. I put it on everything (and I am not ashamed of that fact). As I am sitting here writing this post, I'm gobbling down bites of grilled strip steak that have been topped with some HERDEZ® Roasted Salsa Verde.

You jealous? Because you should be.
In honor of National Salsa Month, I am showing you a creative way to make the most of it with the HERDEZ® brand. In case you aren't familiar with HERDEZ®, it's actually the number one salsa brand in Mexico and represents the heart and soul of Mexican cuisine made from simple, high-quality ingredients. Not to mention they've been around for over 100 years as a staple in all sorts of Mexican kitchens.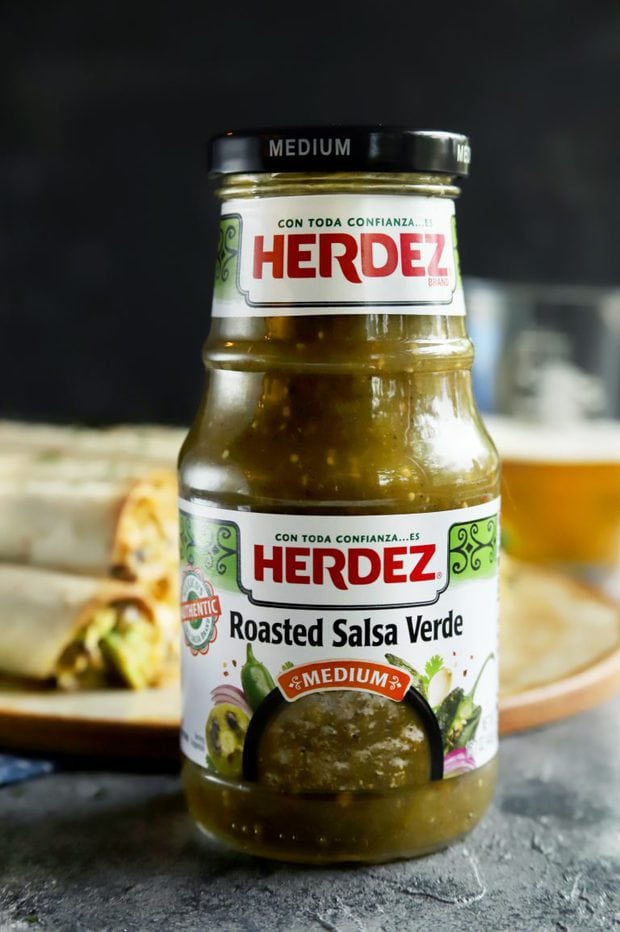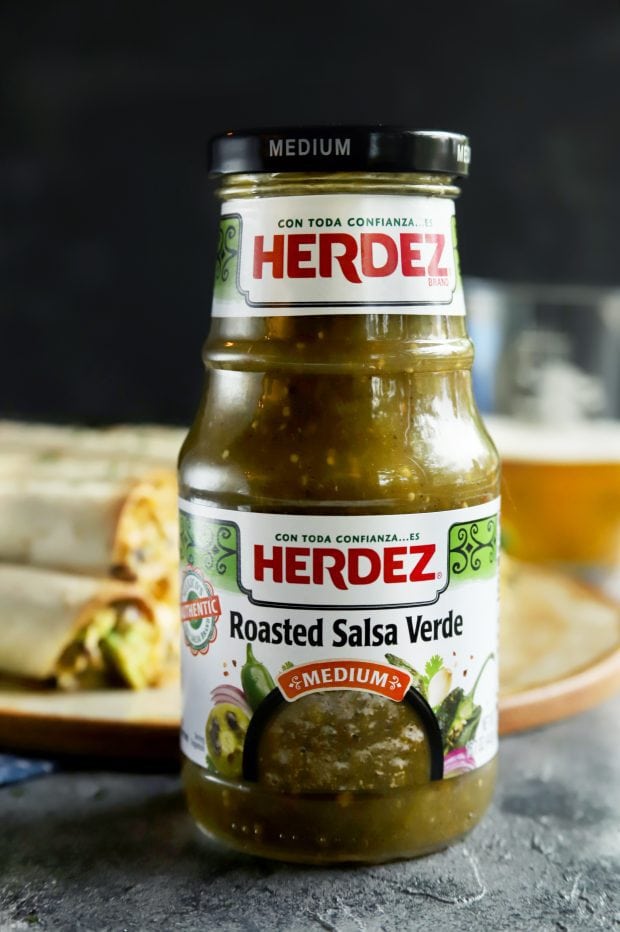 I love HERDEZ® because it's great tasting and offers traditional and authentic flavors to my recipes. Whenever you cook with products like their Roasted Salsa Verde that's featured in these baked taquitos, you know that the flavors of the salsa are truly going to shine. It's the heart and soul of this recipe, and I am oh-so obsessed.
It's basically a dream come true to partner with a brand that I not only already love, but fits so well into my style of cooking.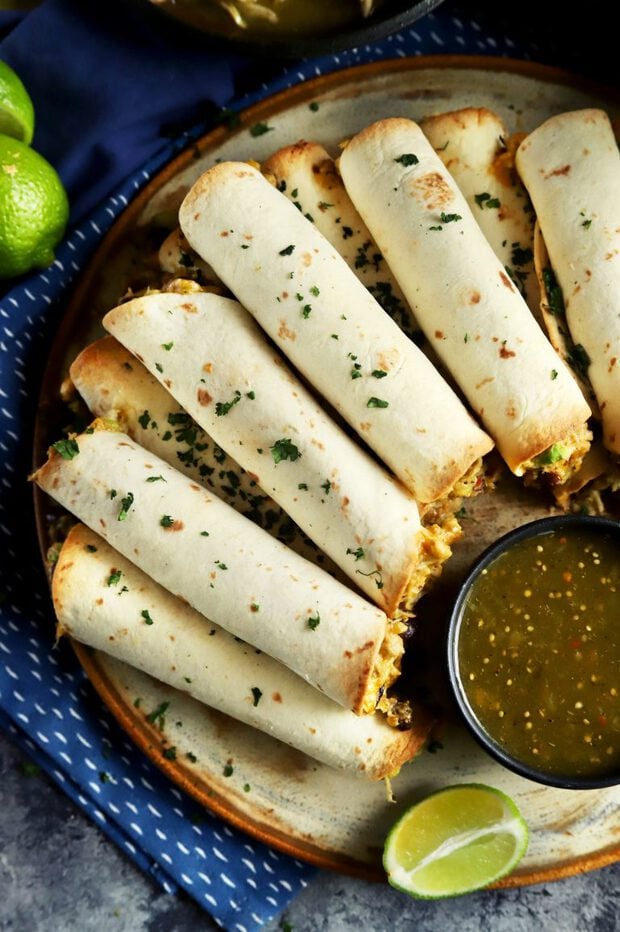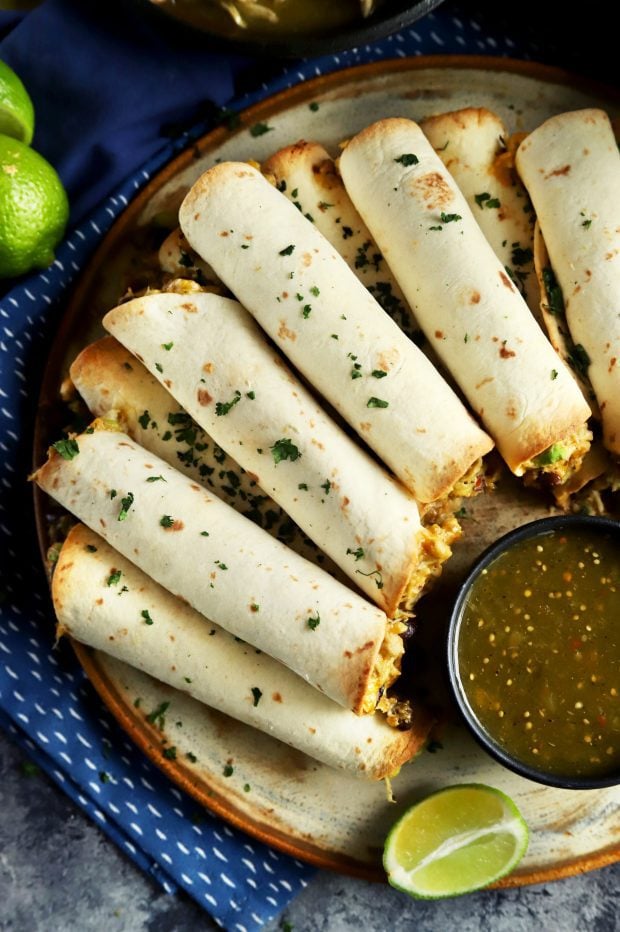 You all KNOW how much I love my spice and salsa!
These taquitos are always a surefire win, whether you are serving them as an appetizer, a snack, or a main dish. The filling is creamy, spicy, and gooey, in contrast to the golden brown and crispy tortilla exterior. When you dip it in HERDEZ® Roasted Salsa Verde, it's basically handheld heaven.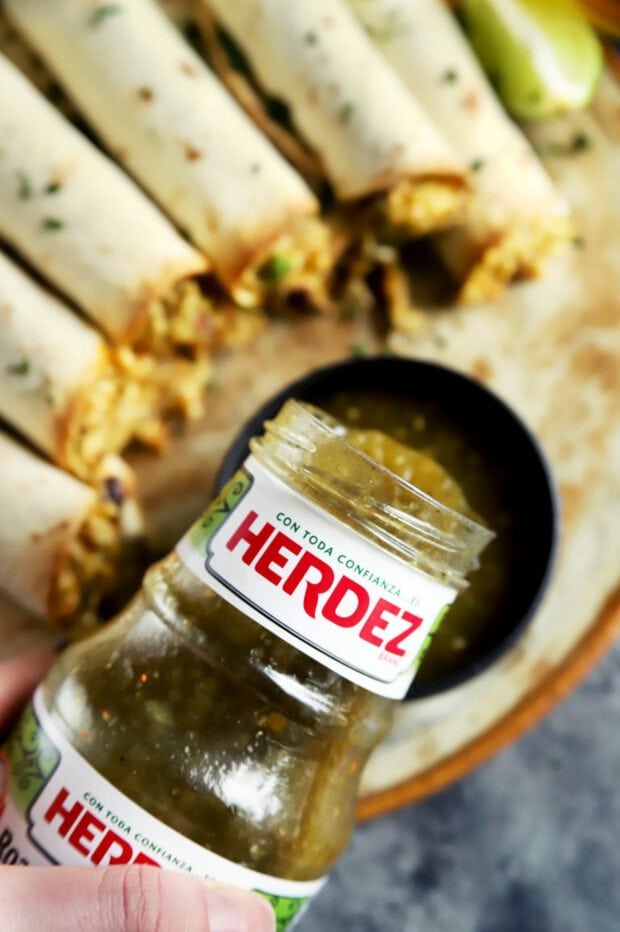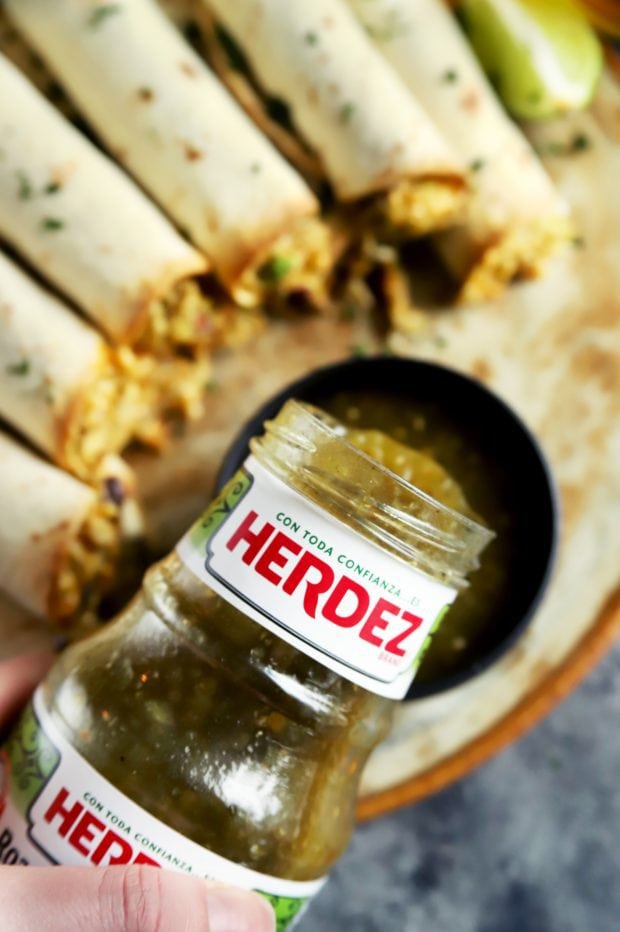 This Recipe's Must-Haves
First and foremost, you need HERDEZ® Roasted Salsa Verde for this recipe. It's not only the ideal dip for the taquitos, it also is what the chicken is cooked in AND it's added to the filling mixture.
I cooked up my chicken in my favorite Instant Pot, but you can also use a slow cooker (check the recipe notes for cooking time). All you need to shred the meat are two forks!
Be sure to have your mixing bowls handy to make the filling for the taquitos.
All you need after that is a sturdy half sheet baking pan. I recommend placing the oven rack in the lower third of your oven to get the tortillas nice and crispy.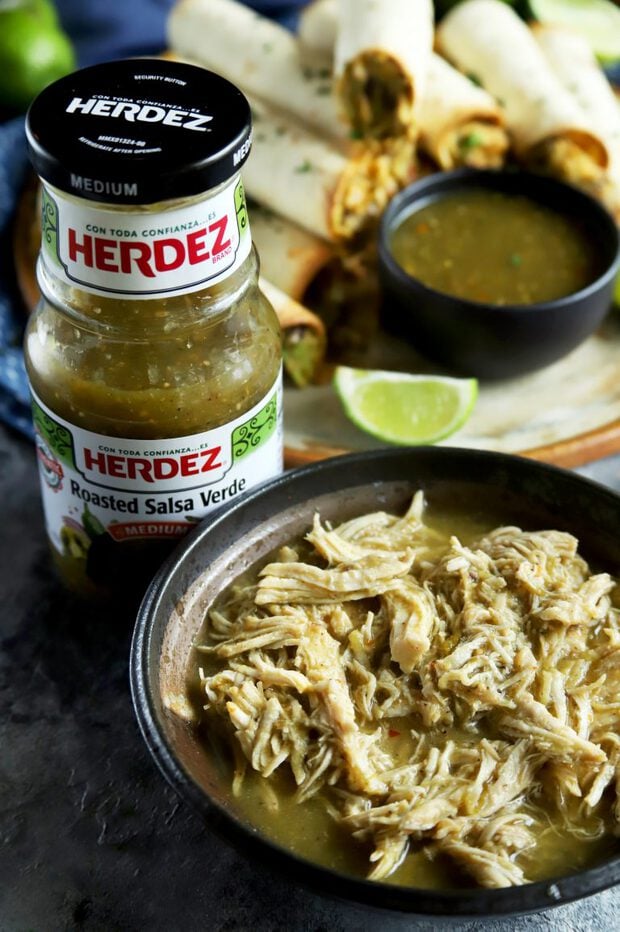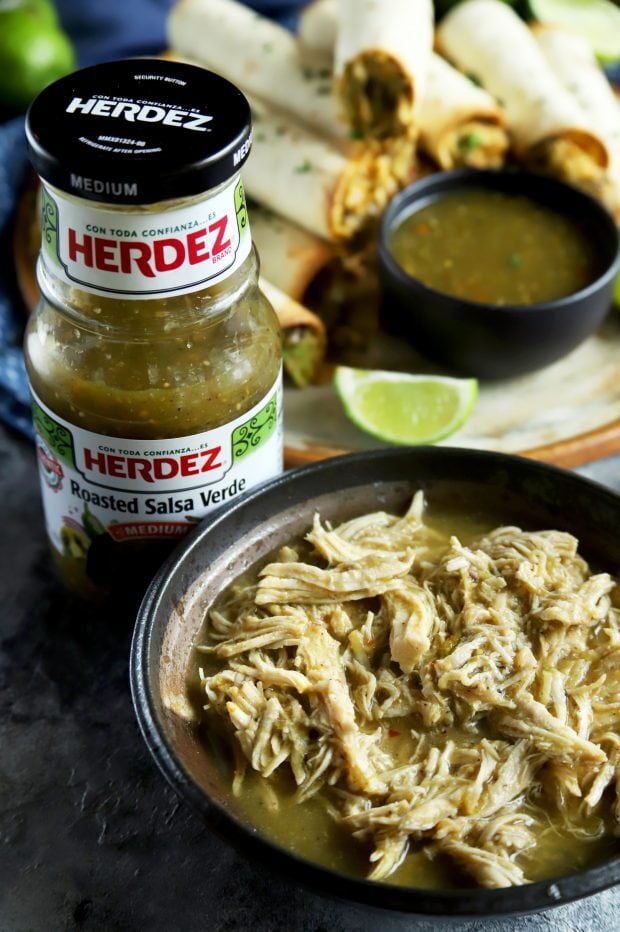 How do I make baked taquitos?
Make the chicken
The chicken that goes in the filling gives a big ol' punch of flavor since it's cooked in the HERDEZ Roasted Salsa Verde. The authentic flavors of the fire-roasted poblano peppers, tangy tomatillos (one of the most underrated ingredients in my opinion), and jalapeno peppers get soaked into the chicken.
You can either make the chicken in 20 minutes in your Instant Pot, or in the slow cooker if that's all you have! See the recipe notes for instructions on slow cooker cooking time.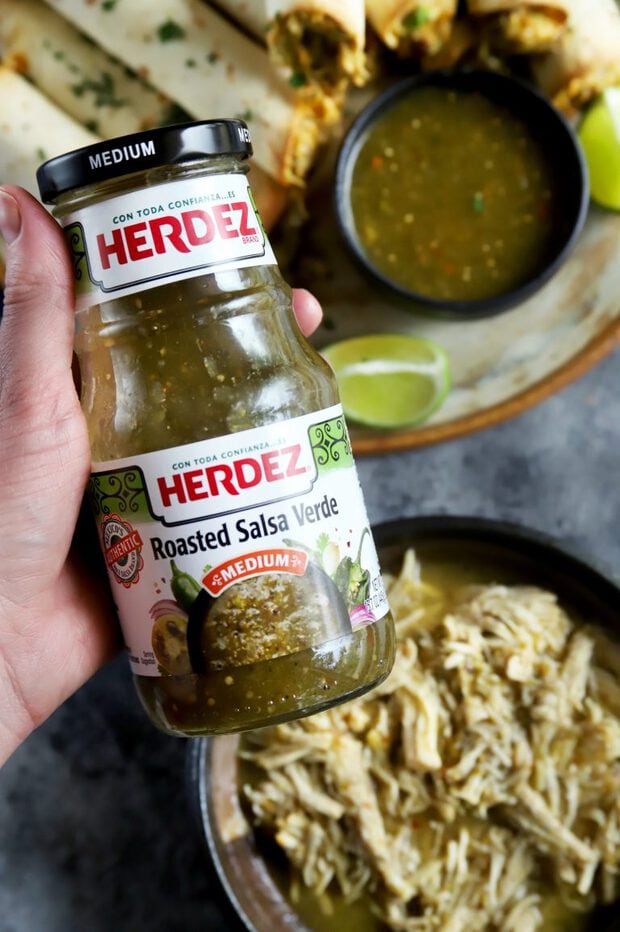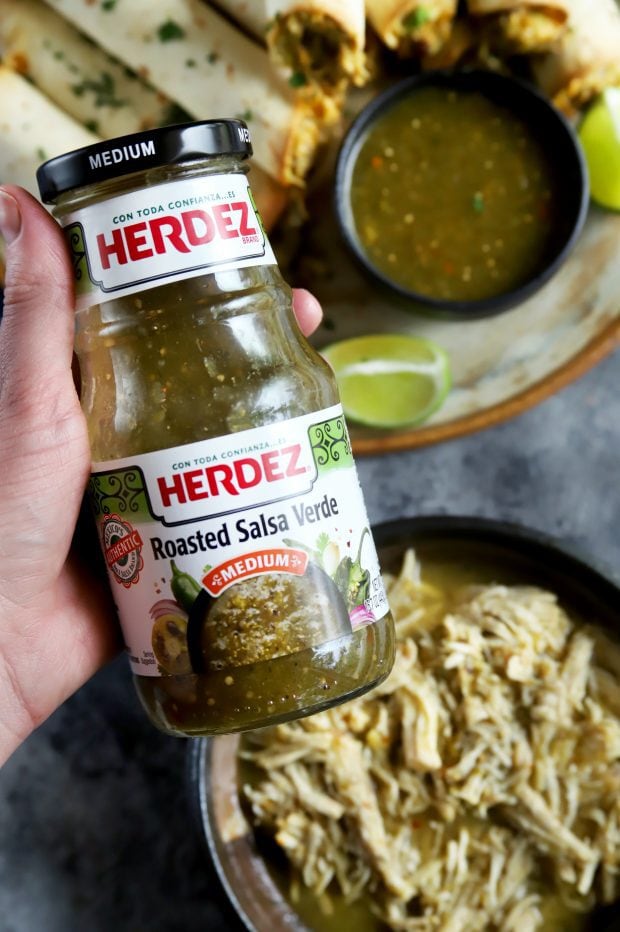 Make the filling
Once the chicken is cooked, you simply shred it up with two forks. This recipe makes enough for the taquitos, but you'll have some chicken leftover to eat later (you're welcome).
Mix the roasted salsa verde chicken with the black beans, mashed avocado, cheese, and a little more Roasted Salsa Verde!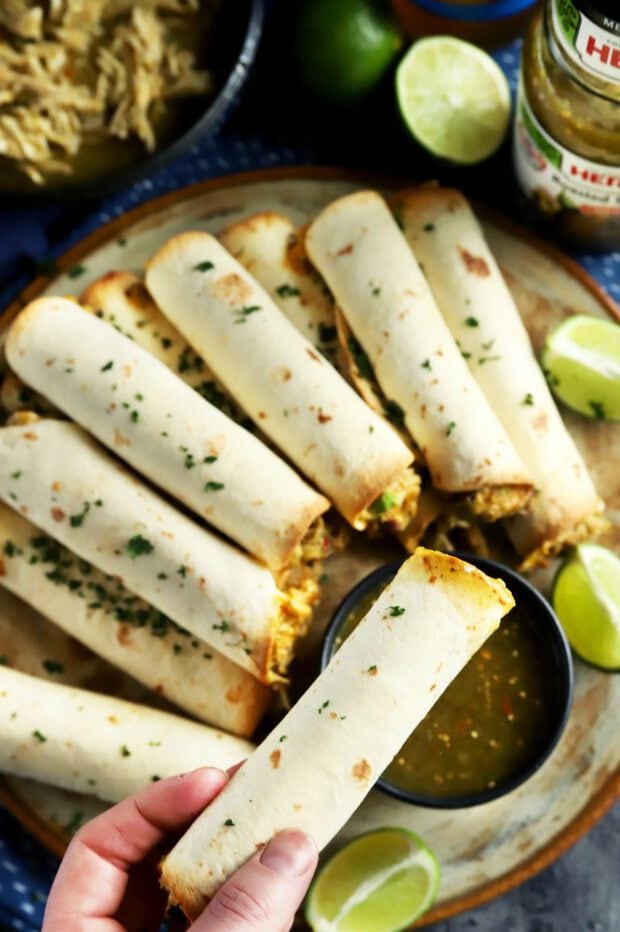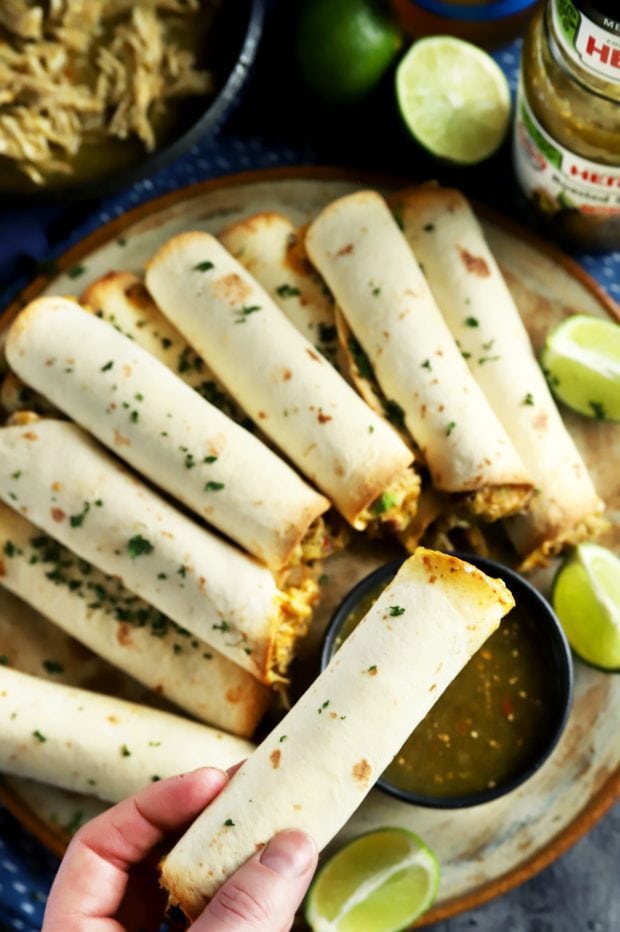 Roll 'em up and bake!
From there you just add a heaping tablespoon of so to the center of each flour tortilla. Line them up on a baking sheet, seam side down, and bake until they are crispy and golden brown.
Be sure to serve the taquitos with some extra HERDEZ® Roasted Salsa Verde. It makes for an amazing dip and you get a burst of spice to counter the creaminess of the taquito filling. It's rich, tangy, and you will never want to stop making them.
Can you think of a better way to honor National Salsa Month?!? It's almost over after all, so get to making these ASAP!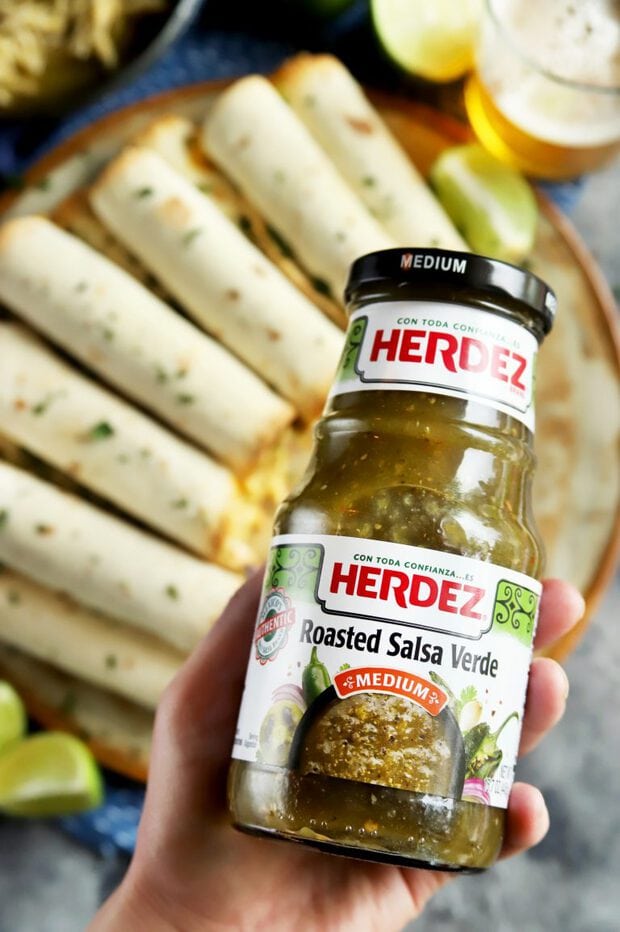 Where can I find HERDEZ
®
products in my local store?
Simply go to my favorite aisle! That's the Mexican food (or Latin food depending on your store) aisle of course 😉 You'll find the HERDEZ® Roasted Salsa Verde there. Their Taqueria Street Sauces, which are another winner (and personal fave of mine), can be found in the taco sauce aisle. They make such a wide range of salsas, dips, and cooking sauces, pick up and few to try so you can find your own favorite! Also, HERDEZ® is available nationwide 🙂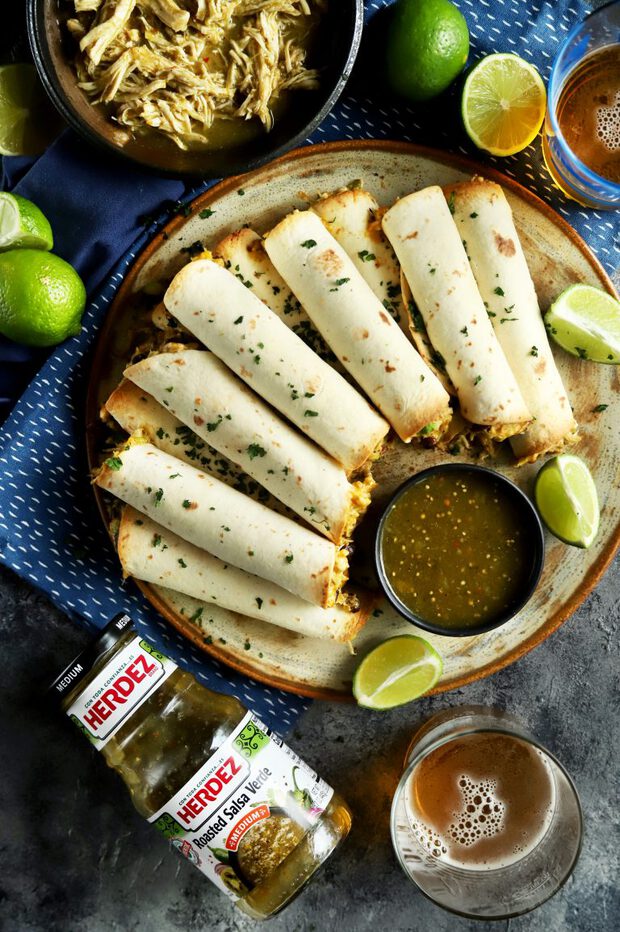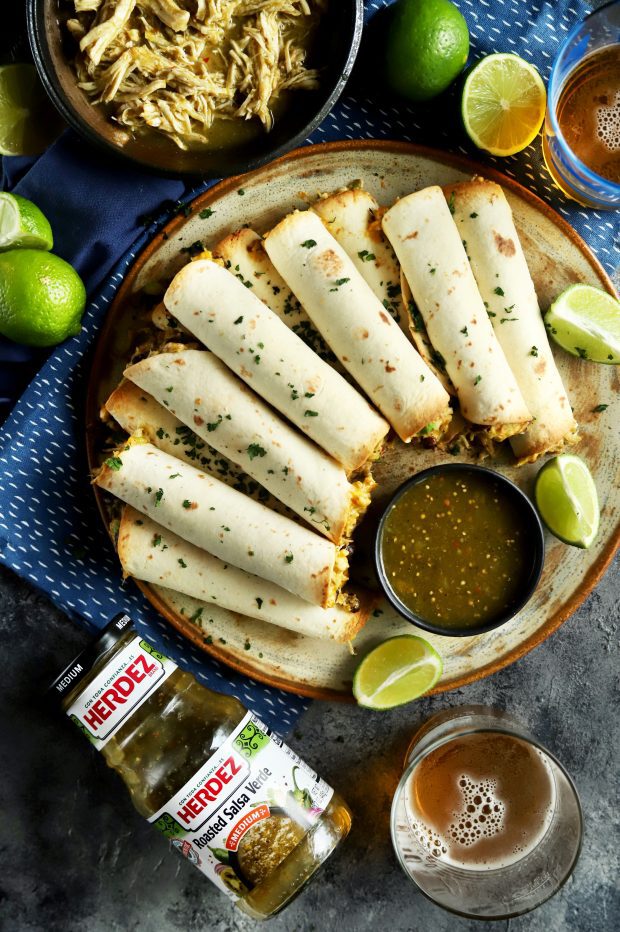 Can I use corn tortillas instead of flour?
You can use corn tortillas in lieu of flour, but I prefer flour because they are a lot easier to roll. If you are using corn, make sure you warm them up between damp paper towels in the microwave. This will help them be more pliable.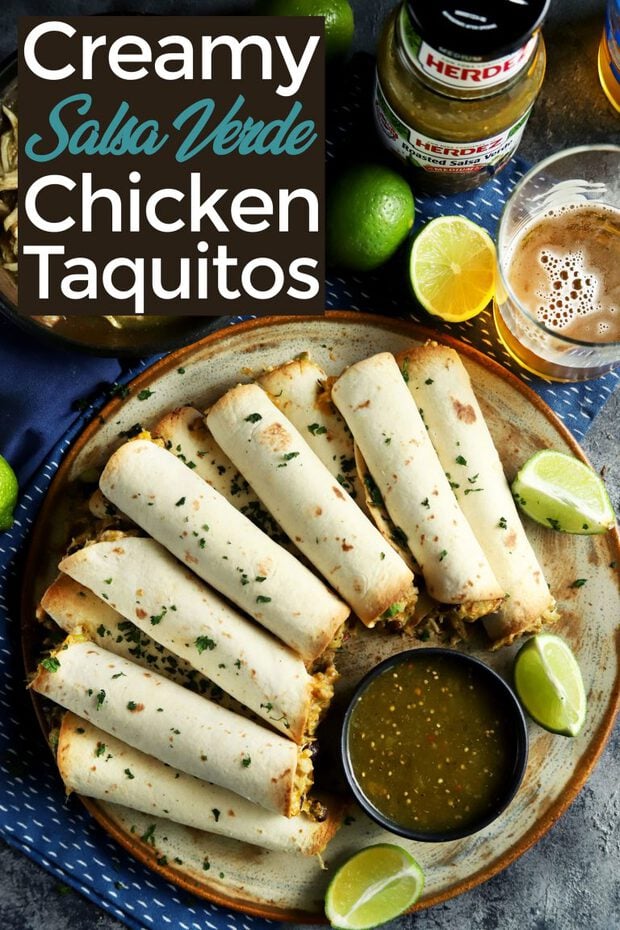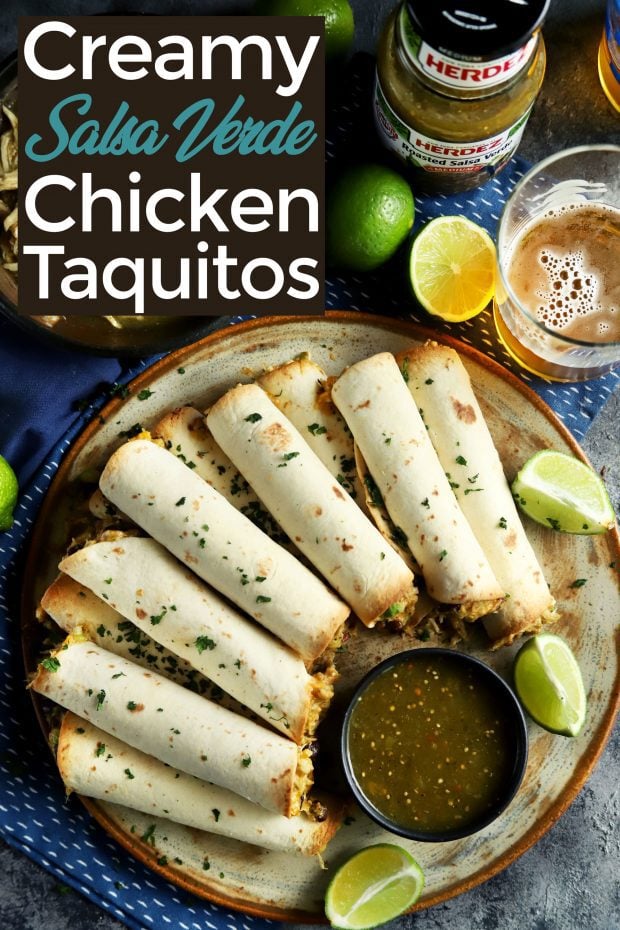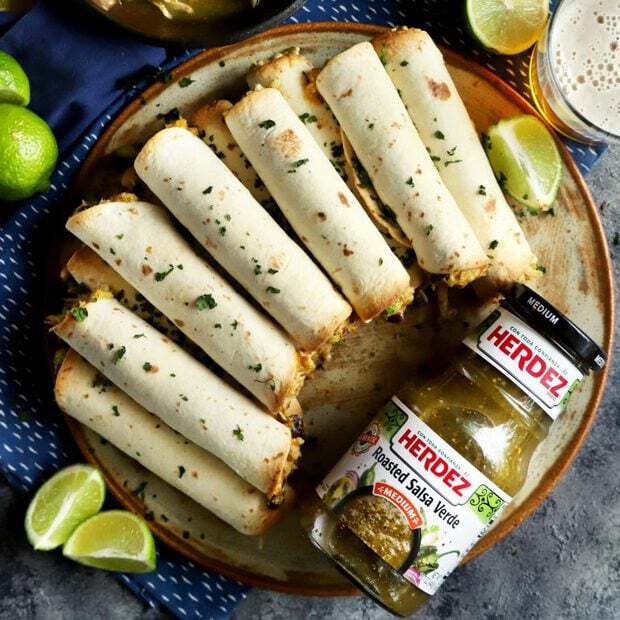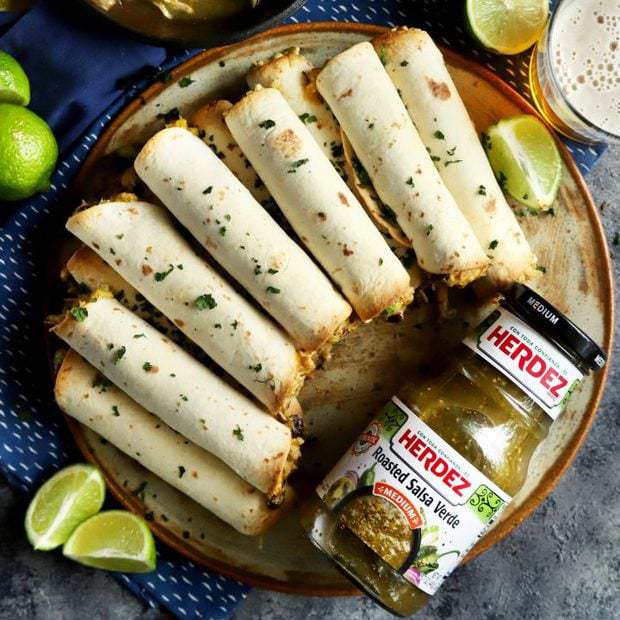 Creamy Salsa Verde Chicken Baked Taquitos
Crispy baked taquitos are filled with a creamy mixture of salsa verde chicken, avocado, cheese, and black beans. YUM.
Ingredients
Salsa Verde Chicken
1 1/2 lbs boneless, skinless chicken breast (about 1 large chicken breast, or 2 small)
Taquitos
12 to 14 small flour tortillas
1 cup shredded Salsa Verde Chicken
1 large avocado, peeled, pitted, and mashed until smooth
1 cup black beans
2/3 cup shredded sharp cheddar cheese
2 oz cream cheese, softened
Instructions
To make the salsa verde chicken, add chicken breast and HERDEZ® Roasted Salsa Verde to the insert of an Instant Pot. Set to Manual and cook on High pressure for 20 minutes, until chicken is cooked through.

Use two forks to shred the chicken in the Instant Pot insert.

Preheat oven to 425˚F. Line a rimmed baking sheet with a silicone mat or parchment paper.

Add 1 cup of the cooked shredded chicken to a large bowl, then reserve the rest for other uses.

Add avocado, black beans, shredded cheddar, cream cheese, and salsa verde to the shredded chicken. Stir to combine until all ingredients are evenly incorporated.

Add tortillas to the microwave and warm for about 10 to 15 seconds.

On a flat work surface, wrap up the taquitos. Place on warm tortilla on your work surface and add a generous spoonful (heaping Tablespoon or so) to the center.

Working from the bottom, roll up the tortilla tightly. Place seam side down on the lined baking sheet.

Bake until golden and crispy on the outside, about 15 minutes.

Serve with additional Roasted Salsa Verde.
Recommended Products
As an Amazon Associate and member of other affiliate programs, I earn from qualifying purchases.