I have had a box of orzo sitting in my pantry for a couple of months now because I had no idea what to do with it. Every recipe I found was for a pasta salad and since pasta salad is not something I like to eat regularly, I have been putting off using it.
FINALLY I found something to do with this rice-like pasta that is not a cold salad, but a warm, luscious, simple version of Mac and Cheese.
There are few foods that automatically make me feel at home and mac and cheese is definitely one of those, right next to chocolate chip cookies and spaghetti and meatballs. Though Kraft holds a special place in my heart, I am always trying to find a "grown-up" version. This cheesy orzo makes the top of the list, especially since I doubled the cheese from the original recipe.
What can I say? I LOVE CHEESE.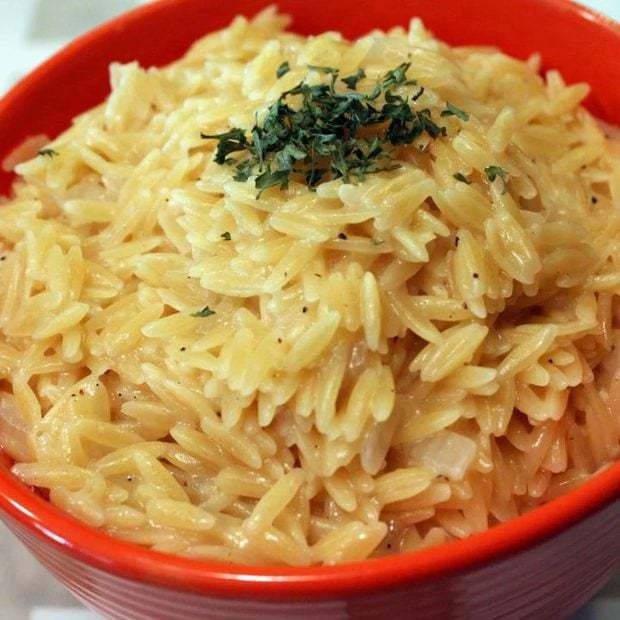 Cheesy Orzo
Ingredients
2 Tbsp olive oil
1/2 large yellow onion, chopped
4 cloves garlic, chopped
1 3/4 cups chicken or vegetable stock
2 cups orzo pasta
1 1/4 cups grated Parmesan
Salt and freshly ground black pepper
Garnish: freshly chopped parsley
Instructions
Preheat a medium saucepan over medium-high heat. Heat oil and then add in onion and garlic. Saute for 2 to 3 minutes. Pour in broth and bring to a boil. Stir in orzo and bring broth back to a boil. Cover pot and reduce heat to simmer. Cook 15 minutes, stirring occasionally.
Remove lid and stir in cheese. Season with salt and pepper to taste. Serve warm.