I looooooooove soft cookies.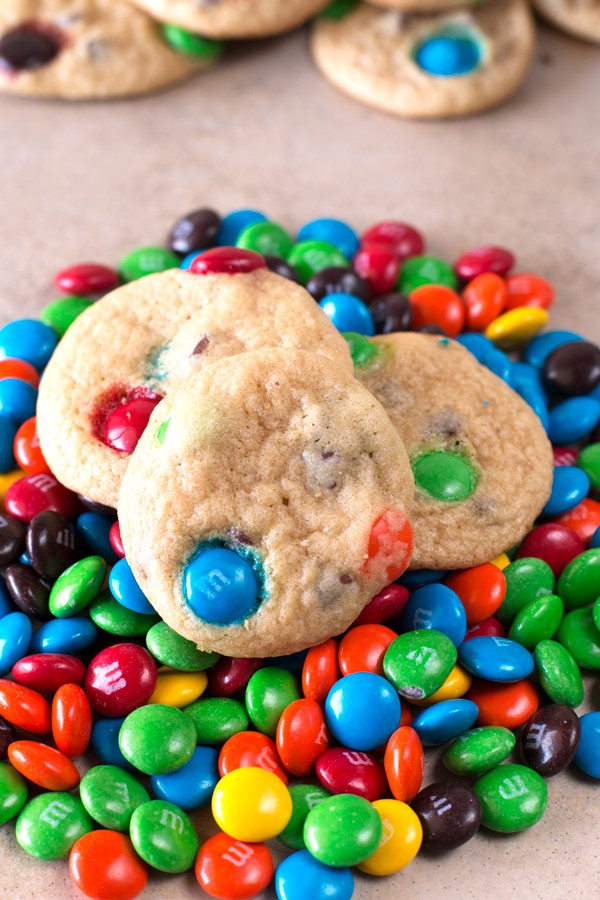 I know that some of you out there love a crispy cookie, but I absolutely cannot stand it when a cookie is hard and crunchy. I much prefer soft, pillowy cookies that practically melt in your mouth. Especially in miniature form, because that means you get to eat 4 or 5 cookies instead of one big cookie, right?
I have to admit, I was a little scared to start this week. There is so much on my plate due by the end of the week; I would really prefer hiding under the covers until Friday night rolls around. The worst part of knowing an intense week is coming is the weekend before since most of it is spent trying to will time to go slower. Of course the opposite happens and before you know it – BOOM, it's Monday!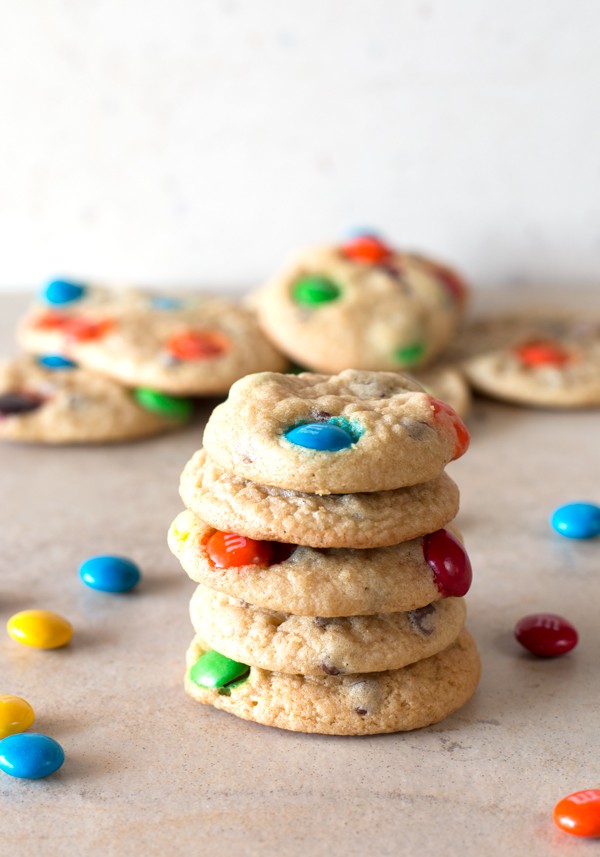 At least I get a reward at the end of the week! It's called a half day French Pastry class – EEK! I can barely contain my excitement for learning how to make croissants and palmiers. My previous interactions with laminated dough and French pastry have been utter epic fails. Like, so so so bad. Maybe this will be the enlightening moment I've been waiting for. At the very least I'll stuff my face full of French pastry and wine. 🙂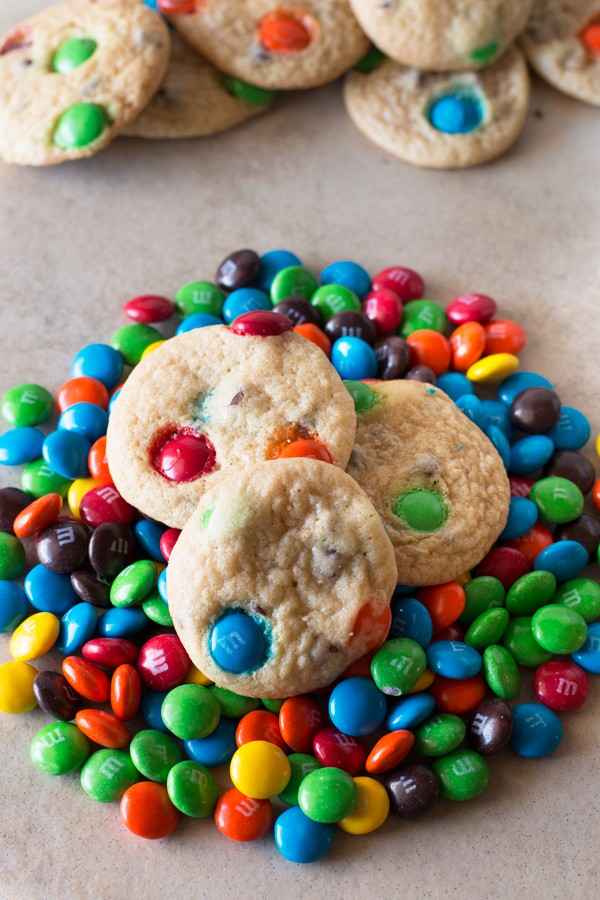 Ok, I have officially totally derailed this post from a post about cookies to random musings. SORRY. Let's focus on cookies!
I packed these little guys with M&Ms and mini chocolate chips because a) there's no such thing as too much chocolate and whoever says there is, well they are WRONG and b) I love the fully melted chocolate chips and the tiniest bit of texture you get from those candy shells. Also, mini chocolate chips inside mini cookies? Hello cuteness overload!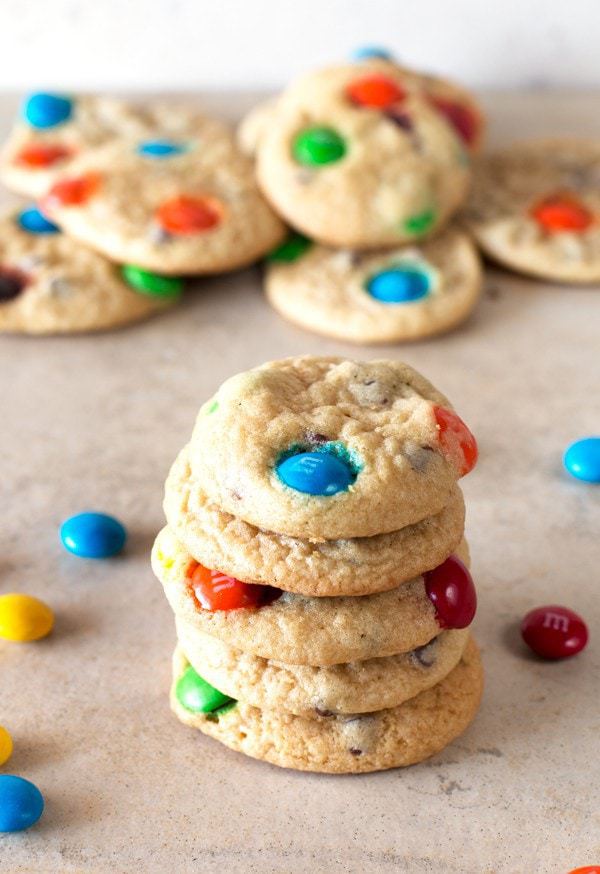 This recipe makes over 5 dozen mini cookies so make a batch, share them with friends and co-workers, and hoard the rest away for yourself! I'll make sure the milkman drops off an extra gallon of milk.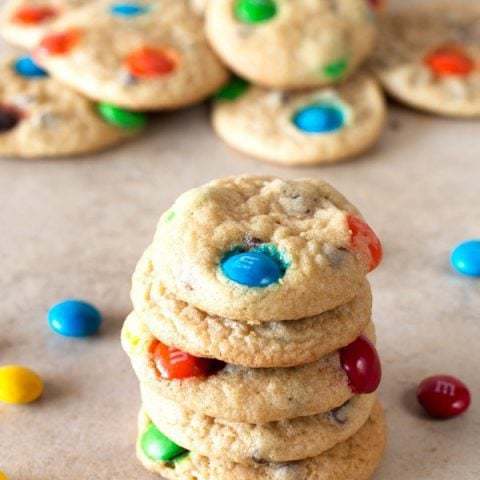 Soft Batch Mini M&M Cookies
Yield:
5 1/2 dozen cookies
Soft and chewy miniature cookies packed with M&Ms and mini chocolate chips.
Ingredients
10 Tbsp unsalted butter, softened
3/4 cup brown sugar
1/4 cup granulated sugar
2 eggs
1 tsp vanilla extract
1/2 tsp salt
1/2 tsp baking soda
3/4 tsp baking powder
2 cups flour
1/2 cup M&Ms
1/2 cup mini chocolate chips
Instructions
In the bowl of a stand mixer fitted with the paddle attachment, cream together butter, brown sugar, and granulated sugar until combined. Add eggs in one at a time, beating completely after each is added. Beat in vanilla. Add salt, baking soda, and baking powder and beat until combined. Gradually add in flour until fully incorporated. Fold in M&Ms and mini chocolate chips.
Cover the bowl with plastic wrap and chill in the refrigerator overnight.
When ready to bake, preheat oven to 350 degrees. Line 2 large baking sheets with silpats or parchment paper.
Using a Tbsp to measure out each ball of dough, roll each Tbsp of dough into a smooth ball. Space the balls of dough approximately 1" apart from each other on the baking sheet. Press in additional M&Ms on the tops if desired.
Bake for 10 to 11 minutes, until just golden brown on the edges. Cool on the baking sheets for 3 minutes before transferring to cooling racks to cool completely. Repeat the baking process with the remaining dough.