I have officially fallen in love with Korean food.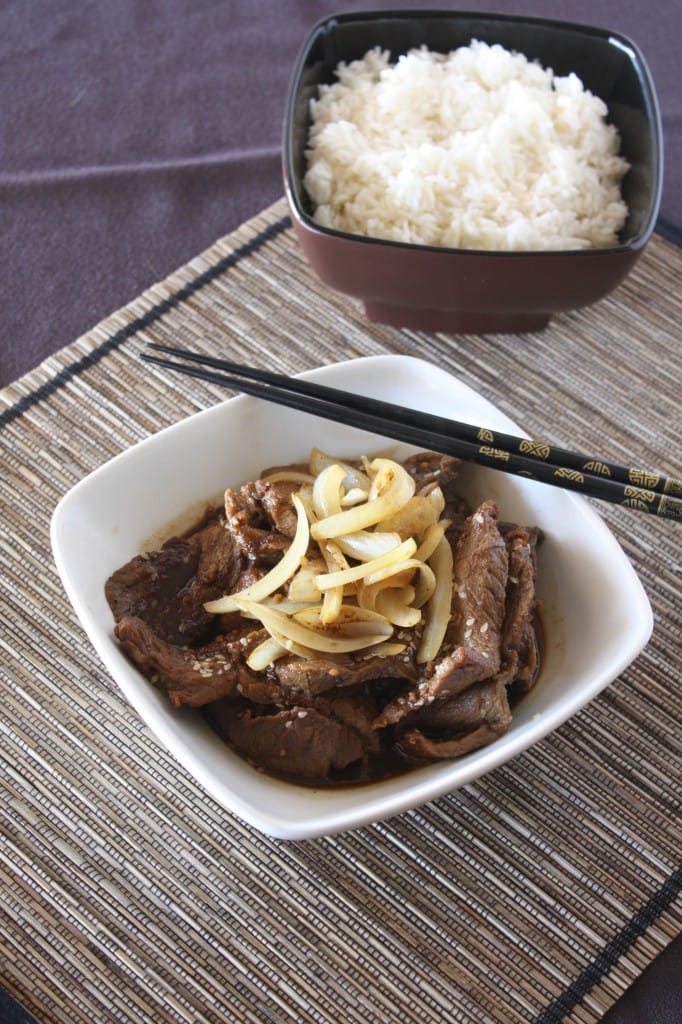 When I settled on what I would like to cook for this part of the series, I honestly wasn't familiar with anything but the Korean Short Ribs that I made for you last week. For some reason Bulgogi stood out to me as a dish that is a classic, and also wouldn't take me through really difficult cooking techniques.
Also, beef always goes over well in our house and I didn't want to be stuck eating my weight in live squid, so I stuck to something I knew my hubby would at least try….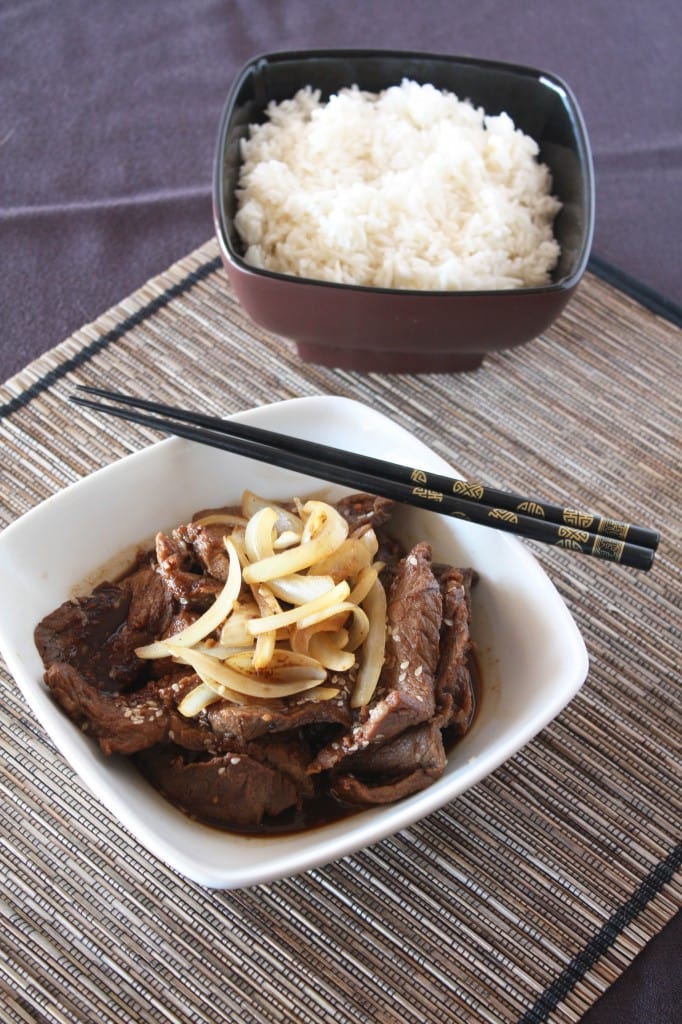 I know this dish looks incredibly simple, but the truth is… IT IS. So simple. Too simple. Simple enough to be a weeknight meal simple.
Just so you know, if it's easy enough to make on a weeknight after a long day of work, that's the key to simplicity for me. It's hard to find those easy meals that actually taste amazing and aren't too incredible fatty, right?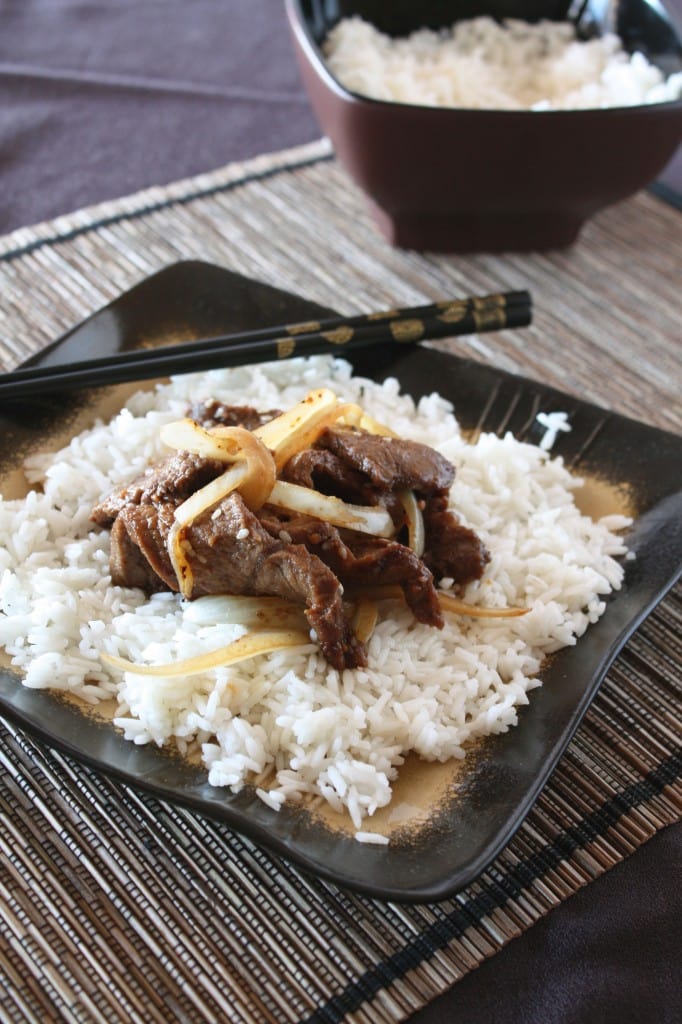 Trust me, go outside the box, try something different. It's worth it every. single. time.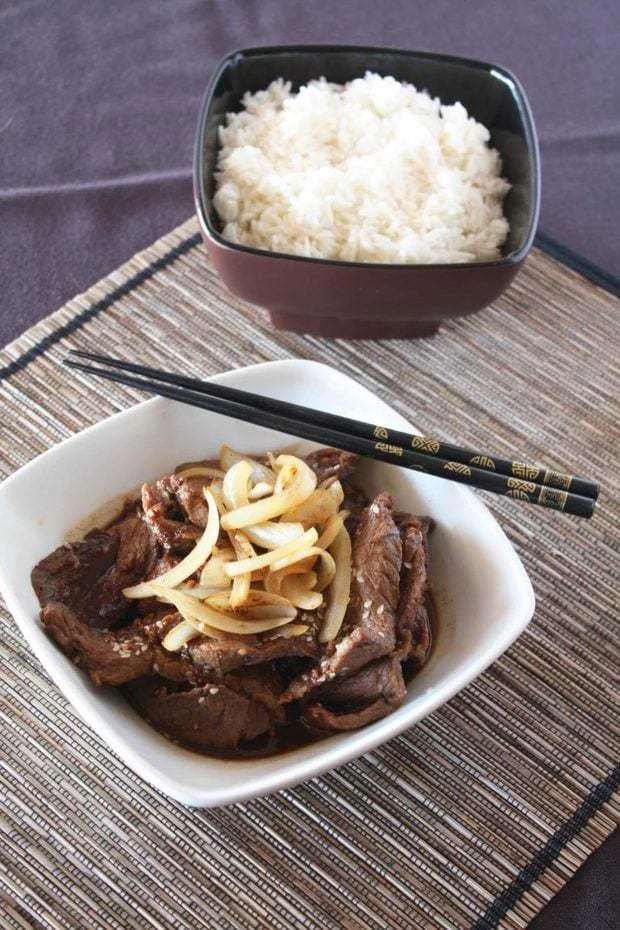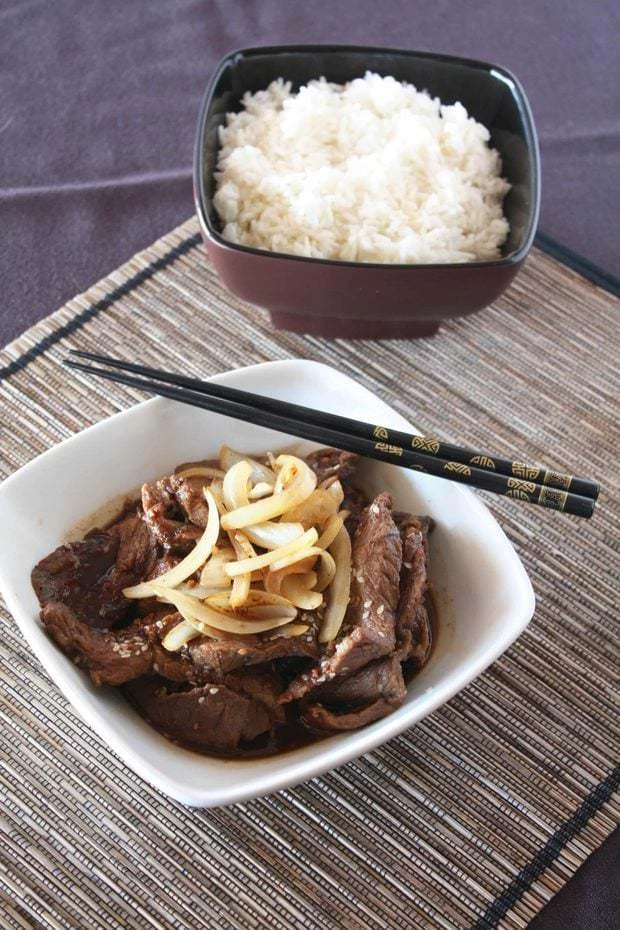 Bulgogi
Additional Time:
4 hours
30 minutes
Total Time:
4 hours
50 minutes
A Korean classic that is both quick to make and delicious to eat.
Ingredients
2 lbs beef rib eye, thinly sliced
1/2 cup unsweetened applesauce
1 onion, sliced
1 cup water
Marinade
7 Tbsp soy sauce
3-4 Tbsp sugar
3 cloves garlic, minced
2 Tbsp mirin
1 Tbsp sesame oil
2 tsp sesame seeds
1 tsp black pepper
Instructions
Pat the beef slices with paper towel to absorb some of the blood.
In a blender, puree the applesauce with half of the sliced onion. Using a coffee filter, squeeze the puree through it to get the clear juice, discarding the filter and what's left in it.
Add beef and clear juices to a bowl and mix with your hands. Rest for 30 minutes in the refrigerator.
Combine all the ingredients for the marinade. Add to the beef and mix by hand. Marinate in the refrigerator overnight or for at least 4 hours.
Bring a medium skillet to temperature over medium-high heat. Add the beef to the pan and stir as the meat cooks, approximately 1 to 2 minutes. Remove from heat.
In a small skillet, heat 1 tsp olive oil. Add the other half of the sliced onion with salt and pepper.
Serve your Bulgogi meat with its juice over rice immediately and top with onions.