Juicy, glazed, and gorgeous…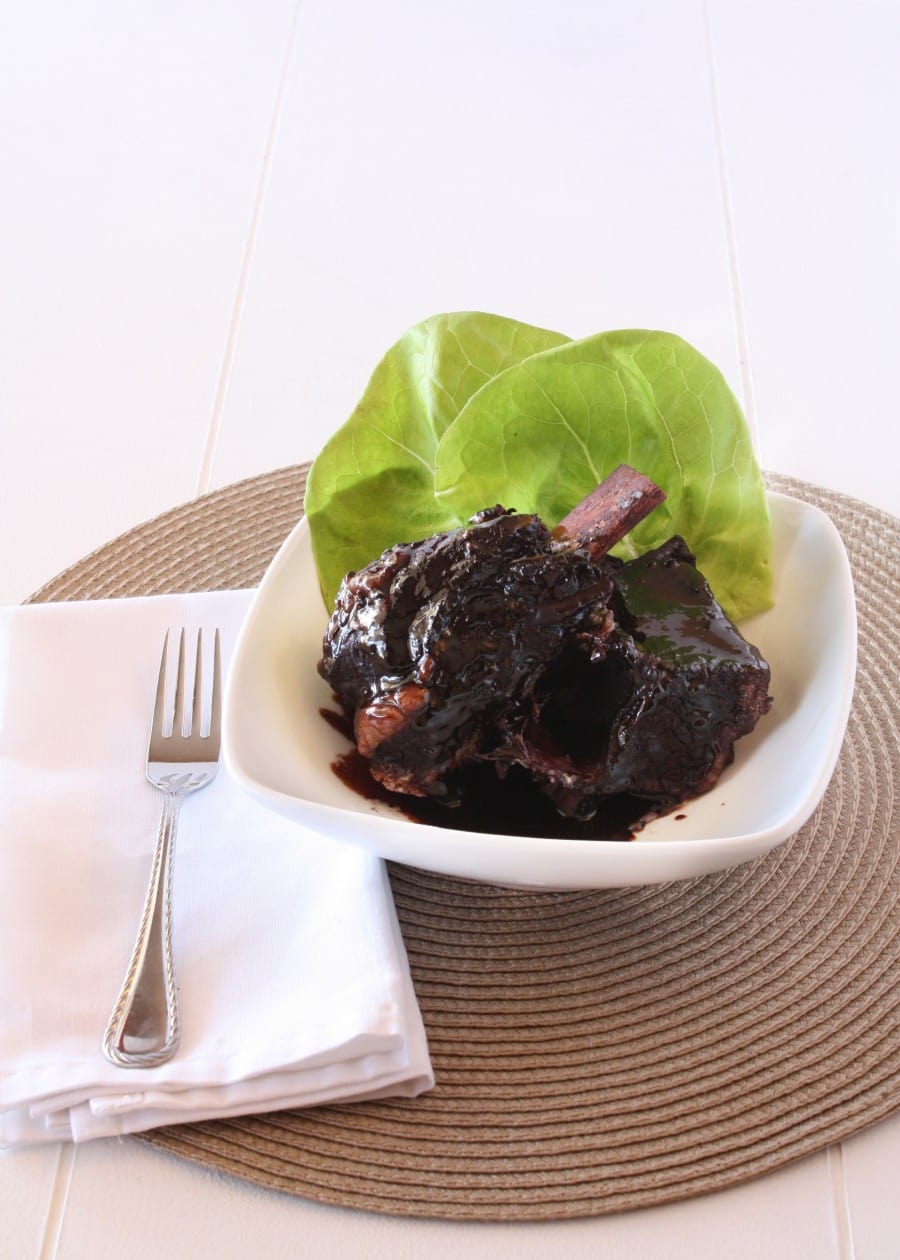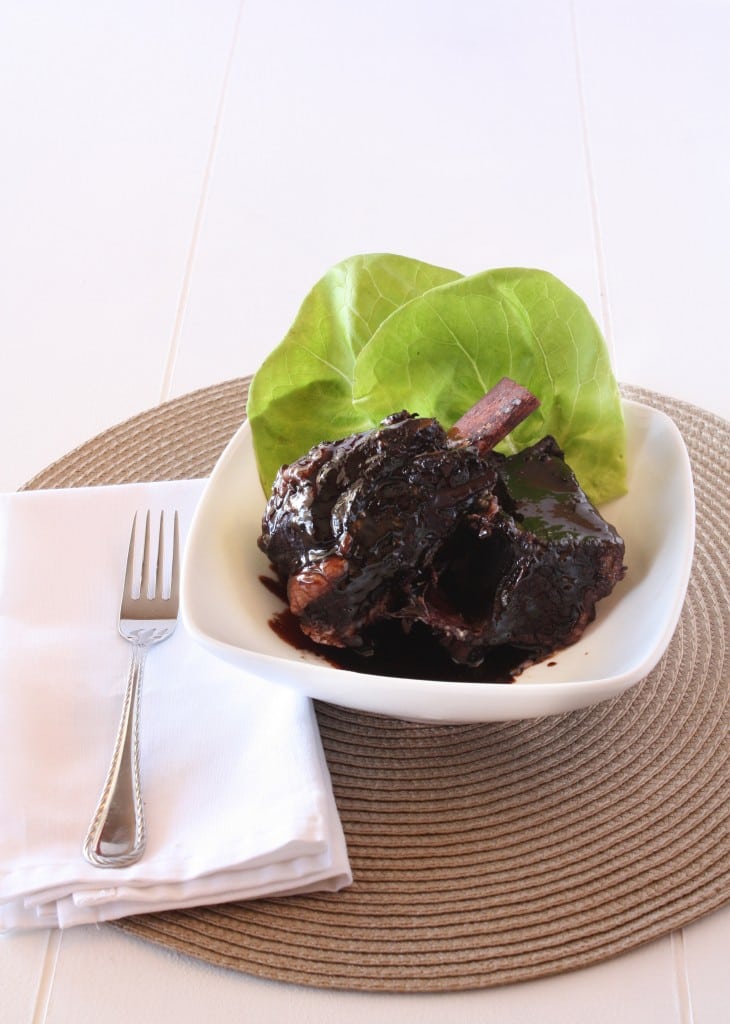 Short ribs are one of the simplest things to make even though they take a long time to cook. Really you just throw them in a pot with some wine and herbs and let it cook for hours. Then it literally falls off the bone and you are in heaven.
Lately I have been having an obsession with lip color and nail polish. Right now my nails are an obnoxious sparkling pink and I am just so so in love. It's like having pink disco balls on my fingers. It's definitely made typing at my desk a lot more fun… and sparkly.
LOVE sparkles. Just so you know.
Ok enough girly stuff, let's talk about MEAT. Like this meat that melts in your mouth and makes you oh-so happy to be alive.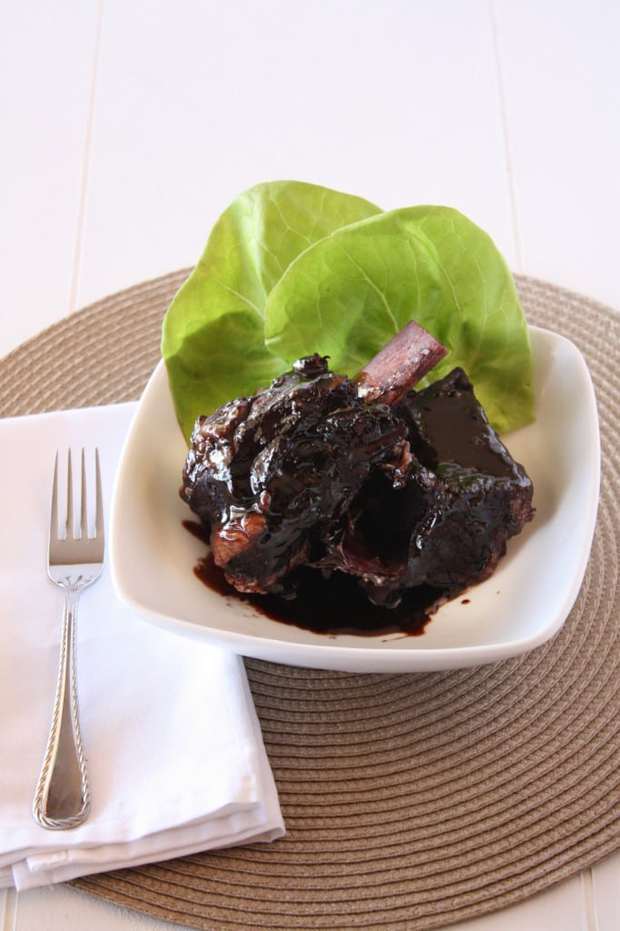 There's not much more I can say except this dish ridiculously easy and there's really no reason NOT to make it.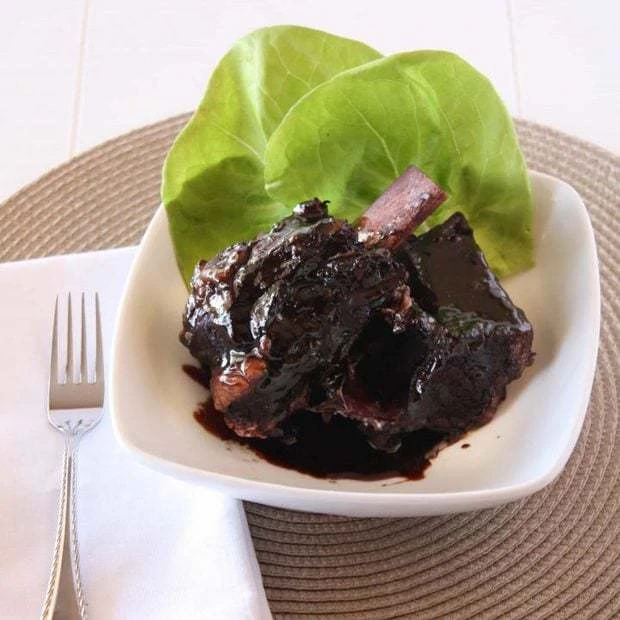 Red Cooked Short Ribs
Total Time:
3 hours
10 minutes
Falling off the bone with a rich glaze!
Ingredients
2 1/2 pounds beef short ribs, cut by the butcher into 8 pieces about 2 inches long
3 cups dry sherry
2 cups red wine
1/2 cup sugar
1/2 cup soy sauce
One 1 inch piece peeled fresh ginger
Two 3-inch cinnamon sticks
1 tsp star anise seeds
1 tsp ground pepper
Instructions
Fill a large saucepan with water and bring to a boil over high heat. Add the short ribs to the pot and cook for 1-2 minutes to remove some of the surface fat. Remove short ribs from water and set aside.
In a large pot or flameproof casserole, add the sherry, red wine, sugar, soy sauce, ginger, cinnamon sticks, star anise, pepper, and 3 cups of water. Stir to combine. Add the short ribs and bring to a boil over high heat. Reduce the heat to low, cover, and simmer until the meat is fork-tender, approximately two and a half hours.
With a slotted spoon, remove the ribs to a chopping board. You can either cut the meat from the bones or leave the meat as is. If you remove the meat, make sure you discard the bones. Remove the ginger from the sauce. Boil the sauce, uncovered, until it is syrupy and glossy, about 20-25 minutes.
Return short rib meat to the casserole and cook over low heat until warm. Serve immediately with rice and fresh greens.