Aren't these just the cutest things you've ever seen?!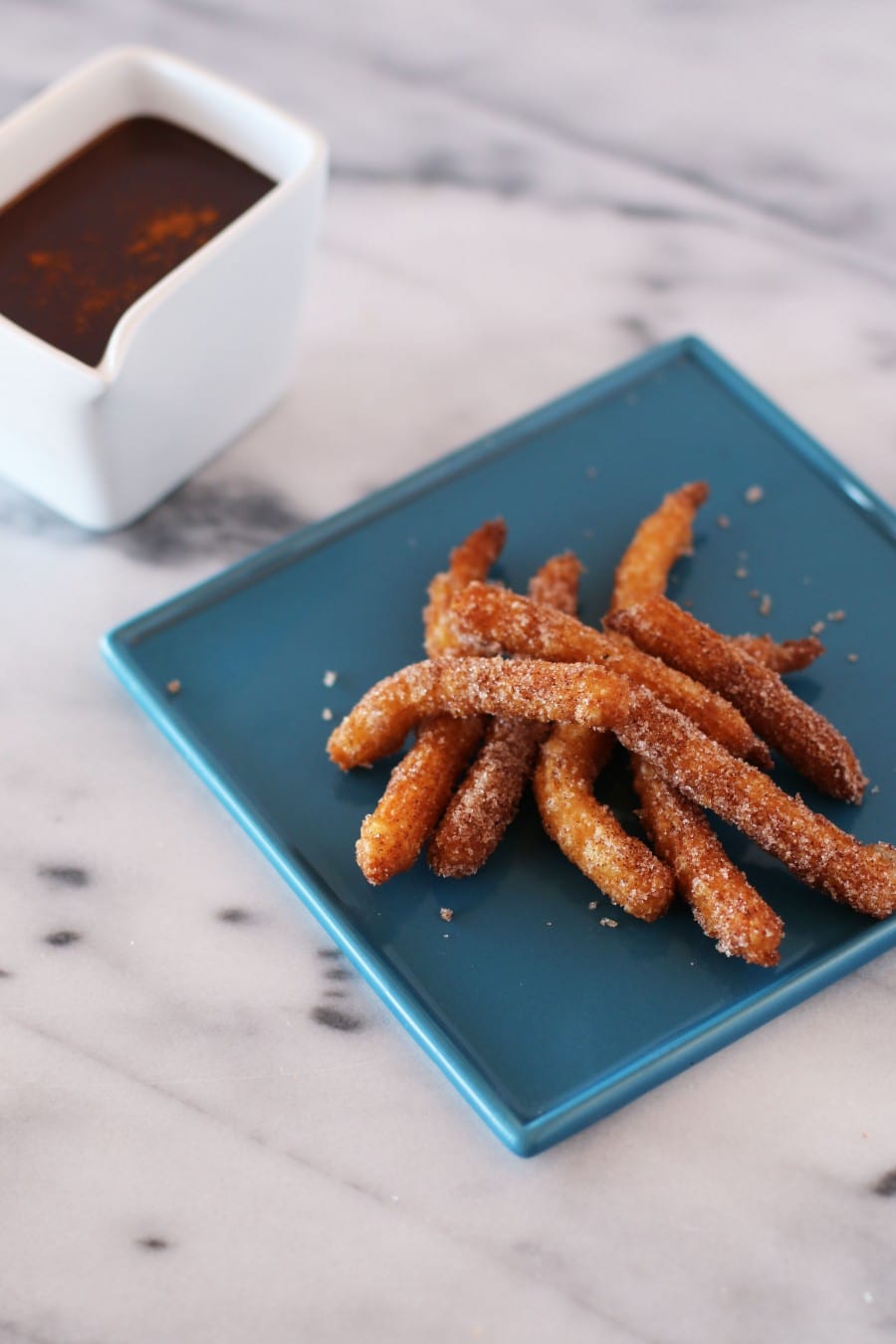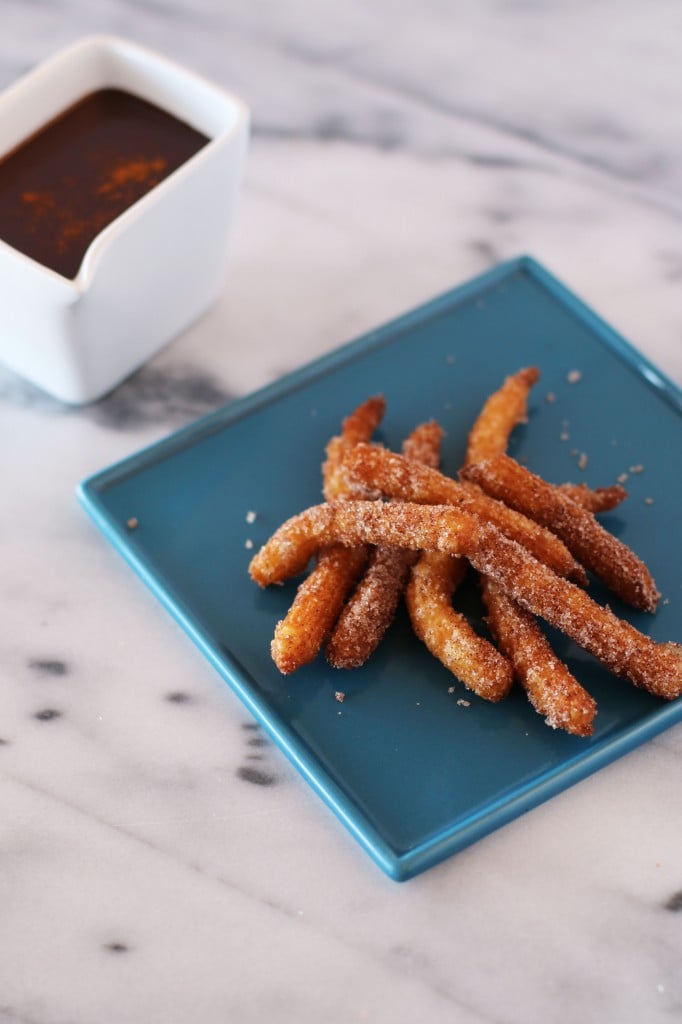 These actually came about as a result of me not having a large enough tip to make the classic churros. Instead they came out as these adorable baby churros which are even more amazing! Don't you love when accidents turn into successes? It's basically the best feeling ever.
So I have to tell you, I took a big step this past weekend… I changed cameras. Now for most of you, that's not an earth-shattering experience. But for those of you who are either photography enthusiasts or fellow bloggers, you know what a big decision that is! I mean, I have been using a Canon Rebel XSI for the past year and it's always hard to take that next step (I am making this sound like a bigger deal than I should, huh? LOL). Well I moved up to a Canon 70D and holy moly, it's so amazing.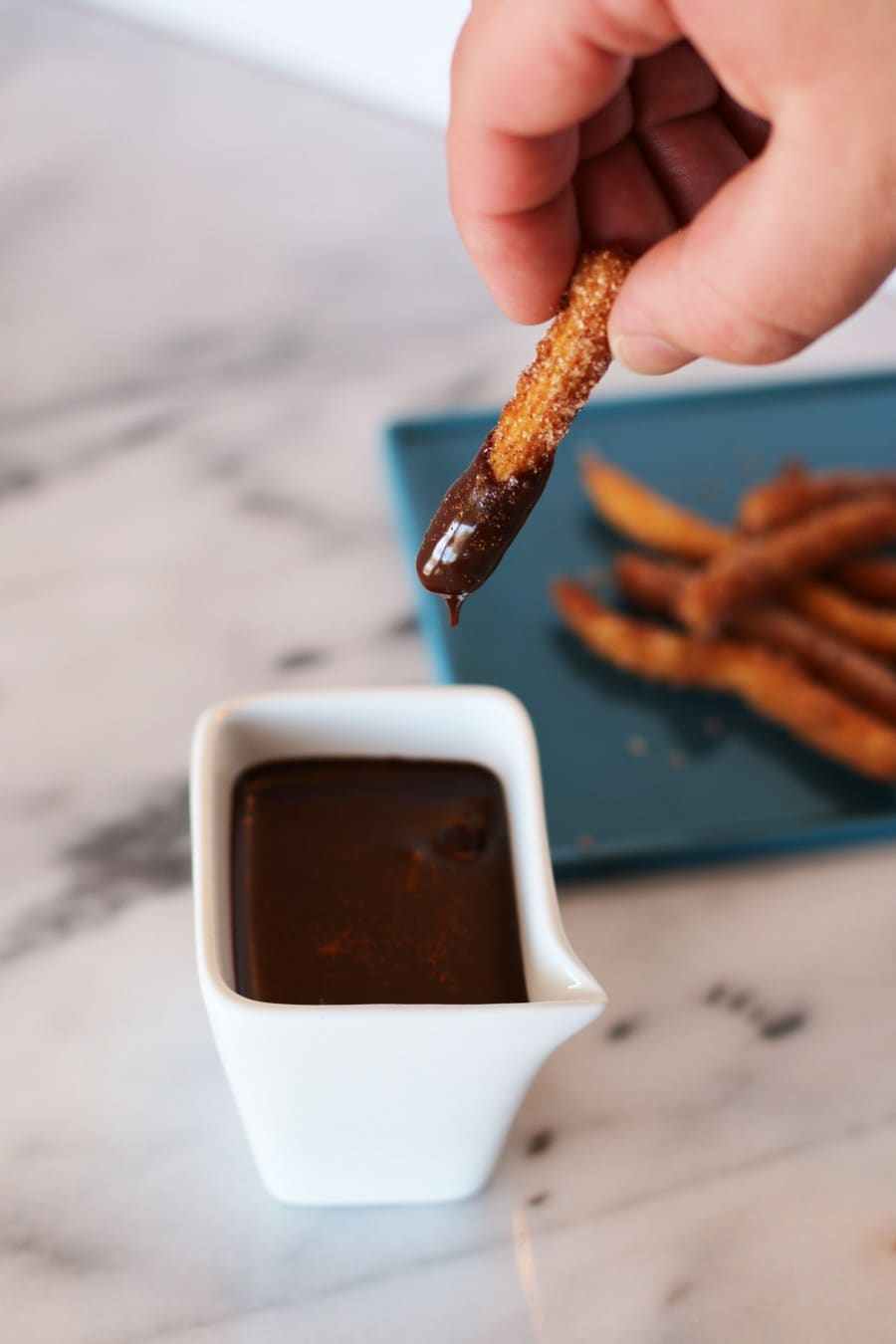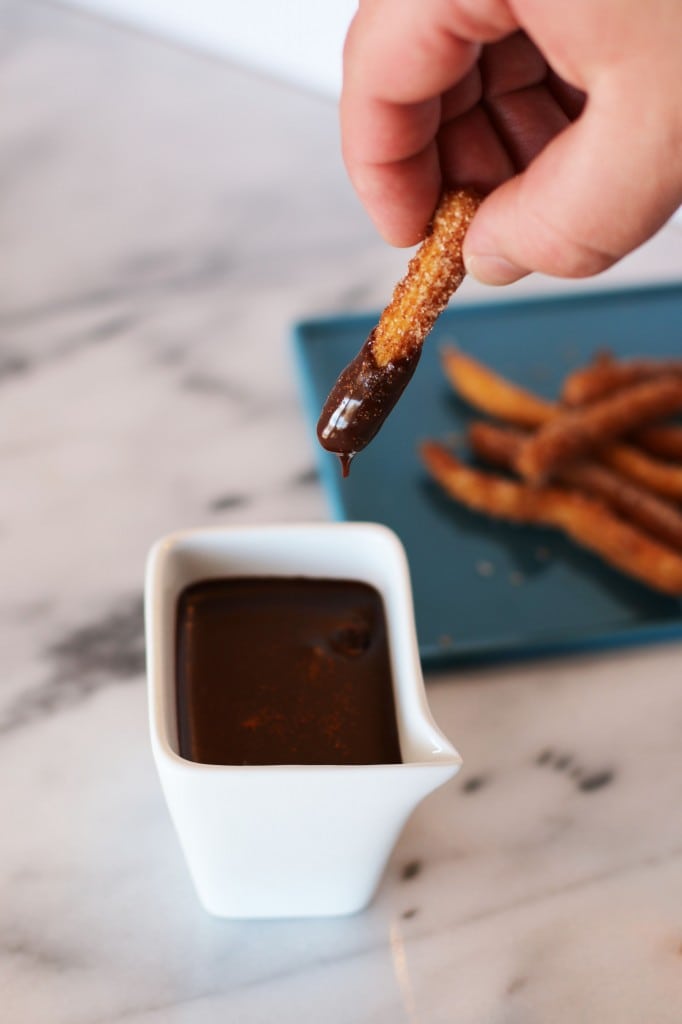 I mean, I am completely in love. I know there are more advanced cameras out there but for me, this one is the perfect fit.
Oh and did I mention the video capabilities on this camera? I will have some surprises coming in later this year…. Get ready for some more cooking fun!
But back to these mini churros… There is something about the crunchy cinnamon sugar-coated churros dipped in a warm chocolate bath… It's the perfect breakfast to go with your morning cup of coffee. Or to secretly inhale in the middle of the night while everyone else is sleeping… Not that I would ever do that.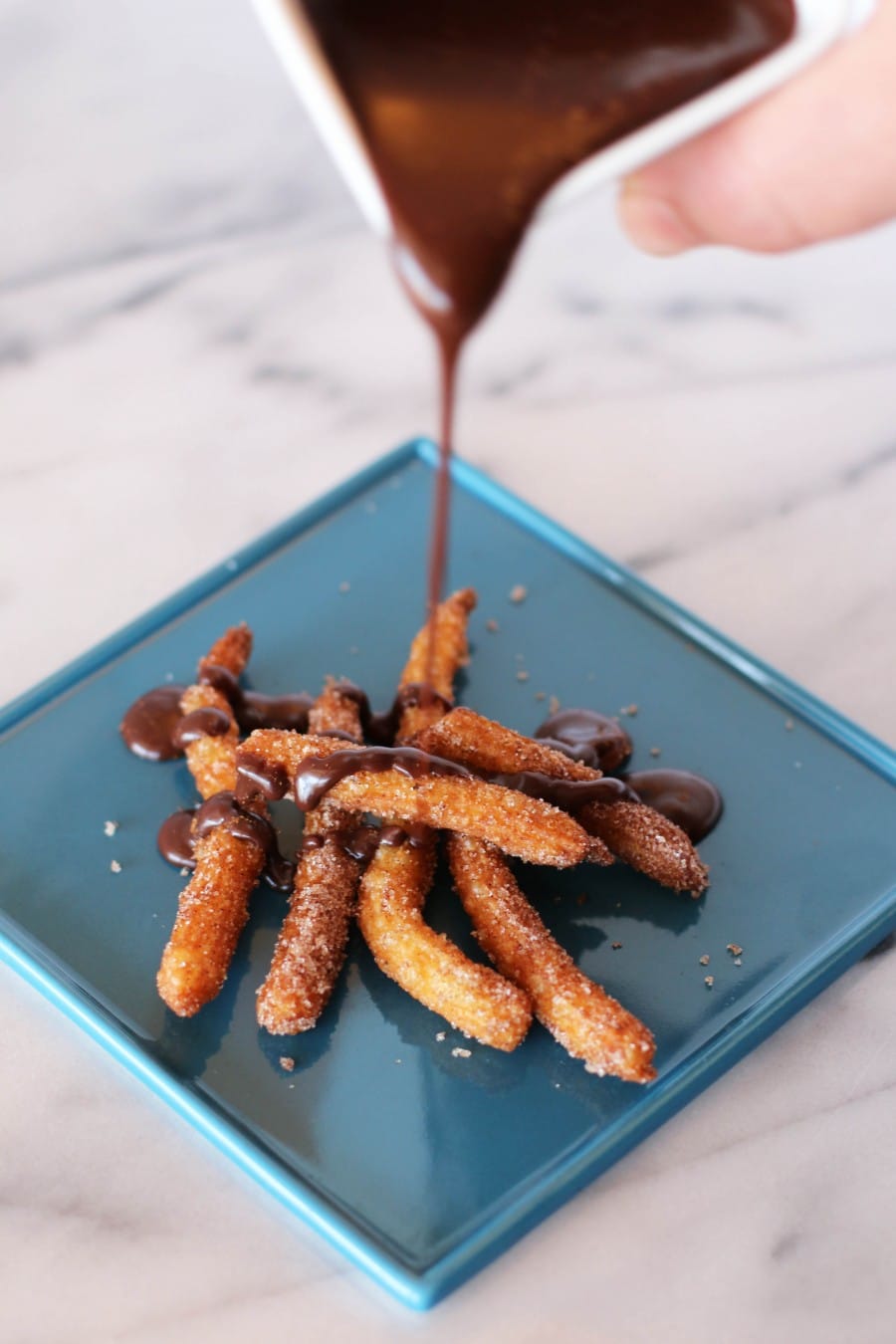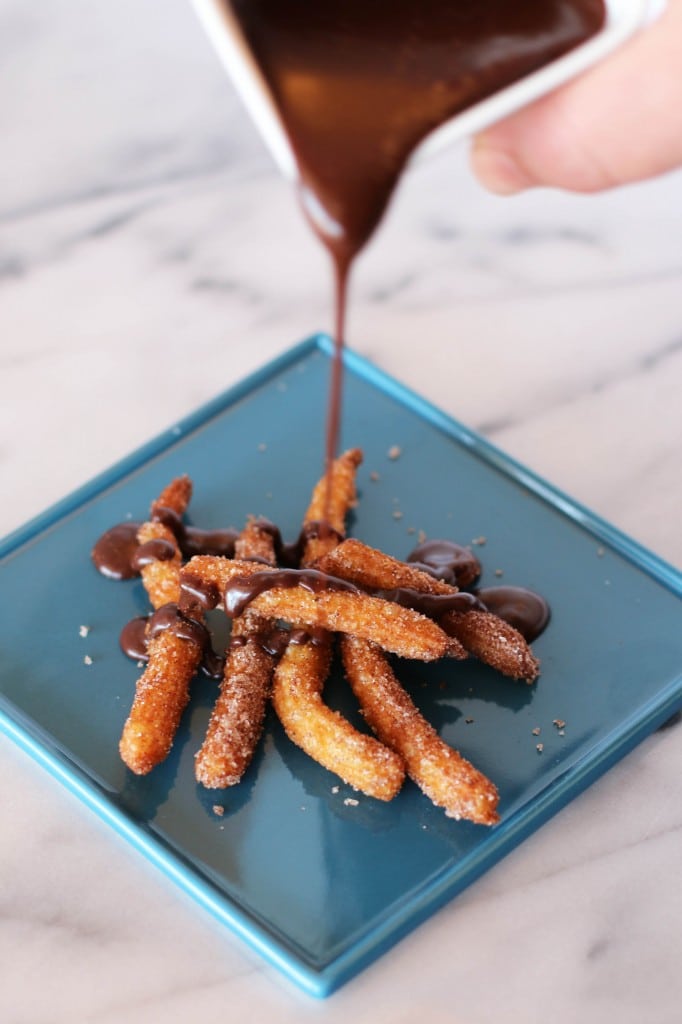 Also, these are miniature, therefore you can eat more and not feel guilty.
Really, just think about it. It makes sense.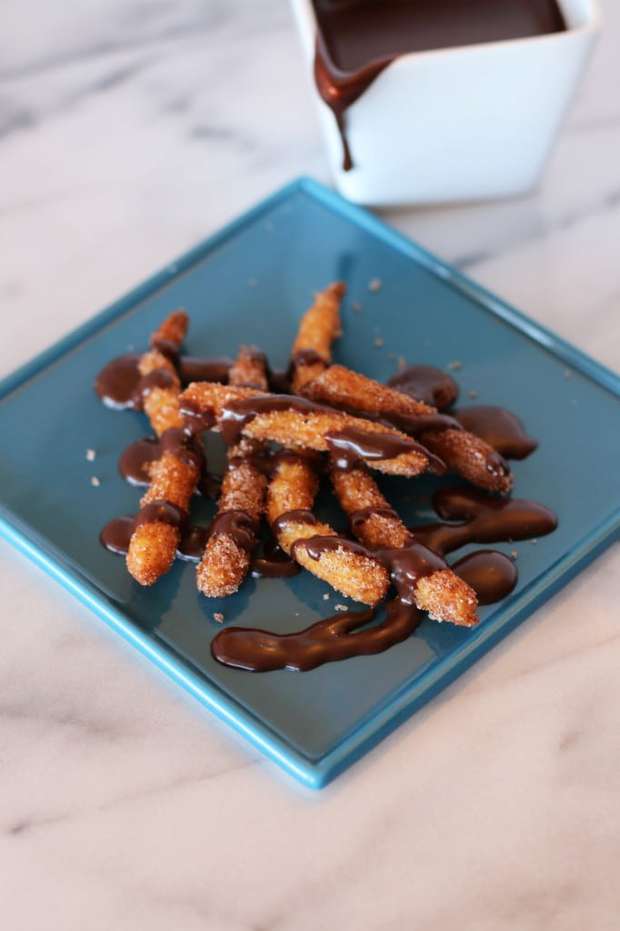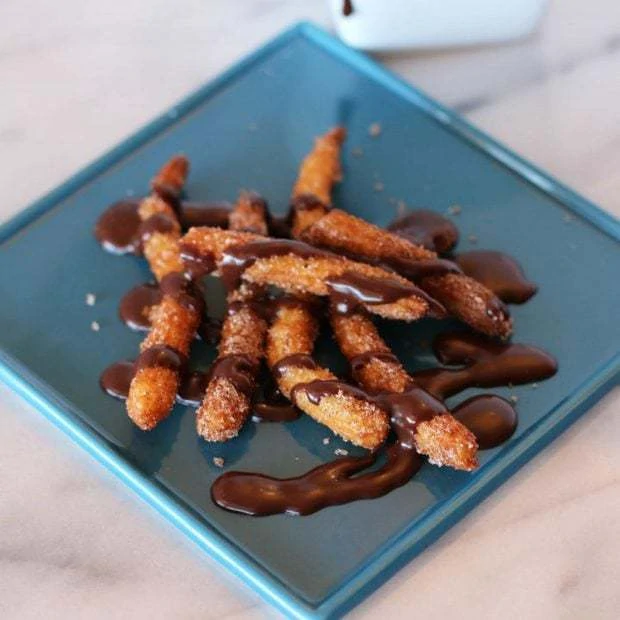 Mini Churros with Mexican Hot Chocolate Dipping Sauce
Crispy cinnamon mini churros are the perfect snack with just the right amount of chocolate to satisfy your sweet tooth.
Ingredients
3 sticks unsalted butter (24 Tbsp)
1/2 tsp salt
1 1/4 cups all-purpose flour
4 large eggs
1 large egg white
1 cup whole milk
1/2 cup light corn syrup
1 cup dark chocolate chips
1 cup bittersweet chocolate chips
1 quart vegetable oil, for frying
1/2 cup sugar
3 Tbsp ground cinnamon
Instructions
Bring 1 3/4 cups of water to a boil in a large saucepan with 2 sticks of butter and 1/2 teaspoon of salt. Remove the pan from heat and stir in flour until completely incorporated. Return the pan to moderate heat and cook until the dough pulls away from the sides, stirring constantly. Remove from heat and add dough to the bowl of an electric stand mixer.
Beat the dough with an electric mixer on low for one minute to cool the dough. Then increase the speed to medium-high and add the eggs and egg white one at a time. Cover the dough in the mixing bowl with a sheet of plastic wrap, pressing the plastic to the surface, and refrigerate until the dough is room temperature - about 15 minutes.
While the dough is cooling, heat the milk in a medium saucepan until simmering. Add 1 stick of butter and light corn syrup, heat until the butter is melted. Pour the chocolate chips to a separate bowl and slowly pour the warm milk mixture over the chocolate, whisking constantly until the chocolate is completely melted and the mixture is smooth. Add 1/2 Tbsp cinnamon and stir to combine. Add the dipping chocolate back to the saucepan and keep warm over low heat.
Heat the oil to 375° in a flameproof dutch oven or large saucepan. Prepare a baking sheet with a layer of paper towels. In a medium bowl, combine the remaining sugar and cinnamon. Next, add the dough to a large pastry bag fitted with a medium-small star tip.
Squeeze 4 to 5-inch lengths of the dough into the hot oil, cutting them off with a knife. Fry over moderately high heat, turning once or twice, until browned, about 8 minutes. Remember not to overcrowd the pan! Drain the churros on the rack for about one minute and then sprinkle with cinnamon sugar. Serve immediately with the chocolate dipping sauce.