Please note this post contains affiliate links.
Blood Orange Honey Ginger Chicken Tacos with Cara Cara Orange Salsa is how we brighten things up for dinner in our kitchen! These tacos have it all: sweet, tart, savory, and spicy. From the Sunkist​® Blood Oranges in the glaze to the Sunkist​® C​ara Cara Oranges in the salsa, these flavors explode on your taste buds with every bite.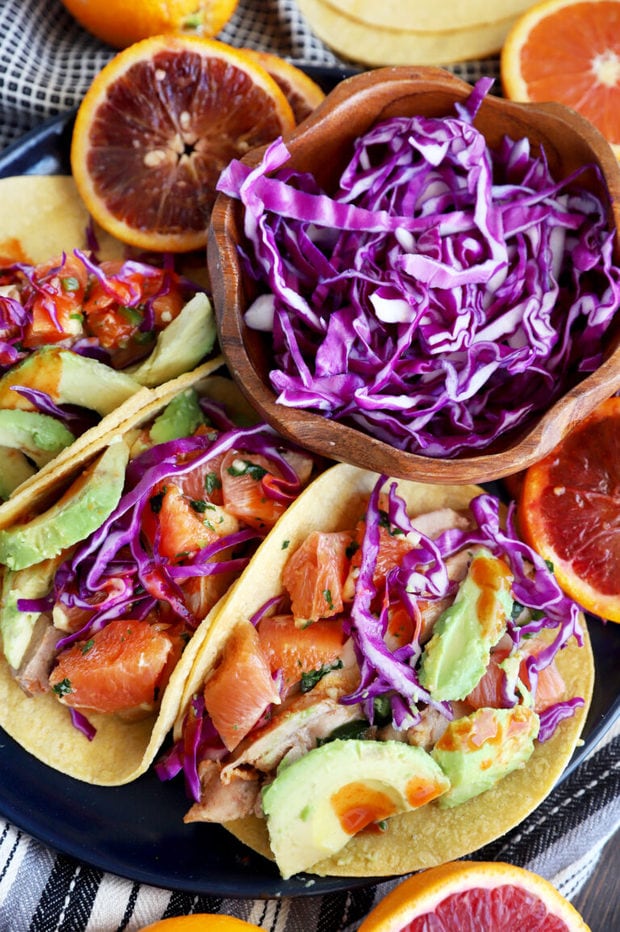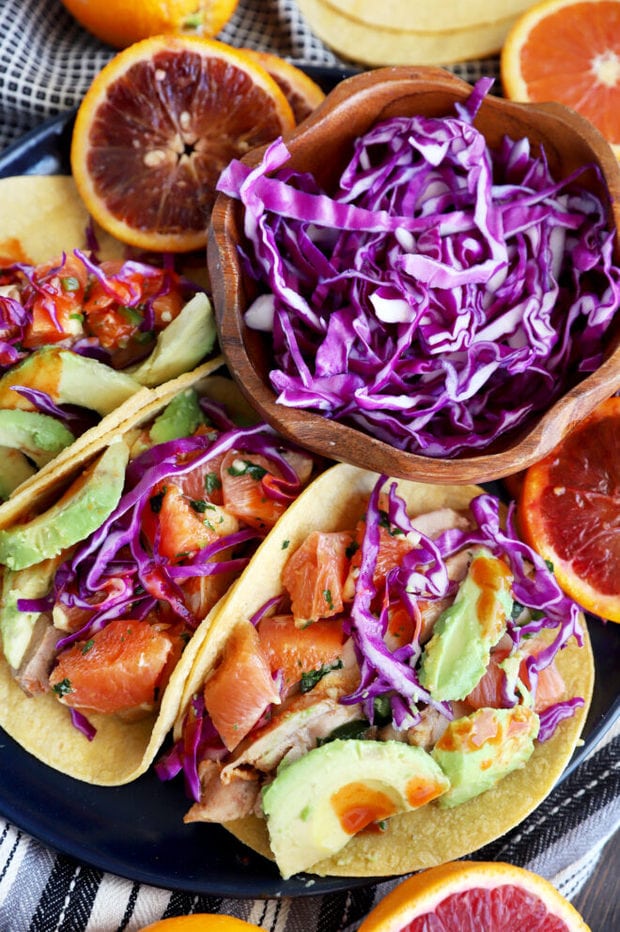 This post has been sponsored by Sunkist​®.​ All thoughts and opinions are my own.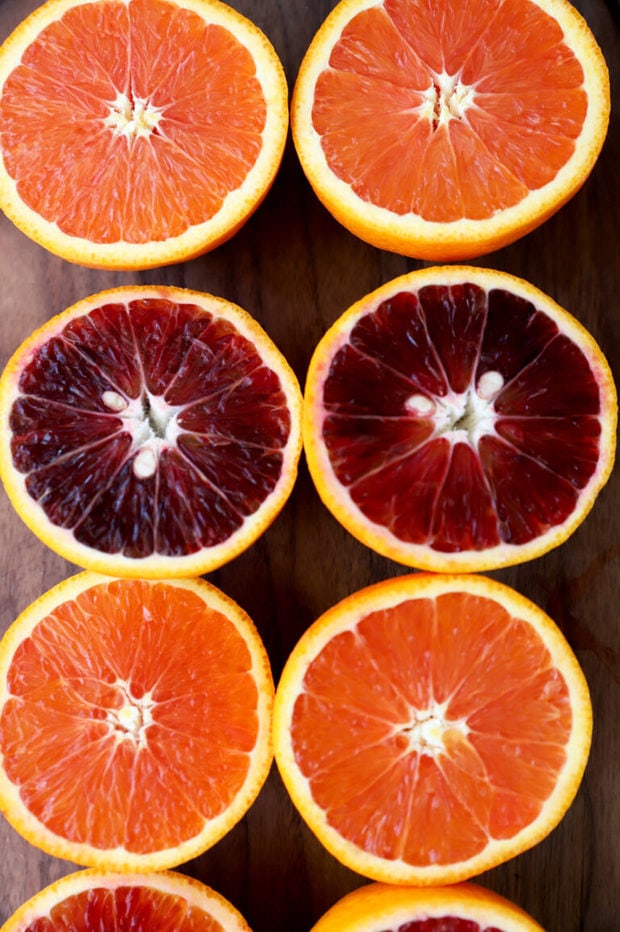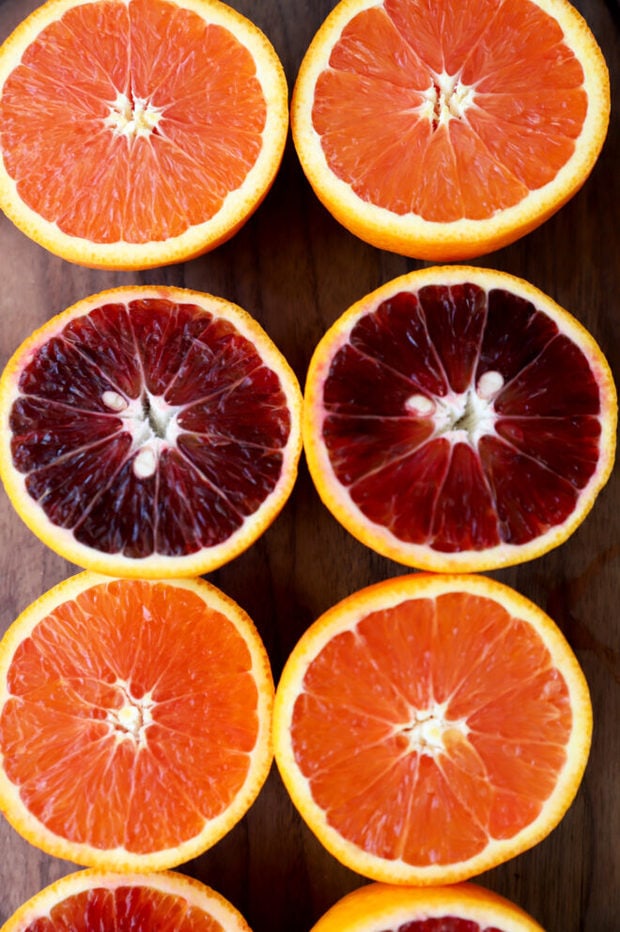 Who says oranges just have to be sweet? Yes, we've seen everything from cakes to cookies, brownies to candy, but what oranges really scream to me in the dead of winter is SAVORY.
Did you know that Blood Oranges and Cara Cara Oranges are in season at your local Safeway? I don't know about you, but this is one of my favorite times of year because citrus is abundant. With all this cold, I start to crave something lighter and brighter! As soon as I see that these citrus fruits are available, I am off to the store immediately.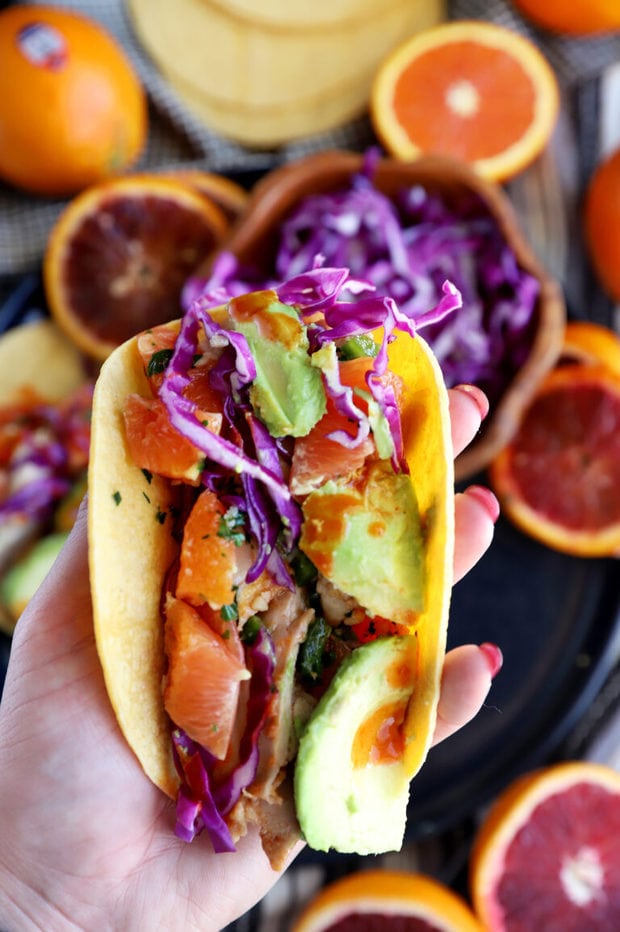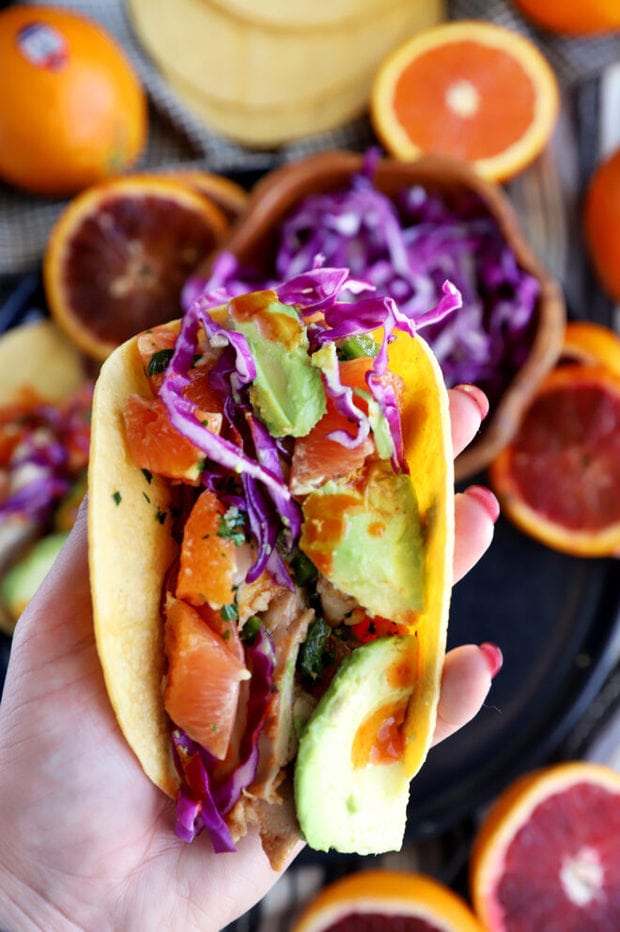 The Blood Orange juice in the glaze is this amazing savory and rich citrus flavor combo, pairing perfectly with the ginger and honey. Blood Oranges are already eye-catching enough in color, from pale gold to a deep maroon—making them truly unique.
The chicken ends up with just the right amount of tart sweetness as the base for these tacos. Then, you top it with a simple and spicy Cara Cara Orange salsa—which complements the flavors of the blood orange chicken so well.
Plus, you can feel good about all this orange goodness you are putting into your tacos because they are a killer source of vitamin C—as well as being a good source of folate and fiber.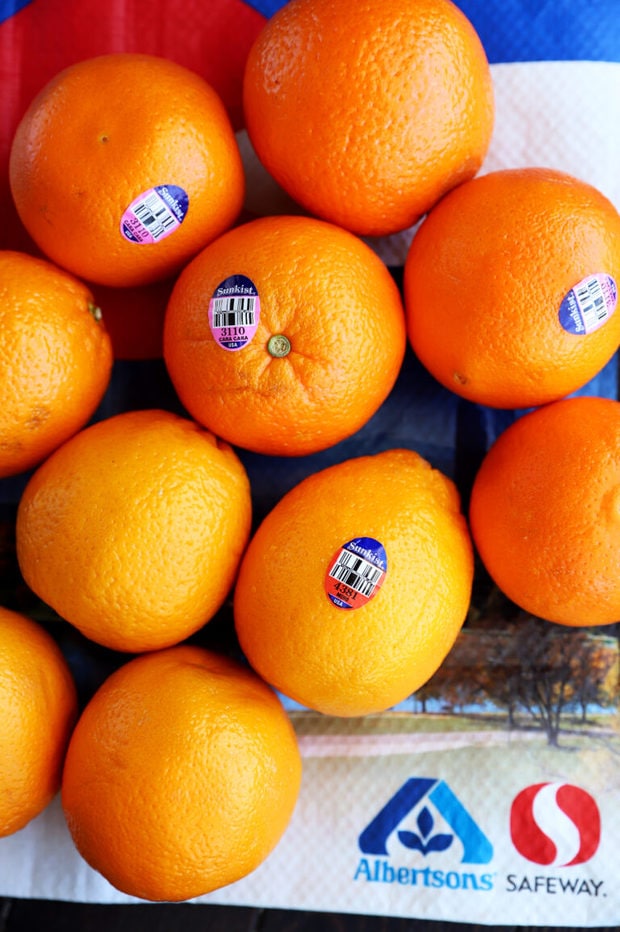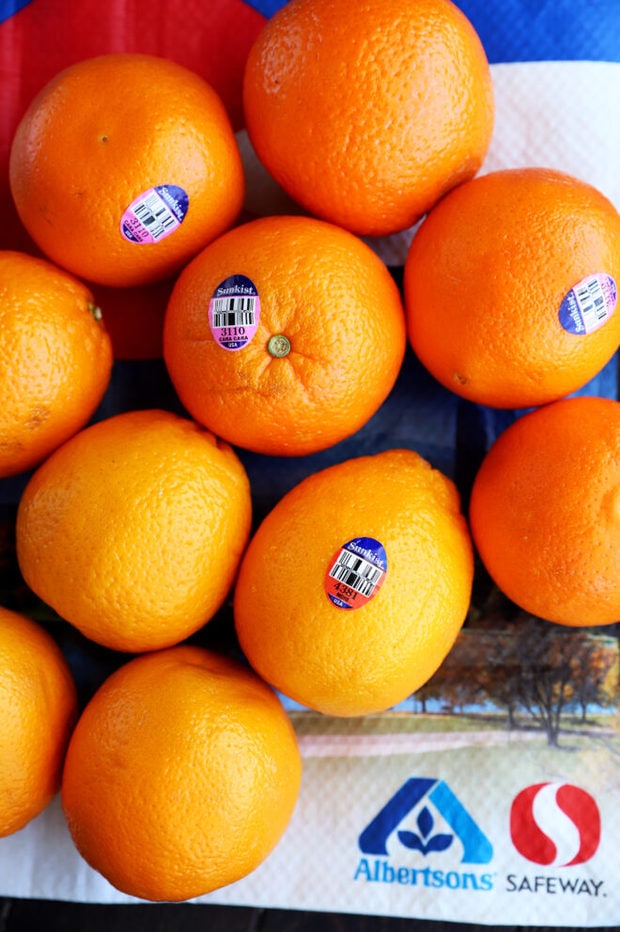 When you head to Safeway to pick up these orange varieties, they are right in the produce section! For me, I like to select my oranges individually—but they are also available in big bags so you can make the most of the seasonal fruit. This is great if you not only want to make this recipe but also want to try your hand at baking with them or just eating them as part of your daily breakfast or snack.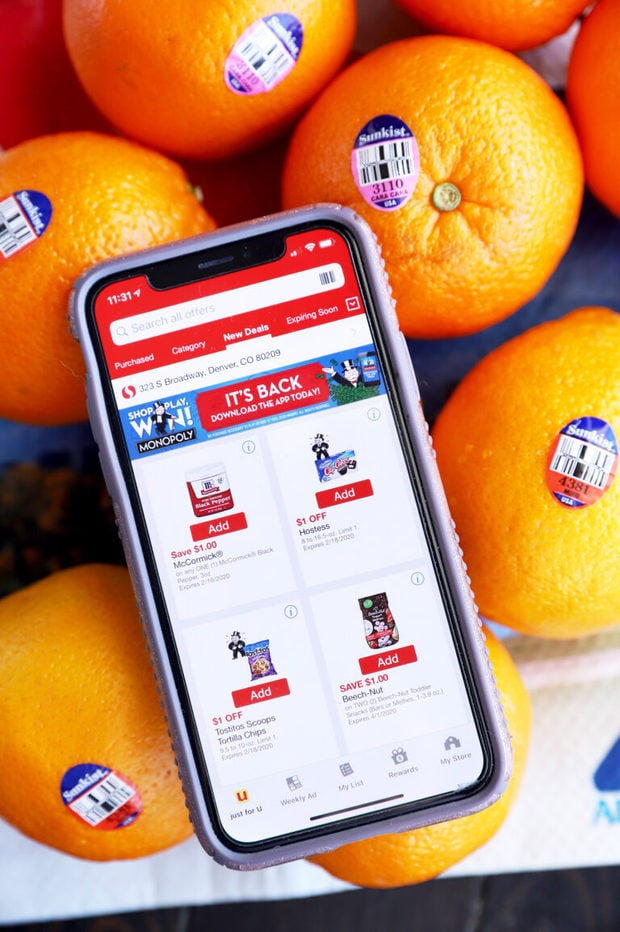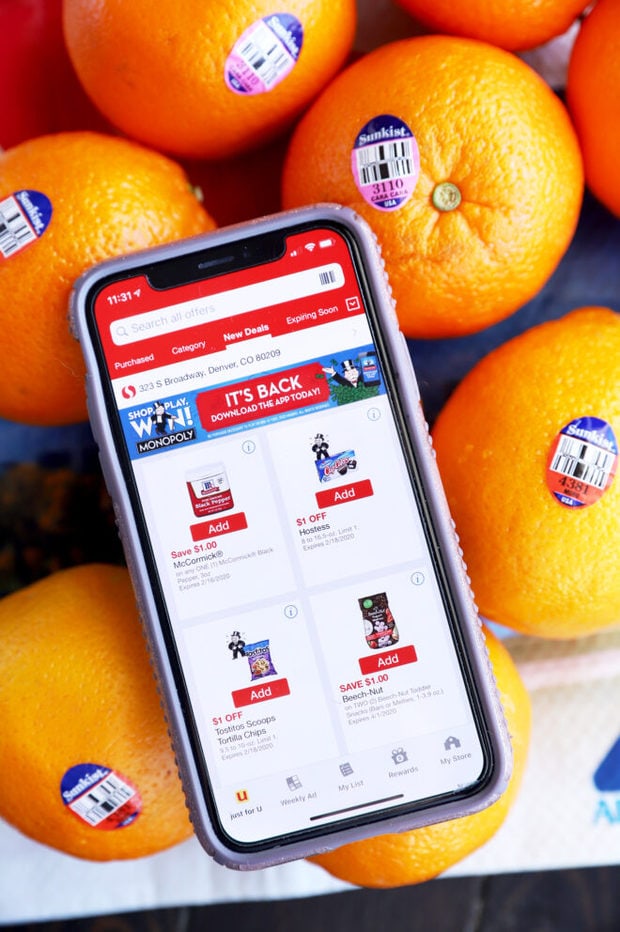 Pro Tip: Use a combo of Cara Cara Oranges and Blood Oranges in your salads. I especially like mine with arugula, chicken, and some sunflower seeds!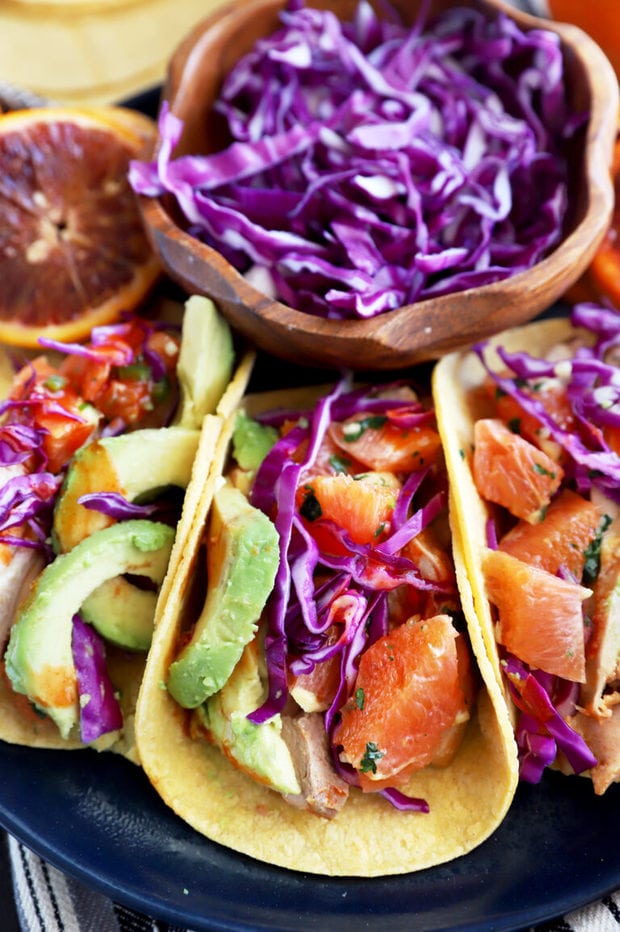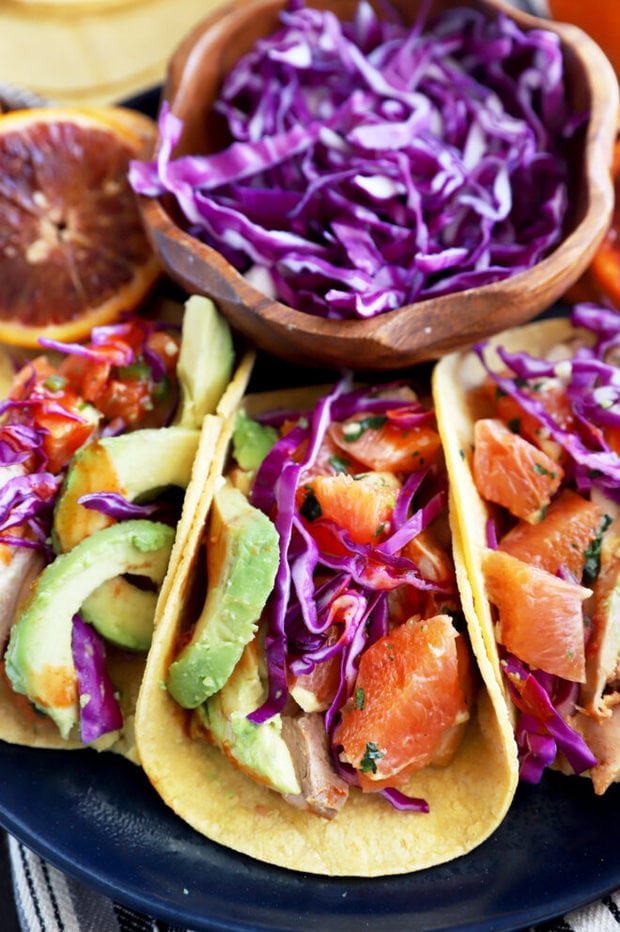 How to make blood orange chicken tacos
Make The Glaze
The blood orange honey ginger glaze is what gives the chicken all its flavor in this recipe. You simply whisk together the ingredients, then add the chicken and blood orange slices—coating them well.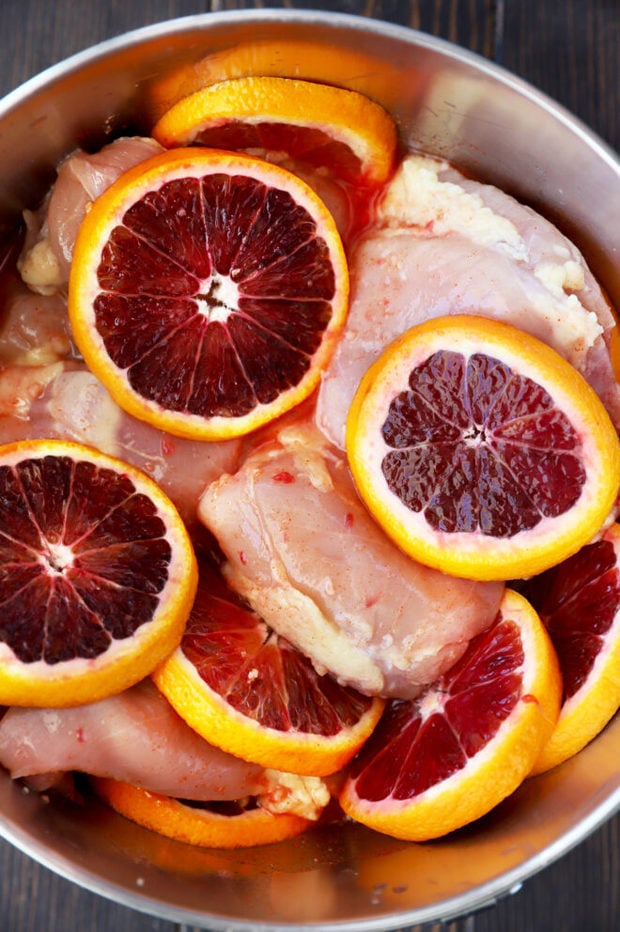 Bake The Chicken
The chicken gets removed from the glaze with the blood orange slices. Then, it's layered onto a baking sheet to roast in the oven. After about 20 minutes, you'll use that leftover glaze you made to baste the chicken.
This gives it another level of that bold citrus flavor!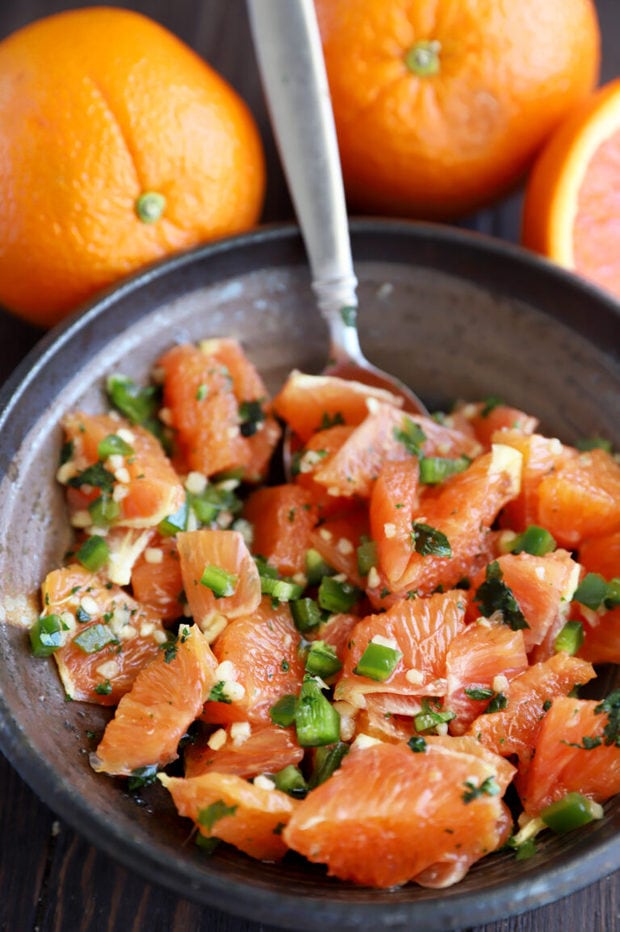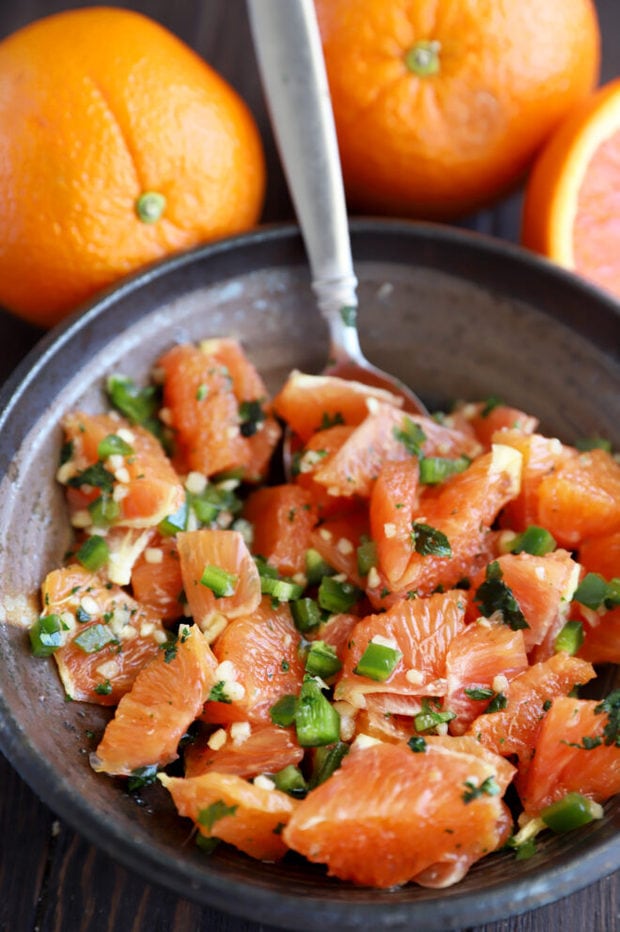 Make The Salsa
While the chicken is baking, stir together all the ingredients for the cara cara orange salsa in a small bowl. You can just set this in the refrigerator until you are ready to serve.
Assemble
Assemble as you like! I like to slice up the chicken into strips, layering them in the tortillas with the cara cara orange salsa on top. Then, I add shredded red cabbage, sliced avocado, fresh cilantro, and dashes of hot sauce to get that spice level just perfect.
Use whichever hot sauce you prefer!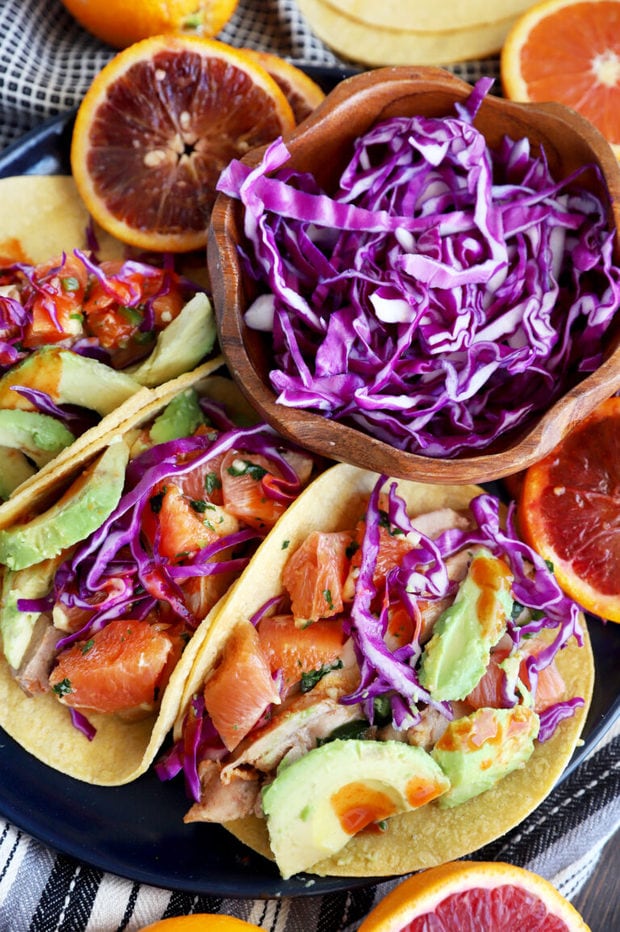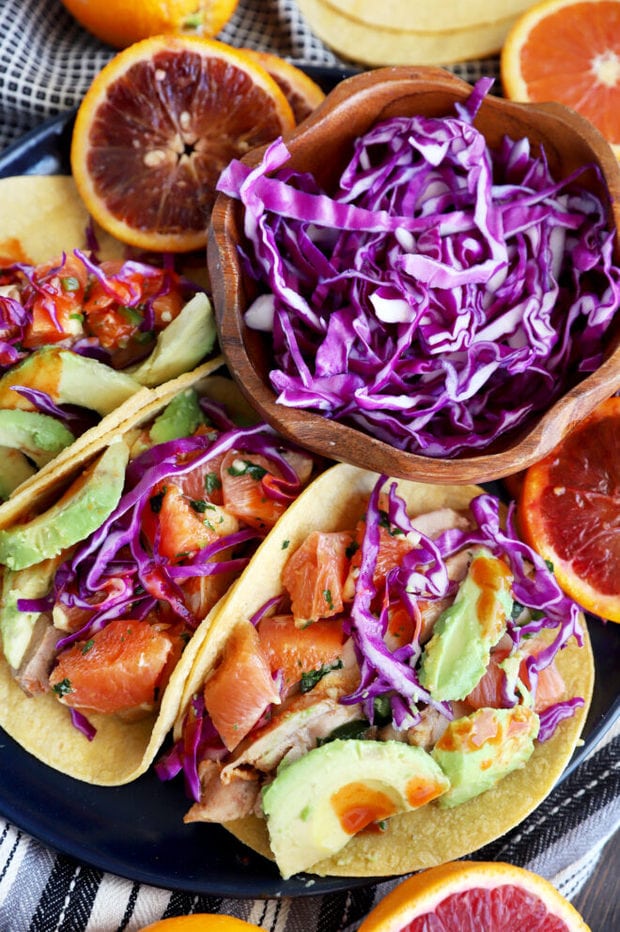 FAQs
What do Cara Cara Oranges taste like?
Cara Cara Oranges are sweeter with less acidity, and that's what makes them the best for the salsa in this recipe. Mixed with spicy jalapeno and cilantro, the flavor of the Cara Cara Oranges is enhanced even further.
What do Blood Oranges taste like?
Blood Oranges have more of a savory flavor. There's actually this lovely note of raspberry that runs through them, making them truly unique!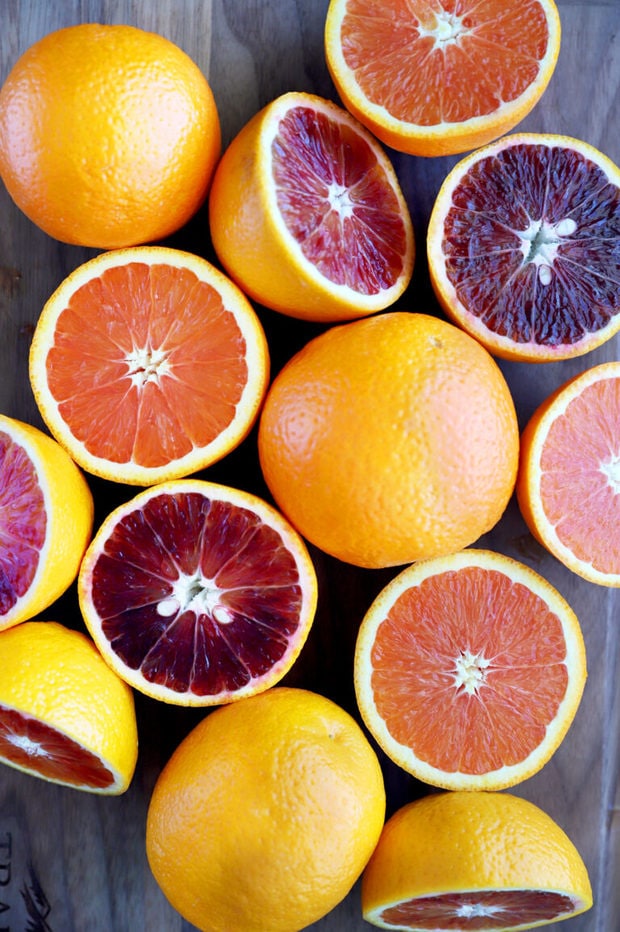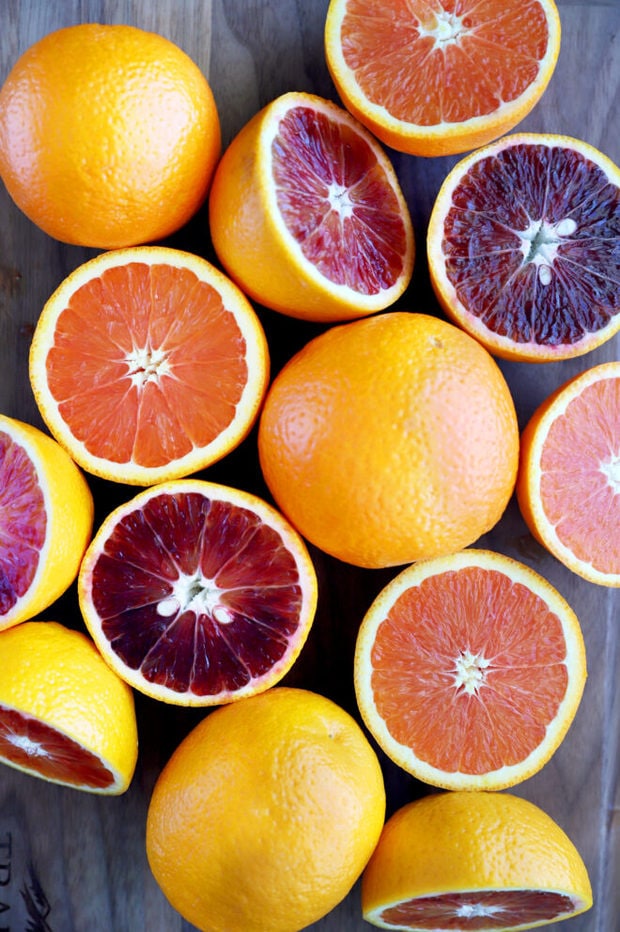 Can I make these tacos ahead of time?
Yes, you can! The chicken and the salsa can be made one full day in advance. Just be sure to prepare the elements and store them separately. When you are ready to serve, heat up the chicken and assemble the tacos! Don't forget to wait to slice that avocado until serving time though—no one wants a brown avocado on their taco.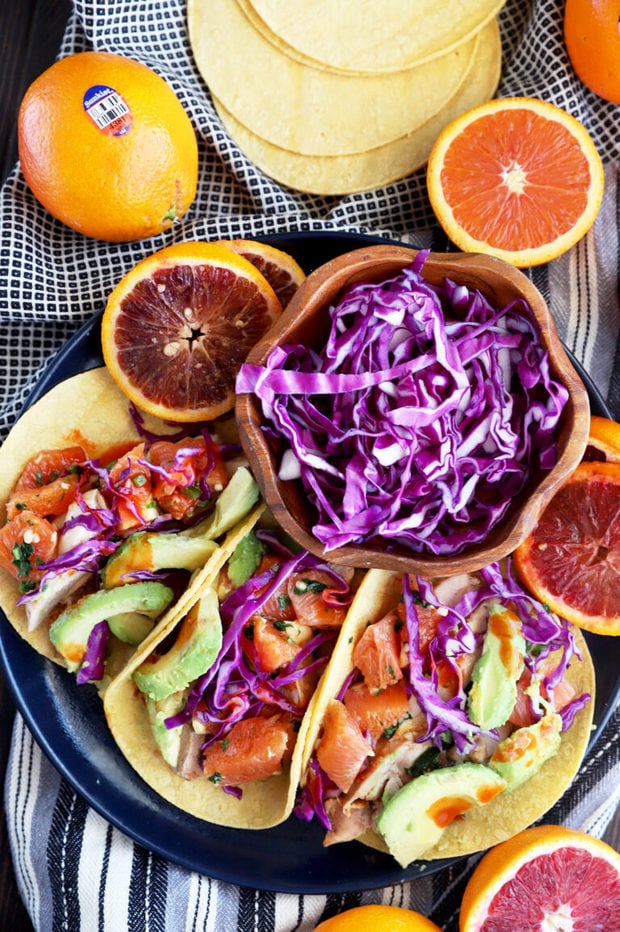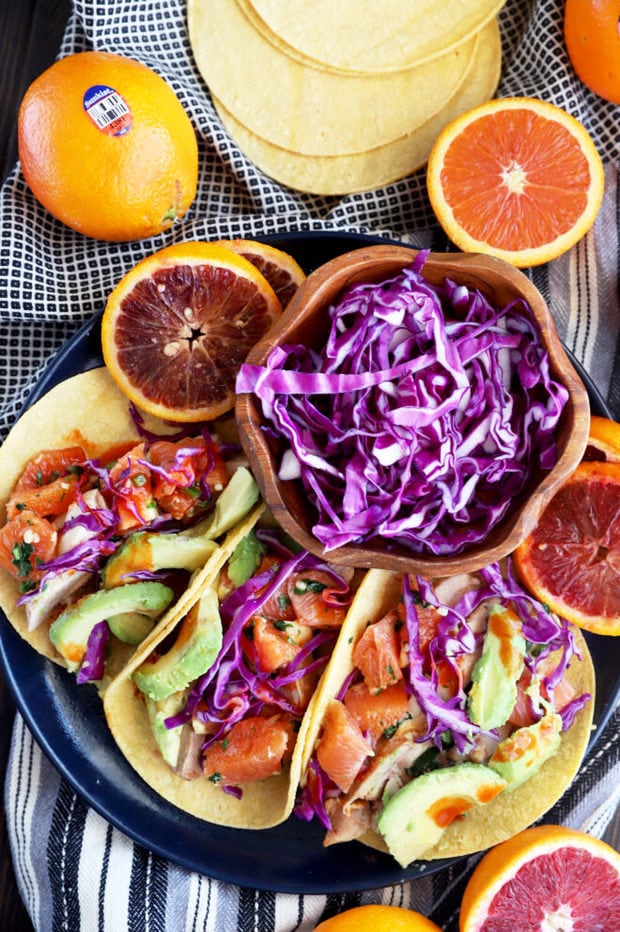 Tips For Success
Be sure to get all the pith off the Cara Cara Oranges before cutting the segments in half and adding them to the salsa.
Don't like things too spicy? Skip the hot sauce on top! As long as you seed your jalapeno, it won't be too spicy for the salsa. It will have just the right kick!
Think cilantro tastes like soap? Use parsley instead 🙂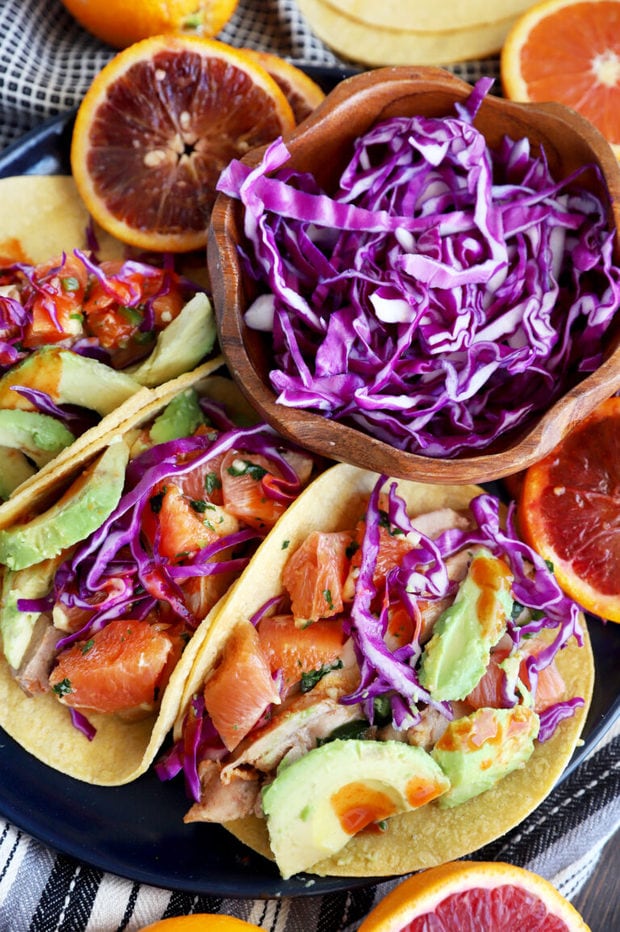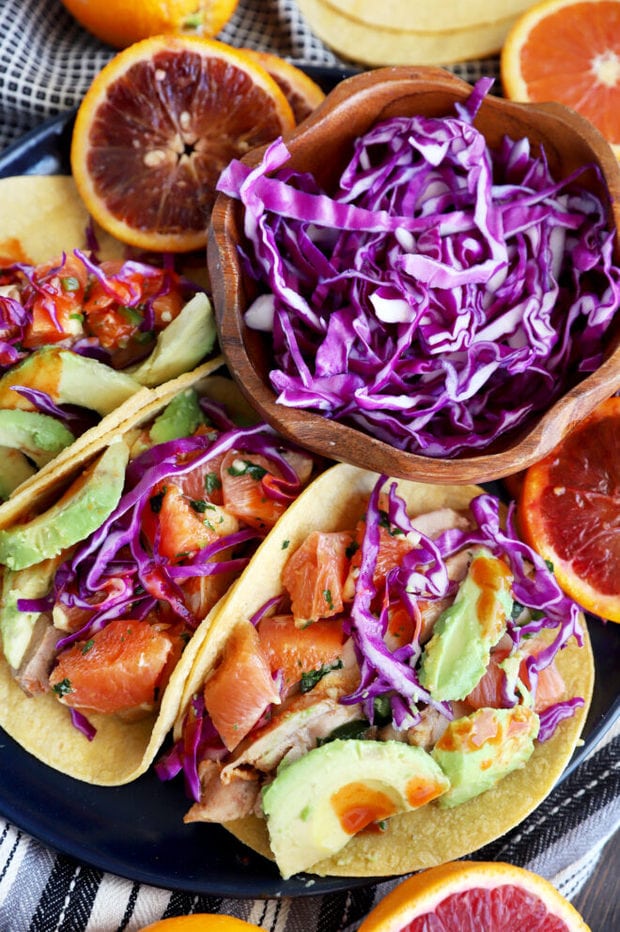 Looking for a cocktail to pair with these tacos? This tart and slightly sweet raspberry margarita is a must!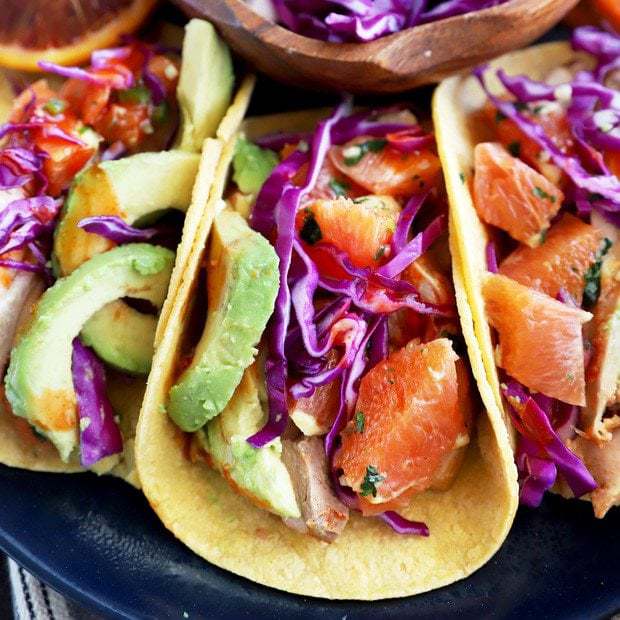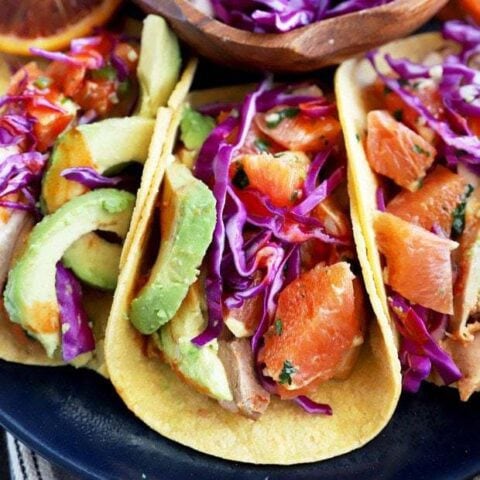 Blood Orange Honey Ginger Chicken Tacos with Cara Cara Orange Salsa
Oranges and chicken make for a tart, savory, and slightly sweet combo. Perfect for tacos!
Ingredients
Chicken
5 boneless, skinless chicken thighs
Juice of 2 Sunkist​® Blood Oranges
2 Sunkist​® Blood Oranges, sliced
1 Tbsp freshly grated ginger
2 garlic cloves, crushed
2 Tbsp olive oil
2 Tbsp honey
1/2 tsp smoked paprika
1/2 tsp salt
Salsa
2 Sunkist​® C​ara Cara Oranges, peeled, segments cut from pith, and chopped
1 clove garlic, minced
1 jalapeno, seeded and diced
1 tsp freshly chopped cilantro
1/4 tsp salt
1 1/2 tsp olive oil
Tacos
10 to 12 corn tortillas (yellow or white)
2 cups shredded red cabbage
2 avocados, sliced
1/4 cup freshly chopped cilantro
Hot sauce
Instructions
Preheat oven to 375° degrees F. Grease a rimmed baking sheet with nonstick cooking spray.
In a large bowl, whisk together blood orange juice, ginger, garlic, oil, honey, paprika, and salt. Add chicken thighs and blood orange slices, using your hands to turn and coat the chicken well.
Add chicken thighs and orange slices to the baking sheet. Reserve the liquid in the bowl. Arrange so that the orange slices are underneath and in between the chicken thighs.
Bake for 20 minutes. Baste with the blood orange ginger honey liquid. Bake another 6 to 10 minutes.
Move baking sheet to upper rack and turn broiler to high. Broil for 3 minutes until browned on top.
While chicken is baking, make salsa by combining all ingredients in a medium bowl. Place in the refrigerator until ready to use.
Once chicken is cooked through, remove to cutting board and slice into strips.
Add chicken to tortillas, dividing between them evenly. Top with cara cara orange salsa, shredded red cabbage, avocado, cilantro, and hot sauce as desired.
Recommended Products
As an Amazon Associate and member of other affiliate programs, I earn from qualifying purchases.