Baked Pumpkin Fettuccine Alfredo
I love long weekends.
It's like pressing a reset button and somehow starting a new week seems like the easiest thing in the world. Of course, I spent most of my long weekend in the kitchen with friends and family and avoiding chores of any type like the plague. If I could afford to buy new clothes every time I needed clean clothes I would. I detest doing my laundry that much. Therefore I am forced to wear my "laundry day" clothes to work. Whoops…
The real highlight of the weekend, aside from wearing a hideous Christmas sweater in public, discovering the genius of cream cheese frosting and mini Nilla wafers, and watching Christmas movies for 10 hours straight, was THIS PASTA.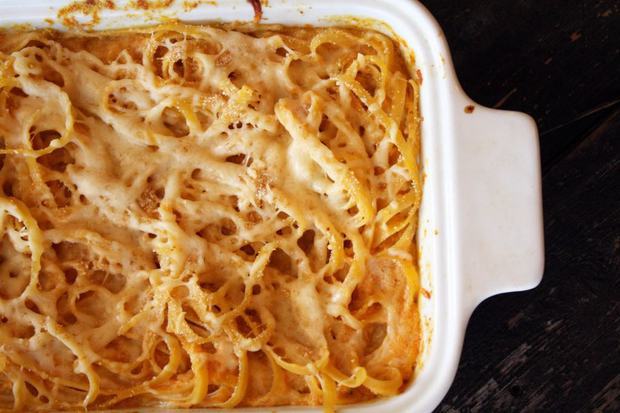 It is an amazing mix of cheese and pumpkin and pasta and cheese that make you sit in front of the oven, nose pressed to the window, anxiously counting down the seconds until you can stuff it in your face.
Thankfully I had some test subjects to eat devour it, or else I would have eaten the entire thing by myself. Since the entire thing was eaten within a half hour, I feel like this recipe is a win.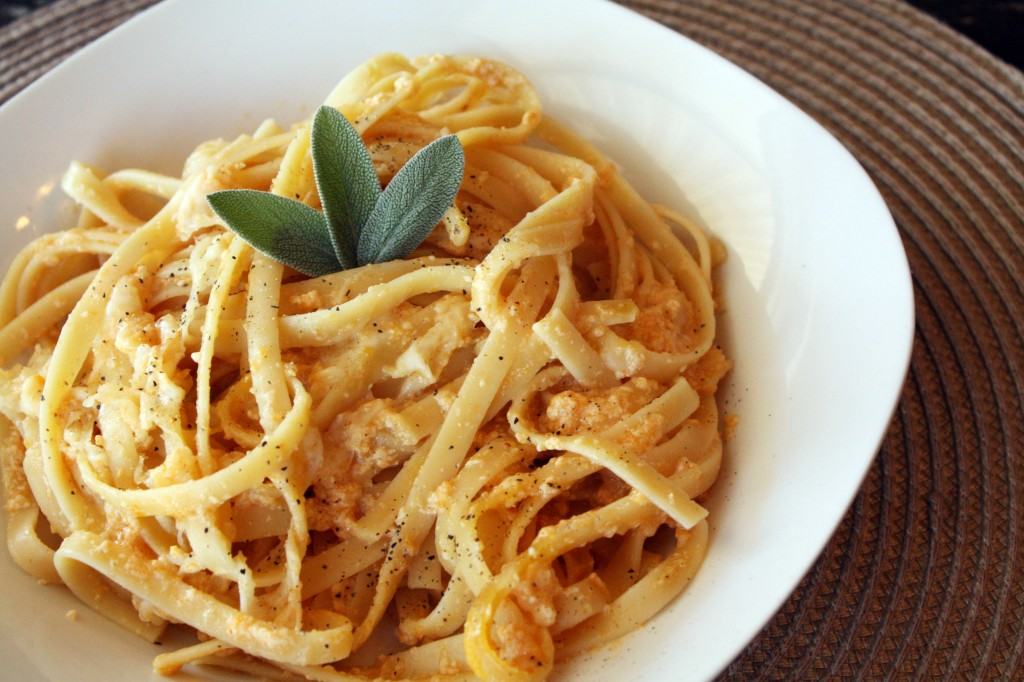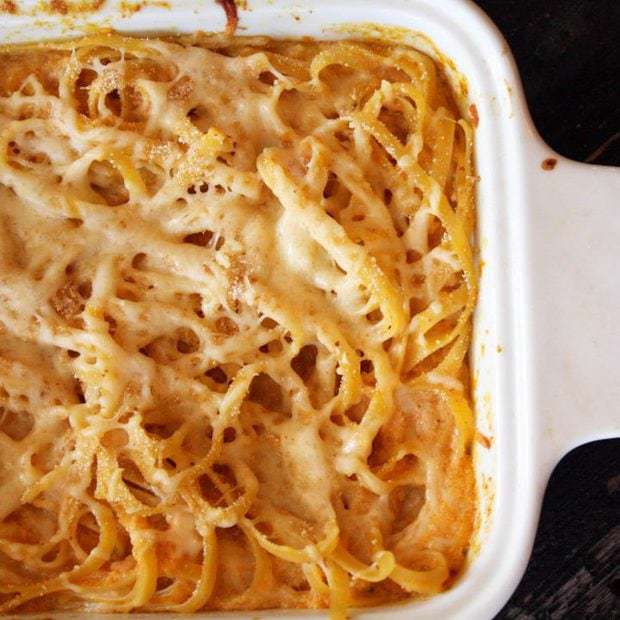 Baked Pumpkin Fettuccine Alfredo
Yield: Serves 4 to 6
Prep Time: 10 minutes
Cook Time: 40 minutes
Total Time: 50 minutes
It's like savory pumpkin pie... in a pasta.
Ingredients
1 lb fettuccine
2 Tbsp unsalted butter
2 Tbsp flour
2 garlic cloves, minced
4 cups low-fat milk
2 Tbsp mascarpone cheese
1 1/4 cup freshly grated parmesan cheese
3/4 cups pumpkin puree
1 Tbsp freshly chopped sage leaves
1/4 tsp salt
1/4 tsp pepper
1/4 tsp cinnamon
1/8 tsp ginger
1/8 tsp nutmeg
Freshly grated fontina cheese for topping
Fine breadcrumbs for sprinkling
Sage leaves for garnish
Instructions
Preheat oven to 350 degrees.
Bring a large pot of salted water to a boil and prepare pasta according to directions, cooking for 1 to 2 minutes less than directed. Drain and set aside.
In a large saucepan over medium heat, melt butter. Once sizzling whisk in butter to create a roux. Cook, stirring constantly, until golden, approximately 4 to 5 minutes. Stir in garlic and cook for 30 seconds. Stir in milk and increase heat slightly until the mixture is bubbling and thickened, approximately 5 minutes. Stir in mascarpone, parmesan, pumpkin, sage, salt, pepper and pumpkin pie spice, mixing well until the cheese is melted and the sauce is thick and smooth.
Grease a baking dish with nonstick spray and add pasta. Pour sauce over the top and toss well to coat. Grate some fontina over the top and sprinkle over some breadcrumbs.
Bake for 15 to 20 minutes, until golden and bubbling. Serve immediately with sage leaves for garnish.