Look at this gorgeous mess of a pizza.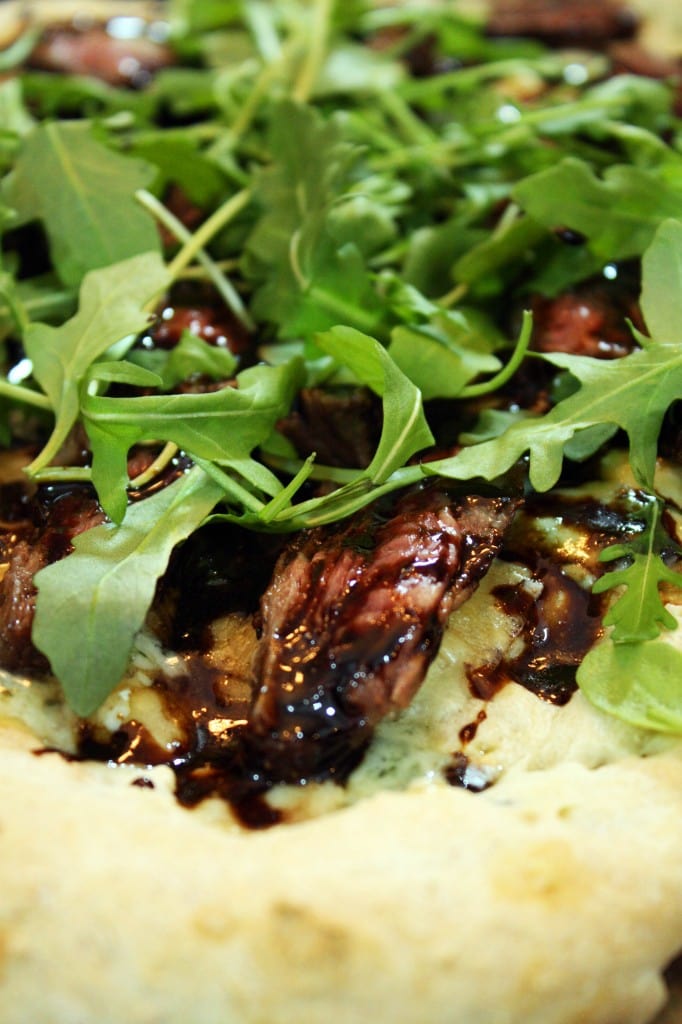 Now that's the right way to start the new year. Really ANYTHING with balsamic vinegar is the right way to start the year.
In case you couldn't tell, I am deep in the throes of a renewed love affair with balsamic. Oh yes, balsamic is back baby.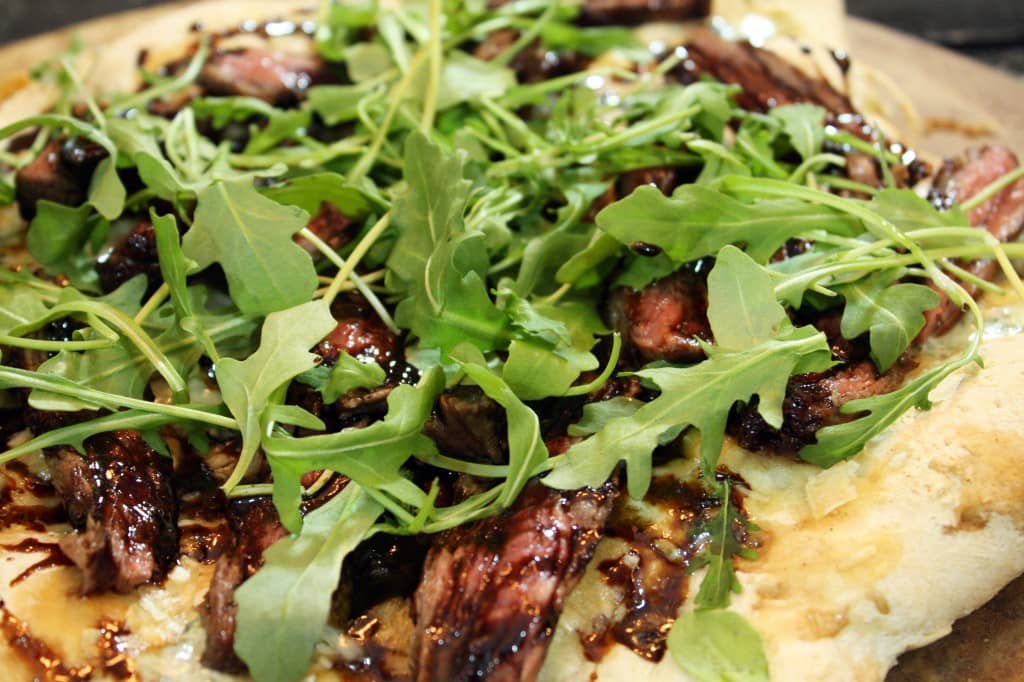 Who is excited to start the new year?! This girl is. I have a feeling that this year is going to a really exciting year. The fact that we all outlived the Mayan calendar must be a good indication of that, right?
Is anyone committing to any resolutions?
My resolutions tend to be pretty lofty so I am keeping them pretty minimal for 2013. For example, eat a little less cake, really commit to working out (you know, more than just a couple of times a month), and delve into some more difficult cooking techniques.
Like pizza dough made from scratch (and not just using the mix that comes in that little box).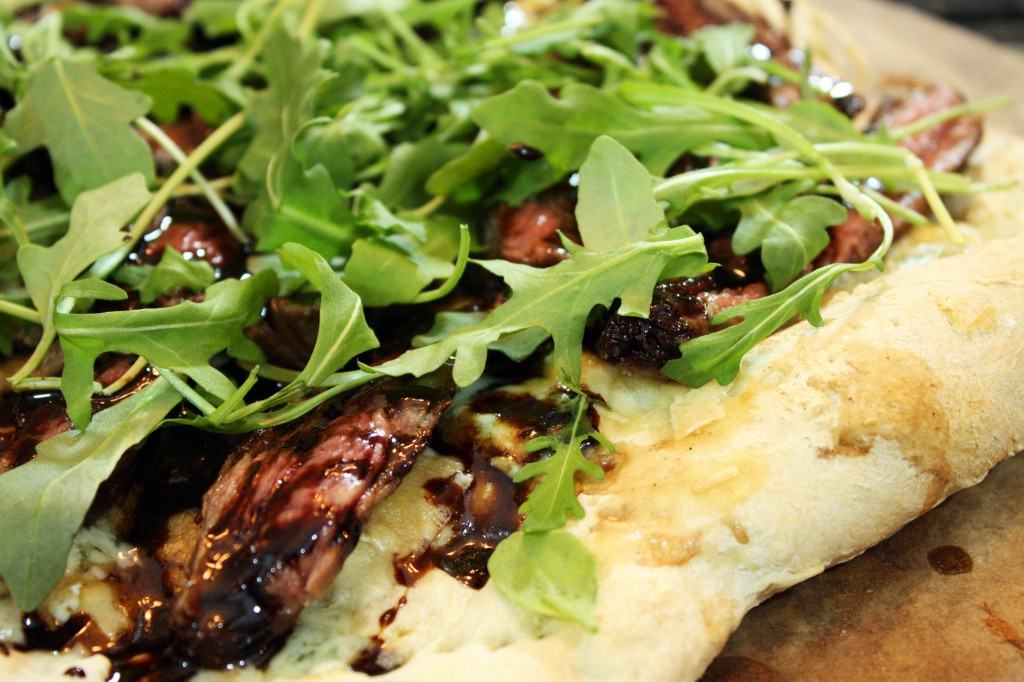 Yep, this is going to be a good year.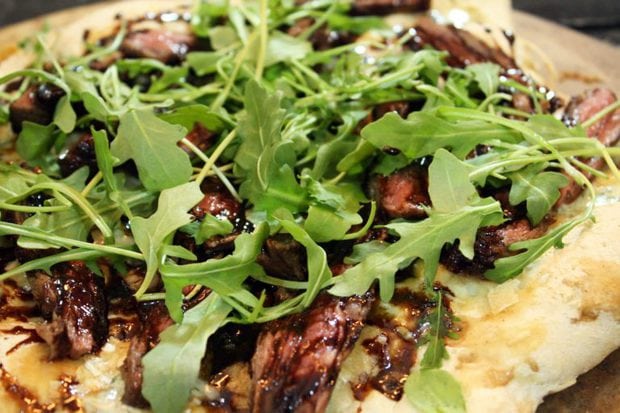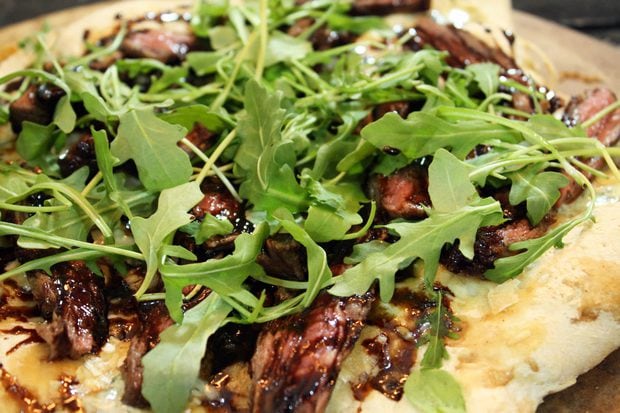 Grilled Steak, Blue Cheese, & Balsamic Pizza
Total Time:
3 hours
35 minutes
Crispy pizza dough topped with juicy steak, a balsamic reduction, blue cheese, and arugula.
Ingredients
Steak
10 oz. New York strip steak
2 Tbsp Olive oil
Pizza
3 cups all-purpose flour
1 2/3 cups water, room temperature
1 1/4 tsp table salt
1 1/2 tsp instant or rapid-rise yeast
1 1/4 tsp sugar
5 Tbsp olive oil
1 tsp kosher salt
1/2 cup shaved Parmesan cheese
3/4 cup Blue Cheese
Handful of arugula
Balsamic Reduction
1 cup balsamic vinegar
1 Tbsp honey
1/4 tsp black pepper
Instructions
Using a stand mixer fitted with dough hook, mix flour, water, and table salt together on low-speed until no area of dry flour remains, 3-4 min. Turn off mixer and let dough rest for 20 min.
Sprinkle yeast and sugar over dough. Knead on low-speed until fully combined, 1-2 min. Increase mixer speed to high and knead until the dough is glossy and smooth and pulls away from the sides of the bowl, 6-10 min.
Using fingers, coat large bowl with 1 Tbsp olive oil. Transfer dough to prepared bowl and pour 1 Tbsp oil over the top. Flip dough over once so that it is well coated with oil. Cover bowl tightly with plastic wrap and let dough rise at room temperature until nearly tripled in volume and large bubbles have formed, 2-2 1/2 hrs.
One hour before baking, preheat oven to 450 degrees and place pizza stone on the middle rack.
Heat 2 Tbsp olive oil in saute pan over medium-high heat. Add steak and cook 5 minutes on each side for medium-rare. Remove from heat, tent with foil, and allow to rest.
Bring balsamic vinegar to boil in small pan, then reduce heat to medium. Cook until vinegar is reduced by half. Stir in honey and pepper.
Turn dough out onto prepared surface along with an oil in the bowl. Roll out (I used my fingers) into pizza and let it relax for 5-10 min. Using dinner fork, poke surface of dough 30 to 40 times and sprinkle with kosher salt. Bake in oven until slightly golden, about 10 minutes.
Remove crust from oven, sprinkle with Parmesan. Return to oven and bake until crust is golden brown and cheese is melted. Meanwhile, slice the steak.
Remove from oven, add sliced steak, chunks of Blue Cheese, and arugula. Drizzle with balsamic reduction.