A Grilled Peach Prosciutto Flatbread with Blackberry Balsamic Drizzle is just what your summer party ordered. The fresh, fruity and savory combo of peaches, blackberries, prosciutto, arugula and burrata is oh-so addictive, you'll be lucky if there's a piece left once everyone starts digging in. Here's the long summer nights spent by the grill!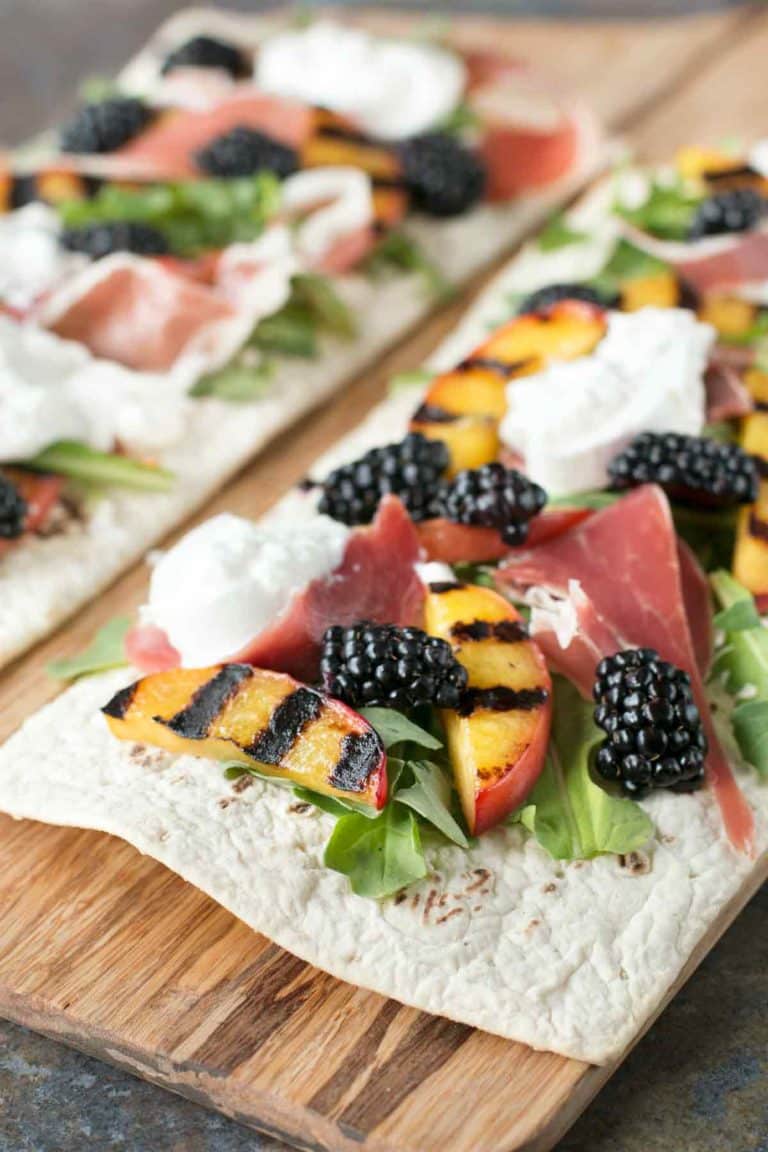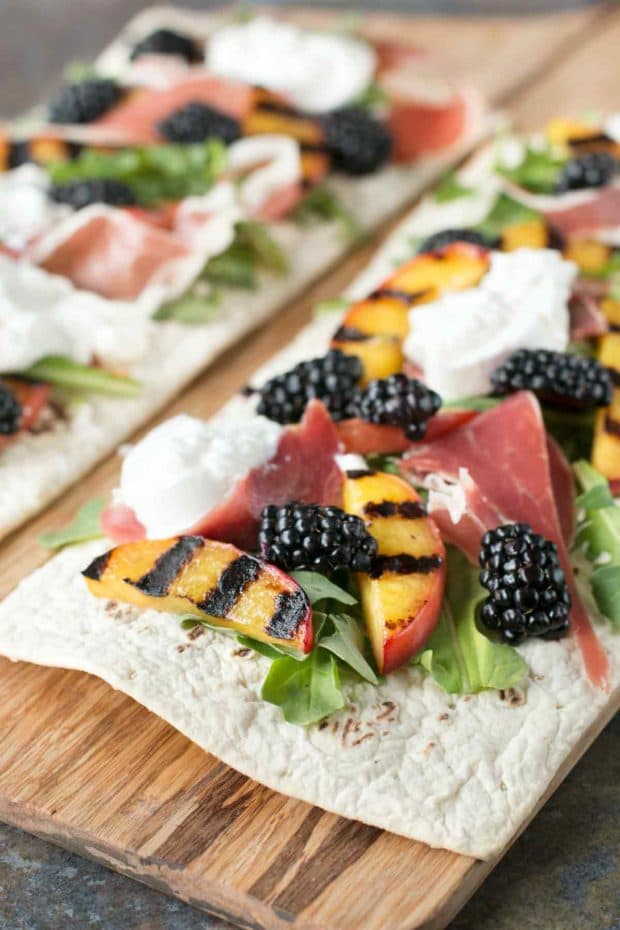 This post is sponsored by Flatout Flatbread. As always, all opinions and recipe are my own. Thank you for supporting the brands that support Cake 'n Knife!
Sometimes I feel like life swings way ahead of me and I get lost trying to catch up at every moment.
Example, went house-hunting the other week and actually found a place. On the third try. Literally the third house – that was the one.
I was prepared for searching for days and weeks on end, dealing with frustration just like I did the first time I bought a house.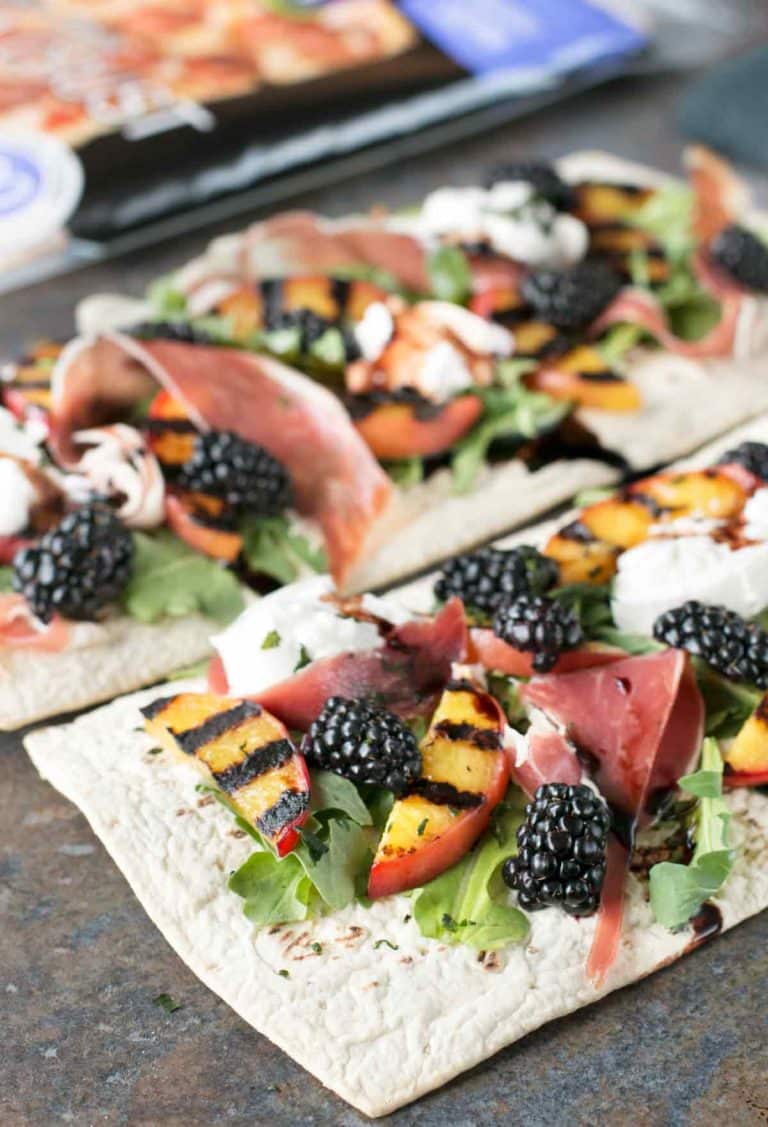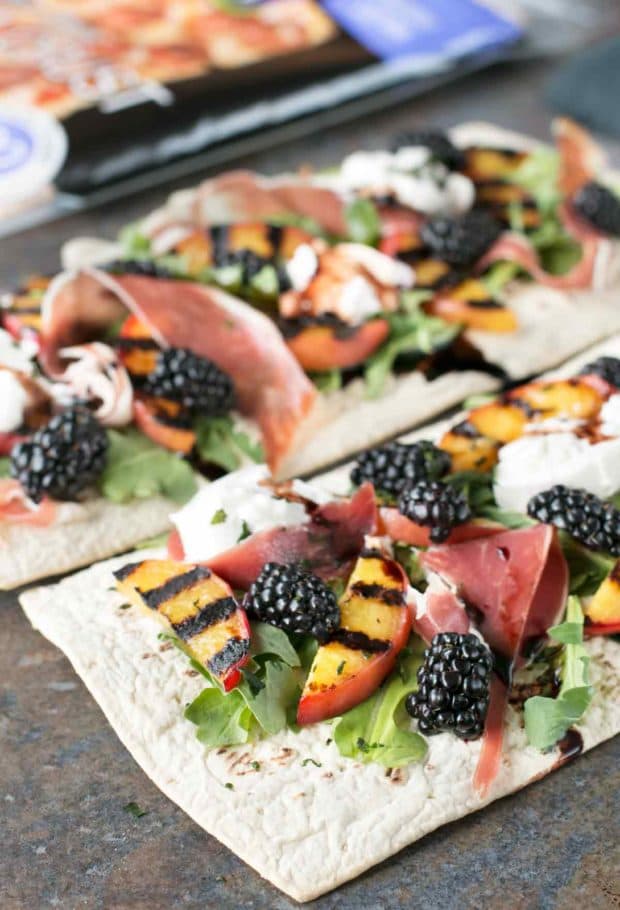 But no, simple and breezy (well, at least so far *knocks on wood*). My brain is still trying to catch up with everything that is happening!
These are the moments that I delve into obsessive sweet savory cravings.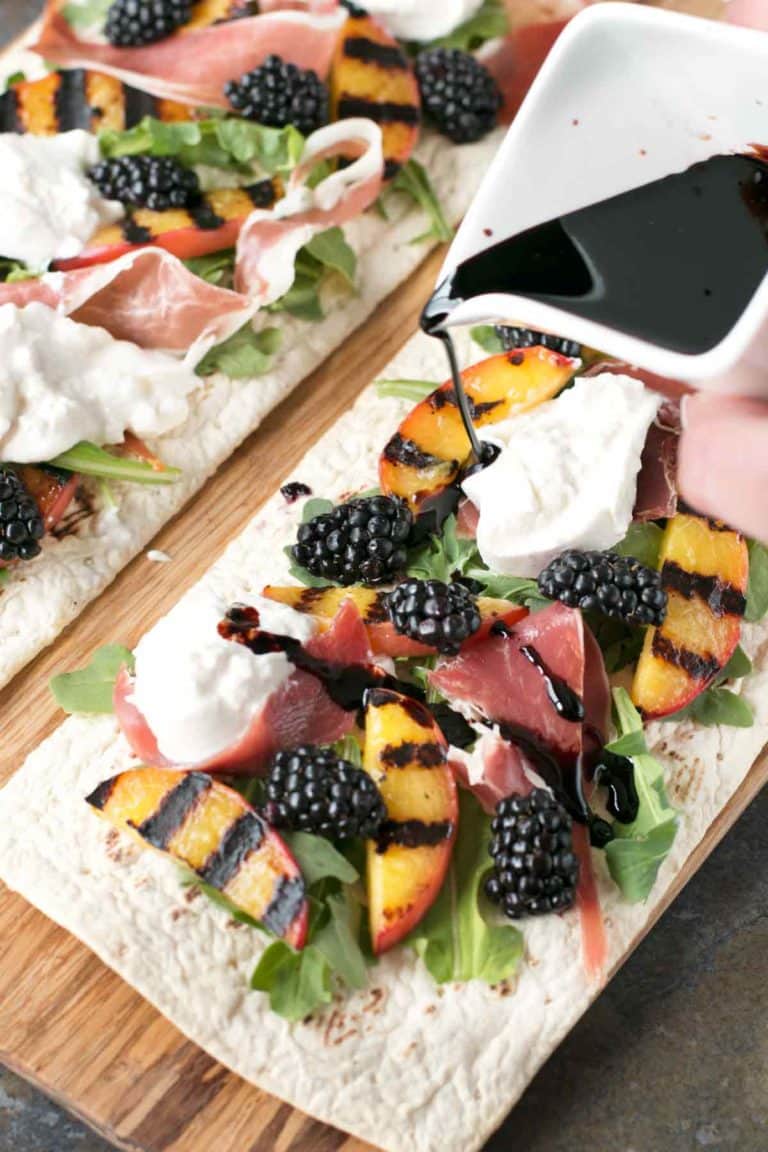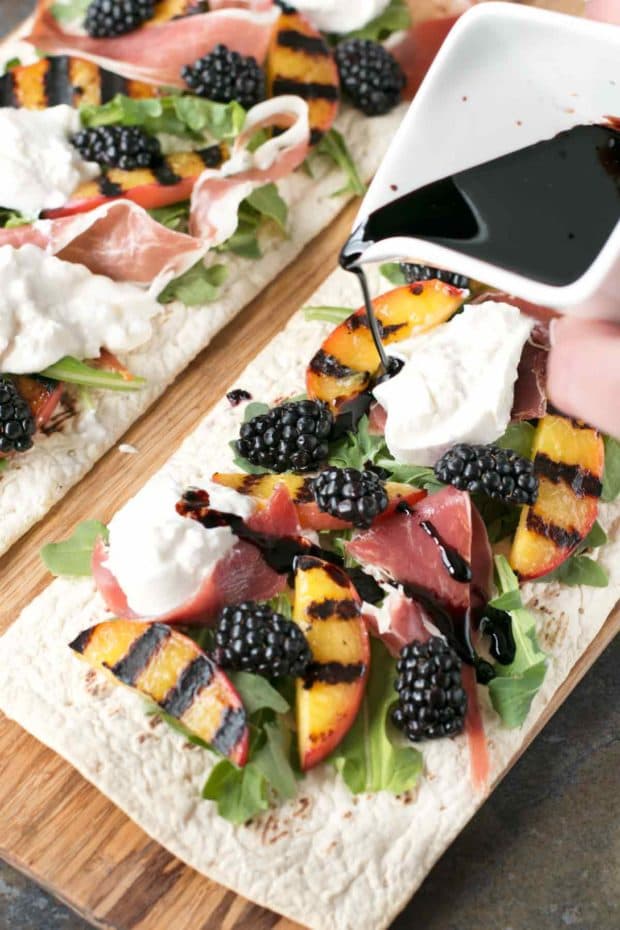 Please note that some of the links below are affiliate links. If you make a purchase through one of these links, I will receive a small commission. Thank you for supporting Cake 'n Knife!
Maybe it's because I feel like everything is happening and so I need all the flavors I love in my mouth at one time? Or maybe it's just because I turn into a fat kid when things are going so well in life? Or maybe there is lingering stress just waiting for everything to be final and so I want to just stuff my face to make it less intense?
I love to combine all things sweet and savory. From putting bacon on donuts or adding chili to a caramel macchiato, you all know that I can't help playing around with those sweet and savory flavors.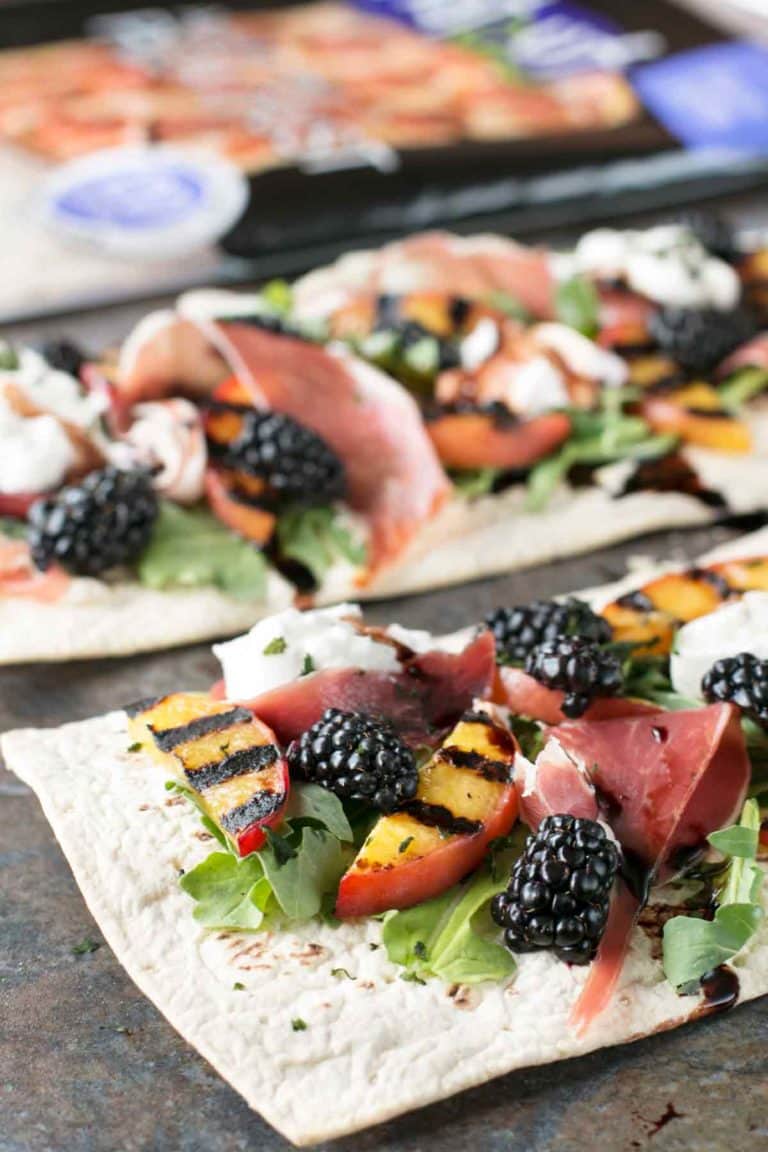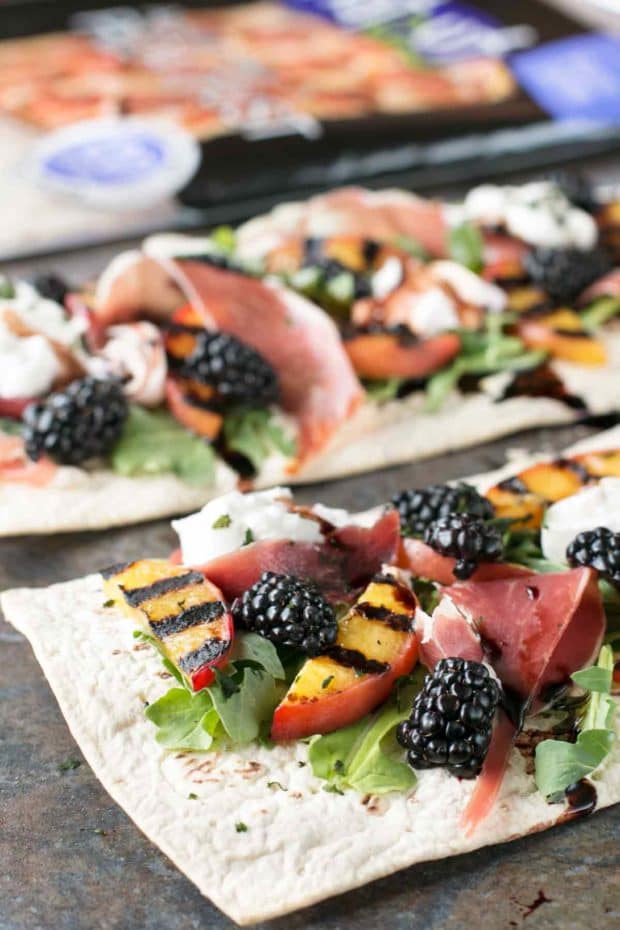 This flatbread is definitely the product of that lil' ol' sweet savory obsession of mine.
I've been obsessed with these Rustic White Flatbread Pizza Crusts from Flatout Flatbread lately. They are ridiculously easy to make (5 minutes in the oven, top with toppings and finish off in the oven for a couple more minutes). You can even throw them on the grill and they are done in just a handful of minutes! It's the easiest way to get your pizza kick any ol' weeknight or serve up some killer creative flatbreads for your next gathering.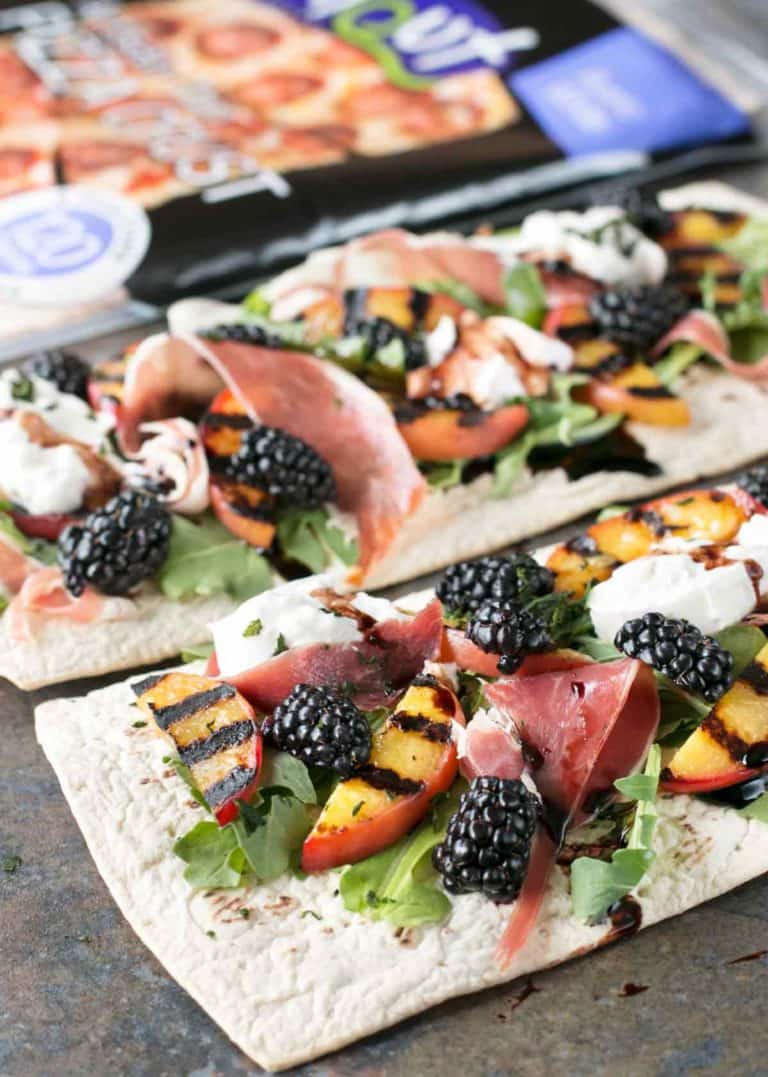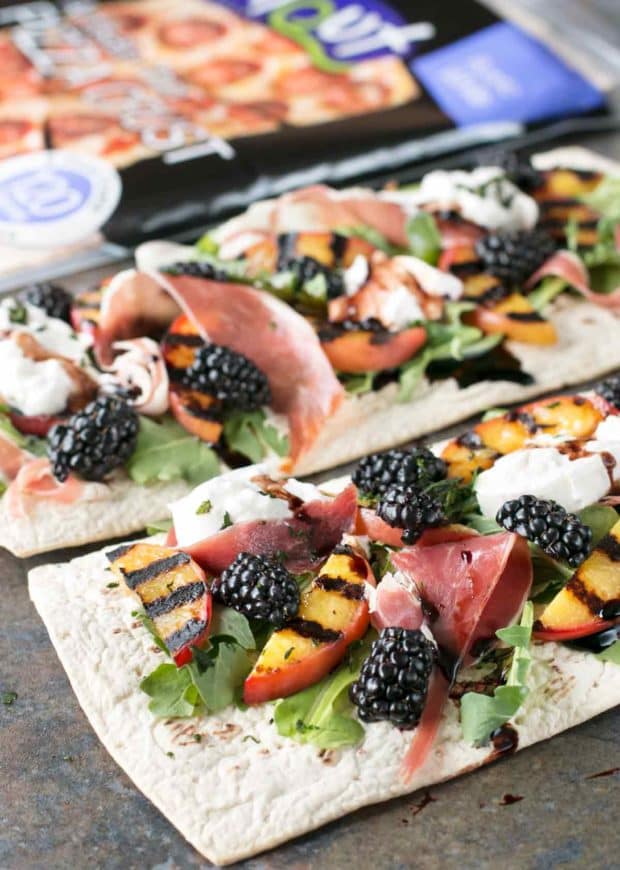 These flatbreads in particular have alllllllll the summer flavors you love, with a few special surprises to make it interesting. Grilling the peaches gives the whole pizza a little extra smoky, charred flavor, while the blackberry balsamic drizzle is a tart and tangy topping to balance out the salty and smooth flavors of the prosciutto and burrata. Finish it all off with some fresh blackberries and peppery arugula, and every bite literally explodes in your mouth with intense flavor.
This Recipe's Must Haves
Pin this Grilled Peach Prosciutto Flatbread with Blackberry Balsamic Drizzle recipe for later!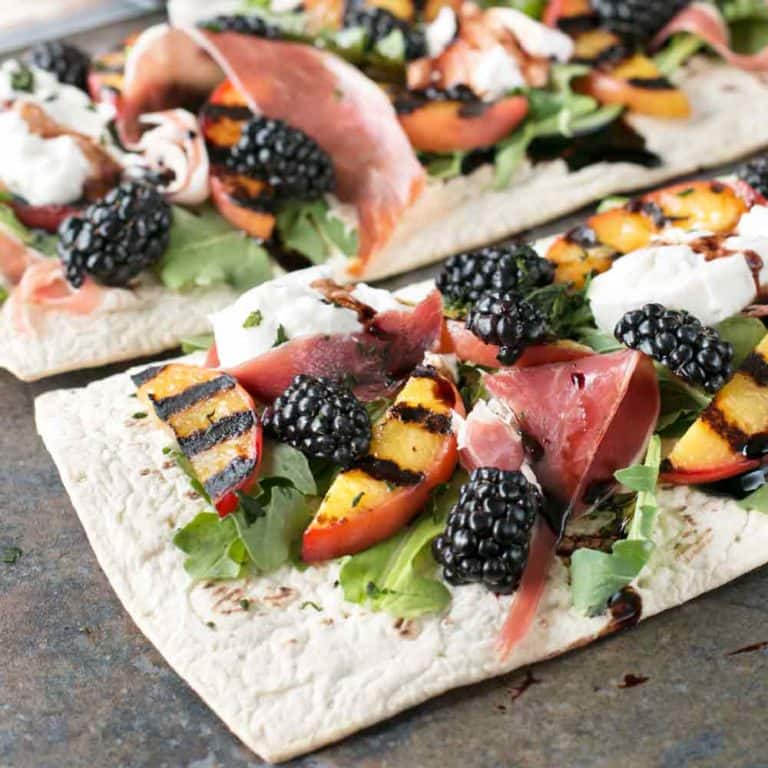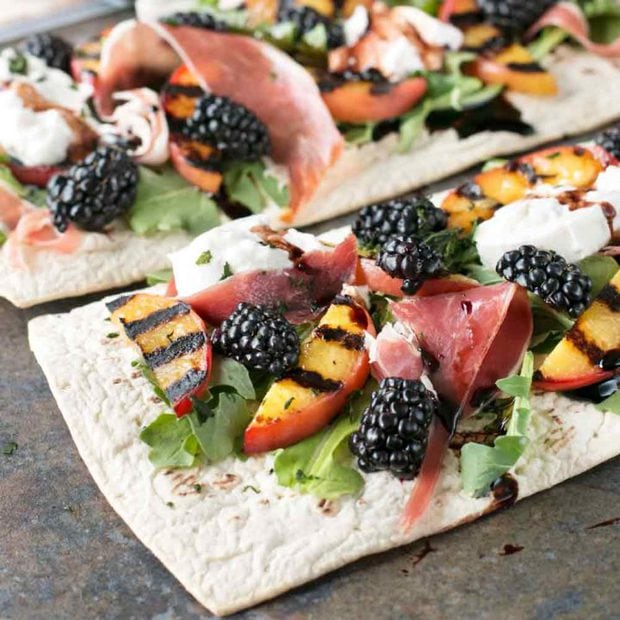 Grilled Peach Prosciutto Flatbread with Blackberry Balsamic Drizzle
This oh-so simple appetizer is fresh, fruity and savory so it's ideal for any occasion!
Ingredients
4 peaches, pitted and sliced
1 cups blackberries
4 oz sliced prosciutto
1 cup arugula
4 oz fresh burrata (approximately 1 ball)
2 Flatout Flatbread Rustic White Artisan Thin Pizza Crust
Blackberry Balsamic Drizzle
1/2 cup balsamic vinegar
1/2 cup blackberries, halved
1 tsp brown sugar
Instructions
In a small saucepan over medium heat, bring balsamic vinegar and blackberries to a boil. Continue to cook until the vinegar thickens, approximately 3-5 minutes. Strain out blackberries and stir in brown sugar. Set aside.
Preheat oven to 375 degrees. Add pizza crusts to a baking sheet and bake for 7 to 8 minutes. Remove from oven.
While the crusts are baking, heat up a grill or grill pan. Once hot, add sliced peaches to the grill or grill pan. Cook for 1 to 2 minutes per side. Remove from grill.
Layer grilled peach slices, blackberries, prosciutto, arugula, and burrata.
Drizzle over blackberry balsamic vinegar. Serve.