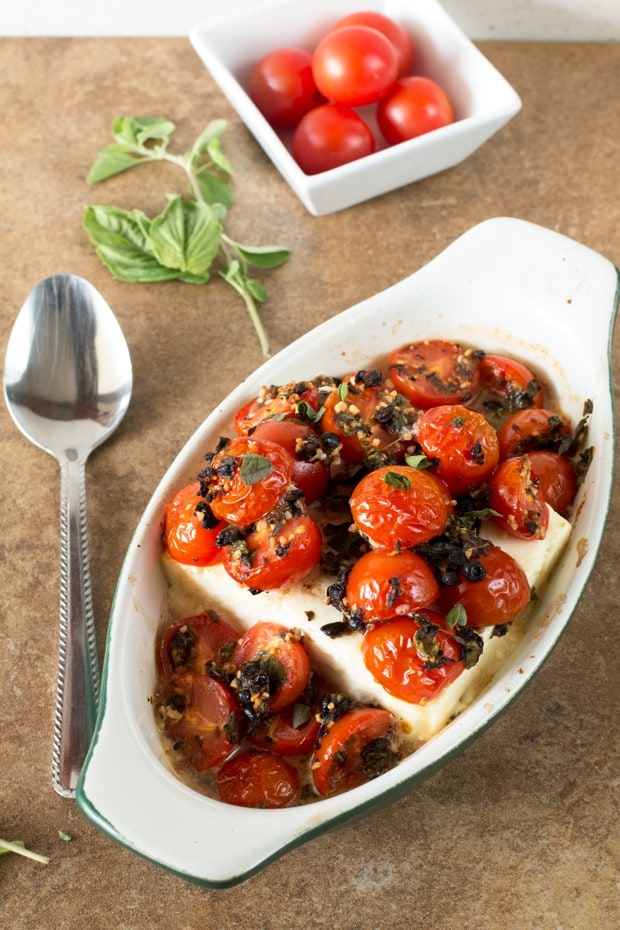 My favorite foods to make are the ones that completely fill your house with a delicious smell. You know, the one that triggers an automatic "oh my gosh, what smells so good?!" when you open the door to invite someone inside?
I live for those foods and this baked feta is definitely one of them. The combination of ripe roasted cherry tomatoes, fresh herbs, black olives, garlic and cheese fills your entire house. As I waiting anxiously for the baked feta to finish in the oven, I found myself literally melting into my office chair with each passing minute. It took all my strength to stay in the office and not open the oven every 2 minutes in hopes that it magically baked in record time… Seriously, why hasn't someone invented a time machine yet?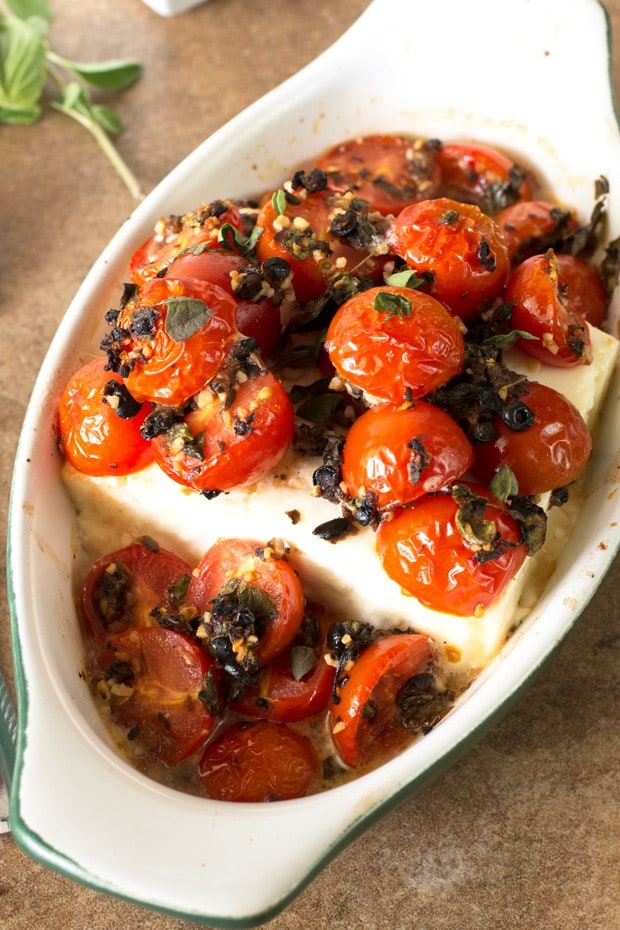 This baked feta recipe is going to become your new favorite appetizer, snack or midnight guilty pleasure (and by "midnight guilty pleasure," I mean the drunk food you are craving after a night on the town – let's be real, ok?). The bold flavors are downright addictive and the freshness of the herbs wakes up my palette in one little bite. Not to mention all that gooey cheeeeeeese…. Who can resist melted cheese?
If you can, please don't tell me. Melted cheese will be the death of me and I'd like to think of it as an unavoidable fate…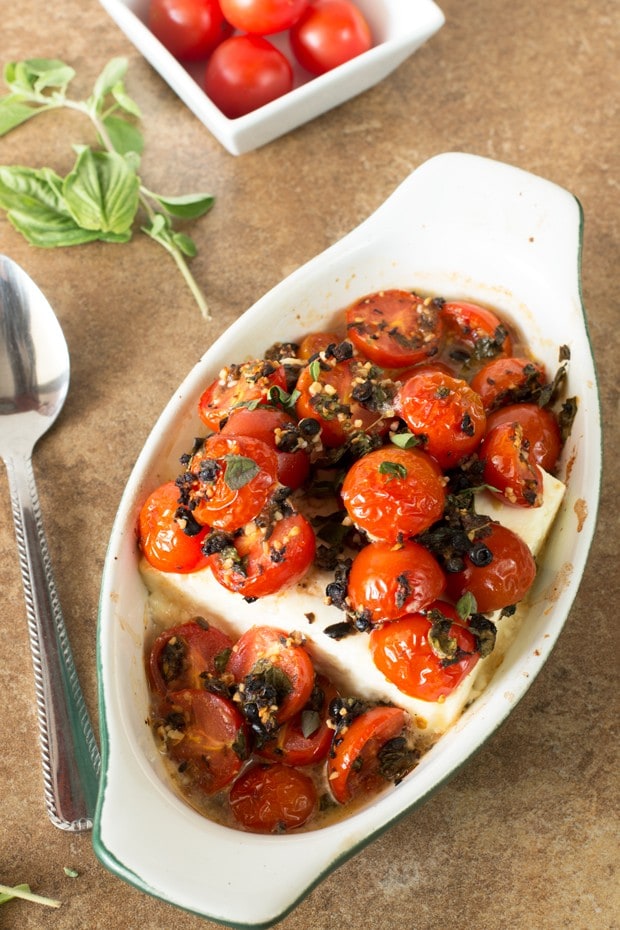 You may not want to wait until you have a house full of guests to serve this dish to and if you simply can't wait, let me tell you right now, I have the best way to use up any leftovers the following day. Just bake or grill up some fish like swai or tilapia (or even shrimp!) and toss it with whatever is left of the baked feta dish. Voila! The perfect weeknight dinner is served.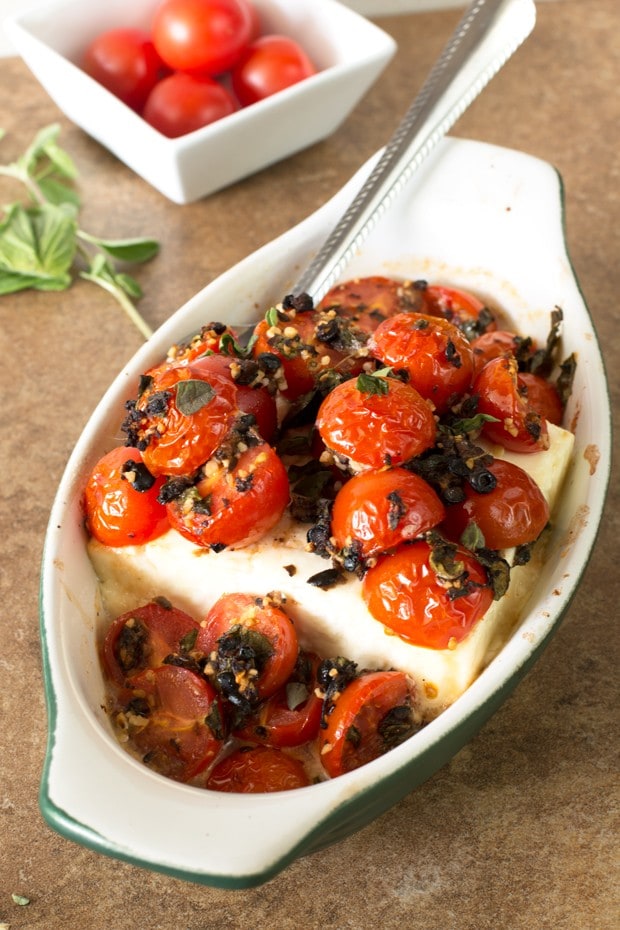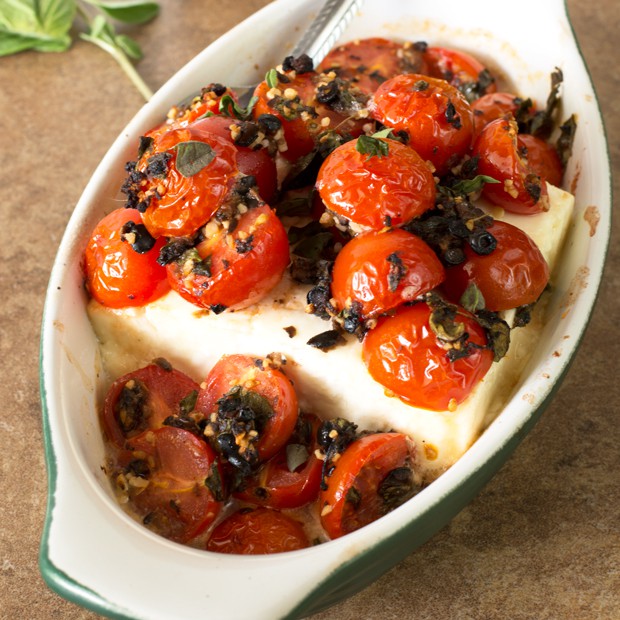 Baked Feta with Cherry Tomatoes and Fresh Herbs
A super simple cheese appetizer featuring bold Mediterranean flavors.
Ingredients
8oz block of Greek feta cheese
1 cup cherry tomatoes, halved
2 Tbsp chopped black olives
1 Tbsp fresh basil, chopped
1 Tbsp fresh oregano, chopped
1 clove garlic, minced
1 Tbsp olive oil
1/4 tsp salt
1/4 tsp black pepper
Instructions
Preheat oven to 400 degrees.
Combine the cherry tomatoes, olives, basil, oregano, garlic, olive oil, salt and pepper in a medium bowl. Stir to combine.
Place the feta block in an oven-safe dish that isn't too much larger than the block of cheese. As you can see, I used a small baking dish I usually use for baked dips.
Pile the tomatoes, herbs and olives on top of the block of feta. If it doesn't all fit on top, tuck any extras on the sides of the cheese block.
Bake for 15 to 20 minutes, until the cheese has softened and the tomatoes are roasted.
Serve immediately with chips or toasted bread.