Please note this post contains affiliate links.
This post has been sponsored by Mission®. All opinions are entirely my own.
Churro Cheesecake Taquitos are a cinnamon-spiced dessert that are crunchy, creamy, and oh-so addictive. Made to be two-bite indulgences, these taquitos are ideal for your Cinco de Mayo party!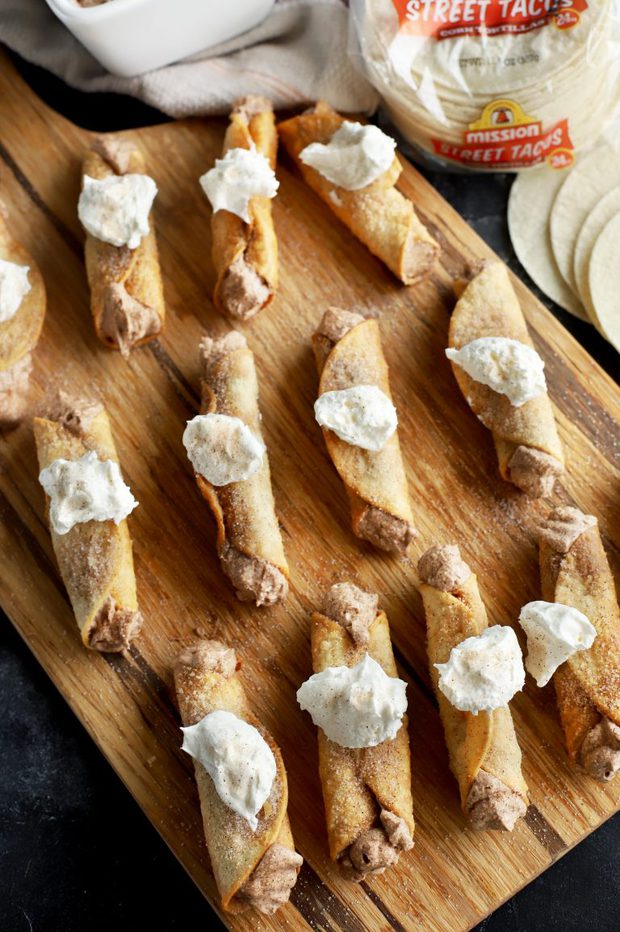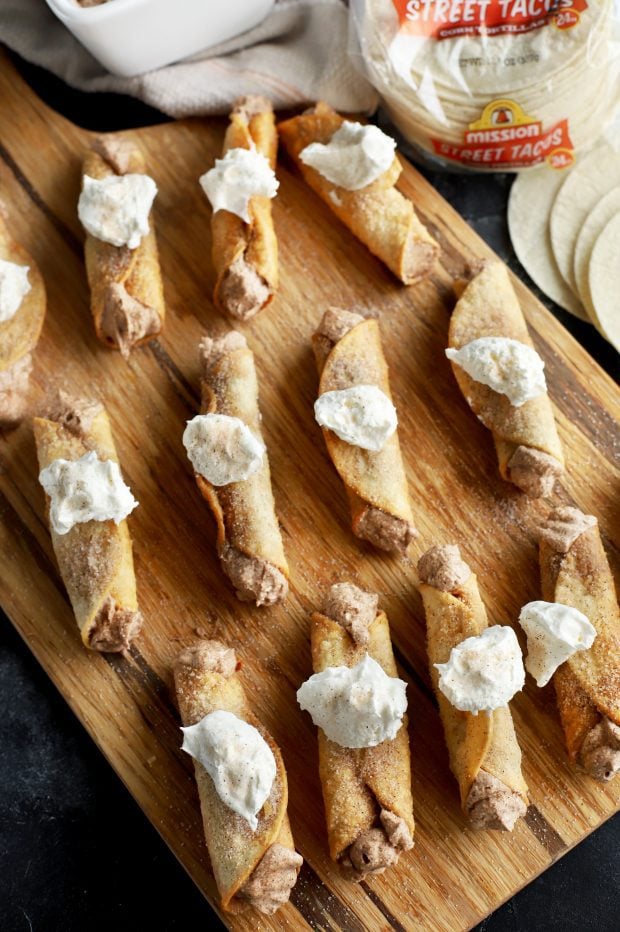 Please note that some of the links below are affiliate links. If purchases are made via these links, I will receive a small commission.
Cinco de Mayo is coming up quickly my friends and I couldn't be more excited if I tried!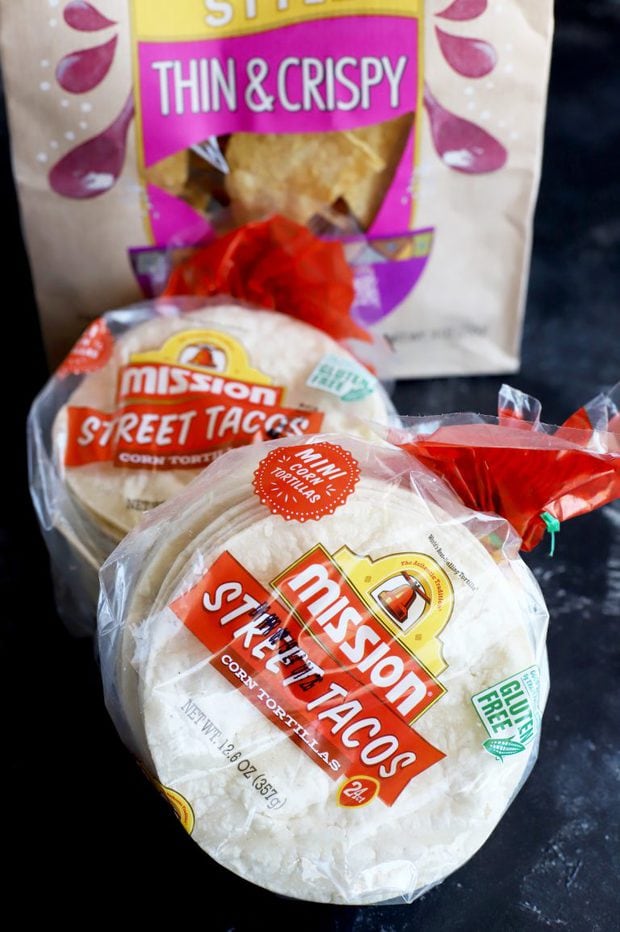 The 5th of May is one of my favorite food holidays on the face of the planet. I call it a food holiday because to me, it's that time that I get to whip up all of my favorite Mexican-inspired foods.
Just like St. Patrick's Day is all about eating and drinking everything Irish, Cinco de Mayo holds a special place in my heart particularly for all the food and drink.

From tacos to burritos, enchiladas to margaritas, and so much more, this day couldn't be more tailor made for lil' ol' me.
These little, fried, two-bite desserts are going to be the HIT of your Cinco de Mayo party this year! It all starts with Mission® Street Corn Tortillas that are rolled up and fried until they are golden brown and crispy.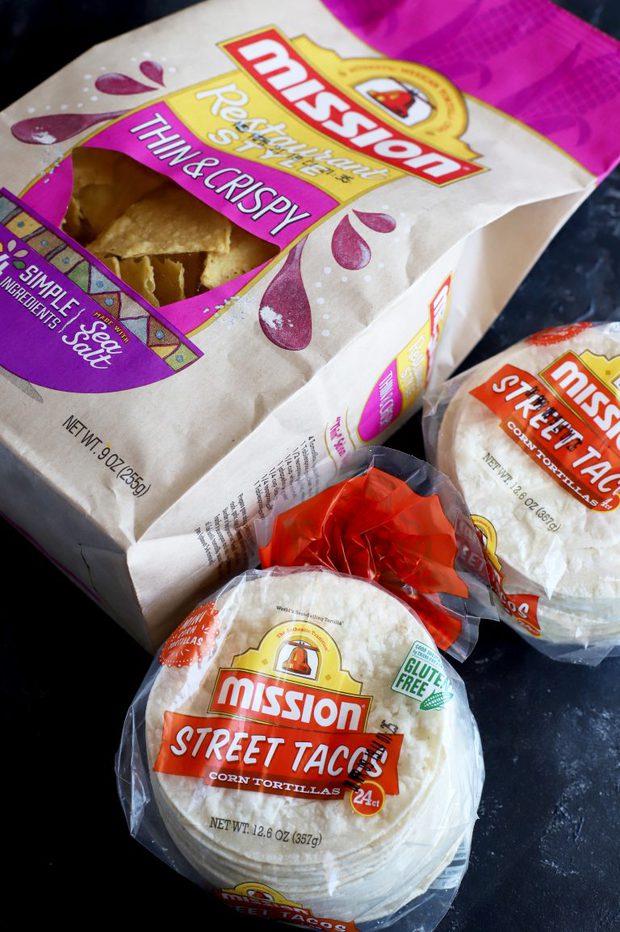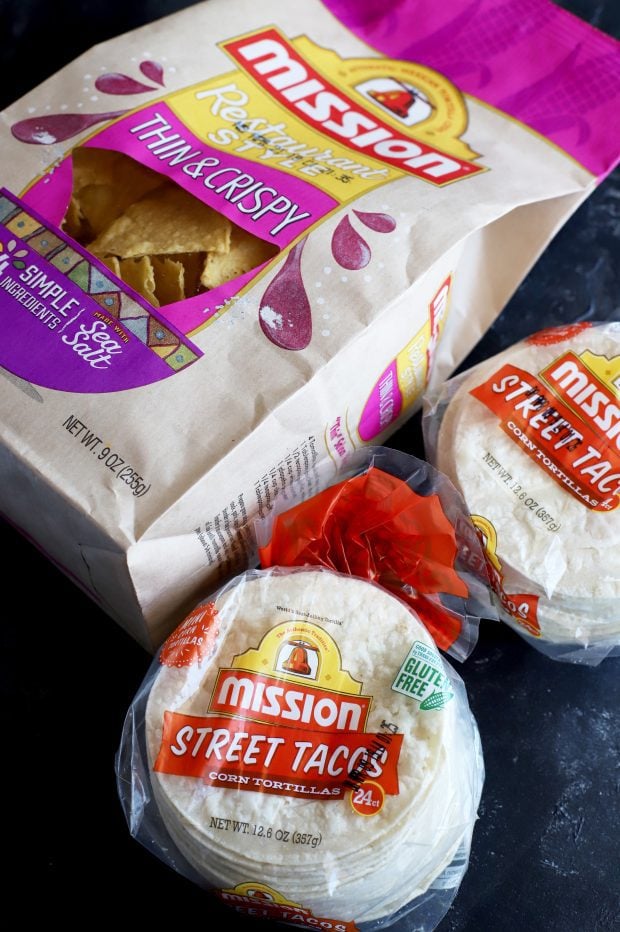 The Mission Street Tacos Corn Tortillas are the ideal size for this recipe, making them perfect for snacks, appetizers, and desserts just like this one. The flavor is sweet yet savory, but not so savory that it overpowers the sweet ingredients in the filling.
Instead, it provides just the amount of savory to balance it all out (versus sweeter exterior options like graham cracker crusts and such). It's so tasty and my mouth is watering right now even thinking about them.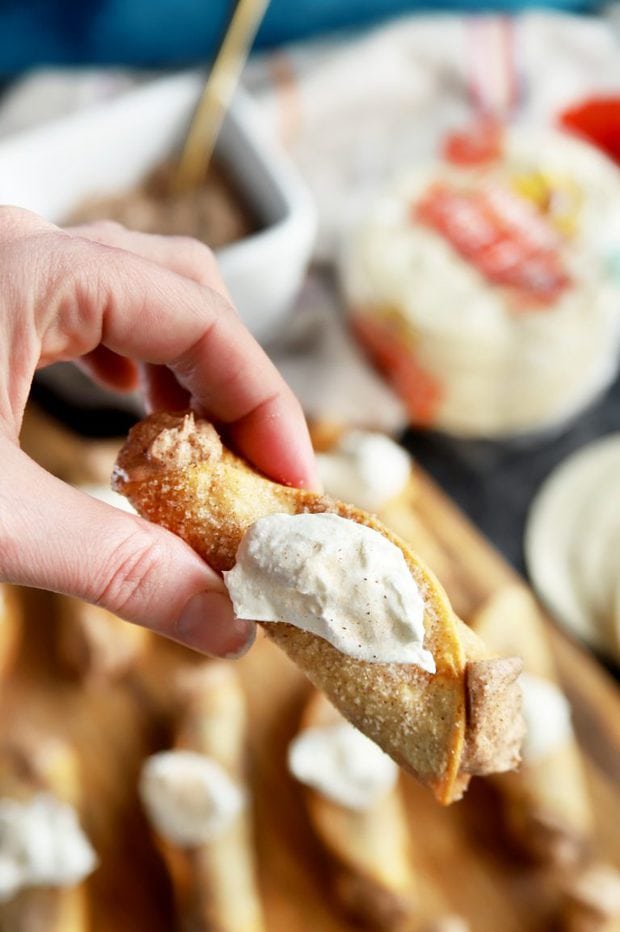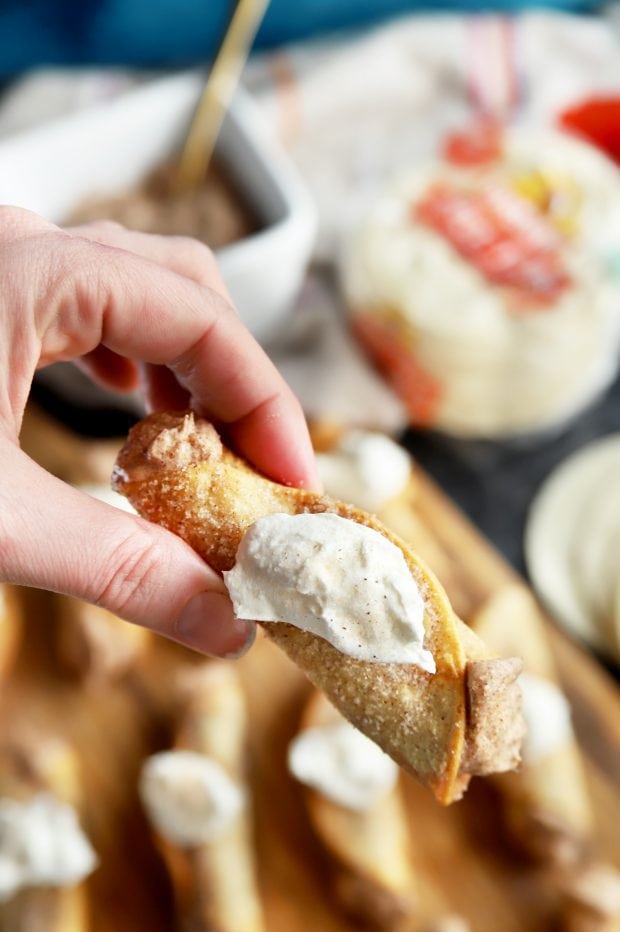 The churro cheesecake filling is SO creamy and luscious. It brings all that cinnamon sugar flavor you love about churros, with a slight tang from the cream cheese for an added element of richness.
Plus, they are so easy to pick up and dig into. You don't have to worry about needing silverware or making a total mess.
When you top it all off with a small dollop of whipped cream, it's just the best darn party dessert you'll ever taste.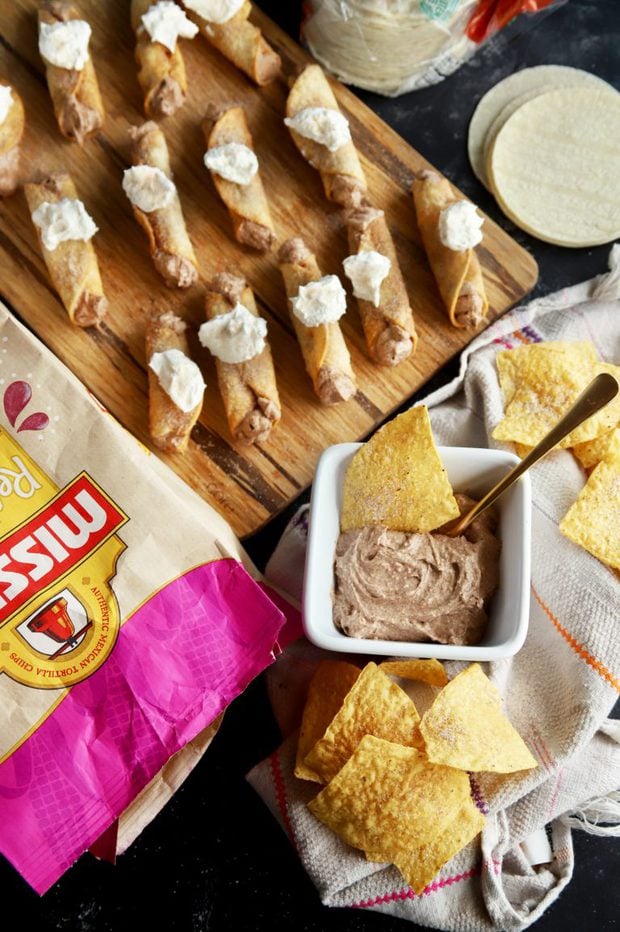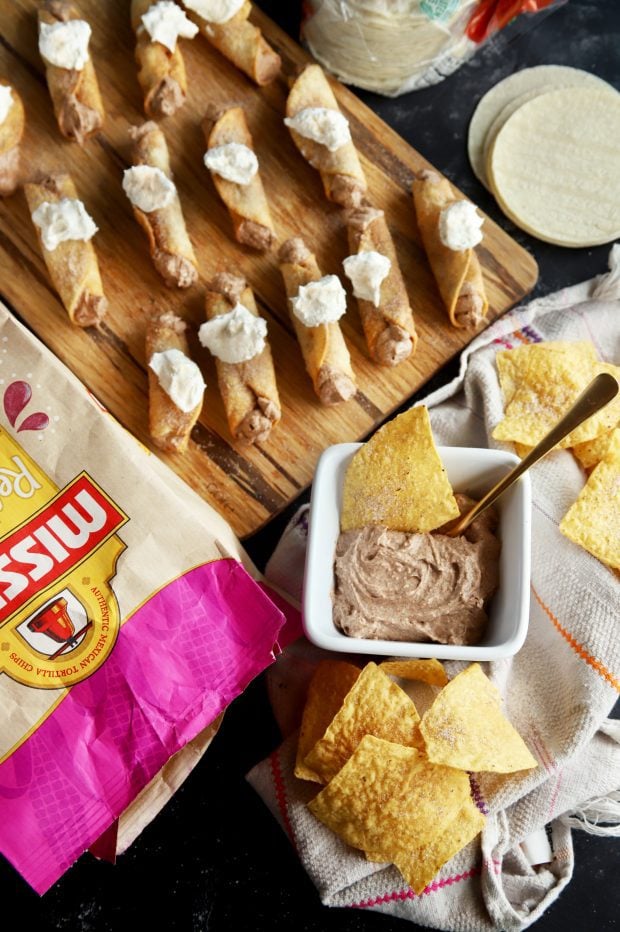 You can easily make these little guys ahead of time too. Simply make the filling and the taquito shells separately, storing in the refrigerator and at room temperature respectively. Right before the party, fill the shells and set them out. You can finish them off with a final sprinkle of cinnamon sugar and whipped cream, if desired.
Mission Street Tacos Corn Tortillas may be small but they're huge on flavor! They also happen to be certified gluten free! I always have them on hand in the house because they're super versatile, whether I'm using them for a dinner recipe or for a sweet dessert like this one!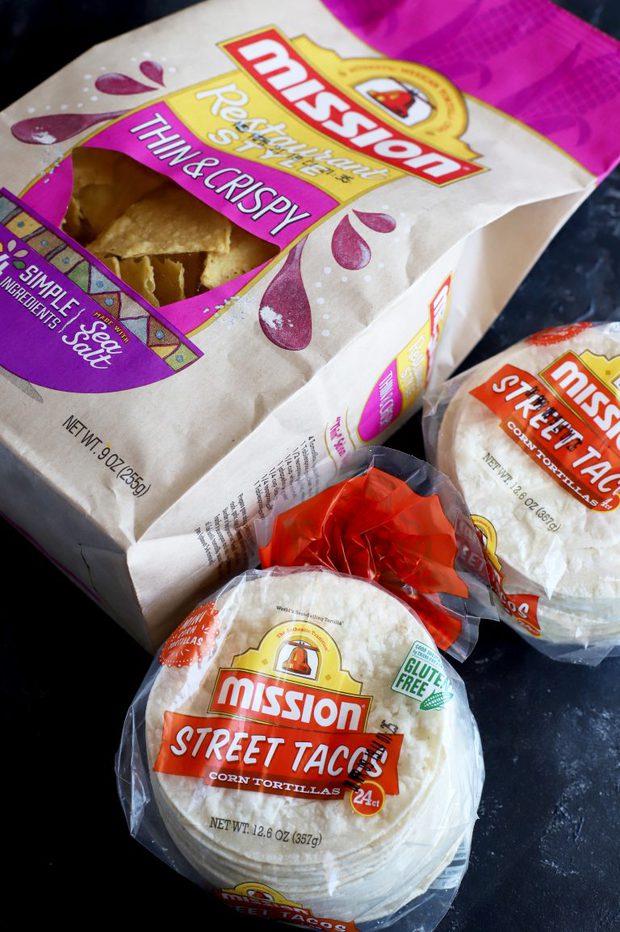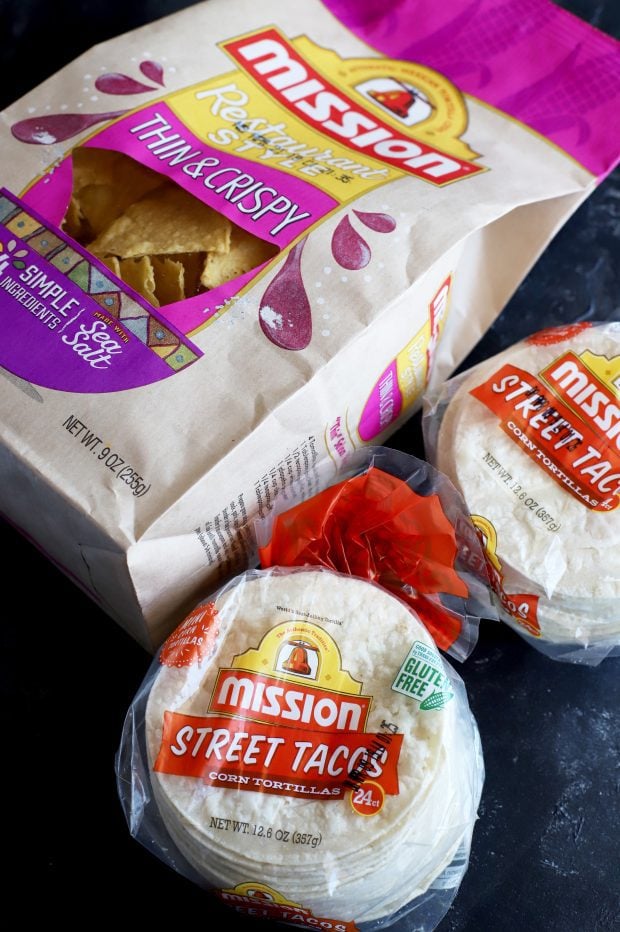 Everyone is going to gobble them up as quickly as possible! So make double (or even triple!) batches if you have a lot of people coming over for your Cinco de Mayo festivities.
Not to mention they pair wonderfully with a margarita or a Mexican lager!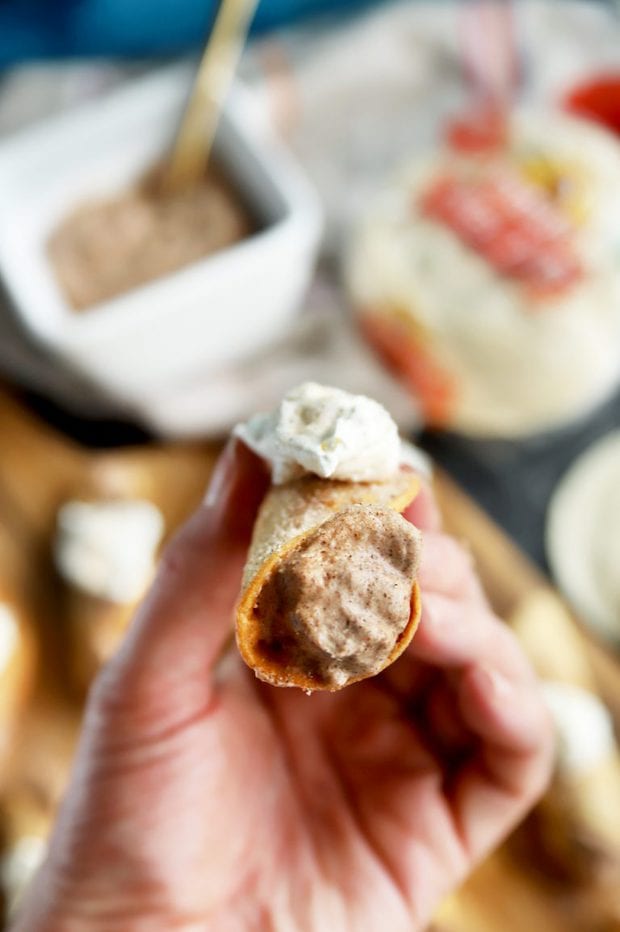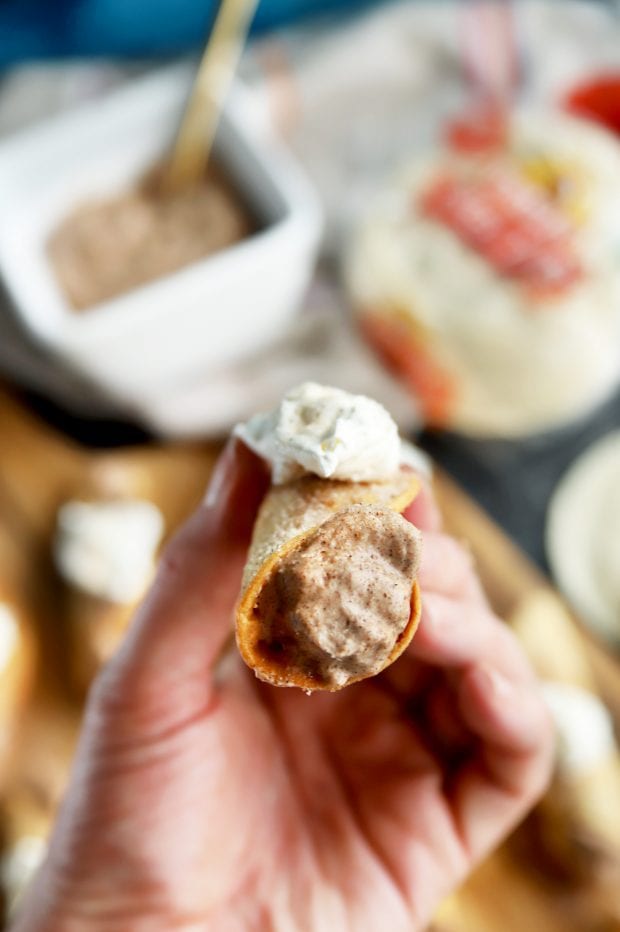 PRO TIP: If you end up with some filling leftover, don't get rid of it! Instead, keep it and pair it up with Mission® Thin & Crispy Tortilla Chips. The chips are gluten free, crispy, and the perfect shape for dipping.
I like to sprinkle my tortilla chips with some cinnamon and sugar to counter the salt on the chips just slightly. Then dip it in the extra churro cheesecake filling and you have another great dessert for round two!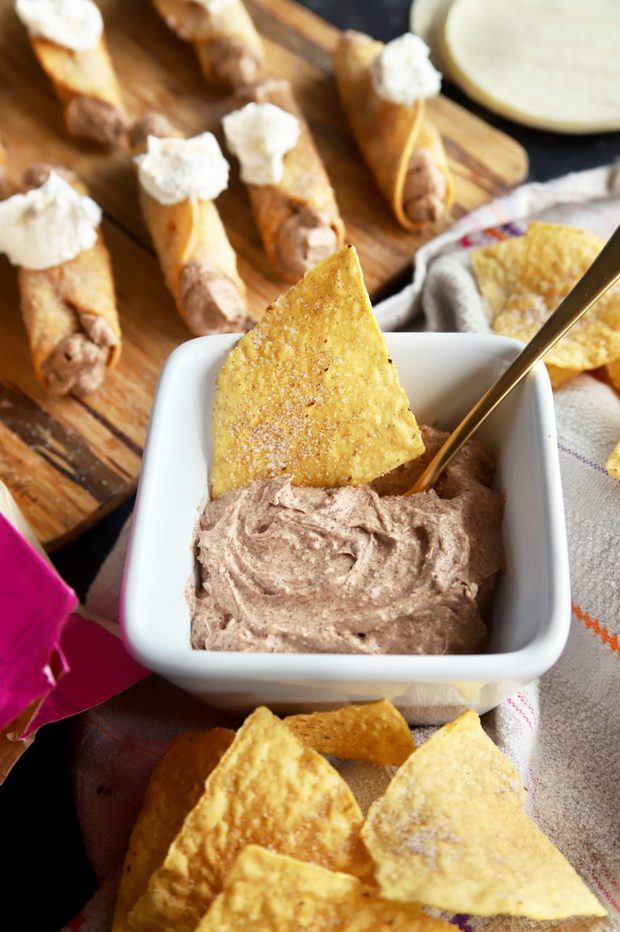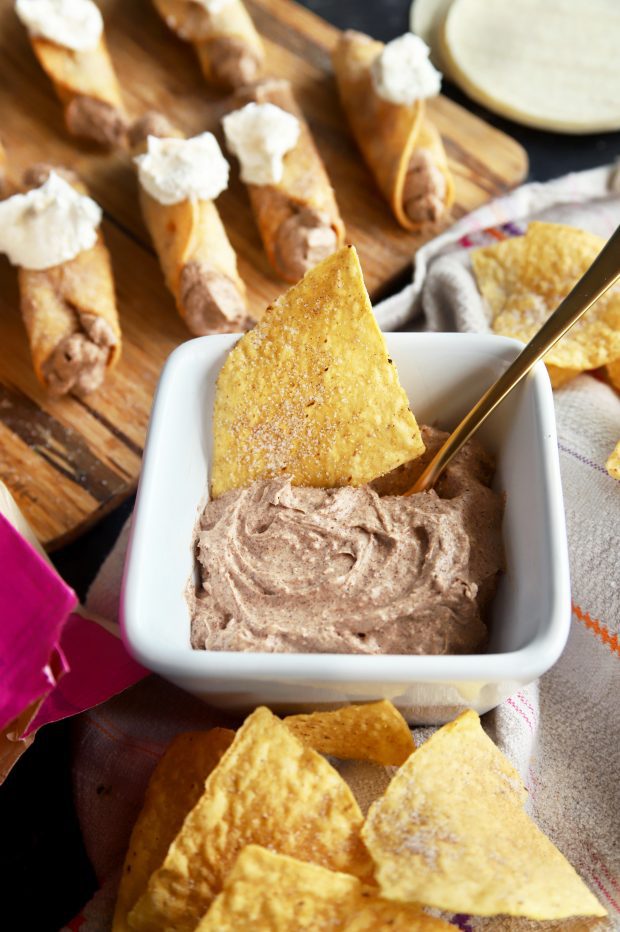 What are your plans for Cinco de Mayo this year?? Tell me in the comments below!
Don't forget to check out my chili lime margarita for a festive sipper!
This Recipe's Must-Haves
To create that perfectly fluffy and smooth filling, you'll need a reliable stand mixer to beat it all together.
Of course, you'll also need some mixing bowls to make the cinnamon sugar to coat the exterior of these fried bad boys.
Finally, make sure you have a good saucepan for frying up the taquitos!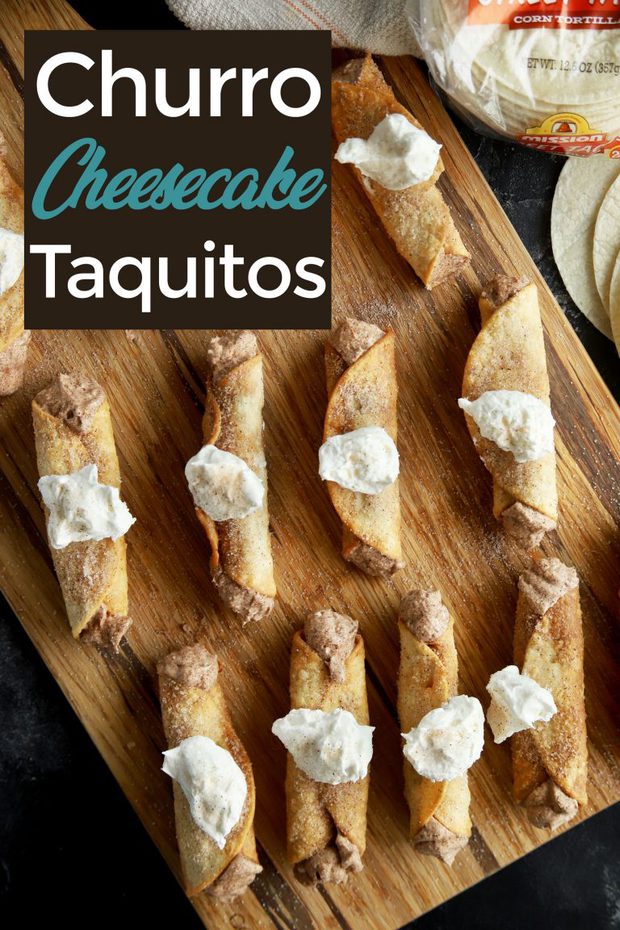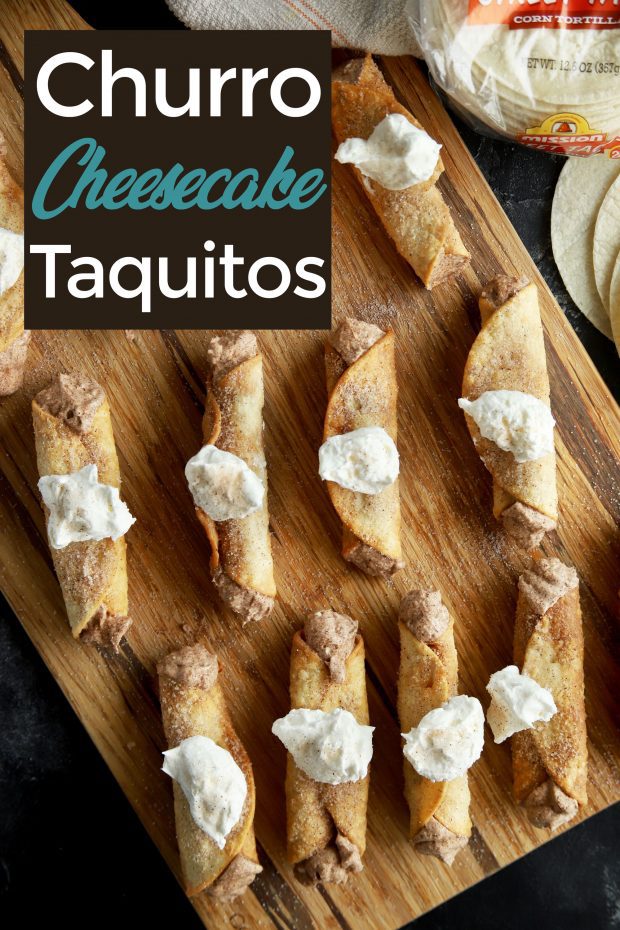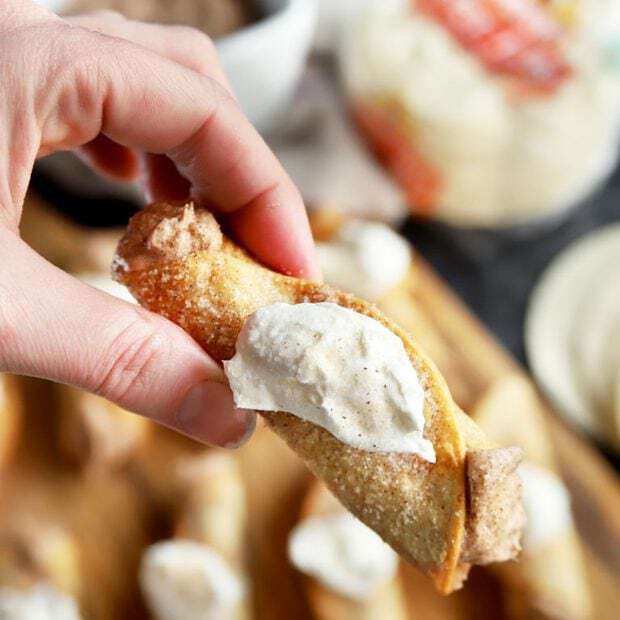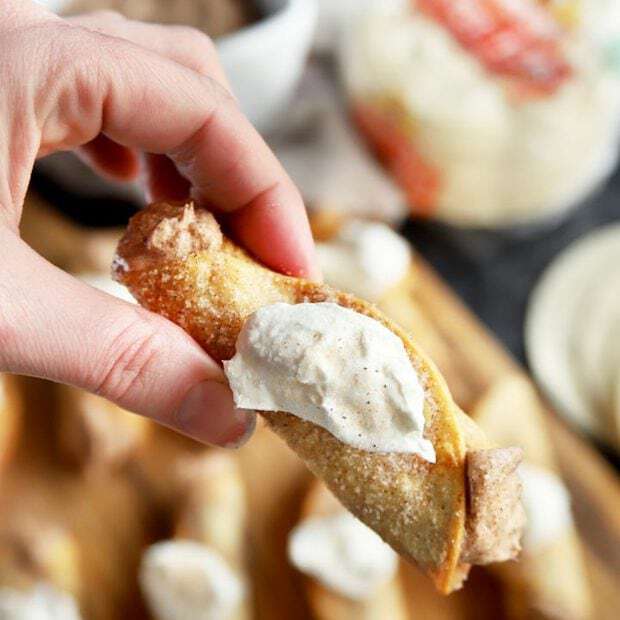 Churro Cheesecake Taquitos
Yield:
Makes 16 to 18 taquitos
All the flavors that you love from churros are mashed up with cream cheese in a crispy, crunchy tortilla!
Ingredients
Taquitos
16 Mission® Street Tacos Corn Tortillas
Canola oil
Filling
1/4 cup ground cinnamon
1 cup powdered sugar
2 tsp vanilla extract
1 cup heavy whipping cream, chilled
8 oz cream cheese, softened
Cinnamon Sugar
1/4 cup granulated sugar
2 tsp ground cinnamon
Garnish
Instructions
Heat about 1 1/2 to 2 inches of canola oil in a large saucepan over medium-high heat until it reaches 350˚F.

In a small bowl, combine and stir together sugar and cinnamon for cinnamon sugar mixture until combined. Set cinnamon sugar aside.

When ready to fry, warm the tortillas in the microwave for about 10 to 15 seconds, until soft and pliable. Roll each tortilla up and secure in place with a toothpick.

Fry the tortillas in batches in the hot oil, about 3 to 4 at a time, frying until golden brown and crisp. This will take about 3 to 5 minutes per batch. Repeat with remaining tortillas.

Remove fried tortilla shells to a plate lined with paper towels. Sprinkle cinnamon sugar over the freshly fried tortillas. Set aside to cool at room temperature.

In a medium bowl, whisk together cinnamon, powdered sugar, vanilla extract, and heavy whipping cream until well-combined. Set aside.

Place cream cheese in the bowl of a stand mixer fitted with the paddle attachment. Beat cream cheese until light and fluffy, about 3 to 5 minutes.

Pour in cinnamon cream mixture into the cream cheese and beat until just combined.

Add cream cheese mixture to a pastry bag and pipe into cinnamon sugar-coated fried tortillas, filling from both sides until the filling comes to the edges.

Garnish with a dollop of whipped cream on each taquito and sprinkle with remaining cinnamon sugar.
Recommended Products
As an Amazon Associate and member of other affiliate programs, I earn from qualifying purchases.