Please note this post contains affiliate links.
PB&J Ice Cream is everything you remember about your favorite childhood sandwich! Creamy no-churn peanut butter ice cream is swirled with grape jelly, making it the ultimate throwback.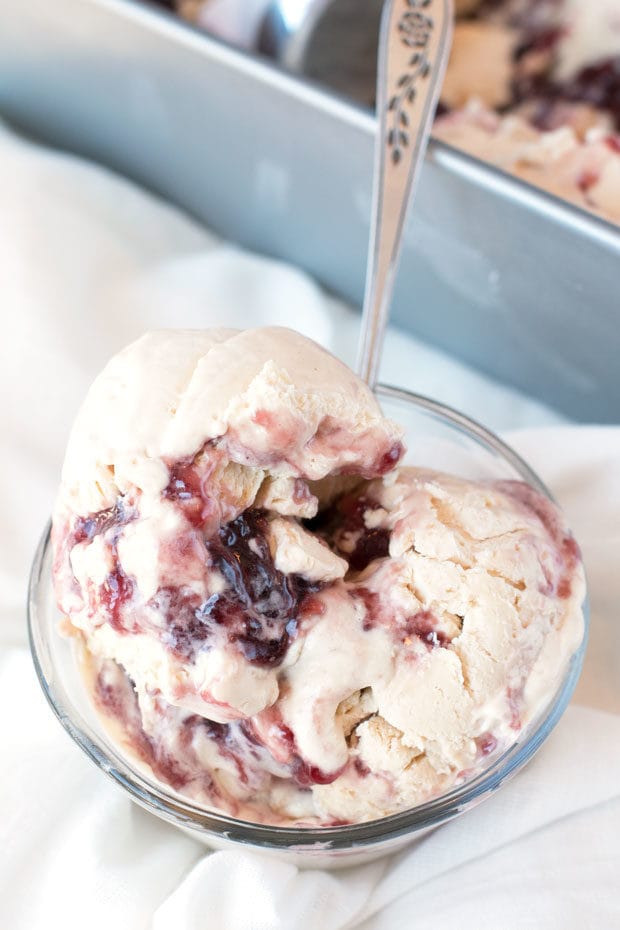 I'm kicking it old school today with the classic peanut butter and jelly combination!
Were you one of those kids who was brought up on PB&J sandwiches? I sure was. Honestly, when I was young, the simpler the meal was the better. There was a period of time in my life where PB&J sandwiches and hamburgers with only ketchup were the only things I would eat.
I like to think I've matured past this stage in my life, but admittedly, only my palate has truly "grown up".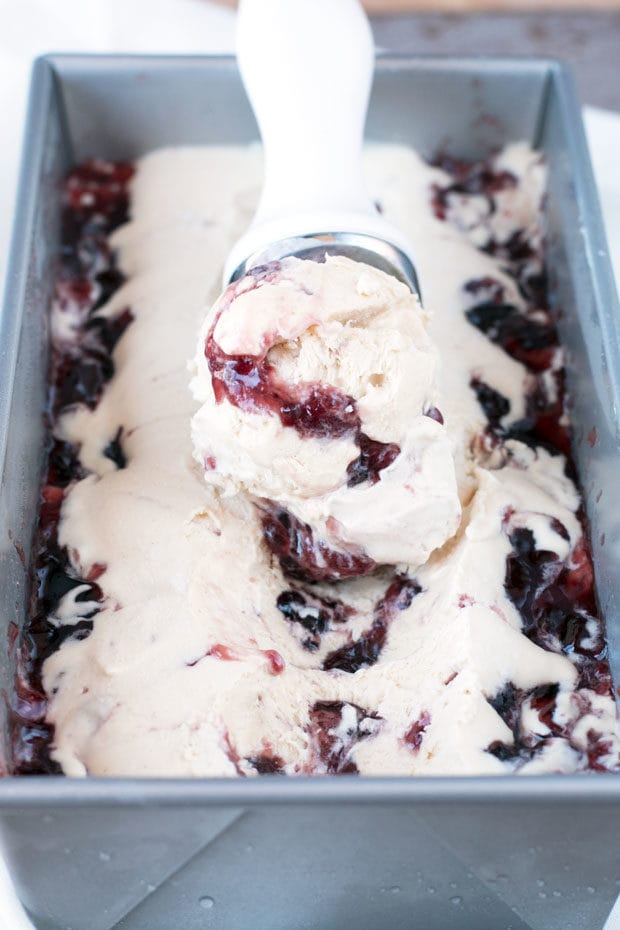 Every bite I take of this ice cream brings me right back to my elementary school on Kansas City. I can hear the shouts and screams of my classmates, smell the gross cafeteria food and even feel the butterflies from when my crush would catching me staring at him…
Yes, I was totally that girl in elementary school.
The flavor combination here is just SO classic. It's timeless. It's oh-so Americana.
It's hard to believe that this creamy dreamy PB&J ice cream as simple as it is, but it seriously couldn't be easier to make. You don't even need an ice cream maker! Just fold all these luscious ingredients together, swirl in some grape jelly and freeze.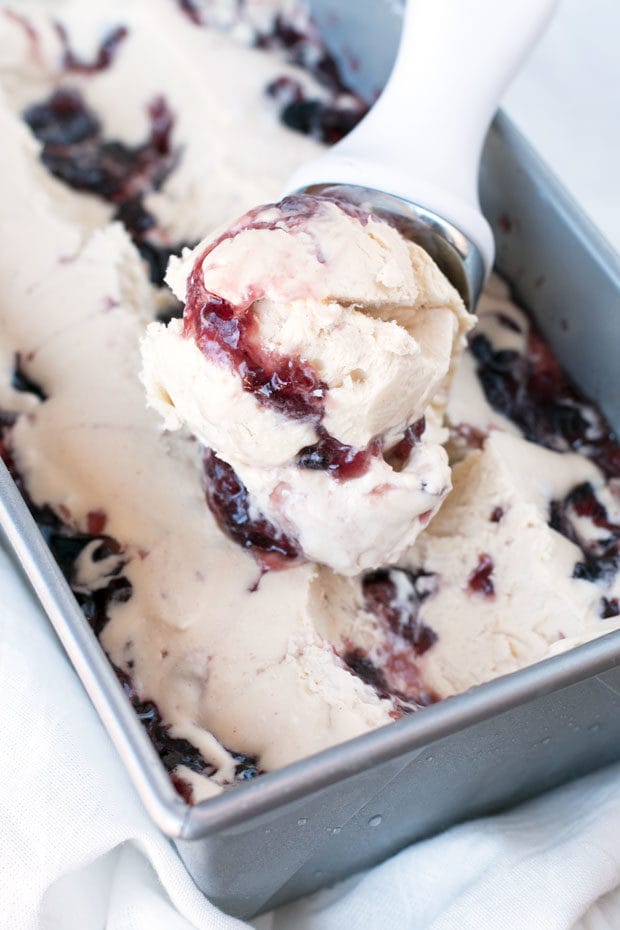 No really, that's all you have to do. I'm not kidding.
In a handful of hours you will have an ice cream that will make you feel young again (or young still depending on just how old you are right now…). Just don't let that bully across the cafeteria steal the deliciousness from you…
By bully I mean significant other/sibling/parent/roomie/dog of course. Just guard that bowl and be selfish with it (not like that will be hard…)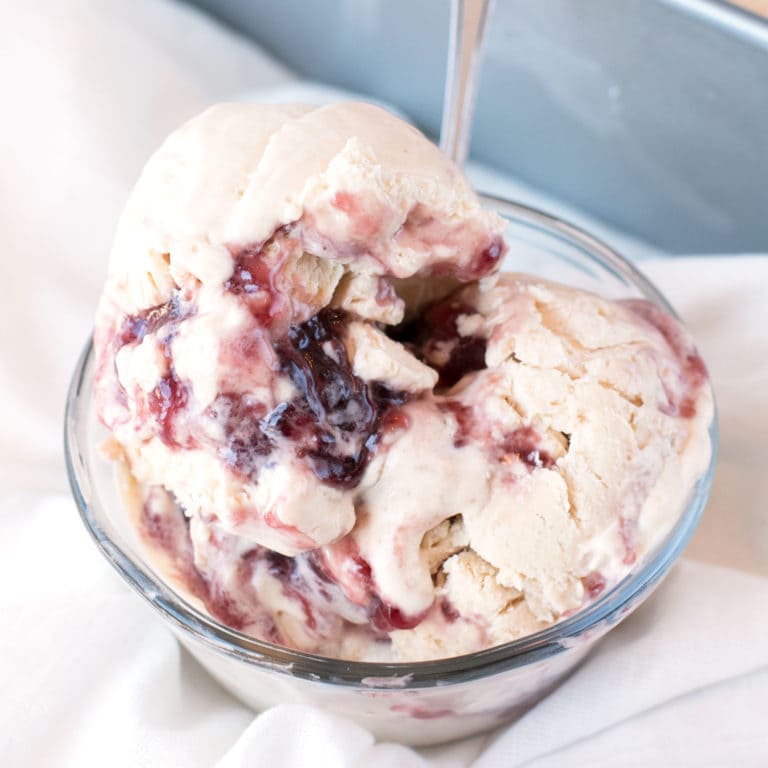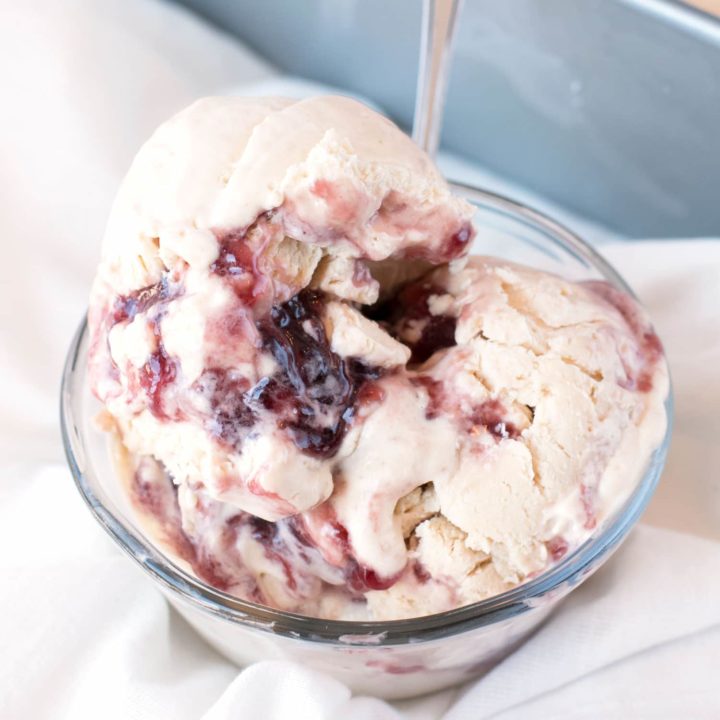 PB&J Ice Cream
Total Time:
5 hours
10 minutes
It's hard not to swoon over this creamy peanut butter no-churn ice cream, swirled with grape jelly!
Ingredients
7 oz sweetened condensed milk
1 tsp pure vanilla extract
1/2 cup peanut butter
Pinch of salt
2 cups chilled heavy cream
1 cup grape jelly
Instructions
In a medium bowl, whisk together sweetened condensed milk, vanilla, peanut butter, and salt. Set aside.
In a large bowl, beat whipped cream with an electric mixer until stiff peaks form, approximately 2 minutes. Fold approximately 1 cup of the whipped cream into the peanut butter mixture until combined. Fold the peanut butter cream mixture back into the whipped cream until well combined.
Pour the mixture into a metal loaf pan. Dot with jelly on top randomly, then swirl the jelly into the ice cream base. Cover with plastic wrap and freeze for at least 5 hours before serving.
Pin this PB&J Ice Cream recipe for later!